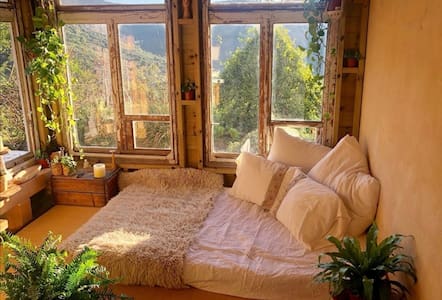 SUPERHOST
Entire guest suite · 2 guests · 1 bed · 1 bath
Airy small apartment, Galilee, 5 min from clil
Small cozy apartment, next to our (it have shear wall) but completely private. breathtaking view from the bed, the sun get into the bed at morning . small kitchen everything you need for tea or coffee or even small cooking דירת סטודיו נעימה ונקיה , צמודה לבית שלנו. עם כניסה נפרדת ופרטיות, שקטה צנועה ונעימה. כניסה פרטית מיטה לכיוון הנוף וקצת כמו לישון בחוץ מתאים למי שאוהב לקום עם השמש ששולחת קרנים לתוך המיטה שרותים ומקלחת פרטיים. גבול שמורת טבע, מיקום מעולה למטפסים, מרחק הליכה מצוקי גיתה.
What guests are saying:
"We stayed at Lihi's place for two night and we had a great time ! Lovely cozy place with a great nature view and the interior itself is beautiful and have a really special atmosphere. Lihi and Adi were super nice. Maybe not the place for you if you're looking for complete privacy, but we enjoyed our stay! Overall a wonderful experience, Highly recommended."
Beautiful and spacious cabin in the organic Klil village in the Galillee close to the mediterranean sea. Built in an olive grove with traditional stone verandas paved around it, its a peaceful space combining modern and village styles. A 60 square meter studio space full of light and air. It has AC to be used during the day, ceiling fans covering all the space to be used during the night, a fully equipped kitchen, 24/7 hot water, trees outside all windows and lots of silence.
What guests are saying:
"ביקרנו ביורט המקסים של ישי במהלך סופשבוע סוער במיוחד. ישי היה קשוב לכל צרכינו ודאג לשאול לשלומינו תמיד. המקום מדהים ופסטורלי, למרות שהיינו זוג פלוס פעוט שובב הצלחנו לספוג קצת מהאוירה הרומנטית שהמקום משרה. המקום נקי מאוד ומסוגנן, פשוט תענוג :) מומלץ ביותר למי שמחפש לברוח קצת ולחוות שקט ושלווה."
Private Mongolian yurt in Kibbutz Hanita with wifi, AC, a private entrance, bathroom, a shower and open swimming pool. There's a large open patio with a breathtaking view overlooking the Mediterranean Sea. Numerous oak trees and a beautiful garden surround the yurt creating a calming and peaceful atmosphere. There is a trampoline, swings, and a hammock on the property. Walking distance away, there are restaurants, hiking trails, a small animal farm, and a basketball court.
What guests are saying:
"I have been a guest of Bilha and Ezer in June 2020 and I loved their Mongolian Yurt with a terrace on the rooftop very much. Its like a "Camping de luxe" and the two hosts are very friendly and caring people. Hanita is right next to the Lebanese boarder and therefore its not always quiet and calm there. But Bilha and Ezer were always quick with useful, calming informations whenever anything extraordinary happend - even in the night. Ezer took me on a two hours walk along the boarder and explained me a lot of things about the history of the place. I felt save and I can absolutely recommend the place and the beautiful region with the beach and the Rosh Hanikra Grottos nearby. The small village is laid back - and it has a small grocery store, a nice little destillery (try the homemade Gin!) and a cosy Café where they sell good coffee and ecological products. There is even a public pool nearby."