Big challenges. Beautiful solutions.
Building at Airbnb
Airbnb is the world's largest marketplace for space, and we keep getting bigger every day. With 10 million nights booked and counting, we're constantly taking on challenges in search algorithms, payments, fraud prevention, and growth — all while maintaining a beautiful user experience. We want to build solutions to these problems that are scalable, performant, and elegant, and we're looking for talented people to help us do just that.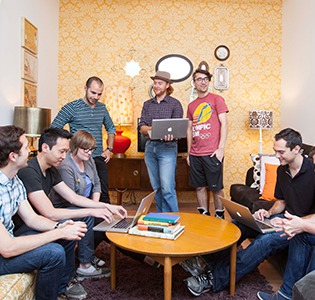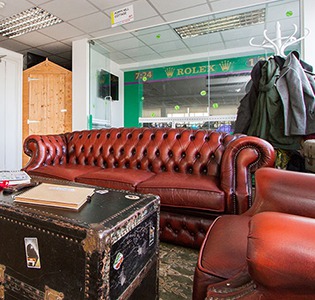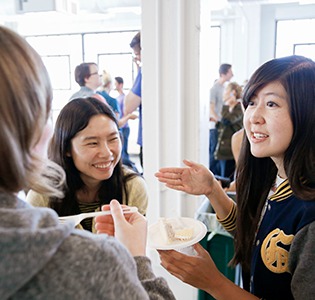 Move Fast
Every engineer deploys on their first day — and every day after that too. We use Amazon Web Services and practice continuous deployment so we can quickly try out new ideas and iterate on existing product features, and we love experimenting with new technology if it's right for the job. Not only do we ride the cutting edge, we make it: we've open sourced Hypernova, a service for server-side rendering your JavaScript views, and Chronos, a distributed fault-tolerant scheduler that runs on top of Apache Mesos, amongst other projects. Our engineers regularly present at conferences around the country.
Learn Together
We believe that engineering is a continuous process of learning and improvement, and that the best way to learn is by getting help from your fellow engineers. All of our engineers hang out in chat rooms so that we can keep informal knowledge sharing flowing — and because coding is more fun when you do it together. We host regular tech talks, both internal and external, so that everyone gets a chance to become the best at their craft.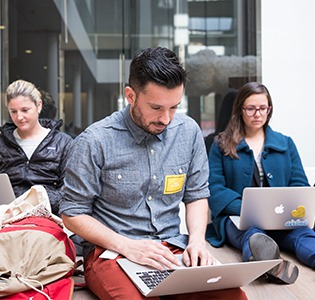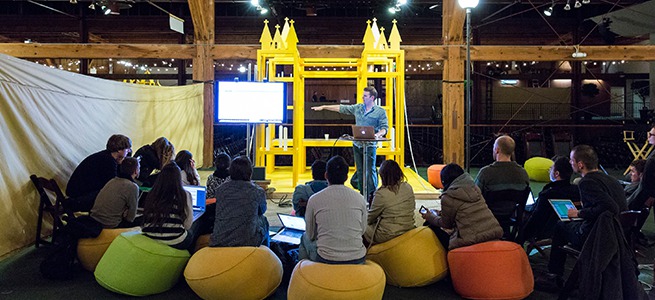 Pixelwax
That's our word for the dedication and craftsmanship we bring to our work. For us, engineering isn't just a job but a practice that we want to perfect. We aim to keep our systems modular, our code clean, and our documentation clear, and we follow the idea of leaving things better than how you found it. It's not just about the code — putting the right processes and tools in place to make developers happy and efficient is important to us because it gives us the time to focus on polishing the product.
Articles from Engineering
Read a few thoughts from some of our esteemed engineers.

Isomorphic JavaScript: The Future of Web Apps
Spike, Software Engineer
At Airbnb, we've learnt a lot over the past few years while building rich web experiences. We dove into the single-page app world in 2011… Read more.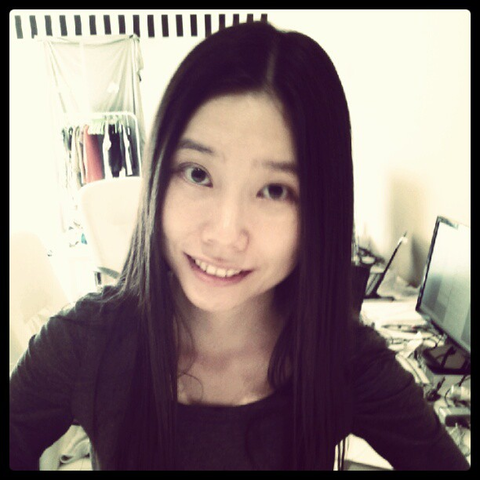 Host Experience on Android
Carol, Android Engineer
One of our goals is to push the envelope of Android design. We strive to craft and build an innovative, elegant, and distinctly Android experience… Read more.
Spike Brehm & Fiona Tay
The Evolution of Airbnb's Frontend
Surabhi Gupta
Marketplace Matchmaking
Ben Hughes & Jon Tai
Scaling Things That Don't Scale
Spike Brehm
Airbnb's Wish Lists: Rich JavaScript App Architecture
Jay Kreps
Building LinkedIn's real-time data pipeline
Dalton Caldwell
App.net & How we did it
Justin Tulloss
Building Maintainable Software in the Browser
Erica Kwan
How Square Stays Up: Tools and Processes Square Uses to Stay Stable and Available
Zach Holman
We tuck a lot of features away on github.com.
Jonathan Smiley
Prototyping for the Multi-Device World
Josh Wills
Prototyping for the Multi-Device World
Yehuda Katz
It's Harder Than It Looks
Levi Weintraub
Curious about how web browsers work?
Ben Hindman
Apache Mesos
| Position | Location |
| --- | --- |
| China Performance Marketing Specialist (SEM) | Beijing, China |
| Data Visualization Engineer | San Francisco, California |
| Director, Payments Engineering | San Francisco, California |
| Engineering Manager | San Francisco, California |
| Engineering Manager, Analytics Products | San Francisco, California |
| Engineering Manager, Developer Infrastructure | San Francisco, California |
| Information Security Risk and Compliance Engineer | San Francisco, California |
| IT Operations Engineer, Singapore | Singapore, Singapore |
| Luxury Retreats - Software Developer | Montreal, Canada |
| Machine Learning Expert | Beijing, China |
| Research Scientist | San Francisco, California |
| Security CSIRT Engineer | San Francisco, California |
| Security Engineering Manager | San Francisco, California |
| Security Threat Intelligence and Response Engineer | San Francisco, California |
| Software Engineer, Analytics Products (Superset) | San Francisco, California |
| Software Engineer, Android | San Francisco, California |
| Software Engineer, Android (China) | Beijing, China |
| Software Engineer, Booking Experience | San Francisco, California |
| Software Engineer, Business Travel | San Francisco, California |
| Software Engineer, Cities | San Francisco, California |
| Software Engineer, Data Infrastructure | San Francisco, California |
| Software Engineer, Developer Infrastructure | San Francisco, California |
| Software Engineer, Experimentation Platform | San Francisco, California |
| Software Engineer, Frontend | San Francisco, California |
| Software Engineer Full Stack | Beijing, China |
| Software Engineer, Full Stack | San Francisco, California |
| Software Engineer, Growth | San Francisco, California |
| Software Engineer, Homes 2.0 | San Francisco, California |
| Software Engineer, Infrastructure | San Francisco, California |
| Software Engineer, Intern 2018 (San Francisco) | San Francisco, California |
| Software Engineer, Intern 2018 (Seattle) | Seattle, Washington |
| Software Engineer, iOS | San Francisco, California |
| Software Engineer, iOS Accessibility | San Francisco, California |
| Software Engineer, iOS (China) | Beijing, China |
| Software Engineer, Lux | San Francisco, California |
| Software Engineer, Machine Learning | San Francisco, California |
| Software Engineer, New Grad 2018 (San Francisco) | San Francisco, California |
| Software Engineer, New Grad 2018 (Seattle) | Seattle, Washington |
| Software Engineer, New Grad, PhD (2018) | San Francisco, California |
| Software Engineer, New Graduate 2018 | Beijing, China |
| Software Engineer, Payments | San Francisco, California |
| Software Engineer, Performance Engineering | San Francisco, United States |
| Software Engineer, Platform | San Francisco, California |
| Software Engineer, Pricing | San Francisco, California |
| Software Engineer, Pricing Optimization | San Francisco, California |
| Software Engineer, Product Security | San Francisco, California |
| Software Engineer, Risk | San Francisco, California |
| Software Engineer, Search | San Francisco, California |
| Software Engineer, Search Relevance | San Francisco, California |
| Software Engineer, Site Reliability | San Francisco, California |
| Software Engineer, Systems Observability | San Francisco, California |
| Software Engineer, Web Infrastructure | San Francisco, California |
| Technical Program Manager, Security | San Francisco, California |