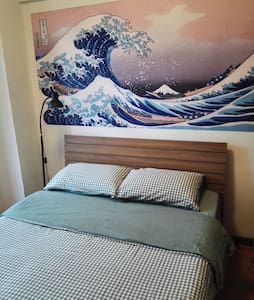 SUPERHOST
Private room · 2 guests · 1 bed · 1 shared bath
【老鸟家】宽窄巷子/文殊院/春熙路太古里/武侯祠锦里-日式榻榻米房间 metro line4
The old bird home is located in the town of Qingyang District, Chengdu Guanyin Court Street, No. 62, Mood for Love New Street on the 6th. 8 minutes walk to reach the width of the alley area, subway direct access to the three major railway stations, Chunxi Road, Pacific, Wuhou Temple Kam and Wenshu hospital. Old birds and tigers are a couple of Shandong, living with children for many years in Chengdu, although they are not locals, but the understanding and understanding of Chengdu is more than the local people. I hope you all come to Chengdu slow down, feel the slow life of Chengdu, let the body and mind are relaxed, to the tea house goods a tea, leisurely stay one day, you can taste a variety of food, hot pot, string, barbecue, snacks, so that your Stomach upstart, not afraid of hot friends can challenge the spicy of Chengdu Oh
What guests are saying:
"I was fortunate to have stayed at the old bird's house. The family was relieved to hear that they lived in the same house as the host's uncle and aunt. The uncle and aunt were very nice and amiable, and cleaned the house clean and tidy and very warm. It 's like staying home for two nights when I 've been out and playing for a week, because when I go back to my uncle and aunt, I 'm waiting for us at home, just like my parents are waiting for us. Thanks uncle aunt"
[Click on the avatar to learn more about the style of the listing] Art·Net retro series of vintage flowers. The room has a 100-inch screen and a meter H1 projector. Walk for two minutes to Taikooli, ifs. The 89 square meter suite has a kitchen, washing machine, refrigerator, microwave and more. 270 degree floor-to-ceiling windows overlooking Taikoo and 339 TV Tower
What guests are saying:
"The house is consistent with the picture, what you see on the Internet and what you actually experience are consistent, clean and tidy, and beautiful. Located in the prosperous area of Taikooli on Chunxi Road, under the night view, overlooking the entire block, the traffic is crowded, and the bustle is full of beauty. The owner of the house is enthusiastic and thoughtful. It is the only choice for you to travel. I would also recommend it to my friends. Thank you to the apartment owner for letting us experience a different and pleasant mood during the trip. It is one of the most beautiful spots in our trip. One."
The travel of the boat and the warm home after the long flight, the warm and quiet sleeping environment makes people get the biggest rest from the scalp to the toes. There is also a day when you don't want to go out, and the lazy lover is soft and comfortable. On the sofa, the giant screen home theater slowly puts the movie, then walks to experience the local restaurant and sit in the cafe.
What guests are saying:
"This homestay really exceeded my expectations. The homestay is located in a high-end community. There are two subway stations nearby. It can be reached within 5 minutes. It is very convenient. It is only a few stops away from Chunxi Road. 30 minutes. The host is very enthusiastic and communicates in a timely manner. I stayed for five days and the experience was very good!"