Evimiz Tarihi Kars binalarının yanındadır....her yere yürüme mesafesinde, şehir merkezinde, Valilik Konağı ve Emniyetin yanında yer almaktadır....Evde 6 yaşında kızım ve Eşimle yaşamaktayım...Kendinize ait bir odanız bulunmakta olup evin tamamını kullanabileceksiniz Appartment is on the main street which has many cafes and shops. I stay with my family ( Husband and I have a Daughter, she is 4 years) in this house...you can sent my message for questions...
What guests are saying:
"Beyond being a very central location of the house, the sincerity of Meryem Hanim and her husband makes you feel as if you have visited your friend living in another city; And smart, beautiful girls Seasons ... We all loved you very, very nice look yourself :))"
SUPERHOST
Entire apartment · 4 guests · 5 beds · 1 bath
KULLANIMI TAMAMEN SADECE VE SADECE SİZE AİT DAİRE
Evin tamamı size ait,tlf 0553 531 47 93 ev e kalmıyorum.Şehir merkezinde, kombili,yemek yapabileceğiniz bir mutfak,Ayrıca dileyenlere kendi aracımla çok uygun fiyata ÇILDIR GÖLÜ,ANİ HARABELERI VE KARS KALESINE tur düzenliyorum uygun fiyata gardan ve havalanından alabilirim The whole house belongs to you, tlf 0553 531 47 93 I do not stay at home. In the city center, a kitchen with combi, where you can cook, I also organize a tour to ÇILDIR LAKE, MOMENTARY RIGHTS AND KARS CASTLE with my own car.
What guests are saying:
"the house is in a new building, walking distance to the city center. It is very clean, large and meets the basic needs, it gets warm easily. The brother of Sinan is very interested and devoted not only in hosting but also in guidance. Thanks to this, we did not need to rent a car. Because of the location of the house, we easily walked through the city. For the sudden ruins, the wild lake and the castle, the brother Sinan guided us with his vehicle and pleasant conversation. we were also very pleased with the restaurants he recommended. we can say that it was our tripadvisor. We spent 4 very nice days with the advice and support of sinan brother without the need for long google researches, review reviews. We thank him for all his help."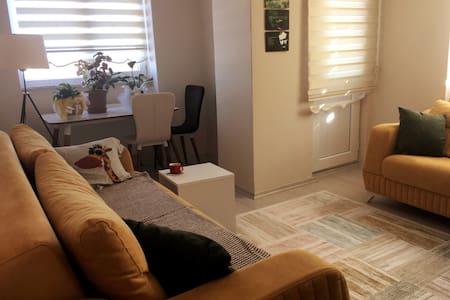 SUPERHOST
Private room · 2 guests · 2 beds · 1 shared bath
kars geziniz için sıcak bir ev/ Room for your trip
merkeze yürüme mesafesinde, havaalanına ve tren garına 10 dakika uzaklıkta, önünden bütün dolmuşların geçtiği, hastaneye yürüme mesafesinde, güvenlikli bir apartmanda, evimde sizleri misafir edebilirim. Evde ben de yaşamaktayım ancak kendinize ait bir odanız bulunmakta olup, evin tüm olanaklarını kullanabilirsiniz. I will be verry happy to host you in my home in city centre of Kars. it is very cloose to train station and airport. ıf you have any queastion, please ask me.
What guests are saying:
"Ms. Ogül was an extremely hospitable, fine and pleasant chat host. He helped in every detail to the finest detail, he did his best if we needed to write constantly during our trip. The house was very comfortable and comfortable, we had nothing short, our transportation was comfortable and easy, extremely cost-effective. I definitely recommend it, next time we will definitely stay in the same house, thank you very much for everything :)"