Найкраще розташування! Нова, дизайнерська квартира в центрі міста. Квартира знаходиться неподалік від центральних авто- і залізничного вокзалів. Біля будинку: безкоштовна та платна автостоянки; супермаркет; аптека; банкомати; банки, пошта, автомийка, зупиноки громадського транспорту; пішохідна зона з магазинами, ресторанами, кафе, пивоварня. Квартира обладнана і укомплектована всім необхідним для приготування і споживання їжі, для тривалого і короткочасного проживання.
What guests are saying:
"Excellent location, very beautiful view from the window. Nearby there is a large supermarket, near the bus station and train station. We were very pleased to meet, the perfect order and cleanliness in the apartment, there is a minibar, which is very convenient (prices differ by 1-3 hryvnias from the price in the store). Overall very satisfied. I'll definitely come again."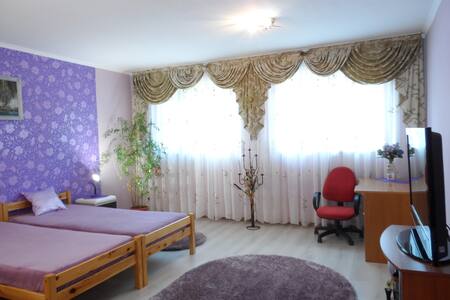 SUPERHOST
Private room · 2 guests · 3 beds · 1.5 baths
Уютная комната класса люкс на набережной Ужгорода
Квартира находится на набережной в центре Ужгорода. В шаговой доступности все исторические достопримечательности - Ужгородский замок, ботанический сад, самая длинная в Европе липовая аллея. А весной,в начале мая, зацветают невероятно пышным розово-белым цветом сотни деревьев сакуры. Это захватывающее зрелище ежегодно привлекает в Ужгород тысячи туристов. Сакура признана визиткой Ужгорода. Дегустационный винный зал Для путешествующих на автомобиле бесплатно предоставляется парковочное место.
What guests are saying:
"Natalya is a friendly hostess. The room is for rent, but the shower was completely at our disposal, Natalya's stay in the next room was not felt at all. But you can enter and leave the apartment in a matter of minutes, because the hostess is nearby. Everything is clean, tidy. Tea and cookies are kindly provided. The room has everything you need for a comfortable night's sleep. The location of the apartments is in a quiet area along the promenade, to the center with its sights 15-20 minutes walking step in pleasure, 10 minutes if in a hurry. It feels like guests are welcome here. On a second visit to Uzhgorod, they would stop again."
Стильная, светлая, уютная квартира - наилучшее решение для путешественников, предпочитающих совмещать комфорт и красоту природы. Отлично подходит для проживания 2-4 человек. Почувствовать себя, как дома, поможет оборудование квартиры всем необходимым: белоснежное постельное бельё, пушистые полотенца, кондиционер, половое отопление, встроенная бытовая техника, СМАРТ ТВ, интернет и т. д. Уютный дворик даст возможность насладиться свежестью и звуками природы. Бесплатная парковка на территории.
What guests are saying:
"Elena and Ivan's place is a fresh built and beautifully decorated apartment. It has all the amenities you could ask for in a home away from home, and wonderful, helping hosts. Apartment itself is located in a family house in a peaceful neighbourhood and has a locked driveway where you can park your cars. Couple of minutes away on foot is a big supermarket, and even closer is a 24/7 convenience store, as well as some cafe bars. The very center of Uzghorod is some 20 min away of easy walk trough the longest Linden tree alley in Europe, stretched on both banks of river Uzh. Thank you Elena and Ivan, we had a beautiful stay at your place and are looking forward to come to visit again."