Το διαμέρισμα είναι μία ευάερη,άνετη,μοντέρνα και λειτουργική μεζονέτα 2 ορόφων και 103 τετραγωνικών μέτρων με μεγάλη βεράντα,με θέα στη θάλασσα και στην πόλη της Θεσσαλονικης, με κήπο και ιδιωτικό parking. Η είσοδος είναι από τον επάνω όροφο όπου βρίσκεται το σαλόνι,η τραπεζαρία,μια πλήρως εξοπλισμένη κουζίνα,ένα πεντακάθαρο WC και η βεράντα μας.Στον κάτω όροφο μέσω μιας καλοφωτισμένης μαρμάρινης σκάλας θα βρείτε 2 υπνοδωμάτια που βλέπουν στον κήπο και ένα μεγάλο πεντακάθαρο μπάνιο.
What guests are saying:
"This is a maisonette house on a hill with a very nice view. The cleanliness was excellent. The living room and one bedroom were very large and comfortable. The second bedroom (children's) is satisfactory, after all we spent most of the time mainly in the huge living room. large and with a nice view. The bathroom and WC satisfactory in size and crystal clear. The spaces in the closets are more than enough. The garden on the ground floor is beautiful and the individual parking is helpful and safe. they need the very hot days of summer. The living room on the 1st floor has airconditioning and the kitchen has all the necessary facilities. The internet is very good and the living room on the balcony is beautiful and comfortable (although we did not sit for a long time due to obligations). The aluminum frames are excellent, have a recall and have screens. It is recommended for a family of 4 people and I will visit it again at the first opportunity that I will go up to the squid. The cost of accommodation for four people is quite good. Congratulations. Continue to provide high quality services."
O χώρος μου βρίσκεται πολύ κοντά στο αεροδρόμιο Μακεδονία στο κέντρο ήσυχου προαστίου 15 χιλιόμετρα ανατολικά της Θεσσαλονίκης διαθέτει σαλόνι, κουζίνα,υπνοδωμάτιο και μπάνιο.Είναι πλήρως επιπλωμένο με κουζίνα,κλιματισμό, διπλό κρεβάτι και tv.Απέχει 10 λεπτά από το αεροδρόμιο 5 λεπτά από το εμπορικό κέντρο και από το ιατρικό διαβαλκανικό κέντρο 50 μέτρα από αστική συγκοινωνία, εστιατόρια, fast food και καφέ. Το διαμέρισμα ειναι ευρύχωρο ειναι ημιυπόγειο και βρίσκεται στο κάτω μέρος μεζονέτας
What guests are saying:
"Marina is very kind and communication was impeccable. The house is clean, tidy and in a nice quiet area. Especially for me when I traveled by motorcycle and was worried about where to park and if it was safe, eventually it had space just outside the house. Generally however it is a quiet area and there is ample parking near the house."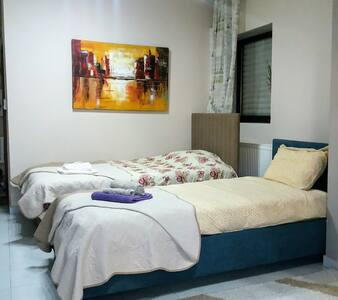 SUPERHOST
Entire apartment · 3 guests · 3 beds · 1 bath
Οικείο περιβάλλον ,όμορφος χώρος ,ήσυχη γειτονιά
Διαμέρισμα 40 τ.μ. με αυτόνομη θέρμανση (φυσικό αέριο). Αποτελείται από σαλοκουζίνα και μπάνιο.Πολύ εύκολο και ελεύθερο πάρκινγκ δίπλα στο σπίτι.Το διαμέρισμα απέχει με αυτοκίνητο: 10' από το αεροδρόμιο " Μακεδονία" (6,1 Km), 7΄από το ΚΤΕΛ Χαλκιδικής (2,9 Km), 5' από το εμπορικό κέντρο "Μακεδονία" (2,25 Km), 5' από το νοσοκομείο "Άγιος Παύλος" (1,3 Km), 9' από το ιατρικό διαβαλκανικό κέντρο (4,83 Km), 7' από το εμπορικό κέντρο "Απολλώνια" (4,39 Km), 15' από το "Mediterranean cosmos"(5,59 Km).
What guests are saying:
"Communication ... Full Communication ... Willingness and immediacy in whatever is needed ... In combination with the facilities, the cleanliness, the comfort and the warmth of the space ... It gives the visitor exactly what he needs. To feel, that is, how to find his home .. !!! This is the second time I have visited your place, friend Spyros .. And I was completely satisfied .. I would come again with closed eyes that say .. !!! Thank you for the hospitality .. !!!"