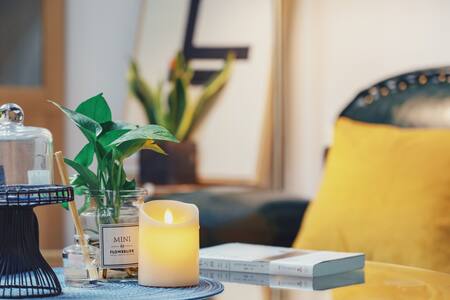 SUPERHOST
Entire condominium · 2 guests · 1 bed · 1 bath
【Hello.C 轻复古】 投影房 市中心地铁口 近中山路 三街两巷 江南万达 去万象城方便
一直希望有属于自己的小天地。 不管再怎么在这座城市拼搏,都很想在每一个疲惫的下班日。 能窝在沙发里,盖上毯子,点好奶茶,打开投影。 一个人或者团着对象,聊聊日常,抱怨下生活,然后关上灯,美美的睡上一觉。 这大概就是我对生活的所有理解和期待
What guests are saying:
"The house is very convenient! !! Really close to the subway! !! There are also convenience stores nearby! !! Aromatherapy in the house! The taste is fresh and not too strong! Anyway like it! !! And the projection application has members! really good! !! bathroom! !! Pretty big! And not a toilet! I finally encountered a homestay bathroom that was not a toilet! excitement! Happy! !! And it's all clean! !! And a small balcony! !! Good ventilation! !! The host is nice too! !! The reply is fast! !! Hey, in a word, I will stay here again! recommend! !!"
● The rooms have been sterilized strictly to avoid cross-flow of personnel. They need to be fully sterilized before opening. To ensure your health, you cannot check in early. Please know! ● When the selected date is fully booked, you can view other listings of the landlord online! ● Geographical position is our biggest advantage. The core of Nanning is eating, drinking, playing, music, business, travel, etc. You can see Vientiane City from the window, you will be across the road, and the subway will be downstairs, near Hangyang International , Qingxiu Wanda, Greenland Central Square, Qingxiu Mountain, Fengling Children's Park, etc., only 7 kilometers to Nanning East Station! ● Room 48m², one-room, one-kitchen, one-bath apartment style, with work bench, bar counter, villa-grade 1.9-meter wide mattress, 1.9-meter couch, telecommunications iTV, disposable toiletries, towels, and free food! ● Safety is guaranteed, there are first aid kits, fire kits, gas alarms in the room, security management regulations in the community, two access control! ● Guaranteed health! The landlord cleaned it in person, changed it for each guest, and disinfected it regularly.
What guests are saying:
"The location of the house is close to the subway, there are large shopping malls nearby, shopping is very convenient. Located in the community, the surrounding safety factor is high, the neighbors are very quiet, and spent a peaceful night. The house pushed in the door and there was a smell of aroma, not thick or light, I felt comfortable. The interior design of the room is also very satisfactory, consistent with the pictures seen by the app. The details are done very well, so it's very comfortable to live, this can be awesome. The happiest thing is that the kitchen pots and pans are readily available, and the kitchen utensils are clean and tidy, and happily made a dinner in the kitchenette with the male ticket. The boss is very nice and the communication is timely, in short it is a great stay experience."
(If the source date of this suite is fully booked, you can privately subscribe me or click on my avatar to see another listing) Hello, welcome to First First Homestay. I am angry with you. Whenever I go to a place, I also like to stay in a local B&B. Because the B&B has a taste of local life, I hope that First B&B will bring you a clean, simple and warm feeling. First·Dream begins with a sweet room structure that is a one-bedroom, one-bedroom, one-bathroom, one-bathroom balcony that can accommodate 2 people. The dream begins to be sweet on the 18th floor, soaking in the bathtub at night, blowing a gentle breeze, drinking a little wine. Flavor. About traffic 🚗 First is located near Xinmin Road Station of Metro Line 1, within 15 minutes to Wanxiang City, Hangyang City, Convention and Exhibition Center, Nanhu, Guangxi University and Nanning Station. It takes 25 minutes to reach Nanning East Station. Walk to Parkson Pedestrian Street, Zhongshan Road, Nanhu Park, National Plaza, Dream Island. About food🥙 There is a vegetable market downstairs 50 meters, welcome to cook at home, (you need to clean up yourself after cooking, or you need to add cleaning fees). There are also several delicious small shops downstairs, Yizhou barbecue: big picks; local characteristics: Taiwan's past, happy chicken, Jin Taishun. Convenience store: Jingdong, Ningjia, etc. About internal equipment🖥 Air conditioning, refrigerator, washing machine, projection, hair dryer, kettle, etc. About security🔑 The community has security for 24 hours and will be inspected from time to time. Welcome to local food and drink, Nanning photo network red land and local traffic situation.
What guests are saying:
"I went to many places in 2019 and lived in many homestays. Japanese style furniture is simple but very comfortable, appliances are readily available, washing machines, refrigerators and air conditioners are available, and it really feels like home. The room was clean and made me feel like everyone staying here was lovely. The bathtub was really great. There was a cool breeze outside the balcony in the evening. The whole person feels soaked in the bathtub. The location is very satisfying to me. There is a commercial superstore not far downstairs and not far from the subway entrance. In short, I had a very comfortable and enjoyable night ~ (Unfortunately I couldn't send pictures, I took a lot of good-looking photos !!! The homestay is really beautiful ε- (´∀ `)"