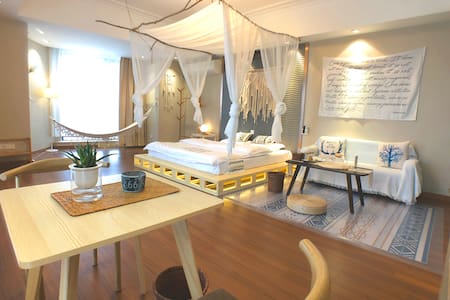 SUPERHOST
Entire apartment · 2 guests · 1 bed · 1.5 baths
【简白】已消毒 万达广场 安福 巨幕投影仪 波西米亚风 广化市 莆田安福 「全乳胶床垫」
万达广场 万达金街 巨幕投影仪 波西米亚风 广化市 莆田学院 「全乳胶床垫」
What guests are saying:
"The location is upstairs in Wanda, very convenient. I like the decoration style of the room. The landlord is nice and meticulous. During the epidemic, alcohol, disinfectant, thermometer, and disposable gloves were prepared. Come back to Putian next time. Will also choose to stay. "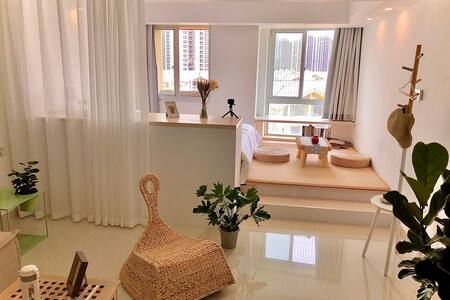 SUPERHOST
Entire apartment · 2 guests · 1 bed · 1 bath
【四小希】安福 绶溪公园 大塌塌米床 莆田学院 网红民宿阳光治愈韩系ins风 小区游泳池 安静清新
👣The room is newly installed and very clean, with a large bed of tatami mat/central air-conditioning/refrigerator/washing machine/large-screen TV/wireless network with concave shape, tea, wine and food~ 👣2km away from Anfu E-commerce, 1km from United Power Mall, 1.5km from Putian College, a good place for internet celebrities to take pictures and check in. The landlord is a local lady in Putian. She loves her hometown invincibly, likes making friends and living Going to live in a homestay in different cities, everyone has a home in their minds. The recent dream is to open a homestay by yourself and meet friends to build a home for you in this city. At this moment, this home is waiting for you to return. 👣Our homestay is the same style as mine, beautiful and warm and close. In the afternoon, the bright sun shines in the room and the air is full of sunshine. Bring your beloved to make a pot of tea Come on~ 👣The location is adjacent to Shangri-La, with a tatami mat and a squint at Suixi Park. Downstairs is the park, the entrance is the bus station, supermarket, restaurant, gym, 👣The community is patrolled by 24-hour security, clean and safe, there is a swimming pool in the community, and a walking corridor , Sports track.
What guests are saying:
"First of all, I would like to thank Ms. Nais, the hostess, because she couldn't find a place because of the heavy rain at night. Not only did the girl not have any impatience on the phone, but she also took an umbrella to pick me up! On the second day, I also had a problem to introduce the local cuisine to the younger sister. Sure enough, it was local taste, and the seafood was fresh and delicious! In fact, the geographical location is quite convenient. There is a Quxi Park on the street. It is said that the lychees in the park will become red after a while. I hope you can go and see if the weather is good next time! There is a convenience store downstairs. I like yogurt snacks~ The room layout can also be seen carefully, I like wicker chairs and futons, as well as exquisite and lovely tea sets, soaking a pot of tea is also very "
遇一座城,恋一处家,赏一方风景 天地是万事万物的旅舍,光阴是古往今来的过客。民宿小房东喜欢旅游,热爱生活中美好的事物,品质、简约、舒适是我对房子唯一的要求。和三两好友,一起品茶聊天、谈人生,此刻不念琐事,只为在喧嚣的城市,提供享受片刻的宁静。有缘来住下的朋友,希望它能为你带来一段温馨难忘的体验。 公寓介绍 民宿所在小区为全封闭物业管理,并配备24小时视频监控。公寓面积有60平,1室1厅1卫的电梯房,中间楼层,房屋新,无味道,通风效果非常好,居室裝修温馨舒适(照片全部为实拍,实景比照片更完美哦),比周边同等价位的酒店面积大两倍多。 客厅:公寓配有茶具、全屋覆盖WIF,可同步使用投影,让您在此也能看大片! 卧室:床上用品都是精心订做的被褥,干净卫生、贴身舒适。专业保洁服务,一客一換一扫提供专业的保洁服务,用起来更放心。 厨房:内设厨具、调料、电热水齐全。 卫生间:智能镜、吹风机,洗发、沐浴液(甄选宝洁及联合利华旗下知名品牌洗护用品)、毛巾、浴巾、洗漱用品均按星级酒店标准为您准备齐全,请放心使用,无需自带,轻享精致生活。 秋雨春风花无语,指间明月话几重。 带上最爱的Ta!
What guests are saying:
"🉑️"