全视角海景,点击我头像还可以查看其他海景房间,我们致力于打造温馨而又漂亮的房间,给您的旅行带来舒适难忘的体验。 位于八大关自然风景区内,这里是青岛建筑群最具特色的地方,楼下就是沙滩海浪,这里最能体现青岛的"红瓦绿树,碧海蓝天",幽静清凉的大路纵横交错,道路两旁的大树撑起一片片绿荫,这里有花石楼,公主楼,元帅楼等很多著名的地方记载着那个时代伟人们的生活。 这里海天一线,蜿蜒的海岸线一直延伸到很远,顺着海边的木栈道往下走,十分钟便到了海底世界,鲁迅公园,海军博物馆。之后还有大学路,小鱼山,老舍故居等旅游圣地,这里交通便利,八大关风景区入口处便是地铁站,公交站,方便出行。 附近的地铁站到青岛站有三站,到五四广场奥帆基地有四站,到台东步行街打车只需要十几分钟,楼下就是第一海水浴场,出行方便。
What guests are saying:
"The host is very good, the speed is very fast, I will not find people to communicate, it is very pleasant, the house can be seen very serious and meticulous, the bed and sofa are fragrant, the sofa is very soft, it can't lie up, and the kitchen utensils are all available. The projector is also focused."
各种书籍遍布房间的每个角落。除了阅读,还可以坐在窗台上喝茶、看电影。无论小朋友还是大朋友,都可以在这里玩耍、拍照。就像夏天喝的薄荷水一样清爽。高品质级民宿。房间内所有东西由权威品牌打造,兼具美貌与舒适度的房子。 专业级卫生团队,五星级标准的床品。 位于城市市中心,您可以随时感受城市最繁华的心脏。超赞高层视野。出行很方便,还有房东的独家攻略~ 如果您想住的日期已经被预定了,请点击我的头像,还有其它同样舒适精致的房源可供您选择。 我们欢迎所有友善的房客,等待你的归来。
What guests are saying:
"The B&B is located on the upper floor of Wanda. It not only has a good view but also is quiet. The sound insulation of the room is very good. You can hit it when you travel, and it is very affordable to go to various attractions. (Ps: Miss landlord sister is super gentle and lovely, this Qingdao trip gave me a great stay experience!)"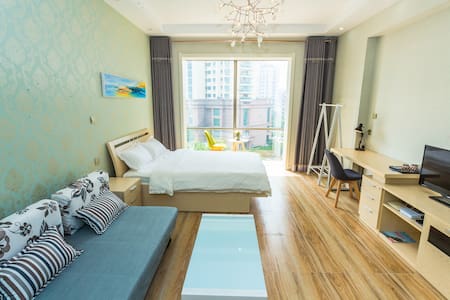 SUPERHOST
Entire apartment · 4 guests · 2 beds · 1 bath
88meters to seaside& in center of city whole APT
Great location, just 5mins walk to metro line 3 and 3mins walk to the bus stations . Walk to dozens of shops, restaurants , "new york bar" and carrefour supermarket, and just 3 mins walk to qingdao olympic sailing center and seaside . About 50 meters to 54 plazza . completely private whole apartment.
What guests are saying:
"If you're in Qingdao, stay here. There's a twenty-four hour convenience store right underneath, and Carrefour across the street is the King of Yonghwa, where you can have breakfast. There's only a tall building nearby. There's nothing. You can walk to Osa Square from Fusanso Station. This is the best place to live. Besides, the owner speaks Korean well and it was convenient ~~ It wasn't far from the old town. Just staying here all the time. It's comfortable ~~ The facilities are all amenities and it's Tongyuri. Good value for money ㅋㅋㅋ I really like it so leave a long review"