Qingdao Road, Shandong junction of the sea view room. More than ten kilometers of coastline glance. Downstairs is the Rizhao swimming pool and sailing base. The room is clean. Can cook. Qingdao, a wooden solid wood bed, Sui Po mattress. IKEA. Pure cotton bedding. Comfortable, IKEA, livable. Just for your comfort. Huxing: housing things transparent, east is right on the sea, no obscuration of vision, stretches several kilometers panoramic view of the coastline, enjoy the cool sea breeze every day; Landscape: 180 ° sea view; city night; sky; see the sea sunrise; face the Yellow Sea, facing the sea breeze blowing; Decoration: the simple style of modern decoration; the landlord personally designed decoration; personally selected by the landlord of the furniture; solid wood furniture, Qingdao, a wooden double bed and nightstands and sofas; Swedish IKEA brand TV cabinets, tables and chairs and kitchen small pieces; Do not make it. Bed linen for Anna Fu Anna textile quilts. Facilities: 50-inch Skyworth 4k Internet TV. 1.5 Gree air-conditioning; beauty electric water heater to maintain 24-hour hot water, Haier refrigerator. Can be laundry and cooking; Speed fast; Heating to force; Service: Provide information on the new disembarkation of sea-going goods by reliable fishermen. Supporting: free parking; access control system; downstairs is Rizhao City swimming pool, soccer field, and large outdoor swimming pool @
What guests are saying:
"The house provided by the owner is in a good location and I also provide my own private parking space. Not only did I see the neon lights that night, but I also saw the blooms... The room was very clean and everything was there, because it was going to the marathon, the boss gave me a delay to check out at two o'clock, very good communication! "
A warm and refreshing lodge, pushing the window and the sea breeze. The sun is full of lazy morning comfort mattresses and clean silk satin bedding. Guaranteed to change every guest. The comfort appliances that are not as good as home are complete and the air-conditioning is open. There is also a 120-inch giant screen home theater, allowing you to share time with friends and family. More than 200 books are collected to enrich your afternoon leisure. Zen Sunshine Tea Room, let the fragrance wipe out your exhaustion. The ultra-clean bathroom allows you to feel at home. With a fully equipped kitchen, you can also have a hand in front of your friends and prepare a variety of drinks to help you quench your thirst.
What guests are saying:
"It 's really beautiful to push the door open. The design of the layered living room and lazy sofa balcony is so good. The lazy sofa and home theater are really blowing. It can really paralyze. The bedroom's cabinet hangers are in place. Feather lights. Even more romantic, every detail is in place. The space is large. Four or five people can play. The kitchen is clean and fully equipped. It is really a surprise. I want to move the house. The only regret is that the mirror only has the bathroom because it is a girl. Well, I hope my boss puts on two more mirrors, so I am perfectly happy. will come again next time! !! !!"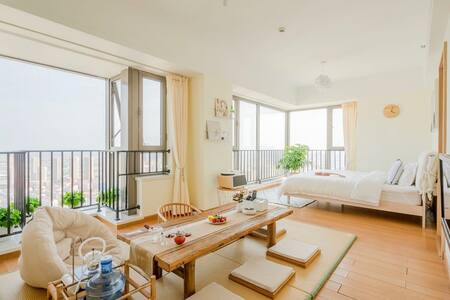 SUPERHOST
Entire apartment · 2 guests · 1 bed · 1 bath
【金一阁•留乐】留声机|270度全景落地窗海景房|躺在床上看海上日出|万象汇楼上|城市机场候车厅
1、【留乐】位于日照万象汇楼上,房间270度全景落地窗,33楼可以一览全线海景及城市美景,早晨拉开窗帘躺在床上看海上日出。 2、嘿呦智能留声机、正版黑胶唱片、单板桃花芯尤克里里、液晶电视、100兆极速Wi-Fi。 3、榻榻米客厅,精心布置的茶席,免费的日照绿茶,精装大桶水,外出游玩回来,安安静静煮壶茶,一洗疲惫。 4、床品是希尔顿五星级专用,柔软舒适。 5、医药箱。配备了一些常用应急用品十余种。 6、提供安卓、苹果的数据线和充电器。 7、书籍、指甲修护套装、针线盒、花卉绿植。 【厨房】 可以做饭,可以大展厨艺。天然气双灶,冰箱,提供餐具、炒锅、汤锅、电饭煲、刀具、菜板,基本调料、大米、小米,红酒杯、开瓶器。使用厨房后记得清洗锅碗并清洁厨房。 【卫浴】 干湿分离,24小时热水,热水器、吹风机,品牌瓶装洗发水及沐浴液、一次性洗漱用品,马桶坐垫,洗手液、发胶、化妆棉、棉签,浴巾、面巾、地板袜、一次性拖鞋及家居拖鞋。 【洗衣机】 洗衣机、洗衣液出差旅行更方便。 【关于加床】 床是2*3米的榻榻米床,加床费用80元每晚。 地下停车位,每日凌晨3-6点计时收费30元每晚。
What guests are saying:
"The location is very good, just upstairs from Vientiane, the room is very good, but the sound insulation effect is average, the voice of the next door can be heard faintly, the floor heating is very hot, in general it is great"