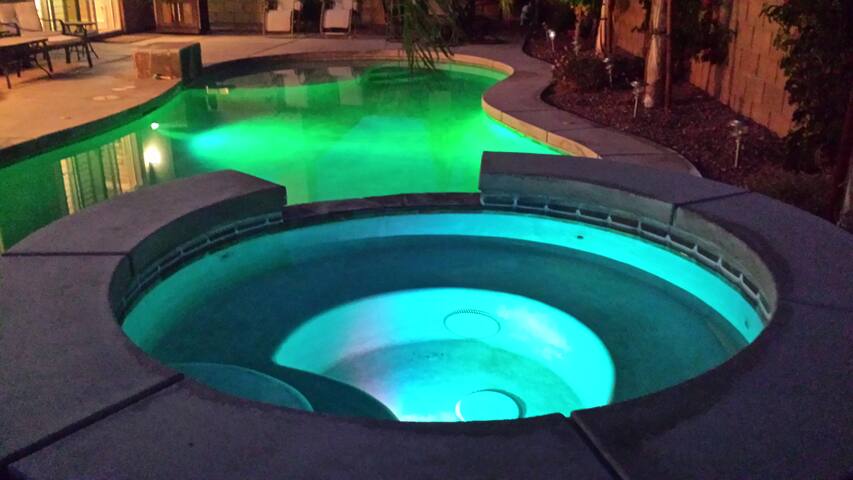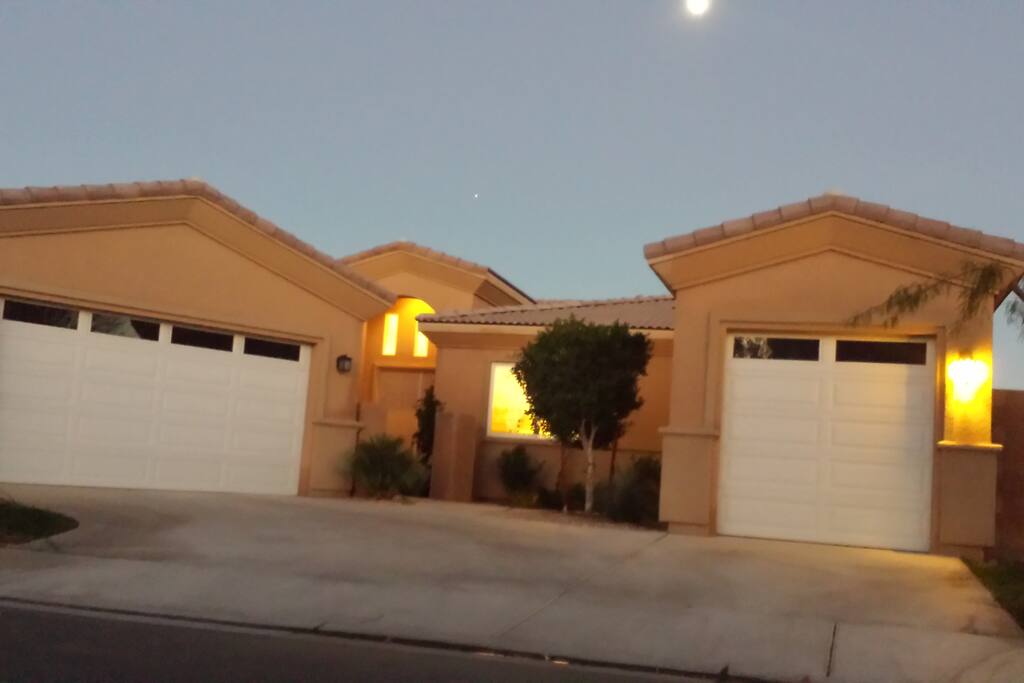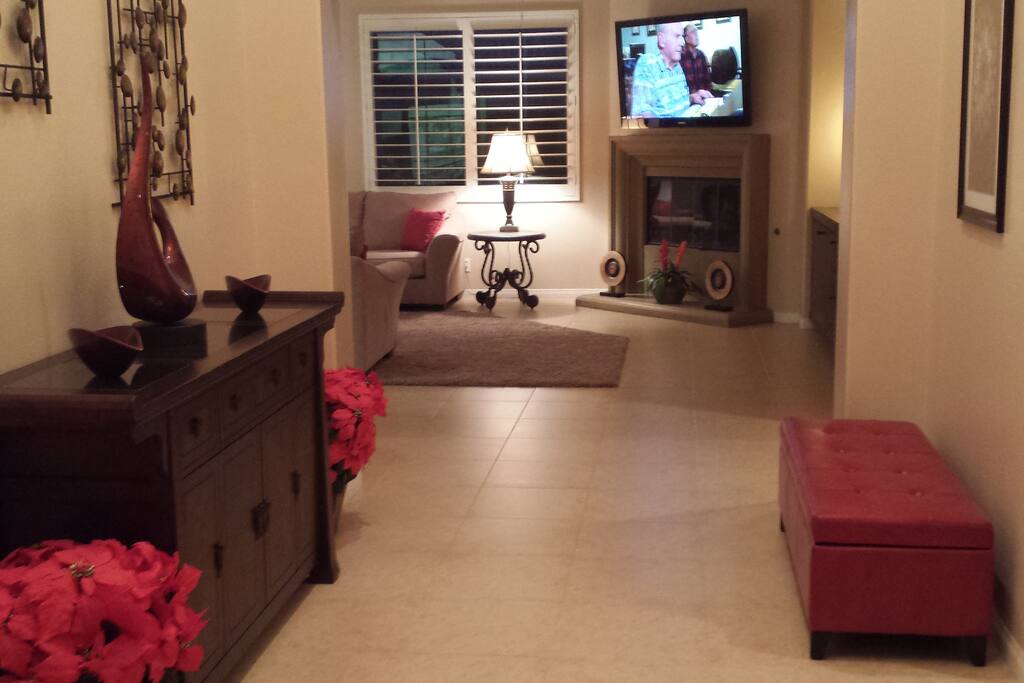 Immaculate open 4BR.3BA.2900 sqft with pool & SPA. Entertainer's delight-8 mi from Desert Trip I & II, Coachella & Stagecoach Festival and Polo Grounds. Fully furnished & a gourmet kitchen with all amenities. WiFi, BBQ, Near Shopping & Restaurants.
The space
Immaculate 4BR, 3BA home for Desert Recreation and Relaxation
• Executive 4 Bedroom, 3 Bath 2880 Sq. Ft Pool/Spa home.
• Entertainer's delight in Indio - 5 minutes to I-10, shopping, groceries, great restaurants, post office and medical facilities.
• Four bedrooms include a den with a queen size sofa-bed can accommodate a family of 8 or 8 adults.
• Designer quality fully furnished and a gourmet kitchen with all amenities including granite counter tops.
• A great Pool, Spa and Patio area to dine or just relax and unwind. Spacious for entertaining!!
• Wireless (secured) high speed internet throughout the home and outside.
• Phone: Free local and long distance…..Canada & USA.
• BBQ on Patio
• Several Cable TVS
• Desert Trip I & II, Coachella Music Festival, Stagecoach Festival and Polo Grounds- approx. 8 miles.
Great Restaurants close by off Freeway and Hwy 111
Interaction with guests
Property Manager is only a phone call, text message or email away. Lives 5 minutes from home.
Other things to note
Guest Comment:
Very comfortable - Starr Rating 4 of 5
This house is beautiful, comfy furniture and nice beds. Great for entertaining inside with a very open concept. The pool and hot tub were very nice. The outdoor gas fire pit was a nice touch. The kitchen was well stocked. Submitted: Jun 18, 2015
---
---
Not safe or suitable for infants (Under 2 years)
Check in time is 3PM - 5PM
Rental Agreement
1) Guest(s) agree to rent this turnkey furnished 4 bedrooms, 3 bath home from Host for the dates specified and at the rates specified. Inside the home one finds multiple Cable TV's, Wi-Fi, DVD player and other furnishings as recorded. For added security: Guest is advised to keep all home and vehicle doors locked and to not leave any valuables in their vehicles.
2) Facilities includes a Pool and Spa and a BBQ.
3) Guest(s) will receive directions to property and access instructions prior arrival.
4) Citations for Noise or other: Guest is responsible for any citations incurred.
5) UTILITIES: a) Electric, Basic Cable TV, Wi-Fi, Water - Unlimited use included in rent; b) PHONE: Use your cell phone for all calls. You are also responsible for all TV Channels where one has to pay to access and any channels you add to the service during your stay. Pool Heating charge is $300 to heat initially plus $30 per night. Pool heat will be monitored by property management personnel.
6) PAYMENT: We accept payment only from Credit Cards and other sources shown on Airbnb. All fees except for $1,000 damage/pool heating deposit shall be made using the Airbnb website. Host requires $1,000 refundable deposit to cover any damages and pool heating charges. This deposit shall be paid by sending a check payable to R. Zeke Wheeler at least 15 days prior to arrival date. Mail check to: 42575 Baracoa Drive, Bermuda Dunes, Ca. If booking date is less that 15 days from arrival, Host will require a credit card +$45 processing fee at least 24 hours before arrival. Host will return unused portion of deposit within 10 days from checkout.
7) Blank
8) Cancellation Policy per Airbnb.
9) Deposit Refund will be made after the home is vacated and subject to the following provisions:
a. No pets or smoking by any person inside the home. Smoking is permitted in all areas outside the interior of the home. Any evidence of pets or smoking inside the home will cause 100% forfeiture of deposit.
b. The entire home including BBQ, stove, refrigerators, bathrooms, closets and cupboards are clean and in similar condition as on the first day of occupancy. $35 additional fee if BBQ is left uncleaned.
c. All keys and garage door opener is returned to office.
d. All debris, rubbish & garbage shall be placed in designated containers before departure. $50 from deposit if any garbage is left inside home.
e. Once all of these conditions have been met to satisfaction of the Host, and any cost for extra cleaning, repairs and any other unpaid fees have been deducted, the remaining balance of deposits will be returned. 10) Blank
11) CONDITION OF PREMISES: Guest shall examine Premises including furniture, bedding, furnishings, appliances and fixtures including and provide Hosts via email a list of items or areas that need additional cleaning or maid service, all items that are damaged or not in operable condition within twelve (12) hours of arrival, not as a contingency of this Agreement, but rather as an acknowledgement of the condition of the Premises. No response within twelve (12) hours means that Guest acknowledges all items and areas on Premises are acceptable and in operable condition.
12) MAINTENANCE USE AND REPORTING: GUEST shall properly use and safeguard Premises, including all furniture, furnishings, appliances and all mechanical, electrical and plumbing equipment and fixtures and keep them and the Premises, clean, sanitary and well ventilated. Guest shall immediately notify Hosts by email of any problem, malfunction or damage. Guest shall be charged for all repairs or replacements caused by Guest, pets, and/or guests of Guest, excluding ordinary wear and tear. Guest shall be charged for all damage to Premises as a result of failure to report a problem in a timely manner. Guest shall be charged $300 minimum for repair of drain and toilet blockages or stoppages Hosts charges one (1) hour minimum at $60 the first hour and $50 each additional hour to cover time and travel related to Guest caused damage, repairs, replacement or return of items left at property. This will be deducted from the deposit or credit card on file.
13) AIR CONDITIONING, HEATING and other equipment: In the event any air conditioner, heater or other equipment fails to work, Hosts will do their best to expedite repair or replacement. It normally takes 24 to 72 hours for a yacht contractor to respond unless it is a life threatening emergency. For any problems relating to Premises Air Conditioning, heaters, or other equipment, the max nightly credit for any one item will be $20 per night and for multiple items, the max nightly credit will be $30 per night. Max refund for all visits over one week for any one or more failure is $200. No credit for any problems with pools/equipment. There will be no exceptions to this policy.
14) Guest(s) agree not to use or permit the premises to be used for any illegal or improper purposes, not permit any disturbance, or noise or annoyances, whatsoever, detrimental to the premises or its neighbors.
IMPORTANT NOTE - PLEASE READ THIS: This home is in a quiet area where Hosts and their guests come to relax. Big, loud, and/or late night parties will NOT be fun at this home, because the neighbors WILL be upset, they WILL come knocking, and they WILL call the Host, the HOA office and the police to put a stop to the party. This has happened only once before. This situation is seriously NOT FUN for everyone involved, especially the guests at the home and the neighbors. For your own sake and for the sake of your fun-loving friends, PLEASE DO NOT RENT THIS HOME FOR PARTIES. That said, reasonable, small family/guest gatherings of the quiet and respectful type (you know what we mean) will be no problem.
15) Guest(s) agree to not sublet this property or any part thereof or assign this agreement without the written consent of the Host.
16) UNAVAILABILITY OF PROPERTY: In the event the Property is not available for use during any portion of the Rental Term due to reasons, events or circumstances beyond the control of Hosts, Hosts will apply due diligence and good faith efforts to locate a replacement property that equals or exceeds the Property with respect to occupancy capacity, location and value that meets the reasonable satisfaction of the Guest. If such replacement property cannot be found and made available, Hosts shall immediately return all payments made by the Guest, whereupon this Agreement shall be terminated and Guest and Hosts shall have no further obligations or liabilities in any manner pertaining to this Agreement.
17) OVERSTAYING WITHOUT THE HOST'S CONSENT: Guests agree that a confirmed reservation is merely a license granted by Host to Guest to enter and use the Property for the limited duration in accordance with the Guest's rental agreement. Guests further agree to leave the property no later than the checkout time that is specified in this agreement or such other time as mutually agreed upon between Hosts and Guest. If a Guest stays past the agreed upon checkout time without Hosts consent, they no longer have a license to stay in the Property and the Host is entitled to make the Guest leave. In addition, Guests agree that the Host can charge the Guest, for each 2 to 24 hour period the first day and each 24 hour period after the first 24 hour period that the Guest stays over the agreed period without the Host's consent, an additional nightly fee of three times the average nightly Rental Fee originally paid by Guest to cover the inconvenience suffered by the Host, plus all applicable Fees, Taxes, and any legal expenses incurred by the Host to make the Guest leave (collectively, "Additional Sums"). Guests agree that Hosts in its role as collection agent for the Host, shall charge the Guest's credit card to collect these Additional Sums. In addition, Hosts may recover any costs and expenses (based on a labor rate of $60.00 per hour) it incurs in collecting the Additional Sums by charging the Guest's credit card on file.
Maid Service: Yacht will be clean and in order upon arrival. Maid service fee of $250 is for 10 hours cleaning after check-out. This charge has been satisfied prior to arrival. Maid service exceeding 10 hours upon check-out will be $50 for each additional hour and will be deducted from your deposit.
EMERGENCY or MAJOR PROBLEM: Contact Terri or Zeke per instructions in home.
This Agreement is Confidential between Guest(s) and Hosts and shall not be discussed or disclosed to any other person including any person at or part of the area. If anyone asks, just tell them you are guests of the owner. I fully understand this confidentially agreement and agree to fully honor it.
………………………WAIVER OF LIABILITY AGREEMENT………...................
This Agreement waives the liability the legal owners, Zeke & Terri Wheeler hereinafter referred to as HOSTS for any and all use of the home, the pool and other common area facilities and any other equipment at the property, hereinafter referred to as "the property"………………………………………...
1) Traveler Guest who books this home wish for myself, my spouse/significant other, my parents, my children, all visiting guests and all pets hereinafter referred to "using parties" to rent and utilize ""the property"". I hereby agree that the use of "the property" is at each of the "using parties" own risk.
2) As a condition of the use of "the property", I on behalf of "using parties" expressly agree to forever discharge, waive and release HOSTS and their heirs, successors and assigns from any and all claims, demands, injuries, damages, actions, or courses of action, and from all acts of active or passive negligence on the part of HOSTS, that "using parties" may have or acquire against HOSTS on account of bodily injury, mental injury and/or property damage from, any mishap, accident, loss, damage or injury suffered by "using parties" resulting from, connected with or caused by the use of "the property".
3) I further agree to defend, indemnify and hold harmless HOSTS, their heirs, successors and assigns from any and all claims, losses or liability arising from, connected with or caused "using parties" use of "the property"…………………………………………………………………………………………………
4) I have read and understand the foregoing, and acknowledge my consent to the terms of this Waiver and Release for "using parties". I further certify that I will discuss all details of this agreement with all "using parties" immediately upon their entrance to "the property" and if any of the "using parties" disagree with any of the terms of this agreement, I shall ask them to immediately leave "the property".
5) BOOKING THIS HOME THROUGH Airbnb IS MY ACKNOWLEDGEMENT THAT I HAVE READ THIS ENTIRE AGREEMENT AND UNDERSTAND IT FULLY INCLUDING THE WAIVER OF LIABILITY AND THAT I AM IN FULL AGREEMENT WITH ALL TERMS HEREIN.
---
Terri and Zeke both love real estate, dancing, great food, good music, power boating, fun and positive people. We are young senior citizens living life to its fullest. We have multiple homes and a yacht that we manage and rent to guests.
Languages:
English
Response rate:
0%
Response time:
a few days or more
Explore other options in and around Indio
More places to stay in Indio: