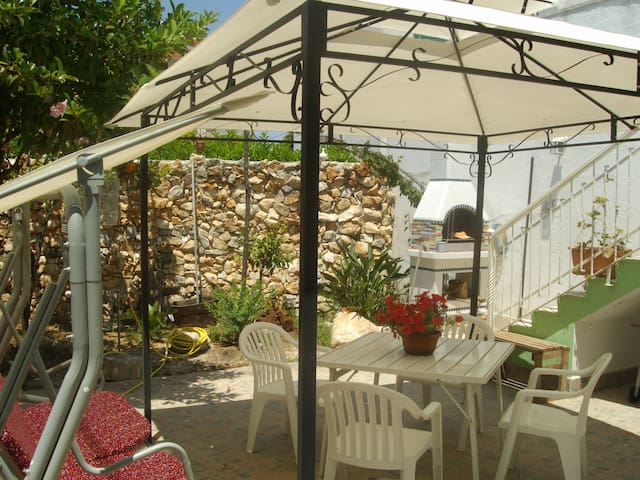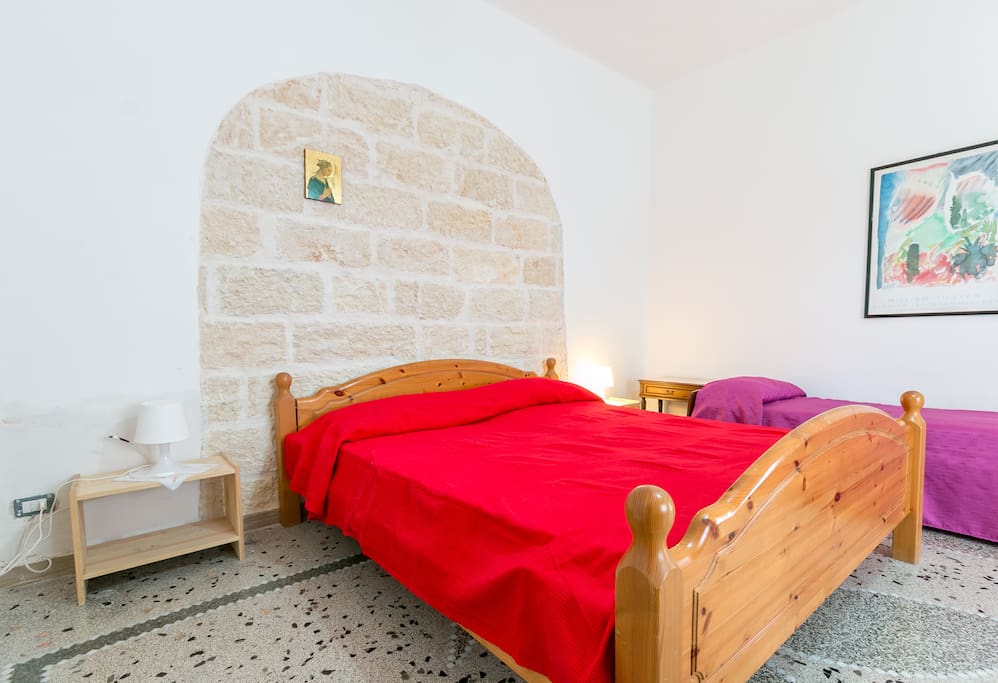 villino claudia 30 mt mare indip
The space
Lovely detached villa with two bedrooms with air conditioning and total insulation, for a total of 6 beds, entrance, kitchen, covered veranda, bathroom with shower, large garden with barbecue. There is a TV, washing machine, fridge, including free use of 2 adult bicycles. Small organic strawberry and strawberry cultivation at our guests' disposal. Walking distance to the center and 30 mt from the sea. Weekly rental price refers to months. The weekly rent is 500 Euros For the month of May the weekly rent of 4 people and June 500 the weekly rent is euro 600. For the month of July the weekly rent is Euro 750. For the week In August the weekly rent is € (PHONE NUMBER HIDDEN). for the month of September the weekly rent is € 500 for the month of October the weekly rent is € 500 for the month of November the weekly rent is 500 Euros for the month of December the weekly rent is 500 Euros for more information and for availability and is preferable telephone contactSend email or call: (PHONE NUMBER HIDDEN)This two bedroom detached villa with air conditioning and heating One total, for a total of 6 beds, entrance, kitchen, covered veranda, bathroom with shower, large garden with barbecue. There is a TV, washing machine, fridge, including free use of the pedal and kayak and adult bicycles Small organic strawberry and strawberry cultivation available to our guests A short walk from the center and 30 mt from the sea. The weekly rental price refers to the months For the month of May the weekly rent is € 500 For the month of June the weekly rent is € 500. For the month of July the weekly rent is Euro 750. For the month of August the weekly rent is € 1000. for September the weekly rent is € 500 for the month of October the weekly rent is € 500 for the month of November l 'Weekly rent is 500 euros for the month of December the weekly rent is 500 euros for more information and availability and is preferable telephone contact Send Email or call at: (PHONE NUMBER HIDDEN) VISIT THE NS SITE http: / (URL HIDDEN) WHERE TO FIND ALL PICTURES AND VARIOUS INDICATIONS OF THE VILLA IN OGGETTOIndependent one-family Villas 6 places read with air-conditioned barbecue garden rooms shower expresses and interns wide kitchen set to 2 steps by the center and 30 mt Fridge washing machine tv bathroom from the Sea 5 Freistehendes Ferienhaus für 6 Personen mit Eigenem klimatisierten Räumen und im Freien Gartengrill Dusche Bad Küche Kühlschrank TV Waschmas Freistehendes Ferienhaus für 6 Personen mit Eigenem klimatisierten Räumen und im Freien Gartengrill Dusche Bad Küche Kühlschrank TV Waschmaschine bei 2 Schritte vom Zentrum und 30 Meter vom Meer Entfernt 500? Pro Woche mai (URL HIDDEN) 500 pro Woche Juni 750 pro Woche im Juli 1000 pro woche im August 500 pro woche im September CELL (PHONE NUMBER HIDDEN) Maison indépendante pour 6 personnes avec indépendante des chambres climatisées et d'extérieur Barbecue douche de jardin cuisine salle de ba Maison indépendante pour 6 personnes avec indépendante des chambres climatisées et d'extérieur barbecue douche de jardin cuisine salle de bain frigo lave linge tv situé à 2 pas du centre et 30 mètres de la mer. (URL HIDDEN) 500 euros par semaine en mai 500 euros par semaine Juin 750 euros la semaine en Juillet 1 000 par semaine en août 500 euros par semaine en Septembre CELLULE (PHONE NUMBER HIDDEN)A single-family house with capacity for 6 persons With air conditioner and barbacoa at the aire free jardín baño with ducha cocina ne Single family house with capacity for 6 personas with air conditioning and barbacoa at the aire libre jardín baño with ducha cocina nevera lavadora TV located at 2 pasos of downtown ya 30 metros del mar 500 Euro por semana en mayo (URL HIDDEN) 500 euros but semana de junio 750 euros but semana en julio? 1.000 por semana in agosto 500 euros but semana en septiembre CELULAR (PHONE NUMBER HIDDEN) Agrigento Alessandria Ancona Aosta Arezzo Ascoli Piceno Asti Avellino Bari Barletta-Andria-Trani Belluno Benevento Bergamo Biella Bologna Bolzano Brescia Brindisi Cagliari Caltanissetta Campobasso Carbonia-Iglesias Caserta Catania Catanzaro Chieti Como Cosenza Cremona Crotone Cuneo Enna Fermo Ferrara Florence Foggia Forlì-Cesena Genoa Gorizia Grosseto Imperia Isernia La Spezia L'Aquila 46 Latina lecce 48 Lecco 49 Livorno 50 Lodi 51 Lucca 52 Macerata 53 Mantova 54 Massa-Carrara 55 Matera 56 Messina 57 Milan 58 Modena 59 Monza And the Brianza 60 Naples 61 Novara 62 Nuoro 63 Olbia-Tempio 64 Oristano 65 Padua 66 Palermo 67 Parma 68 Pavia 69 Perugia 70 Pesaro and Urbino 71 Pescara 72 Piacenza 73 Pisa 74 Pistoia 75 Pordenone 76 Potenza 77 Prato 78 Ragusa 79 Ravenna 80 Reggio Calabria 81 Reggio Emilia 82 Rieti 83 Rimini 84 Rome 85 Rovigo 86 Salerno 87 Medio Campidano 88 Sassari 89 Savona 90 Siena 91 Siracusa 92 Sondrio 93 Taranto 94 Teramo 95 Terni 96 Turin 97 Ogliastra 98 Trapani 99 Trento 100 Treviso 101 Trieste 102 Udine 103 Varese 104 Venice 105 Verbano-Cusio-Ossola Vercelli Verona Vicenza Viterbo
Carinissimo villino indipendente con due camere da letto dotate di aria condizionata e coibentazione totale, per un totale di 6 posti letto, ingresso, cucina, veranda coperta, bagno con doccia, ampio giardino con barbecue. Provvisto di tv, lavatrice, frigo, incluso uso gratuito di 2 biciclette da adultoPiccola coltivazione biologica di fragole e fragoline a disposizione dei ns ospitiA pochi passi dal centro e a 30 mt dal mare.Il prezzo di affitto settimanale si riferisce ai mesiPer il mese di maggio l'affitto settimanale e' di 500 euroPer il mese di maggio l'affitto settimanale 4 persone e' 500 giugno l'affitto settimanale e' di euro 600.Per il mese di luglio l'affitto settimanale e' di euro 750.Per il mese di agosto l'affitto settimanale e' di euro (PHONE NUMBER HIDDEN).per il mese di settembre l'affitto setimanale e' 500 europer il mese di ottobre l'affitto settimanale e' 500 europer il mese di novembre l'affitto settimanale e' di 500 europer il mese di dicembre l'affitto settimanale e' 500 europer maggiori informazioni e per la disponibilita' e' preferibile contatto telefonicoInvia Email oppure telefona al: (PHONE NUMBER HIDDEN)Carinissimo villino indipendente con due camere da letto dotate di aria condizionata e coibentazione totale, per un totale di 6 posti letto, ingresso, cucina, veranda coperta, bagno con doccia, ampio giardino con barbecue. Provvisto di tv, lavatrice, frigo, incluso uso gratuito del pedalò e del kayak e biciclette da adulto Piccola coltivazione biologica di fragole e fragoline a disposizione dei ns ospiti A pochi passi dal centro e a 30 mt dal mare. Il prezzo di affitto settimanale si riferisce ai mesi Per il mese di maggio l'affitto settimanale e' di 500 euro Per il mese di giugno l'affitto settimanale e' di euro 500. Per il mese di luglio l'affitto settimanale e' di euro 750. Per il mese di agosto l'affitto settimanale e' di euro 1000. per il mese di settembre l'affitto setimanale e' 500 euro per il mese di ottobre l'affitto settimanale e' 500 euro per il mese di novembre l'affitto settimanale e' di 500 euro per il mese di dicembre l'affitto settimanale e' 500 euro per maggiori informazioni e per la disponibilita' e' preferibile contatto telefonico Invia Email oppure telefona al: (PHONE NUMBER HIDDEN) VISITA IL NS SITO (URL HIDDEN) DOVE TROVERAI TUTTE LE FOTO E LE INDICAZIONI ESATTE DEL VILLINO IN OGGETTOIndependent one-family Ville 6 places read with air-conditioned barbecue garden rooms shower expresses and interns wide kitchen placed to 2 steps by the center and 30 mt fridge washing machine tv bathroom from the sea 5 Freistehendes Ferienhaus für 6 Personen mit eigenem klimatisierten Räumen und im Freien Gartengrill Dusche Bad Küche Kühlschrank TV Waschmas Freistehendes Ferienhaus für 6 Personen mit eigenem klimatisierten Räumen und im Freien Gartengrill Dusche Bad Küche Kühlschrank TV Waschmaschine bei 2 Schritte vom Zentrum und 30 Meter vom Meer entfernt 500 ? pro Woche mai (URL HIDDEN) 500 pro Woche Juni 750 pro Woche im Juli 1000 pro Woche im August 500 pro Woche im September CELL (PHONE NUMBER HIDDEN) Maison indépendante pour 6 personnes avec indépendante des chambres climatisées et d'extérieur barbecue douche de jardin cuisine salle de ba Maison indépendante pour 6 personnes avec indépendante des chambres climatisées et d'extérieur barbecue douche de jardin cuisine salle de bain frigo lave linge TV situé à 2 pas du centre et 30 mètres de la mer. (URL HIDDEN) 500 euros par semaine en mai 500 euros par semaine Juin 750 euros la semaine en Juillet 1 000 par semaine en août 500 euros par semaine en Septembre CELLULE (PHONE NUMBER HIDDEN)Casa unifamiliar independiente con capacidad para 6 personas con aire acondicionado y barbacoa al aire libre jardín baño con ducha cocina ne Casa unifamiliar independiente con capacidad para 6 personas con aire acondicionado y barbacoa al aire libre jardín baño con ducha cocina nevera lavadora TV situado a 2 pasos del centro ya 30 metros del mar 500 euros por semana en mayo (URL HIDDEN) 500 euros por semana de junio 750 euros por semana en julio ? 1.000 por semana en agosto 500 euros por semana en septiembre CELULAR (PHONE NUMBER HIDDEN) Agrigento Alessandria Ancona Aosta Arezzo Ascoli Piceno Asti Avellino Bari Barletta-Andria-Trani Belluno Benevento Bergamo Biella Bologna Bolzano Brescia Brindisi Cagliari Caltanissetta Campobasso Carbonia-Iglesias Caserta Catania Catanzaro Chieti Como Cosenza Cremona Crotone Cuneo Enna Fermo Ferrara Firenze Foggia Forlì-Cesena Genova Gorizia Grosseto Imperia Isernia La Spezia L'Aquila 46 Latina lecce 48 Lecco 49 Livorno 50 Lodi 51 Lucca 52 Macerata 53 Mantova 54 Massa-Carrara 55 Matera 56 Messina 57 Milano 58 Modena 59 Monza e della Brianza 60 Napoli 61 Novara 62 Nuoro 63 Olbia-Tempio 64 Oristano 65 Padova 66 Palermo 67 Parma 68 Pavia 69 Perugia 70 Pesaro e Urbino 71 Pescara 72 Piacenza 73 Pisa 74 Pistoia 75 Pordenone 76 Potenza 77 Prato 78 Ragusa 79 Ravenna 80 Reggio Calabria 81 Reggio Emilia 82 Rieti 83 Rimini 84 Roma 85 Rovigo 86 Salerno 87 Medio Campidano 88 Sassari 89 Savona 90 Siena 91 Siracusa 92 Sondrio 93 Taranto 94 Teramo 95 Terni 96 Torino 97 Ogliastra 98 Trapani 99 Trento 100 Treviso 101 Trieste 102 Udine 103 Varese 104 Venezia 105 Verbano-Cusio-Ossola Vercelli Verona Vicenza Viterbo
---
---
Extra people $44 CAD / night after 4 guests
Always communicate through Airbnb
To protect your payment, never transfer money or communicate outside of the Airbnb website or app.
Learn more
---
IL RISPETTO DIVENTA RECIPROCO QUANDO UNA COSA ALTRUI VIENE GESTITA COME SE FOSSE PROPRIA.
QUI E' TUTTO NUOVO FATTO CON AMORE E CON PASSIONE
I VS ANIMALI DOMESTICI SONO I BENVENUTI
BUONE VACANZE
Sonia
---
---
---
The Villino Claudia is conveniently positioned about 10 minutes walk from the centre of town, just metres from the port and close to the beach. We found everything we needed in the town within walking distance and Porto Cesareo is a good base for touring southern Puglia. The house is distinct with just two air conditioned bedrooms and food storage indoors. The heart of the house, however, is the quaint back garden where all cooking, eating and gathering is done in the open air, though you do need a thick skin for the local mosquitos. All in all, a very comfortable place to stay. ***** Il Villino Claudia è comodamente posizionato a circa 10 minuti a piedi dal centro della città, a pocchi metri dal porto e vicino alla spiaggia. bbiamo trovato tutto ciò che abbiamo avuto bisogno a piedi. Porto Cesareo ed anche una buona scelta per vedere la sud della Puglia. L'aria condizionata nelle camere era molto buono ma abbiamo apprezzato soprattutto la cucina all'aperto ed il giardino, cio che è necessario avere la pelle spessa per le zanzare.
---
Raffaele è stato un host disponibilissimo e sempre pronto a dare un'indicazione preziosa sul modo migliore di vivere la vacanza a Porto Cesareo. Il suo alloggio è davvero delizioso, il cortiletto pieno di piante, soleggiato e dotato di una cucina molto funzionale è il suo punto di forza ed il contesto migliore dove riposarsi dopo una giornata in spiaggia. Sicuramente un posto che consiglierei agli amici.
---
amiamo il mare le amicizie sincere che diventano gli amici di sempre amiamo gli animali i cani e i gatti e le tartaruche andiamo a vela wind surf canoa e moto
Languages:
Deutsch, English, Español, Français, Italiano
Response rate:
100%
Response time:
within an hour
Explore other options in and around Porto Cesareo
More places to stay in Porto Cesareo: