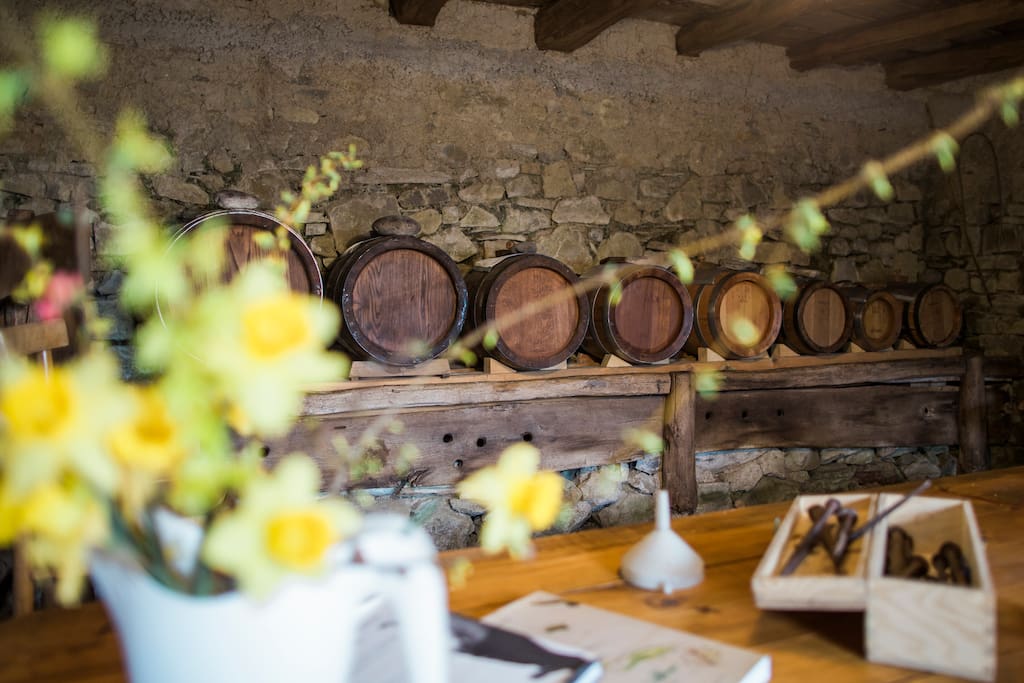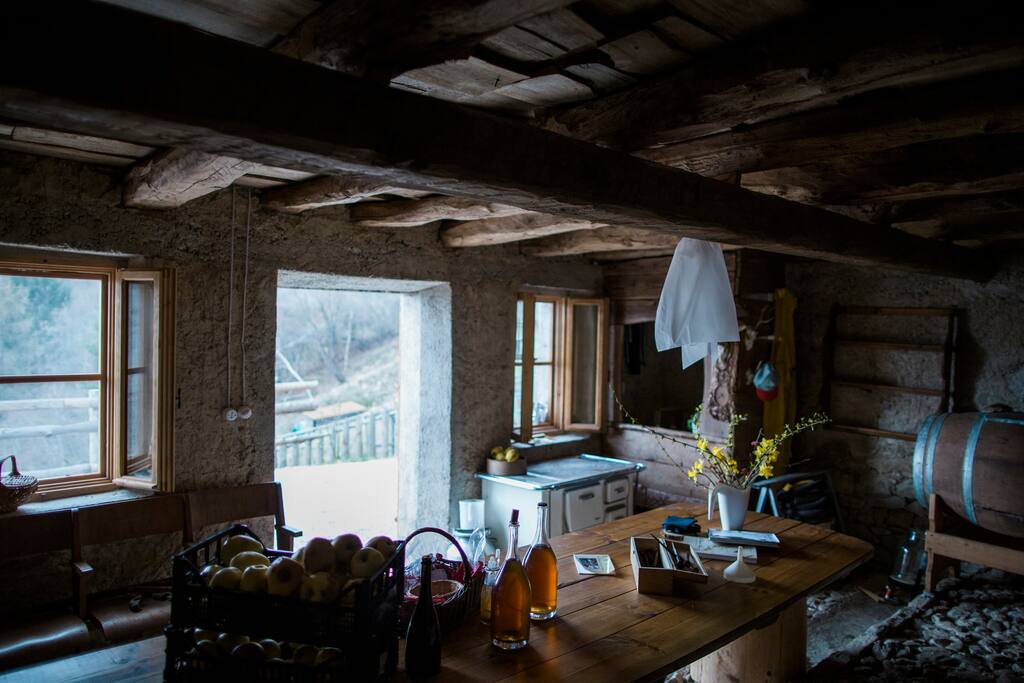 The property 'adjacent to a small farm is isolated in the forest 1.5 km from the main road. The road is small for the last 400 meters. You get there by car 4x4, on foot or by bicycle. The house 'consists of 1 double bedroom wood that has huge glass windows into the valley. 1 double bedroom prepared for apitherapy with two hives, 1 bedroom with French bed. Downstairs there 'a small kitchen and a nice spacious patio.
Other things to note
HIVE ROOM FOR REST or SLEEPING
Our Hive ROOM is based on a popular form of apitherapy (no stinging involved!) from the Ukraine. The emotional, psychological, and physical stresses of modern, fast paced life are all said to be countered by the unique healing effects of bees. Restful sleep in a space over bee hives may have powerful preventative and healing effects and at the very least allows for deep rest and rejuvenation.
Many factors seem to be at play in creating these beneficial effects. A person in such a space inhales the air coming from the bee colonies which is filled with the aromas of honey, beeswax, propolis, and Royal Jelly. Properties of these substances range from antimicrobial and stimulating to ionizing, and are credited with improving pulmonary function, enhancing the body's immunity, and improving blood composition. These are just some of the noted benefits. Additional factors involved are the micro vibrations and regulated temperature coming from the hive colonies as a whole. And lastly, the steady buzzing sound of the bees is comparable to the sound of the soothing and relaxing tide,.
So just how does one enjoy the Hive House? While a short stay sitting in a comfortable chair, enjoying the sound and aromas coming from the hives is certainly relaxing and beneficial, it is with sleep that the most powerful effects can be had.
Very few of these apitherapy houses seem to exist outside of the Ukraine, this one one is probably the only one in Italy. There is one that we know of in Canada but we cannot currently find record of any in the United States. But we'd love to hear from you if you know of one. Curiosity, after learning of their existence at a Michigan Bee Conference from Anne Marie Fauvel and Therese McCarthy, and a love of bees propelled us on this journey. Our plan is to thoroughly enjoy this new adventure that allows us to delve further into the world of bees and vibrant health. Family and friends may join us along the way and we welcome them, hoping that their lives will be bettered by it. We look forward to sharing our experiences with you here!
Weekend Price $286 CAD / night
Always communicate through Airbnb
To protect your payment, never transfer money or communicate outside of the Airbnb website or app.
Not safe or suitable for infants (Under 2 years)
Check-in time is 2PM - 8PM
A beautiful, remote, unique home that is distant from everything around it. The rocky road leading to the home makes for a great walk, and everything about the home -- from the fireplaces to the panorama views over the piney hills -- is calming and genuine. Rik and his father are incredibly kind men and I look forward to meeting them again soon.
---
Rik and Enzo were fantastic hosts. We were greeted at their Michelin star family restaurant (Dolada) with a glass of refreshing prosecco before being taken to the house. They took time to show us around and checked in on us to make sure we were OK or if we needed anything. We also had balsamico tasting session with Enzo at he house. All queries were answered within minutes. The hosts also provided us with daily breakfast which we enjoyed in the open-air kitchen, taking in the breathtaking views. Even the bedrooms are an experience: in one of them you can try apitherapy by sleeping with the bees. The other bedroom has panoramic view of the valley. This is a truly unique place and I can't recommend it enough. Thank you Rik and Enzo.
---
One of the greatest experiances with Airbnb so far! The house is fantastic, especially the panorama room, where you wake up with a view over the valley! The open kitchen is great during summer, you basically sit outside. You'll find all necessary kitchen tools to prepare dinner, since the owner is professional cook and you'll be also able to make a campfire outside. Communication was smooth and easy! I can strongly recommend a stay at Riccardos and Enzos house for persons who like near-nature experiences!
---
С Рикардо мы не встретились, познакомились только с его папой, Энцо. Как оказалось, они оба из семьи потомственных поваров, причем с 70-х годов их ресторан обладает звездой Мишлен. Мы встретились с Энцо в ресторане на вершине горы. Welcome-espresso, знакомство. Правда, Энцо не особо знает английский, а мы - итальянский. Но поняли друг друга превосходно. Потом по горной дороге около трех километров до самого дома. Это затерянная в лесу старая ферма, но перестроенная так, что получилось уникальное место. Одна спальня с панорамным окном и видом на долину. Отличный дизайн, куча мелочей, которые создают настроение. Во второй спальне вы будете ночевать рядом с пчелами. В ней стоят два улья, и слышно их жу(SENSITIVE CONTENTS HIDDEN)ание. Не бойтесь, они отгорожены от вас сеточкой. Мешать не будут, только помогут лучшему сну. На наш вопрос в смс о том, где можно купить вина и еды, ответ был "Все уже здесь". Энцо подготовил для нас корзину с мясом, рыбой, овощами и вином. Все это, приготовленное на гриле, было необычайно вкусным. Уж непонятно, связано ли это с тем, что подбором продуктов для нас занимался мишленовский повар) Проснулись в 6 утра, перед рассветом. Метрах в 30 от спальни в это время гулял олененок. Сфотографировать не удалось, успел убежать) Небольшая пробежка до деревни (правда, бежать пришлось в гору), потом чудный завтрак с кексами, вареньем из абрикосов и тортом, которые достались нам как комплимент от хозяев. Ну и гренки, приготовленные уже собственноручно. Горячий кофе с молоком. Всё, что нужно для лучшего в мире утра! Это одно из лучших мест где мы когда либо были
---
My family stayed here and we were all speechless. Riccardo and his father Enzo are very friendly hosts and showed us everything and we also had a balsamico tasting with Enzo at the house. They offered us fresh milk, cakes and fruits etc. every day and we felt like kings. Don't forget to eat at the Restaurant Dolada - it tastes like heaven. We really enjoyed our stay in this very special and fantastic house. The hive room is also fabulous and had a very calming effect on us. If you are searching for a place to slow down this is the right place for you!
---
Response rate:
100%
Response time:
within a few hours
Explore other options in and around Pieve D'alpago
More places to stay in Pieve D'alpago: