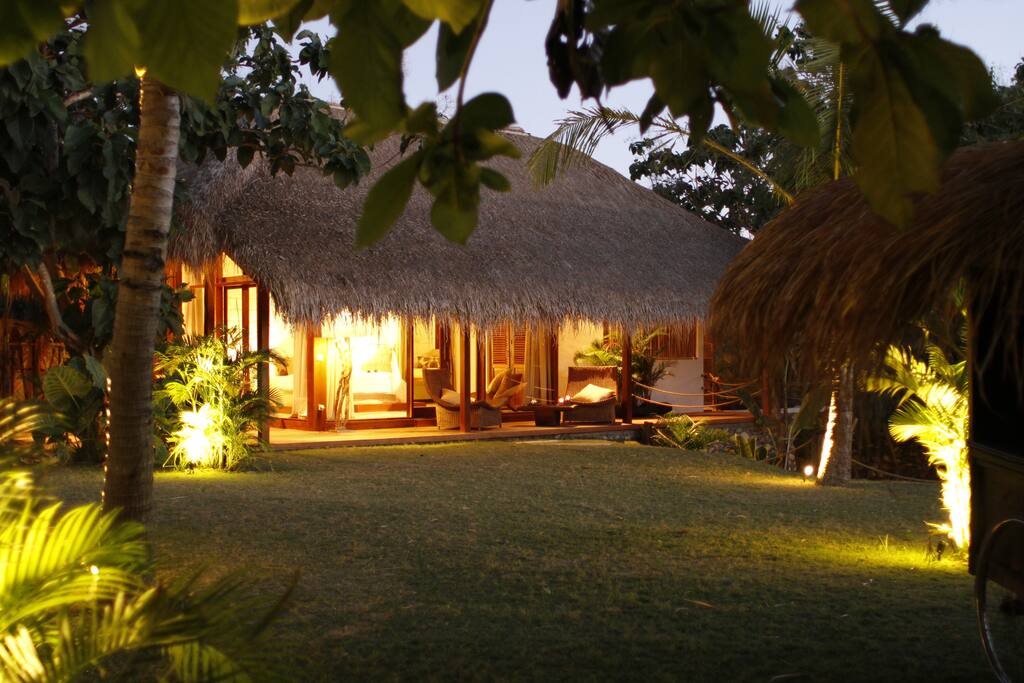 Balangan Bungalow "Mar"- La Cabane
La Cabane is situated 10mn walking distance from famous Balangan Beach, steps away from a beautiful desert beach called biu-biu.
Made & Ketut will assist all your needs. We share the swimming-pool and the restaurant with La Joya II Biu-Biu next door
The space
It is unique!!! & for nature lovers !
Guest access
Free Wi-Fi, Continental & American breakfasts served in the bungalow.
Interaction with guests
My work place is just 2 minutes away from the bungalows and I would be happy to help you with any of your requests.
The staff will be around as well shall you need anything,
There is a swimming-pool on site where you can enjoy a cold Bintang ! Great place to relax & enjoy the balinese culture. We are 20 mn away from Uluwatu temple .
---
This place is A.M.A.Z.I.N.G. We were expecting to be slightly disappointed because the Airbnb posting seemed to be too good to be true. But we were pleasantly surprised! Our hosts were super nice and friendly, the breakfast was delicious and healthy, and our accommodation was extremely comfortable! The private pool and beach were cherry on top! Since the bathroom is in the outdoors, it's only natural for insects and whatnot to come and go, or stay as they please. For someone who is not comfortable with these environments (I'm terrified of lizards) the "going"/shower experience was a bit of a challenge. The run is amazing! It's big and comfortable but it'll take forever to fill. Try asking the hosts (we didn't) to maybe have it filled by the time you get there.
---
This spot is great for couples. Cute little bungalows strewn about a beautiful ground with multiple pools and a restaurant on site. You barely have to leave. The little beach down the stairs is very scenic as well, but definitely not for swimming! Who needs it when you have 3 pools to choose from though? We would definitely come back!
---
A wonderful stay in a beautiful bungalow very close to the ocean. I travelled with my boyfriend and the three days we spent at Celine's bungalow were our favourite part of the trip. Balangan beach is very close indeed and we preferred Balangan over some of the other beaches as Balangan was clean and quiet. Ketut and Made are both such wonderful women and really made the stay that much more enjoyable! I came home with a bad sunburn one of the afternoons and Ketut quickly offered to chop up some aloe plant for me and advised me to put it in the fridge and apply later on. I thought that was very sweet of her!
---
We had a great stay at La Cabane, the place is very nice. Don't forget to book the jacuzzi next door for sunset time, great view, although, the jacuzzi was quite cold and not really bubbly. The staff was very nice and helpful during our stay and they even kept our bags one extra day - much appreciated! The bathroom is literally outside so if you like privacy you're not really going to enjoy your shower. There's a nice bath in the bathroom but unfortunately not enough hot water available to enjoy it. Wifi was quite good and breakfast delicious. Communication could be improved. We would definitely stay there again in the future!
---
The staff made all the difference! They were very courteous and welcoming. Provided good service and delicious breakfast that made us feel at home. Thank you very much! :) In contrast to the whole surrounding area that is really touristy with HUGE resorts, tourist bunkers and barely local life, the la cabane is quiet and the people are more relaxed. We had the pool with an amazing view directly in front of our bungalow almost for our own. But I also have to mention, that there is a construction site directly next to the bungalow. One of our four days there was a lot of noise and we could barely talk to each other without shouting. And finally a huge topic that made us feel a bit "traped": There is a "taxi mafia" directly in front of the resort. They charge 3 times (!!!) the offial blue bird price! One trip to dinner and back (250k (>15$) In all other houses we stayed, transportaion was very cheap or included. But here the staff seems to be held to only provide overpriced, local transportation and if you call official taxis on your own, they are to afraid to pick you up at the la cabane and won't come. The whole situation felt just bad. We HIGHLY recommand using Uber and don't tell anybody there how you ordered your driver. It's just "your driver", not Uber. That worked out very well. Only some drivers were too afraid and cancelled anyway. All in all the whole area is not the "airbnb kind of style" but more touristy and overpriced. But thanks to the very friendly staff and Uber, we enjoyed our stay very much and had 4 really nice days at the la cabane :)
---
I love the stay in La Cabane especially Kadi, a boy who served us when we arrived and til the end. Everytime I walk out from my room and need something, he is always here. Great staff and feel welcome :) The swimming pool is fantastic and nothing can be compared when you and your love enjoy the sunset from there. The room has everything you need except the hair dryer, you need to ask the staff ahead of it.
---
Languages:
Bahasa Indonesia, English, Français, Português
Response rate:
90%
Response time:
within an hour
Explore other options in and around Balangan Beach
More places to stay in Balangan Beach :