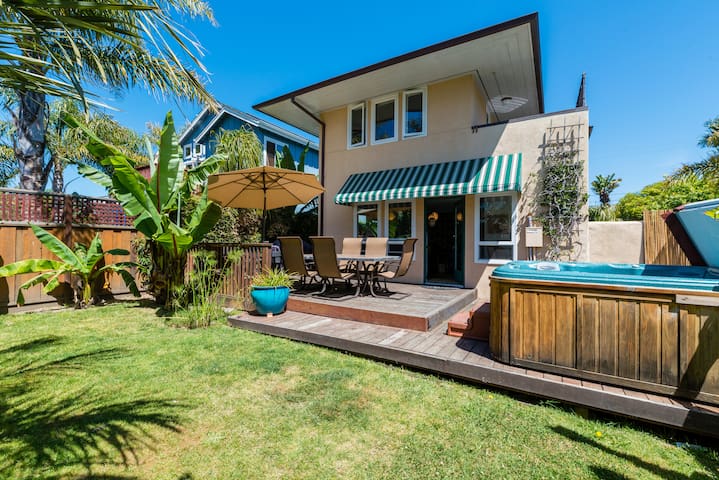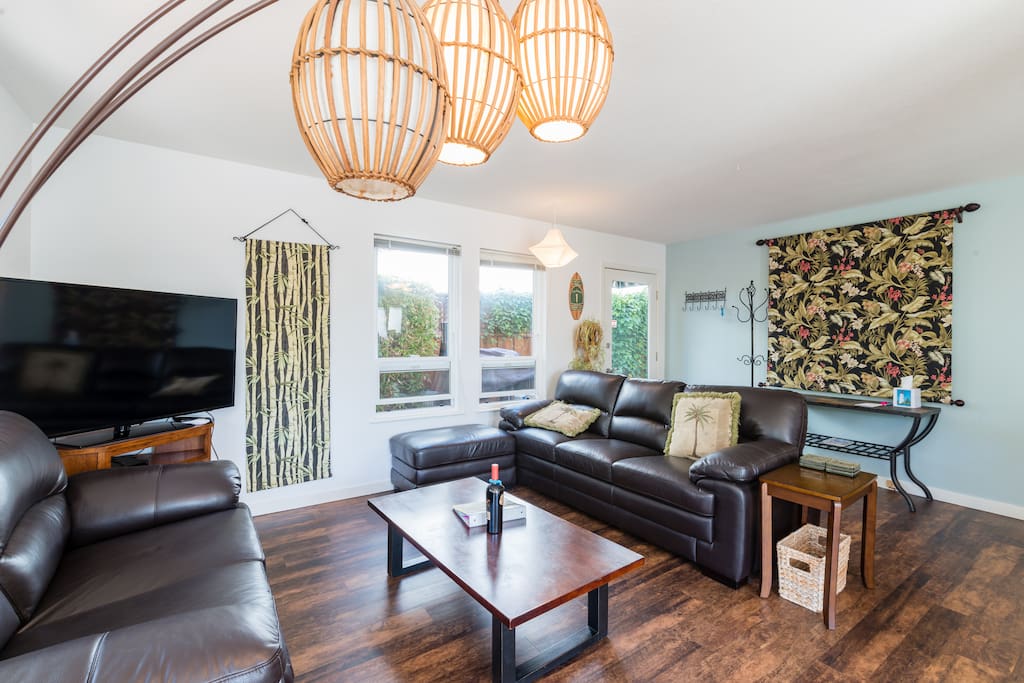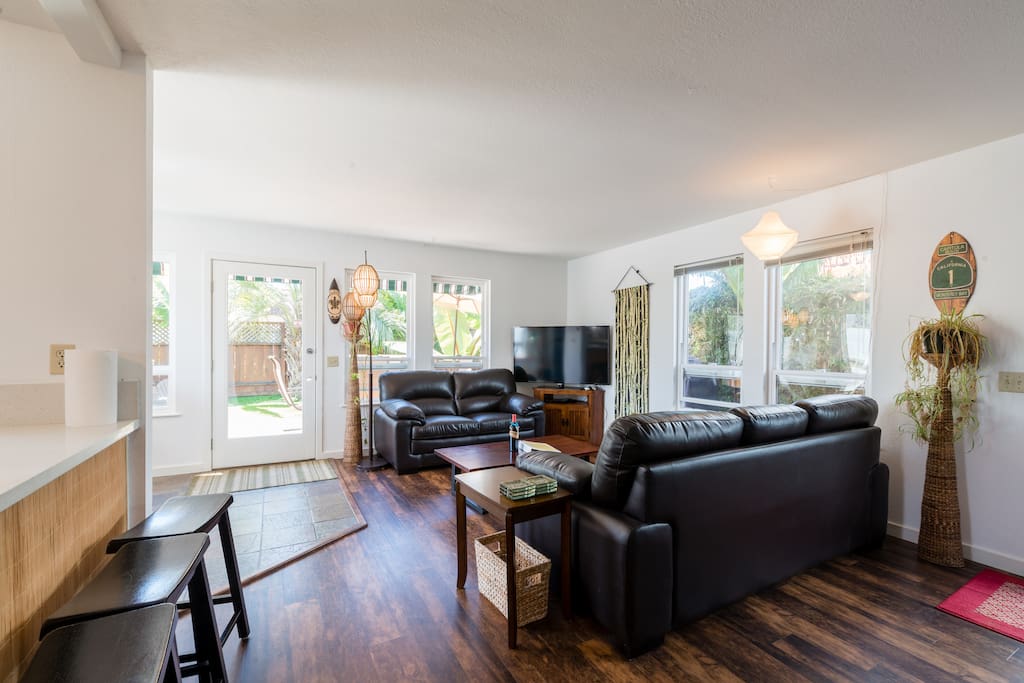 4bdr + Game Room, Hot Tub, Walk to beach.
Welcome to paradise! This is a great beach house in Pleasure Point area of Santa Cruz, CA, the famous surfing beach. The house is a 5min walk to the beach and sits 200 yards from the ocean.
The amenities include a backyard with back patio, an outdoor dining set, stainless BBQ, and a large HOT TUB!
The game room (garage) has a foosball table, 9ft shuffle board table, sit down Pac Man/Galaga combo. Plus surfboards, boogie boards, wetsuits, beach chairs, umbrella, kids beach toys.
---
This listing has essential business travel amenities.
---
Bedroom 3
3 single beds, 1 sofa bed
---
---
Security Deposit $629 CAD
Always communicate through Airbnb
To protect your payment, never transfer money or communicate outside of the Airbnb website or app.
Learn more
---
-We have a 10 adult maximum.
-Parking is limited to 3 cars in the driveway. Additional cars need to park in the cross street, 38th Ave.
- Pleasure Point Palms requires a seven night minimum reservation in June, July, and August and three night minimum in May and September. Monthly reservations are available. Returning visitors are entitled to a 10% discount from published fares. A cleaning fee of $150 will be applied to all rentals. This fee is for the normal cleaning and maintenance of the property following the (URL HIDDEN): Our neighborhood has a 10:00 p.m. to 8:00 a.m noise curfew, which is every night, including weekends. We value our good relationships with our neighbors. Most of our neighbors are locals who live and work in the area. It is imperative that you and your guests be respectful, courteous, and cordial in all of your interaction with our neighbors. If any of them are annoyed for any reason by any of our guests or their behavior, it is our policy to make one phone call to the home to alert you and your guests that you are breaking the terms of your rental agreement by not respecting the noise curfew of 10pm. If that call proves insufficient in stopping the noise, you and your guests will be required to immediately vacate the premises, and there will be no refund for any unused time. Santa Cruz County Noise Ordinance A. No persons shall, between the hours of ten p.m. and eight a.m., make, cause, suffer, or permit to be made any offensive noise: 1. Which is made within one hundred feet of any building or place regularly used for sleeping purposes; or 2. Which disturbs any person of ordinary sensitivities within his or her place of residence. B. "Offensive noise" means any noise which is loud, boisterous, irritating, penetrating, or unusual, or that is unreasonably distracting in any other manner such that it is likely to disturb people of ordinary sensitivities in the vicinity of such noise, and includes, but is not limited to, noise made by an individual alone or by a group of people engaged in any business, meeting, gathering, game, dance, or amusement, or by any appliance, contrivance, device, structure, construction, ride, machine, implement, instrument or vehicle. (Ord. 4001 § 1 (part), 1989 NO HOUSE PARTIES ALLOWED. (More than 15 guests in the house) TRAVEL INSURANCE For information PRIOR to arriving: Call CSA Travel Insurance Protection at (PHONE NUMBER HIDDEN) for information. VACATION RENTAL AGREEMENT 1. AGREEMENT: Contract is between Owner and the signer of this contract, herein referred to as "Signer Guest". Signer Guest is an adult over the age of 25 and WILL BE an occupant of the unit during the entire reserved period. The term "Guests" includes all of the occupants that are with the Signer Guest. Other occupants may be family members, friends or children under the Signer Guest's direct supervision. Use of the premises is denied to persons not falling within the foregoing categories. If any Guests are being obnoxious to the neighbors, All Guests will have to vacate the property immediately without any refund of deposit or payment. 2. CHECK IN: Check in time is 3:00 PM. Early check-in times are allowed only when the Home is cleaned and ready for occupancy. PRIOR APPROVAL IS REQUIRED. Self-check-in will be arranged upon booking. 3. CHECK OUT: Check out time is 11:00 AM. A $20 per hour standby fee will be charged for each hour (or portion thereof) past the required check out time if the maid is not able to get in and clean. We often have guests arriving the same day and the maid only has a 4-hour time frame to make the Home ready for the next Guests. Please be sure to lock all door and windows and secure the property prior to leaving. 4. RENTAL PAYMENT AND SECURITY DEPOSIT: When you book with this site, the full payment is due upon booking and held in an escrow account and released to us the day after you check-in. When you book on this site, that means you have read and agreed to the house rules. This site holds the security deposit and returns it if no claim is made within 48 hours. The security deposit is fully refundable a few days after departure date provided that real and personal property are in the same condition as when occupancy commenced and all terms of this agreement are met. Signer Guest is liable for all replacements and repairs that are outside what is considered normal wear and tear. 5. ADDITIONAL FEES: Additional fees may apply if property is not returned in identical condition as it was when Signer Guest took occupancy. 6. TRANSIENT OCCUPANCY TAX (TOT) Pursuant to Santa Cruz Municipal Code §3.28.030, a tax is imposed on each transient occupant for the privilege of occupancy in any "hotel" within the City. The tax constitutes a debt owed by the transient occupant to the City, which is extinguished only by payment by the operator to the City. Each hotel, motel and property management operator must collect this tax to the same extent and at the same time as the rent is collected from every transient occupant. The TOT for Santa Cruz County is 11% of the base rent. 7. CANCELLATION, RESERVATION & PAYMENT POLICY: Payment for the full amount of the Reservation MUST BE RECEIVED 30 DAYS PRIOR TO ARRIVAL DATE or reservation may be cancelled. The Owner understands that sometimes cancellations are unavoidable. If the guest cancels the reservation WITHIN 60-days of the arrival date, the owner will charge the difference of re-renting the house if the owner is financially disadvantaged as a result plus a $100 processing fee. For example, if the guest cancels within 60days and the time-period cannot be rented for the full-time or full amount the guest will make up the difference plus a $100 processing fee. Reservations cancelled more than 60 days BEFORE arrival date will have a full refund less a $100 processing fee. NO REFUNDS are issued for cancellations or early departure due to inclement weather or personal circumstances. 8. IF THE GUEST NEEDS TO CANCEL A RESERVATION: Notice of this cancellation MUST BE IN WRITING AND WILL BE CONFIRMED BACK TO THE GUEST, BY THE OWNER: email (EMAIL HIDDEN) or by postal address. 9. YOUR LIABILITY: You agree to accept liability for any damages caused to the property (other than normal wear and tear) by your guests, including, but not limited to, landscaping, watermarks or scarring of hardwood floors, misuse of appliances, and/or equipment furnished. If damages are in excess of the security deposit of $1000, you hereby agree to reimburse the Owners for costs incurred to repair/replace damaged item. 10. HOLD HARMLESS: The Owner does not assume any liability for loss, damage or injury to you or your guests or their personal property. Neither do we accept liability for any inconvenience arising from any temporary defects or stoppage in supply of water, gas, and electricity, hot tub, outside construction noises or plumbing. Nor will the Owner accept liability for any loss or damage caused by use of Homes equipment, street construction, adverse weather conditions, natural disasters, acts of God, or other reasons beyond its control. We do encourage you to purchase Travel Insurance that will reimburse you if any of the above happen. Call the CSA Travel Insurance Protection for full details at (PHONE NUMBER HIDDEN). By renting a property you are assuming all risk of and liability for any damage done to person or property, agents, employees or visitors occasioned by the present or future condition of the premises both latent and manifest. The Owner will not be responsible for accidents or injury to guest or loss of money or valuables of any kind. 11. NO GUARANTEES: Working condition of heaters, internet service, TVs, VCRs, DVDs, appliances, barbeque, hot tub, foosball, ping-pong, fire pit, etc., are NOT guaranteed. NO REFUNDS or rate adjustments will be made for mechanical failures and malfunctioning equipment. These amenities are extras provided in addition to the vacation house rental. Although all attempts will be made to correct the situation, some breakdowns cannot be prevented or repaired during your occupancy. 12. WHAT IS SUPPLIED: The Home is equipped and set up as a fully furnished property that will include bedspreads, linens, blankets, pillows, bath towels (not beach towels), as well as a full kitchen, TV, furnishings, BBQ grill, and outdoor furniture. The Home may not have all the items that you may be accustomed to having in your own home, so if there is an item you are accustomed to using such as a special type of cooking utensil, etc. please bring them with you. There will be charges against your Security Deposit for replacement of any missing items from the Home. 13. WHAT YOU SHOULD BRING: Items like favorite bath soaps, shampoos, beach towels, and other personal effects. Paper products (paper towels, toilet paper etc.) are NOT supplied, though you will have an initial supply until you can provide your own. 14. Internet ACCESS: The home is equipped with wired Ethernet and Wifi internet access and requires no passcode. 15. SLEEPING CAPACITY: The maximum number of guests who are allowed to stay overnight is 14 persons, unless otherwise stated in writing by the owner. The house and associated facilities are designed to accommodate this number comfortably. If you have guests beyond this limit, we suggest you find alternate arrangements for them to stay. Linens are provided only for the number of overnight guests allowed. 16. PARKING: Parking near the beach is always a challenge. To your benefit, Floral Ct. is a private street and requires no permits. However, parking permits are required for any vehicles on the 38th Avenue during the April to September time period toward the beach. There is parking for up to two average sized vehicles in the driveway, with another parking spot in front of the property. No more than 3 Cars are allowed on the property and Floral Court at any time. This is as a courteous to our neighbors and is strictly enforced.. Parking for more than 3 cars, guests can utilize additional street parking on 38th Ave (200 yards away.) 17. IF YOU ARE PLANNING ON HAVING FRIENDS OVER: We encourage you to have your friends over for a BBQ, please be courteous to the neighbors. 15-person maximum. 18. PETS: Dogs are allowed, with prior consent. We like friendly dogs. Pleasure Point is a very fun neighborhood with lots of dogs. If you are dog is not socialized, might be best to leave home. 19. FIRE PIT, Propane BBQ, REAR DECK: You hereby acknowledge that the property that you have reserved includes a outdoor fire pit and a propane BBQ on the deck, and you and your guests are fully aware these features can be hazardous. The rear deck can also be slippery when wet and injury can occur. You and your guests must observe & adhere to all rules & policies as noted in this contract and/or noted at the home. No running or horseplay around the stairs or deck. An adult must be present to ignite the gas fire pit and/or BBQ and shall be in proximity to these features at all times when in use and shall not leave children unattended around these features. The owner is not responsible for any injury or loss of personal affects resulting from the fire pit, Propane BBQ, rear deck and any other item in the house. 21. OWNERS CLOSETS AND GARAGE: Locked owners' closets are not included in your rental. Garage is available for guests. 22. VACATE & FORFEITING RULES: You and all other guests will be required to vacate the premises and forfeit the rental fee and any security deposit for any of the following: A. Occupancy exceeding the sleeping capacity stated on the reservation confirmation after 10PM. B. Using the premises for any illegal activity including, but not limited to, the possession, serving or consumption of alcoholic beverages by or to persons less than 21 years of age and/or the use of illegal drugs. C. Causing damage to the Home rented or to any of the neighboring properties. D. Having any unauthorized pets. E. Any illegal or unlawful purpose. F. Any other acts which interferes with neighbors' right to quiet enjoyment of their property, including any loud noises after 10 PM. G. Smoking on the premises WE RESERVE THE RIGHT to refund Initial Reservation Payments, refuse rental, or to discontinue occupancy if, in our judgment, your occupancy is detrimental to the property. We reserve the right to enter the premises at any time for the purpose of inspection, repair, management or showing to prospective buyer. 23. CLEANING & LEAVING: Each property will be inspected, sanitized and cleaned before you arrive and after you depart. You are to leave the property in the same general condition in which it was received, by making sure that: A. All personal belongings are collected and taken with you. B. Dishes are done and dishwasher is running or clean. Kitchen items (dishes, cookware, etc.) are cleaned and returned to proper place. C. Used linens and towels are put in the laundry room D. Any heating has been turned off. E. Guest log is signed noting the fun things you did that others might enjoy. F. The home should be generally picked up and ready to be vacuumed, dusted and sanitized. G. All lights, television and stereo equipment are turned off. H. All trash is placed in proper outside containers. I. Gas is turned off to the gas barbecue. Notify management IMMEDIATELY of any problems, including damage. IF ADDITIONAL CLEANING IS REQUIRED AND HAS NOT BEEN RESERVED IN ADVANCE: Appropriate charges will be deducted from your security deposit at the rate of $40 per hour. The Owner will contact you if this additional charge is necessary. Remember, NO SMOKING on the premises anywhere at any time. A charge of $500 will be levied if this rule is broken as it means that all carpet & furnishing must be dry cleaned. 24. MAINTENANCE & DAMAGE REPORTING: Report all maintenance issues promptly by cal(PHONE NUMBER HIDDEN) Just as might occur at your own well-maintained home, mechanical failures and other breakdowns could occur. Every effort will be made to correct the situation; however, no refunds or rate adjustments will be made for mechanical failures. Maintenance technicians and vendors may access the property for purposes of repairing previously reported issues. Report any damage or breakage upon occurrence by cal(PHONE NUMBER HIDDEN), so the matter can be settled before departure. Damages found by inspection crews upon departure will be billed and full payment for repairs will be collected via credit card. 25. ADDITIONAL TERMS AND CONDITIONS: You, for yourself, your heirs, assignors, executors, and administrators, fully release and discharge the Owners, of any claims, demands and causes of action by reason of any injury or whatever nature which has or have occurred, or may occur to the undersigned, or any of your guests as a result of, or in connection with the occupancy of the premises and agree to hold Owners free and harmless of any claim or suit arising there from. In any action concerning the rights, duties or liabilities of the parties to this agreement, their principals, agents, successors or assignees, the prevailing party shall be entitled to recover reasonable attorney fees and costs. 26. PAYMENT BY CHECK: If you pay by personal check, and the check is returned for NSF there will be a $100 service charge. Combinations will not be issued until the check has successfully cleared the bank. Checks should be made payable to Jordon Inkeles. All rules and regulations at the property must be strictly observed. AT ALL TIMES, PLEASE REMEMBER THAT THIS IS A PRIVATE RESIDENCE, AND THE OWNERSHIP EXPECTS YOU WILL TREAT THE HOME AND THE SURROUNDING NEIGHBORS WITH COURTESY, RESPECT, AND A LEVEL OF CARE YOU WOULD DEMONSTRATE AT YOUR OWN HOME WITH YOUR OWN NEIGHBORS. ENJOY YOUR STAY AT THE HOUSE AND IN SANTA CRUZ! WE HOPE THAT YOUR STAY WILL BE SO ENJOYABLE THAT WE WILL SEE YOU RETURN TO THE FLORAL COURT RENTAL IN THE FUTURE!
---
Strict
Cancel up to 7 days before your trip and get a 50% refund. Cancel within 7 days of your trip and the reservation is non-refundable.
---
---
The minimum night stay for this listing varies.
---
This place was even better in person than it is in the pics! It was a short walk to the best surf breaks and in close proximity to good food. There was plenty of space for everyone, and the host responded quickly when we messaged her with questions. We would definitely stay here again!
---
This is the perfect home for an extended family. We were there with our daughter, son-in-law and their three children and there was plenty of space. The beach is an easy two block walk, the Santa Cruz Boardwalk about 4-5 miles, and Capitola about 1-2 miles. Our grandchildren were ready to move in!
---
San Francisco, California, United States
Joined in April 2014
Alexa is a SF resident working in the intersection of tech and creative. She went to school in Santa Cruz and loves it. That's why she and her brother (who lives next door to the rental) invested in a beach house and created Pleasure Point Palms to share with their family and extended community. We hope you'll love it as much as we do!
Response rate:
100%
Response time:
within an hour
Explore other options in and around Santa Cruz
More places to stay in Santa Cruz: