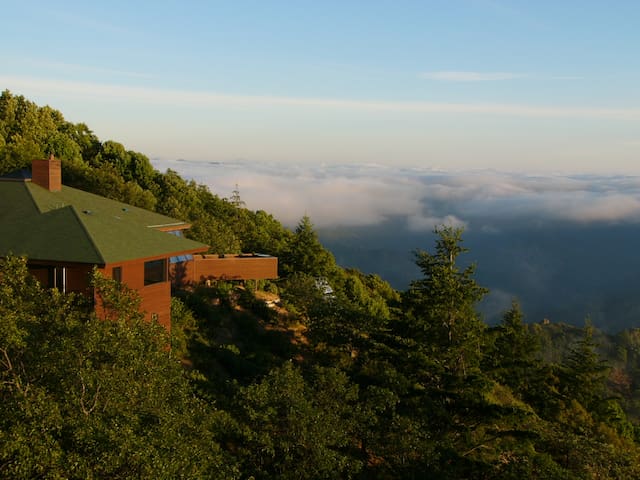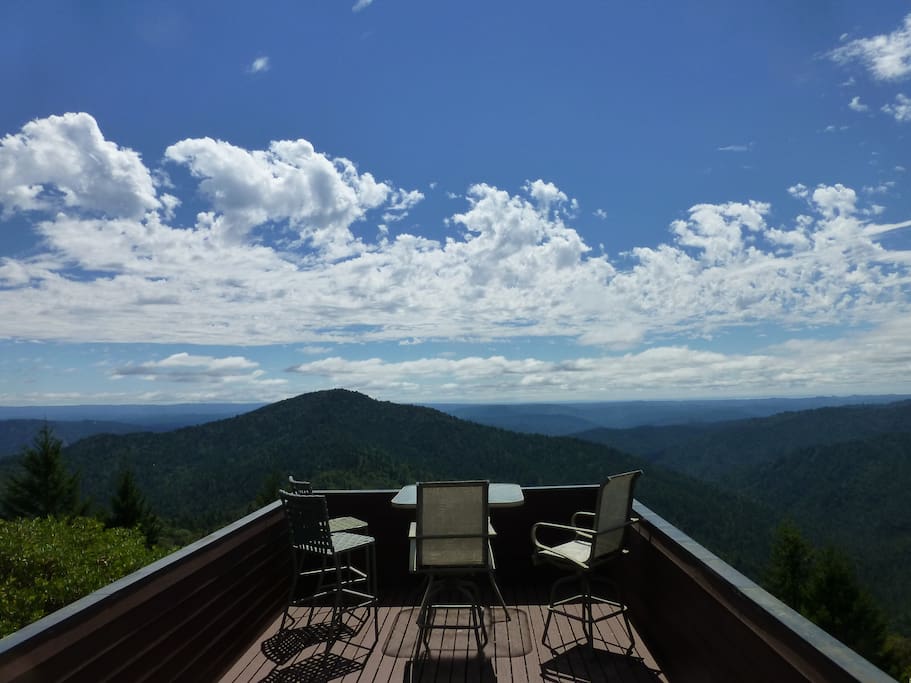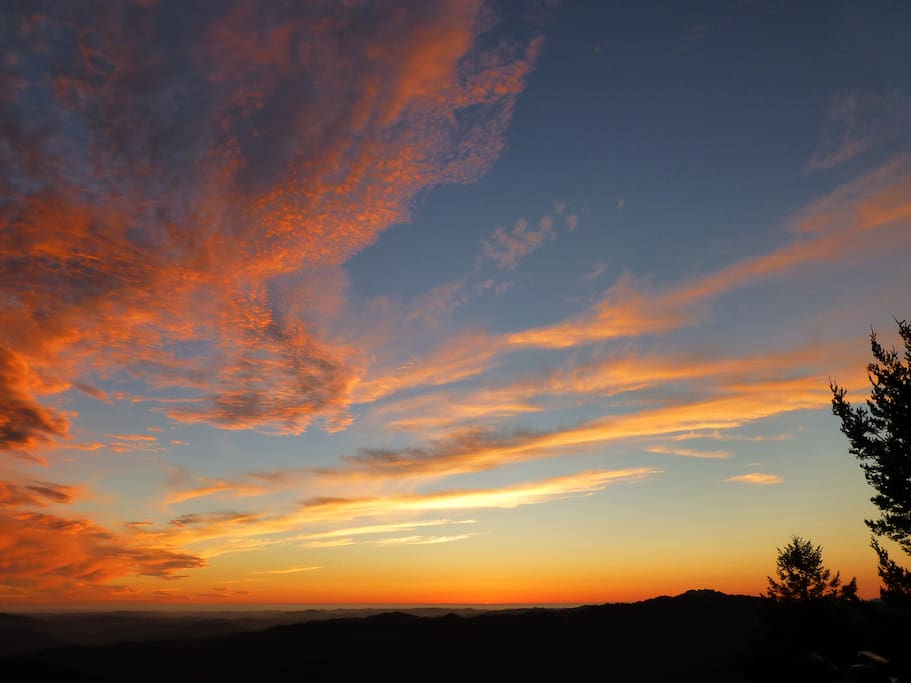 Frank Lloyd Wright School, unique mountaintop off-grid solar home on 180 Acre Historic Ranch overlooks vast forested wilderness. Sure cure for "Nature Deficit Disorder!" Panoramic view to ocean. Spacious, private, peaceful View Suite is a separate wing of the house: queen bed + sleeper sofa; private full bath, deck, kitchenette, breakfast foods, table. Sunsets, sunrises, big dark night sky, hummingbirds galore, paradise for birders, nature lovers, seeking serenity, renewal & peaceful getaway.
The space
Our mountaintop ranch retreat is becoming well known as a 180-acre slice of heaven; overlooking thousands of acres of wilderness all the way to the Pacific Ocean. This spot is a sure cure for "Nature Deficit Disorder"! We encourage you to enjoy first-hand the awe-inspiring vistas, sunrises and long lingering sunsets, relaxation, and unpretentious hospitality of our secluded mountain home. It is more than a destination, it is a feeling that you won't soon forget, and a rare experience you can't afford to miss.
Are you a devotee of Shinrin-yoku: The Japanese Art of "Forest Bathing"? We invite you to immerse yourself luxuriously in the naturally saturated atmosphere here on the mountain!
Roughing it? No way! Your entirely separate, peaceful, private and spacious wing of the house is furnished with comfortable, handcrafted furniture, antiques, unique works of art, a world class library, kitchenette, en-suite full bath, heating and air conditioning, a handcrafted Queen bed with "Natura World" organic mattress, lots of pillows, fine linens, hardwood & tile floors. Also in your space is a comfortable "Flex-Steel" couch with chenille throws, which becomes an excellent, pull out sofa bed for others in your party, or for your companion who wishes for a separate place to sleep. In addition you'll find your suite features an incredible view without city sounds, or city lights!
This is a destination for special people who love to go that extra mile for the exclusive, unique location and extraordinary view that is ours, behind locked gates. Come stay here and it becomes yours to savor.
Your spacious, professionally cleaned guest suite also includes coffee maker & coffee, tea pot & tea, breakfast foods, dishes & utensils, cutting boards, mini- refrigerator, microwave, utility sink; outdoor and glass-enclosed deck areas, telescope, hand drums, slippers, bathrobes, hairdryer, toothbrushes, shampoo, soap and conditioner, couch, table, chairs, yoga mat & blocks, stereo, Wi-Fi, cell charging stations, and all high quality bed, bath and table linens.
Relaxation is effortless after a day of fun and adventure exploring the Giant Redwoods, the famous Mendocino Coast, the parks, rivers and events or the abundant Award Winning Wineries. If you wish to spend your stay relaxing or in retreat, we hold space for you to do that as well.
Your well-appointed suite was designed by the same Frank Lloyd Wright School architect who designed and built the main house. Our home is perched on top of the highest point west of Highway 101, with vast stunning vistas of elegant Redwood, Fir, Madrone, Manzanita, Oak trees, plus Chaparral and wildflower covered slopes.

We are happy to serve as your personal guides on private wilderness trails, direct you to easy walks on our un-paved quiet road, guide you to our special spots for sitting on a rock contemplating the view of seemingly endless wilderness, while surrounded by singing birds, fresh air and ocean breezes. At night we invite you to sit on the porch in the moonlight or under the canopy of stars which pop out brilliantly in this place of no streetlights or neighbors.
Our lovingly landscaped gardens are open to you for strolling, sitting, contemplation. Our fruit trees provide delicious fruit in season, which we are happy to share with you. The Gardens have been a popular feature on charitable garden tours.
You are invited to experience off-grid living in a thoroughly modern home with all the amenities. Electricity has never been available here, so for the past quarter century we've been building up our own abundant solar generating system, backed up by generator on cloudy winter days. Solar energy pumps our pure and delicious well water, and solar water heating is on the roof. Weather permitting, we heat, cool and cook with solar in addition to pumping our well water, powering lights and appliances.
This ranch/retreat is perched on a rocky mountain top in the spectacular coast range wilderness 2.5 hours north of San Francisco. We have 360 degree panoramic views (from your private space too!) of big mountains, forest, and ocean with abundant wildlife and lots of hummingbirds. This is an ideal Nature Lover's, Writer's, Musician's & Painter's spot; perfect for a Birthday, Anniversary, Honeymoon or Special Getaway with your Sweetheart, Best Friend, or Best Traveling Buddy. Terrific home base for visiting Redwoods, Wineries, Festivals, Coast and Hiking Trails all over the County.
The Guest Suite, like the entire house, is a bit of an art gallery/museum of our personal travels around the world as anthropologists; and contains a portion of our precious personal reference library.
The Suite was built with steel framing - recycled cars - rather than wood, the oak & redwood trim came from down trees on the property, milled on site. The ceiling is redwood, made from the wood of a huge old water tank. The floor is sustainably sourced Oak. The house was designed and built by Thomas F. Bingham, of the Frank Lloyd Wright School of Architecture. The Guest Suite was designed by Thomas F. Bingham and built by Jay Fraser of Willits.

This is a fabulous destination in and of itself. Most visitors settle in and do not leave until their restful stay is over. The acoustics are great for singing and non-amplified musical instruments, hence the many house concerts we have hosted here.
A good flashlight is a must for after dark, there are no street lights anywhere, no nearby neighbors. We provide flashlights for you. If you ask, Creek will do a star show for you with his telescope - weather permitting - or you can just relax on the deck after dark, soaking in the vast Milky Way and occasional shooting stars. Definitely bring binoculars if you are into enjoying our terrific birding. Don't forget your camera! Prepare for spectacular Sunrises, and long, lavish, lingering Sunsets where the sun slips into the ocean before your eyes. Wildflowers and stargazing are all superlative.
We love spontaneity, so we welcome short notice bookings.
Though our retreat is on top of a mountain in the breathtaking California outdoors, we are easier to reach than you may suspect. Our property is only 8 miles from Highway 101, and it is quite convenient to arrive by a rental or personal car. Don't worry about getting here with a city car - I drive a Prius on the route you will take. The big UPS truck comes here daily. The road from the highway is all paved; except for a short, mostly flat, 1 mile from the community gate to our driveway, which is paved in all the tough spots. When you follow the detailed directions to get to the house, make sure you take the main road which is all pavement from the highway to the Yellow Gate.
Internet is adequate for your getaway vacation. We get our broadband wireless signal from a ridge-top source, 6 air miles to the east of us, line of sight. We are grateful to have the best internet outside of the city limits. Much of this county has little to none, mostly due to the landscape; the forest, the mountains, the canyons, and the small, rural population.
As your hosts, we hold space for your goals for this experience. If you wish to interact with us, we are available. If you seek privacy, that's perfect with us as well.
For your health and comfort, and that of others, this is a pet/domestic animal-free, non-smoking and drug-free property.
Willits (and Ukiah also) has an abundance of excellent restaurants, a book of menus is on your coffee table. It is 25 minutes driving on a mountain road to Willits, so you might seriously consider dining before you arrive, or bringing your dinner - you'll likely not want to leave once you get here, and Willits rolls up the sidewalks at 9 pm.
We can easily make ample extra refrigerator space available for you, especially for longer than overnight stays, so plan on bringing food with you, and sharing our humble country kitchen, if you wish.
Guest access
In addition to the 500 square foot Private Suite, you, our honored and treasured guests, may explore the lovingly landscaped domestic gardens where you will find abundant seating in sun or shade. Most outdoor and enclosed porch spaces are totally shared, please ask!
If you wish to use our humble country kitchen please let us know in advance so that we can arrange our own meal preparations around yours. We retire early, so please plan to play in the kitchen between 9 am and 8 pm.
Fresh fruit may be offered, from our vines and trees, in season and subject to availability.
If you are on an extended stay and wish to use the washer or dryer, please ask us for assistance in setting up and operating them. Please - no shoes in the dryer. It is reserved for freshly laundered clothing and linens.
The famous and amazing west deck in so many of the photos is available to you at any time, with easy access from your space through your half of the huge wrap-around glass porch. Find a table, take your food, a book, your flute or guitar - and sit contentedly out there, appreciating the spectacular view, and the serenity.
We are happy to recommend walking, hiking, entertainment, dining and shopping venues to you! This is our home and we are actively involved in our community.
Interaction with guests
From Confucius:
To have friends coming in from afar, how delightful!
We are delighted to respect the privacy of our guests should they desire to be left alone and not wish to engage with us. Some people stay here for quiet retreats, others to be more social. We provide the space for either, and it is our pleasure to do so!
We thoroughly enjoy meeting new friends from all over! We've been hosting international visitors for many years, have experience in resort management. We also host SERVAS travelers and have greatly enjoyed the exchange of ideas and experiences. We love traveling the world in the Airbnb fashion, and pass on to you the "welcome home" we have personally experienced.
We will be in residence at all times during our guests' stay, and accessible as you wish. Please try to arrive between 3 pm and 9 pm*, so that we can personally greet you, answer any questions and introduce you to the features of your space.
*Returning Guests are welcome to do "late arrival", as you already know where everything is, and how it all works! Do let us know that you'll be coming in late, and we'll see you in the morning!
Other things to note
We are off grid, which means we make all our own power with solar panels, generator as backup. Public utilities have never been available here, so this is like living on a ship, but in the total wilderness. We offer you the experience of living off grid for a time, in a thoroughly modern home. Our pure, delicious water is pumped by solar power from a 360' deep well; then up to the top of the mountain so that gravity flow gives us excellent water pressure in the house. We are grateful for this precious resource, often scarce in this region of frequent drought.
Prepare to unplug from most media during your visit. We do not have TV here, and cell service can be limited by terrain to a few "sweet spots" which we are delighted to have, right here, on the mountain. Not all cell providers cover this region. GSM mobile carriers such as AT&T and T-mobile do not always work here, so prepare to use wi-fi to make your mobile calls, if needed. If you wish to watch movies, please bring your favorites to watch on your computer. For your entertainment, we recommend you also bring reading materials, music, and art materials. Or delve into our extensive library.
We enjoy four distinct seasons, each with its own individual wonders and delights! Winter can, at times, be cold, wet, or excitingly stormy here in the mountains. We have friends who drive a long distance to experience the high energy of a storm here. We get just enough occasional snow in winter to be beautiful, rarely inconvenient. There is really no way to predict winter weather more than a couple weeks ahead of time, as our weather is so much like the SF Bay Area. We are coastal, which means that temperatures are mostly moderate. Rain storms that come off the ocean are exciting in this glass house. I love the rain, when it happens! We usually have a series of rain storms, with days of lovely weather in between. After a rain it is lovely to put on our waterproofed hiking shoes and walk in the forest, appreciating the fragrance, the beauty of the leaves, and looking for whatever exotic mushrooms appear overnight under the trees.
Also, In the middle of winter we usually have a couple weeks of warm sunny weather every month.
Snow is rare, but when it does happen it is light, beautiful, and always disappears too quickly.
Except for the few hottest days, it can be delightfully cool at night, and the refreshing breeze from the ocean is ever present.
*Please note that our nightly rental price (what you pay to AirBnB) includes the 11% TOT (Transient Occupancy Tax) that Mendocino County charges to all guests who stay less than 30 days at local accommodations.
As your hosts, we bring our own lifetime passion for world travel and appreciation of cultural diversity to welcoming you here. We have always found delightful people & experiences, everywhere we've been. We carry on and pay forward this excellent tradition!
---
Bathrooms: 1 (Private washroom)
---
---
Extra people: 59 / night after 2 guests
Weekend Price: 274 / night
Always communicate through Airbnb
To protect your payment, never transfer money or communicate outside of the Airbnb website or app.
Learn more
---
Bedroom 1
1 queen bed, 1 sofa bed
---
Not safe or suitable for children (0-12 years)
Check in time is 3PM - 9PM
This is a sanctuary for people and wildlife, a quiet place of respect for nature and for each other.
This is truly not a child-proof home or landscape. While we love children, please do not ask to bring your little ones along as we are unable to gracefully or safely accommodate them here.
For the health, safety and comfort of everyone including future guests and the precious, unique architectural masterpiece we call home:
This property is non-smoking, drug-free, pet-free, firearm-free. Please also understand how important it is that due to our wilderness location, open flames, fires, campfires, BBQ and the like cannot be permitted; neither indoors nor out.
Please do not ask to bring your beloved four footed, furred or feathered family members here. There has never been a domestic animal in your space. We must keep it that way for members of our family who have serious health issues around their presence, as wonderful and as beloved as they are.
Please understand: Our home and property are not appropriate for guests with mobility issues. There are 20 stairs to get up into the house. We are in the mountains, surrounded by gardens, forests and rock outcroppings that require good walking shoes, good balance and coordination.
Parties and extra guests are inappropriate for your stay here ~ thank you for understanding. This is a peaceful retreat spot, so rare these days. We are delighted to provide you this resource which is so important for re-charging, so that you can continue on your journey or return home completely refreshed and renewed!
Please bring house shoes, slippers or socks to wear indoors on our hardwood floors, or use the comfortable slip-ons we provide for you. Closed shoes are a must outdoors, hats are recommended. For comfortable evenings outdoors, please bring long sleeves and long pants. For hiking in any of the forested and park lands, sturdy shoes or good sneakers will be necessary.
If you wish to use our humble country kitchen please let us know in advance so that we can arrange our own meals and kitchen projects around your meal preparation.
If you are on an extended stay with us and wish to use our commercial washer or dryer, please ask us for assistance in setting up and operating them. Please - no shoes in the dryer. It is reserved for freshly laundered clothing and linens.
Living off grid means we live mindfully of our energy consumption. If you are leaving for the day, please turn off heat or air conditioning. If you let us know when you are on your way back, we'll be happy to turn them back on for you!
We know you will appreciate & respect that we have furnished your space with the same high quality furnishings, art, antiques, dinnerware and linens as we have in the rest of our home. We have provided basic conveniences for your time with us, and hope we've been thorough enough. For example, we've provided coasters, hot plates and other items for your use to protect the fine furniture. Your towels and bed linens are of very high quality, and they are ours - not from a linen service. Please do your best to not stain them with makeup and the like. We have provided tissues and makeup removal products for your convenience so that you will not find it necessary to use the washcloths and towels for this purpose.
Please ask us if you find anything not in sufficient abundance, and if anything needs special attention or repair, please let us know right away. Your space is professionally cleaned, so please let us know if you notice anything that has been overlooked.
Please also know that much of our personal reference and music library is in your room and nearby. You are most welcome to peruse and enjoy them; however, please remember that this is not a book exchange, so please leave them here. We use our library a lot, and are accustomed to finding books in certain spots in the shelves. Please leave any of our books you have enjoyed out on the bookcase or table, so that we can re-shelve them.
We love that you treasure your stay in our home as much as we do. We've done our best to maintain your space beautifully for your enjoyment, and for all future guests. It is our pleasure to do so! Again, please let us know if there is anything that could be improved or would benefit from special attention.
*Returning Guests are welcome to do late arrival, as you already know where everything is, and how it all works! Do let us know that you'll be coming in late, and we'll see you in the morning with a "welcome home"!
Please indicate to us that you have read, and agreed to the house rules, by sending us a message with the words "Irene Peak."
You must also acknowledge
Must climb stairs - There are 20 stairs up to entrance of the house
Some spaces are shared - If you wish to use our humble countrykitchen please ask in advance so we can plan our meals & kitchen projects (canning, preserving, etc) around yours
Amenity limitations - No TV. Some phones do not work well here (GSM networks). Internet is adequate, but not for streaming
---
Moderate
Cancel up to 5 days before your trip and get a full refund. Cancel within 5 days of your trip and the first night is non-refundable, but 50% of the cost for the remaining nights will be refunded.
---
---
The minimum night stay for this listing varies.
---
Willits, California, United States
Joined in September 2013
From Confucius:
"To have friends coming in from afar, how delightful! "

We have lived here as stewards of this location since 1992, reverently appreciating that this property nourishes us on a deep spiritual level in so many ways. Most peak experiences are best when shared, living here is definitely one of them. We love sharing it with like minded people from all over.

When we committed to this property, we immediately felt strongly that this place needs to be shared. The previous administration, who commissioned the house to be built, did not want guests, and therefore built only a one bedroom home here. We added on your wing, which mirrors the one bedroom the house came with, which is ours. We also had, as part of our long term plan, to host visitors here, when the time came in our lives that the physical and financial maintenance of this place exceeded our income. We love business, as much as we love people; and assumed that we would need to develop a means to market our retreat, when the time came. At just the right moment, along came Airbnb, with a superlative site, integrity, an attitude and approach totally appropriate for us. We love that it is a perfect fit, and we have incredible experiences with all our Airbnb guests. We are so grateful for this amazing synchronicity...and cannot praise this entire relationship enough. Thank you, Thank you, Thank you!

As you spend time in our home, you will quickly notice that our hobbies include singing, dancing, adventure & culture-study travel; reading, photography, hiking, birding, community volunteering, art and music. Our studies include nature study, anthropology, mycology, herbal medicine, photography, economics, physics, cosmology, astronomy, philosophy, psychology, energy medicine, shamanic spiritual traditions. We love architecture and design. Our favorite dance forms are flamenco, country-western, ballroom, latin, swing, belly dance, and tango.

We volunteer our time and support for Willits Community Theatre, and to local service clubs. We have served as music programmer/hosts for Mendocino County Public Radio, and produce the Guest Artists Performance Series at Willits Community Theatre. We have a rich and satisfying background in Resort Management, have served as Volunteer Firefighters in wilderness areas, and in the busy Emergency Room of an urban hospital.

Our travels have taken us to Asia, Europe, South America, Central America … places such as Tuscany, the Himalayas, Andes, and Amazon; The Galapagos Islands, The Darien, Taiwan, and the Hill Country of China, Laos, & Vietnam. We prefer independent, down-to-earth travel; educating ourselves on the history, culture, customs, language, and natural history of places before we visit. We love going to places with very little infrastructire, and doing so on foot! Along these lines, we are both hosts and travelers for the international SERVAS organization, which has a wonderful philosophy of Global Village and culture exchange. We have some basic Spanish and Mandarin language skills, and have served as delegates to our Sister City Qufu, in Shandong, China.

As stewards of this land, we educate on the various aspects [pros, cons, & responsibilities] of living in the wilderness as uninvited neighbors to the local wildlife; impacting the local environment in every imaginable way, no matter how mindful we may be. We take great pleasure in hosting musical, dance, star-gazing, mycological, spiritual and retreat events. We love our multicultural, interdisciplinary life!

Thank you for joining us here on the mountaintop, for whatever delights Mother Nature decides to dazzle us with. It is always different, always incredible, always a welcome surprise, always a Peak Experience!


Response rate:
100%
Response time:
within an hour
Exact location information is provided after a booking is confirmed.
Explore other options in and around Willits
More places to stay in Willits: