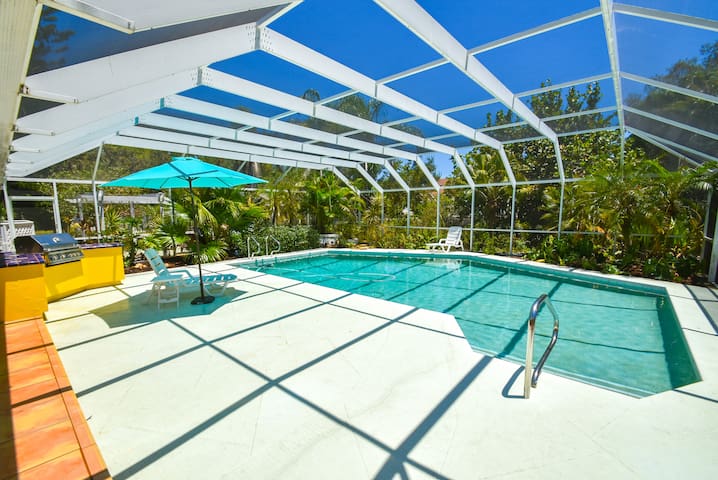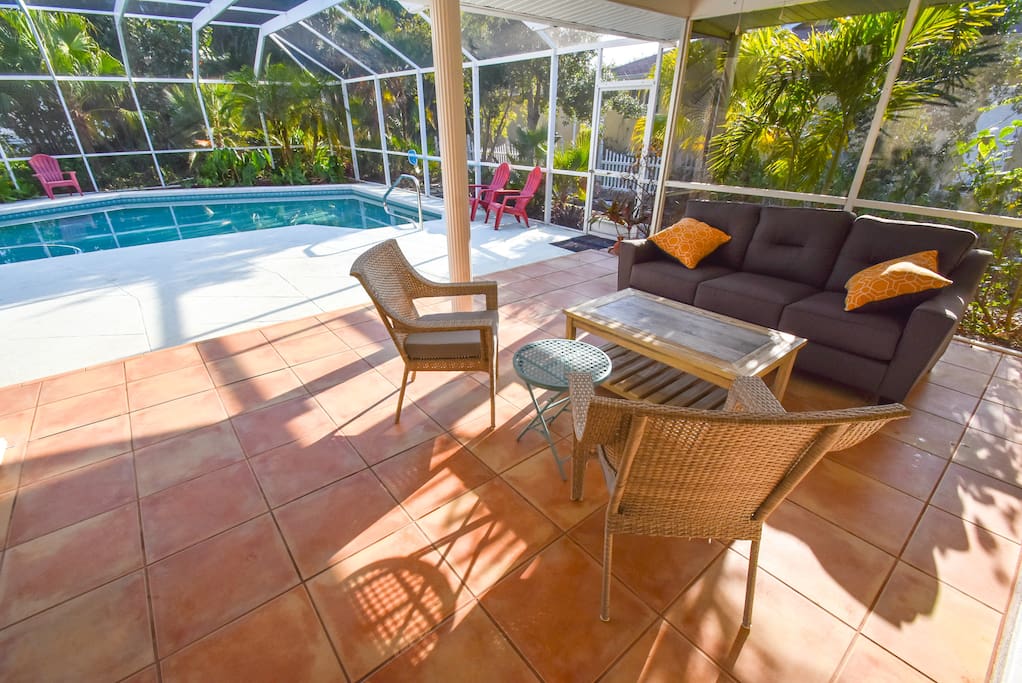 About this listing
This lovely home has an amazing patio and pool area - a true sanctuary.Love and soul went into all new furnishings and housewares for this lovely SOUTH FACING POOL home. Everything is coastal and comfy with the idea of relaxing and entertaining. The heated salt water pool is so much healthier for your body and skin (no toxic chlorine). Enjoy the photo tour of the home and watch for Katie, our Labrador as she accompanies you. She wants to show off the new home. If you have a dog that loves to swi
The space
This home is in the highly sought after neighborhood in Nokomis called Bay Point, walking distance to the beach. It is quiet. There are 2 new adult bicycles and helmets and locks in the garage. Ride to the beach in a few minutes. Stroll down Casey Key Road and look at the mansions. There are amazing beach chairs and a beach umbrella and beach towels included in this home.
At night, the landscaping lights up and you can enjoy looking at the stars and feeling totally relaxed in the screened in pool / patio.
Beautiful new furniture, new paint, new everything in 2017.
There is a gas grill, a bar frig and a sink on the patio. There is a serving window from the kitchen to the patio. There is a washer/dryer.
The main bathroom has a shower/tub. The master bathroom has a walk in shower.
We accept dogs and just ask you to take care of our place. We do need you to read "Other Things to Note" section to email us to get your dog(s) approved, but it shouldn't be too hard.
Guest access
The entire home, garage, pool, patios, and backyard are at your disposal. Everything but the storage shed.
Interaction with guests
I WILL BE AVAILABLE BY PHONE AND EMAIL. THE HOUSEKEEPER LIVES IN THE NEIGHBORHOOD AND CAN ASSIST WITH ANY TROUBLES GETTING IN, ETC. AND SO DOES THE FIX IT MAN IF SOMETHING SHOULD BE NEEDED. THE POOL SERVICE COMES ONCE PER WEEK.
Other things to note
DOGS ALLOWED AS LONG AS NOT AN AGGRESSIVE BREED. PLEASE LET US KNOW WHETHER YOU HAVE ONE DOG OR TWO AND WHAT BREED AND AGE THEY ARE. THERE IS A TWO DOG LIMIT. I WILL SEND YOU A SPECIAL OFFER SHOWING THE PET FEE.
You must pick up after your dog. Make sure the dog goes to the bathroom outside the screened pool area. Make sure to use the sofa pet covers provided if your dog is included to get on furniture.
---
Check In: 4PM - 12AM (midnight)
Room type: Entire home/apt
---
---
Always communicate through Airbnb
To protect your payment, never transfer money or communicate outside of the Airbnb website or app.
Learn more
---
Common spaces
1 air mattress
---
Check in time is 4PM - 12AM (midnight)
Pet Rules:
If you have a dog, you must pay a dog fee and get your dog(s) approved. Please contact host for the details. See more dog rules below. IF YOU DO NOT HAVE A DOG (and no pets), YOU MAY INSTANT BOOK. YOU MUST ADHERE TO THE MORE DETAILED HOUSE RULES, POOL RULES AND CHECK OUT RULES AS PROVIDED BY EMAIL OR IN THE BINDER AT THE HOME. Most of them are here except for sensitive information which is best left in the home rather than accessible on the internet.
Dog Rules -
• Aggressive breeds are not allowed. Your dog(s) must be preapproved.
• Pick up debris regularly in the yard and on walk ways. Make sure it is all picked up on the day of your departure.
• There may be some pet bags in the laundry room cupboard over the washer. Double bag (use a grocery sack) when you place in the garbage can. There may be extra grocery sacks in a low drawer to the right of the sink.
• PLEASE NEVER allow pets to go potty in the lanai area. Please walk further and open the screen door for them. If it rains, please wipe dog feet before they enter the house.
• If something does happen where the dog vomits or has an accident, there is a pet cleaner for the carpet on the laundry room shelf. Follow bottle directions and let us know so that we might deal with it right away before it sets in. Most situations can be fixed if reported right away.
To Prepare for Your Trip
The house is equipped with the towels, bedding, and a good stock of kitchen housewares (dishes, glassware, utensils, pots and pans, and a good variety of appliances and tools for cooking). We are cooks so we have purchased the kinds of things that we use.
Included are 2 rolls of toilet paper in each bathroom, 1 paper towel, and trash bag liners to start. If you stop at the grocery store before you arrive at the house, you may want to prepare for that.
You have paid for a housekeeping reset upon departure. The housekeeper is is reliable and she really cares about the place being clean and ready for your arrival and the next guests' arrival. I do not want you to have an overage so the best way I can help you with that is to spell out what will help prevent that:
1. Read your check out instructions at the bottom of this document. We strongly suggest you read it prior to your departure day so that you are not caught without time to take care of your responsibility to leave the house in appropriate order.
2. We recommend trying to keep up with your towel laundry during your stay. You get 4 loads of wash upon departure without an overage charge. To wash, dry, fold is about an hour and a half. The housekeeper will charge us $30 per load above 4 loads. Never leave wet towels wrapped up in comforters unless you want to risk paying for a comforter because of color bleeding. If you leave wet towels, sheets, comforters and all the blankets, unfortunately that will add up to far more than 4 loads and you and I both will be sad about the overage I had to charge you. So the best way to avoid that is to keep your comforters clean, fold them if you don't need them on your bed at night and use your blankets. Wash some towels regularly and stay ahead of it. You may want to buy laundry soap at the grocery or bring a handful of "pods" from home in your suitcase.

3. Leave a note for the housekeeper to tell her anything that will make her job easier to understand what you did (if something is clean and she might not know it, therefore saving any overage costs).
4. If you are at the house on a Wednesday (even if it is in the middle of your stay) put the garbage out on the curb. When you leave, if it is not time to put it on the curb, make sure all laundry is bagged, tied and in the garbage cans on the side of the house. There may be guests coming right after you but prior to garbage day pick up and we do not want them to arrive with full garbage cans in the garage. Hopefully that didn't happen to you. If it did, please let us know.
House Rules
And General Helpful Information
Welcome! We hope you love your stay. We've tried to put little touches throughout the home to make your stay more enjoyable. We hope you notice. The following is information that will also make your stay more comfortable.
1. Your arrival time will be noted in your email as it may vary dependent on whether we have back to back bookings or a breather between guests.
2. WIFI – The Wi-Fi code is Helloworld33.
3. There are placemats for the tables in the 2nd draw to the right of the dishwasher.
4. Pool and patio enjoyment – Please remember there are neighbors all around and try not to be overly loud. Please especially after 8:30 PM, keep music and voices to a level that is contained by our property. If neighbors are happy then we can rent to you again.
5. KEEP THE GARAGE DOOR CLOSED TO PROTECT THE BIKES AND BEACH FURNITURE.
6. Garbage DAY: Thursday morning. If you are there on a Wednesday night, you need to put the garbage out. There are two recycle containers (plastics/glass AND paper). The regular can in the garage is for normal garbage. Make sure the regular garbage is bagged and bring in the containers after pick up. Thank you.
7. Security System – the home is equipped with a security system. The security system will be turned off on the day of your arrival and turned on after you leave. Therefore you won't have to worry about a system going on and off during your stay. If you have any concerns, please contact us.
8. Sliding Glass Doors to patio: There are 3 sets of sliding glass doors to the patio. They open all the way to the left. All regular locks work. There are extra security locks at the top where a pin goes in the first door and a pin goes in the second door. If the door does not open when you arrive, it could be that the pins on top are still in.
If you enjoy the openness of the patio doors, please close them when you are away from the home to keep critters out (lizards are common). Also, if the doors are open, please make sure the Air Conditioning is turned off. An excessive bill could be charged against your security deposit, so just use
what you need and need what you use. You are allotted $150 a month for electricity. That amount is pro-rated if you are there a partial month. You shall have an easy time staying in the budget unless you run the a/c high when you are not home and when the windows are open. The pool heat is solar, so you have no excess electricity there.
9. Garbage disposal – use for little particles only. There is a drain catch basket and please throw out peelings in garbage. The house is on Septic System and the pipes for the age of the home can clog and backup. Use discretion and be careful so that no mishap there would mess up your lovely stay.
10. Make sure to tell your family or group that nothing but toilet paper can be placed in the toilet. I'm sure you don't want an expensive septic system repair charge. Taking precaution keeps everything flowing happily!
11. If you were approved for a dog:
• Pick up debris regularly in the yard and on walk ways.
• There may be some pet bags in the laundry room cupboard over the washer. Double bag (use a grocery sack) when you place in the garbage can.
• Do not allow pets to go potty in the lanai area at all. Please walk further and open the screen door for them. If it rains, please wipe dog feet before entering house.
• If something does happen where the dog vomits or has an accident, there is a pet cleaner for the carpet on the laundry room shelf. Follow bottle directions and let us know so that we might deal with it right away before it sets in. ONLY USE BISSELL CARPET CLEANER SOAP IN THE MACHINE. Most situations can be fixed if reported right away.
12. POOL – When the cement gets wet, it can be slippery. Please caution your family or group of this and do not run on in the pool area.
13. No smoking in the home or in the lanai or any screen in porch areas. Owner is highly sensitive to secondary smoke. Dispose of cigarette butts appropriately and do not risk your security deposit due to anything having to do with cigarettes or cigars.
Thanks so much for taking care of our home while during your stay.
Prior to arrival, you will be provided with the keybox code, the wifi code and phone numbers to reach various people for assistance during your stay. But if, during your stay, you have an emergency, do not hesitate to call 911.
SWIMMING POOL Safety Rules:
1. No lifeguard on duty. Swim at your own risk.
2. Children are allowed to swim or play in the pool only when adults are present. Guests must maintain constant supervision over children.
3. Walk slowly in the pool area. No roughhousing, dunking, pushing, or wrestling. Cement can be slippery when wet.
4. Keep the area clear of clutter, debris and toys. Toys can often attract young children to the pool.
5. No swimming in rainy weather or in thunderstorms.
6. No food eating beyond the covered patio. No chewing gum while in the pool. Do not drink while in the pool.
7. No glass near the pool/water area. Drink only from plastic containers.
8. No smoking in the lanai or home. We ask smokers to go far outside of the lanai to smoke (on the left side of the home, away from patio upholstery).
9. Keep gates to the pool area closed and locked at all times. The pool man has a key to the lanai and comes once a week.
10. Swimsuits must be worn while in the pool. Babies must wear a snug diaper and a swimsuit.
11. Please remove bobby pins and hair pins before entering the pool as these items can clog the filter system.
12. Please do not throw rocks or metal objects into the pool as they can damage the bottom and/or cause an expensive leak.
13. The pool is a salt water pool. NEVER add chlorine or bromine to it. Our pool maintenance man comes once a week (usually Thursday or Friday) to check the purity levels. THE POOL WATER SHOULD BE AT ABOUT HALF WAY THROUGH THE FILTER OPENING ON THE LEFT. If it dips below the hole, it can't do its job. Sometimes evaporation causes water to run low fast. If you see this, you may add water to bring the level up or alert us. Just please don't forget about the hose in the pool. You can set it at a slow trickle if you are out for the day and set a reminder on your phone or note on the counter to turn it off. If you have any concerns, text or call Gina prior to this time and alert her and she will have him check it at his weekly visit.

(URL HIDDEN) Check out Instructions:
We hope it has been a pleasure staying in this lovely Nokomis home and that you depart with great memories for years to come. Check out time is 10:00 AM. If you need a later check out, please find out if you can arrange it by speaking with Gina at (PHONE NUMBER HIDDEN) or (PHONE NUMBER HIDDEN). Strip the sheets off the beds that need changing and put the sheets and pillow cases in the laundry room. DO NOT put any wet items with dry items. Do not wrap towels inside comforters or blankets. Do not put wet and dry items together. You are allotted 4 loads in your prepaid cleaning. Laundry is the most time consuming and costly thing for a housekeeper's time. There will be an overage charge of $30 if the housekeeper runs more than 4 loads. It takes an hour and a half to do a wash, dry and fold. Pace yourself through the week, especially if your group is using an abundance of towels. You may wish to run a wash as you leave the house as she is usually right behind you. Then she can throw it in the dryer. Or leave a dryer going as you leave.
2. A late checkout without permission will cost $40 per hour. The housekeeper has to stay on schedule. Where we can accommodate a late checkout request, we will and without fee, so please seek permission the day prior by texting at (PHONE NUMBER HIDDEN). It really depends on things like the housekeeper's schedule and the next check-in date.
3. Run any full cycles of the dishwasher and put the dishes away. If you have a light load (a few items), run the dishwasher and leave a note that the items are clean.
4. Empty the refrigerator. You may leave condiments. If you have left over packaged food, beer, cereal, you may leave it in an obvious place so the housekeeper knows you are leaving it for her or put a note. Anything in question, dispose of.
5. Remove all garbage from the house and place in the garbage pick-up bins. If it is within a day or two of the garbage pickup day, please put the trash out on the road. If not, leave all of your garbage bagged and in the bins on the side of the house. There may be guests coming right after you but prior to garbage day pick up and we do not want them to arrive with full garbage cans in the garage. Hopefully that didn't happen to you. If it did, please let us know. All garbage must be removed from the house.
6. If you used the AIR MATTRESS, make sure to deflate it and it put it away NEATLY. Make sure all parts are together for the next party.
7. Put all furniture back where you found it in the event it was moved (including patio furniture).
8. If you have a pet, make sure you have gone through the yard and cleaned up after your pet. Dispose of the debris appropriately (double bagged so it doesn't smell). There are some pet bags in the laundry room cupboard (hopefully still there) or bring some. Then double bag them by putting them in grocery bags and tying them again.
9. Make sure the remotes to the TVs are back in place so she can account for them. You don't want one to come up missing and get charged for it.
10. Grill on patio: Please use the tool attached to the grill to clean the grill so that the next user finds it in good shape. Please also clean all barbecuing tools.
11. Leave the thermostat on 80 degrees Air Conditioning in the hot season and 60 degrees heat in the cold season upon departure of the home. The house will be safe and the housekeeper will appreciate it.
12. Note anything that needs repair or any suggestions and email a note to (EMAIL HIDDEN) or text (PHONE NUMBER HIDDEN). Please label the email subject "505 Palm".
13. Lock all the doors. Close all the windows. Leave one key and the remote on the counter out of view of the window. PLACE THE OTHER KEY IN THE KEY BOX AND LOCK IT SHUT. And have a safe trip home.
House Rules, Pool Rules, and Checkout Rules may be updated at any time as new information becomes available or we realize there is something more we need to tell guests. If there is an update, one will be emailed to you or provided at arrival.
---
Strict
Cancel up to 7 days before your trip and get a 50% refund. Cancel within 7 days of your trip and the reservation is non-refundable.
---
---
We rented in Nokomis for 3 years before we bought this home. Our requirements to purchase were: 1. Walking distance to the beach (it is), 2. ability to launch kayaks so close that we could wheel them to the water (we can), 3. quiet neighborhood (it is), 4. close to great outdoor dining and live music (yes, lots of it), 5. the pool would be south facing and be sunny during the day (it is), 6. heated pool without chlorine (it is, and it is salt water), 7. the patio pool area would be like a great room extension of the home, a true hang out sanctuary, screened and with palm trees (IT SO IS!). We want our guests to love the experience that we have created. Please come and enjoy.
Response rate:
100%
Response time:
within a few hours
Exact location information is provided after a booking is confirmed.
Explore other options in and around Nokomis
More places to stay in Nokomis: