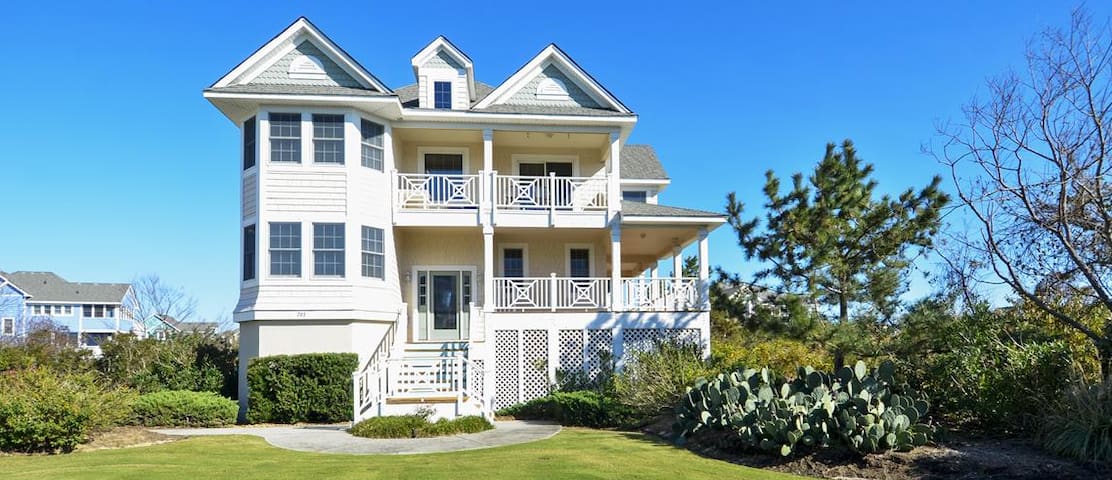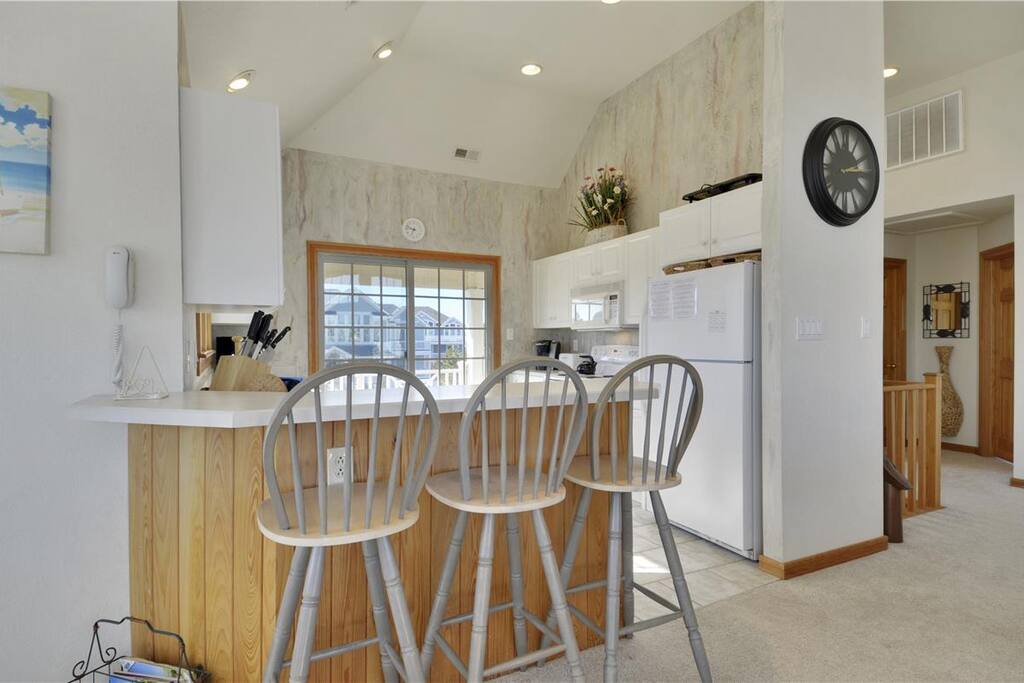 Resort home in gated community, pets, pool, hottub
Welcome to "Sweet Carolina" a beautiful custom home in the Gated Buck Island community that exudes classic Southern charm. This beautifully built home is designed with tons of natural light, windows, glass doors, and large wrap around decks. Your family will love the beautiful professional decorating touches throughout the house. You are just a short walk to the beach as well as the shops in Tim Buck II.
The space
Top Floor: Open Great Room w/ 46" flat screen TV/Stereo/BlueRay, tons of natural light from large picture windows, gas fireplace, large wrap around deck w/ gas grill. Dining Table (8), kitchen bar (3), well stocked kitchen, deck access from kitchen to quaint covered deck w/ chair swing. Powder Room. King MBR w/ private deck, TV/DVD, jetted soaking tub & full size shower.
Mid Floor: Den w/ deck access. Bedroom w/ 2 twin beds, deck access & TV/DVD shares full hall bath (shower / tub combo) w/ Bedroom w/ Duobunk, deck access & TV/DVD. Queen Bedroom w/ deck access & TV/DVD shares full hall bath (shower / tub combo) w/ Queen Bedroom w/ TV/DVD. Large wrap around deck w/ hot tub (6).
Ground Floor: Den w/ flat screen TV/DVD, laundry room w/ Washer / Dryer & Refrigerator. Access to Outside / Pool & Car Port area.
Outside: Private Pool (10x21) open 5/13/17-9/29/17. Hot Tub, Gas Grill, Outside Shower. Pets accepted (additional $210 + tax pet fee).
Guest access
Enjoy the entire home during your stay! This house is not shared or owner occupied.
Interaction with guests
Contact us with any vacation needs or questions! We also have a 24 hour emergency line.
---
---
Always communicate through Airbnb
To protect your payment, never transfer money or communicate outside of the Airbnb website or app.
Learn more
---
Check in is anytime after 4PM
Guests must sign the lease below via an e-signature to make a reservation.
Leslie's Vacation Rentals
PO Box 1296
Kill Devil Hills, NC 27948
VACATION RENTAL AGREEMENT
We are pleased to confirm your reservation and provide you with this vacation rental agreement. Please be sure to verify your Arrival/Departure dates and personal information. Please read the information below very carefully for rates, restrictions, terms, and conditions associated with this reservation. Please Note: If a full balance due period is specified, and this reservation is being made within that period, refer to instructions provided in Terms & Conditions, to confirm this reservation. Our Agency, Leslie's Vacation Rentals, duly appointed as representative, rents the property mentioned here for the specified period and cost to the client, whose address appears information is located at the bottom of the rental agreement.
THIS IS A VACATION RENTAL AGREEMENT UNDER THE NORTH CAROLINA VACATION RENTAL ACT (NCGS42A), FURTHER REFERRED TO AS THE VRA. THE RIGHTS AND OBLIGATIONS OF THE PARTIES TO THIS AGREEMENT ARE DEFINED BY LAW AND INCLUDE UNIQUE PROVISIONS PERMITTING THE DISBURSEMENT OF RENT PRIOR TO TENANCY AND EXPEDITED EVICTION OF TENANTS. YOUR SIGNATURE ON THIS AGREEMENT, OR PAYMENT OF MONEY OR TAKING POSSESSION OF THE PROPERTY AFTER RECEIPT OF THE AGREEMENT, IS EVIDENCE OF YOUR ACCEPTANCE OF THE AGREEMENT AND YOUR INTENT TO USE THIS PROPERTY FOR A VACATION RENTAL.
This agreement constitutes a contract between the tenant and the owner of the subject property, through Leslie's Vacation Rentals LLC, his agent. Upon signed receipt of this agreement, it is understood that the referenced unit (with the specified dates and rates) listed at the bottom of this contract will be rented as a vacation rental to the tenant, under the terms and conditions of this contract.
TERMS AND CONDITIONS
1. Confirmation: This lease must be signed and the first payment must be must be received within 24 hours of the date this reservation is made. Acceptable signatures on this lease include an e-signed copy of the lease or a hard copy to be signed and sent back to Leslie's Vacation Rentals within the allotted time period. This reservation is subject to be canceled if the payment and signed lease are not received on file within 24 hours of making this reservation, unless other arrangements have been made in writing that the first payment will be made by check.
2. Rental Payments: Unless other arrangements have been made in advance and agreed to in writing, payments are due as follows: 50% of the rental rate and the damage waiver insurance is due immediately to create a reservation. The balance, including all taxes and fees is due 30 days prior to arrival. The approved payment schedule is listed on your e-itinerary. If a credit card is on file, you will be automatically billed for this final payment. The leaseholder is the only person authorized to make credit card payments for this reservation.
3. Cancellations: If, after your initial payment, you need to cancel your reservation, every attempt will be made to re-rent the property. All notices of cancellation must be in writing. If the property is re-rented at full price, you will receive a full refund of moneys paid, less a $150 cancellation fee, travel insurance premium (if purchased) and all applicable taxes. If the property is able to be re-rented, but a discounted rate from what was paid, you will be refunded your rental payment, less the difference in the rental rate and the $150 cancellation fee. If the property is not able to be re-rented, you will forfeit all moneys paid to this reservation. TRIP CANCELLATION INSURANCE IS HIGHLY RECOMMENDED TO PROTECT AGAINST UNEXPECTED EVENTS.
4. Advance Rental Payments: Tenant understands and agrees that advance payments up to 50% of the rental amount may be disbursed to the property owner prior to occupancy. All monies received by agent in connection with rental of the premises are deposited in an trust account with PNC Bank in Nags Head, NC.
5. Damage Waiver Insurance: Your reservation automatically includes a $1500 damage waiver insurance policy at a cost of $65 to you. This covers accidental damage while at the property. Please be sure to contact the property manager immediately if there is any damage to make sure that it is covered. This insurance does not cover malicious damage to the property or extra cleaning and garbage removal - see list of what is expected from the tenant in article 16 "Tenant Responsibilities".
6. Taxes and additional Fees: The tax rate is comprised of a 6.75% state sales tax, and a 6% county lodging tax (Dare County) or a 6% county lodging tax (Currituck County). As required by North Carolina law, these taxes will be collected on all reservation amounts, as well as any "add-on" fees. The inspections and cleaning fees are including with your base rental amount.
7. Pets: Absolutely no pets are permitted on the premises. Some owners may allow dogs at their rental properties. If so, it will be indicated on their individual property description. There is an additional fee of $210 per week for units that allow pets. If you rent a pet friendly property, you must let the booking agent know that you are bringing a pet. The amount will not be automatically added to your lease. Each property is inspected upon check out. If there are signs of an animal at the house, and the pet fee has not been paid in advance, there will be a double fee of $420 to be charged to the credit card on file. A pet of any kind on the premises of a non-pet cottage is absolutely prohibited, a material breach of this agreement, grounds for expedited eviction, a penalty charge of $420 and will cause forfeiture of all rents and fees paid.
8. Smoking: Absolutely no smoking allowed. If evidence of smoking is dedicated upon check out, all expense to clean, and deodorize will be charged to the credit card on file.
9. Trip Insurance: Trip Insurance is available and offered through Agent and is strongly recommended. This product is offered through Rental Guardian, and Agent receives a referral fee for this product. Insurance is intended to protect Tenants in the event of unforeseen circumstances that cause cancellation or interruption, included but not limited to mandatory evacuations of the area. Trip insurance shall be the sole remedy for reimbursement for any reason that tenancy is interrupted or not permitted.
10. Evacuations: There will be no refunds due to inclement weather, including hurricanes. If state or local authorities order a mandatory evacuation of an area that includes the residential property subject to this vacation rental, the Tenant shall comply with the evacuation order. Upon compliance, the trip insurance shall be the sole compensation to the Tenant for losses resulting from the evacuation.
11. Unit may be listed for sale: Tenant understands rental unit may be listed for sale. We reserve the right to show each rental unit for sale to potential buyers. Efforts will be made to schedule the showing as to not interrupt your vacation. Tenant understands in the event of the sale or transfer of the subject property, the new owner may not be bound to honor this rental if rental is to end 180 days or more following the recorded sale of the property. In this event you will receive a refund of rent payments made, by the purchaser / new owner. The sale or transfer of property is subject to NC GS42A, VRA.
12. Other issues affecting tenancy of the property: In the event that the owner is unable to deliver the property to the tenant at check-in because of fire, eminent domain, acts of God, delay in Construction, or any other reason, Tenant's sole remedy as a result of any of these conditions is a full refund. If agent is able to relocate Tenant, Tenant agrees to pay any difference in rental rate, and fees that may be associated with a different company / owner. Tenant expressly acknowledges that in no event shall Agent or Owner be responsible for any expenses incurred as a result of moving a Tenant.
13. Checking In and Out: All houses have an electronic key lock, and a personalized code will be issued to you once we have received your payment in full. Check in is at 4:00 pm and check out is at 10:00 am. To check in, simply go to your property and enter your key code into the door after 4:00 on the check-in day. There is no need for a formal check-in or check-out. Do not use the pool or hot tub any earlier than 4:00 pm on your check-in day, many times they have been shocked with chemicals and are not safe to swim in until the permitted check-in time. Please be sure to be completely checked out of the property no later than 10:00 am, as we need this window of time to get it cleaned and maintenance work to be performed before the next check in. A fee of $50 per 15 minutes will be charged to your credit card on file for late checkouts. Lessee is responsible for doing dishes, taking out trash, removing linens and towels and placing in the bin that has been provided (if linens and/or towels were provided or rented), emptying refrigerator, leaving the AC on 78 degrees (or heat set on 55 degrees in the winter) securing all doors and windows, and leaving the unit in good shape for the next renter.
14. Occupancy: Occupancy is restricted to family groups only. Leaseholder must be at least 25 years of age, and be present during the entire term of the lease. Occupancy is restricted to the number of occupants as stated previously within this lease. No weddings, receptions, parties or other such gatherings are permitted at the Premises unless pre-approved in writing by Leslie's Vacation Rentals at the time of the reservation. An additional deposit and or fee for these events may be charged. Any leaseholder found in breach of this contract will be subject to the VRA expedited eviction procedures.
15. Agent Responsibilities: All rental properties are privately owned. Leslie's Vacation Rentals, LLC is the Agent of the homeowner and on his behalf, reserves the right to refund advanced payment, refuse admittance, evict refuse or discontinue occupancy, if in our opinion, same is detrimental to the premises.
16. Tenant Responsibilities: Under the VRA , the tenant is required, at a minimum, to do the following with respect to maintenance of the property: (1)Keep that part of the property which he or she occupies as clean and safe as the conditions of the property permit and cause no unsafe or unsanitary conditions in the common areas and remainder of the property that he or she uses. (2) Dispose of all ashes, rubbish, garbage, and other waste in a clean and safe manner. (3) Keep all plumbing fixtures in the property or used by the tenant as clean as their condition permits. (4) Not deliberately or negligently destroy, deface, damage, or remove any part of the property or render inoperable the smoke detector provided by the landlord or knowingly permit any person to do so. (5) Comply with all obligations imposed upon the tenant by current applicable building and housing codes. (6) Be responsible for all damage, defacement, or removal of any property inside the property that is in his or her exclusive control unless the damage, defacement, or removal was due to ordinary wear and tear, acts of the landlord or his agent, defective products, supplied or repairs authorized by the landlord, acts of third parties not invitees of the tenant, or natural forces. Additionally, locked closets are property of the owner, and are not part of the rental of the unit. These are not to be opened during your stay. Tenant is responsible for taking all garbage to the road on garbage nights (information will be provided in your unit) and retrieving from the road the following day. Tenant is also to leave the rental unit clean, all food disposed of, garbage taken out, etc. If extra cleaning is needed to include, but not limited to: garbage removal, ash removal,cleaning dirty dishes, spot carpet cleaning or food removal your credit card or damage deposit will be charged for the extra cost of cleaning. Furniture has been placed by the owner in the areas that it is to remain, the guest is not to move the furniture from where it is located upon check-in. The cost to move furniture is 2 maintenance men at $65 per hour per man with a one hour minimum. The cost of fixing any of the above problems may be charged to the credit card on file.
17. Maintenance: Every effort is made to keep each property and its equipment and amenities in good working order. Please notify our office of any problems that occur during your stay, and we will make every effort to fix the problem as soon as possible. There will be no rebates given for inoperable appliances or faulty equipment (including but not limited to air conditioning, TV, pool,hot tub, kitchen appliances, laundry appliance, internet), unfavorable weather, early departure, interruption of utilities, construction in the area, nor maintenance problems. False or unwarranted maintenance repairs called for by the tenant will be billed to the credit card on file.
18. Pools & Spas: Pool and Spa privileges are available only on those properties designated as such. Please check the property detail page for complete information regarding the pool and spa as well as the opening and closing dates for the season. If renting a unit with a pool or pool access, agent and owner is released from all liability for any injuries or death resulting from lessee or his guests use of the pool or hot tub. The property owner provides pool and/or hot tub maintenance through a third party that is unaffiliated with Agent. Agent does not have or assume any responsibility for supervising the existence, frequency, or adequacy of pool/hot tub maintenance. Inadequately maintained hot tubs and pools can cause viral or bacterial illnesses that could be life threatening under various circumstances. Agent does not inspect or test the pools and hot tubs for the presence of health threatening organisms. When tenants and guests use a pool/hot tub, they assume the risk of illness from an improperly maintained pool or hot tub, and you release agent from any liability for injury or damages resulting from use of an improperly or inadequately maintained pool or hot tub. All posted rules signs for pools and hot tubs must be obeyed at all times. Additional charges will apply for heated pools, if you opt. to have the pool heated.
19. Indemnification and Hold Harmless; Right of Entry; Assignment: Tenant agrees to indemnify and hold Agent and the Owner harmless to the extent allowed by law and from and against any liability for personal injury or property damage sustained by any person (including Tenant's guests). This provision is not intended to insulate Owner from the obligation to comply with the duties imposed the by VRA. Tenant agrees that the Owner or their respective representatives may enter the Property during reasonable hours to inspect the Property, to make such repairs, alterations, or improvements thereto as Owner may deem appropriate or necessary pursuant to the VRA. It is understood and agreed that Agent is retained by Owner to manage his property for rental purposes and not to inspect, maintain, or repair the structural integrity of the Property. Owner will make arrangements with other independent contractors for those purposes. Tenant shall not assign this Agreement or sublet the Property in whole or part without written permission of Agent.
20. Applicable Law: This Agreement shall be governed by and constructed in accordance with the laws of the State of North Carolina and, in the event of a dispute, any legal action may be maintained only in the county where the subject real Property is located.
21. Entire Agreement and Severability: This Agreement is the entire agreement among the parties with respect to the subject matter hereof, and no representations or covenants, whether oral or written, have been made regarding the subject matter hereof except as provided herein. Every provision of this Agreement is intended to be severable, and if any term or provision hereof shall be declared illegal, invalid, or in conflict with North Carolina Law or the purposes of this Agreement for any reason whatsoever, or if the enforcement of any provision shall be waived, the validity of the remainder of this Agreement shall not be affected thereby.
---
---
7 nights minimum stay.
From Sep 1 - Nov 30, 2017 the minimum stay is 7 nights.
---
Kill Devil Hills, North Carolina, United States
Joined in April 2017
Leslie's Vacation Rentals is a small, boutique style property management company on the Outer Banks of NC. We represent 20 well cared for houses and would love the opportunity to share them with you. NC firm license #19295, Broker in Charge: Leslie Hornfeck, license #225380
Response rate:
100%
Response time:
within an hour
Explore other options in and around Corolla
More places to stay in Corolla: