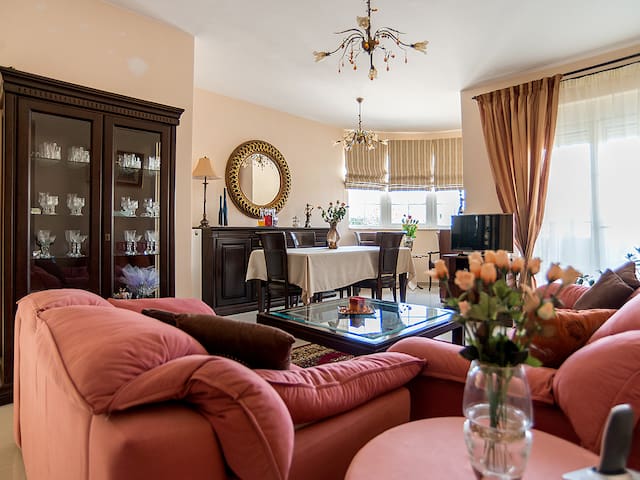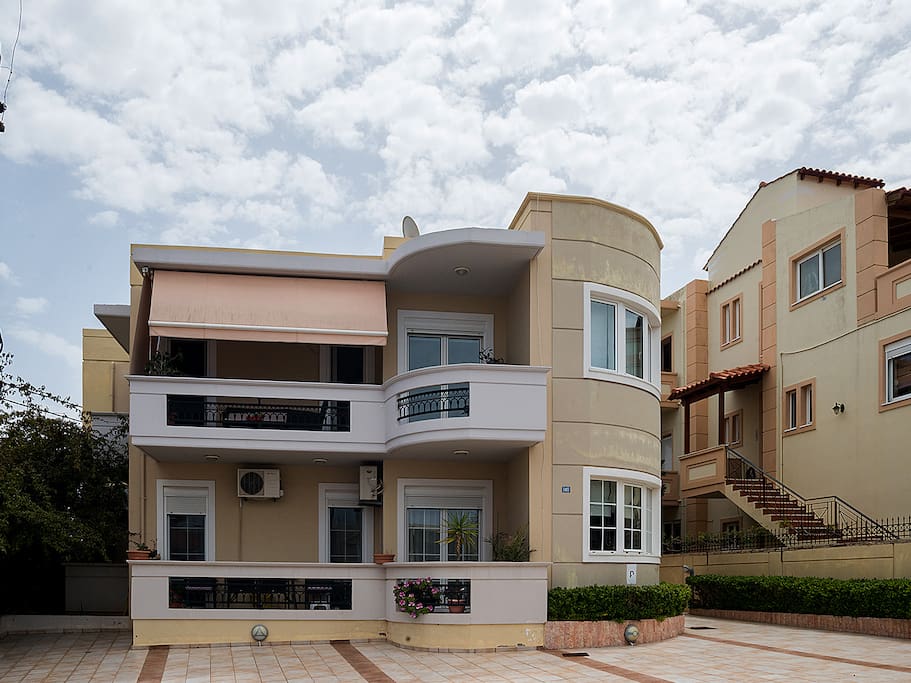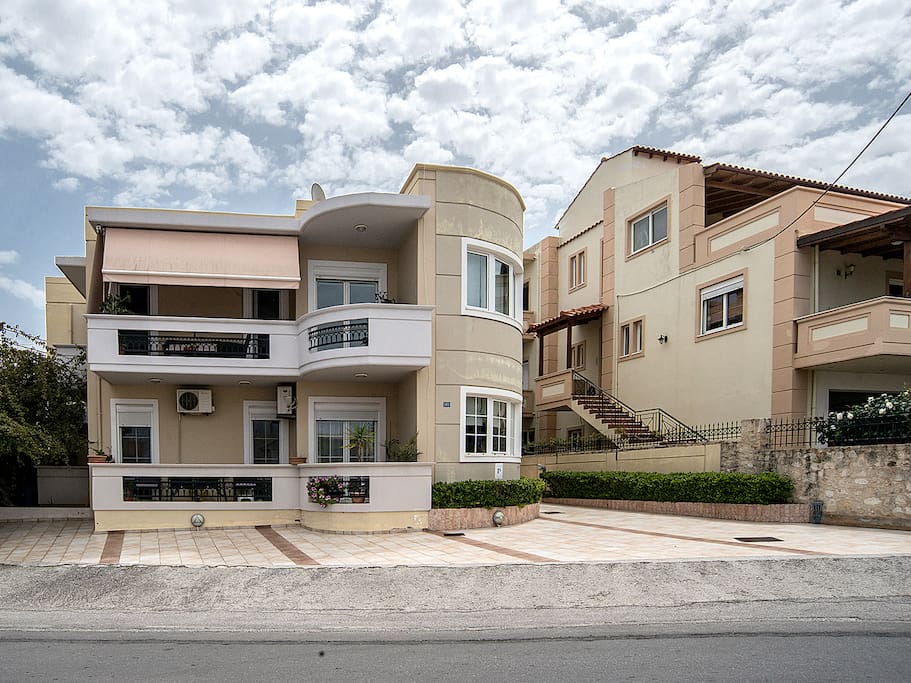 Ground flour family apartment
Spacious interior to accommodate 4 or 5 guests, well located in Kounoupidiana give access to all necessary daily consumables within 5 minutes walk. The private parking completes a comfortable vacation and ensure your car safety and parking availability.
The space
Comfortable ground floor apartment suited for family. With 2 bedrooms available, full kitchen equipped, 2 bathrooms, living room and with a private parking. Exquisite wood furniture within the living room show that quality is not absent and with 2 outdoor spaces make your stay complete.
Guest access
You have access to entire apartment. Some cupboards in the bedrooms will be locked but there will be enough room in the wardrobe for your clothes.
---
---
Check in time is 2PM - 2AM (next day)
---
The stay at Antonis and Maria' apartment as group of five was a total pleasure. During our trip we changed a lot of different of accommodations and this one was the best. The flat is well-furnished (even too good, we were scared to break something), spacious and (this is the place where almost all rental properties fails) equipped with literally anything you would need and even more. It has 2 baths that is rare attribute and a huge plus for the ones travelling by big groups, 2 big balconies and extra seats on yard. The water is good, the Wi-Fi is brilliant. Take into account that the location of the apartment supposes you are travelling by a car. With that assumption the place is really nice and close (literally 2 mins) to all amenities like supermarkets, pharmacies, restaurants (Mithos is delicious). Chania with its promenade in 10 mins. The nearest beach is in about 5 mins. The legendary Stavros beach is in 10 mins. There are many others nearby but we unfortunately guested for a small amount of time to see them all. Also it's a nice starting point to get to the must-see places of the Chania region like Elafonissi, Balos (the road is hard but the views are outstanding), Samaria Schlucht, etc. Of course the main unbeatable advantage of this apartment is hospitality and courtesy of Antonis and Maria. Maria left treats for us at the first day of the stay. Antonis is a true Greek hero who saved my favorite shirt:) Highly recommended.
---
Θετικά: Ο Αντώνης είναι πολύ καλός οικοδεσπότης. Το σπίτι είναι ακριβώς όπως φαίνεται και στις φωτογραφίες του site. Οι παροχές του σπιτιού είναι άψογες. Το wifi δε λειτουργούσε αρχικά αλλά ο Αντώνης το διευθέτησε άμεσα. Αρνητικά: Η κίνηση στο δρόμο μπροστά στο σπίτι είναι μεγάλη και ιδιαίτερα ενοχλητική το βράδυ καθώς το ένα υπνοδωμάτιο είναι στην πλευρά του δρόμου. Επίσης η ιδιοκτήτρια ισχυρίστηκε ότι κατά τη διαμονή μας παρατήρησε μια φθορά στο σπίτι, την οποία αρνηθήκαμε και δε δόθηκε συνέχεια. Η αναφορά της φθοράς έγινε αφού προηγήθηκε ο καθαρισμός του σπιτιού από τον οποίο μας ζήτησαν να λείπουμε. Το γεγονός αυτό μας δημιούργησε μια δυσαρέσκεια κατά την αποχώρησή μας.
---
Η φιλοξενία ήταν εξαιρετική. Ο Αντώνης μας παρέλαβε από το αεροδρόμιο για να διευκολύνει την πρόσβασή μας στο σπίτι, προσφέρθηκε να μας δώσει οποιαδήποτε πληροφορία χρειαζόμασταν, ήταν ευγενικός και διακριτικός. Μάλιστα μας έκανε τη διευκόλυνση για early check in και late check out, κάτι το οποίο μας εξυπηρέτησε πολύ. Το σπίτι είναι μεγάλο και άνετο, με πλήρως εξοπλισμένη κουζίνα, κλιματισμό και δύο μπάνια. Κάτι που θα μπορούσε να βελτιωθεί είναι η πιο επισταμένη καθαριότητα στα μπάνια και σε "κρυφά" σημεία του σπιτιού. Η γενική μας άποψη παρόλα αυτά παραμένει θετική.
---
Languages:
English, Ελληνικά
Response rate:
100%
Response time:
within an hour
Explore other options in and around Kounoupidiana
More places to stay in Kounoupidiana: