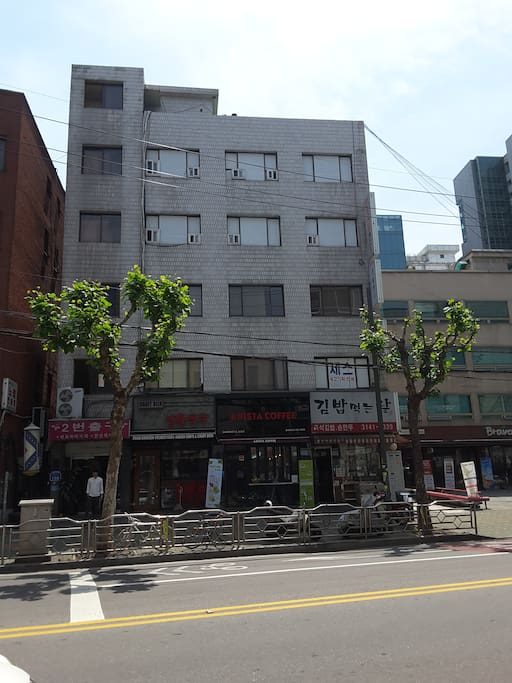 - Orange Residence Guest House is subway Line 2, Hongdae Station, Exit 2, 100 meters to the left Located - Convenient use of one person per room on a high-tech scale We have a small room available. - You can use the shower and the toilet for public use. - House Clean, quiet, individual air-conditioning in rooms Refrigerator, etc. In the common kitchen, you can eat rice kimchi, etc. You can cook and cook according to your personal preference. is - You can also use public washing machine, common iron, garbage We need to cooperate to separate and collect. - Please come to the guest and use it conveniently and cheaply Thank you - Our accommodation is on the 5th floor, but there is no elevator. heavy If you come with a bag, it is convenient to come in two bags To
- 오렌지레지던스 게스트하우스는 지하철
2호선 홍대역 2번출구 좌측100미터 거리에
위치하고 있습니다
- 고시텔 규모로 1방당 1인이 편리하게 이용할
수 있는 소규모방으로 준비하고 있습니다
- 공용으로 샤워와 화장실을 사용할수 있습니다
- 하우스 깨끗하고 조용하며, 방별로 개별 에어콘
냉장고등이 있으며, 식사는 공용주방에 밥 김치등을
제공하고, 개인취향에 따라 조리하여 식사할수 있습
니다
- 또한 공용세탁기 공용다리미 이용가능하고 쓰레기
분리수거 하는데 협조가 필요합니다
- 게스트님 오셔서 저렴한고 편리하게 이용 바랍니다
감사합니다
- 저희 숙소는 5층에 있으나 엘리베이터가 없습니다. 무거운
가방을 가지고 올 경우는 2가방으로 나누어 오셔면 편리
합니다
The space
- Convenient for traveling around Seoul by subway highway entrance area - Individual air-conditioners installed in each room during summer - It is convenient to use public transportation facilities such as subway (including direct airport) and buses. - There are many famous restaurants around the country. - There are street performances, resting places, walking trails around Hongik University I will
- 지하철 홍대입구역에서 가까운 거리로 서울여행에 편리
- 여름철에는 방마다 개별 에어콘 설치 하였습니다
- 지하철(공항직항 포함), 버스 등 대중교통시설 이용이 편리합니다
- 주변에 각국의 유명한 음식점이 다수 있습니다
- 홍익대학교 주변으로 거리공연, 휴식처, 산책로 등이 다양
하게 있습니다
Guest access
- When guest comes, you can use room of 10m2. The room has 1 bed, TV, refrigerator and individual air-conditioner. - You can use breakfast, washing machine, etc., and open the roof You can relax and see the surrounding landscape. Especially, At a glance
- 게스트께서 오시면 10㎡규모의 방을 이용할수 있습니다
방은 1인 침대, TV, 냉장고, 개별 에어콘 등이 있습니다
- 아침식사, 세탁기 등을 사용할수 있고, 옥상을 개방하여
휴식을 하며 주변 경관을 볼수 있습니다. 특히 북한산이
한눈에 들어옵니다
Interaction with guests
- Guests can travel to places such as travel agencies in Seoul. - Nearby restaurants and play facilities (Bar, etc.) are available. - We carry heavy luggage.
- 게스트에게 서울시내 여행처등 여행안내 가능 합니다
- 가까운 주변의 음식점, 놀이시설(Bar 등) 안내 가능합니다
- 무거운 짐은 운반해 드립니다
Other things to note
- The guest must stay clean during the house. You must remain quiet. - You have to keep your key lockers and shoebox keys, and if you lose You have to pay $ 20 - At breakfast, cook only the right amount and cook excessively Do not throw away
- 게스트가 하우스에 동안에는 청결을 유지해야 하고
조용함을 유지해야 합니다
- 방키와 신발장키는 항상 소지해야 하고 잃어버리면
2만원의 비용을 지불해야 합니다
- 아침식사시 적정량만 조리하고 과다하게 요리하여
버리지 않도록 해야 합니다
---
---
Weekend Price $28 CAD / night
Always communicate through Airbnb
To protect your payment, never transfer money or communicate outside of the Airbnb website or app.
Learn more
---
Not safe or suitable for children (0-12 years)
Check in is anytime after 2PM
아침은 주방사용 가능하며 게스트
가 요리와 설거지 분리수거 하셔야
합니다
실내에서는 항상 조용히 하여야
하고 실내화를 사용하셔야 합니다
공용시설은 항상 깨끗하고 정리
정돈을 하셔야 하며 안내문을 참고
하여 주시기 바랍니다
퇴실시간은 오전 11시 입실시간은
오후2시 입니다
---
---
---
The minimum night stay for this listing varies.
---
The aircon made weird noises at night in the room I was staying in. Given the price I was paying, it was still worth it. The room was small, as expected, but it was a safe building. Be prepared to climb 4 levels! Especially since I had heavy luggages with me, it wasn't pleasant, although I already anticipated that. I only stayed for 2 nights, so generally the place was bearable. But I don't think I'll be able to stay for any longer!
---
The best tiny place to stay in Hongdae. Really close to public transport, restaurants and nightlife. The host was super helpful and nice. Ideal for exploring Hongdae and the rest of Seoul.
---
Great location, nice host. The quality of the room is really suited for someone who is alone, on a short business trip and isn't picky. No bedsheets, kitchen, nor laundry machine. Good experience but I was fitting the profile I mentioned.
---
The room is very cheap and it is very comfortable to have a room just for yourself sometimes. I would add that it is very close to the exist station (with escalator, which is a very important thing when you have luggages like me), and when I got lost the host decided to come to me, and helped me carrying my luggage. So I am more than satisfied for the price.
---
Explore other options in and around Mapo-gu
More places to stay in Mapo-gu: