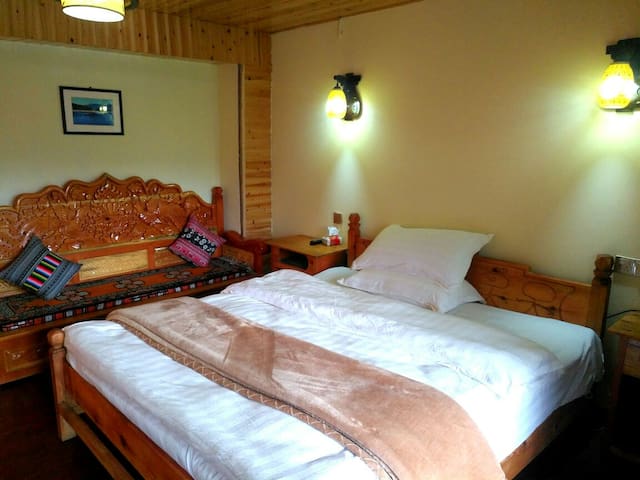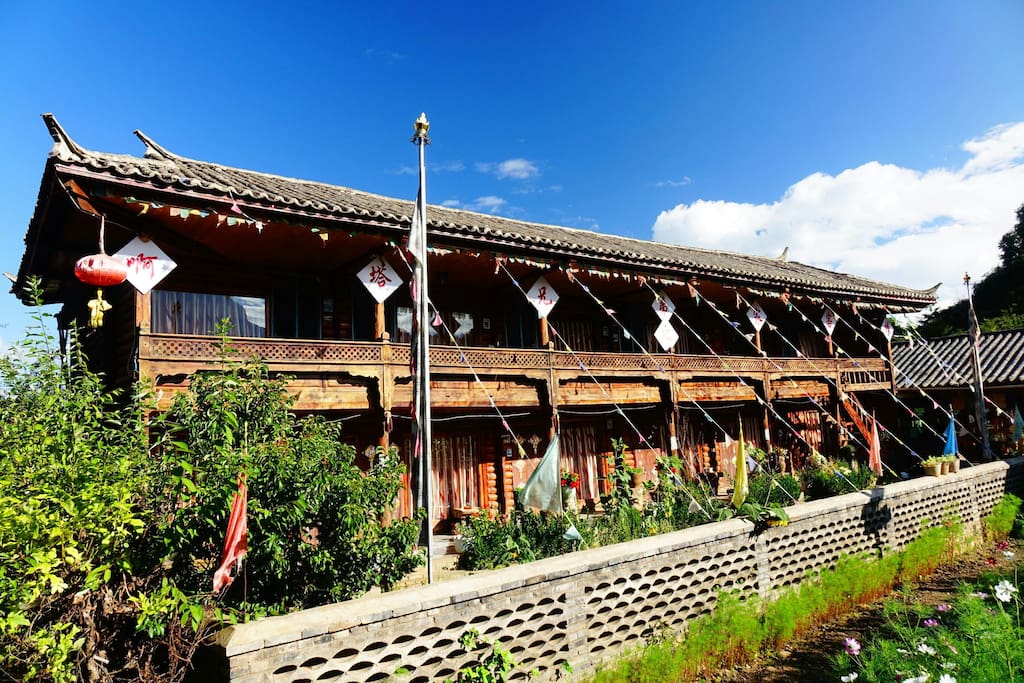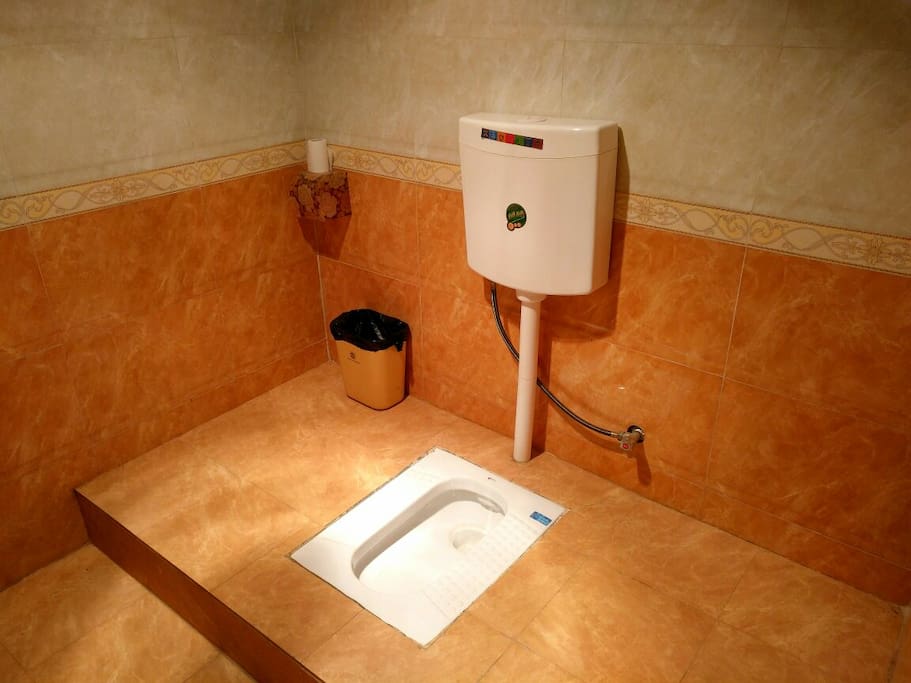 Lugu Lake is a beautiful mountain village, commonly known as "plateau pearl". People living here in addition to Mosuo people are Naxi, Han, Mongolian, Tibetan, Pumi and other ethnic groups. Here spring full of wild pear flowers in full bloom, white clouds blossoming map the lake, the summer has a large wildflowers, a variety of brilliant rainbow sunset and stars, autumn is the flowering period and fruit ripe season autumn season, The winter lake has fairyland morning fog and migratory birds and warm sunshine. Welcome to Lugu Lake poem and distant life too slowly. From the inn walk three minutes to the lake road, bonfire party dance hall, pub. 10 minutes walk to Deqing Lin Temple, watch the panoramic view of the village, Lugu Lake panorama.
泸沽湖是一个美丽的山村,俗称"高原明珠"。这里生活的人除了摩梭人还有纳西族、汉族、蒙古族、藏族、普米族彝族等多个民族。这里春季有满湖的野生梨花盛放,白云朵朵映照湖面,夏季有大片的野花、各种绚丽的彩虹晚霞和星空,秋季是格桑花的花期和水果成熟的季节秋高气爽黄叶漫天。冬季湖面有仙境般的晨雾和候鸟还有热情的阳光。欢迎大家来泸沽湖诗和远方过慢生活。从客栈步行三分钟可到环湖公路、篝火晚会舞场、酒馆。步行十分钟可到德庆林寺,观赏达祖村全景,泸沽湖全景。
The space
Atta Brothers Inn belongs to the Naxi villagers featuring semi-self-help inn, is a big family, a family in the tourism off-season, the management of farming, since the vegetables, raising livestock, fishing. In the tourist season family mobilization, operating inn, to tourists and friends to sell their own labor results. (Aber); not speak Mandarin, will only nod to do things, smiling face aunt (A Mi); wood no text, busy east busy West of the old Dad (Ada); warm and kind mother (grandmother); have to do a good food boss (Abu Chi Chi) Atta brothers home of the younger generation of the family; repair teacher, everyone respected young Huang Guru (Albuquerque), the Buddha's friends are like to communicate with him heart, learn from; well-behaved Naxi handsome two baby (Abu Gao Zuo) rivers and lakes called go wedding king paper; a pair of teeth, a clever like The spring of the three-inch tongue is not bad, known as the three baby (Abu Nima), and he always talk about the topic, open endless joke, he also engaged in early childhood education, photography technology top; lively and cheerful five Baby (Atta Tashi); simple handsome six brother (separated from the beginning of goods). In the brother's house, you can enjoy family-like warmth and love. The characteristics of the brother's house are also reflected in his role. Due to the pressure of work and study, visitors can feel the leisure and slow pace of life here. It is a good place to relax and relieve stress. The whole family to mention the old and young is the ideal choice. Healing, forget the past is also a good choice
阿塔兄弟之家客栈属于纳西村民特色半自助客栈,是一个大家庭,一家人在旅游淡季时,经营农作,自种蔬菜,养牲畜,打渔。在旅游旺季全家总动员,经营客栈,给游客朋友们销售自己的劳动成果。服务人员有做事慌慌张张却紊条不乱的伯伯(阿博);不会讲普通话,只会点头做事,笑脸相迎的婶婶(阿绵);质木无文,忙东忙西的老爸(阿达);热情善良的妈妈(阿妈);有能做一手好菜的老大(阿布独志)阿塔兄弟之家年轻一代的当家人;修于名师,人人尊敬的年轻黄教格鲁派喇嘛二哥(阿布格桑),信佛的朋友都喜欢与他交流心德,取经;地地道道的纳西帅哥二娃(阿布高佐)江湖人称走婚王纸;一对虎牙,一个巧如弹簧的三寸不烂之舌,人称三娃(阿布尼玛),和他一起总有聊不完的话题,开不完的玩笑,他还从事幼教工作,摄影技术顶好;活泼开朗的五娃(阿塔扎西);单纯帅气的六弟(隔佐品初)。在兄弟之家,您完全可以享受家人般的温暖和关爱。兄弟之家的特色还体现在他的作用方面。缘于工作、学习的压力,游客们可在在这里感受到休闲,慢节奏的生活。这里的确是放松,舒缓工作压力的好场所。全家提老携幼是理想的选择。疗伤,忘却过去也是一个不错的选择
---
---
Always communicate through Airbnb
To protect your payment, never transfer money or communicate outside of the Airbnb website or app.
Learn more
---
Check in is anytime after 12PM (noon)
---
---
---
泸沽湖阿塔兄弟之家客栈属于纳西村民特色半自助客栈,是一个大家庭,一家人在旅游淡季时,经营农作,自种蔬菜,养牲畜,打渔。在旅游旺季全家总动员,经营客栈,给游客朋友们销售自己的劳动成果。服务人员有做事慌慌张张却紊条不乱的伯伯(阿博);不会讲普通话,只会点头做事,笑脸相迎的婶婶(阿绵);质木无文,忙东忙西的老爸(阿达);热情善良的妈妈(阿妈);有能做一手好菜的老大(阿布独志)阿塔兄弟之家年轻一代的当家人;修于名师,人人尊敬的年轻黄教格鲁派喇嘛二哥(阿布格桑),信佛的朋友都喜欢与他交流心德,取经;地地道道的纳西帅哥二娃(阿布高佐)江湖人称走婚王纸;一对虎牙,一个巧如弹簧的三寸不烂之舌,人称三娃(阿塔丹珠),和他一起总有聊不完的话题,开不完的玩笑,摄影技术顶好;活泼开朗的五娃(扎西顿珠);单纯帅气,拥有明星脸(酷似李易峰)的六娃(鲁佐品初)。
Response rate:
100%
Response time:
within an hour
Explore other options in and around Liangshan
More places to stay in Liangshan :