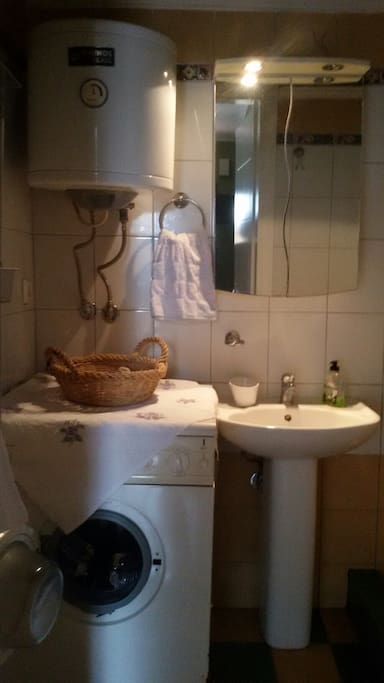 The house in Nea Fokea, Halkidiki, is ideal for families with children as well as for groups. The apartment is two-storey and is located in a quiet complex very close to the village. In all rooms except the bathroom there are balcony doors except the bedroom that has windows and the bathroom and the storage room they have not at all. In the morning the sun hits the front of the house. However, the bedrooms on the lower floor are very cool because they are on the mezzanine floor.
Το σπίτι στην Νέα Φώκαια Χαλκιδικης είναι ιδανικό για οικογένειες με παιδία αλλά και για παρέες. Το διαμέρισμα είναι διόροφο και βρίσκεται σε ένα ήσυχο συγκρότημα πολύ κοντά στο χωριό. σε όλους τους χώρους εκτός από το μπάνιο υπάρχουν μπαλκονόπορτες εκτός από την κρεβατοκάμαρα που έχει παράθυρα και το μπάνιο και την αποθήκη που δεν έχουν καθόλου. Το πρωί ο ήλιος χτυπάει την πρόσοψη του σπιτιού. Παρόλα αυτά τα υπνοδωμάτια του κάτω ορόφου είναι πολύ δροσερά επειδή βρίσκονται στο ημιόροφο.
The space
The apartment has two balconies. The access to the house is made from one balcony while the second balcony is on a mezzanine floor (located in front of the two bedrooms) and is ideal for relaxing as well as for a safe play for children as it is just above the open. There are other families in the complex as well as in the neighborhood, so your children may be acquainted. There is also enough free space in the house for playing or for other activities. The house has a small storage room on the lower floor. If you do not speak English, you can translate the description: (URL HIDDEN) Thank you for understanding.
Ο διαμέρισμα διαθέτει δύο μπαλκόνια. Η πρόσβαση στο σπίτι γίνεται από το ένα μπαλκόνι ενώ το δεύτερο μπαλκόνι ειναι σε ημιόροφο (βρίσκεται μπροστά από τα δύο υπνοδωμάτια) και είναι ιδανικό για χαλάρωση αλλά και για ασφαλές παιχνίδι για τα παιδιά καθώς είναι μόνο από πάνω ανοιχτό. Στο συγκρότημα αλλά και στην γειτονιά υπάρχουν και άλλες οικογένειες οπότε πιθανόν να έχουν και γνωριμίες τα παιδιά σας. υπάρχει και μέσα στο σπίτι αρκετός ελεύθερος χώρος για παιχνίδι ή για άλλες δραστηριότητες. Το σπίτι διαθέτει στον κάτω όροφο και μία μικρή αποθήκη.
If you don't speak Greek you can translate the description: (URL HIDDEN)
Thank you for understanding.
Guest access
It is 100 meters from the sea and there are two organized beaches that are easily accessible on foot. The village is 5 minutes from the house where there are all the necessary shops for your living as well as a large square for riding. The coastal road is also suitable for a walk. There is also a children's playground in the immediate vicinity of the sea.
Απέχει από την θάλασσα 100 μετρα και υπάρχουν δύο οργανομένες παραλίες που είναι εύκολα προσβάσιμες και με τα πόδια . Το χωριό βρίσκεται σε απόσταση 5 λεπτών απο το σπίτι όπου υπάρχουν όλα τα απαιραίτητα καταστήματα για την διαβίωση σας καθώς και μία μεγάλη πλατεία για βόλτα. Ο παραλιακός δρόμος ενδεικνυται επίσης για περίπατο. Σε πολύ κοντινή απόσταση και μπροστά στην θάλασσα υπάρχει και μία παιδική χαρά.
Interaction with guests
We speak English and German
We speak English and German
---
---
Check in time is flexible
- Να μην γίνει οποιαδήποτε καταστροφή στο σπίτι διότι πρέπει να αντικατασταθεί με δική σας επιβάρυνση.
- Η άφιξη σας μπορεί να πραγματοποιηθεί μετά απο συνενόηση
---
Explore other options in and around Nea Fokea
More places to stay in Nea Fokea: