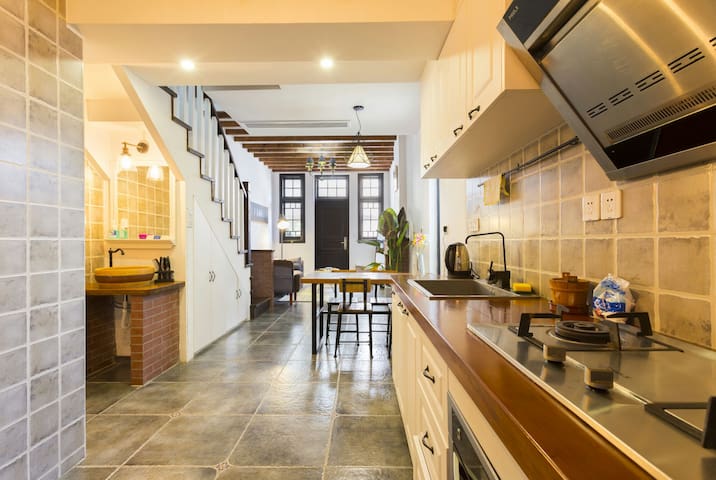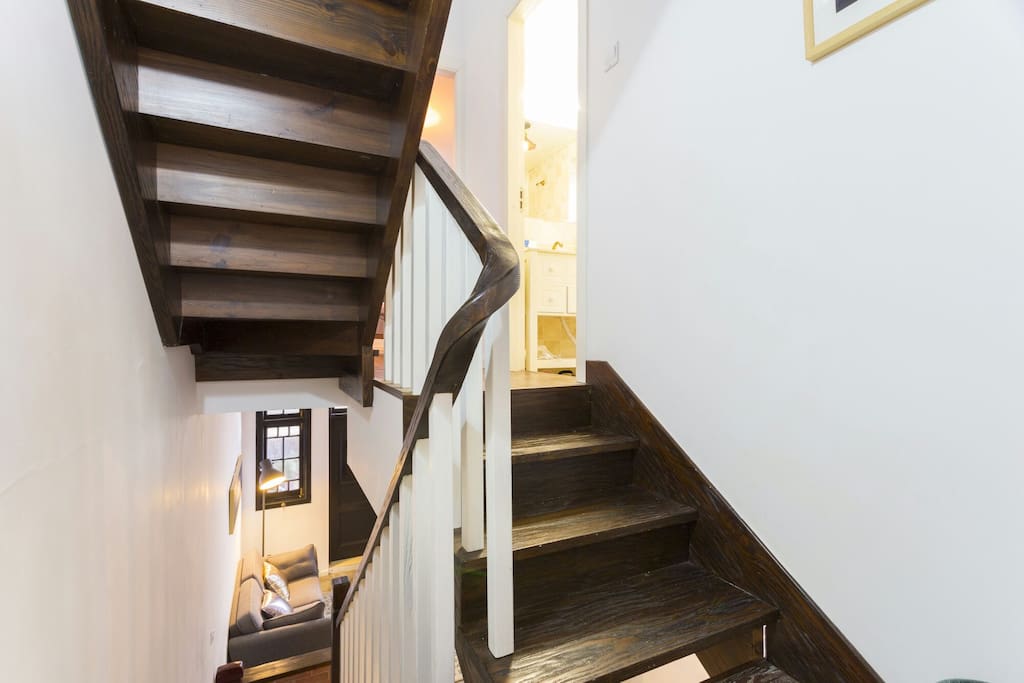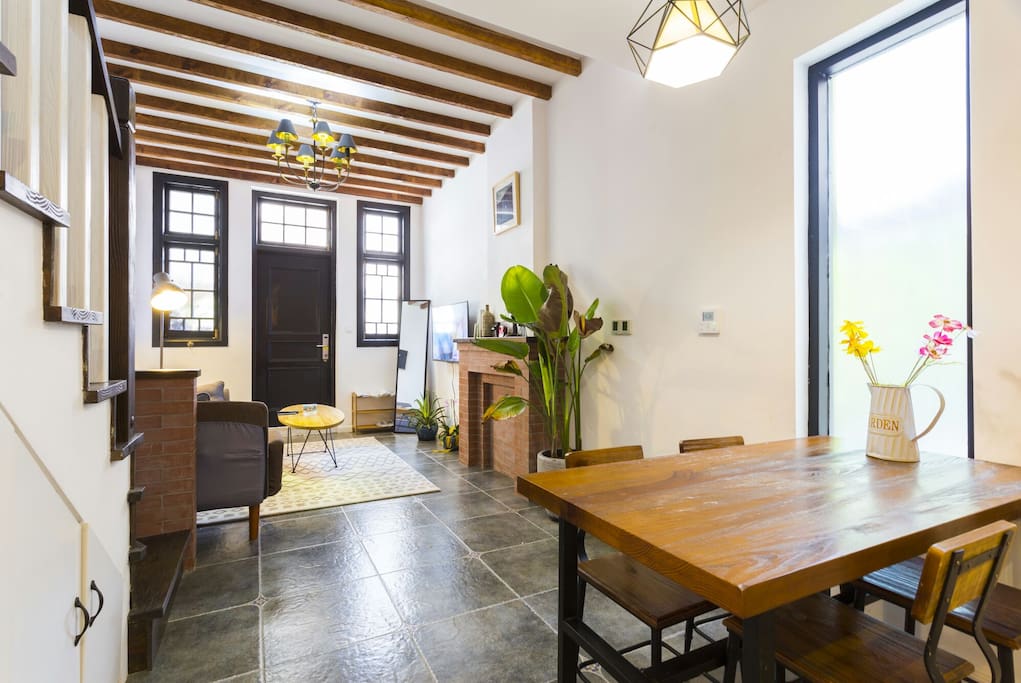 The house is located in the French Concession, single-family three-story house, family and small partners travel a great choice, three bedrooms, three bathrooms is very convenient; the second floor there are terraces can drink a small drink sitting together to chat.
房子位于法租界,独栋三层洋房,家人小伙伴旅游的绝佳选择地,三间卧室、三个卫生间很方便;二楼还有露台可以喝喝小酒坐在一起聊天。
The space
Distance to Hongqiao Airport, Metro Line 10 45 minutes. From Pudong Airport, Metro Line 9 to Line 2, 1 hour and 25 minutes. Distance to Hongqiao Railway Station, Metro Line 10 38 minutes. It is 35 minutes from Shanghai Railway Station and Metro Line 1. Distance to Nanjing Road Pedestrian Street, Metro Line 12 to Line 2 for 35 minutes. Distance Yu Garden, Metro Line 3 3 stops, 30 minutes. From the Bund, Metro Line 3 3 stops, 35 minutes. From the Oriental Pearl. Metro Line 12 to Line 2 a total of 5 points, 37 minutes. Distance to Ruijin Hospital, 7 minutes walk. Distance to Tianzi Square, 7 minutes walk. The house in Shanghai Lane Lane, walking in the alley feel the old Shanghai style, the surrounding neighbors like to plant some flowers and plants, raising the kitten; house is a whole house, three floors, walked into the overall feeling of partial beauty of the village wind. * The living room is a spacious living room, retaining the original building of the fireplace, the fireplace with a rich sense of the radio, fan, camera model; gray parquet tiles and wooden grille ceiling to bring out the style of the house; Zhang sofa can accommodate three or five friends together to watch TV chat, a small sofa can also be lying on top watching TV. * Restaurant restaurant connected with the living room, the space is very open. * Kitchen open kitchen on the first floor are open view, giving the feeling of relaxation. * Bedroom a total of three bedrooms, the first half is a small room, put a one meter five beds, as well as lockers, but also put green plants, this house put a lot of green plants, black and white minimalist And the black iron bed complement each other, each room we are equipped with a TV; the second floor is the master bedroom, one meter eight wooden bed, next to put a pot of pots, pots in the corner we carefully placed sticks And the bark, there is a balcony, ventilation and clothes are good; the third floor is a steeple bedroom, the space is large to accommodate a one meter five beds and a one meter five sofa bed, Three paintings, each one is carefully selected by us, to increase the level of space. * Terrace This house is the most distinctive is a terrace, afraid of the summer too hot we also prepared a parasol, at night on the terrace to drink small wine blowing is very comfortable. * Bathroom This house has three bathrooms with three showers, one of the bathroom and bath, many people do not have to wait for a bath, it is convenient. * Health situation Many people worry about the health problem, we each house is a professional aunt to clean, bedding one-time items are a guest for a change, four sets of towels will be sent to the dry clean shop disinfection and then take Come back, this is completely reassuring.
距离虹桥机场,地铁10号线45分钟。
距离浦东机场,地铁9号线转2号线,1个小时25分钟。
距离虹桥火车站,地铁10号线38分钟。
距离上海火车站,地铁1号线35分钟。
距离南京路步行街,地铁12号线转2号线35分钟。距离豫园,地铁10号线3站,30分钟。距离外滩,地铁10号线3站,35分钟。
距离东方明珠。地铁12号线转2号线共5站,37分钟。距离瑞金医院,步行7分钟。 距离田子坊,步行7分钟。
房子在上海的里弄,走在弄堂里感受着老上海的风情,周围的邻居都喜欢种些花花草草,养养小猫;房子是一整栋洋房,三层楼,走进去整体感觉偏美式乡村风。
*客厅 一开门便是宽敞的客厅,保留着原建筑的壁炉,壁炉上摆着富有年代感的收音机、电风扇、相机的模型;灰色拼花地砖和木格栅的吊顶衬托出房子的风格;两张沙发可以容纳三五好友聚在一起看电视聊天,小沙发还可以拉平躺在上面看电视。
*餐厅 餐厅与客厅相连,空间很开阔。
*厨房 开放式的厨房 整个一楼都是开阔的视野,给人休闲放松的感觉。
*卧室 一共有三个卧室,一楼半是一个小房间,放了一张一米五的床,还有储物柜,还放了绿植,这套房子摆了很多绿植,黑白极简的挂画与黑色铁艺床相得益彰,每个房间我们都配备了电视;二楼是主卧,一米八的木色床,旁边放了一盆大大的盆栽,角落里我们精心摆着木棍捆和树皮,还有一个阳台,通风晒衣服都不错;三楼是一个尖顶的卧室,空间很大可以容纳一张一米五的床和一张一米五的沙发床,墙边斜靠着三幅画,每一幅都是我们精心挑选出来,给空间增加层次感。
*露台 这套房子最有特色的就是有一个露台,怕夏天太热我们还准备了遮阳伞,晚上在露台上喝点小酒吹吹风很是惬意。
*卫生间 这栋房子有三个卫生间 有三个淋浴,其中一个卫生间还有浴缸,人多也不用排队等着洗澡,很是方便。
*卫生情况 很多人担心的卫生问题,我们每套房子都是有专业的阿姨来打扫,床品一次性用品都是一客一换,四件套、毛巾都会送到干洗店洗净消毒再拿回来,这个是完全可以放心的。
Guest access
House items can be used inside, but to care, can not damage the items inside the house
房子里面的物品都能使用,但要爱护,不能损坏屋内的物品
Other things to note
1, before admission, according to the platform to collect a deposit, party and shooting more than 5,000 yuan deposit. 2, strict compliance with the arrival time, early or late please contact the butler free luggage storage. Late check-out will be deducted deposit, delayed one hour deduction 200, delayed two hours deduction 500. 3, abide by the law, after 10:30 pm please keep quiet, to avoid affecting others to rest 4, the room is no smoking, is not allowed to bring pets inside. 5, prohibited cosmetics, beverages, drinks, food and oil pollution bedding, sofas, curtains, and other woven goods. We will deduct the purchase price of the indemnity from the deposit. 6, please put a special bath slippers to prevent slipping. Towels, bath towels and bedding, sofa cushions, pillow, bedding is strictly prohibited in the bathroom, bathroom, room on the floor stampede, defaced, or deducted deposit 50 yuan / article. 7, advertising, film and television drama, framing and other commercial photography must be informed in advance. Normally the maximum number of people should not exceed 6. If more than 6 people stay or shoot, party, party, marriage room and other activities, must be in advance by the landlord permission and agreed costs. If you need to move the furniture pattern and the layout of the venue, the installation of paste items, after the need to fully restore the original, leaving no trace, or will deduct the deposit. 8, please pay attention to the safety of the balcony and floor windows, responsible for taking care of the elderly and children, By the guests themselves. 9, non-I stay in advance to explain the situation and agreed by the landlord, or we will have the right to refuse non-self-check-in and no refund.
1、入住前,按平台收取押金,活动派对和拍摄5000元以上押金。 2、严格遵守入住时间,早到或晚退请联系管家免费寄存行李。延迟退房将扣收押金,延迟一小时扣200,延迟两小时扣500。 3、遵纪守法,晚上10点半过后请保持安静,避免影响到他人休息 4、房间内禁止吸烟,严禁携带宠物入内。 5、严禁化妆品、饮料、酒水、食品油脂污染床上用品、沙发、窗帘、及其它织物品。如违反我们会从押金中扣除赔偿物品购买费用。 6、洗浴时请换上专用拖鞋,以防滑倒。毛巾、浴巾及床上用品、沙发软垫、抱枕,严禁铺垫在浴室、卫生间、房间的地板上进行踩踏、污损,否则扣除押金50元/条。 7、 广告、影视剧、取景等商用拍摄请务必提前告知。通常情况下人数上限不得超过6人。如果6人以上入住或者进行拍摄、派对、聚会、婚房等活动,均须事先获房东许可并约定费用。如果需要挪动家具格局和进行场地布置,安装粘贴物品,事后需完全恢复原样,不留痕迹,否则将扣除押金。 8、请注意阳台和落地窗的安全,负责照顾好老人和小孩,住客的安全由住客自行负责。 9、非本人入住需事先说明情况并经房东同意,否则我们将有权拒绝非本人入住且不退房费。
---
---
Always communicate through Airbnb
To protect your payment, never transfer money or communicate outside of the Airbnb website or app.
Learn more
---
Check in is anytime after 3PM
进屋一定要脱鞋,如果是聚会做饭的话需要自己收拾下我们的房子,不能弄得很乱
---
---
---
爱吃,爱玩,爱旅游。热烈欢迎世界各地的朋友来我家住,我很乐意为你推荐上海好吃好玩的地方!
Response rate:
100%
Response time:
within an hour
Explore other options in and around Huangpu Qu
More places to stay in Huangpu Qu: