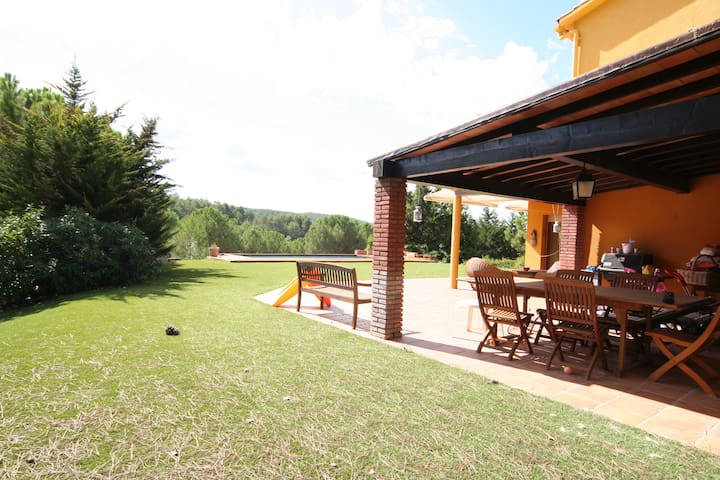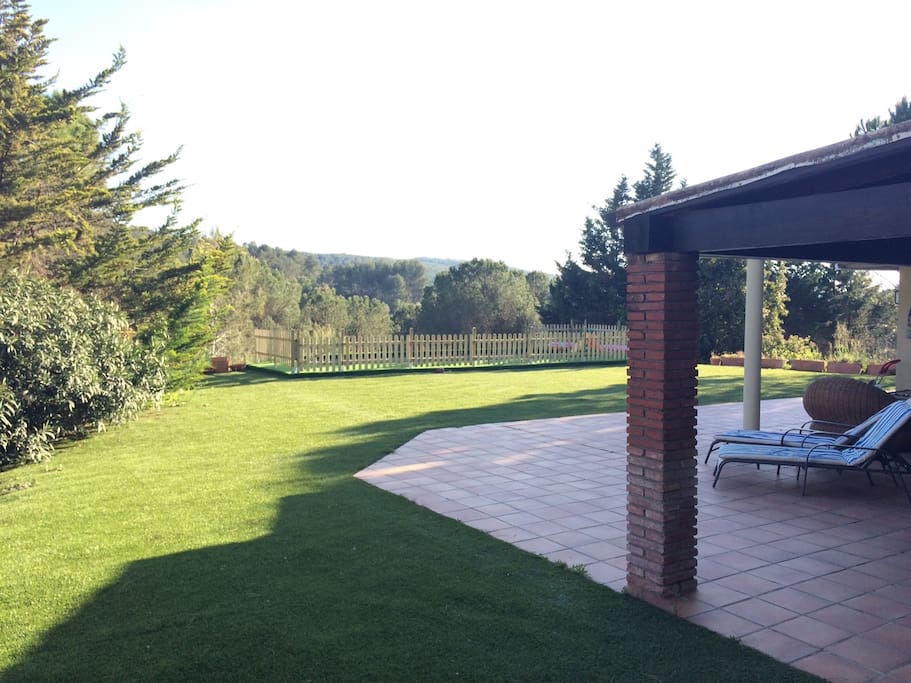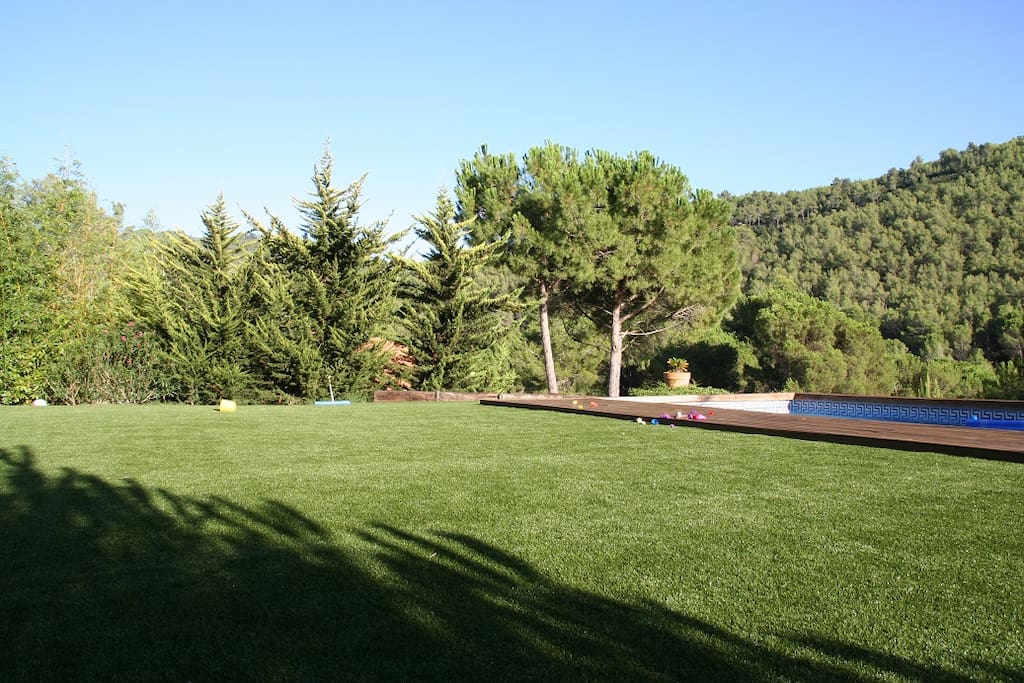 The space
Large house suitable for 10 guests, with 240 squared meter space, located in the middle of the Garraf Natural Park, with astonising views from the garden, with private pool. Well communicated, at only 25 minutes by car to Barcelona area and 15 minutes to closest beaches, depending on traffic conditions. The house has airconditioning in all rooms as is prepared and ready for your full confort. TV cable station with more than 200 channels, many international news and TV channels. A quiet place, suitable for large families/groups up to 10 members, with excellent views, privative large pool, airco in every single room, it is the perfect place for your holidays. The garden has 600 squared meters, including the barbeque area and solarium, and you can place your kids or own playground in there. You only need to take care of the sun protector and enjoy the enviroment. Air conditioning in all rooms and dinning room. The pool measures 8.5 meters by 4.5 mts and deepth oscilates from 1 to 2 meters. The barbeque area is prepared for your cooking session with an american BBQ large enough for your group. The BBQ area is connected by a door to the garage area where you have a second refrigerator in the house, convenently close enough to the cooking area. WIFI covers all the house rooms, and the TV set in the dinning rooms has a parabolic antenna engaged to MOVISTAR channels. Here you can find a whole list (futbol and F!/MotoGP are under payment) : (URL HIDDEN) I support all of our guests in all details and needs they may have, such as advise where to go, best beaches in the area, restaurants, Beach Clubs, where to shop and also I even make restaurant bookings for them if they wish so. It is a residential, quiet, with a simpathic neighbourghood. I love how nice is the area, the environment, the forest and also bike rifding and running in the natural park in fornt of the house. This area, Alt Peendés is well known for its wine execllent production and the long stretches of vineyards. there is a bus stop right in front of the house, that takes you to the closest town, BEGUES and from there down to GAVA. From there you can continue moving by bus or jump into the train staion of GAVA that communicates to Barcelona in 10 minutes. However the suggested vehicle to commute is the car due to timetable schedule and as being the quickuest one, taking you to Barcelona in some 25 min and to the beaches in 15 min, depending on traffic conditions. What to do in Barcelona area: https://www.airbnb.es/s/Barcelona/experiences?eal_exp=1494666849&eal_sig=d04507d50a005e71146e7d5c4cb8eac9b531af5da9edb47e416a544881a9ffec&eal_uid=6710938&eluid=15&euid=be8c4837-f7fe-634f-709b-ba84afdebdcf&locale=es&show_experiences=true&src=plnbcnnewpop3&allow_override%5B%5D=&s_tag=sgzQtkuj
Large house suitable for 10 guests, with 240 squared meter space, located in the middle of the Garraf Natural Park, with astonising views from the garden, with private pool. Well communicated, at only 25 minutes by car to Barcelona area and 15 minutes to closest beaches, depending on traffic conditions. The house has airconditioning in all rooms as is prepared and ready for your full confort. TV cable station with more than 200 channels, many international news and TV channels.
A quiet place, suitable for large families/groups up to 10 members, with excellent views, privative large pool, airco in every single room, it is the perfect place for your holidays. The garden has 600 squared meters, including the barbeque area and solarium, and you can place your kids or own playground in there. You only need to take care of the sun protector and enjoy the enviroment.
Air conditioning in all rooms and dinning room. The pool measures 8.5 meters by 4.5 mts and deepth oscilates from 1 to 2 meters.
The barbeque area is prepared for your cooking session with an american BBQ large enough for your group. The BBQ area is connected by a door to the garage area where you have a second refrigerator in the house, convenently close enough to the cooking area.
WIFI covers all the house rooms, and the TV set in the dinning rooms has a parabolic antenna engaged to MOVISTAR channels. Here you can find a whole list (futbol and F!/MotoGP are under payment) : (URL HIDDEN)
I support all of our guests in all details and needs they may have, such as advise where to go, best beaches in the area, restaurants, Beach Clubs, where to shop and also I even make restaurant bookings for them if they wish so.
It is a residential, quiet, with a simpathic neighbourghood. I love how nice is the area, the environment, the forest and also bike rifding and running in the natural park in fornt of the house.
This area, Alt Peendés is well known for its wine execllent production and the long stretches of vineyards.
there is a bus stop right in front of the house, that takes you to the closest town, BEGUES and from there down to GAVA. From there you can continue moving by bus or jump into the train staion of GAVA that communicates to Barcelona in 10 minutes.
However the suggested vehicle to commute is the car due to timetable schedule and as being the quickuest one, taking you to Barcelona in some 25 min and to the beaches in 15 min, depending on traffic conditions.
What to do in Barcelona area:
https://www.airbnb.es/s/Barcelona/experiences?eal_exp=1494666849&eal_sig=d04507d50a005e71146e7d5c4cb8eac9b531af5da9edb47e416a544881a9ffec&eal_uid=6710938&eluid=15&euid=be8c4837-f7fe-634f-709b-ba84afdebdcf&locale=es&show_experiences=true&src=plnbcnnewpop3&allow_override%5B%5D=&s_tag=sgzQtkuj
Check-in is anytime after 2PM
Self check-in with lockbox
Soy de Barcelona, aunque he vivido y estudiado en el extranjero (The EEUU) y tengo la nacionalidad española y brasileña también. Soy alto directivo de una gran multinacional en España, ubicada en Barcelona, y disfruto de las cosas sencillas, siempre en buena compañia y harmonia. …
Languages:
English, Español, Português
Response rate:
100%
Response time:
within an hour
Explore other options in and around Olesa de Bonesvalls
More places to stay in Olesa de Bonesvalls: