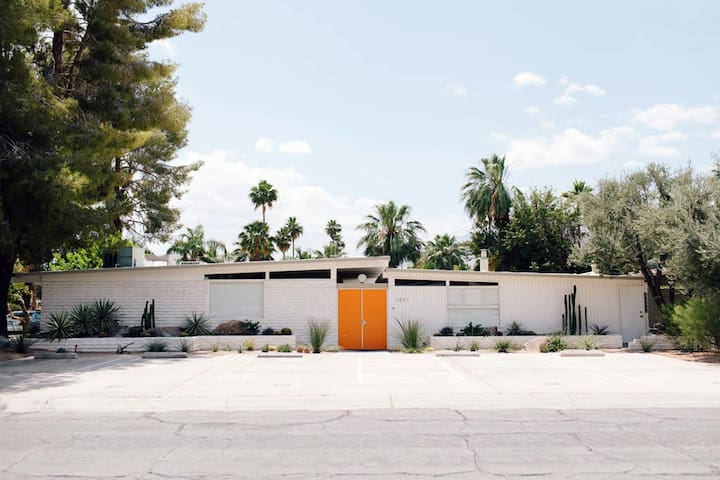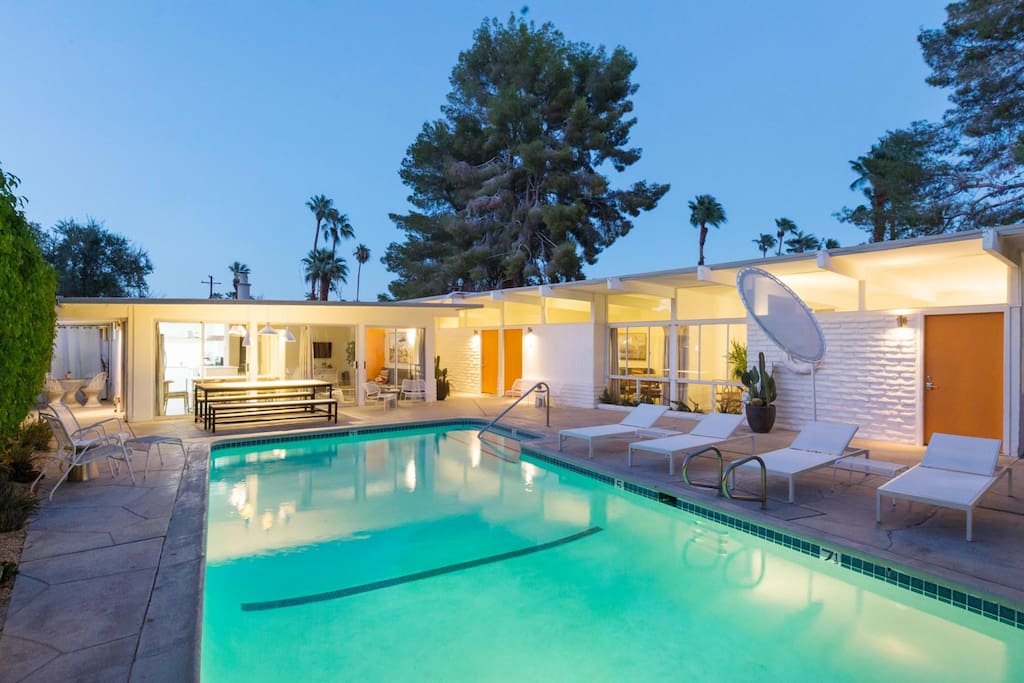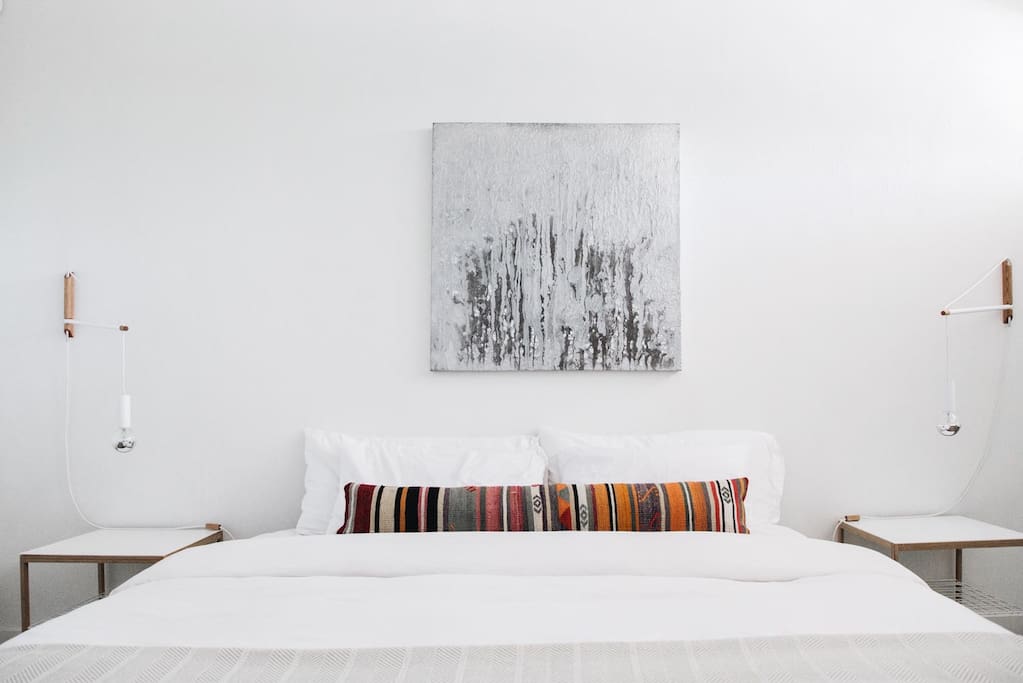 Welcome to The Amado!
Our bright orange doors have been featured on the cover of Sunset Magazine, in Architectural Digest, Vogue Magazine, Travel & Leisure and many more.
This historical property is a classic example of mid-century modern architecture at its finest.
Each of the five units have been beautifully renovated and carefully curated with original art, textiles and custom-made furniture and are just steps from the pool and outdoor fire pit.
Instagram: @1821amado
The space
This desert oasis offers a private turquoise pool with gorgeous mountain views, mature citrus trees dripping with fruit and gardens buzzing with hummingbirds.
This boutique accommodation can be rented as five individual suites or as a single property hosting twelve people at a time - perfect for retreats, reunions, celebrations and holidays.
Unit 1 - https://www.airbnb.com/rooms/1022436
Unit 2 - https://www.airbnb.com/rooms/1054129
Unit 3 - https://www.airbnb.com/rooms/1048258
Unit 4 - https://www.airbnb.com/rooms/2295669
Unit 5 - https://www.airbnb.com/rooms/2310727
Entire Complex - https://www.airbnb.com/rooms/2324733
Unit's 1- 4 boast an airy 600 square feet including kitchen, dining room, living room, large bedroom and bathroom featuring colorful & original 1950's tile. Each suite has a king size bed in the bedroom, and a queen size sleeper sofa in the living room comfortably sleeping up to four people. There is a 32" Samsung smart TV in each living room as well as a wireless bluetooth speaker.
Unit 5 is a two bedroom suite is 800 square feet offering both a king and queen size bed as well as a queen size sleeper sofa, an original functioning gas fireplace from 1955, a full size kitchen, wall to wall windows overlooking the pool, a private patio and a 40" Samsung Smart TV.
Guest access
The patio features a beautiful pool, outdoor fire pit, desert landscaping, a Weber BBQ and large community table that seats up to twelve people, all of which provide a myriad of relaxation options.
There is a brand new energy efficient LG washer and dryer on the property.
We have electronic locks with keypads for each unit and the main entrance so that you can arrive at your convenience and don't need to coordinate picking up keys.
Interaction with guests
I personally manage the property and work closely with my guests to ensure that all your needs are met and that there is always someone available if you have questions.
Other things to note
Instagram @1821amado
Palm Springs TOT 6164
---
This listing has essential business travel amenities.
---
Check In: Anytime after 3PM
Room type: Entire home/apt
---
---
Security Deposit $636 CAD
Weekend Price $2288 CAD / night
Always communicate through Airbnb
To protect your payment, never transfer money or communicate outside of the Airbnb website or app.
Learn more
---
Check in is anytime after 3PM
TRANSIENT OCCUPANCY LODGING/LICENSE AGREEMENT
I, the Licensee, agree to the following:
1. LODGING AGREEMENT: Licensee (or you) hereby agrees to license from Champagne Sundays, LP ("CS") the Property, located in Riverside County, CA, for use solely as a private transient occupancy vacation residence and for no other purpose ("Occupancy"). Licensee acknowledges and agrees that his/her occupancy is as a lodger of the Property and not as a tenant under landlord/tenant law, and that California Civil Code Sections 1940 et seq (including, but not limited to California Civil Code §1950.5) shall not be applicable to Licensee since Licensee's occupancy is transient and subject to tax under Section 7280 of the Revenue and Taxation Code. This Agreement is subject to termination by CS without recourse to eviction proceedings under California Code of Civil Procedure §1161 or any other formal or informal proceedings. This Licensee has no interest in the realty, and the Property, for purposes of this agreement, shall at all times remain under the direct control and supervision of CS.
2. PAYMENT POLICY: Licensee is responsible for full payment of the Total Occupancy Rate for the entire license period. One hundred percent (100%) of the Total Occupancy Rate is payable to CS in order to book and hold the Property (Daily Rate * number of days in license period plus tax and other fees) ("Booking Deposit"). The Property will not be reserved until the 100% Booking Deposit has been received by CS.
3. ACCEPTANCE OF PROPERTY: Licensee agrees to accept the Property upon arrival, provided the Property substantially meets the basic description as described on website.
4. REPORTING DAMAGE TO CS: Licensee agrees to keep the Property in good condition, and upon Licensee's departure, the Property will be left in good and habitable condition. Any damage to furnishings, fixtures, or furniture or other notable conditions found upon arrival will be reported to CS within two (2) hours of Occupancy.
5. RESERVATION CONFIRMATION: Reservation of the Property is not confirmed until (i) this Lodging Agreement has been executed by Licensee, and a signed copy is returned to CS, (ii) the 100% Booking Deposit is received by CS, and (iii) CS accepts the reservation, which acceptance shall be in CS's sole and absolute discretion.
6. MAKING PAYMENTS: Failure to make payments when due will result in cancellation of this Agreement.
7. MINIMUM AGE TO RENT: Licensee must be at least 25 YEARS OF AGE to enter into this Agreement and reserve this Property. CS may request proof of age.
8. CANCELLATION POLICY: A minimum of thirty (30) days notice is required for a fifty percent (50%) refund of the amount paid. If Licensee cancels the reservation less than thirty (30) days before the Check-in date, Licensee shall not receive a refund of any amounts paid.
LICENSEE HEREBY CONFIRMS THAT HE/SHE UNDERSTANDS THAT CANCELING THE RESERVATION LESS THAN THIRTY (30) DAYS PRIOR TO THE CHECK-IN DATE WILL RESULT IN A FORFEITURE OF THE BOOKING DEPOSIT (THE FULL COST OF THE RESERVATION).
9. DAMAGE POLICY: Licensee shall be responsible for all damage, breakage and/or loss to the Property, except for normal wear and tear and unavoidable casualties (as deemed by CS in its sole discretion) which may result from Licensee's occupancy. Licensee agrees that all pipes, wires, glass, plumbing, household contents, and other equipment and fixtures will be in the same condition upon departure as at the time if check-in, reasonable wear and tear and damage by unavoidable fire and casualty the only exceptions. Licensee understands that the Property will be inspected prior to Licensee's arrival and upon Licensee's departure. You acknowledge any loss and/or damage to the Property will result in a charge or charges for repair and/or replacement value.
LICENSEE HEREBY CONFIRMS THAT HE/SHE UNDERSTANDS THESE CHARGES MAY BE POSTED TO THE CREDIT CARD ON FILE, OR, IF CS IS UNABLE TO CHARGE THE CREDIT CARD, HE/SHE WILL PROMPTLY (AND IN NO EVENT MORE THAN 10 DAYS) SUBMIT THE MONEYS DUE TO LICENSEE FOR FULL COST OF THE REPLACEMENT OR REPAIR.
Notwithstanding the foregoing, if applicable, Licensee agrees to pay CS the Vacation Rental Damage Protection Fee in the amount set forth on the Vacation Rental Damage Protection Agreement in consideration for providing Licensee with Accidental Rental Damage for damage at the Property up to the Covered Amount set forth on the Vacation Rental Damage Protection Agreement. If during Licensee's occupancy of the Property, Licensee causes any damage to real or personal property of the Property as a result of inadvertent acts or omissions, CS will reimburse the Property owner for the cost of repair or replacement of such property up to the Covered Amount. The Vacation Rental Damage Protection will take effect upon check-in, provided Licensee has paid the Vacation Rental Damage Protection Fee, and will end on the actual date of departure from the Property. The Vacation Rental Damage Protection Coverage will not provide coverage for any loss or damage due to (a) natural disasters, (b) intentional acts of Licensee, (c) gross negligence or willful misconduct of Licensee, (d) any cause if Licensee does not report the loss or damage to the staff of CS by the departure date, (e) normal wear and tear of the Property, (f) loss of use of the Property, (g) theft or damage to any property owned by or brought by Licensee to the Property, (h) theft or damage caused by anyone visiting other than Licensee, (i) theft without a valid police report, (j) damage without a valid police report unless the damage is caused by Licensee, or (k) damage or theft in the Property if the number of persons occupying the Property exceeds the number specified in the Reservation. All damage or theft for which a claim may be made must be reported to CS no later than the departure date.
10. PROPERTY TOURS: A tour of the Property may be available upon request, but is subject to availability. If licensee or proxy of licensee tours the Property after the reservation is confirmed, licensee is subject to the terms and conditions of the cancellation policy including any and all cancellation fees.
11. SMOKING: This is a non-smoking property. You are permitted to smoke outdoors on the patio or courtyard. Butts are to be disposed of properly and not left anywhere on the property. Any violation of the smoking policy will incur a $1,000.00 Additional "Smoke Damage" Cleaning Fee to remove smoke odors from the house and/or linens.
12. PETS: There are to be no pets on the Property - except with prior authorization and a $60 fee. Guests who bring a pet or pets without approval will be charged a $100 fee and may be immediately evicted from the Property.
13. MAXIMUM NUMBER OF OCCUPANTS: The Property is to be occupied by no more than the maximum sleep number stated on the listing website unless approved in writing by CS. If Licensee exceeds the occupancy limit and falsifies occupancy information at the time of reservation, Licensee shall be subject to eviction. "Occupants" includes small children, infants and overnight visitors. If more than the maximum number is found to be occupying the Property, you agree that a charge of $100.00 per person/ per day will be made to your credit card. Additionally, this Agreement may be immediately terminated without a refund of any amounts paid. Exceptions: Licensee may have an additional five (5) daytime guests at the Property beyond the maximum sleep number stated on the website. All parking, noise and community rules and restrictions must be followed. A daytime guest is understood to be any guest not sleeping at the home and leaving the property before 12 am.
14. EVENTS/VENDORS: Any vendors entering the Property or events held at the Property must be disclosed by Licensee to CS and are subject to vendor/event fees to be determined by CS. Failure of Licensee to notify CS of any vendors or events could result in additional charges as determined by CS and/or removal from the Property. CS retains the right to determine if a gathering constitutes an event. All vendors must be licensed and insured and will provide proof of insurance if requested by CS.
15. RETURN OF SECURITY/DAMAGE DEPOSIT (if applicable): Your Security/Damage Deposit, minus any charges against it, will be refunded to your credit card within twenty-one (21) days of your departure. If there are damages that require us to retain part of your Security/Damage Deposit, there may be a delay in its return.
16. CHECK-IN: Check-In is no earlier than 3 pm on the day of arrival unless prior arrangements have been made with CS.
17. CHECK-OUT: Check-out is no later than 11 am on the day of departure. Check-out is defined as completely off the Property with the key back in the lockbox if applicable. The entire 4-hour window between check-out and check-in is needed to adequately clean & prepare the home for the next guest. Out of respect for our housekeeping staff and newly arriving guests we ask that you adhere to our arrival/departure times. If you fail to be completely out by 11 am without prior approval you will be charged a minimum of $50. Special arrangements must be made ahead of time to be sure that a longer stay will not pose a problem. Please understand this is not meant to be an inconvenience but to ensure that everyone has the same opportunity to enjoy their stay at this Property. There shall be no pro-ration of the Total Occupancy Rate for late arrivals or early departures.
18. LICENSEE'S RESPONSIBILITY FOR CHECK-OUT: Prior to vacating the home, Licensee is responsible for placing all trash into the proper containers and cleaning all dishes and cookware that were used during the stay. Leaving a pile of dirty dishes for the cleaning crew will result in additional housekeeping fees to be charged to the card on file. Placing wet garbage or other non-recyclable trash into the large gray "Recyclables Only" bin or the green "Yard Debris" bin will result in those bins not being accepted by the waste management company and creates extra work for the cleaning crew. The result will be additional charges to cover additional work and additional garbage pickup. Licensee is also responsible for locking all doors. Make sure to leave all garage remotes and extra keys, returning keys to the lockbox. Not complying with any of these conditions could result in additional charges.
19. ADDITIONAL RULES: Additional House Rules and Procedures may be clearly posted within the Property or in the Property Binder by CS, and are to be followed in addition to the rules and procedures set forth herein.
20. NEIGHBOR COMPLAINTS: Actions by Licensee and/or guests that result in neighbor complaints or Police being called to the Property will result in a minimum $250 charge, which charge will be used to deal with potential HOA legal issues & fines. If the Police are called out a second time, Licensee and/or guests will be immediately evicted. Licensee shall be liable for any and all costs incurred by CS as a result of the breach of this Section 22.
21. ILLEGAL SUBSTANCES: Illegal substances are strictly prohibited and grounds for immediate eviction from the Property. You, your guests and visitors, agree that any drug use on the Property, or using the Property for any immoral or unlawful purpose, or violation of any law or ordinance on or about the Property will immediately terminate your occupancy and be grounds for immediate eviction from the Property. You shall be liable for any and all costs incurred by CS as a result of the breach of this Section 21.
22. ENTERING PREMISES: Owner, Owner's Agent or CS may enter the Property at any time, with no prior notice in order to perform necessary repairs and/or maintenance and at their sole discretion.
23. MOVING FURNITURE: The Owner shall provide furniture and fixtures, linens and towels, and a fully equipped kitchen. Licensee is responsible to return any furniture that was moved to its original position.
24. ITEMS LEFT BEHIND: Owner or CS shall not be liable or responsible for personal items left behind, lost or stolen. If you leave an item after checking out and wish to have it returned, call CS as soon as possible and we will arrange for shipment. We will inform you of the shipping cost and with your approval, charge the credit card on file to cover the expense.
25. LIABILITY: Owner or CS shall not be liable to Licensee, its guests or invitees or any other person for any injury, loss or damage to any person or property on or about the Property or pool. Licensee shall hold Owner and CS harmless and indemnify Owner and CS from and against all loss, injury or damage occasioned by the use or misuse or abuse of any part of the Property or pool and from or against any omission, neglect, or default of Licensee, its guests, licensees or invitees.
26. POOL SAFETY RULES – ASSUMPTION OF RISK – RELEASE OF LIABILITY: Licensee acknowledges that the safety of yourself, your guests, children or pets depends on you. The pool is not fenced or gated and there is no alarm on any door to the pool area. Your attentive personal supervision is absolutely required to avoid risk of serious injury and/or death. By signing this agreement you are aware of and assume the risk for yourself, your party and for any guests or invitees during your rental period. You agree to indemnify and hold harmless from any and all liability (active or passive) the Property owner, its owners, and management or employees from any harm or injury caused by using the pool and/or spa. You hereby agree/accept that pools and spas contain necessary chemicals that can cause skin rashes, harm or discoloration of swimwear. You and your guests and invitees agree that you use the pool and spa completely at your own risk.
Gates to the interior pool courtyard are self-closing and must remain closed at all times. Under no circumstances are gates to be propped open.
No Lifeguard is on duty. No diving or running is allowed around the pool. By signing this rental agreement and liability release, you agree to honor all important pool safety guidelines as posted in the pool area.
•Child Safety. Never leave a child unsupervised near a pool, not even during social gatherings. Appoint a designated adult to protect young children from pool accidents. Children must be watched closely while swimming.
•No Glassware. Do not use glassware in or near the pool or spa. There are plastic glasses and tableware provided in every apartment for use in the pool area.
•Spa Safety. Please note that consuming alcoholic beverages and/or drugs and use of the spa can be dangerous and cause serious health risks. Avoid immersion in the spa for prolonged periods of time. The spa has a timer set for 45 minutes. The timer is not to be tampered with or changed.
•No Diving. Diving into shallow water can cause serious injury, paralysis or death.
27. SUBLETTING: This Agreement may not be assigned or the Property sublet or occupied by anyone other than Licensee and its guests.
28. CHANGING THE LOCKS: No physical changes to the Property or changing of locks on the Property are permitted.
29. FILM/VIDEO: The Property shall not be used as a location for amateur or professional film/video without the prior written consent and arrangement with Owner and CS.
30. INDEMNIFY AND HOLD HARMLESS: You agree to indemnify and hold Owner and CS harmless from all liability, loss or damage arising from any nuisance or harm made or suffered on the Property by you, your guests or invitees, or from any carelessness, neglect, or improper conduct of any persons occupying or visiting the Property during your occupancy pursuant to this Agreement.
31. EXCEPTIONS: Any exceptions to the rules and regulations as written herein must be approved in writing in advance by CS.
32. BOOKING POLICY: Occupancy rates naturally fluctuate throughout the year based on market conditions. When reservation confirmation is received, occupancy rates are locked in for the dates in the reservation. Should occupancy rates go up, you understand you will not be required to pay more. In addition, should occupancy rates go down, you understand you will not be entitled to a refund.
33. AMENITIES: CS make every attempt to ensure the Property lives up to the cleanliness & amenities of the pictures and/or video as seen on CS's website. Naturally, some of the Property's amenities will need to be replaced or changed over time and may not be the specific amenity shown in the pictures and/or video.
34. FLOOR PLAN: The Property floor plan is for basic, informational purposes only. Please be aware that the Property may have a closet, pantry or small garage bay that is locked and used as an "owner's closet" or "maintenance closet" and unavailable to Licensee.
35. POOL/SPA: We do everything in our power to make sure that the private pool and/or spa at the rental home are functioning properly for your stay. If circumstances beyond our control cause the private pool and/or spa to not function properly, you may be entitled to a refund of daily pool/utility fee for as many full days as the pool and/or spa were not functioning, provided however, you must report the malfunction to CS immediately and CS must be given the opportunity to verify the situation. As used herein, pool and/or spa malfunction shall mean a breakage of the heater or pump.
36. EXTRAORDINARY CIRCUMSTANCES: There may be circumstances in which the Property might not be available for your stay. Examples of these include (but are not limited to) destruction of or damage to the Property, changes in local occupancy regulations, or other reasons. In the event the Property is not available, for whatever reason, we will do our best to make alternative arrangements for you where possible. If we cannot, or if the alternative arrangements are not acceptable to you, then we will refund all monies paid. This will be the full extent of our liability to you in such circumstances, and we will not be responsible for any other costs connected with any such cancellation, howsoever arising.
37. NO REFUND POLICY: While every attempt is made to keep properties in good working order, occasionally things break, fail or go out of adjustment. This is an unavoidable part of life. This may include, but is not limited to, disruption in internet service, phone or cable TV service, pool or spa heat, or AC system. When these types of things happen, CS will make every attempt to correct or repair the problem as soon as possible, but only after CS has been alerted to the problem. However, it may happen that a repair cannot be made during the time the Licensee occupies the Property. For example, if cable TV service is disrupted over a weekend and the cable company cannot schedule an appointment until the following Monday, the repair will not happen over the weekend. No matter what happens, if the Property is otherwise habitable and the Licensee remains in the Property, the Licensee hereby confirms and agrees that no refunds will be issued.
38. GOVERNING LAW, VENUE AND TIME OF ESSENCE: This Agreement shall be governed by and construed in accordance with the laws of the State of California. Time is of the essence. Any legal action arising out of or relating to this Agreement shall be filed in a court of competent jurisdiction in Riverside County, California.
39. WAIVER OF JURY: The parties agree to waive any and all rights to a jury in any legal action between them arising out of or relating to this rental agreement.
40. ATTORNEY'S FEES AND COSTS: The prevailing party in any action between the parties, including arbitration proceedings, arising out of or relating to this Agreement shall be entitled to recover their reasonable attorney's fees and costs, up to an amount not to exceed $2,500.
41. ARBITRATION: If the Licensee becomes dissatisfied for any reason with the Property or the fees charged, we encourage the Licensee to bring that to our attention immediately. We believe most problems can be rectified by communication and discussion. However, a dispute could arise which cannot be resolved by negotiation. We believe that such disputes are most satisfactorily resolved through binding arbitration rather than by litigation in court. Therefore, any controversy between the parties under this Agreement and any claim arising out of or relating to this Agreement or its breach, shall be submitted to binding arbitration in Riverside County, California before a retired judge or justice. If we are unable to agree on a retired judge or justice, each party will name a retired judge or justice and the two named persons will select a neutral judge or justice who will act as the sole arbitrator. The prevailing party in any arbitration or other court proceeding shall be awarded its reasonable costs and attorneys' fees incurred in connection with the dispute. Licensee confirms that it has read and understands the above paragraph regarding arbitration, and voluntarily agrees to Binding Arbitration.
42. ENTIRE AGREEMENT: This Agreement constitutes the entire agreement between the parties relating to the Property, and it supersedes any and all prior memoranda, options, oral agreements and understandings of the parties respecting the subject matter of this Agreement, and supersedes all other prior documents made by the parties in connection with the transaction described herein.
---
---
---
The minimum night stay for this listing varies.
---
The place was awesome. We were celebrating a 50th birthday and it accommodated 12 people very comfortably. Great for groups looking to stay together. Fully stocked with anything you need to run a kitchen. All linens were clean. Great spot, would recommend it highly for a group celebration or family gathering.
---
We LOVED staying at the Amado! We rented the entire compound for our dear friends 40th birthday, and the Amado was incredibly perfect. The location is fantastic, close to everything you need in the area but closed off enough that you feel like you're all on your own in the desert. Clean, gorgeous, with everything you could possibly need for an amazing time in Palm Springs. Thanks so much again!
---
Incredible! We rented Jamie's place for my husband's 40th BD and invited 18 of our closest friends to join us for 4 days. We had an amazing time! The house was perfect, had everything we needed and Jamie was super helpful leading up to and throughout our stay. She was always available and helped with anything we needed. This was one of the best AirBnB experiences we've ever had. I'd highly recommend Jamie and the lovely Amado!
---
This was an amazing weekend! had the best time at the Amado celebrating my birthday. its the perfect place for a group of friends to enjoy together. The layout and location are perfect and very close to everything. Overall one of my best air Bnb experiences yet! Host answered all my questions and was very understanding of what i was looking for--even went out of their way to make me feel special for my birthday.
---
I love Palm Springs! I am an editorial and commercial photographer with a focus on design, lifestyle & travel. I am also a co-owner of Ernest Coffee & Bootlegger Tiki in the Uptown Design District of Palm Springs. I live in Palm Springs full time and am happy to offer suggestions as to where to eat, play and hike!
Languages:
English, Español, Français
Response rate:
100%
Response time:
within an hour
Explore other options in and around Palm Springs
More places to stay in Palm Springs: