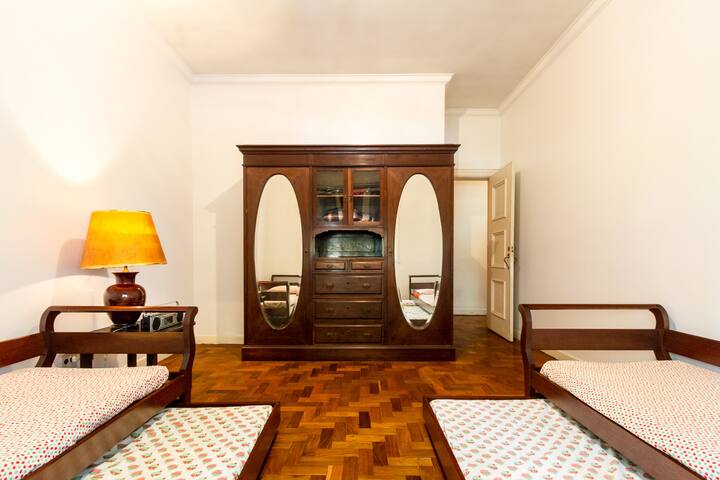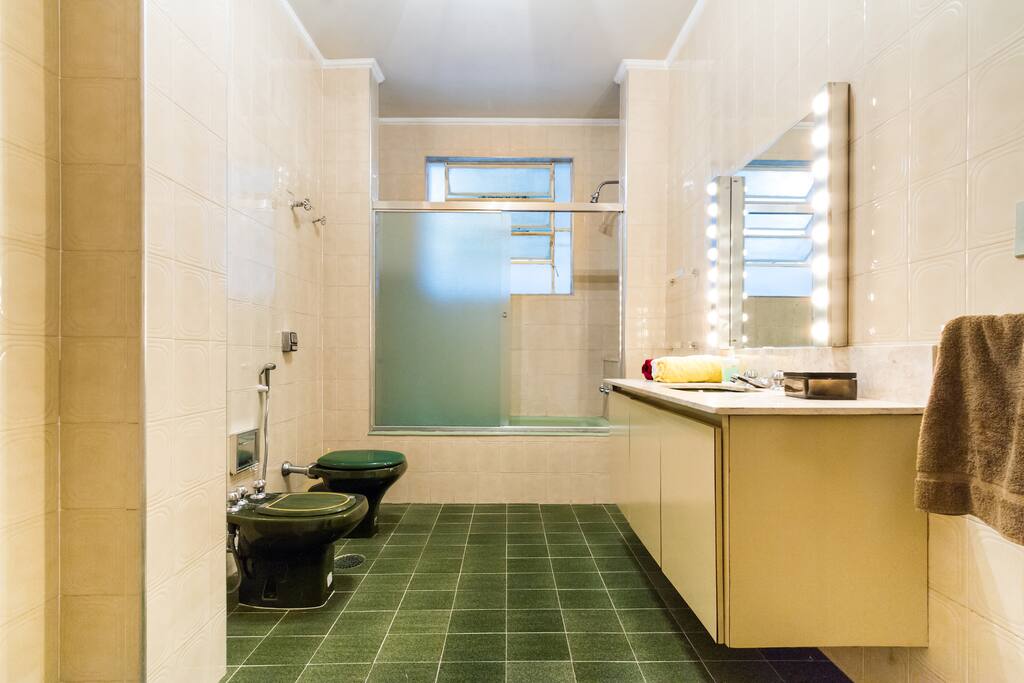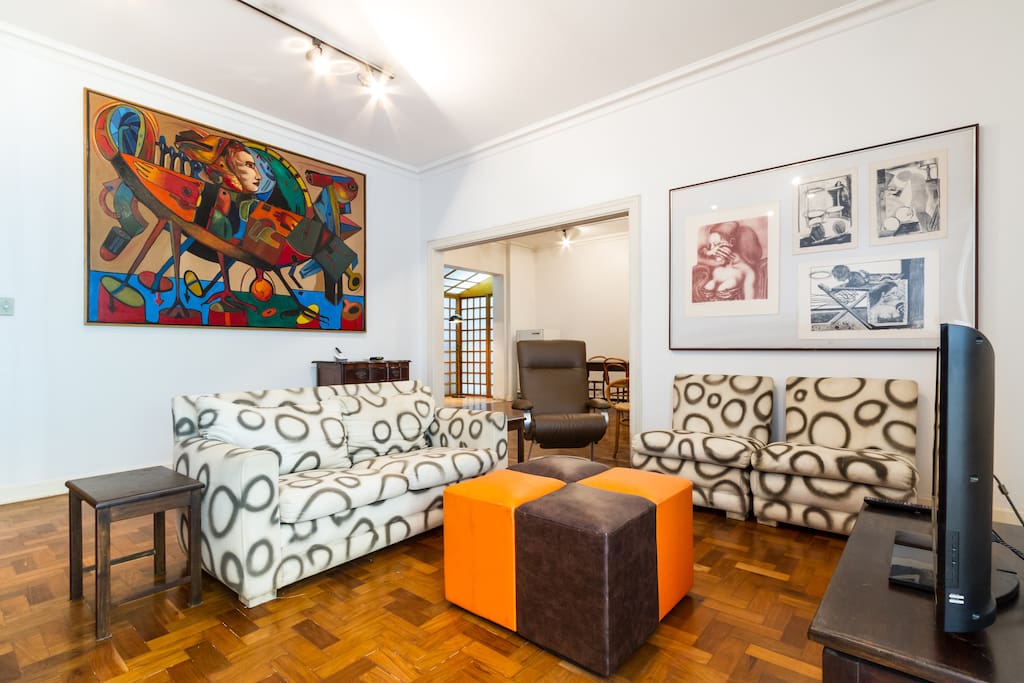 City Center - Close to Subway and City Attractions
Great private room, that comfortably fits 4 people, with exclusive bathroom for the guests and visitors, in a big apartment, close to 2 subway lines, numerous attractions and buses to everywhere. Kitchen, laundry and WIFI
available.
The space
The apartment is located in a cool building constructed in São Paulo in the 40s. The building is very beautiful and is fully maintained. Entering it is like taking a trip back in time.
The apartment retains the spirit of the 40s, with its antique wooden furniture. It is a very large apartment and all the spaces within are very big: living room, dinner room, kitchen, bathroom and also the guest room.
The guest room has two trundle beds, a table with chair and a wardrobe that is completely available for the guests. It is a private bedroom that accommodates comfortably from one up to four people.
The guests will enjoy a great bathroom, private for guests and visitors, with hot shower, bathtub, and a lighted mirror that looks like those ones in a theater dressing room: great for doing makeup.
Guest access
The guests will have a private room and a bathroom with hot water.
They are welcome to share the balcony, the living room, the dinning room, the kitchen and the laundry.
The dinning room has a big and antique wood table with four chairs.
The living room has sofa, armchairs and a 14 inches television.
The kitchen is very large and equipped with microwave, airfryer, refrigerator, freezer, toaster, sandwich maker, stove, oven, blender, mixer, water filter, plates, cutlery, glasses, pans.
The laundry room has a washing machine and clothesline. In São Paulo's weather the clothes tend to dry out in just one day. It has also an iron and an ironing board.
There is WIFI internet available for all the guests.
We will provide, for the guests, sheets, blankets, pillows, towels.
Other things to note
Due to the central location, you can hear a little traffic noise from the apartment. If you need complete silence to sleep, please bring ear plugs.
---
---
Extra people $8 CAD / night after the first guest
Always communicate through Airbnb
To protect your payment, never transfer money or communicate outside of the Airbnb website or app.
Learn more
---
Please, do not bring unknown person with you without consent.
Please, don't bring illegal drugs to the apartment.
It's just allowed to smoke on the balcony.
After using the kitchen, please wash the dishes, glasses, cutlery and pans. And, when they are dry, please put them back in the cabinets and drawers.
To avoid clogging the plumbing, please, do not let food debris enter the drain of the sink.
There are cookies, crackers, tea, coffee and sugar for you in the kitchen. I don't cook and I don't have much time to go to the supermarket, so, please, if you need anything else to eat, bring it (in the guidebook of the attractions close to the apartment, there are addresses of markets, supermarkets, snack bars, bakeries and restaurants).
Please, turn off the lights of the rooms you are not occupying. And, please, unplug the equipment that you are not using, such as notebooks and mobile phone chargers.
Please, keep the common areas organized and clean.
Please ask the host the instructions to use the equipments of the house.
Please, don't break anything, but, if you do, please fix or replace it.
Please, don't iron clothes over your bed. There is an ironing board in the laundry room.
---
---
---
Host was not there when we arrived, but her friends were very nice, they even helped us with the luggage and called taxi when we needed. Location is very central, and that's a plus. However, no where in the listing the host mentioned about dogs. There were 2 dogs in the apartment when we arrived, and if you don't close your door, the dogs will go in. The dogs pooped and peed in our bathroom, and the hosts did not clean up until after we brought it up, the place smelled terrible. And although they kept the dogs in their rooms when they go out, but they cried the entire time, so after a long day of touring in sao paolo, we still couldn't relax and have a good night sleep. While we were there, there was also a lot of constructions going on late at night, you can hear everything! from construction to people hanging out to traffic passing by. One more thing, since the apartment was shared, we asked for a key to lock the room, but there wasn't one available. Although nothing happened, and they were friendly, however, would have felt better mentally if there was a lock available. I just wish Adriana told me about the pets earlier, she said it was temporary, but her friends said they have been there for 9 months already. She had plenty of chances to let me know about the pets before we showed up, we exchanged many messages, but no where she mentioned about dogs. One of my friends is afraid of dogs, and I'm allergic to dogs, but by the time we got there, is already too late to make other arrangements. Adriana begged me to change my review, and promised that she will update her posting and mention the pets, but i have not seen it. So if you are allergic or have an issue with pets, please make sure you confirm with her about it first!
FUTURE GUESTS, PLEASE READ MY ENTIRE ANSWER FOR THE COMMENTARY ABOVE TO GET TO KNOW THE REAL STORY: I am very sorry you felt like you had a bad experience in my apartment, Justine. And I am really surprised too, because neither you or your friends mentioned anything while you were here, and also, both before and after you come, we just had great commentaries from the guests. I travelled for one month, and, during this time, my friends Raquel and Aline stayed in the apartment with their dogs to take care of the guests from Airbnb for the WorldCup (the nine months you mention are, for sure, a misunderstanding). As you might remember, I sent e-mails to you explaining that. Also, Aline and Raquel's descriptions were included in my profile. I didn't mention the dogs in the profile because they would be transferred to Aline and Raquel's own apartment if the guests had problems with them. I learned that the first thing the hosts asked you were: "do you have problems with dogs?" And you and your friends answered that you didn't have problems! If you had answered you had any problem at all (fear, allergies, smell, difficulty to relax or sleep or even a little discomfort) you would have no contact with the pets.  Besides that, the dogs never entered the guest bedroom, and just entered the guests bathroom because you left the door opened, contrary to what the hosts asked you to do. And the hosts just knew the dogs had peed and pooped there, when your friend saw and told them, because it is the guests' bathroom, and, once it is cleaned before the check in of a new guest, the hosts just enter it again when this guest checks out. The girls cleaned as soon as they knew and apologized. And there was no other complain or request about that or any other thing. When the World Cup finished, Aline, Raquel and the dogs went back to their own apartment. That is why you didn't find anymore the mention about the dogs I had included in the profile after you left your commentary (you must have noticed that even the title of the listing was changed from "Perfect for the World Cup" to "Few Steps from the Subway"!) About the noise of the traffic, it is written in the listing: "Due to the central location, you can hear a little traffic noise from the apartment. If you need complete silence to sleep, please bring ear plugs." (I hope you understand I really can't predict construction and people hanging out!). Justina, accepting you as a guest was a leap of faith. You had no profile picture, no description and no reference at all. I thought that, as your profile was new, you didn't have time to build it. Unfortunately, I was wrong. Your complain about not having a key for your own room (when you and your friends were the only guests!), made me see that you didn't know that booking an Airbnb room is not like booking a room in a hotel. In Airbnb, a local person opens the door of their house and their privacy and risk their security to receive completely unknown guests from all over the world in exchange of a small fee and a lot of cultural exchange and interaction. As I have been informed by your hosts, from you they just got the small fee and, now, a bad reference. You never talked to the hosts not even to say "good morning", spending all your time there interacting with your phone. Only your friends Alicia and Heidi took some time to talk to the hosts, but they didn't complain about anything or made any type of request, so the hosts couldn't know you felt any type of discomfort.
---
Was really a great experience to leave those few days in Sao Paulo! The flat is really well located and really convenient, huge flat, huge room and huge "private "bathroom".... in a word, Perfect appartment !!! Raquel and Aline are also super friendly and always available! However, did not have a chance to meet Adriana as she was traveling. I definetly recommand this place and would definetly book it again for another trip in Brazil!
---
Ok now STOP reading, book this apartment and then return when you've finished for if you miss out on the chance of staying at this wonderful residence you'll certainly regret it unless you visit São Paulo again. Actually this is the first time I have been seriously conflicted about writing a review for whilst I want the whole airbnb world to know how great my experience was I fear the next time I return to São Paulo I won't be able to make a reservation due to the fact the apartment being constantly booked out because by any measure you will love staying here. Whether it's the magnificent historic building with high ceilings and true character, that it's in the heart of the bustling metropolis of one of the most vibrant cities in the world or just the convenience and privacy of having your own bathroom facilities this apartment ticks all the right boxes. The building itself is also highly secure with a twenty four hour doorman on hand and the location is perfect being surrounded by numerous dining establishments, cultural activities and easy access to several public transport options which always makes life so much easier. The number one reason to stay here though are the wonderful hosts. Whilst I did not have the pleasure of meeting Adriana in person, communication by her was always prompt, clear and concise which meant a thoroughly smooth process. I was however greeted by two of the most charming and gracious hosts you are ever likely to meet in Raquel and Aline. They both immediately made me feel most welcome despite my late evening arrival and proceeded to give me maps and much needed advice for the surrounding area. Also, whilst I obviously cannot arrange their personal calendars I was most fortunate to be invited along to a social event they were attending which made me feel like a true Paulistanos (if only for a couple of days). All in all my best airbnb experience and one that I cannot see being surpassed any time soon. Location(URL HIDDEN)A+++++ Accommodation: A+++++ Hosts(URL HIDDEN)A+++++ Kind regards, David (fellow airbnb explorer)
---
We had a wonderful stay with Adriana in the center of São Paulo and would not hesitate to recommend her to others. The apartment is airy and beautiful with tall ceilings and everything you need in the kitchen, bathroom as well as a washing machine. It was a little loud at night, but that is to be expected for the location. Adriana was very helpful in providing suggestions for food, dancing, music, shopping. She was communicative and hospitable, responding immediately to any of my questions in person or in email.
---
After facing so much difficulty trying to find a central hotel in São Paulo, due to several big events occuring in the city at the same time, I discovered this solution on airbnb to offer to my visitor from Norway, and I couldn't have found a better one. Sentral location, close to everything one needs in this megacity and a wonderful hostess to make you feel at home and like one of the family. Great apartment with all the amenities one needs and situated in a well controlled and safe environment. My guest was extremely satisfied with this solution and would recommend it to anyone coming to São Paulo. I for one will certainly make use of it on later occasions when receiving unexpected visitors from abroad. My thanks to Adriana for taking such good care of my guest from Norway. ~ Gregory.
---
PROFILE

I am a quiet, open minded and friendly person. I was born in Olinda, Pernambuco, lived for eight years in Rio, and moved to São Paulo three years ago. I have graduated in cinema and theatre and work as a cinema, TV and theatre director. I also work as a college professor, teaching audiovisual direction and scriptwriting. I'm also an actress. I love to watch movies and TV series (especially those with cliff hanger), to read fiction, to eat good food, to dance (especially dances that we dance together, such as salsa, tango, samba de gafieira, forró), to meet my friends and to get to know new people from different cultures. I also enjoy singing, acting, directing and giving classes for good students. In the week days, I teach at night and rehearsal during the day. In the weekends, I just have rehearsals during the day. I speak English (advanced), Spanish (beginner), Portuguese (expert).
Languages:
English, Español, Português
Response rate:
100%
Response time:
within a few hours
Explore other options in and around São Paulo
More places to stay in São Paulo: