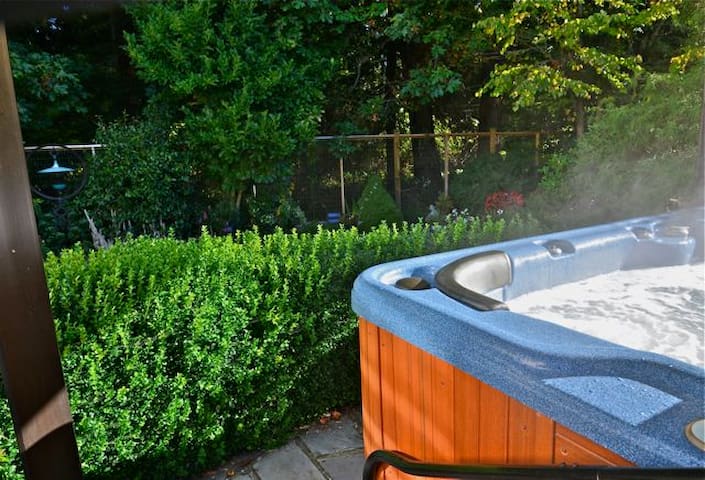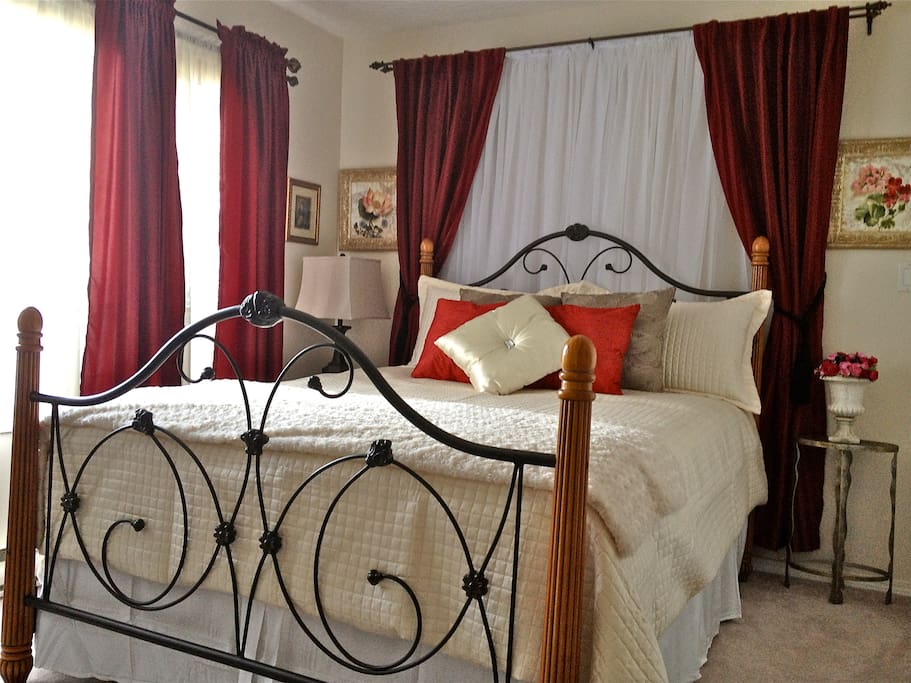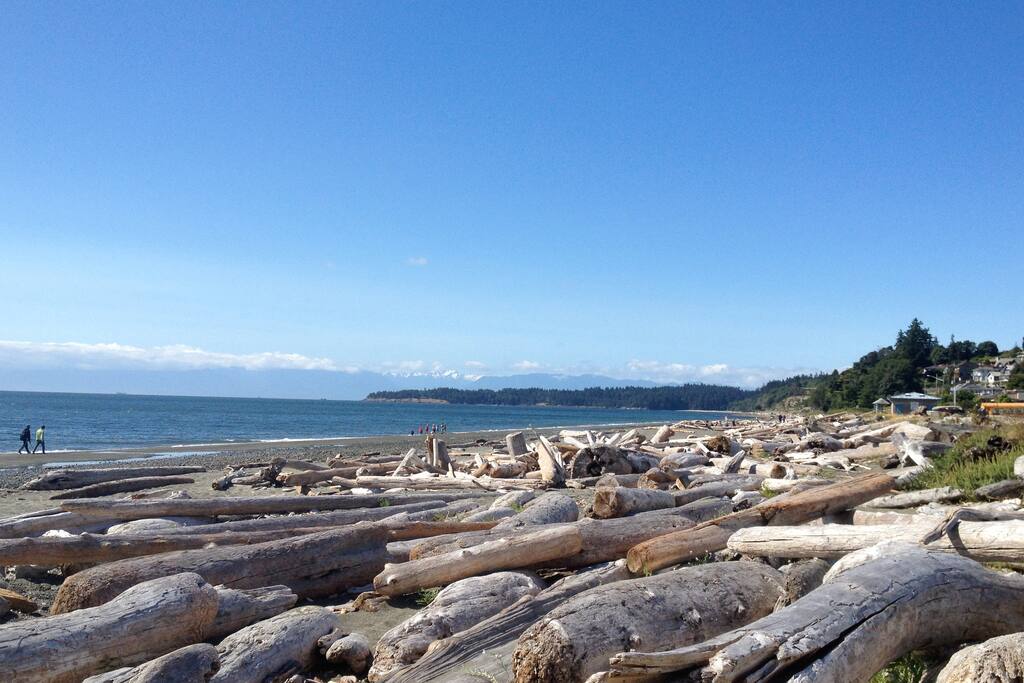 Hot tub! Serene Suite- NR Ocean/Forest/Castle
Hot tub! Serene Suite- NR Ocean/Forest/Castle
Walk to nearby 2km long beautiful nearby beach/ocean,walk & explore the acres of forest with castle - Hatley Castle. Garden views and ocean breezes- hot tub! Fully furnished lovely and private 700 sq ft suite/apartment within our private home. Your own private garden gate/courtyard and coffee deck- plus other garden oasis areas with seating- see eagles right from the garden. Everything- laundry soap to robes for guest HOT TUB! 20 mins by car from downtown inner harbour of Victoria. Romantic!
The space
Welcome to our Elemental Garden Suite!
Your 700 sq ft lovely self catering suite/apartment for a home away from home style stay awaits!
-Romantic four poster queen bed with plush duvet in bedroom.
- Reading nook with recliner in bedroom- guest book exchange.
- Leather sofa and ottoman(Grab the soft throw and cuddle up.) - living room.
- 47" LCD TV,digital cable,strong internet WIFI,movies,local/long distance calling
-Dine overlooking the rear garden and forest beyond.
-Cook in your kitchen with Cuisinart cookware and stainless appliances.
- 4 piece bath with standard tub/shower- all linens and soaps too!
- Your own private garden courtyard/entrance and deck- plus shared gardens.
- Double sofa bed in living room- for extra guests- great layout for privacy- see photos.
-Guest BBQ and jetted 6 person HOT TUB complimentary use 24/7- sometimes the deer peek in the garden- hear the creek just beyond the fence
- Garden and seating areas to enjoy- see bald eagles and hawks at times right from the garden
- Many extras like beach towels, cooler and more for your day at the beach you can walk to! Just like home :)
- Your own in suite laundry- even the laundry detergent!

EXTRA GUESTS? Skip down the listing...
All persons must be listed in the request for booking. Yes- Children too! Please read the House Rules BEFORE booking and provide the information needed.
The Garden suite is non smoking and self catering. A covered designated outside location only for smoking is allowed. Or go for a walk. For those with mobility issues, the Garden Suite entrance has patio stones and grass areas to navigate, plus a one step entry.
If attending Royal Roads University- yes you can walk to class from our location in 15 mins via RRU trails. Ask about our short stay student rates while attending RRU. Ask about students sharing rates! Bring your bike- or rent one at Coastal Cycles or on campus.
Please READ all house rules before requesting to book.
Extra guest fees apply beyond two guests. Occasionally we do offer one night stays. Min stay is 2 nights. December Holiday season 3 night min stay until Jan 1st.
The suite is self catering and tools/cleaners are provided for you. Your suite is professionally cleaned prior to your arrival.
Should you wish during your stay for additional housekeeping/cleaning it may be arranged for an additional fee- please enquire.
If travelling with friends/family- we also have our 370 sq ft Elemental Guest suite available for bookings. Located on the upper level with it's deck entrance- come and go as you please. At the complete opposite end and level from the Garden suite - remain close- yet private! Sleeps 2. (3 person stays may be possible- please inquire.) Click on the owner's other listings to see the 'more than a room'' Guest suite- as we only have the two suites. Visit each other via a short walk round the garden.
Established in November, 2011, Elements and Insights aims to develop a range of services in aid of your spiritual journey. Our venture is new, but its goal is timeless — to help discover and know your true self.
We invite you to grow with us by partaking in a Reiki session, Yoga, an Intuitive Reading with Angela. Guests of the Elemental suite may book a session on site or in advance, should they feel so inclined. Please ask- as we don't mention it. If staying in the area, or you are interested in a reading from home- feel free to contact us. Your welcome to come and visit us for a reading - as all are welcome...Readings are by appointment and can also be offered by phone/Social media connection as well. See more about Angela at withangelacom
All persons must be listed in the request for booking the suite. Please read the ALL House Rules BEFORE REQUESTING a booking and provide the information needed when requesting and that you have read and agree to abide by the house rules. Please have a completed profile, including photo. Main booking guest must be 21 yrs of age or older.
Guest access
EVERYthing you need for a comfortable stay is there- from spices in the kitchen, robes for the bath or hot tub to even the laundry soap! Lovely family neighbourhood on a small cul de sac off the end of a dead end street.( 20 minutes from downtown by car.) Even free long distance calling in Canada and the US- keep in touch with loved ones. Yes- Wifi too- even movies.
Enjoy complimentary use of the guest Hot tub nestled among the gardens under an open air gazebo.Overlooking the garden, hear the nearby creek - sometimes the deer peek in! The hot tub area even has soft night lighting for an anytime dip- giving the garden a oasis feel. Only registered guests may use the hot tub, offering you relaxation time. It is a 6 person jetted hot tub- so you can stretch out.
Use the guest BBQ and have a meal on the flagstone patio. Grab the cooler, beach towels and chairs from your suite and spend the day at the beach you can walk to in 15 mins. Sit in the sun among the garden and patios or on your private coffee deck in your own private garden courtyard with your own garden gate entrance. Find extras in the garden shed such as sand toys and beach extras. Also great to store one stroller if needed. The Garden suite may not be suitable for smaller children as it does not offer a 'child proof' environs, however children are welcome :)
**Please make contact with owner before requesting to book- use the contact host link under "About this listing" **
Reading the full listing can result in FAQ's being answered. Please READ ALL House Rules BEFORE booking and provide information requested in your request to book. Reading captions under each photo also answers FAQ's.
If you are new to this site- please have your profile filled out prior to requesting to book.
Interaction with guests
Arrive on your schedule anytime after check in time of 4 pm and we will catch up later to say 'Hello'. No formal check in. Key coded entrance- no need to share a key :)
No early check ins/ late check outs please.
Check in- anytime after 4pm. Check out- 11am.

We are always available by phone/text/or email for helpful area information or questions. Or you can just knock on our door! We live here- but your apartment is your own space. Short stays we may miss saying Hello in person. We leave you to enjoy the suite/area. You may see us in the yard occasionally tending the garden.
Of course, our kitties may visit with you too when enjoying the yard. Please do not invite the kitties in the suite, but they do enjoy attention in the garden. Other then that- Enjoy the serenity the area has to offer!
The suite is self catering and self contained within a private residence. No sharing of your suite space with anyone.
No smoking of any kind- near/in suite- designated covered outside location is allowed- or go for a walk.
We are unable to host other/your pets as our lovely kitties get spooked by them and run away from home:(
Other things to note
We are 20 minutes by car- from downtown Victoria Inner harbour- if wishing for a right downtown location/experience- please pass us by.
EXTRA GUESTS?
If travelling with more than two persons as the Garden suite has one queen bed, thus sleeping for a third/fourth guest is a Ikea sofa bed ( double) with foam mattress ( no feeling springs!) located in the living room alcove across from the leather sofa. Great for privacy! A fourth person- if not wanting to share the sofa bed may sleep on the leather sofa also in the living room. The leather sofa is not a sofa bed and may be unsuitable for those of larger proportions. Or a twin sized ( adult single) sleeping mat to placed on the carpet. Great for small families.
The suite is romantic and lovely for two, comfy for three, okay for small families/friends of 4 persons max. The suite is only 700 sq ft. See suite layout in photos. If travelling with four adults it can be a bit tight- you may find that the additional option more suitable of/ or just wishing for privacy for two or more people- please consider...
Also available- if needing two beds and two baths- is our upper level Elemental Guest suite. Uniquely different- and located on complete opposite ends and levels within our home. Stay close- yet private- visit each other via a short walk in the garden as they have no connecting doors/walls to each other. No sharing inside space with hosts. Each suite is self catering and 'locked' off from the rest of our home. It is your private inside space.
All persons must be listed in the request for booking. Yes- Children too! Please read the House Rules BEFORE booking and provide the information needed.
The Garden suite is STRICTLY non smoking of ANY KIND and self catering. A covered designated outside location only for smoking is allowed. Or go for a walk. For those with mobility issues, the Garden Suite entrance has patio stones and grass areas to navigate, plus a one step entry.
---
---
Extra people $10 CAD / night after 2 guests
Security Deposit $500 CAD
Always communicate through Airbnb
To protect your payment, never transfer money or communicate outside of the Airbnb website or app.
Learn more
---
Common spaces
1 sofa bed, 1 couch, 1 floor mattress
---
Check in is anytime after 4PM
Rates are for double occupancy. When you message us, please list the full names of ALL members of the party in your request for booking, including all children. Yes! they are people too!
Address information must be provided of the main party booking the suite here at Elements and Insights.
This is a requirement of the BC hotel and innkeepers act. ( Thus why when staying at a hotel you must provide such information)
Verification of information may be required upon arrival and as a condition of your stay.
Booking guest must be 21 years or older.

As you aren't sharing your space- no 'out there' kinda rules here. No curfew, no weird quirks- just common sense .... see below... Please read all if booking and include that you have in your message. Thanks~
These are our "Standard Terms & Conditions" that all guests are required to abide by, though exceptions are possible on a case by case basis.
1.Check-in and Check-out. Check-in time is 4 p.m. Check-out time is 11 a.m. Your ACCESS CODE for entrance to your accommodation will be emailed prior to your arrival date. No early check in please. No late check out please, unless arranged and agreed to in advance.
2.Smoking. Smoking on the premises is ONLY permitted within the confines of the designated area where a receptacle is provided. Smoking IS NOT permitted in any suite, within ten-feet of any suite doorway or window, nor in the hot tub or on any hot tub patio/area.
3.Pets. Pets ARE NOT permitted within any suite. Breach of this provision will result in the immediate termination of tenancy. You furthermore agree to accept responsibility for any damages caused by pets permitted in the suite or on the premises by you, any member of the party, and/or any guest(s).
4.Occupancy. The posted rates presume DOUBLE OCCUPANCY. Additional overnight guests (i.e. anyone occupying the premises between midnight and 6 a.m.) MUST BE APPROVED by the owners, registered on Attachment A, and may be subject to an "additional guest charge" at time of booking. At no time shall more than six (6) people occupy any individual premise.

5.Minimum Stay. Units require a TWO (2) NIGHT MINIMUM stay or pecuniary equivalent.
6.Housekeeping. Unless otherwise specifically indicated, Elements and Insights Suites are SELF-CATERING. While towels, linens, cookware, and dishes are provided for the party's use and enjoyment, daily/weekly/monthly housekeeping is the party's responsibility. Equipment such as a broom, vacuum and/or sweeper and light cleaning supplies are provided for such tasks.
7.Parking. Unless otherwise specifically indicated, each unit includes parking for one (1) non-commercial passenger vehicle without trailer. Some restrictions may apply.
8.Rate Changes. Until the reservation is confirmed, rates are subject to change without notice.
9.Obligations. Elements & Insights commits to providing the party with a well maintained, safe, clean and tidy living space upon its arrival. The party, in return, agrees to comply with all obligations imposed upon it during its occupancy with respect to maintenance of the suite and premises, including but not limited to:
a.keeping the suite and premises as clean and safe as conditions permit, and causing no unsafe or unsanitary condition in the common areas and remainder of the premises that the party uses;
b.disposing of all ashes, garbage, other waste, and recycling in a clean, safe, prescribed manner;
c.keeping all fixtures in the premises or used by the party as clean as their condition permits;
d.not deliberately or negligently destroying, defacing, damaging, or removing any part of the premises or rendering inoperable the smoke detector or any other safety device provided by the owners, or knowingly permiting any person to do so;
e.restricting in-suite cooking to the appliances provided for that purpose;
f.being responsible for all damage, defacement, or removal of any property within the premises that is in the party's control unless the damage, defacement, or removal was due to ordinary wear and tear, acts of the owners or owner's agent, defective products supplied or repairs authorized by the owners, acts of third parties not invitees of the tenant, or natural forces, and
g.refraining from conduct that would impair the safety or the right to quiet enjoyment of other individuals either on the premises, adjoining suites, or in the neighbourhood.
10.Damages. Damage or security issues are not anticipated to arise during your stay. Please note, however, that your Reservation Deposit will not be applied towards the amount owed for rental of the suite, but rather WILL AUTOMATICALLY CONVERT TO a Security (aka "Damage") Deposit upon arrival when booking directly with us. (Air Bnb has a different system for collection.) This deposit will be fully refunded within fourteen (14) days of your departure, providing the obligations cited herein are met, and that the premises, furniture and effects are left safe, clean, tidy and undamaged beyond normal wear and tear. In the event that this is not the case, Elements & Insights will provide an itemized statement that lists the amounts of any deductions from your security deposit and the reasons for the deductions, together with a refund of any amounts not deducted. Matters under consideration would include, but not be limited to:
a.Charges incurred due to contraband, pets or collection of rents or services rendered;
b.Charges accrued during your stay remaining unpaid at time of departure;
c.Debris, rubbish or recycling not disposed of in the prescribed manner;
d.Dishes, utensils or cookware left unclean or improperly stored;
e.Linens, cookware, effects or other itemized amenities having been lost, misplaced or damaged;
f.Facilities such as the hot tub interior or exterior areas, including cover and patio area, not left in a clean and useable condition for others either during or after your stay;
g.DOORS OR WINDOWS OF THE SUITE LEFT UNSECURED when not present;
h.Upon final departure, any keys issued not being left in designated drop area; or
i.The party being evicted by Elements & Insights, representatives of Elements & Insights, the owners, representative of the owners, or local law enforcement.
11.Hot Tub. Where hot tub access is provided, several cautions must be observed to ensure the comfort and safety of both your party and that of other and future guests. A more exhaustive list is provided on site, but the following should be noted in advance of your reservation:
a.ONLY registered guests permitted access to hot tub;
b.Children under the age of 12 are prohibited from using the hot tub; aged 12 – 18 may use the hot tub, but only while under direct adult supervision;
c.Bathing suites or equivalent are required at ALL times while in the hot tub.
d.Persons with open sores or any type of infection are prohibited from using the hot tub
e.USE IS AT YOUR OWN RISK. Please remember that there is a certain health risk associated with this type of facility. Pregnant women, for example, may be at a higher risk of over heating when they are in a hot tub. If you are elderly, or suffer from diabetes, high blood pressure, heart disease, or other cardiovascular conditions, please ensure that you have prior medical approval from your doctor before using the hot tub.
12.Waste System. The waste systems in place, be they septic or sewer, are very effective but may clog up if improper material is flushed. DO NOT FLUSH anything other than toilet paper. No paper towels, condoms, or feminine products should be flushed at anytime. NO 'BABY' WIPES. I repeat NO' BABY' WIPES. If it is found that such items have been flushed and clog or hinder the system, you will be charged for any associated damages.
13.Right of Entry. You agree that the owners or agent may enter the suite during reasonable hours with reasonable notice to inspect the premises, and/or to access or make such adjustments, repairs, alterations or improvements thereto as may be deemed appropriate or required.
Travel Insurance. While Elements & Insights do not endorse any particular insurance broker or agency, it is highly recommend that all guests investigate the option of purchasing travel insurance for their peace of mind.
15.Indemnifications. Units are privately owned. Elements & Insights will not be responsible for any accidents, injuries or illness that befall a member of the party while on the premises or its facilities. Elements & Insights are not responsible for the loss of personal belongings or valuables of any member of the party. Furthermore, the party expressly assumes the full risk of any harm arising from their use of the premises or to others whom they invite onto the premises.
16.Force Majeure. Elements & Insights will not be liable for events beyond their control which may interfere with the party's occupancy, including but not limited to Acts of God, acts of governmental agencies, fire, strikes, terrorism, war, inclement weather, including flooding and neighbourhood construction. No rebate or refund will be offered in these circumstances.
17.TRANSFERABILITY: No member or guest of the party shall either assign this agreement or sublet in whole or part the unit/premises/amenities without express written permission of the owners.
If you have read this far as requested, and wish to book one of our suites( we have two uniquely different types) you must place the word " Luckybudda" in the message with your request please.
Otherwise, we will just direct you to please read the house rules and provide the word and your information that is required for booking as stated above, when wishing to book a suite with us here at Elements and Insights. Thanks! Any questions or requests for modifications to these terms- please feel free to ask!
You must also acknowledge
Cat(s) live in the house
---
---
---
---
We love where we live! With the forest trails just steps away we often take walks in what we call ' coming back to nature'. Every time we head out we always love the drive by the ocean with it's ever changing vistas. The fact that we can walk to the beach is one of the reasons we live here- the area just touches your inner soul. So beautiful. Yet still just 5 to 10 mins by car or so from amenities. One big circle really! Plus the heart of downtown Victoria- the inner harbour- is just 20 mins away by car- simple!

We are a down to earth couple who interests are varied and wide. We enjoy a chat about almost any subject- from politics and business to the esoteric ...
We enjoy sharing many of the 'only locals know' tips on the area and things to do should a guest wish to know. We say Hello and leave you to enjoy the area.
We also have a strong desire to offer a space that has the comforts of home- not some cold hotel. It's about the experience of the place- right down to robes for the bath( or hot tub!) to a cooler and beach towels for a day at the beach! Your stay should be comfortable- just like home. Right down to our cat Lucky who tends to drink out of the fountains in the gardens...

As each of our two unique onsite suites are self catering- as in you look after yourself, you are not sharing the suite space with us- it really does feel like a home for your stay. Guests often remark " we wish we could live here" when we meet them in the garden. In fact, we have met prior guests on our daily travels who have now moved here!

This is our first time on Air B and B- but we have been another well known site since 2012( most of our bookings are done via the other site- sometimes up to half a year in advance) and have numerous reviews between our two unique suites there.... Feel free to visit Elements and Insights website!
We are LGBT friendly.

Languages:
English
Response rate:
100%
Response time:
within an hour
Explore other options in and around Victoria
More places to stay in Victoria: