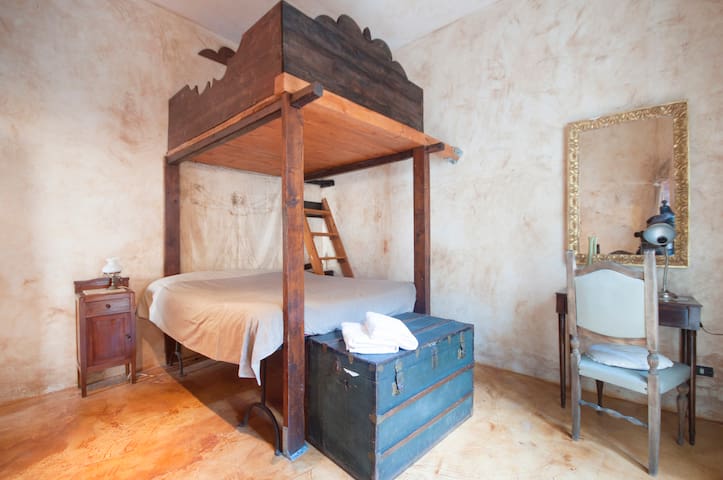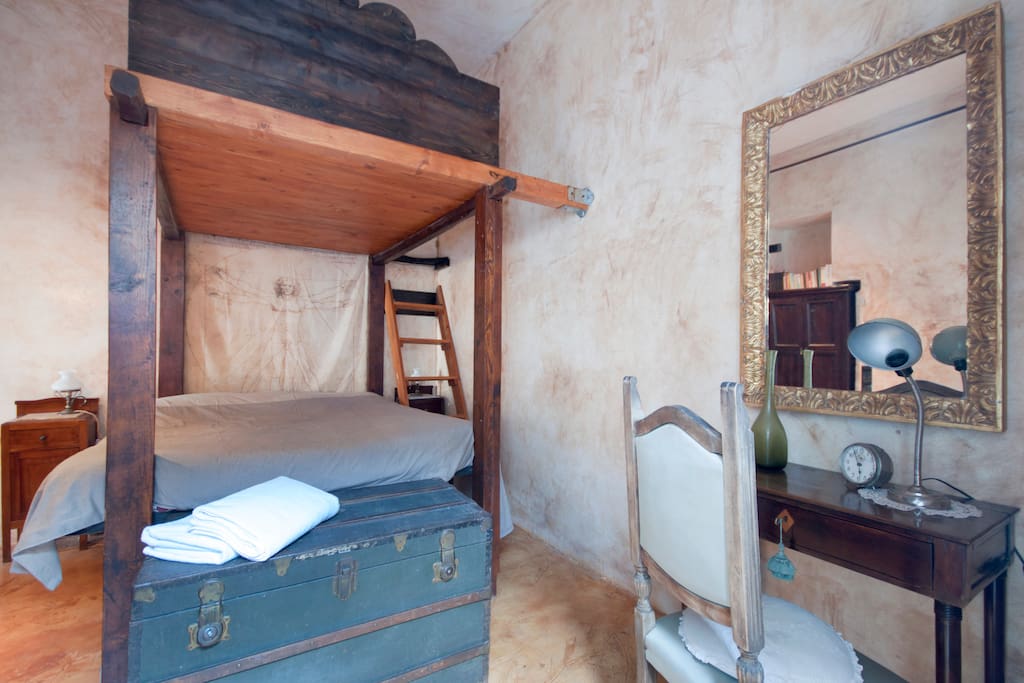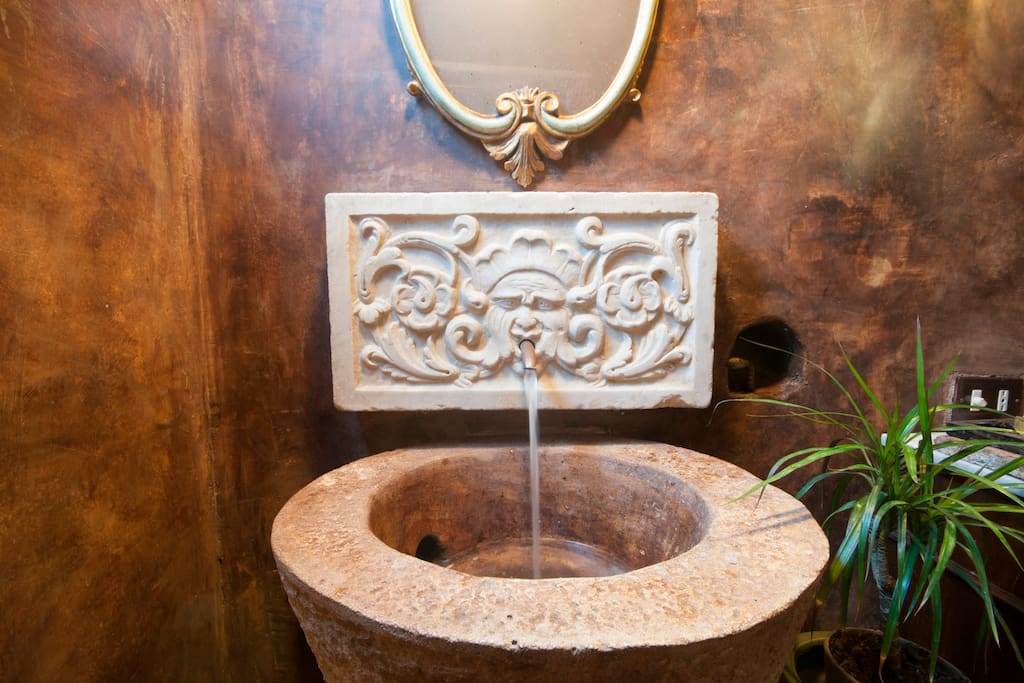 Stanza del "Tuorlo" di Casa Faranda
The space
Faranda House is an historic house, consists of 2 bodies dated respectively 1571 and 1649.La room of the " yolk " is a 3- bed private rooms available to customers on other listings on Airbnb.
Faranda House is a place of peace and silence in an historic house, consists of 2 bodies in 1571 and 1649 that Castroreale , a village in the hills between Capo Milazzo and the Gulf of Patti in front of the Aeolian Islands .
The room of the " yolk " is one of the three rooms of the house Faranda , with private bathroom, inside : a double bed, a bed for one half mounted on mezzanine floor , walls painted with pigments and polished with wax ' bees, natural resin floor , in the bathroom by turning a handle water flows from a mask at the end of 700, the room opens onto a small room with no ceiling from which to admire the stars in a dark sky .
Every detail is designed to accommodate the visitor in an environment outside of time , where an ancient iron basin , used for laundry , it becomes a sink for bathroom or kitchen or a carboy for wine in the aquarium with papyrus and goldfish.
Recycling of objects and materials to find new features practical and aesthetic , according to our view of the profit and pleasure.
The common rooms are on 2 levels, connected by an internal staircase to the upper floor a large entrance, the mouth of the tank in 1571 , 3 bedrooms with bathroom, living room with wooden roof and floor granted six months of 1649 , with a panoramic terrace on the west seven sisters , the Aeolian Islands , with a view that goes from Cape Tindari and lakes of Marinello at Milazzo and the Artichoke Reservoir , to the east the church of Santa Marina dates back to the sixteenth century ; Downstairs in the kitchen, the basement and the "room of the sirocco " or music to cool off during the hot days of summer in Sicily and play with the tools available .
Silence, peace and inspiration for your own creation and imagination.
Open spaces for training of body awareness , creative dance , theater , dance , contemporary dance , photo books , music workshops and ensemble music , clay, recycled art , batik courses , sewing and cooking with the inhabitants of the place , sessions of osteopathy, Ayurvedic and Thai massages , performances, concerts and music.
Possible to implement mountain biking , trekking , hiking .
And ' possible to reserve the other 2 bedrooms, or the whole house , through the other portal unnunci on Airbnb.

Guests have access , in addition to propia private room, for all rooms except the bedrooms private .
Can or can not be there. We organize workshops in person ( children and adults) of body awareness , creative dance , contemporary dance , dance , ensemble music , sax lessons and marranzano .
Performances and concerts .
Faranda house , old house , consists of 2 bodies in 1571 and 1649, is located in the historic center of Castroreale , facing the Piazza di Santa Marina and its church of the fourteenth century , recently restored, to the west the seven sisters , the Aeolian Islands , with a view that goes from head tindari and lakes of Marinello head milazzo and the reserve of the artichoke.
Castroreale offers many curiosities and find everything to spend a holiday in the art : one of the seven sundials darkroom built in Sicily between 1801 and 1896 is located inside the Cathedral , City Museum and Art Gallery ( 100 meters from Casa Faranda ) with paintings and works of Gaginis (PHONE NUMBER HIDDEN) , CastrorealeJazz Festival folk of the Tyrrhenian Sea , Festival Brass Band Festival "Richard Casalaina ", " night Walks " with concerts between the views of the village or solitary walks through the streets and alleys of the town of ' medieval style , between the sea and the mountains, of the fourteenth century churches , palaces of the 500 and 700 , advancing through the narrow streets of the village and climb to the Tower of Frederick II to enjoy a 360 ° view up or down in the neighborhood of the Manx .
And combining the sacred and the profane, the procession of Christ Long, papier-mâché statue of the Holy Cross , dating from the seventeenth century. Fixed on a pole 13 meters long and hoisted the excitement and thrilling game of the masters of the hairpin is transported on a wooden launches to shoulder through the narrow streets and sloping of the country.
The statue is carried in procession three times a year : during Holy Week and during the month of August in the days of 23 and 25.
Leaving Castroreale , you can hop on and visit Peloritans Piano Margi in which it was made a little lake and an area equipped for children, surrounded by a forest of pine trees and chestnut trees. Place full of mushrooms , especially in autumn and in spring, the meadows are a destination for seekers of snails . Interesting is the presence of a rock outcropping , very characteristic , that the wind and rain have eroded and divided into cracks and crevices , and according to some legends is an archaeological site, is referred to as the "Castle of Margi .
Continuing from Piano Margi is possible to reach Mandanici , St. Lucia del Mela and get up to Taormina.
Going down to the sea is possible to visit the lakes of Marinello , the Sanctuary of Tindarys , the old town and the castle , the reserve Artichoke , tone and other seaside resorts .
Take a hydrofoil to the Aeolian Islands .
Other places to visit l ' Argimusco in which there are several rocks of quartz sandstone molded into shape curious and suggestive . Popular tradition has identified these megaliths, with the work of prehistoric populations : ancient menhirs and dolmens almost unrecognizable . Particularly impressive , magical place.
The countries of Novara di Sicilia , Montalbano , Ucria , Floresta and being immersed in Nebrodi Park .
You can go up to the mountains , down to the sea or stay in the quiet .
Possible transfer to the Aeolian Islands and the other places mentioned. Guides around the country and hiking in the mountains.
---
---
Always communicate through Airbnb
To protect your payment, never transfer money or communicate outside of the Airbnb website or app.
Learn more
---
Check in time is 9AM - 8PM
---
---
A very unique stay at a very unique location. In a pitoresk quiet village you stay at an amazing place where we felt in a creative state of mind. We had a dinner together with our host which ended in a very interesting and inspiring conversation, this was by sure one of the highlights from our trip to Sicily! Pierfrancesco did everything to give us a relaxing stay in his wonderful mansion. This place is like a paradise for creative people because this walls are full of creative energy just like the owner. We highly recommend this place if you are searching for a unique Sicilian experience!!!! Our only regret was that we only booked for two nights. We will definitely come back here!
---
A must go when you visit Sicily. A restored late 16th century house with several well decorated and designed rooms. See photo's on the site. Without doubt home away from home. Gio and Pier are excellent host, we felt very welcome. Very relaxed people. The outside terrace with views on the nearby 15th church and the surrounding valleys and hills is a great place to sit, drink, read and talk. Castroreale itself is small but nice. It's like a labyrinth of small cobbled streets and alleys. One huge church (and 7 others), 2 bars/restaurants, one post office, 2 mini supermercato's. 2107 inhabitants. That's all. Enough hills around for cycling or walking. Go there and you'll never forget.
---
Più che una casa vacanze. Giorgia e Pierfrancesco han saputo creare, in quel piccolo e affascinantissimo borgo che è Castroreale, un oasi di bellezza pura e semplice. La casa trasmette una pace difficile da descrivere a parole, ed in particolare la stanza del tuorlo è semplicemente meravigliosa con dei colori caldi e quel senso di silenzio che solo vivendola si può comprendere. La stanza (come l'intera casa) è arredata con manufatti e oggetti di antiquariato utilizzati con gusto davvero sopraffino. Ogni dettaglio è finemente pensato al fine di creare un ambiente confortevole e permeo di energia. Pierfrancesco e Giorgia due persone splendide e limpide, con i quali condividere momenti e conoscersi. Un luogo pieno di arte in cui sembra che il tempo si fermi per riprendere un po il ritmo naturale delle cose. In casa sono inoltre presenti molti strumenti musicali liberamente utilizzabili tra cui un pianoforte ed un contrabbasso. Se volete farvi del bene all'anima non pensateci due volte. Altra Nota positivissima da aggiungere è che circa a mezz'ora di macchina (ma anche meno) si raggiungono posti incantevoli come ad esempio i laghetti di tindari o sentieri montani nel pieno cuore dei nebrodi. Giorgia, Pier e la piccola Mada, vi abbracciamo e ci rivedremo sicuramente presto. Con affetto, Giuseppe e Marzia
---
Das Heim von Pierfrancesco und Giorgia ist bis in den letzten Winkel so eingerichtet, dass die Liebe und Kreativität der ganzen Familie zu Ausdruck kommt. Neben dem unglaublich geschmackvollen Haus, trafen wir auf vier sehr liebenswerte Manschen, die uns direkt integrierten, sodass man diesen Ort gar nicht mehr verlassen wollte. Es war eine Freude, bei ihnen zwei wundervolle Tage verbringen zu dürfen und wir können nur jeden beglückwünschen, der Bekanntschaft mit ihnen machen darf!!! Thank you for the music, the sunset, the spirit, the pasta and the perfect time! Piacere!
---
Wat een prachtige locatie en wat een vriendelijke en attente gastheer, gastvrouw en dochter. Bij aankomst meteen genoten van een Italiaanse lunch, we voelden ons er al snel thuis. De kamer was prachtig, net als het hele huis. Wat een sfeer ademt deze woning uit. Meegenomen op een 'muzikale reis'. Wij hebben genoten!
---
Pierfrancesco est venu nous chercher alors que nous étions un peu perdu. il est très agréable, courtois, curieux, vifs, musiciens, artiste, convivial, il a un réel sens de l'accueil, au petit soin pour que l'on se sente bien ... nous oriente, nous conseille sur les lieux à voir et nous recommande partout ou l'on va en balade...nous avons eu le sentiment de nous connaitre depuis toujours, la même famille d'âmes... nous n'y étions que pour deux jours et c'est bien trop court ... dés que nous en aurons l'occasion nous y retournerons , la région est magnifique et les gens accueillants... en espérant rencontrer Giorgia la fois prochaine. Amitiés
---
Casa Faranda è un antica dimora della mia famiglia da 3 secoli,è un luogo denso di fascino ed estremamente tranquillo...continua...
Languages:
English, Italiano
Response rate:
100%
Response time:
within an hour
Explore other options in and around Castroreale
More places to stay in Castroreale: