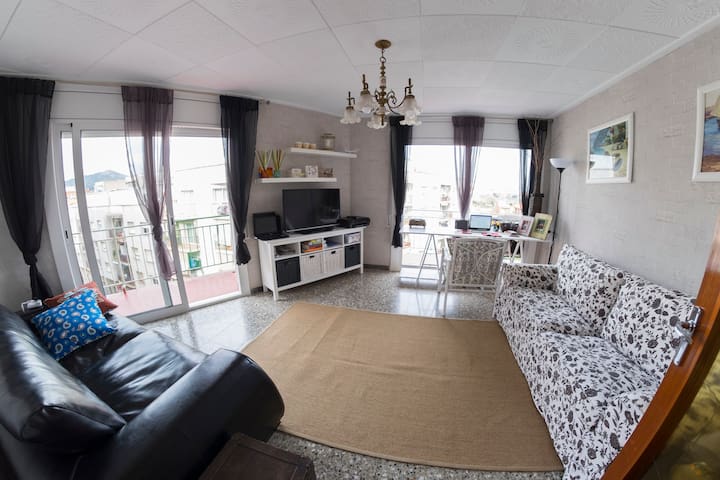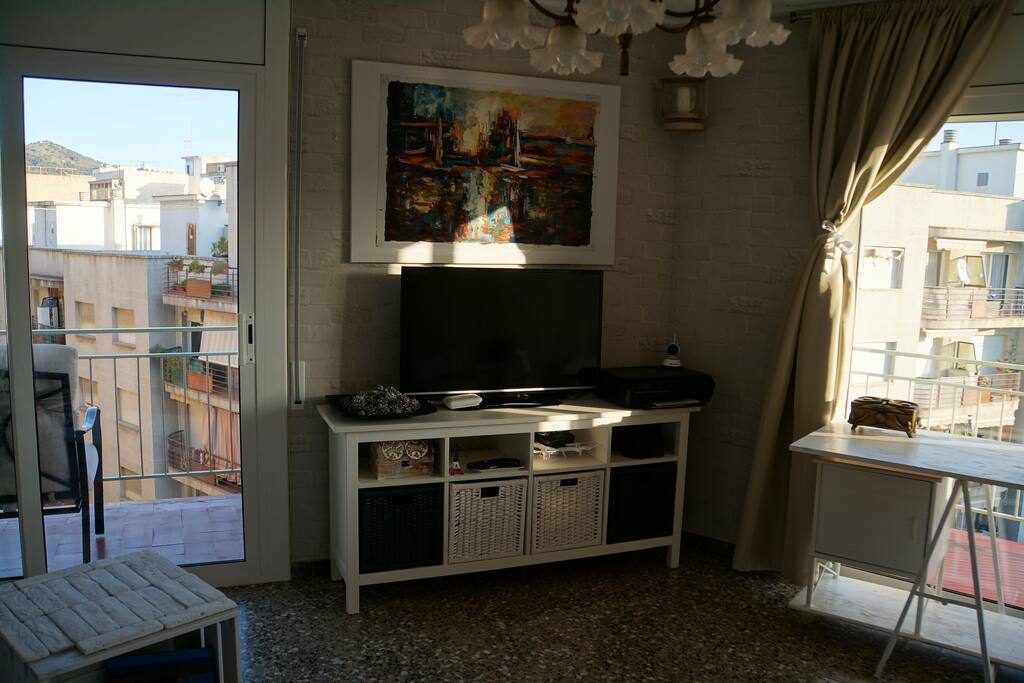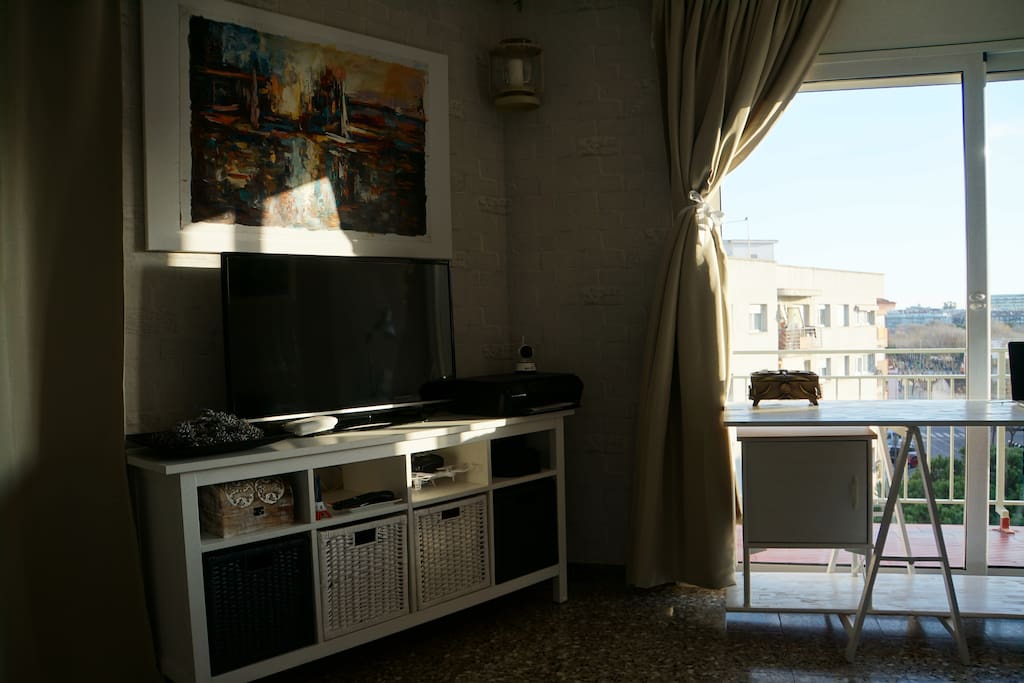 Casa Blanca in Pineda de Mar
Apartment Casa Blanca in Pineda de Mar, Spain, 50 km from Barcelona.
Flat - 60 sq. meter.
2 bedroom, 2 balcone (7 meters of each). The best Sea view and Mountain view. Beach - 100 meters.
Subway to Barcelona.
The space
Table of contents
1. How to get one
2. Shops 2
3. Safety 3
4. Driving in Spain: the rules, penalties, documents 3
5. 5 Great
6. Hut In 5
7. Communications 6
8. What to do upon arrival and departure from the Hut 7
9. 8 Contacts
1. How to get ...
• Where is the Hut?(URL HIDDEN) Exact address: calle HISPENIDAD (PHONE NUMBER HIDDEN), city PINEDA DE MAR, Barcelona,
Coordinates: (PHONE NUMBER HIDDEN) "N, (PHONE NUMBER HIDDEN)'' E
(SENSITIVE CONTENTS HIDDEN) street view: (EMAIL HIDDEN)
• How to get from the airport to the Hut?
someone will train that stops a 5-minute walk from the main entrance to the terminal 2. If you arrive at Terminal 1, then to the second terminal can be reached by a special free shuttle that runs every 5 minutes. On the train you reach the Barcelona-Sants station and there change to the train to Calella. The total journey takes 1 hour 50 minutes with the transfer. Cost 4,55 euro. The first train from the airport goes to (PHONE NUMBER HIDDEN) in the final. Here is a link to a site with tickets to the schedule on 01.06.2013 for example, there you can drive any date: (URL HIDDEN) /? Vgnextoid = (PHONE NUMBER HIDDEN)ceff210VgnVCM(PHONE NUMBER HIDDEN)aRCRD & vgnextchannel = (PHONE NUMBER HIDDEN)ceff 210VgnVCM(PHONE NUMBER HIDDEN)aRCRD & vgnextfmt = detall
 
And from the station where the train arrives in Callela Hut to 550 meters on foot to walk no more than 7 minutes, even with kids
(URL HIDDEN)

• How to get to Barcelona from the Hut?
• The best way to get to Barcelona - train, the fact that the station Kallela to Barcelona route takes 1 hour and 5 minutes (to the station Plaza Catalunya in Barcelona) but in general you can get off at any of the 10 stations in Barcelona to suit all tastes. And further on public transport in any of its points.
• How to pay for public transport?
• The best way fare - ticket for 10 trips integral (T-10, 1 zone). Sold in the metro. Worth 9.45 euros. An integral trip fare is considered on several different public transport routes, provided that between the beginning of the first and the beginning of the last trip was no more than 75 minutes. In other words, you can leave the house to catch the bus transfer to the subway, then a tram, then back to the bus, and all of this will be considered as one trip. You can, for example, the time to take the bus to get to the Plaza of Spain, to go out for a walk and come back on another bus home and it will also be one trip. Only to return on the same bus has not come for free (remove another trip). Buses and trams should shove yourself a ticket to punch. One ticket T-10 can take several passengers at the same time (with other types of tickets are not generally available). In bus and tram ticket is necessary to validate as many times as passengers on it goes. Inspectors found in buses, but rarely. Penalty - 100 euros. You can pay for a trip to the driver, but it is worth 2 euros and the trip will not be integrated.
• How to get from the Hut on the beach?
It is generally very simple - leave to the balcony with views of funky, look at the sea, and go down towards the sea and after 100 meters you are at sea. The equipped beach, and beautiful, on holidays there Spaniards suit dancing "in a circle," and if you want to fully feel the Spanish hospitality, so to say they taste the rhythm of life - join us!
2. Stores
• Where to buy groceries?
• The town has supermarkets (usually work on weekdays and Saturdays until 20:00), hypermarkets (usually work on weekdays and Saturdays until 22:00) and small shops.
Also, you'll live 200 meters from the main pedestrian shopping street where a lot of different shops for every taste, color and budget.
 
3. Security
• Is it safe to Pineda de Mar?
• Even if you - a girl, you can safely walk on any areas of the city at any time of the day, no matter how dark and scary they may seem. If you behave recklessly, the tourist spots the chance of being robbed is significantly increased. Therefore, all the passports, money and valuables are better left in the house. Before the walk, take only a small thing, just put the card front pockets of his jeans, and during the walk itself is not let out of the hand bag and carry a backpack so that the back can not be easy to get close to him. More here easily steal large, so they should always wear a seat to something thorough metal bracket through the frame. Yet, as demonstrated by the sad experience, you can not leave anything inside the car in a prominent place - hit the glass and steal. Machines themselves are not stolen. About mopeds is still unknown, but in any case it is worth to block the front wheel lock.
• Is it just slam the door to the hut from the street, or should further close its key?
• Simply shut down, but you can close - a matter of taste. In both cases, it is just outside the key opens. The main thing - do not go out of the house without a key, and not to leave the key in the lock from the inside, otherwise shut the door will not open from the outside even key.
4. Driving in Spain: the rules, penalties, and documents.
• Do we need international law?
• International law is optional, rather ordinary Russian rights of any appearance.
• Strongly if Spanish SDA differ from Russian?
• Virtually no different. In general, if behave modestly, drive carefully and observe all the Russian rules, there are no problems in Spain will not. Of features, perhaps, is to provide only the following:
• Many traffic lights instead of "red-yellow-green" done "red-yellow-yellow." That is, either the red or two yellow blink in turn. Means "all caved in and you can go." The same thing happens in a single flashing yellow (usually at a crossing when pedestrians is green.) Means that if you missed pedestrians, it is also possible to pass.
• While driving, you can not customize the Navigator, it is considered a serious offense.
• You can not just pick up and stay on track. Even on the sidelines. Even on emergency gang. Only in case of an accident or some total failure. Even in
 
case anyone forbidden to leave the car without wearing a vest signal (in the glove compartment).
• Lights in the afternoon on the track does not need to include. If enabled, the counter you will sometimes blink and remind them off.
• And more. Riding without a helmet on a moped - a much more serious offense than in Russia. Both the driver and passenger must always be both helmets.
• What are fined?
• The most common penalties - illegal parking and speeding. Cameras on the road a lot, are both in the city and on the highway. Parking also work quickly. So the best way to avoid penalties - do not exceed the speed of even one notch, and always the right to park, even for one minute. More fined for belts, talking on mobile, setting navigator while driving.
• What to do if you are stopped by a cop?
• As a rule, the cop does not know English, but has a card in all languages of the world, which explains what happened. He will stretch you to the appropriate card for your situation. If you broke something, it is best not to argue and to pay a fine on the spot. This is not Russia, everything is official, you can pay by cash, credit card, and even give 50% discount for prompt payment. In a conversation with a cop, you can use the words "Q'ero" (want), "Pagar" (pay), "cartoon" (penalty), "AORA" (now).
• What to do if you were handed a penalty?
• Photograph or send Maxim and Vadim. If you fine Hut postman handed, it probably is not your fine. If you have written a fine in the parking lot, most likely, it's just a notification, and the penalty will come later in the mail. By the way, according to the laws of Spain penalty paid within a month, reduced by 50%. From these considerations, it is better to report received fines.
• Where to park a car?
The city has a large and free parking on the beach and there is free parking near the entrance. WARNING: the night of Tuesday to Wednesday evening and can not leave the car in the parking lot near the house. Wednesdays passes on the street and municipal flea market can pick up your car at the tow truck.
Roadsides are color-coded:
• White - you can park for free
• Blue, green - pay parking, it is necessary to pay for the right time to check parking meters and put under glass.
• Yellow, red - no parking.
Parking fines are discharged quickly enough to move for 5 minutes. If caught the moment of prescribing fine - there is a chance uboltat, citing the fact that the alien did not know.
 
5. Unite.
• What are the rules for bike riding?
• Ride a bike can on bicycle paths, roads, sidewalks, and, in fact, everywhere except motorways. Not worth checking out on the sidewalk if there is crowded - can make a comment. Bicycling can be transported in the subway. At night, be sure to turn on the lights. Wear a helmet recently was not necessary.
• How to wear a seat big enough to not steal?
• the side of the bike has a lock (wire) that you want to undo, remove from large and fasten through the frame and rear wheel to something thoroughly.
6. In the hut.
• How many people can be arranged in Hut 2?
At your disposal will be two rooms and a large kitchen-dining room with 4 bunks:
- Number 1 bedroom with double bed (width 135 cm);
- Bedroom number 2 with a double sofa bed and another sofa
(URL HIDDEN) • How to behave so as not to annoy the neighbors?
This is a very important point, from which, generally speaking, on the fate of our project. Hata well isolated from neighbors, so inside you can not particularly strain, even at night. Shout, of course, not necessary, but able to walk, talk, easily.
• Where to get clean underwear?
• Clean linen can be found in the closet, which is number one in the bedroom.
• Where to put the dirty laundry?
• Dirty laundry can be washed in a washing machine.
• How you can use in the house, and that can not be touched?
• You can use everything and everything can be touched.
• In the bathroom are shampoos, shower gels, toothpaste, soap, what to do?
• If you forget something different, you can safely enjoy all that you see - take and use. If lying anywhere without packing, then someone threw their
 
 
and their place in the trash. Shampoo, soap, toothpaste and other consumables, you can either pick up and use, or use your own.
Someone had left the things that bother me. Where they do?
By default, any things cheaper twenty euros can be safely disposed of, if they interfere. This applies primarily to bath accessories, products, utensils, slippers, beach accessories.
Brought the mail - what to do?
Take, put on the nightstand in the bedroom window in the top drawer. If not difficult, it is necessary to open the envelope, photograph, or show Radhika Vadim (suddenly that urgent).
How to connect to vayfay?
Password "E(PHONE NUMBER HIDDEN)", it is written on the bottom of the router, which stands in the bathroom. If suddenly vayfay works, and no Internet, you should just wait or do a reboot.
Where to throw garbage?
Rubbish is sorted in Spain for five (or more exactly six) species. The main task of sorting recyclable waste, allocate and put them in the appropriate containers. Everything else throws in a gray container "neither here nor there," Russian equivalent to the usual trash. Recyclable wastes are divided into the following types:
• Paper (paper only, without lamination, plastic inserts, foil, metal parts, etc.) - throw in a separate bucket, then take out in the blue container.
• Plastic and packaging (all plastic bottles, plastic bags, cartons of juice and milk "Tetrapak", aluminum beer cans / soda) - throw in a separate bucket, then take out a yellow container.
• Organics (scraps and everything instantly decomposes) - throw in a separate bucket, then take out a brown container.
• Glass - no separate buckets, put at the door, and then refer to the green container.
Anything that does not fall into the above tanks, we can safely throw in a bucket "neither here nor there" and then stand in a gray container. The exceptions are the batteries. They are here to be hazardous to the environment, it is better to put in a box under the sink, and the accumulation we put them in a special deposit.
 
7. Communications.
 

 
Where to call if something happened?
Just in case there are two number: Radik (+(PHONE NUMBER HIDDEN)) and Vadim (+(PHONE NUMBER HIDDEN)). Vadim worth calling when to solve the problem you need to talk with someone in Spanish, but you can not.
 
Something broke in the house, a conflict with someone, etc., what to do?
If you decide to challenge yourself - good. Can not decide - do not worry. Most importantly - report a problem not to spoil the rest myself and others after you. therefore:
• If the question is no trifling and has no effect (smashed a plate) is just the goal.
• If the incident is significant, but not really spoil your holiday and rest other people after you (for example, you broke the closet door or wall soiled), you can try to solve on their own, or simply write about it Radhika - decide later on, in working order, to the extent possible.
• If the incident seriously affect your holiday or on the possibility of further stay in the house, then this must necessarily prevent Radhika, better on the phone. Examples: cut down light burned Wi-Fi router, stole large broken front door lock and so on, life will prompt options. Such problems should be solved immediately, so the sooner inform - the better.
If you have lost the keys to the Hut or forgot their home and slammed the door, spare keys can be taken from Vadim. It is better to call first to Vadim and tell him about the problem.
8. What to do upon arrival and departure from the Hut.
 

 
When you arrive at the Hut, then there will be turned off electricity, gas and water. To enable these facilities to do the following:
• Electricity: over the door panel there, it is necessary to turn on the main machine, and let there be light;
• water: tap the only one outside the closet. Turn it and water is available in the entire hut;
• Gas: gas heats the water in the whole hut and also heated the whole hut, if it's cold. Gas boiler located in the kitchen, there must turn the valve and nothing more touching, it will start to work automatically.
Before leaving Hata necessary to perform all operations in reverse order and turn off the gas, electricity and water. This is required to make only 2 times for the time when
 
 
arrival and departure, respectively, during their stay in Hut did not want to turn off.
9. Contacts.
• For questions, problems, misunderstandings, and similar situations should contact the two people. This owner Radik Hut, which is located in China, Moscow, Karaganda, or in any other place that the planet can only help and advice so prompt and our assistant for all occasions Vadim, who is in Spain and knows how Spanish and Russian language accordingly you decide on whose side your question.
• Maxim
MTS phone in Moscow +(PHONE NUMBER HIDDEN) phone in Spain
Kazakhstan ph(PHONE NUMBER HIDDEN),
phone in China 86
(SENSITIVE CONTENTS HIDDEN): radionmukhtarov
Email: (EMAIL HIDDEN)
• Vadim
Spain Telephone: +(PHONE NUMBER HIDDEN)
(SENSITIVE CONTENTS HIDDEN): skital5
Email: (EMAIL HIDDEN)
---
---
Security Deposit $303 CAD
Always communicate through Airbnb
To protect your payment, never transfer money or communicate outside of the Airbnb website or app.
Learn more
---
Common spaces
1 couch, 1 air mattress
---
Check in time is 4PM - 8PM
---
---
---
Labai šauni vieta, ypač jei planuojate ilsėtis Ispanijoje turint automobilį. Galima per valandą atsirasti Barselonoje, ar kitose gražiose lankytinose vietose aplink 50 km spinduliu. Bute ir aplinkoj viskas tvarkinga, jūra šalia, paplūdimiai tvarkingi. Trečiadieniais gatvėse šalia namo vyksta turgus, todėl būkit atidūs, stebėkit kelių ženklinimą ir nepalikit mašinų turgavietės vietose. Butas su dviem balkonais, iš vieno matosi jūra, skveras, todėl vaizdas ir pasisėdėjimas balkone atstoja bet kokį restoraną. Rekomenduojam, kam patinka ramus poilsis, kam nereikia šalia veikiančių didelių restoranų, klubų, kazino ir t.t..
---
Thank you for our great stay in Pineda de Mar! The host was super nice and always in touch whenever we needed something. The apartment is beautiful, very clean and with 2 long balconies where it is nice to spend the evening drinking sangria. The flat is close to the beach and we did not notice passing trains at all at the beach. Highly recommended! Прекрасная крартира и очень теплый прием! Квартира очень чистая и уютная, со всем необходимым, даже с зонтиком для пляжа. Находится близко к пляжу и несмотря на то, что рядом ходит электричка, ее не слышно и не видно - абсолютно не мешает. Путеволитель, написанный Радионом, также очень пригодился. Мы съездили в Тоссу де Мар и в музей Дали в Фигейросе - все очень понравилось. Рекомендуем!
---
I live in Guangzhou.
Now i will be live between China and Spain
Languages:
English, Español, Русский
Response rate:
83%
Response time:
within a few hours
Explore other options in and around Pineda de Mar
More places to stay in Pineda de Mar: