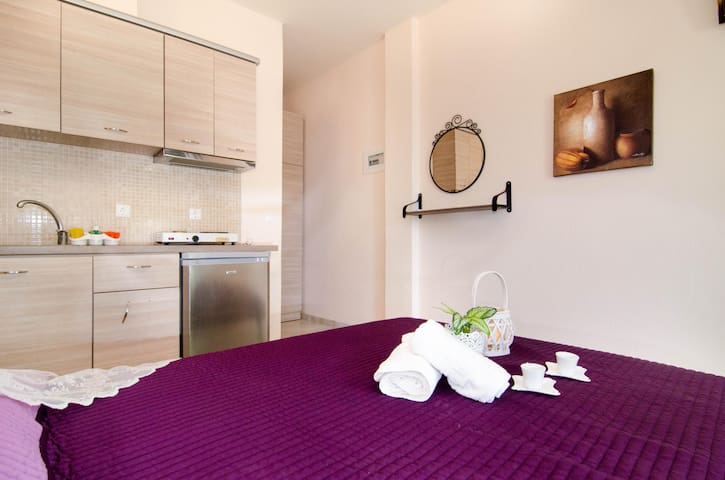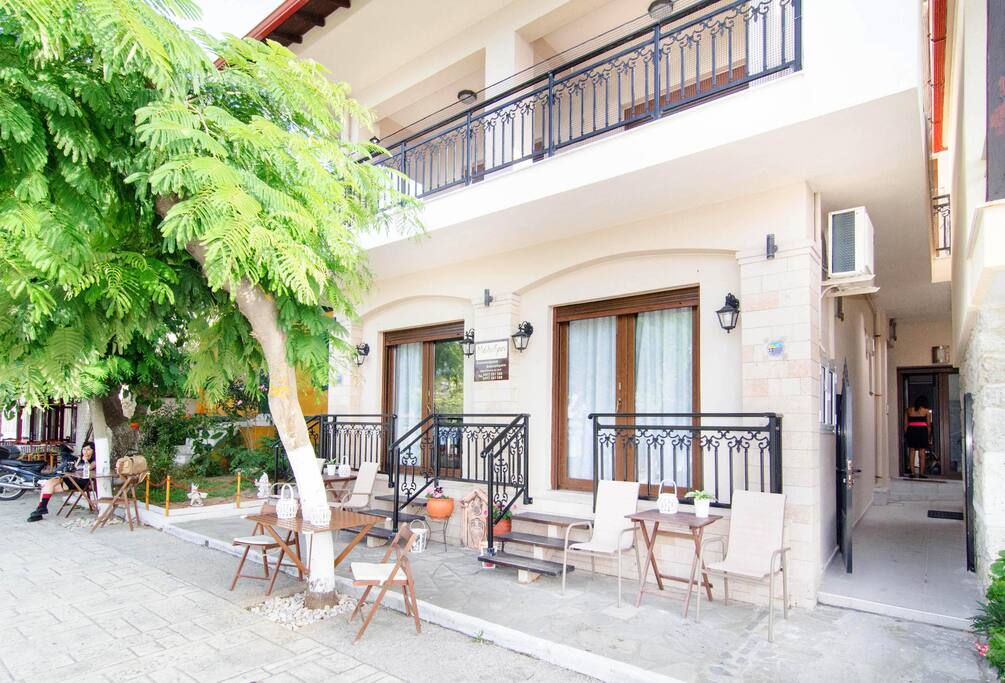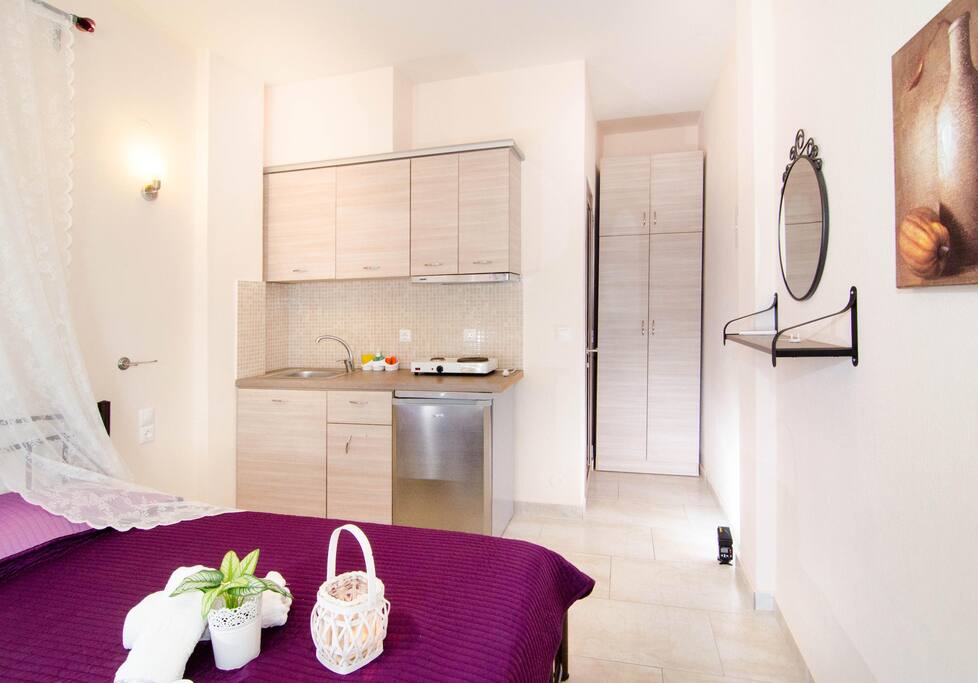 Luxury apartment in the center of the pedestrian street on the beach, and direct access to the sea
Πολυτελές διαμέρισμα στο κέντρο του πεζόδρομου τις παραλίας,και άμεση πρόσβαση στην θάλασσα
---
---
---
---
---
If would like to touch the PARADISE with capital "P", you have to stay at MELIDRON in Nea Roda. This was the most magnificent present that we made for us with my wife for our jubilee (fortunately kids stayed with our parents). We stayed 10 days at Melidron 2 and this was the most amazing relaxation experience that we ever had, just 10-12 meters across the sea which looked so calm like a swimming pool. The accommodation was superb and the same goes for the attitude from the owners who tried to help and assist us in any circumstances. What impressed us very much was the hard working family of Nikoleta (the owner). Everyone - her father, mother and husband were assisting her and making us feeling like kings. We are very thankful and we appreciate the difference in the treatment which is completely different from the one we see in continental Europe. At the end, it was very hard to leave. Two more tips for those who are still wondering if they should go?! Nea Roda is an historic place as this is the narrowest part of the Athos peninsula where the Persian king Xerxes made a land channel for his ships to avoid the turbulent sea at the end of Athos peninsula when he invaded Greek mainland. Besides this, nowadays Nea Roda is known for its tranquil life, its original Taverns and the marvelous sea food they offer. I would advice the local people to try to keep the village as original and authentic as possible which will continue to make the difference with the rest of the places in Halkidiki. At the end of our stay I bought a bottle of homemade Tsipouro (kind of Greek brandy) from Nikoleta's father Kostas and the most purest homemade olive oil which serves me as a contemplation when we recall the unique holidays that we had at Nea Roda. Do not hesitate to go there and stay at Melidron! This would be an incomparable and unique experience!
---
The location and room were very cozy and nice. Small village w/ lots of restaurants and fish market:) The room was very clean and Nikoleta always helped us if needed. She and her family helped us when we got a force-major - upon arrival our suitcases were sent to another country and we had to wait for 2 days to have them back. I'm very grateful to Nikoleta for her help and involvement to this process and unique hospitality.The back yard room is more interesting as there 's a big brazier (grill), so you can cook delicious dinners and drink local wine in the evenings:)) We were very happy to spend there our vacation despite the unpredictable weather(some cloudy days) and would definitely recommend this apartment for family vacation.
---
We found Melidron2 on net. The place is like in pictures presentation. We found a very nice and clean studio situated extremely close to the sea, and Nea Roda tavernas. Regarding the host and her family, we appreciate they were kind and helpful. If you are looking for a quiet and perfect place to relax, Melidron2 from Nea Roda is the perfect place.
---
nice cosy Apartment directly at the boardwalk. We were there at the low season, so every Restaurant at the boardwalk was closed late in the evening and the street is very very quiet, because it's an pedestrian area (no car noise). at this time you can even hear the ocean while falling asleep. we loved that. don't forget, that there is just one room (with kitchen and bed together). Some fridges can be very noisy, so all people who are a light slepper should bring their earplugs. several times we had breakfast and dinner in front of the apartment at those little tables you can see on the photos. Nikoletas parents were very friendly and obliging, even they were not speaking english fluently (and unfortunately we didnt speak one single word in greece).
---
ΤΣΕΚΛΙΔΟΥ ΝΙΚΟΛΕΤΑ ΝΕΑ ΡΟΔΑ ΧΑΛΚΙΔΙΚΗΣ (phone number hidden)
ΜΕΛΥΔΡΟΝ
Languages:
English, Ελληνικά
Response rate:
100%
Response time:
within an hour
Explore other options in and around Nea Roda
More places to stay in Nea Roda: