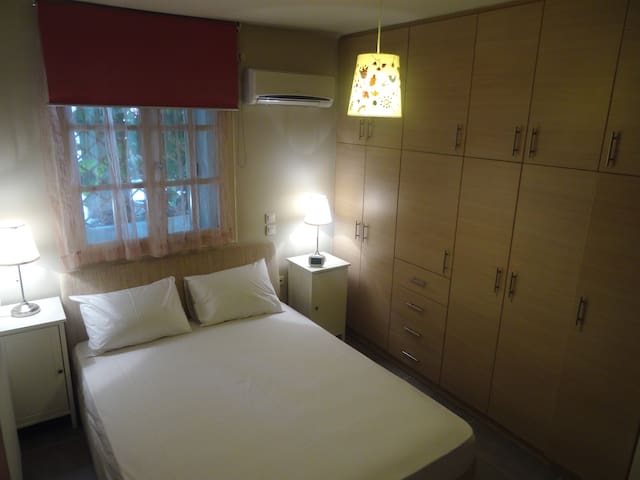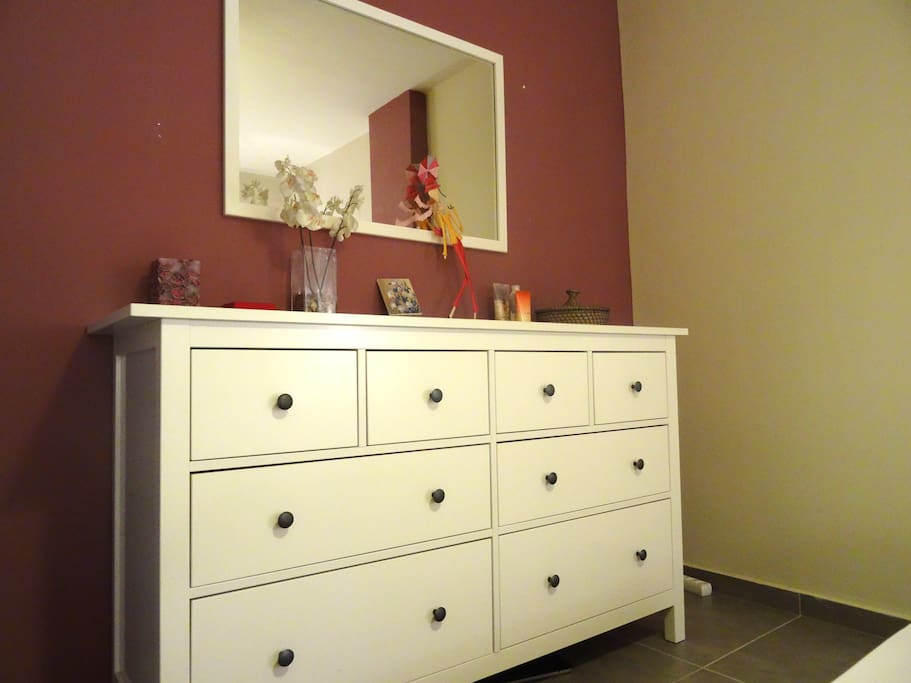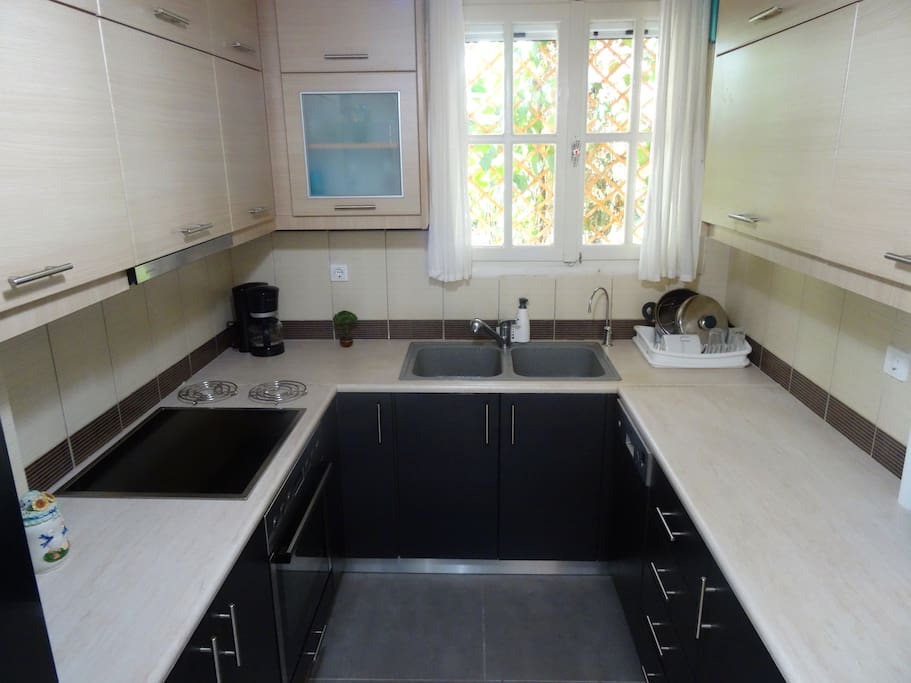 House for families, 5min from the beach, Kineta
Nice baseground apartment of 100m2 in a quiet neighborhood, with a green fenced yard of 500m2, including trees, free parking and 5 minutes walking from beach/cafe/eat. 3 bedrooms, 1 wc and a big living room - kitchen, aircondition in every room, sun water heating.
With anything you need to cook and clean, to feel like your own house.
2min walk from a market, 15min from butcher shop, 10min walk from pharmacy, 22min walk from train station, 5min walk from bus station.
The space
Double Sofa (140x200cm)
Double Bed (160x200cm)
Double Bed (140x200cm)
Single Iron Bed (80x200cm)
Baby Parkbed
All cafe in the seaside have wifi internet and food (5minutes walk).
Interaction with guests
i am willing to help at any problem appear, or question may arise.
Other things to note
I will be happy to pick you up and leave you back from Kineta Train Station (Proastiakos - Suburban Train).
*Electricity is in the price
** Water is from drill with reversal osmosis system, clean and not salty at no charge. You shall need only to buy mineral water to drink.
---
---
Bedroom 3
1 single bed, 1 crib
Common spaces
1 sofa bed, 1 couch
---
---
We had a great time, had a great welcome and explanation of everything. Nikolaos or his parents were any time available for a little talk or questions. We felt very welcome. The house was completely equiped, everything one needs to make a complete home cooked meal is there. There is a dishwasher (working!) and a washingmachine (working!) so this place is great for longer holidays. Lot of closetspace for your things to put away. The beds were made with nice clean sheets and towels for everyone. The beach is really nearby, little walk of approximately 5min. Clean sea and nice tavernes nearby. When you like To make small trips Athens is nearby with car or you can take the train from the trainstation wat Kineta also has. We thank Nikolaos and his family for the beautifull time we had.
---
I am eager to thank the owner of the house, Nick, for such a warm reception! It's unbelievable how hospitable, friendly and supportive he was, always online if any questions arose, answering immediately, thanks a lot for your care and assistance. Speaking about a house... It's very cosy, has everything which is needed, it's cool that it had even a dishwasher, perfect wifi. Probably some people would like to have a microwave oven, as for us, we did without it easily. There is an air conditioner in each room and they really made our stay much more enjoyable during the heat (it was plus 41-45 at the end of June). The house has a huge sitting room, it was so nice to be together with your family and our child 1,6 year old enjoyed running around) As for what is around the house... There are 2 good places to eat on the seafront, and also some tavernas along the road, we preferred to eat by the sea of course when we didn't feel like cooking. As for the shops, there are some small ones within walking distance, one of them "Bravos" is practically behind the house. These shops have the most needed products but they are more expensive than in a big supermarket that is 6 km away from the house so it's better to rent a car. We stayed in the house for 4 weeks and rented a car from the town Lutraki for two weeks. So it wasn't a problem to shop for food) At the sunset there are many mosquitoes, and it's a must to have some spray or some protection in the house to keep them away. The beach is wonderful, more crowded at the weekend, especially on Sunday. There is a nice beach with sunbeds, shade and tasty food called "Loubier" with very helpful and polite staff. The whole area is quiet at weekdays, very peaceful) and sometimes a little bit noisier at the weekend. To wind up, I want to say that it was our first trip via airbnb and thanks to the owner of the house Nick, we enjoyed ourselves immensely! I will definitely recommend this accommodation to my friends.
---
Perfect quiet place for a family holiday. The beach is no more than 4 minutes. On the beach a few people and a lot of space, clean sea. In the sea you can see the fish, shells and octopus. Along the beach are many quiet restaurants. No more than two minutes to the nearest store. Very pleasant and sociable hosts, clean house with everything you need: dishwashing machine, refrigerator, washing machine, air conditioning in each room and another. The house has a large living room and a comfortable kitchen. Home owners are constantly connected and happy to answer questions.
---
Our family spent 5 weeks in Nick's house (August-September) . We had a really great time. Kineta is a very quiet place with peaceful atmosphere, amazing pure sea and breathtaking mountain view. Far from all the fuss... A house is very nice, clean, thought-out and with properly functioning systems - very comfortable to live. It has a closed yard, so our children (5,5 &1,5 years) played all day long outdoors. The neighboring houses are hidden by the bushes - no prying eyes :) I'd like to mention, that the house is fully equipped (modern washing machine, dishwasher, detergents, bed linens, towels e.t.c.). So, everything, what is written in the description, is true. The sea is in 5 minutes walk, mini-market and tavernas also in walking distance. Nick and his family are fascinating people! Very hospitable, always eager to help and provide a comfortable accommodation. On our arrival two bottles of delicious homemade olive oil were on the table, tnx! Also Nick provided us with drinking water (we cooked soup and drank lots of tea), drove us to a big supermarket few times and to the railway station, so we saved a lot of money - it was no need to rent a car. Thanks! We are grateful to you, Nick, and all your family for your concern, care and help. Nice to get acquainted with you! We'd like to stay in Kineta again. I definitely recommend this house to rent!
---
Everything was great. We liked the place Kineta and location Nikolaos's house in Kineta. It's quiet place near the sea. The house has a closed yard, which is very important for families with small children. Nicolaos's house is full equipped (absolutly everything!!!) for comfortable stay. The owners - intellectual family, very hospitable, friendly and attentive. We are very grateful to Nicholas for the care and assistance in dealing with all issues of interest to us. I will always remember with love and gratitude the family and Greece for happy days in my life:)
---
Отличное место! Самое лучшее море в округе (мы брали в аренду машину, поездили по окрестностям и убедились в этом). Идти до моря совсем не долго. На пляже по будням мало народа. Достаточно уединеное место, все "свои". Дом очень уютный, удобные кровати, оборудованная кухня, на окнах ставни, в каждой комнате кондиционеры (прохладно даже в жару). Мы отдыхали 4 взрослых и маленький (8 месяцев) ребенок. Нам очень понравилось! Из минусов, в Кинете только маленькие магазинчики типа "сельмаг", в которых не принимают банковские карты. Хозяин Николас замечательный, тактичный, вежливый, сделал все, чтобы нам такой непростой компанией хорошо отдыхалось)
---
Совершенно восхитительное жильё! Комнаты обставлены со вкусом, есть все необходимое и даже больше! Несмотря на то, что мы совершенно не владеем иностранными языками и очень по этому поводу волновались, Ник легко разрешил сложившуюся ситуацию и у нас не возникло ни одного момента когда бы мы не поняли друг друга! Отдыхали в конце мая большой семьёй с тремя детьми, места в доме и во дворе более чем достаточно! В саду растут непривычные нам фрукты (гранат, тутовник, лимоны и пр.) Дом находится в комфортном удалении от дороги и от моря, что позволяет спать ночью в тишине, а когда захочется шума и веселья достаточно быстро можно попасть на пляж или к магазинам, рядом с домом мясная лавка и магазинчик со всем необходимым. Отдельно можно отметить замечательный пляж с песчанным входом, людей на пляже практически нет, в будни можно встретить 5-6 человек. На пляже несколько кафе, в одном из них очень приятно было встретить русскоговорящий персонал. Мы будем скучать по Кинете!
---
Family guy,parent of a little daughter which loves seeing new places and cultures.
Languages:
English, Ελληνικά
Explore other options in and around Kineta
More places to stay in Kineta: