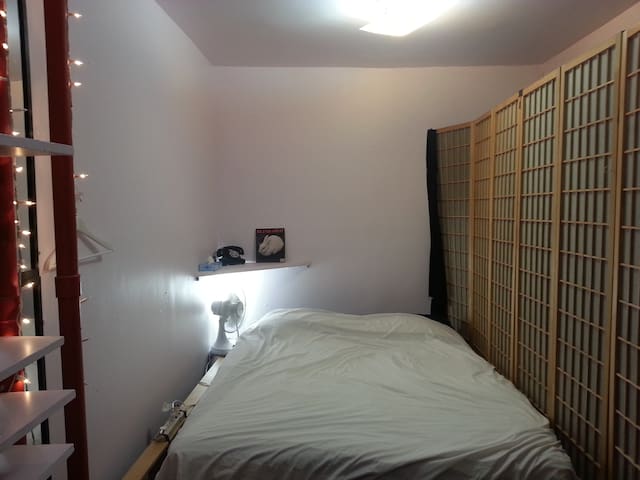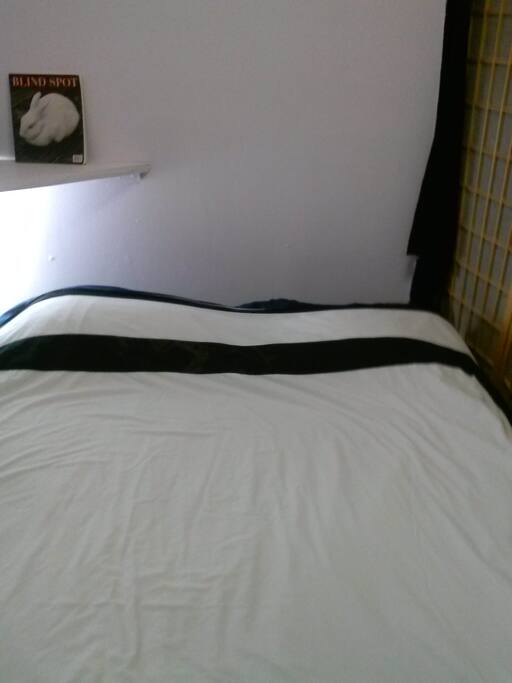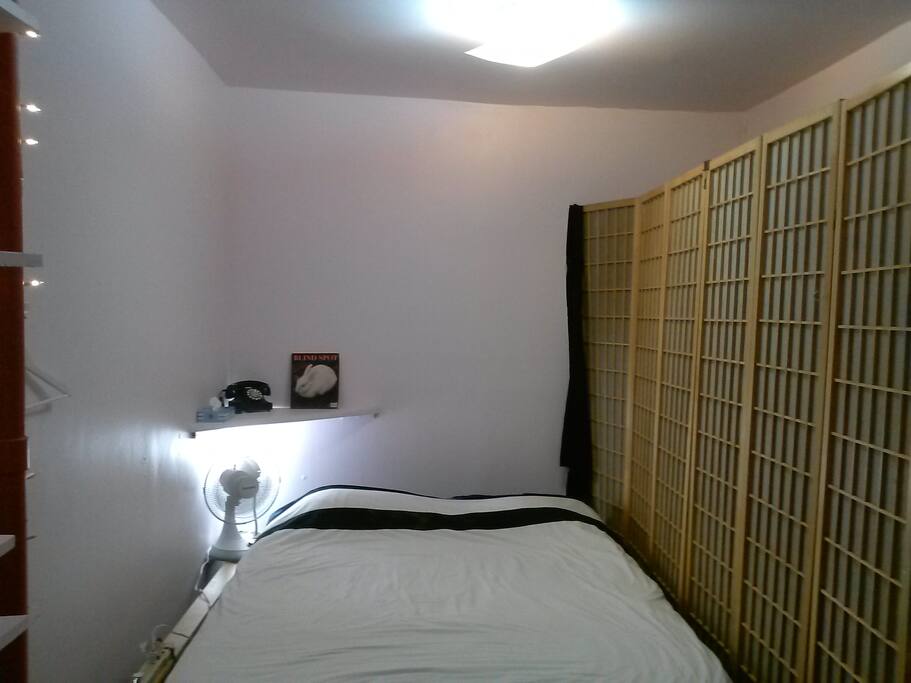 Private room
2 Guests
1 Bed
About this listing
Times Square NO EXTRA FEES 0 Deposit Monthly
-semi-private room
-shared bike station
-numerous subways nearby
-many famous sites, a short walk away.
-Unlike other listings, I charge no extra fees, no hidden charges, no extra expenses no deposit!
---
---
Kitchen
Space where guests can cook their own meals
Essentials
Towels, bed sheets, soap, and toilet paper
Heating
Central heating or a heater in the listing
---
---
The Space
The room is semi-private in an Eclectic Apt, filled with oil on canvas paintings - Great Convenient Area.
Easy going type of place no huge list of rules, no deposit, nothing to break, no extra charge for more people
by semi-private i mean that there is a Japanese style shoji wall that goes the length of the room in the middle are 2 swinging doors like a saloon. the wall does not meet the ceiling so the top of the wall is open, it is not a full wall from floor to ceiling it is from the floor to about 1 foot from the ceiling to allow ventilation so while in the room you have complete visual privacy but sound does carry between the room and the hallway. there is a full door and full real wall that separates your room from my room so at night when people are sleeping there is complete privacy but during the day if someone is walking from my room to the kitchen then you would easily be able to hear them walk by. This situation has worked out fine for everybody as most people are out most of the time and i am out often as well.
There is no additional fee above the quoted price, unlike most other airbnb listings.
no security deposit
no cleaning fee
no lost key fee
fast wi-fi internet connection.
early check-in no problem
late check-out no problem
room is semi-private read more below
apt could be super hot when you first walk in if no-one is home but will cool down with AC on and quick shower to cool off, read more below.
walking distance to many famous spots:
Parsons School of Design The New School,
Javits Convention Center for graduations,
Times Square, Empire State Building, Penn Station, Port Authority, express buses to airports
Super convenient location! Near times square, a short walk to most subway connections.
Nice warm heat in winter.
Great hot water.
Full kitchen.
Laundromat down the street
many restaurants and fresh food markets in area
so you can cook at home.
free street parking all day Saturday and Sunday
3rd Floor walk-up so you will need to go up 2 flights of stairs to get into the apt. If you have heavy bags and I am home I will surely help you carry them up, however I might not be home when you depart so please keep that in mind.
Clean Sheets and towels provided and included with rate
I also use 2 sheets for the base layer on the bed and I double wrap the pillows with 2 pillow cases on each pillow (hotels do not even do this) : I will wash your linens every week that you stay here, but if you need fresh sheets mid stay that can also be provided.
Least expensive way to arrive from JFK/depending on how much luggage you have is
the airtrain from JFK to the blue E subway at Sutphin Boulevard Archer Ave then take the E to 42nd Times Square is the least expensive but you will have to lug your bags up and down several stairs, unless by chance the escalators are working and the elevator at the subway is often out of order and it smells awful for the few moments that you are in the elevator. If you have many heavy bags then the express bus to Port Authority is the next best option. I can arrange to meet you at the bus when it arrives with a dolly to help you with your bags. And the 3rd option is an express van service like goairlinkshuttle or supershuttle. However if you are lucky enough to find another couple or person who
happens to be going to almost the same area as you, which is likely as their are many hotels near me then splitting the cost of a yellow taxi would work out to be cheaper when split 4 ways or even 3 ways. Taxis will only take a maximum of 4 people and if you do that just tell the driver vaguely where you are going like Times Square area or midtown Manhattan then once in the car halfway explain that you need to make 2 stops, but if they insist on a specific address then just give them one address, but they will still allow 2 stops.
Quickest way during non-rush hour times is a taxi
Slowest way during rush hour time is for sure any road vehicle option like a taxi or a shuttle van or bus
Quickest way during rush hour is hybrid version of the airtrain, when making the connection from the airtrain to the subway you will pass by the Long Island Rail Road Jamaica station , so then at that point check out the screens to see if there is a next train to Penn Station and if you will have time to buy tickets and make the train that will be faster than the E subway and only a little more expensive. If there is train coming in the next 30 minutes i would take it anything greater than that will be about the same. Once at Penn station exit out the 8th ave side and walk up 8th ave same direction as cars to my street W. 39st ( Manhattan is on a grid here ) and turn left on W. 39 st. My apt is the first residential door on the left buzz 3E. My building is directly across the street from the Element Westin hotel.
more info: The room is semi-private with only a shoji wall so you will have complete visual privacy with shoji doors that hang closes but limited audio privacy as when we walk through the hallway sounds do travel for those few seconds. However there is a full real door that separates the 2 rooms so at night when sleeping it is more private.
There is no AC in the actual room as there is no place to put in a window ac and the windowless kind do not stretch far enough BUT there is a powerful AC in the kitchen which sort of connects to this room and so i use that one to cool down that area and it will also cool down your room along with the small but powerful fans in there it should be fine. When you first walk into the apt though if no-one is home then yes in the Summer the apt will be very hot but once you turn on the AC and take a quick shower to cool down you should be comfortable. That is what I do and I am fine and I am very intolerant of the heat and humidity of this city in Summer. At night, though, while sleeping I will turn on the AC in the other bedroom and will leave the door between the rooms open to be able to push the cool air from my room into yours, but you will still have visual privacy as the shoji doors would still be closed. Because the shoji walls do not reach the ceiling, the cool air is able to pass into your room. Due to old wiring in this building I am not able to run both AC's simultaneously, but as soon as I turn one off I can turn on the other.
for walking distances, search for a hotel named "Element by Westin" on W. 39 st btwn 8th and 9th ave. it is directly across the street from my apt so then do searches from that exact address to
-Duane Reade on 8th ave and W.40 st (this is where the subway entrance is)
There is no additional fee above the quoted price.
no security deposit
no cleaning fee
no lost key fee
etc.
Guest Access
full access to everything, you are free to roam the entire apartment, there is no lock on the door to my room so if you want to pop in to look out the window to see the street feel free to do so, as the other window only has a view of the back yard of the building.
please help yourself to all the cooking basics, salt, olive oil, spices, condiments, sauces, etc. i have plenty.
-nothing is off limits
Interaction with Guests
I am sometimes around but i have a pretty busy schedule but will try to answer any questions you have that are best suited for a local to answer.
For example, you can look up the hours to a particular restaurant, but if you want to know of a good way to organize your weekly schedule of things to see, I could give you some valuable input.
I do alot of the work for my cases at home in my little home office in my room so even if i am home i am typically in "work mode" during the day so i might pop into the kitchen to grab a bite to eat or a drink but I am still in work mode so i might not stay and chat but i will later in the evening after i have finished my work for the day.
Also, I am fairly flexible with check ins and out but it does help for me to know when approximately you might arrive so that i am not waiting at home in the morning when you are landing at night, so as soon as you have your travel details please message me your
-airline
-flight number
-departure city
-landing time
-which airport
so this way i can track your flight on my end and this way even if your flight is very delayed there will be no need on your part to try to reach me as i will be able to figure it out. i know when i travel phones do not always work right away.
also, it will be helpful for me in planning the cleaning schedule for the next guest to know your departure time on the day you checkout,
-let me know what time you intend to leave the apartment.
-and a late checkout is always ok BUT, if you are leaving late i need to at least have you pack up in the morning and clear out of the room ( your can leave your luggage in the kitchen) so that i can start cleaning and prepping the room for the next guest.
The Neighbourhood
It is convenient to so many of the things that make New York City famous.
This location allows you to stop by the apartment to drop off purchases or grab a jacket or drop off a coat or whatever without taking too much time out of your day. These places out in Brooklyn or Queens are awful because once your out, you will need to stay out as it will take you an hour just to get back to your place and then back out again.
Getting Around
subways and buses are 24 hours , and i recommend UBER and LYFT
Other Things to Note
discretion is expected given the city. There in no need to broadcast to any of the neighbors that you are from airbnb. They have received alot of negative press lately. I welcome you as a friend.
the cleaning fee is $50/week , to clean the space at the end of each week of your stay and then a clean after you depart to prep the space for the next guest.
i will wash all of your sheets and towels once a week.
There is no field for utilities so for gas, electric and wifi, it would be an extra $100 cash/ per 30 day period.
---
-do not overtighten the bathtub knobs.
-As soon as you know your flight details please send them to me so that I may estimate your arrival and make plans to be at home when you arrive. please send your departure airport, flight number, arrival airport, airline, landing time, etc. this way i can track it and I will know if your running late without you needing to try to reach me while in flight or at a connecting airport where your phone may or may not work. thanks
On our way into the building we routinely press the buzzer once as an alert to anyone in the apt that someone is on the way up as the bathroom is on one end of the apt far from the furthest bedroom so I ask that you do the same, thanks.
be clean and easy going...
no street shoes in apartment, floors are clean, remove in kitchen area near entrance. you can change to your slippers and those can be worn around the house. I sometimes have extra slippers but not always.
Building Rules:
Leave items that may need to be recycled on kitchen sink - I will sort and take care of.
for longer term guests, you will need to learn the recycle rules which are fairly easy.
-do not overtighten the bathtub knobs.
-try to use your inside voices in the stairwell late at night.
---
---
---
Your Host
---
New York, New York, United States
·
Member since June 2011
Hello! Welcome to NYC if you are visiting this city. And "How do you do!?" if I am visiting your city. I have hosted guests everywhere I have lived in the past few years, in Paris, Playa Del Carmen Mexico, Toronto Canada, Montreal, Killington Vermont and now here in my new home in NYC. From my experience I feel I make a great guest as I have the hosts prospective. I am a pretty heavy sleeper so noise does not bother me. i enjoy cooking and i keep my area clean and organized. i am straight here but this space is LGBT friendly.
Explore other options in and around New York