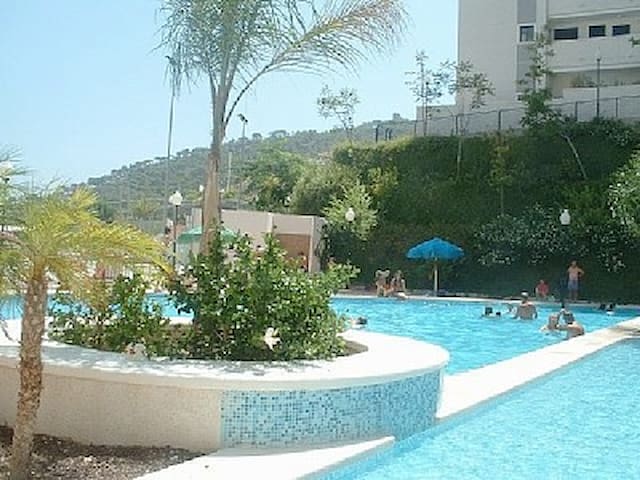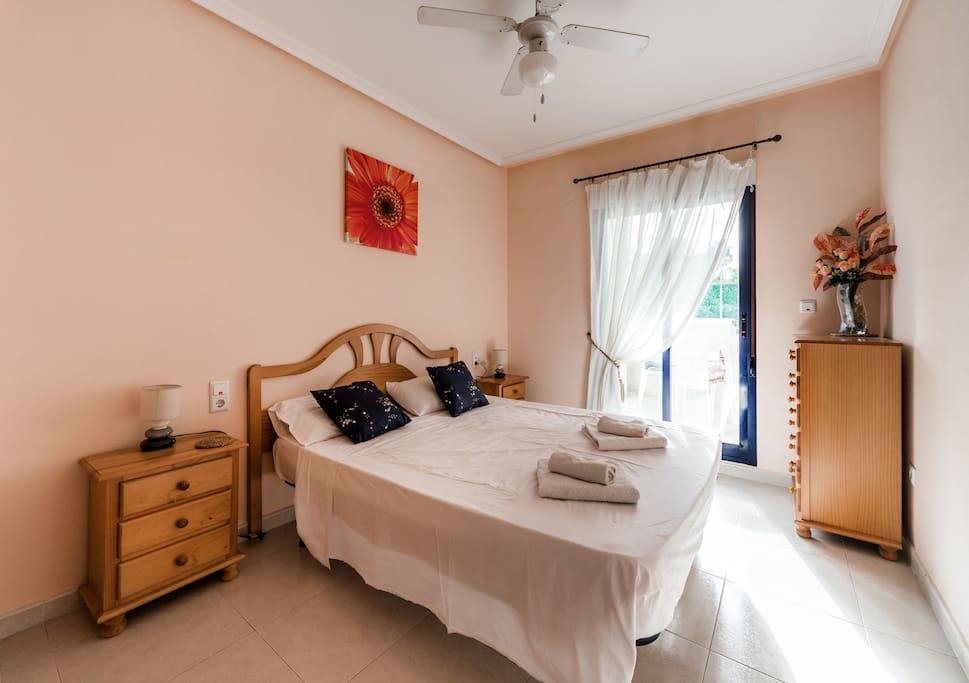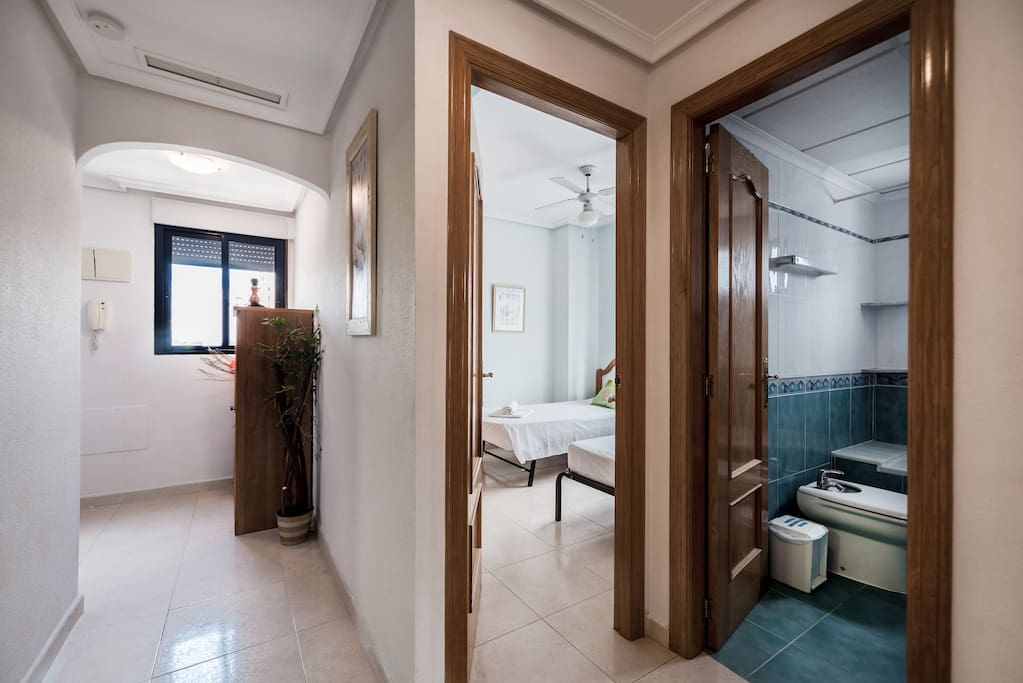 Beautiful modern Apts. The complex is gated, both outside gate and lobby. All apartments have sea views and are about an 8 minute walk to the beautiful crescent shaped sandy beach, shops, bars & restaurants.
The space
Comfortable lounge with English TV . There is an en-suite shower, plus a bathroom. The balcony has furniture for 'alfresco' dining. This apartment is situated in block 1, on the 1st. floor, overlooking the beautiful swimming pool. It is fully equipped with fridge/freezer, washing machine, microwave, oven hob, & dishwasher The lounge has a sofa bed to sleep 6 in total. For entertainment there is satellite TV receiving BBC, ITV, etc. There is a double balcony with patio furniture for 'alfresco' dining. There is an en-suite shower, plus a bathroom.
Other things to note
Smoking should be limited to the terrace areas. Apartments on the 1st, 2nd, 3rd & 4th floors. You may find occasionally we loose some or all TV channels. This is normally the result of a thunder storm and we will try our best to correct any faults but can't guarantee. Please be aware at certain times of the year as with all swimming pools in Spain essential maintenance may be required. This, you will appreciate is out of our control. In this situation you will be offered keys to access another apartments swimming pool.
The T.V frequency if required to be changed for Spanish,French,Dutch etc will incurr a 60 euro fee payable locally.
---
---
Security Deposit $343 CAD
Always communicate through Airbnb
To protect your payment, never transfer money or communicate outside of the Airbnb website or app.
Learn more
---
The Apts are situated on a gentle hill so not recommended for anyone with walking difficulties.Long-term Renters welcome, children welcome, pets considered, suitable for elderly or infirm-wheelchair accessible
---
---
Absolutely amazing from the beginning, providing everything we requested. The apartments really nice, bigger than we thought it was, the pool and the whole neighbourhood was clean and everyone was friendly. The apartment was up a hill which had a market on every night, just at the end of the road was a lovely beach and lots of lovely restaurants around. Not far from Benidorm Centre, we hired a car which was loads easier and plenty of space on the road to park the car on. Everything was perfect and we had a fabulous holiday and throughout the whole process Joan was incredible.
---
Апартаменты удобные, с хорошим размещением относительно пляжа и магазинов . Но это не считаем заслугой хозяина. Обязанность хозяина передать комнату и белье чистыми и приятными для использования. При этом мы получили серые застиранные полотенца и постельное белье, не чистые полы, никогда не чищенная плитка на стенах ванной комнаты и с толстым слоем пыли стекла окон и жалюзи . Коврики для ванной комнаты были вынуждены сразу стирать, так как стать на них были совсем не приятно. Посте стирки увидели, что они голубого цвета! Сразу убрали в комнатах, при этом предварительно пришлось помыть даже щетку для пола, которая была катастрофически грязной!! Очень большой минус - отсутствие кондиционера, который был заявлен хозяином в описании на сайте. При температуре на улице 38 % днем наличие потолочного вентилятора не дает возможности отдыха - также и ночью ! В апартаментах есть система общего приточного кондиционирования, но она отключена . Открывали все окна, чтобы ночью была возможность спать - но тут узнали о особенности размещения комнат (а это первый этаж!) - окна выходят на вход (ворота) на общую территорию апартаментов и автомобильную парковку - и до 03 ночи на нее заезжают машины, в которых при открытых окнах играет громко музыка, автоматические металлические ворота при открытии и закрытии издают лязг, при котором даже если успел заснуть - гарантированно проснешься. Люди приезжают отдохнуть и не их вина, что металлические дверь на входе при закрытии издает грохот! У людей хорошее настроение - они громко смеются, разговаривают (в том числе испанцы - хозяева, проживающие на 0 этаже), встречающие своих гостей, кто-то даже выходит с колонками на парковку и под музыку отдыхает! И все было бы нормально - НО!! Мы не могли закрыть окна, мы просто задохнулись бы при этой жаре!! Поэтому практически две недели отдыха мы могли заснуть только после 03 часов ночи. Если вы собираетесь с детьми - то эти apt точно не для вас! Я думаю хозяевам необходимо неделю пожить в этих условиях, чтобы понять, что нужно изменить для того, чтобы люди, которые оплачивают не хостел, а отдельные апартаменты, было комфортно и удобно. Если невозможно что либо поменять - надо давать эту информацию в описании по размещению - чтобы люди оценивали - могут они в таких условиях жить две недели....или нет.... Хотим передать Стиву спасибо за быстрое реагирование и устранение неисправности с котлом-нагревателем, благодаря чему мы были с горячей водой.
The apartment is not advertised with A/C Directions are straightforward with a contact no if you have any problems, you contacted the keyholder who explained the simple entry code, this is straightforward for most guests. There are 180 residents in these blocks, they don't seem to have issues with sleeping at night.!! And loud music or issues with noise. Sorry this is Spain and guests come to enjoy themselves and have fun, and enjoy the wonderful sun,lifestyle and late nights. I appreciate Moscow is colder and quiet and not in holiday spirit like La Cala. These holiday conditions obviously do not suit your personal needs , maybe a break in Norway or Finland would be more suitable.
---
Response rate:
100%
Response time:
within a few hours
Explore other options in and around Benidorm
More places to stay in Benidorm: