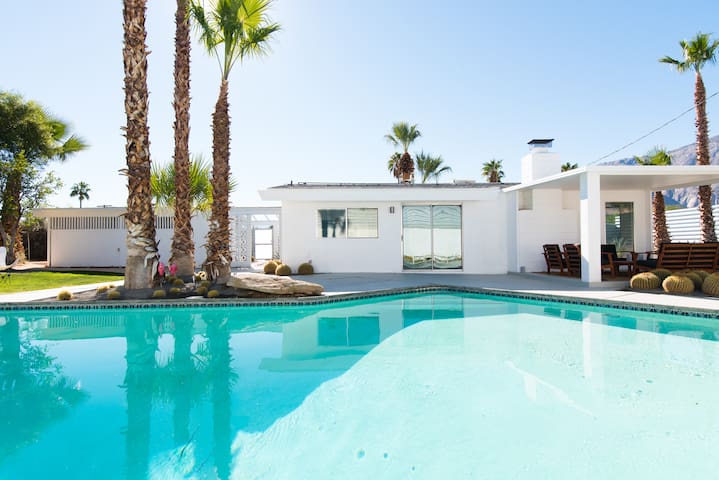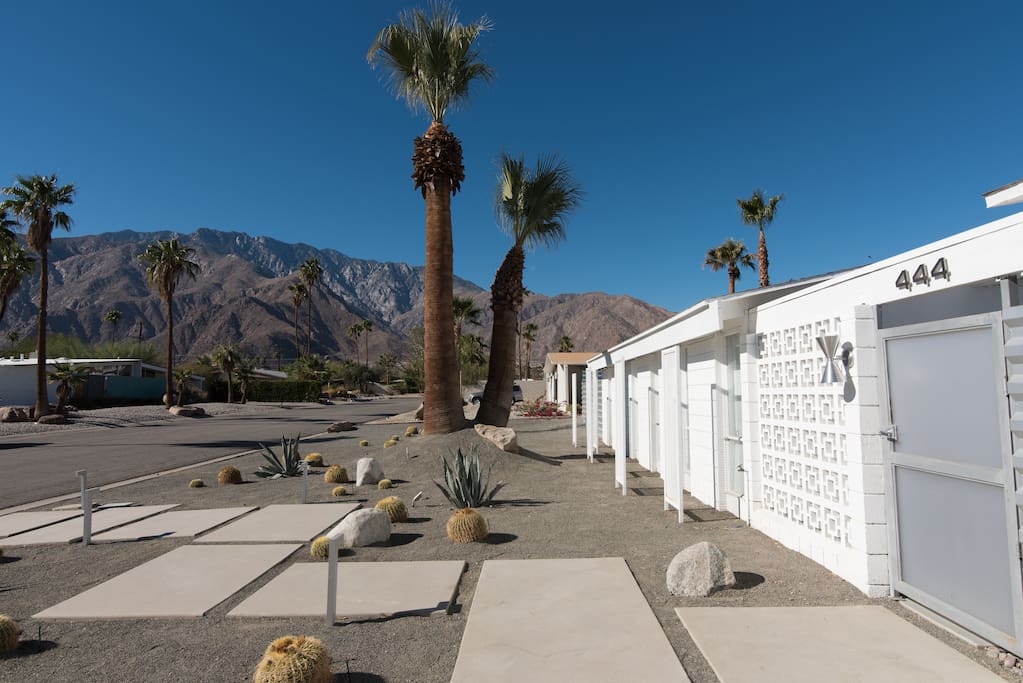 Located in historic Racquet Club Estates and close to downtown Palm Springs, this ultra-stylish Mid Century home has a fabulous and authentic interior with many period design classics. It features quality facilities, a private yard, covered outdoor seating and a large private heated pool with roman steps. All enjoy stunning mountain views.
Legal & registered Vacation Rental. City of Palm Springs ID 6463.
The space
Located in the historic Racquet Club Estates district in Palm Springs number 444 is an immaculately restored Mid Century modern property constructed in 1958 by the renowned team of Alexander & Co, designer William Krisel with recently renovated gardens by modernist expert William Kopelk.
The authentic and stylish interior features iconic pieces, many original, from designers like Eero Saarinen, Charles Eames, Louis Poulsen and Harry Bertoia. Floors are cool fifties style polished concrete with stunning Warhol and Slim Aarons prints decorating the walls.
All modern touches and comforts are also at hand. The interior is 100% air-conditioned and the kitchen is equipped with all extras like coffee-maker, ice machine, electric juice press, food processor and Nutribullet.
Bedrooms have super-comfortable mattresses, high thread count linens, quality bedding and loads of wardrobe space. The TV room has a Samsung 55" flat screen with Time Warner cable & unlimited wifi.
The lovely gardens with their mountain views have been re-designed and restored by William Kopelk, who also was responsible for the famous Mid-Century gardens of Neutra's Kaufmann House (and is President of The Palm Springs Preservation Assn). Designed in low-irrigation desert style there is a small grassed area with lemon trees at the rear, fire pit and BBQ. The pool is heated and is totally private.
An outdoor covered patio has comfortable seating, also has mountain views and overlooks the pool and gardens.
Within walking distance of the famous design district and just a mile from downtown the location is excellent. Take a stroll - or cycle on your very own bikes (at the property and pre-bookable as an extra) - around the local streets for a mini-modernism tour of the wonderful mid-century modern homes of the Racquet Club Estates. Just a fraction farther, and also well worth exploring, are the Movie Colony, El Mirador and Old Las Palmas.
Garage parking is possible for two cars and off street parking for two more.
The property is a rented private home. It is suitable for careful and considerate adult guests. The neighborhood is quiet and peaceful and noise needs to be kept to a reasonable level day or night.
Reservations within 4 weeks of departure usually discounted - please contact us for a quote. Three days usual minimum (2 days may be possible at a supplement - please ask).
COMPULSORY VISITOR TAX
Transient Occupancy Tax (TOT) or 'Room/Bed/Visitor Tax'
Since 2002 Palm Springs has required owners of all hotels and rental properties to collect a tax for those guests staying for less than 29 days. In the case of Number 444 the tax is 11.5% on your invoiced charge (not including Airbnb fees).
This will be collected directly by the owners (not Airbnb) once your booking is confirmed.
If you wish you may visit the municipal website for more information at:
(URL HIDDEN)
Guest access
Guests have full access to the whole property, off street parking and garage. There are no locked off rooms or cupboards.
Interaction with guests
You will receive a full arrival information pack which will advise everything you need to know about property stuff like key collection, access, facilities, extras, cleaning, waste as well as information about the local area and facilities.
Other things to note
POOL HEATING
Pool heat is not included in the rate. Cost is $40 per night or $240 per week, payable as an extra.
OUR OWN BICYCLES
We have two lovely easy-riding, fat tire, recreational bicycles are available at the property for our guests. They are bright orange, one gents and one ladies (actually identical except for a crossbar).
They are on a locked chain for which we provide the code once booked.
You may only book the two bikes and only for your full stay. You must also agree to pay for any loss, theft or damage to a value of $300 per bike.
Rental cost $8 per day per bike i.e. $16 per night of your stay. Must be pre-booked
COMPULSORY VISITOR TAX
Transient Occupancy Tax (TOT) or 'Room/Bed/Visitor Tax'
Since 2002 Palm Springs has required owners of all hotels and rental properties to collect a tax for those guests staying for less than 29 days. In the case of Number 444 the tax is 11.5% on your invoiced charge (not including Airbnb fees).
This will be collected directly by the owners (not Airbnb) once your booking is confirmed.
If you wish you may visit the municipal website for more information at:
(URL HIDDEN)
Short Term Vacation Rental Terms and Conditions
1. SHORT TERM VACATION RENTAL: Occupant rents from 444 for vacation purposes for not more than the Maximum Occupancy stated in the rental listing, the real property and improvements for such property ("Premises"). The Premises includes fixtures, furnishings, personal property and equipment. Occupant is renting the Premises as a transient lodger, for the Term (as reserved by Occupant and confirmed by 444), unless sooner terminated as provided in this Short Term Vacation Rental Terms and Conditions ("444 Terms") or pursuant to Airbnb rental terms ("Airbnb Terms"). 444 Terms, Airbnb Terms, and such terms as are contained in the rental listing are referred to collectively herein as the "Agreement".
2. AUTHORIZED USE AND GUESTS:
A. Occupancy is intended for the purposes described in Section 1. Any additional guests staying overnight beyond the number specified by Occupant must be authorized by contacting 444 prior to their arrival. This includes all children, adults and pets (required by City Ordinance). If there are more persons staying at the property than the lesser of the number designated by Occupant or the Maximum Occupancy for overnight or day use, or if the Premises are being utilized by any person in a manner inconsistent with a transient occupancy vacation rental, then 444 in its sole discretion, shall have the right to terminate this Occupancy without refund to Occupant.
B. In the City of Palm Springs, Occupant must be at least 25 years of age or older. By continuing with this reservation, Occupant represents that they are older than 25 years of age and further warrants that other occupants are either over the age of 25, or are accompanied by an adult guardian.
3. ENTRY: 444, retains full legal, possessory and access rights at all time, and may enter the Premises at any time. Generally access is required (i) for the purpose of making necessary repairs, to supply necessary or agreed services; (ii) to verify that the Occupant has complied with the terms of the Agreement or to investigate disturbances, check occupancy, or check for damages; (iii) in case of emergency; or (iv) for other business purposes (ex: to show property for sale or rental). 444 makes reasonable efforts to provide Occupant with advance notice.
4. CANCELLATION/REFUND: By confirming reservation, Occupant consents to be bound by the policies set forth on Airbnb for cancellation and refund of advance payments and deposits.
5. LATE CHECKOUTS / HOLDING OVER: Occupant agrees there shall be no unauthorized late checkouts, or holding over. Late Checkout occurs between 10:00 and 10:30am on the day of departure. The cost for this is ½ of the daily pro-rated rent that will be charged to Occupant or deducted from the Security Deposit. Staying after 10:30 am on the day of departure is considered a Holdover. The cost for each Holdover day is 1-1/2 times the prorated daily rent, utilities and taxes, plus any costs incurred, including but not limited to relocation of arriving occupants, which will be charged to Occupant in 444s' sole discretion.
With only 6 hours between check-out and check-in, all this time is needed for cleaning the home. If you have an emergency, we will do our best to accommodate you. Please contact our office as soon as you are aware of a problem.
6. CONDITION OF PREMISES:
A. Inventory: Information regarding individual listings is believed accurate but cannot be guaranteed. We have made every effort to ensure that all the information on 444's website(s) and Airbnb is current and accurate. Furnishings are subject to change without notice. Furniture, bedding, mattress pads, utensils or any other property supplied with the Premises must not be taken out or transferred from one property to another. Loss of these items, as well as damage to the property or furnishings in excess of normal wear will be charged to the guest(s).
B. Occupant Responsibility: Occupant shall, upon arrival, examine the premises, all furniture, furnishings, appliances and fixtures, as well as general cleanliness. Occupant shall immediately report any items that are unclean, damaged or broken. Reporting these issues does not give Occupant the right to cancel the Occupancy or receive a refund of any payments made or receive a discount. Any reports of uncleanliness, or damage to premises, which occurred prior to your arrival, must be reported on first day of arrival so that we can attribute the problem to the correct party and rectify as necessary.
C. Emergency Items: Reporting of issues of COMPLETE non-operation of refrigeration and main cooking appliances, HVAC systems, water heating systems, any pool heating equipment, entire interior lighting systems, will necessitate prompt attention to repair by 444, or those hired by 444. Depending on availability, time of day, weekend, and level of emergency, it could take from 1 hour, to 1 day, to make these repairs. If repairs cannot be made within 24 hours, 444, at its sole discretion, may, remedy by any or none of the following: (1) Move occupants to a different property; or (2) offer a full or partial refund.
PLEASE NOTE: In any case of refund, 444 will NEVER refund in excess of the sum calculated as follows: The total number of the days of outage experienced by Occupant x the related daily utility fee, and related pro-rated daily rent, plus the tax on the total of those items.
D. Non-Emergency Items: Amenities such as TV's and media, small appliances, furniture, etc, are fixed as quickly as possible, but are not considered emergencies. Any item not listed in "C" above as emergency items are not treated as emergencies. No refunds are given on unavailability of non-emergency items.
E. 444 Promise: Prompt attention to the issue is the responsibility of 444. This home is well maintained, however problems may occur, as they do at your own home. Items may break or fail during your stay. Our promise to you is that we will do our best to rectify issues as soon as reasonably possible after we become aware of the condition.
7. OBLIGATION UPON TERMINATION OF OCCUPANCY; CLEANING. Premises will be delivered to Occupant in a professionally cleaned condition. Upon termination of Occupancy, Occupant will follow the Instructions for Departure in the House Manual. Occupant will deliver the Premises vacant of all persons and animals, and in good condition, less ordinary wear and tear. Occupant's nonrefundable cleaning fee (described in the rental listing) is for a general cleaning. If cleaning is heavy, the extra cost will be documented and may be deducted from the Security Deposit or charged to Occupant. We publish a clear description of what is regular and what is heavy cleaning, inside the house manual placed in the home and available to you during your stay.
8. KEYS, LOCKS: Upon arrival, Occupant will receive one set of carport gate and front door keys. Occupant acknowledges that locks to the Premises have not been re-keyed. Keys and openers may not be duplicated. Upon departure, Occupant will follow procedures in the House Manual for all keys and opening devices for gates and garages that were given to Occupant upon arrival or during occupancy.
9. PET(S): If evidence of pets are found without prior written permission or signed pet addendum, a $300 fee will be withheld from your Security Deposit. Any pet-caused damage to the home, yard or furnishings will be handled as intentional damage, and may be subject to withholding from the Security Deposit or charge to Occupant.
11. NO SMOKING: This is a NON-smoking home. Remediation of smoke odor inside the home or any other damage caused by smoking will be handled as intentional damage, not covered by damage waiver, and if evidence of smoking inside the home is found, a $500 fee will be charged to Occupant or withheld from the Security Deposit.
12. PARKING: Please note in the rental listing the number of permitted vehicles. Excess vehicles indicates over-occupancy to both 444 and the City of Palm Springs.
13. UTILITIES: We hope you picked this property because of the location, the decor, its amenities, and also, because it is a very fair deal. Our concept is to keep rates low, so please be considerate when using equipment that draws a lot of gas or electricity, such as air conditioner and pool heater.
14. RULES AND REGULATIONS: Occupant agrees to comply with any and all rules and regulations that are at any time posted on the Premises, contained in or attached to the Agreement, or otherwise delivered to Occupant. Occupant is responsible for ensuring that all occupants and guests comply with the same. Additional rules and regulations may apply if the Premises is located in a condominium complex or subject to a community association.
15. NO ASSIGNMENT OR SUBLETTING: Occupant shall not assign any interest in the Agreement or subrent any part of the Premises. Any attempted assignment or subrental shall be void and ineffective and shall result in termination of the Agreement and occupancy of the Premises. In the event of such termination, 444 shall be entitled to retain all sums paid by Occupant.
16. UNAVAILABILITY OR RELOCATION: If for any reason beyond the reasonable control of 444 or their representatives, the Premises are unavailable, 444 may cancel the Agreement. In this event, a full refund will be made immediately to Occupant, of all payments made.
17. PERSONAL PROPERTY AND INJURY: 444 is privately owned; the owners are not responsible for any accidents, injuries or illness that occurs while on the premises or its facilities. The Homeowners are not responsible for the loss of personal belongings or valuables of the guest. By accepting this reservation, it is agreed that all guests are expressly assuming the risk of any harm arising from their use of the premises or others whom they invite to use the premise.
A. INSURANCE: Occupant's or guests' personal property, including vehicles are not insured by 444, home owners, home owner's association, or 444's agents, against loss or damage due to fire, theft, vandalism, rain, water, criminal or negligent acts of others or any other cause. 444, home owners, home owner's association, or 444's agents, does not insure against personal injury to Occupant, occupants, guests, or licensees, due to any cause or reason.
B. INDEMNITY AND HOLD HARMLESS: Occupant, for himself/herself, his/her heirs, assignors, executors and administrators, fully releases and discharges 444 and Owner and agrees to indemnify, defend and hold harmless, 444 or 444's Representatives from all claims, disputes, litigation, judgments, costs and attorney fees resulting from loss, damage, theft or injury to Occupant, other occupants, guests or licensees, or their personal property, arising out of or in connection with Occupant's use and occupancy of the Premises, which is made, incurred or sustained by Occupant, other occupants, guests or licensees.
18. JOINT AND INDIVIDUAL OBLIGATIONS: If there is more than one occupant over the age of 18, each one shall be responsible for the performance of all obligations under the Agreement, jointly and individually with every other occupant.
19. AMERICANS WITH DISABILITIES ACT: Due to building codes applicable to residential homes not requiring full handicap accessibility, 444 IS NOT ADA compliant. Please call us with any questions on accessibility. Please ask for the owner or general manager, not reservation staff.
20. VISIBLE HAZARDS:
A. POOL USE: The undersigned Occupant, on behalf of Occupant and all other occupants and guests during the Term, acknowledge renting a home that includes a swimming pool. Occupant further acknowledges that they have INTENTIONALLY ELECTED to rent that home that includes the POOL.
OCCUPANT(S) ACKNOWLEDGE THAT POOL AMENITIES CARRY INCREASED RISK FOR POTENTIAL PERSONAL INJURY AND/OR DEATH DUE TO, BUT NOT LIMITED TO, THE FOLLOWING:
1. The inherent risk of drowning associated with immersion in water.
2. The inherent risk of falling injury/subsequent drowning associated with hard surfaces surrounding the pool which may become slick because of water on those surfaces, a risk particularly enhanced by horseplay and careless behavior. UNSUPERVISED CHILDREN are particularly susceptible to the dangers inherent in the use of the pool amenities. DO NOT leave children unsupervised.
3. The inherent risk of drowning is enhanced by the USE OF ALCOHOL, and such use is not recommended before or during the use of the pool amenities. The effects of alcohol may be enhanced by dehydration and desert heat.
Occupant(s) acknowledge that 444 provides NO SUPERVISION or other protection against the inherent risks associated with pool use, whether by Occupant, their children or their guests, and Occupant accepts full responsibility for the increased level of care and potential injury associated with this amenity. Occupant further acknowledges that DIVING IS PROHIBITED, because not of sufficient depth or design to accommodate diving. Diving will likely result in INJURY or DEATH.
B. FLOORS: Please take care to mop up any spills or standing water accidentally tracked indoors from the pool area. Like all solid surfaces, indoor and outdoor FLOORS CAN become slick and present a falling hazard if water is spilled or dripped on them. Additionally, the pool water may contain salts and chemicals, which if left standing on house floors and, can stain and etch the floor.
C. OUTDOOR GRILL: The outdoor grill is provided for your enjoyment, please remember to turn it off when you are finished preparing food. Failure to do so will result in excessive gas consumption and a potential fire hazard.
21. CRIMINAL ACTIVITY: All criminal activity, including but not limited to the possession or use of illegal drugs at the home is strictly prohibited, and such criminal activity shall cause occupancy to be terminated. In case of such termination, without limiting any other right or remedy, 444 shall retain such sums as have been paid by Occupant without waiver of any right or remedy in favor of 444 or owner of the Premises.
22. NOISE ORDINANCE & NEIGHBOR RULES: There are special rules for vacation rentals set forth by the City of Palm Springs. A copy of the "Rules for Vacation Rentals" is displayed on this listing under 'House Rules' and is also displayed in the property's house manual. Occupant can also access the ordinance list by visiting Palm Springs website under "Rules for Vacation Rentals".
Any violation of these ordinances, and all noise ordinances, rules, and regulations in the City code, may cause Occupant to be responsible for any additional fees incurred by 444 and the owner of the Premises, as well as fees or fines payable to the City of Palm Springs. The Occupant agrees to these terms on behalf of all occupants and guests, and shall be responsible for fees, fines or damages caused by other occupants and guests.
By confirming this reservation, Occupant represents that he/she has read and understands the City of Palm Springs "Rules for Vacation Rentals" and the " Good Neighbor Brochure for Vacation Rentals" and accept legal responsibility for compliance of all occupants of the Premises during the course of the (website hidden) FEES: In any action or proceeding arising out of the Agreement, including but not limited to any action for recovery of possession of the Premises or for property loss or damage, the prevailing party shall be entitled to their reasonable attorney fees and costs.
24. LIMITATION OF LIABILITY: In the event of any claim for damages against 444 for any reason, whether based on breach of contract or tort, any recovery shall be limited to reimbursement of all sums actually paid by Occupant to 444. Under no circumstances shall 444 be liable for and Occupant hereby waives any claim for consequential, punitive and/or exemplary damages. 444 shall not be liable for events beyond their control that may interfere with Occupant's occupancy, including but not limited to Acts of God, acts of governmental agencies, fire, strikes, war, or inclement weather. NO REFUND will be offered in these circumstances.
25. VIOLATION OF AGREEMENT: If Occupant violates any of the conditions of the Agreement, 444 may terminate the occupancy and enter Premises. Upon notice of termination of Occupancy, Occupant and all other persons shall vacate the Premises immediately and forfeit all rents, prepaid fees and charges, and security deposits.
26. MISCELLANEOUS: Time is of the essence in all provisions of the Agreement. All prior agreements between 444 and Occupant with respect to this reservation (and not any prior reservations or stays) are incorporated into the Agreement, along with any addendums and attachments, which constitutes the entire contract. It is intended as a final expression of the parties' agreement, and may not be contradicted by evidence of any prior agreement or contemporaneous oral agreement. Any provision of the Agreement that is held to be invalid shall not affect the validity or enforceability of any other provision in the Agreement. The waiver of any breach shall not be construed as a continuing waver of the same or any subsequent breach. The Agreement shall be governed and construed in accordance with the laws of the State of California. The Agreement is deemed to have been entered into in Palm Springs, California, and California shall have personal jurisdiction over the parties and the county in which the premise is located. The Indio Branch of the Superior Court of Riverside County, California, shall be the forum and venue for any legal action brought in relation to the Agreement.
27. LIQUIDATED DAMAGES: OCCUPANT ACKNOWLEDGES AND AGREES THAT CERTAIN CHARGES DESCRIBED HEREIN ARE A REASONABLE ESTIMATE OF 444'S DAMAGES IN THE EVENT OF VIOLATIONS OR DEFAULT IN SUCH PROVISIONS OF THE AGREEMENT BY OCCUPANT. THE PAYMENT OF SUCH AMOUNTS AS LIQUIDATED DAMAGES IS NOT INTENDED AS A FORFEITURE OR PENALTY WITHIN THE MEANING OF CALIFORNIA CIVIL CODE §3275 OR §3369 BUT IS INTENDED TO CONSTITUTE LIQUIDATED DAMAGES TO 444 UNDER CALIFORNIA CIVIL CODE §§(phone number hidden), AND 1677. NOTHING IN THE AGREEMENT WILL, HOWEVER, BE DEEMED TO LIMIT OCCUPANT'S LIABILITY TO 444 FOR DAMAGES OR INJUNCTIVE RELIEF FOR BREACH OF OCCUPANT'S INDEMNITY OBLIGATIONS UNDER THE AGREEMENT, FOR ATTORNEYS' FEES AND COSTS AS PROVIDED IN THE AGREEMENT, CLAIMS MADE AGAINST ACME BY THIRD PERSONS WHERE THE CLAIMS ARE A RESULT OF A DEFAULT BY OCCUPANT UNDER THE TERMS OF THE AGREEMENT.
---
This listing has essential business travel amenities.
---
Check In: Anytime after 4PM
Room type: Entire home/apt
---
---
Always communicate through Airbnb
To protect your payment, never transfer money or communicate outside of the Airbnb website or app.
Learn more
---
---
Check in is anytime after 4PM
GOOD NEIGHBOR BROCHURE FOR VACATION RENTALS
CITY OF PALM SPRINGS
3200 E. Tahquitz Canyon Way P.O. Box 2743 Palm Springs, CA
HOW MANY IS TOO MANY?
Please check with the person who rented you the unit as to the maximum number of overnight occupants and the maximum number of daytime occupants permitted to stay there. Limits have been established for both. Compliance with these rules will assure that you and your neighbors will both enjoy your stay. We're glad you're here!
WHAT ELSE SHOULD I KNOW?
It is important to be a good neighbor – whether you're at home or on vacation. Please keep in mind that you may be cited or fined by the City, or even evicted by the owner, for creating a disturbance or for violating other provisions of the City's Vacation Rental Ordinance. The surrounding neighbors have been given a 24-hour number to call should they need to file a complaint.
WELCOME TO PALM SPRINGS
Palm Springs is world-famous for the special welcome people experience here while on vacation. We are pleased you have chosen to spend your vacation in our City. There is so much to see and do. Or, if you choose, just sit back, relax and do nothing at all. Like many of our visitors, you have decided to rent a house or a condominium for your own special experience. That's great. There are many benefits to doing that.
Perhaps the greatest benefit is the pleasure of residing – even for a short stay – in one of our residential neighborhoods. You will be among many permanent residents who value the look and feel of a quiet and safe place to live. They, and the City, will look to you for your help in preserving that special sense of peace and quiet. In short, being a vacation renter also means being a good neighbor.
WHAT YOU NEED TO KNOW
This brochure is intended to highlight a few ways you can be a good neighbor during your stay in Palm Springs.
WHO'S MAKING ALL THAT NOISE?
Please do not create noise or disturbances or engage in disorderly conduct. Consider how you would want your neighbors to behave in your own neighborhood. Chances are your Palm Springs neighbors will expect the same of you while you're here. A little consideration goes a long way.
Keep in mind that amplified music is not allowed outside of your vacation rental unit. So, please, don't bring the speakers outside and crank up the music, even if you think everyone will enjoy your excellent taste in music.
A call from the neighbors to the City will bring the Police to your door. So please, keep the noise down. Our officers can issue you a citation if you violate the City's noise ordinance.
WHOSE CAR IS THAT?
Please, also be mindful of where you park. Park in the garage, on the driveway, in your assigned space or as close to where you are staying as possible. But in any case, don't block anyone's driveway. Your car could be towed.
PUPPY LOVE
Palm Springs requires that all dogs be on leashes whenever they are outside, except in the City's Dog Park. Also, we expect everyone to pick up after their pet. Never leave your pet unattended in a vehicle; it is illegal all year long. And just like at home, a barking or whining dog disturbs the neighbors.
WHOSE TURN IS IT TO TAKE OUT THE TRASH?
Palm Springs residents recycle as much as they can and we hope you will too. If you have a blue recycling cart where you are staying, please use it to recycle metal, paper, glass and plastic products. Please do not store trash and refuse within public view, except in proper containers for the purpose of collection. If you are staying in a house, Palm Springs Disposal Services will pick up your trash and empty your recycling cart on your scheduled collection day(s). Please do not leave trash or recycling at the curb.
---
Strict
Cancel up to 7 days before your trip and get a 50% refund. Cancel within 7 days of your trip and the reservation is non-refundable.
---
---
2 nights minimum stay.
From Jun 01, 2017 - Dec 03, 2019 the minimum stay is 3 nights.
---
I am an art consultant and photographer living in an Oxfordshire lakeside home with Julie my wife who is a writer and magazine editor. Oh yes and Lola a 15 year old retired guide/service dog who is getting a little bit creaky but can still manage to chase a tennis ball!

We rent out our two beautiful holiday homes - one in Palm Springs and the other near Cirencester. They are also our own holiday homes and equipped and cared for appropriately.

We are sure you will recognise the care that we have put in to our places and enjoy and care for them as much as we do!

We want to you to have the very best holiday available. Do let us know if anything is not up to standard as soon as possible and we will do everthing we can to put it right!
Response rate:
100%
Response time:
within an hour
Exact location information is provided after a booking is confirmed.
Explore other options in and around Palm Springs
More places to stay in Palm Springs: