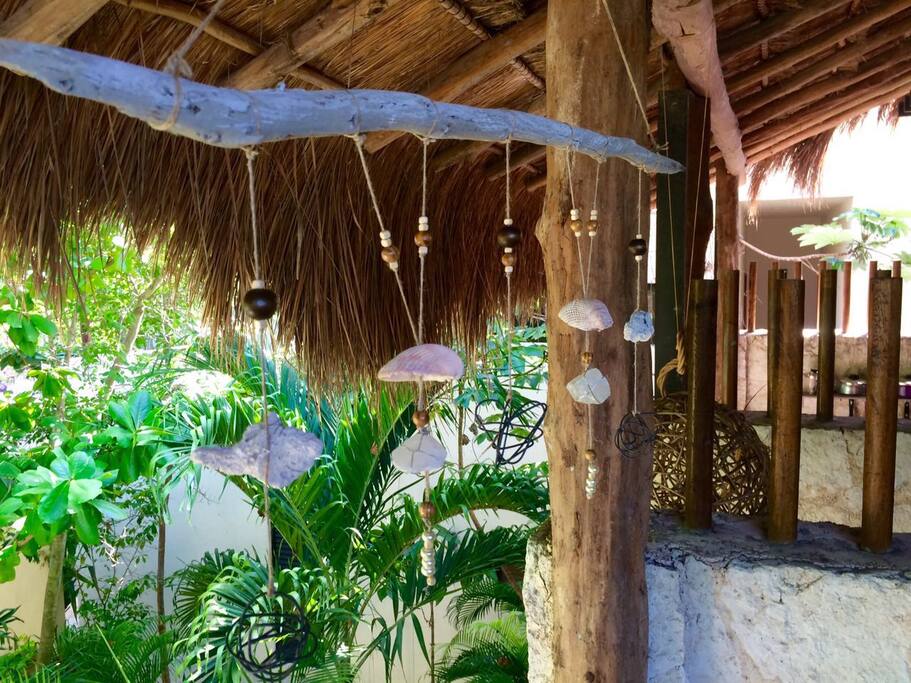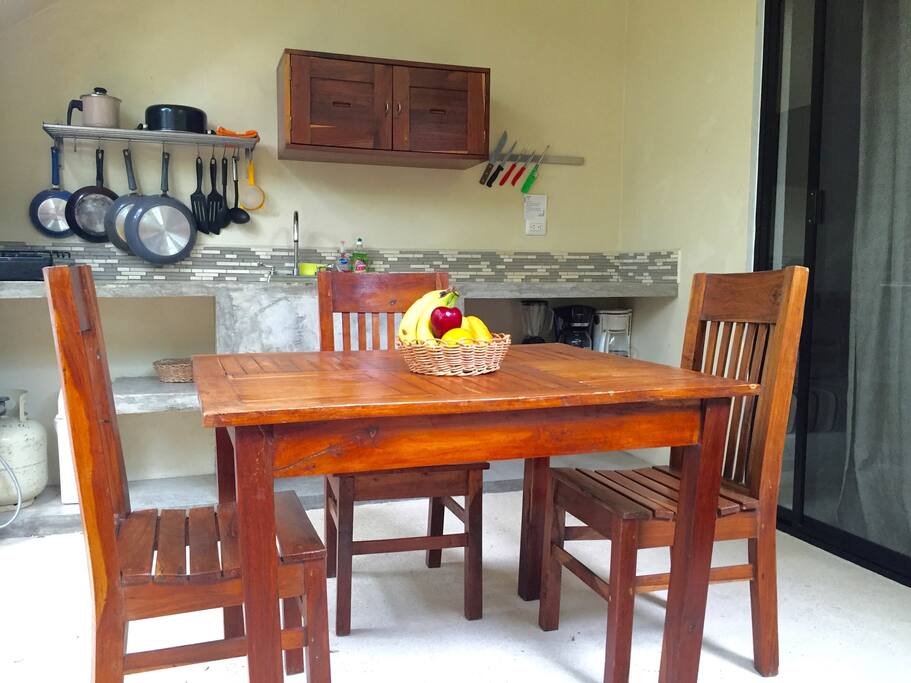 Location, location..!!
The apartment is in the Heart of Tulum town, around the corner from the most Vibrant Restaurants, Shops and Bars, but far enough from the hustle and bustle to offer an Atmosphere to relax and decompress. You'll love the the lush setting! My place is good for couples, solo adventurers, business travelers, and families (with kids).
The space
Location, Location, Location..!!
Beautiful apartment located in the heart of Tulum Town, around the corner from the best Restaurants in town but just off the main avenue to provide a comfortable and tranquil vibe.
Ku Tulum is a heaven of comfort in the heart of Tulum Town. Expect a genuine taste of the Mayan Riviera with beautifully designed and comfortable accommodations equipped with amenities such as AC, Hot Water, Wi-Fi, and Kitchen.
The sliding glass door entry leads you to a beautiful living area equipped with a Queen Size Bed and a Couch for an extra guest.
Parking available for Guests.
Location, Location, Location...
Catch a taxi or a shared public van at the main road to visit neighboring attractions or immerse yourself in an authentic experience walking or biking around town.
Guest access
Our rooms feature high ceilings. The outdoor sitting and dining areas are attached to a fully equipped kitchen, ideal to meet any cook's desires.
Interaction with guests
We can help our Guests in every way to make their trip fabulous, giving them ideas for things to do and places to go.
Other things to note
Excellent Restaurants, Cafes and nice Mexican shops few steps away.
Always be considerate of the neighbors. No Loud Parties & STRICTLY NO smoking inside the rooms.
As a general rule, leave the place as you find it.
Bedroom 1
1 queen bed, 1 couch
Check-in is anytime after 3PM
Rental Agreement

This Rental Agreement and Contract (the "Agreement") is a legally binding agreement made and entered into as of the Reservation Date by and between the undersigned person(s) or company (the "Guest") and the undersigned owner, manager or agent ("Rental Agent"), pursuant to which the Guest has agreed to rent the residence described below (the "Property"), for the duration of the Rental Term for the Total Rental Fee and other good and valuable consideration as described herein.
OCCUPANCY
Guest agrees that no more than [ ] persons shall be permitted on the Property at any time during the Rental Term, all of whom shall comply with the conditions and restrictions imposed upon Guest under this Agreement.
CONDITION AND USE OF PROPERTY
The Property is provided in "as is" condition. Rental Agent shall use its best efforts to ensure the operation of all amenities in the Property. Rental Agent shall not be held responsible for such items failure to work, but will make every effort to correct any issues as reported as quickly as possible. Guest acknowledges that use of amenities such as decks, stairs and the like may be potentially dangerous and involve potential risks if improperly used, particularly with regard to children and such use is at the Guest's own risk.
Guest shall use the Property for residential purposes only and in a careful manner to prevent any damage or loss to the Property and keep the Property in clean and sanitary condition at all times. Guest and any additional permitted guests shall refrain from loud noise and shall not disturb, annoy, endanger, or inconvenience neighbors, nor shall Guest use the Property for any immoral, offensive or unlawful purposes, nor violate any law, association rules or ordinance, nor commit waste or nuisance on or about the Property.
DEFAULT
If Guest should fail to comply with the conditions and obligations of this Agreement, Guest shall surrender the Property, remove all Guest's property and belongings and leave the Property in good order and free of damage. No refund of any portion of the Total Rental Fee shall be made and if any legal action is necessary, the prevailing party shall be entitled to reimbursement from the other party for all costs incurred.
ASSIGNMENT OR SUBLEASE
Guest shall not assign or sublease the Property or permit the use of any portion of the Property by other persons who are not family members or guests of the Guest and included within the number of and as permitted occupants under this Agreement.
RISK OF LOSS AND INDEMNIFICATION
Guest agrees that all personal property, furnishings, personal affects and other items brought into the Property by Guest or their permitted guests and visitors shall be at the sole risk of Guest with regard to any theft, damage, destruction or other loss and Rental Agent shall not be responsible or liable for any reason whatsoever.
Guest hereby covenants and agrees to indemnify and hold harmless Rental Agent and their agents, owners, successors, employees and contractors from and against any costs, damages, liabilities, claims, legal fees and other actions for any damages, costs, attorneys fees incurred by Guest, permitted guests, visitors or agents, representatives or successors of Guest due to any claims relating to destruction of property or injury to persons or loss of life sustained by Guest or family and visitors of Guest in or about the Property and Guest expressly agrees to save and hold Rental Agent harmless in all such cases.
RELEASE
Guest hereby waives and releases any claims against Rental Agent, the Property owner and their successors, assigns, employees or representatives, officially or otherwise, for any injuries or death that may be sustained by Guest on or near or adjacent to the Property, including any common facilities, activities or amenities. Guest agrees to use any such facilities or amenities entirely at the Guest's own initiative, risk and responsibility.
ENTRY AND INSPECTION
Rental Agent reserves the right to enter the Property at reasonable times and with reasonable advance notice for the purposes of inspecting the Property or showing the Property to prospective purchasers, renters or other authorized persons. If Rental Agent has a reasonable belief that there is imminent danger to any person or property, Rental Agent may enter the Property without advance notice.
UNAVAILABILITY OF PROPERTY
In the event the Property is not available for use during the Rental Term due to reasons, events or circumstances beyond the control of Rental Agent, Rental Agent will apply due diligence and good faith efforts to locate a replacement property that equals or exceeds the Property with respect to occupancy capacity, location and value that meets the reasonable satisfaction of the Guest. If such replacement property cannot be found and made available, Rental Agent shall immediately return all payments made by the Guest, whereupon this Agreement shall be terminated and Guest and Rental Agent shall have no further obligations or liabilities in any manner pertaining to this Agreement.
ADDITIONAL TERMS TO THE RENTAL AGREEMENT
In addition to the standard terms included herein, Guest acknowledges and agrees that the following additional terms and conditions apply to the Guest's rental of the Property:
GENERAL PROVISIONS
This Agreement contains the entire agreement between the parties with regard to the rental of the Property, and any changes, amendments or modifications hereof shall be void unless the same are in writing and signed by both the Guest and the Rental Agent. This Agreement shall be governed by the laws of Q. Roo, Mexico. The words "Rental Agent" and "Guest" shall include their respective heirs, successors, representatives. The waiver or failure to enforce any breach or provision of this Agreement shall not be considered a waver of that or any other provision in any subsequent breach thereof. If any provision herein is held invalid, the remainder of the Agreement shall not be affected. Any notice required to be given under this Agreement shall be in writing and sent to the contact information included herein. This Agreement may be signed in one or more counterparts, each of which is an original, but taken together constitute one in the same instrument. Execution of a digital signature though a third party booking service provider shall be deemed a valid signature.
I really enjoyed the apartment at Ku Tulum! The location is indeed fantastic with some great cafes and bars just around the block. I could enjoy the music being played at the popular spot "Batey" while sitting on the patio of the apartment. I was a single lady traveling alone so safety was a priority and the area and house were definitely secure with a large security wall that was always locked. The garden area was well manicured and the AC was superb. There seemed to be people working on the building (cleaning/landscaping/tuning up bikes) during the day but never too much noise. I never met Eduardo but he had someone meet me at the time I specified to get checked in and graciously worked around my changing schedule. There were some bugs in the outdoor kitchen / patio so bring bug spray and get some of the citronella incense (they sell in stores in Tulum). The beach is just a 10 minute cab - about $70-90 pesos depending how far down you go (its a very long beach strip with lots of hotels) They have bikes at the property for rent for 70 pesos and nearby there are scooters for rent for about $30 USD a day (I walked everywhere except for the beach) The apartment was clean, modern and perfect for one or two people. No TV but I don't watch TV so didn't bother me. Kitchen was stocked with just enough basics... there is a propane camping style stovetop and a couple pans and dishes. Patio has a hammock and lower levels have chaise lounge chairs, too. Plenty of mini markets in the neighborhood to get the basics for your fridge (full size fridge indoors). The host left a couple waters and a fruit bowl to welcome me. I would definitely stay here again!
---
I only stayed in Eduardo's Airbnb for one night and it was perfect! The house really is in tulums best location and the cute apartment is just as nice in person as it is in the pictures. I ended up asking to stay on only 6 hours notice and he as well as his building manager, William, went above and beyond to the make that possible. When I arrived I couldn't contact anyone because my phone wasn't working but after asking some of the the neighbors, everyone of them so incredibly nice and ready to help, one of them called William for me on his phone. William showed up on his bike two minutes later. He's a really sweet guy... Showed me the place, and said he'd be available any time if I needed anything or had questions. The apartment is in a large building behind a massive wooden wall with secure doors. Inside is a lovely garden area with places too sit and relax in the shade. As far as I could tell there were two lower apartments, two upper and at least one with outdoor stairs up the side of the building. Those stairs go right past the window across from the bed and if you happen to be sleeping in the comfortable bed, and the neighbors happen to be nosy, they could look in send see you. It was not a big deal to me, at all but maybe if you don't happen to be sleeping alone in that bed, it might matter to you! The shower was great as far as hot water and pressure.. Plenty of clean towels as well as very nice, high quality bathing essentials were provided. The outdoor kitchen which is also your private and covered porch was so cute.. I took probably 10 pictures of it! There will be fresh fruit and a couple of bottles of water waiting there for you. Every thing works, the place is safe clean and comfortable. Eduardo and William were excellent hosts and the place really is in the prime location, literally one block behind the main street. If you are arriving on the bus, at least from Playa, ask the driver to let you off at the Scotiabank stop instead of at the bus station and your walk will be much shorter!! Around the corner to your left when you go out if the housr is the BEST little bar ever, called Batey.. What a cool, welcoming, fun and happy place! I'd go every day if I lived there. Try the cucumber, basil mojito from their awesome selection of unique cocktails using pure sugar cane pressed right there.. And enjoy the live music they have basically every night. I stayed in tulum two more nights at a place I'd already booked so I was lucky enough to go back to Batey a few times. The point is Eduardo's place is in the best location! no exaggeration! Tulum IS safe, no need to ask if...
---
I'm passionate about traveling, like outdoor activities and love connecting people. I love my country Mexico and always encourage people to discover its magic places and friendly people.
Languages:
English, Español
Response rate:
100%
Response time:
within an hour
Explore other options in and around Tulum
More places to stay in Tulum: