Cozy and charming 2.5 attic located in Corso Italia, right in the heart of Acqui Terme. Unique position, close to everything you need to visit during your stay in this city: Bollente is right behind, Duomo in 15 meters, Thermal spa in 20 meters. Fully furnished. Bright by day, romantic and relaxing by night. Breakfast included. Great base to visit Acqui Terme or explore Piemonte and Liguria.
Beautifully furnished. Great mix of old and modern.
Uniquely central, still very quiet though, since there's no cars on this street. The perfect base to explore Acqui Terme and Piemonte!
The accommodation is very nice and it's a great location. Gabriele was a brilliant host. He gave us good restaurant recommendations and organised a really nice wine tasting for us with a local grower. The late check out was also very much appreciated.
Julia
2017-02-19T00:00:00Z
Gabriele place can't be better located, in the centre of the old town. Easy walking distance to everything, including the market that happens on Friday. The apartment is bigger than what it looks on the photos. It was very clean and really nice and great value for the price.
Arien
2017-01-01T00:00:00Z
La casa è deliziosa, molto curata nei dettagli, tranquillissima benché a poche decine di metri dalla Bollente; Gabriele è un host molto premuroso e ci ha indicato dove parcheggiare la macchina gratuitamente e ci ha fatto trovare la casa già riscaldata. Per le 5 stelle ci sarebbe da risolvere solo un piccolo inconveniente: il letto, anche se d'antiquariato, è un po' "di misura" sia in larghezza che soprattutto in lunghezza (inutilizzabile per persone sopra il metro e ottanta..)..per il resto siamo rimasti assolutamente soddisfatti! Grazie
Giulio
2017-03-19T00:00:00Z
Comodo, bello, ospitale e elegante.
Giada
2016-12-16T00:00:00Z
Ottima sistemazione. Centralissimo. Comodo a tutti i punti di interesse della città. Ambiente molto accogliente rifinito nei minimi particolari con accostamento di arredamento moderno e antico. Da evidenziare l'accoglienza e la disponibilità del proprietario. Consigliato davvero.
Roberto
2017-01-29T00:00:00Z
Ottima esperienza! Gabriele è il migliore ospite che mi sia capitato. E' una persona empatica che sa benissimo come accogliere e mettere al proprio agio l'ospite. L'appartamento è centralissimo, pulito, bello, accogliente e curato in ogni dettaglio. Da consigliare!
Luisa Fernanda
2017-02-24T00:00:00Z
Bellissimo. Consigliato.
Roberto
2017-01-14T00:00:00Z
L'appartamento è in una posizione ottimale, nel pieno centro di Acqui ed è molto curato in ogni dettaglio. Gabriele è stato molto gentile e disponibile. Un'informazione che può essere utile ai futuri ospiti è che il letto ha una lunghezza un po' ridotta rispetto agli standard, da verificare per persone di statura medio-alta.
angelo
2017-03-01T00:00:00Z
Room Type
Entire home/apt
---
Property Type
Apartment
---
Accommodates
2
---
Bedrooms
Acqui Terme, Piemonte, Italy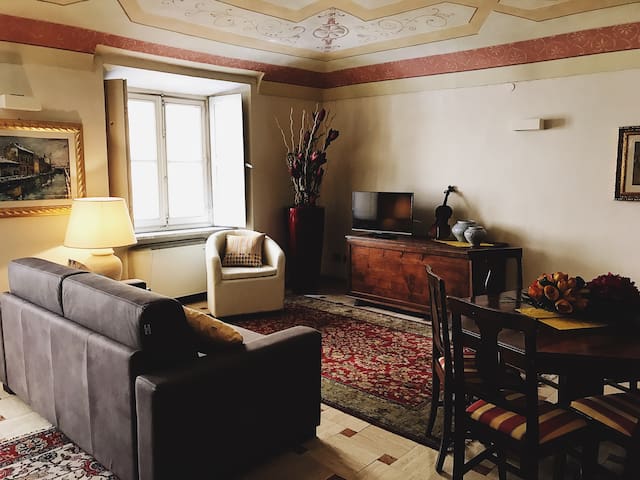 A large comfortable country style room with huge windows, boasting views over expansive private gardens and vine covered hills. It has a private walk in shower and a small walk in closet. There is access to a large sunny deck and grounds directly from your room. Laundry service available.
A large country style room with breathtaking views over vine covered hills. The room is a part of our family home though your room is not shared and neither is the bathroom shared it is for your exclusive use. The room is next to the dining and lounge area and is very quiet. There are locks on the inside of the doors but not on the outside. There is a safe in your room for small valuables if you wish. Our other listing is called The Loft unesco listed views and can accomodate six if you need more space.
Acqui Terme is a Roman spa town. The Spa is world class and there are shops and cafes in the pedestrian zone. Take a typical Italian breakfast in a cafe, or round off a summer day with a fabulous apperitivo in the Piazza Bollente.
My wife and me spend five nights at Verdmont and we appreciated the location . Comfortable room and quitness, beautiful nature.
Stefan
2016-05-10T00:00:00Z
The house is at a close driving distance from Acqui Terme. It is a beautiful house located in a very quiet and nice area. Everything is very clean and welcoming. The hosts are very kind and helpful with great tips. We highly recommend stopping there to visit the region.
Nicolas
2015-07-18T00:00:00Z
Ariella and Jens made us feel very welcome in their lovely home. If you're looking for peace and quiet, this is the place to be. Apart from crickets, birds and occasional echoes from the neighboring villages you won't hear a thing. The room is very romantic and spacious, the bed is comfortable and the bathroom has a nice walk-in shower. And for those who enjoy great food: Ariella is a great cook and provided us with a much better meal than the quite expensive restaurants im Acqui.
Josefien
2016-07-12T00:00:00Z
Arielle was very good in her communications before our arrival, so we had no problem finding their lovely home. The room was as advertised and the shower was great. We only spent one night, arriving late and leaving early, so I can not comment on anything else much, other than to say that we were welcomed warmly and everything went smooth. Thank you Arielle, for a wonderful stay. Highly recommended.
Chris
2015-07-22T00:00:00Z
An accurate description of a very peaceful location. In the room was a wealth of information regarding the location and area. It was a pleasure to be relax in such a beautiful room.
Duke-Joel
2015-10-12T00:00:00Z
Definitely a lovely and tranquil place for our holiday. Smooth communication and Ariella warmly welcomed our little family despite our delayed arrival. Highly recommended!
Theresa
2015-08-13T00:00:00Z
We had such a great time at Ariella's beautiful countryside home. The rooms were nicely decorated, spacious and clean, and also had a wonderful view to the patio and hills. Ariella was really helpful and we would love to come back another time. Thanks again!
Yannick
2016-11-25T00:00:00Z
Ariella is a very typically British thus very polite host, the house is amazing and the garden and surroundings are .... paradise, eden ... to live here must be such a blessing so / and thank you to give us the opportunity to enjoy it there as well !
Erika
2015-08-18T00:00:00Z
Room Type
Private room
---
Property Type
House
---
Accommodates
2
---
Bedrooms
Acqui terme, Piemonte, Italy
Il mio alloggio è vicino al centro città di Acqui Terme ed a solo 500 mt dalla zona termale e dalla sua grande piscina ed è un punto di partenza ideale per esplorare le ricchezze enogastronomiche, storiche e naturalistiche dell'Alto Monferrato. In un'ora d'auto è possibile raggiungere la riviera ligure oppure visitare le grandi città del nord Italia. Il mio alloggio è adatto a coppie, avventurieri solitari, a chi viaggia per lavoro, a famiglie (con bambini) e amici pelosi (animali domestici).
Alloggio fresco in estate e facilmente riscaldabile in inverno
La zona dove si colloca l'appartamento è tranquilla ma non completamente isolata
Thanks for Сinzia and her famely for the great holiday. This vacation spot ensures peace and quiet. For his visit is better to have a car.
Кузнецов
2016-09-23T00:00:00Z
We were warmly greeted by Cinzia and she showed us through the apartment. This apartment is very spacious and we were very comfortable here. It feels rural as it is very quiet and peaceful, a great place for a couple of days rest, but it is only five minutes from the town centre. Everything you need is there, and Cinzia was available for anything we needed. They also very kindly welcomed us with a bottle of the regional wine which was nice, thank you!
Sally
2016-09-25T00:00:00Z
Having been both a traveler/ guest and host member of AirBnB for several years now, this apartment is by far the finest value and most pleasant accommodation I have ever experienced. Hostess Cinzia, her husband David, and son Frederick, went out of their way to make our party of four (including two teen boys) feel welcome; they helped us find our way around this old and beautiful city, offered advice, and even shared their favorite local wine, as well as the winemaker, with us (vino Barbera, fyi)! All four of our party, along with two small dogs, were pleased beyond measure; we have already started talking about a return trip for next year's holiday. Thank you Cinzia and David, for making our vacation simply wonderful!
Steve Timothy
2016-08-12T00:00:00Z
The house is beautiful, clean and comfortable. It is in an idyllic location (and the town is very nice). Cinzia and Davide are excellent hosts; they are very kind and gracious. We will definitely be back!
Neena
2016-08-23T00:00:00Z
L'appartamento è molto accogliente e spazioso, Cinzia ci ha aspettato con pazienza arrivando venerdì sera prima di cena... È molto vicino ad Acqui ma in collina si gode di una bella tranquillità. Sicuramente da consigliare!
Isabella
2017-02-05T00:00:00Z
tutto perfetto!
Elena
2017-03-05T00:00:00Z
il soggiorno è andato meglio di quanto ci aspettassimo! È stato tutto bellissimo e tutto corrispondeva alla descrizione del sito. La signora Cinzia è stata super disponibile e gentilissima. Ritorneremo sicuramente
Giulia Gioia
2016-08-15T00:00:00Z
C'est avec grand plaisir que nous avons été les premiers hôtes de Cinzia. Elle et sa famille nous ont très chaleureusement accueillis dans leur nouvelle maison, avec de petites attentions très agréables. L'appartement est parfaitement conforme à la description, propre et très spacieux. La situation de la maison dans les collines, au calme, est très agréable. La ville d'Acqui Terme est très belle et vaut la visite en elle-même, surtout un jour de marché (mardi et vendredi). De plus, elle est une bonne base au calme pour aller visiter Turin, Gênes et la côte Ligure (nous conseillons Noli ou Voltri).
Nicolas
2016-08-06T00:00:00Z
Room Type
Entire home/apt
---
Property Type
Apartment
---
Accommodates
4
---
Bedrooms
Acqui Terme, Piemonte, Italy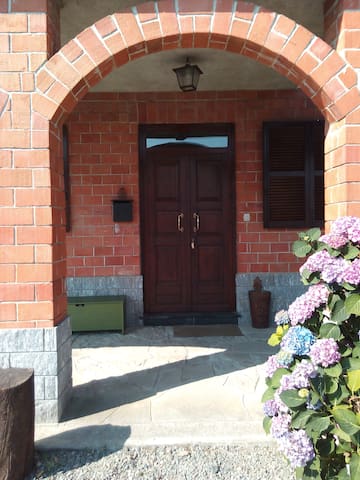 "Costa dei Platani" is a welcoming estate that combines a wine business with an elegant Agriturismo in the hills of Piedmont, just two and a half km from Acqui Terme! Hospitality, wine tasting and relax by the pool will amaze you!
Our house, where we offer the B&B service, is a result of a recent meticulus restoration of the farmstead in the tipical architecture of the area. Each room, with private bathroom, is unique and is tastefully decorated with simply elegance. Daily cleaning service, bed linen and towels are included in the stay.
Spectacular by day and fascinating by night, Acqui Terme is only 2,5 km from our agriturismo. The town centre windds its way through a pedestrian zone rich with buildings, street and lanes that offer many interesting angle and corner. Our hills are the perfect locations for any outdoor activity from a simple walks to trekking, MTB trails or road paths. Lots of opportunities to find out our historical wine and food culture.
Marco ad ha family were very nice and accommodating. They helped us out as much as they could. Gave us wonderful recommendations and were very hospitable. The house and grounds were amazing! Such a wonderful place just to relax.
Erika
2016-06-24T00:00:00Z
Lovely peaceful place. Beautifully and thoughtfully decorated. Sunlight in the morning was magical.
Samantha
2015-08-31T00:00:00Z
When you arrive at this stunning place, you get welcomed by a warm 'ciao'. The views are breathtaking, the vineyards are lovely and their family is so beautiful! Chilling by the pool and enjoying Marco's good Barbera made the perfect combination. We had the best time here. We would definitely recommend it and will surely come back!
Emily
2016-08-25T00:00:00Z
The host canceled this reservation 14 days before arrival. This is an automated posting.
Alisha
2015-09-24T00:00:00Z
Staying at Marco's place was lovely, the place is beautiful, very quite and clean they served a nice breakfast in the morning with really good coffee. Our stay was just one night and we really want to go back and try his wine. He was very helpful recommending places to go and have dinner. Grazie Marco ;)
Gabriela
2016-10-30T00:00:00Z
Marco & his family made us feel as part of their family so we could not ask for more, the house is beautiful, the position is breathtaking and his wine is fantastic... this is where you go when discovering Piemonte Terrence.
Terrence
2016-07-20T00:00:00Z
Silvia & Marco welcomed us into their beautiful B&B, Wine & Relax - and both of those we did! Marco gave us a tour of his passionate wine making process and let us try the delicious Faetta, along with a scrumptious apertivo platter. The property itself is breathtaking, rooms are very clean, spacious and tastefully decorated and each have a private bath. A short trip down the hill to town where there is wonderful shopping and noted restaurants. Electric bikes are available to cruise around the region. Silvia whips up an incredible breakfast spread with fresh, meats, cheeses, local breads, and eggs cooked to order. Their family & estate are both charming and overall a wonderful stay. It was a bit pre-season when we visited but the pool looks amazing, next time!! PS - Marco went above & beyond toting us back and forth to town (when one of us had a foot issue) which was unexpected and very much appreciated!! They are both very nice people. Highly Recommended!!!
Mira
2016-04-30T00:00:00Z
A beautiful B&B on a unique location in the heart of the famous wine area of Nothern Italy. Great accommodation and true hospitality by the owners. Real value for money. Additional perks is the fact that Marco, the owner, also producers his own wines and you can buy them directly from his cellars. Unfortunately I was not able to enjoy the afternoon tastings this time but I will be back in the future for sure.
Gerk
2016-07-02T00:00:00Z
Room Type
Private room
---
Property Type
Bed & Breakfast
---
Accommodates
2
---
Bedrooms
Acqui Terme, Piemonte, Italy
Right in the heart of Acqui Terme - Featured with own kitchen, bathroom, living room with sofa bed and two double bedrooms. Accommodates 4 and boasts a great view overlooking the poetic scenario of Acqui Terme and its most peculiar spots.
Enjoy Acqui Terme at its best here, with the most Central location, a good sized apartment that welcomes up to 4 and a silent surrounding for all those in need of relax. A clean, warm and welcoming apartment for all those who wish to travel in style and feel like home in this little piece of Italy. Featuring a full kitchen, a generous living room for you to chill and unwind, two double bedrooms and a quirky bath - all this surrounded by the golden streets of historic city centre of Acqui Terme, Piedmont.
A lovely spacious apartment in the center of Acqui. With a balcony to enjoy some city life. Smoking is allowed.
susi
2016-09-15T00:00:00Z
A nice and quiet place to stay, in the centre of this beautiful small town. We felt safe and loved the privacy we had. Defenitely a place to come back.
Ted
2017-03-05T00:00:00Z
Appartamento centrale con ascensore, Da consigliare a ragazzi giovani senza tante pretese che magari non usano la cucina (da ristrutturare) visto anche il costo contenuto, Da cambiare le maniglie delle finestre e le porte interne. Spaziose le camere da letto . Quindi un appartamento pieno di contrasti.
Pietro
2016-09-18T00:00:00Z
L'appartamento era grazioso e funzionale non abbiamo avuto alcun tipo di problema. Graziella è stata una Host molto brava e celere nel presentarsi al nostro arrivo.
Francescopaolo
2016-09-29T00:00:00Z
In pieno centro acqui, a 50 metri dal duomo e a 100 dalla bollente e corso italia. La casa è davvero grande, pulita e ben tenuto. L'arredamento un po' restò mi ricordava la casa della mia nonnina. I balconi si affacciano su vicoletti laterali, quindi non si è disturbati dal passaggio della gente. L'appartamento si trova in ztl ma proprio all'inizio, quindi si può accedere per scaricare i bagagli. Il parcheggio lo trovate vicino alla stazione che si trova a 4-500 metri. Asciugamani e lenzuola, puliti e profumati, forniti dalla padrona di casa
Ronnie
2017-02-20T00:00:00Z
Buona l'accoglienza, appartamento corrispondente a come descritto
SP SOLUZIONI PUBBLICITARIE SNC
2016-09-08T00:00:00Z
Si tratta di un classico appartamento anni '70 italiano. Ha i suoi anni ma è spazioso e arredato in modo perfettamente funzionale. Si trova in posizione strategica per scoprire Acqui.
Luigi
2016-12-11T00:00:00Z
L'accoglienza è stata perfetta, puntuale e gentile. L'alloggio è ubicato in centro, comodo a tutti i servizi, le terme, i negozi. E' spazioso e fornito di ogni cosa. L'unico difetto è che necessita di aggiustamenti vari, dalle maniglie ai mobili, per esempio, e di una pulizia accurata.
Ornella
2016-11-10T00:00:00Z
Room Type
Entire home/apt
---
Property Type
Apartment
---
Accommodates
4
---
Bedrooms
Acqui Terme, Piemonte, Italy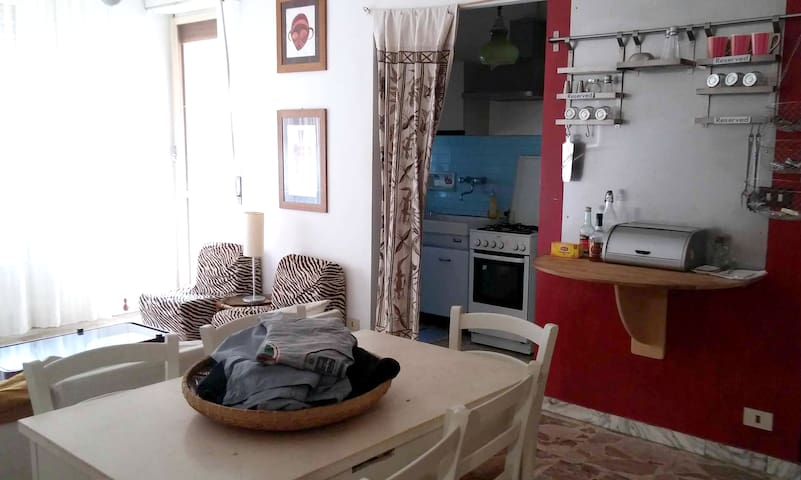 Il mio alloggio è vicino a certi storico. Il mio alloggio è adatto a coppie, avventurieri solitari, famiglie (con bambini) e amici pelosi (animali domestici).
Appartement très agréable spacieux et belle qualité. Bien situé, Antonio a été très souple sur les heures et les modalités d'arrivée et de départ. Excellentes prestation en rapport du prix demandé.
gaelle
2017-04-10T00:00:00Z
Room Type
Entire home/apt
---
Property Type
Apartment
---
Accommodates
4
---
Bedrooms
Acqui Terme, Piemonte, Italy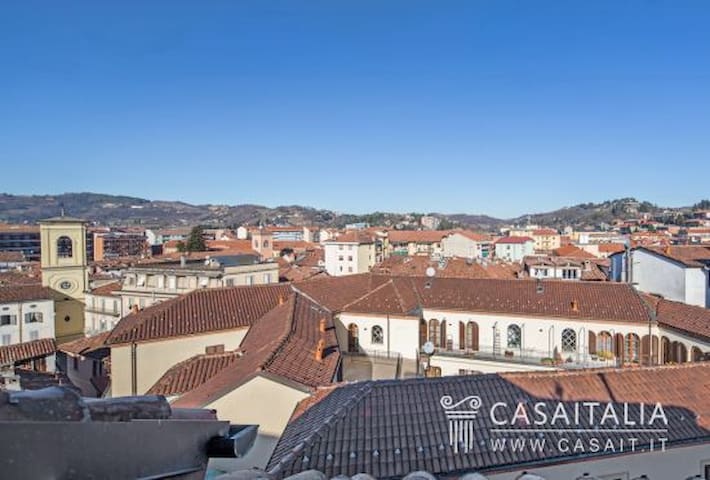 Casa d'epoca (del XV° secolo dell'ordine dei Cavalieri di Malta), con vista sulla Bollente, storico monumento di Acqui Terme. Camera accogliente, di 20 mq, con balcone. Prima colazione continentale.
L'appartamento è di circa 150 mq, con vista sulla Bollente, la camera è semplice e accogliente. Dotata di due letti e numerosi libri che si possono consultare.
Il quartiere è all'interno del centro storico di Acqui terme, caratteristico e ricco di palazzi storici. Mercatino biologico, concerti in piazze e chiostri, rievocazioni storiche come il combattimento dei gladiatorj, concorsi di poesia, stand gastronomici dei paesi dei dintorni e show del vino, notti nere in compagnia dei maestri del brivido, sfilata dei cani adottabili... La città è' tutto questo ed altro ancora che potrete scoprire anche con un breve soggiorno.
ottima accoglienza
davide
2015-08-16T00:00:00Z
Room Type
Private room
---
Property Type
Apartment
---
Accommodates
2
---
Bedrooms
Acqui Terme, Piemonte, Italy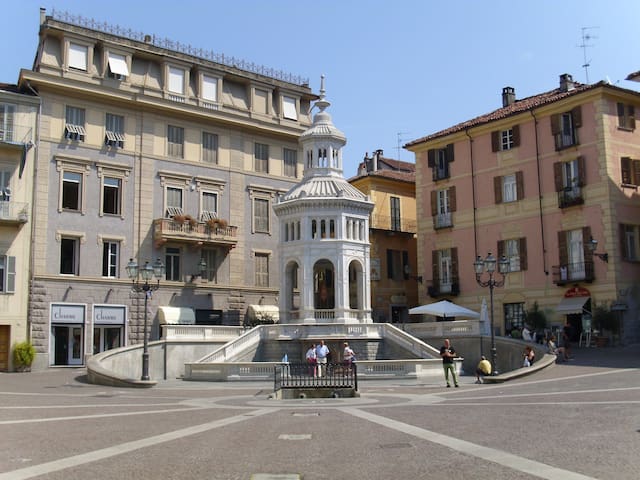 Charming apt in historical building in the heart of Acqui Terme, ancient roman thermal city. It's situated in a in a very peaceful street, 5minutes walking from the SPA complexes and all the amenities of the city center Extremely comfortable.
The apartment is gracefully furbished with antique furnitures, original terracotta paving and vaulted ceiling. You will find a living room with a cozy fireplace, equipped with a comfortable sofa bed, a totally renewed equipped kitchen, a luminous bedroom, a walk in closet, a bathroom with shower . Above all you will also find a private garden patio where relax and enjoy the peace.
Situato nel cuore del centro storico di Acqui Terme, a 5 minuti dalla pittoresca Piazza della Bollente dove l'acqua termale sgorga direttamente dalle viscere della terra a 75 gradi, a due passi dal Parco del Castello e dal Museo Archeologico, dagli stabilimenti termali e dalla stazione del treno. Nel centro storico sono concentrati ristoranti, trattorie, vinerie e locali dove trascorrere le serate.
If you visit the Piemonte and would like to get to know what the people and city of Acqui Terme are about then you've come to the right place. We really loved the warm welcome from our friendly hosts. A roomy and clean apartment is in the lively center of the historical city. A truly beautiful place with a nice atmosphere and attention to detail. And then there is the patio in the back offers a nice shady, outside place for 2. We'll be back. Torneremo
bert
2016-08-14T00:00:00Z
Elsa was very helpful in advising me regarding the Termes in town. The apartment is very comfortable and centrally located. I enjoyed my stay and I hope to visit Acqui Terme again soon.
Louie Elizabeth (et Stephane)
2016-12-30T00:00:00Z
È' stato un piacere alloggiare in questo appartamento. La signora che ci ha accolto è' stata gentilissima e molto disponibile facendoci trovare anche dei prodotti tipici del posto. La casa è' molto carina ed in una ottima posizione , vicina al centro e tranquillissima! Consigliatissimo!!!!
Andrea
2016-11-01T00:00:00Z
La casa è perfetta, come descritta. Pulita, luminosa, comoda e centrale. Sono stati tutti disponibili al nostro arrivo, ci hanno procurato anche il permesso per entrare con la macchina nella via che è ad accesso limitato. Grazie di tutto
Roberto
2017-01-02T00:00:00Z
Appartamento dotato di tutti i comfort situato nel centri storico. Consigliato
Francesca
2017-01-17T00:00:00Z
Ci ha accolto Maria, la mamma di Elsa. E' stata accogliente e disponibile, ha fatto tutto il necessario per farci sentire a nostro agio. La casa è super curata in tutti i dettagli, proprio nel centro di Aqui terme. Esperienza molto positiva!
Aurora
2016-08-30T00:00:00Z
Ho avuto modo di soggiornare 2 notti, ospiti di Elsa e mi sono trovato molto bene. Alloggio ben arredato, piccolino, in centro e comodo alle attrazioni di Acqui Terme. Consiglio sia Elsa che l'appartamento, anche per soggiorni di più di 2 giorni.
Paolo
2017-02-21T00:00:00Z
Appartamento, accoglienza, ubicazione tutto è stato perfetto. I proprietari sono stati disponibili per ogni richiesta. Ci hanno addirittura procurato un pass per poter entrare in centro e scaricare i bagagli agevolmente. Assolutamente da consigliare
Rita
2016-09-19T00:00:00Z
Room Type
Entire home/apt
---
Property Type
Apartment
---
Accommodates
4
---
Bedrooms
Acqui Terme, Piemonte, Italy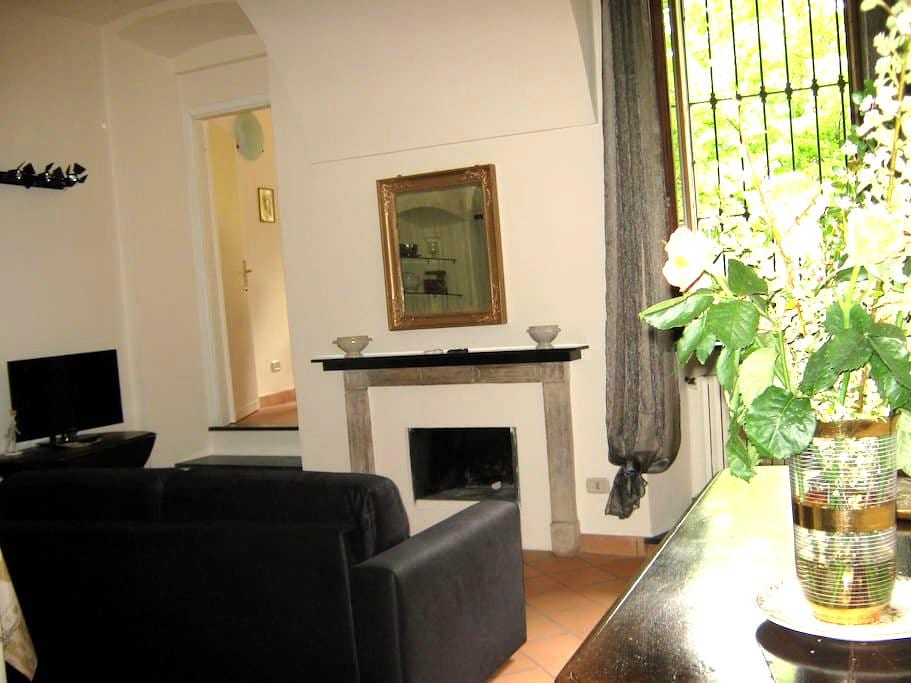 Comodo appartamento self catering con 1 camera matrimoniale e libero parcheggio davanti a casa nel centro di Acqui Terme vicino alle terme Salute e Benessere a soli 5 min. dalla stazione ferroviaria.
Located in the city center, near the old town of Acqui Terme (5 min.), The train station (only 200 mt.) Villa Igea (5 min. By car), the convention center and all spas and wellness. "Bagni" apartment is composed: double room, its own bathroom with shower,individual heating, courtesy toiletries, hairdryer, living area with sofa bed,little kitchen, tv color, Independent access, without time restrictions in the fall. Possibility of parking in the area. Guests can have breakfast with the formula a self-service kitchen whenever they wish. The owners will deliver you to your arrival the house keys, a map of the city and will be happy to provide all the information you need to enjoy a pleasant stay in Acqui Terme. Please communicate your arrival time so that our best welcome. During your weekly stay you can regenerate your body in the hot-spring waters of Acqui Terme. Savour the characteristically delicious food and wine of the region. Recharge your 'batteries' in the enchanting atmosphere of local restaurants and bars. Go shopping at one of Europe's largest designer goods outlets. Take a sunset walk, breathing the fragrant air that will lift your spirits and bring back your energy. Betty's House is pleased to offer its customers guided tours and wine tastings at the historic cellars and wine landscapes in the medieval cities of Canelli as "HERITAGE" 2012 (reservations required) We also arrange wine tastings courses accompanied by local specialities. visit our web site www. (URL HIDDEN)
Il quartiere è molto centrale e comodo con tutti i negozi, bar, ristoranti evicinissimo ai due centri termali del Grand Hotel e del Lago delle Sorgenti
We had a very nice and friendly welcome from Betty and the apartment is exactly as described and shown in the photos. Corso Bagni is a smart street with good shops and local bars for caffe o Spumante. The apartment is literally five minutes on foot from the centre of Acqui and, if you are here for the thermal baths they are just five minutes in the other direction so the location is perfetto. And you can park the car just outside the flat.
Keith
2015-10-10T00:00:00Z
Appartamento molto caldo e posizionato in zona centrale.
Amar
2017-01-07T00:00:00Z
La casa di Betty si trova in una posizione molto comoda, sia il centro che le terme sono raggiungibili a piedi. La casa è molto pulita,ben organizzarta e dotata di tutto il necessario. Betty si è dimostrata una persona molto carina e disponibile.
New
2014-09-21T00:00:00Z
I proprietari Betty e Lorenzo sono stati gentilissimi, disponibili e sempre attenti durante tutto il mio soggiorno. Mi hanno dato tutte le informazioni utili per trascorrere la mia vacanza ad Acqui Terme. L'appartamento è situato in una posizione centrale vicino al quale si trova tutto ciò di cui si può aver bisogno. La casa pulita, molto accogliente e ideale per qualsiasi tipo di vacanza dispone di tutto il necessario! Davvero consigliato!
Samuele
2016-08-13T00:00:00Z
Tutto perfetto.
Gennaro
2016-11-12T00:00:00Z
Room Type
Entire home/apt
---
Property Type
Apartment
---
Accommodates
3
---
Bedrooms
Acqui Terme, Piemonte, Italy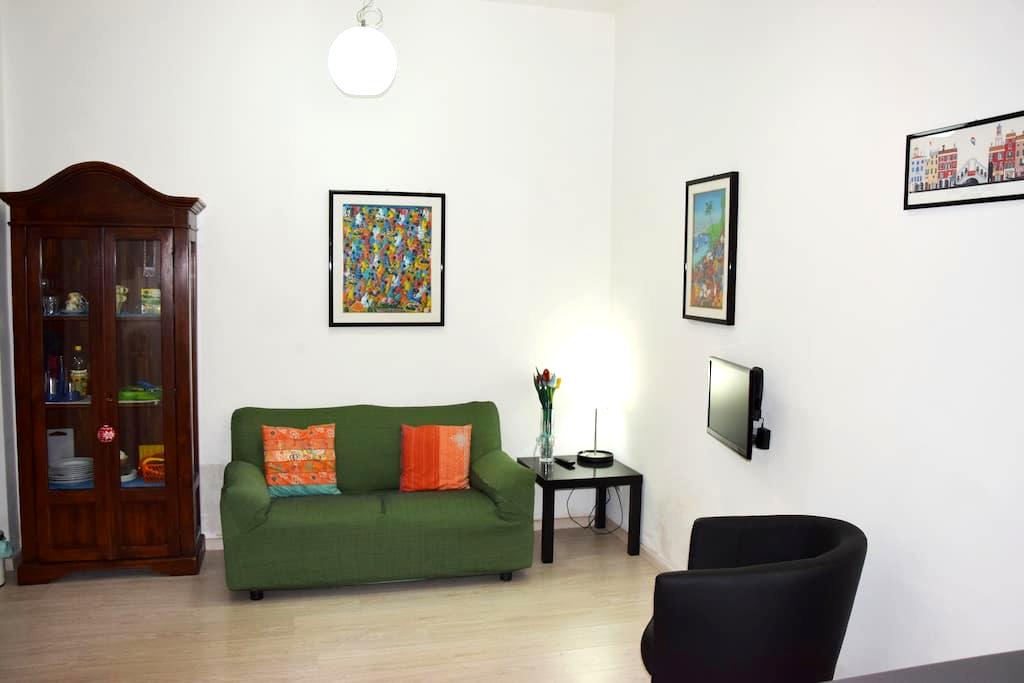 Immerso nel verde e nei vigneti di una bella tenuta agricola a 700 mt dal centro città, nuovo appartamento in villa con ingresso indipendente e spazi esterni ad uso esclusivo. Nelle immediate vicinanze campo da golf con piscina, terme e Spa.
L'appartamento si trova sulle colline circostanti la città di Acqui Terme, a circa 700 metri dal centro (eventualmente raggiungibile anche a piedi), nella tranquillità più assoluta, immerso nel verde dei vigneti; è appena stato completamente ristrutturato e tutto arredato a nuovo. Comprende un ampio ingresso, un soggiorno con zona cucina completamente attrezzata e balcone con vista sulla città, due ampie camere da letto matrimoniali ed un bagno con grande doccia. Al piano terreno un ampio porticato ad uso esclusivo degli ospiti con tavolo e sedie per pranzi e cene all'aperto. Gli ospiti troveranno in cucina tutto il necessario per la preparazione autonoma della prima colazione. A disposizione degli ospiti l'uso gratuito della biancheria da bagno / letto / cucina. Gli ospiti troveranno all'interno dell'appartamento tutte le indicazioni necessarie per contattare e/o raggiungere le famose Terme di Acqui, con possibilità eventualmente di usufruire di pacchetti speciali, la Spa Lago delle Sorgenti, il vicinissimo campo da golf; sono molto vicini alla tenuta Il Palazzo, e quindi facilmente raggiungibili, anche l'Ospedale Civile di Acqui Terme e la Clinica Villa Igea. All'interno dell'appartamento si troverà il menù di un ristorante con noi convenzionato, con la possibilità per gli ospiti di ordinare a domicilio pranzi e cene, con menù vari di terra e di mare, oppure una ottima pizza. Gli ospiti troveranno a poca distanza dalla casa tutti i servizi essenziali; a non più di 500 metri dalla tenuta (3 minuti di macchina) supermercato, ufficio postale, filiale bancaria, parafarmacia, bar, ristorante, lavanderia, parrucchiere.
La tenuta agricola "Il Palazzo" ha una estensione di circa 10 ettari.
Vi havde en helt igennem fantastisk uge hos Loredana. Allerede inden ankomsten - blev vi kontaktet telefonisk for at høre, om vi var på vej, og om vi kunne finde vej, eller havde brug for hjælp til at finde frem. Værterne var helt igennem søde og hjælpsomme i forhold til at komme med gode forslag til, hvad vi kunne besøge under vores ophold. Selve lejligheden var lækker indrettet og top rengjort. Beliggenheden gjorde at roen indfandt sig med det samme, og det var en fryd at have udsigt ud over byen Acqui Terme, imens den italienske kaffe kunne nydes i aften varmen. Vi kan varmt anbefale stedet - til par og/eller familier der kunne tænke sig at føle sig som en del af Italien. Vi er ret sikre på, at vi vil tilbage til dette dejlige og idylliske sted.
Claus
2016-07-31T00:00:00Z
L'appartamento è all'altezza delle immagini pubblicate. Bello e confortevole, perfettamente attrezzato in tutto dalla cucina al bagno. I proprietari sono accoglienti e riservati. E' stato un piacere conoscerli e soggiornare presso di loro. Pensiamo di tornare per un periodo più lungo per visitare meglio le colline, le terme e i ristoranti!
Veronica
2015-08-07T00:00:00Z
Loredana hat uns herzlich empfangen. Das Haus ist frisch renoviert und hat alles, was man benötigt (nur das Internet ist etwas langsam). Zutaten für Frühstück standen bereit! Sehr ruhige Lage, perfekt für ungestörten Urlaub. Das Obst der Bäume auf dem Grundstück durften wir selber essen! Supermärkte sind 3 Autominuten entfernt. Guter Ausgangspunt um die schöne Gegend um Acqui Terme zu erkunden. Zum Abschied gab's wunderbare Amaretti von den Gastgebern!
Moritz
2015-08-19T00:00:00Z
Room Type
Entire home/apt
---
Property Type
House
---
Accommodates
4
---
Bedrooms
Acqui Terme, Alessandria, Italy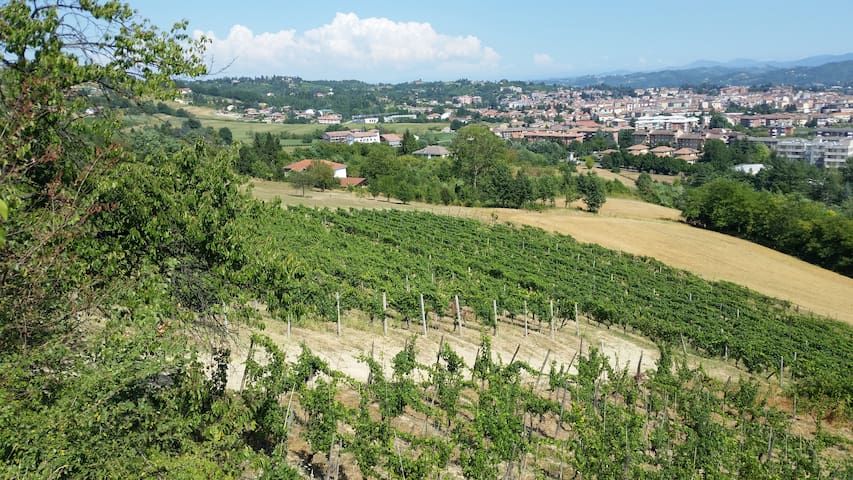 Il B&B ITreTramonti si trova a pochi passi dalle vicinissime terme, dalla zona fitness e dal centro cittadino. La camera dispone di aria condizionata, frigorifero, cassaforte e Wi-Fi. Giardino e piscina ad uso comune.
Room Type
Private room
---
Property Type
Bed & Breakfast
---
Accommodates
2
---
Bedrooms
Acqui Terme, Piemonte, Italy
"Costa dei Platani" è una tenuta che unisce l'attività vitivinicola all'accoglienza di ospiti in un elegante agriturismo B&B, a soli 2 km da Acqui Terme! Relax, degustazione vino, piscina ed ospitalità vi sorprenderanno! Il mio alloggio è adatto a coppie, chi viaggia per lavoro e famiglie (con bambini).
Offriamo un servizio di Bed&Breakfast all'interno della nostra casa, un cascinale in pietra accuratamente ristrutturato, di architettura tipica del territorio. Ogni camera, con bagno privato, è arredata con gusto e semplice eleganza. Pulizie quotidiane, lenzuola ed asciugamani sono compresi nel soggiorno.
Siamo a 2 km da Acqui Terme con il suo affascinante centro storico, famosa sopratutto per le sue preziose acque termali, uniche in Europa, conosciute ed utilizzate anche dai Romani. Le colline che ci circondano sono il luogo ideale per qualsiasi attività all'aria aperta da semplici passeggiate ad itinerari di trekking, sentieri per MTB o percorsi su strada. Tante opportunità di scoprire un territorio ricco di storia e dalla grande tradizione enogastronomica!
Room Type
Private room
---
Property Type
Bed & Breakfast
---
Accommodates
3
---
Bedrooms
Acqui Terme, Piemonte, Italy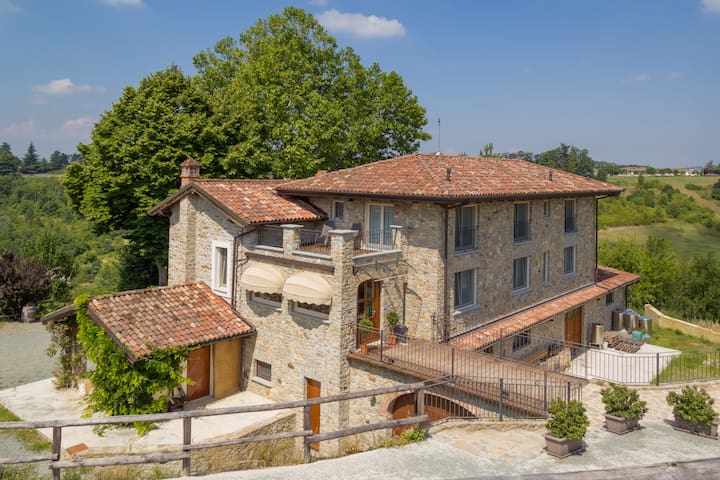 L'appartamento è situato al piano terreno e offre una splendida vista sulle colline e sulla città di Acqui Terme. Composto da una splendida camera da letto, cucinotta con accesso ad una zona esterna con gazebo tavola e sedie, bagno con doccia
L'appartamento è situato al piano terreno, offre una camera da letto matrimoniale molto spaziosa con divanetto. La cucina da sull'esterno dove c'è un gazebo con tavolo e sedie per mangiare all'aperto con vista sulle colline e sulla città. Il bagno è dotato di doccia. La casa, immersa nella natura è al centro della proprietà di 5 ettari, 2 coltivati a vigneto e il resto parco, in collina con vista a 360° ma a soli 3 km dal centro di Acqui (URL HIDDEN) tre minuti di macchina si è in Piazza della (URL HIDDEN) cuore di Acqui.
La collina della Maggiora è tra le più belle della zona, la nostra struttra ha una posizione che consente la vista a 360° però è a 3 minuti di macchina dal centro storico di Acqui ricco di ristoranti, negozi e bar
We arrived earlier than planned and Marina and Guido made us feel very welcome. The apartment is even nicer than the photos and there are lots of stylish touches and there is a nice, shaded area outside for eating and comfortable reclining chairs for relaxing and the views are fantastic. Marina and Guido had left us a bottle of their own wine and shared homemade bread which we enjoyed very much. The pool is brand new and a good size and very clean. We enjoyed our strolls around the peaceful grounds and there is a lovely place to take a glass of wine and enjoy the sunset. Marina and Guido are warm, friendly, generous and interesting hosts and they kindly invited us to look at their wine cellar and learn about their winemaking and then to taste their own wines which was a highlight of our holiday and a lovely memory. We thank you both sincerely.
Julie and John
2016-09-02T00:00:00Z
L'accoglienza è stata perfetta. Marina è estremamente gentile e disponibile. L' appartamento, carino e molto tranquillo, è situato in cima ad una collina con una bella vista e a circa 30 minuti a piedi da Acquiterme. È stato un soggiorno molto piacevole. Grazie Marina!
daniela
2016-04-05T00:00:00Z
Nous sommes ravis de notre sejour de 2 semaines chez Marino et Guido: l.appartement au RDC avec terrasse pour 2 personnes est bien équipé, super propre, le mobilier est neuf et tres pratique (largement assez de rangements) et pour couronner le tout, la décoration est vraiment chouette. La piscine est très bien avec bien assez de chaises longues pour tous les locataires et la vue de la propriété est magnifique. Pour couronner le tout, Marina et Guido sont formidables: accueillants, toujours la pour vous aider tout en étant très discrets.
Isabelle
2016-08-13T00:00:00Z
Room Type
Entire home/apt
---
Property Type
Apartment
---
Accommodates
2
---
Bedrooms
Acqui Terme, Piemonte, Italy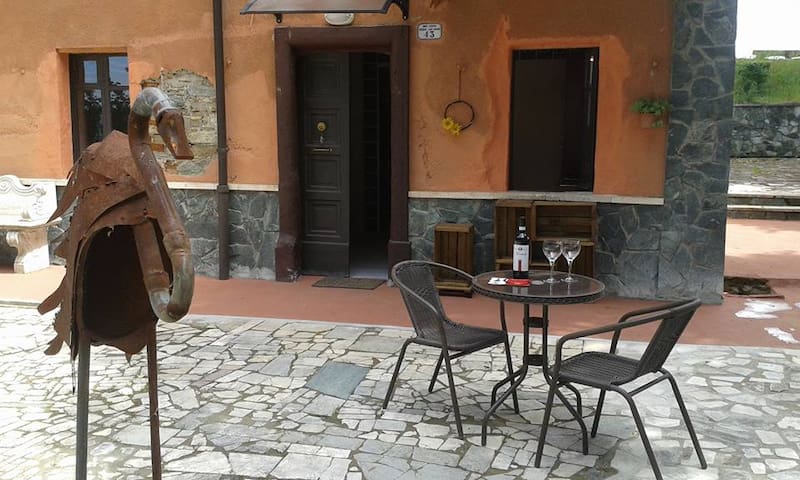 Il mio alloggio è vicino a il centro città, parchi e arte e cultura. Ti piacerà il mio alloggio per questi motivi: la gente, l'atmosfera, gli spazi esterni, il quartiere e la luce.. Il mio alloggio è adatto a coppie, chi viaggia per lavoro, famiglie (con bambini), grandi gruppi e amici pelosi (animali domestici).
Room Type
Entire home/apt
---
Property Type
Apartment
---
Accommodates
6
---
Bedrooms
Acqui Terme, Piedmont, Italy
Set in a private scenic valley you can enjoy a glamourous full size safari tent equipped with a real double bed (up to two mattress pads for kids can be provided on request.) With fresh white linens and custom bedding, for the shoulder season cosy up to the word burning stove in your tent. Think of it like an outdoor bedroom! Enjoy the great outdoors in total comfort! Laundry service available.
The valley is peaceful and private just you and the local wildlife. We have a list of some wild animals for you to spot in our heavenly valley see if you can find more!
Acqui Terme is a vibrant Roman spa town with a world class spa, cafes resturants and bars galore. Our regione is all about wine and food, we have many excellent resturants and the local wines are second to none.
Room Type
Entire home/apt
---
Property Type
Tent
---
Accommodates
4
---
Bedrooms
Acqui terme, Piemonte, Italy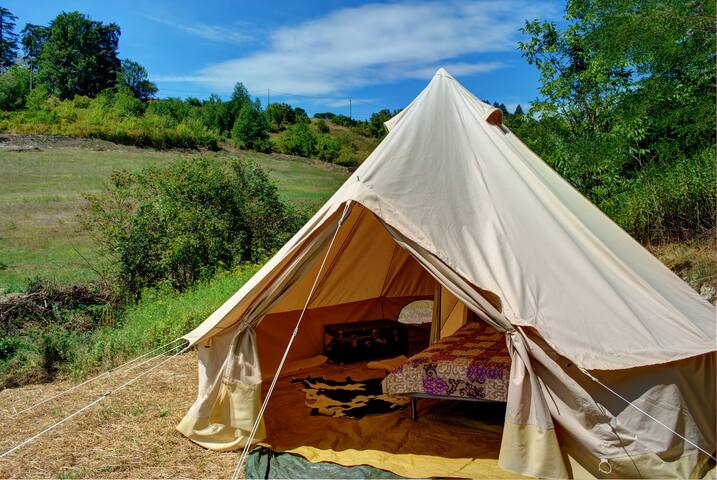 Unique loft located on the first floor of a newly renovated country house.The Casale Monferrato lies nestled in the Woods, very characteristic, a few minutes from the Centre of Acqui terme.The apartment was once the ancient attic and barns, and then has a raised portion that is divided into a large room, bedroom and bedroom separated with jap, attic. Large dining room and study, kitchen complemented by a large stained glass window and a bathroom with hydromassage shower.Total sleeps 7.At guests ' disposal a large swimming pool on the property, at 100 mt.Lounge on the ground floor with large table, billiards and games.Washing machine in (URL HIDDEN) the House there are two other (URL HIDDEN) of breakfast and dinner (cooking, homemade pasta, jams of our production etc) at affordable prices.Acqui Terme is a town of ancient origin. Archaeological site of great interest, strolling around the city there are several Roman sites (the Thermarium and ancient aqueduct and many other vestiges). Later Medieval Lombard site.Around Acqui many medieval castles.Acqui Terme is well known for its sparkling wine Brachetto, sweet from the end of the meal.The countryside around is cultivated with vines.From the city centre is easily reachable on foot (15 minutes), but a means of transport is (URL HIDDEN) 5 minutes from the Spa Centre, with hot sulphurous water pool.
A very welcome stay at the house of Christina & Boris. We loved the pizza and focaccia night, had wonderful talks, drinks, dinners and swims. Their hospitality is heartwarming. A typical Italian family surrounding, just as we were looking for. Hope to see you again sometime!
Yvonne
2014-08-17T00:00:00Z
Christina and boris let us feel immediately at ease, organized 2 wonderfull dining evenings at our property for all the guests staying there.....really felt at home! kids didn't want to leave!
anne marie
2015-08-10T00:00:00Z
Cristina et sa famille nous ont très bien reçu, nous avons diné ensemble le premier soir , c'était super sympa et délicieux. Le logement sous les toits est vaste, bien équipé mais il y fait très chaud car il n y a pas de volet sur les velux ni sur la fenêtre de la cuisine, enfin la chambre très basse de plafond ne ferme pas sur le reste de l'appartement. La piscine accessible est superbe et très grande.
Jf
2016-07-27T00:00:00Z
Cristina vive in un posto davvero bucolico immerso in una terra dai prodotti eccezionali dove è piacevolissimo passare un weekend. La casa è un po' isolata rispetto al centro di Acqui, ma Cristina ci ha fornito delle indicazioni precisissime per trovare la casa. Occorre avere l'auto per raggiungere la sua casa. Consigliato se siete amanti della campagna
Michele
2016-10-23T00:00:00Z
Кристина и Борис очень гостеприимные и жизнерадостные хозяева-очень чутко и внимательно относятся к гостям, Кристина отлично и вкусно готовит. Всегда подскажут какие достопримечательности стоит посетить, где что купить, ни одна из просьб не осталась без ответа
DMITRII
2016-07-17T00:00:00Z
Ottimo struttura , proprietari molto simpatici e disponibili anche per richieste all'ultimo minuto ! Nessun Problema , appartamento molto spazioso e completo di tutto il necessario , non è stato neanche difficile raggiungerlo , zona molto tranquilla . Spero ancora di poter soggiornare qui .
Daniele
2014-01-05T00:00:00Z
Room Type
Entire home/apt
---
Property Type
Apartment
---
Accommodates
12
---
Bedrooms
Acqui Terme, Piemonte, Italy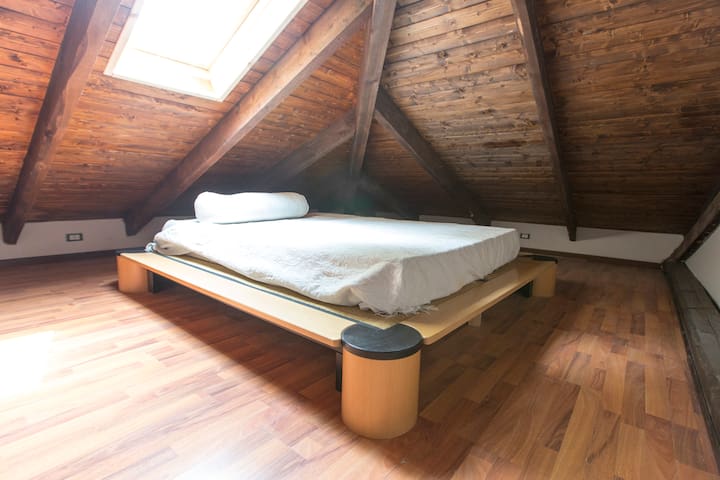 My accommodation is close to the city center and art and culture. You will like my accommodation for these reasons: the comfort of the bed, the kitchen, the intimacy, the high ceilings and the views. My accommodation is suitable for couples, lone adventurers, business travelers, families (with children) and furry friends (pets).
Room Type
Entire home/apt
---
Property Type
House
---
Accommodates
6
---
Bedrooms
ACQUI TERME, Piemonte, Italy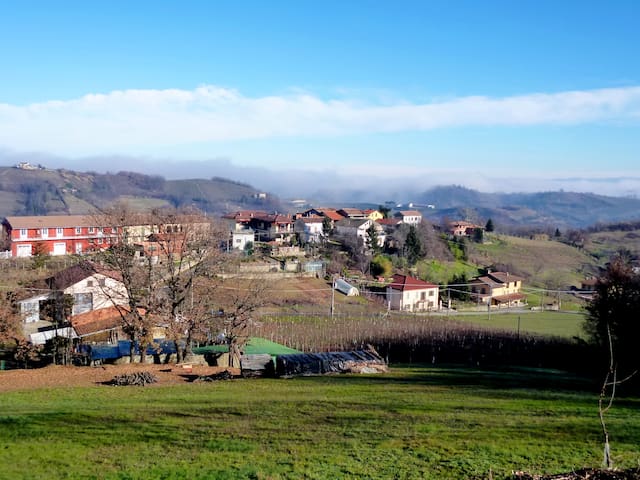 Ruhig gelegenes Ferienhaus in den Hügeln Nähe Acqui Terme an herrlicher Aussichtslage mit privatem Pool und eigener Terrasse mit Barbecue-Grill. Das typisch italienische Weinbauernhaus beinhaltet zwei grosszügige Suiten (jede mit eigenem Bad), sowie eine komplett ausgestattete Küche und ein Esszimmer im Erdgesschoss.
Room Type
Entire home/apt
---
Property Type
House
---
Accommodates
5
---
Bedrooms
Acqui Terme, Piemonte, Italy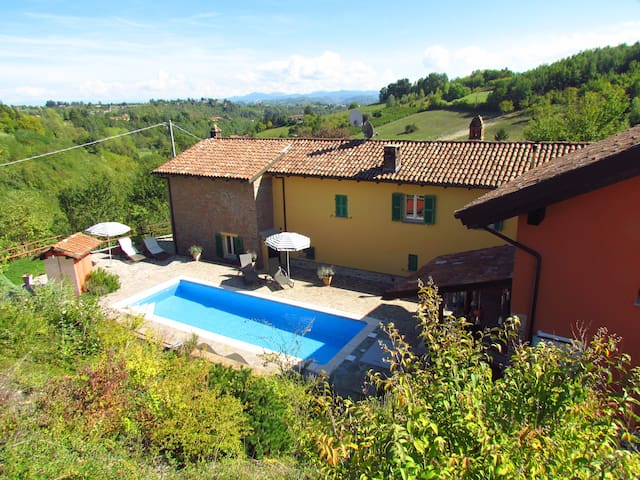 Enter dates to see full pricing. Additional fees apply. Taxes may be added.