Spend days by the immense pool, gaze upon verdant fields, relax with a book on the comfortable sofa...enjoy days of tranquility and peace in this Aquitaine country home, which sleeps 4.
Set in Agnac, in the Lot-et-Garonne department, this traditional French country house has everything you need to enjoy a relaxing and memorable vacation. Featuring an immense 15x8m shared swimming pool, swing, and large garden you can spend many a peaceful day in the tranquil surroundings, or enjoy a glass of wine and good book on the comfortable sofa. You will be able to cook up delightful dishes in the fully-equipped, open kitchen, with everything from a toaster to a dishwasher. Of course, you may want to BBQ on the terrace and dine under the stars. Enjoy the flat-screen TV in your elegant and comfortable living room and sleep comfortably in one of three beautiful bedrooms: One with a double bed and two with a single bed each. The bathroom has a shower and there is a separate toilet. Linen and towels are not provided but cleaning is available for an additional fee. The swimming pool and the laundry room are shared with 2 other apartments. There is private parking on site, smoking is permitted outside only, pets are welcome on request, and pool use is in the spring and summer.
Lot-et-Garonne is known for its medieval castles and villages as well as fields full of sunflowers. Take the time to drive through the quiet roads and admire the rolling countryside around the village of Agnac. The town of Miramont-de-Guyenne is only 5km away and boasts the historic Church of Beffery and the Church of Saint Marie with its vibrant stained glass windows. Lauzun Castle is only 6km away from the house. Just 33km down the road is Monflanquin, listed as one of "the most beautiful villages in France". The region's gastronomy is based on its produce. Lot-et-Garonne is France's biggest producer of strawberries, nuts, and the nation's widest variety of fruit and vegetables. You'll easily be able to sample the cuisine, from melons to foie gras, duck breast to cheese, with bars, supermarkets, and restaurants are located within 3km of the house.
Room Type
Entire home/flat
---
Property Type
House
---
Accommodates
4
---
Bedrooms
Agnac, France
Welcome to the cottage "The Bakehouse" haven of peace located in the southern Dordogne 4 km from the beautiful town of Eymet. Old bread oven renovated, you will be quiet and enjoy the lovely fenced garden. Very soon
The cottage "The Bakehouse" is an ancient bread oven renovated. If you like old stones and old buildings you will be delighted. The place is very quiet and the garden is clôturé.Deux terraces are at your disposal, one indoor and one outdoor.
Le hameau d'Eylias comporte 5 maisons...autant vous dire que nous sommes au calme. C'est le chant des oiseaux, les grenouilles de la marre et un joli air de nature qui berceront vos journées. Flâner dans le hameau est très agréable, la petite marre proche du gîte regorge de bio diversité. Ici la vie est paisible...
We spent 3 lovely days at Le Fournil, Eymet, a gite for two. Everything was as advertised. It is a cosy gite with a very comfortable bed. Towels were provided and a lovely bottle of wine! The gite is in the countryside with lovely walks and yet is just 5 minutes drive from the Bastide town of Eymet. We hope to go back. Barbara Whelan
Barbara
2015-09-19T00:00:00Z
Me and my wife had a very lovely stay in this house. The host was very friendly, and they included us in their family activities. Nice area, and lots of things to see nesrby. Higly recommended.
Rune
2015-07-12T00:00:00Z
Magnifique séjour apaisant dans une nature accueillante! Nid douillet.
Elise
2016-07-17T00:00:00Z
Malgré une panne voiture sur le trajet et donc quelques péripéties à l'arrivée - évidemment totalement indépendantes de Guillaume et Chrystelle - nous étions ravi d'accéder (enfin) à un gite parfaitement conforme à nos attentes ; situé dans un petit hameau vraiment agréable proche d'Eymet, sa localisation favorise quiétude et repos tout en étant à proximité des sites que nous entendions découvrir. Le caractère rustique et typique de la bâtisse comme de son mobilier ont dépaysé les franciliens que nous sommes, en nous plongeant dans l'ambiance locale. Les informations sur place sont largement et amplement suffisantes. Merci pour la communication comme la confiance que vous nous avez accordées ! On ne peut que vous souhaiter une excellente continuation ... Frédéric & Claude
Roy
2016-09-24T00:00:00Z
Accueil très chaleureux. Grand jardin et maison très charmante. Les conseils donnés ont été précieux pour apprécier le séjour, tant pour les restau que pour les villes et villages à visiter. Merci
Arnaud
2015-10-05T00:00:00Z
Un accueil comme nous les aimons, simple et chaleureux. Merci à Chrystelle pour l'histoire de la maison racontée avec beaucoup de naturel, à Gérôme pour le tour de la maison et à Guillaume pour son guide si bien fait et le partage de son amour pour sa région. La maison était fidèle à son descriptif et aux photos publiées sur le site. C'est un vrai voyage dans le temps et un retour aux sources avec son petit jardin bien agréable, le caquètement des poules et cette petite odeur de campagne. Nous avons adoré le petit coin de terrasse à l'abri. Nous gardons vraiment un très bon souvenir de ce séjour à la découverte de cette belle région du Périgord pourpre.
Patrice
2014-08-03T00:00:00Z
(URL HIDDEN) calme mais pas loin du centre d'Eymet. Literie tres bien.
Tony
2016-05-21T00:00:00Z
Le jour de notre arrivée chrystelle est venu nous acceuillir sur le chemin car nous avions du mal à trouver le fournil. Elle nous a fait le tour de la location et préparé le lit. En fin d'après midi, guillaume est venu nous saluer et nous lui avons demandé du charbon pour le barbecue et il nous a ramené une brouette de petit bois. Nous ne sommes pas vu beaucoup car tout là famille est repartie le lendemain.
stéphane
2014-08-30T00:00:00Z
Room Type
Entire home/apt
---
Property Type
House
---
Accommodates
4
---
Bedrooms
Eymet, Aquitaine, France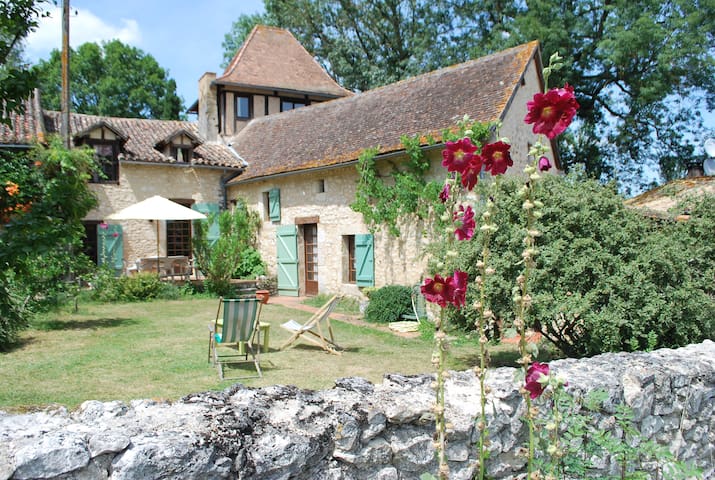 Vous apprécierez d'être à la campagne tout en étant à proximité de tous commerces. Mon logement est parfait pour les couples (et ou avec 1 enfant en bas âge, lit parapluie à disposition). Vous serez indépendant et l'ensemble est privatif, chambre, salle de bain, cuisine, séjour, WC, Cuisine (Micro-onde, réfrigérateur/congélateur, senseo, gazinière). Concernant la taxe de séjour, elle sera à régler sur place.
I do not take cleaning fee, but ask you to empty the trash, cleaning the fridge ... and let me accommodation in the same state of cleanliness as your arrival, in which case I will retain € 25 fee cleaning from the deposit.
We stayed 2 nights at Sandra's place while on a road trip through France. We had a very warm welcome from Sandra on arrival and she was very patient with us as we struggled with our poor French. The apartment was exactly as described and very comfortable. Thanks to Sandra for a lovely stay!
Richard and Laura
2017-03-05T00:00:00Z
Large, modern, well- equipped accommodation within driving distance of Eymet and amenities. Sandra was very friendly - a great stay.
Susan
2017-02-13T00:00:00Z
This is a great apartment and Sandra is a brilliant host. Can't recommend her highly enough, fantastic value for money i.e.
Roy
2017-03-28T00:00:00Z
Super logement qui correspond très bien aux photos. Sans compter sa localisation, un peu sur les hauteurs, à flanc d'une pente, ce qui donne une vue superbe sur la campagne environnante. Et ce calme ! Quant à notre hôte, un accueil très chaleureux. On voit qu'elle pense à tout pour que le voyageur soit bien. Et cela a vraiment été le cas. Merci Sandra. Béatrice et Georges
Georges et Béatrice
2016-12-09T00:00:00Z
La casa de Sandra es fantástica. Ella vive arriba pero hemos tenido mucha privacidad. La casa es acogedora, muy cómoda y con una terraza fabulosa. En todo momento estuvo muy atenta en que estuviésemos bien y nos facilitó mucha información para disfrutar de la zona. El entorno es muy tranquilo y relajante, rodeada de campos y pastos. Una gozada! La recomendamos 100% y esperamos volver en otra ocasión
Olga
2017-01-20T00:00:00Z
Nous avons été le 1er hôtes de Sandra et nous et en sommes ravis. Nous y avons séjourné 3 nuits. Le logement est spacieux, lumineux et bien placé pour visiter la région entre Bergerac et Monbazillac non loin du petit village d'Eymet avec son marché le jeudi matin. Nous souhaitons plein de bonnes choses à Sandra est sommes sûr que vu la qualité du logement les réservations seront au rendez-vous.
Florence & Patrick
2016-10-29T00:00:00Z
C'est un emplacement qui correspond parfaitement a ce que nous cherchions. L'hôte est une personne très agréable et chaleureuse.
Jose
2016-12-26T00:00:00Z
Un grand merci à Sandra pour sa gentillesse. La maison est parfaite, décorée avec goût, spacieuse et propre. Vous trouverez tout le nécessaire pour passer un séjour de rêve. Même si nous ne sommes pas resté longtemps nous avons pu bien profiter. Encore merci d'avoir accepté Missie et une bonne année !
Marine
2017-01-03T00:00:00Z
Room Type
Entire home/apt
---
Property Type
House
---
Accommodates
2
---
Bedrooms
Roumagne, Aquitaine-Limousin-Poitou-Charentes, France
Tour de France cycliste le 12 juillet à EYMET ville de départ
Located in Burgundy Perigord, 25 minutes away from Bergerac and 15 minutes from the Pruniers village. An independent 15m2 room on the basement with TV and WIFI. Private bathroom (5m2) with washbasin, shower and toilet. Breakfast corner (Coffee machine, kettle, microwaves and dishes). Covered swimming pool available during spring and summer. Kitchen to be shared. Private cinema room. We are 2km away from the town centre. Possibility to have breakfast for 5 euros per person. Lots of restaurants (gastronomic, crêperie, italian, péruvien, tea room..) Market every Thursdays. Tourism information organises animations such as medivial, oyster, white wine festival. Evening market (from End of June to end of August), walking, biking around Escourrourx (120 hectars) Touristic attractions to visit in and close to Eymet.
Située au calme à 15 minutes à pieds du centre ville ( 2 km).
Sylvain and Elisabeth were fantastic hosts. Nothing was too much trouble for either of them. They made me feel so welcome and it will be a long time before I forget the aperitifs evening- I've not laughed as much in a long time! Great people! Great place and would DEFINITELY recommend Sylvain and Elisabeth's home to anyone. If you're an English only speaker Eymet is ideal for you as it's definitely English dominated!
Gaynor
2015-09-10T00:00:00Z
It was a short but very pleasend stay in the house of Sylvain and his cute wife. They are very kind, open and speak good English. Also the room was good. We highly recommend this. We visited plum village, which is only a 15 min drive by car to the Upper Hamlet.
Berit
2016-09-25T00:00:00Z
We had a wonderful stay with Sylvain we were greeted with warmth & generosity. He and his caring wife were perfect hosts & gave us some valuable tips with where to visit in the surrounding area. I will most definitely be staying again on my next trip to Eymet. Thanks guys for everything
John
2015-08-03T00:00:00Z
Sylvain and Elisabeth are great. Their room is most suitable and the bed is great, so great we slept in and were an hour late leaving. They made us a beautiful breakfast on the back patio. It was as though we were being cared for by our Mums. Thank you so much and thank you for helping me with the car Sylvain even though you would not know it had been washed after today. Just as you said it would be but we felt better leaving in a clean car.
David
2015-06-07T00:00:00Z
Clean, simple self contained room with everything you'd need. Great having access to a heated pool. Our hosts were lovely and welcoming, and went out of their way to help us
hannah
2014-08-03T00:00:00Z
We arrived as strangers and left as friends. Sylvain and Elisabeth are delightful hosts, warm and welcoming. Nothing was too much trouble for them. It was over 30 degrees every day we were there so the pool was very welcome and the room kept cool. Good bedroom, bathroom and breakfast making facilities. Altogether a great time, we would highly recommend Sylvain's place.
Deborah
2013-07-27T00:00:00Z
We had a very nice week at Sylvain and Elisabeth's place. They are really nice, helpfull and warm. We had our own fridge, we could use their kitchen, took a swim in their big swimmingpool and last but not least we watched a movie in their OWN movietheatre. Merci beaucoup à Sylvain, Elisabeth et Sweety!
Britt
2013-08-03T00:00:00Z
The reservation was canceled 2 days before arrival. This is an automated posting.
Romain
2015-04-09T00:00:00Z
Room Type
Entire home/apt
---
Property Type
House
---
Accommodates
2
---
Bedrooms
Eymet, Aquitaine, France
cottage in an outbuilding of the castle in 3ha park 1 twin beds- bathroom, separate WC, living room with click clac 2 persons - kitchen, dishwasher, washing machine - terrace facing south - pool (secured) .
For travelers making only short stays (2 nights) we graciously offer them in their kitchen, tea, Nescafe, ricoré, milk ...
Located on the border of Lot et Garonne and Dordogne, Fournière Costy is a quiet oasis surrounded by many cultural and sporting opportunities both in Lot et Garonne on the Dordogne.
What a wonderful stay with Marie-France and Xavier! Fantastic hosts - fresh baked bread for breakfast, and they even came to pick us up from the wedding we were at nearby. We would definitely stay again!
Emma
2015-09-13T00:00:00Z
We had a great stay. Welcomed by Marie France ' s daughter and Jackpot the adorable puppy. The home had been recently done up with new doors, windows, kitchen and bathroom. Lots of space indoors and tables and chairs outdoors. Lovely country setting
Marian
2015-11-10T00:00:00Z
We were so impressed on arrival at La Fourniere. The hosts were not available but they had made sure someone was there to meet us. We had absolutely no problems at all whilst we were there. The place was clean and spacious. There were a few foodstuffs left for us in the fridge and the famous brioche, which was a godsend as we had travelled from Dieppe and were exhausted when we arrived. The place is an absolute joy and if you like peace and quiet and dark nights with no light pollution this is the place for you. When we met Marie France and Xavier, they were very charming and most helpful. Discreet in their activities during the day so as not to intrude on our time there. We would not have minded had they intruded as they were most charming. The pool is great if you can swim in an unheated pool, for me it was not a problem as the weather was beautiful. The photos do not do it justice, it is even better than they depict. Also the bed is large and very comfortable, which is always a plus when you are staying away from your own bed. I would like to say a hearty thank you for this lovely place, truly a charming part of France and a charming place to stay.
Ruth
2016-10-04T00:00:00Z
Ras
Anne Marie
2017-01-03T00:00:00Z
Marie-France and Xavier made my partner Christine and i feel most welcome when we arrived, after having driven up a very impressive driveway, at their charming, historic Chateau home. The surrounding countryside was stunning and full of nature; dragonflys, swallows, squirrels etc etc. We were shown to our Gite, to the rear of the property, it was everything that we had hoped for. It was well equipped, had relaxing seating areas to the outside and access to a tempting pool area through beautiful gardens. A must destination for the traveller looking for a haven in historic countryside surroundings.
Mike
2015-09-10T00:00:00Z
Marie-France and Xavier are very warm friendly and relaxed people. We enjoyed a fresh brioche from Xaviers oven. The cottage is lovely, all you could want and more. The garden and pool area are very scenic and we did take many photos. An old world hideaway close to amazing villages especially Eymet 5 mins away. I recommend this booking and our lovely hosts.
Debra
2016-06-02T00:00:00Z
We had an absolutely lovely time at La Fourniere de Costy. Marie-France & Xavier are such generous and lovely hosts, providing us with help, tips and even delicious, home-made treats. It was such a perfect spot to explore the beautiful Lot-et-Garonne / Dordogne area with it's stunning medieval villages, caves, chateau's and so on! Can warmly recommend!
Pia
2016-05-19T00:00:00Z
Marie France et son mari sont de très bon hôtes ! Un séjour agréable dans cette charmante location. Le petit plus, la brioche maison offerte pour notre petit déjeuner. Encore merci pour votre accueil :)
Perrine
2015-06-28T00:00:00Z
Room Type
Entire home/apt
---
Property Type
House
---
Accommodates
3
---
Bedrooms
Agnac, Aquitaine-Limousin-Poitou-Charentes, France
Come and stay in this two bedroomed house in the centre of Eymet. Ideal base to explore Eymet and the beautiful Dordogne region. Relax in your own space with a private courtyard to enjoy al fresco lunches and evening drinks.
Rent this entire house on the day of your choice from a minimum of a two night stay. If it's just a weekend away or a longer stay this restored house in the centre of Eymet is ideal.
Eymet is a bustling market town with a wealth of historical features. There are bars and restaurants within 2 minutes walk and a variety of shops around the square. Antique shops and brocantes make browsing a pleasure to find that unique item. In the summer months there are many events in the square including the wine and oyster festival and the medieval weekend in the chateau.
Wonderful house, clean and beautiful. Close to the beautiful square in Eymet. We stayed for a friends wedding and we will definitely be back. Thank you Alan for letting us stay in your fantastic home. Nicole x
Nicole
2015-09-14T00:00:00Z
The house is really beautiful and very nicely restored. Allan was very friendly passing by to chat for a while and give us some good tips about the area!
Ignacio
2016-05-02T00:00:00Z
Lovely house in a great location, exactly as described. Pity we only had a short stay but we will definitely be back. Alan provided everything we needed including extra food for our breakfast. It was a pleasure to meet him and his family.
Frank
2016-07-30T00:00:00Z
This beautiful terraced cottage is in a fantastic location in the centre of the village yet still in lovely quiet road. It was spotlessly clean throughout with large comfortable rooms and Alan was the perfect host who made the effort of popping in to ensure we had everything we needed. Perfect!
Andy
2016-07-09T00:00:00Z
This was a superb little appartment in a very cute town. Alan and Sandra have well prepared everything. Thank you. LiMei
Li Mei
2016-07-15T00:00:00Z
This house was perfect for our visit to Eymet. The house was in town with parking outside. It was clean and fully equipped with everything you could need. Check in and check out was easy and the hosts were lovely.
Carina
2015-08-03T00:00:00Z
This is a lovely place to stay in the town of Eymet, we had a fantastic time watching The Tour De France come through town and then enjoying the restaurants and laid back vibe. The apartment is really nice, and bigger than expected, I would definitely stay here again. Alan was a great host and helped us find local bike hire in the area, which was much appreciated..
Matt
2014-07-29T00:00:00Z
What a lovely home, we absolutely loved our stay and were delighted with the amount of space we had, including the little courtyard at the back which was perfect for sitting out in the sun. We'd definitely recommend!
Kayley
2016-07-18T00:00:00Z
Room Type
Entire home/apt
---
Property Type
House
---
Accommodates
4
---
Bedrooms
Eymet, Aquitaine, France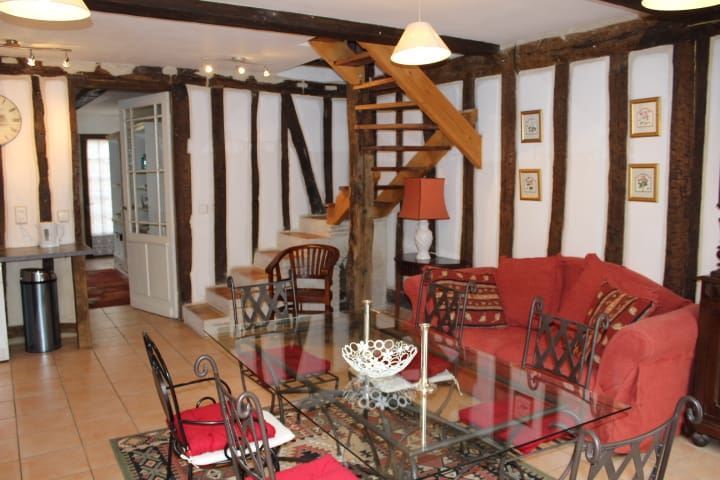 Eleonore's house offers complete accommodation for 6 people. The House is situated near the center of the famous medieval village of Eymet. Situation by excellence for exploring the surrounding region, with its vineyards, chateaux, and vestiges.
Snuggled into one of the valleys of the winding river Dropt, the medieval city of Eymet is a doorway to the southern Perigord region. Eymet occupies a privileged site from time immemorial, as the numerous architectural vestiges show. During the summer holiday period, Eymet is transformed by the many joyful festivities, and local traditions and gastronomy. The colourful local markets, riche in savours, every Thursday morning, and the night market every tuesday evening are not to be missed!
nous avons été très bien reçus , la maison était très bien équipé et confortable. l'essentiel est présent pour habiter tout de suite. la maison reste bien fraiche malgré le soleil. les hôtes sont très très agréables et a l'écoute.
thomas
2015-08-22T00:00:00Z
Room Type
Entire home/flat
---
Property Type
House
---
Accommodates
6
---
Bedrooms
Eymet, Aquitaine, France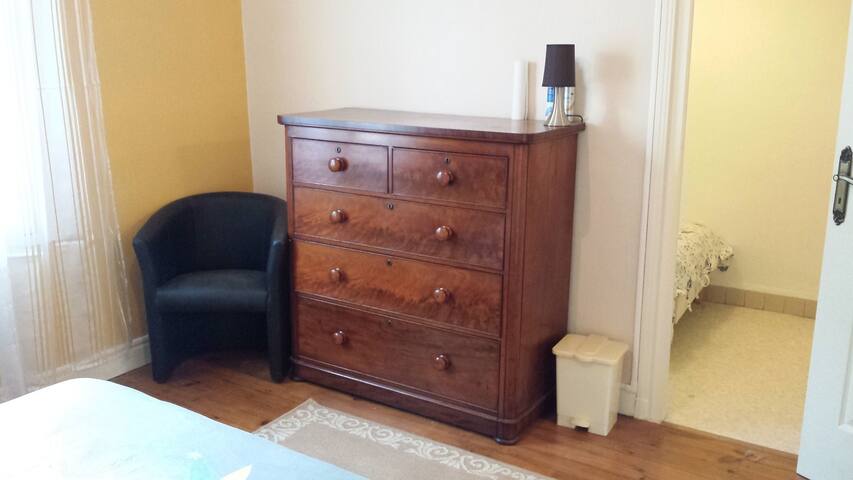 Updated 400 hundred-year-old farmhouse is situated 3 kilometers, in Les Andrieux, from the bastide village Eymet in the Dordogne Valley of the Aquitaine region of France. Great for a couple or group up to 6 or a max of 7. Comfortable & full of character and authenticity!
Very nice and cosy house. Every thing was there. The house was warm and comfortable. The house keeper was very kind.
Patricia
2016-05-08T00:00:00Z
The host canceled this reservation the day before arrival. This is an automated posting.
Anna
2016-09-10T00:00:00Z
This was a great place in a quiet, countryside setting yet still a mere mile to all the required conveniences and the lovely town of Eymet. Erika was extremely helpful and went out of her way to help us with planning, The farmhouse is roomy, comfortable, attractive, and well-appointed. I cannot say enough positive things about this rental.
Stuart
2016-05-20T00:00:00Z
While researching our trip, we established a good rapport with Erica. As a European, it was a great opportunity to hear at first hand about some of the issues influencing the presidential election primaries. We were looking for a base near Eymet so we could drive in to a nearby meditation centre each day, and the cottage really suited our needs. It was comfortable, very spacious and full of individual character. Surrounded by family possessions both decorative and utilitarious, we immediately felt at home. Erica has recreated an authentic French country cottage quality with an ideal blend of comfort and rustic charm. The cottage is located in a peaceful hamlet just 5 minutes from town, and the countryside is very beautiful. We hope to stay again when we next come to the region. Duncan
Duncan
2016-06-15T00:00:00Z
We had a very enjoyable week and the house was delightful with everything we needed. The surrounding area and Eymet were beautiful full of fields of sunflowers, sweetcorn and vines and deserted roads. Erica was a great host, very friendly and helpful.
Christine
2016-08-26T00:00:00Z
Room Type
Entire home/flat
---
Property Type
House
---
Accommodates
6
---
Bedrooms
Eymet, Aquitaine, France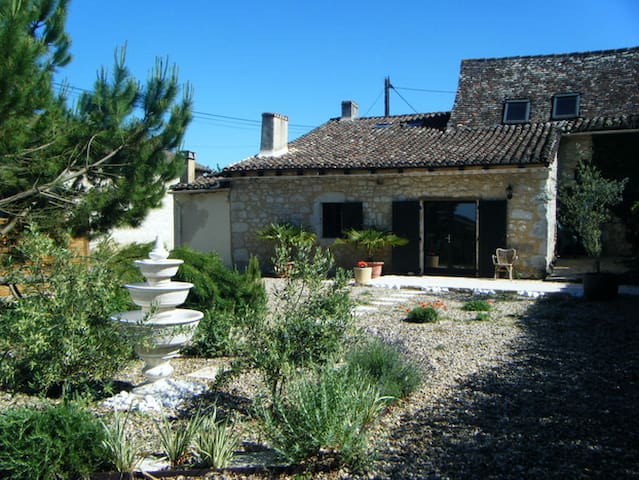 Spring, summer or autumn holidays ... winter break or long winter let ... « Lauzanac », self catering cottage in South West France is open all year round. Situated in the Dordogne, at 3 km from the medieval village of EYMET with several bars and restaurants, all amenities. Lovely market on Thursday morning. Luxury cottage with private and secured pool, in the countryside of the medieval village of EYMET near Bergerac. Very comfortable, cosy and spacious. We can welcome 2 to 8 people. Wifi.
Cosy and confortable cottage with dish-washer, washing-machine, coffee machine, boiler, micro-wave... Wifi, printer. Lounge with a stove for the pleasure of the fire during the fresh evenings (but central heating in the house). Bedrooms are at the first floor and also a small lounge with TV and satellite for international channels. Outside terrace with barbecue. Large garden with a swing.
Lauzanac Farmhouse is a hamlet with 3 houses and a farm. 2 holiday cottages - Les Chênes (that you can see here) and Le Pigeonnier - the owner's house and the farm.
Room Type
Entire home/apt
---
Property Type
House
---
Accommodates
8
---
Bedrooms
Eymet, Nouvelle-Aquitaine, France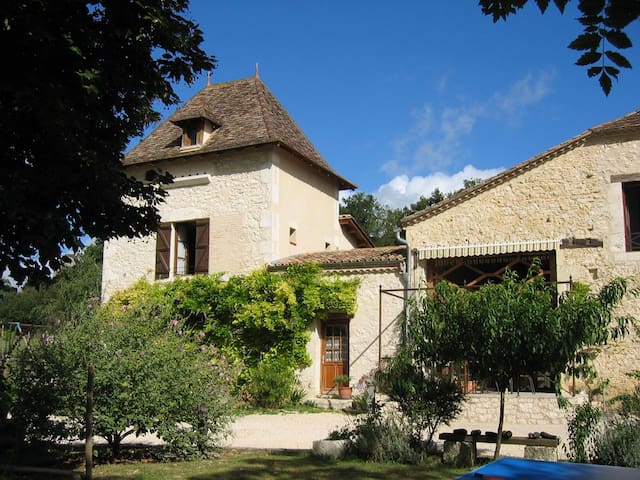 Saturday changeover, 7 day min stay. Calfour is a spacious & luxurious 4 bed single story house. Sleeps 9 with 8 x 4 private pool & 180 degree views & sunsets. Set in 30 acres private & unspoilt land. 5 minutes from Eymet Bastide town with many restaurants, night markets, vide greniers, marche gourmands & other summer activities. Last, but not least just come, sit & enjoy French cafe culture, in the sun with a glass of wine or espresso or both & watch the world go by. Pure relaxation and peace.
Renovated and full of character Calfour is spacious with comfortable beds for up to 9 people. Built in parts 200 years ago the original old farmhouse has thick old beams, flag stone floors and a huge and working open fireplace for winter guests. The house has 2 WC's, one separate and 2 walk in showers as well as a bath, all renewed to a high standard. The kitchen is spacious and fully equipped for all your holiday needs. The pool room contains 2 sofas and a full sized pool table with a slate bed and we are planning to add an honesty bar in the corner. The Pool Room opens onto a large lounge/dining area with a further 3 sofas, TV with English Freesat box, a dining table with room for all and a desk area. Doors open onto the gardens and pool area. The pool is 8 x 4 has gentle steps moulded into the end of the pool for ease of access. There are ample sunloungers and beach towels for each guest are provided on top of bath towels inside the gite and sunbed cushions. The garden area has plenty of shady areas which is a must in our summer sun. We are presently building a covered decked are for dining outside and there is a covered terrace and further open terrace at the front of the property. This area in turn opens onto the first of our fields. The property sits within our fields away from any near neighbours. As we have 30 acres, we have provided paths and a Nature trail for guest and especially children to enjoy. Field glasses are provided for the many birds and wildlife we have including wild boar, deer, hares and rabbits. The area is unfenced allowing wildlife to roam free. Please bare this in mind with very young children.
Room Type
Entire home/flat
---
Property Type
House
---
Accommodates
9
---
Bedrooms
Serres-et-Montguyard, Nouvelle-Aquitaine, France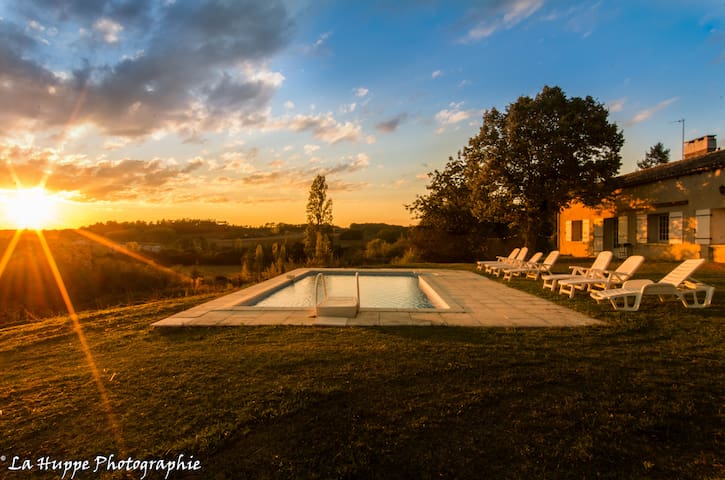 Nous vous accueillons dans le premier étage de notre maison. Avec 2 chambres lit simple, 1 chambre lit simple + banquette bz double, le salon ouvert sur le couloir avec le clic-clac. Cet étage, que nous réservons pour les voyageurs, comporte une salle de bain, toilette privative.
Merci pour l'accueil, l'accessibilité à votre grande et belle cuisine !
Nina
2017-04-04T00:00:00Z
Room Type
Private room
---
Property Type
House
---
Accommodates
5
---
Bedrooms
Allemans-du-Dropt, Nouvelle-Aquitaine, France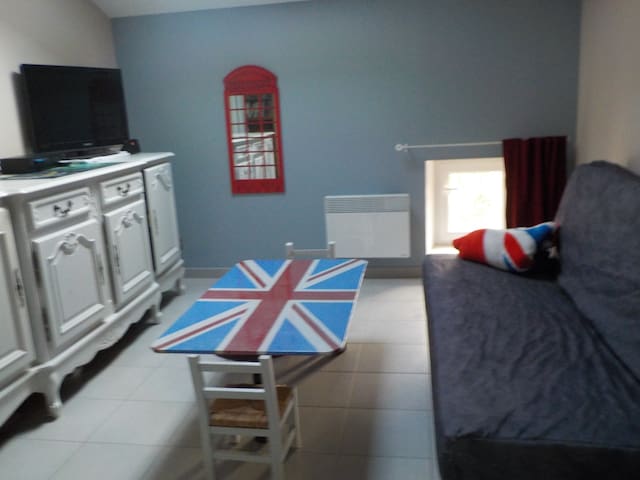 le Gîte des Calèches is a nice country cottage for 2- 6 pers. and even 8 if you hire the extra room with WC and bathroom. The Cottage is part of old farm with lots of space, nature and some animals, but also all the comfort and quality you desire for a nice vacation. There is a big and closed garden with a terrasse and a barbecue. A direct entry to the heated pool (5x11m) where you can relaxe, sunbath and enjoy the lovely view. Miramont is just round the corner to go shopping and visit
The cottage has 1 bedroom with a double bed ((PHONE NUMBER HIDDEN) bedroom upstairs with two single beds, a livingroom with a big sleeping coach and TV, a kitchen with all the things you need to be comfortable. The pool is nice and big with lots of space around. The car can be parked just beside the cottage and all the area is quiete and peaceful with many big trees to give some shade in the hot summer days
No neighbors, or only far away.
Annika went above and beyond her responsibilities as a host and provided us with several lifts around the town and to the supermarket while we stayed with her. She also accommodated my friends and their two daughters a few months before our scheduled holiday, which was also fantastic. Annika also treated us to a fabulous carriage ride which was excellent and enjoyed very much by all of us. The farm is amazing! Beautiful and perfect for children to play and enjoy their holiday :) The gite is comfortable and has it's own huge garden for sunbathing and for the children to play in - it even has a hammock and a swing set. This holiday was exactly what we were all looking for - some time to relax and recuperate after a hard year and we certainly did just that! For anyone looking to book here, I would highly recommend it but I would also encourage you to hire a car as the farm is a good 20-30 minute walk from the main town centre, but the nearest supermarket is further away. There are no taxis or buses in Miramont, which makes it extremely difficult to get around without walking everywhere and this is difficult to do in the middle of the summer. The countryside is absolutely stunning and I would have liked to have had a car to go and explore but we were also perfectly happy to enjoy the gite and the farm. My children spent more or less the whole time in the heated pool and absolutely loved the farm! Contact with Annika was a little sporadic as we used AirbnB to message but she lives on site, so we could always manage to get hold of her. She is fluent in English and French so communication was not a problem for us at all. I would not hesitate to take another holiday here at any time and would recommend it to everyone!
Michelle
2016-08-24T00:00:00Z
A very nice place to stay. Very clean and comfortable. A warm welcome in a rural setting with horses, yet close to the town. Central to local regional attractions. Thanks Annika. We'll come back.
ERIC
2015-12-23T00:00:00Z
Wir hatten eine wunderschöne Zeit in Annika`s Gite! Unsere Erwartungen wurden absolut erfüllt, teilweise sogar übertroffen. Annika und ihr Ehemann sind sehr freundliche, hilfsbereite und dabei aber auch diskrete Gastgeber. Wir haben uns rundum wohl gefühlt und können die Unterkunft sehr empfehlen. Wer einen ruhigen Urlaubsort sucht ist hier bestens aufgehoben. Eine Kutschfahrt mit Annika ist ein Highlight und unsere Kinder haben viel Zeit mit den Tieren verbracht. Der Pool wurde täglich gereinigt und gepflegt. Vielen Dank für einen sehr schönen Urlaub!
Gerhardt
2016-07-31T00:00:00Z
Nous avons été 8 voyageurs dans ce gîte extra ! Fidèle aux photos, cet endroit est un havre de paix, charmant, piscine au top, confort, hôte accueillante et disponible. Merci ! On recommande !!
Domitille
2016-07-18T00:00:00Z
Séjour très reposant chez Annika, entre les animaux, la piscine et les balades dans la jolie région. La maison est très bien équipée et la literie est géniale !
Delphine
2016-08-08T00:00:00Z
au dessus de nos espérance ,Annika est très accueillante et disponible.ces animaux adorables et accessibles pour le bonheur de notre fille de 3 ans.piscine chauffée et sécurisée .très beau terrain rien qu'à nous...bac à sable toboggan. .. .les seuls bruits sont ceux des oiseaux .le gîte est parfait et tout y est .la literie est juste exceptionnelle. . nous avons passer 5 nuits et nous sommes ravis et détendus.
Delphine
2016-05-21T00:00:00Z
Room Type
Entire home/apt
---
Property Type
House
---
Accommodates
6
---
Bedrooms
Miramont-de-Guyenne, Aquitaine, France
This cosy house makes the perfect countryside holiday house for rest and relaxation, set in the idyllic village of Agnac, Aquitaine.
Perfectly located in the serene countryside of Aquitaine, this holiday getaway allows guests to rejuvenate and refresh. From the rustic, stone exterior to the sleek and practical interiors, the house makes the perfect base for two people to enjoy all the wonders that Lot-et-Garonne and its surrounding region have to offer. The kitchen features all the gadgets needed to prepare a tasty meal, from a stove to a coffee machine, and you can enjoy your treats at the dining nook by the open kitchen, the shared pool or on your furnished patio, overlooking the green garden. After a day outdoors, sleep soundly in the comfy double bed on the mezzanine level, and note that your bathroom is fitted with a shower and a toilet. Amenities include a flat-screen TV for those cosy evenings on the sofa. Please bring your own linens and towels, as they are not provided. The swimming pool and the laundry room are shared with 2 other apartments. On-site, private parking is available, smoking is allowed only outside and pets are welcome upon request.
Agnac is a commune of the Lot-et-Garonne department, nestled in South-Western France. The area draws those in who want to escape city life and experience the awe and beauty that nature has to offer. Enjoy sightseeing at the Church of Saint Sernin, pay a visit to the Manoir du Bout-du-Pont, which showcases 16th century architecture and head to the idyllic town of Duras, just 15km away, for its 12th century chateau and to stock up on the famous wines this area is known for. Activities on offer near the gite include horse riding, mountaineering and hiking, and the bicycle tour circuit of the Duke of Lauzun will delight the most active holidaymakers, and note that you'll want for nothing during your stay: You'll find the nearest bar, restaurant and supermarket within just 3km of home.
Room Type
Entire home/flat
---
Property Type
House
---
Accommodates
2
---
Bedrooms
Agnac, France
Gite de charme en pleine campagne à 3 kms d'Eymet (village médiéval), 2 chambres, cuisine équipée, SDB (douche italienne), WC individuel. Quelques animaux de la ferme et fruits et légumes BIO sur place. Vignobles à visiter, rivière (canoë kayak), ...
Famille charmante et accueil chaleureux. Voilà qui décrit parfaitement nos hôtes pour ces vacances sans compter le pain qu'ils ont la gentillesse de déposer le matin les fruits et légumes du jardin parfois partagés Le gite, quant à lui, est très bien restauré et fort bien équipé. Merci à vous tous pour cette semaine tout à fait sympathique.
Sylvie
2015-08-10T00:00:00Z
Très accueillant et très sympathique, un petit pot de confiture pour notre arrivée qui était délicieux. L'endroit est très bien situé à proximité des lieux que nous avions entrepris de visité. Agréable et au calme. Les trampoline à fait sensation auprès de nos ptits loustics.
Laurence
2016-08-28T00:00:00Z
Un lieu donnant sur les champs, une terrasse où il est bon de déjeuner ou dîner, proche de Eymet (La route passe à quelques mètres de la maison ce qui permet un accès aisé à Eymet). Deux petites chambres logeables, un séjour vaste, une belle optimisation de l'espace. Un grand merci pour l'accueil sympathique et la réactivité !
pierre
2017-03-30T00:00:00Z
Room Type
Entire home/flat
---
Property Type
House
---
Accommodates
4
---
Bedrooms
Fonroque, Aquitaine, France
We live in an beautifully renovated old 19th century farmhouse, just 5 km outside the pittoresque medieval village of Eymet.
Your studio has it's own entrance. The main bed (1,60m) is on a mezzanine, reachable over a comfortable, wooden stairs. Then there is a sofa which can be transformed into a cosy bed (1,40m).
If you come from a stressful city life and you want to slow down during your holidays, this is the perfect spot for you. We have a spacious garden, close to the forest, close to nature. A public lake nearby invites for beautiful walks and in the summer-time you can even dip yourself into the water. 5 km from us you find everything you need from cafés, restaurants, pubs, local food markets, parks, supermarkets.
Room Type
Private room
---
Property Type
House
---
Accommodates
4
---
Bedrooms
Sainte-Eulalie-d'Eymet, Nouvelle-Aquitaine, France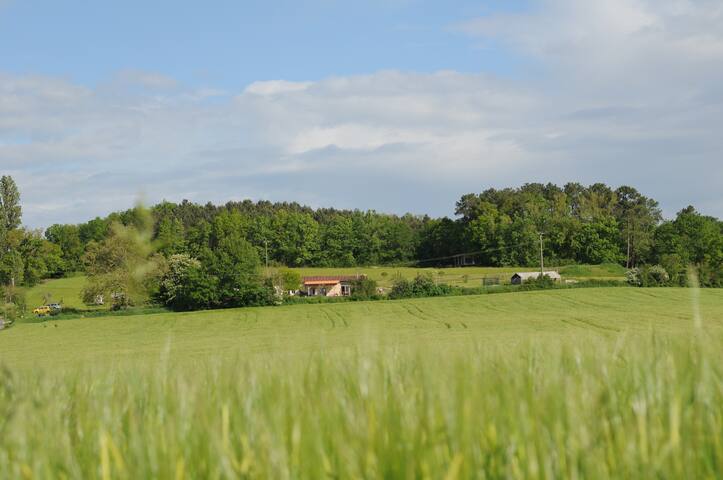 Welcome to our beautifully restored/renovated stone Farmhouse with private pool. Set in the countryside, yet not remote, just a short stroll to the Bastide town of Eymet. Each of our 4 bedrooms has a private bathroom. Terraces for dining/relaxing
The main entrance leads to the elegant living area with comfortable sofas and upholstered chairs. The original fireplace was discovered during renovations. The flooring is 'ancient Gironde' local to the area and at least 200 years old. Opposite the living area is a writing room/study. The dining room and kitchen open onto the dining terrace where most meals are eaten during the season. Upstairs, four spacious bedrooms, each individually decorated, have their own private bathrooms. The terrace at the front of the farmhouse links to a third terrace which surrounds the pool which is a little removed from the farmhouse and looks out onto the countryside beyond.
We're in the countryside, but not remote, just outside Eymet, a market town which has held its market every Thursday morning for nearly 700 years. Stroll into the village which has all the amenities you'll need - from cafes to elegant restaurants, bars to book stores. There is a post office, grocery store and green grocers. There are local fetes all season long as well as brocantes (antique fairs) and vide greniers (literally empty the attic). You'll hear English spoken, but this is definitely a French country village.
We have just come back from the most wonderful week at Beverly's beautiful house in Eymet. The house is stunning: stylish and comfortable; the pictures don't do justice to the lovely garden - full of fruit trees. It's a 5 minute drive into Eymet itself, which is lovely. Beverly was considerate, knowledgeable and helpful. A perfect week of vineyards, French markets and lounging by the pool.
Katherine
2015-08-09T00:00:00Z
Room Type
Entire home/apt
---
Property Type
House
---
Accommodates
8
---
Bedrooms
Eymet, Aquitaine, France
Our house is set within beautiful countryside and close to Bergerac and the airport. There are enjoyable country walks on the doorstep, long and short, and quiet areas to sit, relax and read and just take in the peace and quiet. You'll love our house because of the location, the ambiance, and the outdoors space, full of character, it is a truly relaxing place to be. The accommodation is good for couples, solo adventurers, and business travellers. It is a 'home from home' experience.
The accommodation we offer is on the ground floor in a very large comfortable room with plenty of storage space, a sofa and chairs. You have sole use of the newly refurbished bathroom and toiletries are supplied. The room has a small TV for DVD's with an excellent DVD collection which guests are welcome to use. There is also tea and coffee making facilities in the room. You are welcome to wander the grounds and enjoy sitting by the pool, a sun trap even on cooler days. We have excellent satellite Internet and wifi available throughout the house, however, we do impose a fair usage policy as we are limited to a monthly bandwidth allowance.
There are only a handful of houses in our commune making this a very private place. Our nearest town for shopping, restaurants and an excellent weekly market is Eymet. We are in an excellent situation for the forthcoming 2017 Tour de France in July, with Stages 10 & 11 close by.
Room Type
Private room
---
Property Type
House
---
Accommodates
2
---
Bedrooms
Sainte-Eulalie-d'Eymet, Aquitaine-Limousin-Poitou-Charentes, France
Située dans le Périgord pourpre , à 25 min de Bergerac .Une chambre de 15 m², avec un vrai lit , connexion internet haut débit avec une salle de bain commune .
Située dans le Périgord pourpre , à 25 min de Bergerac Une chambre de 15 m², avec télévision et connexion internet haut débit. Salle de bain commune , avec meuble vasque, douche,baignoire, draps et serviettes de bain fournies . Piscine couverte disponible en saison. Cuisine à partager.Salle de cinéma privée.Située au calme a 15 minutes à pied du centre ville(2 km) . Possibilité du petit déjeuner en supplément 5 € pour une personne ou 8 € pour deux .Nombreux restaurants (gastronomique, périgourdins, italien, péruvien ...) Marché tout les jeudis . Tout au long de l'année, l'office de tourisme organise de nombreuses animations telles que les fêtes médiévales, la fête de l'huître et du vin blanc, marchés nocturnes (de mi juin jusqu'à fin août).Balade à pied ou en vélo au bord du Lac de l'Escourroux,
Situé à a 2 km du centre ville dans un quartier calme , vous découvrirez le charme d'une petite ville de province et du Périgord pourpre avec toutes ses commodités ,restaurant,animations etc...
Accueil très chaleureux dans un cadre correspondant à la description . Excellent petit déjeuner.
Corentin
2015-10-10T00:00:00Z
Un très bon accueil de la part de Sylvain et Elisabeth pour mon premier Airbnb! On est chez eux comme à la maison. Acceptation super rapide de ma demande... la veille pour le lendemain! Petits plus: -petits SMS sur la route pour m'aider à trouver mon chemin avec un GPS défaillant. -l'oeuf frais (les poules du jardin: MacDo et KFC ;-) ) au petit-déjeuner
Marie
2016-05-06T00:00:00Z
merci pour votre bel accueil , pour les échanges et le partage de passions créatives..... .... bonne nuit calme et reposante.Anne
anne
2016-12-04T00:00:00Z
Très jolie maison design et ancien, larges baies vitrées et ouvertures partout, vastes espaces ordonnés et vides, quand vous arrivez, on voit que Elisabeth et Sylvain ont prévu de vous accueillir. Et quand Elisabeth et Sylvain vous écrivent «Si vous avez la moindre souci n'hésitez pas à me téléphoner» C'est du vrai, pas du faux. Sylvain est EXPERT en «BlaBlaCar» ! ... En deux minutes il m'a arrangé mon Trajet d'EYMET vers la gare de Bergerac qui me faisait souci ! très grand jardin, 3 poules pondeuses, grand espace pelouse/rural, (piscine), vos pouvez facilement y passer DES VACANCES, même hors saison. (cheminée et maison très très bien isolée, close, chauffée). À cinq minutes à pieds du centre d'EYMET, petite ville ambiance très vacances, même un week end hors saison. Dont une pizzeria exceptionnelle où j'ai mangé une pizza comme je ne pensais même pas que ça existait. Hôtes intelligents. sensibles, ouverts, accueillants A visiter absolument.
helene
2016-10-09T00:00:00Z
Il fait bon vivre chez Sylvain et Elisabeth... Merci pour votre très sympathique accueil et au plaisir d'une autre visite !
Claire
2017-01-03T00:00:00Z
Mes parents sont ravis. Durant 3 jours ils ont été chaleureusement accueilli et bien conseillés sur Eymet et ses environs. Bon confort et petits déjeuners copieux. Merci à Sylvain.
Carole
2015-09-29T00:00:00Z
Accueil chaleureux , conseils utiles , petit déjeuner copieux très satisfaits de cette étape pas de souci de stationnement à recommander
Alice
2015-09-26T00:00:00Z
Petit passage chez sylvain ou vous etes recu comme des amis. Chambre, sanitaire et petit dejeuner parfait. Merci pour tout
Les Ecolodges du Taillefer
2016-02-14T00:00:00Z
Room Type
Private room
---
Property Type
House
---
Accommodates
2
---
Bedrooms
Eymet, Aquitaine, France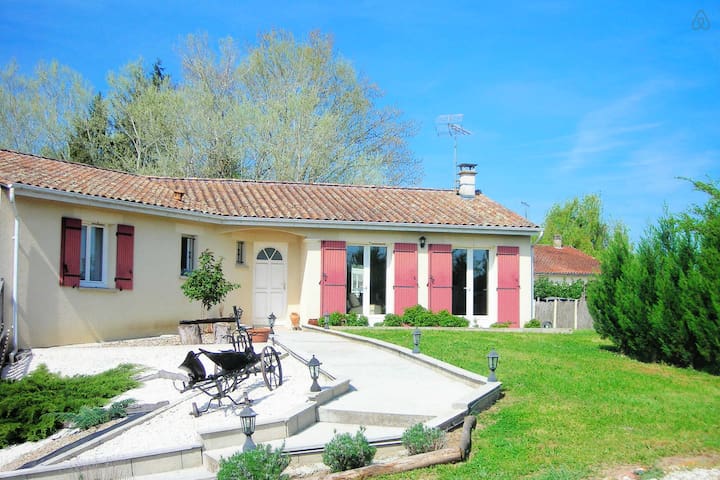 1

–

18

of

150 Home Rentals
Enter dates to see full pricing. Additional fees apply. Taxes may be added.