Our Guesthouse sits on a 300 sq.m. property with 3 bedrooms that can comfortably sleep 6 pax, living & dining room, kitchen, lanai and garage. We are situated in a quiet & safe neighborhood. We have open spaces where you can relax and ideal for groups, families or relatives on vacation.
Our Guesthouse has a homey feel. Not pretentious at all. It is basic, but clean and comfortable. If you are a group or family and happen to visit Kalibo for reunions, weddings, Ati-atihan festival, passing through Kalibo before going to Boracay or simply on vacation and need a whole house to stay, this will be an ideal set up for you.
Kalibo is still relatively provincial and so we are in a relatively quiet and safe neighborhood. You may hear barking of dogs, croaking of frogs on a rainy night, distant early morning crowing of the rooster, as well as the chirping of birds....All that adds up to the charm of the neighborhood! Let it not deter you though to chose this place as it is accessible to nearby supermarket, mall, church, restaurants, airport or bus terminals. Since Kalibo is a rather small town, it is easy to move around. We are five minutes away from Bakhawan Ecopark, a unique place to spend a few hours relaxing in among the mangrove forest. The park is dubbed as the Philippines' most successful mangrove reforestation project.
Nikki is incredibly accommodating. We had a wonderful stay and would stay here again. It is very close to the Bakhawan Eco-Park (a must visit) and far enough from the town center that it was very quiet during the Ati-Atihan festival.
Hugh and Melinda
2017-01-15T00:00:00Z
Great house with a great host. Even though we had a late flight, Nikki and her husband were waiting for us at the airport and whisked us back to her home. She even arranged for the driver to stop at the store for some juice for the kids and the dads. Her local knowledge helped secure a private van at a much lower price than anything I could find, and the van was on time for our pick-up at the end of our trip. Kids loved the cookie treats and we had a great rest for the rest of our trip. Thanks again Nikki, we really hope to see you again!
Steve
2017-03-17T00:00:00Z
This place is awesome ! Highly recommended
Dennethjoy
2016-12-23T00:00:00Z
Room Type
Entire home/apt
---
Property Type
House
---
Accommodates
6
---
Bedrooms
PH, Philippines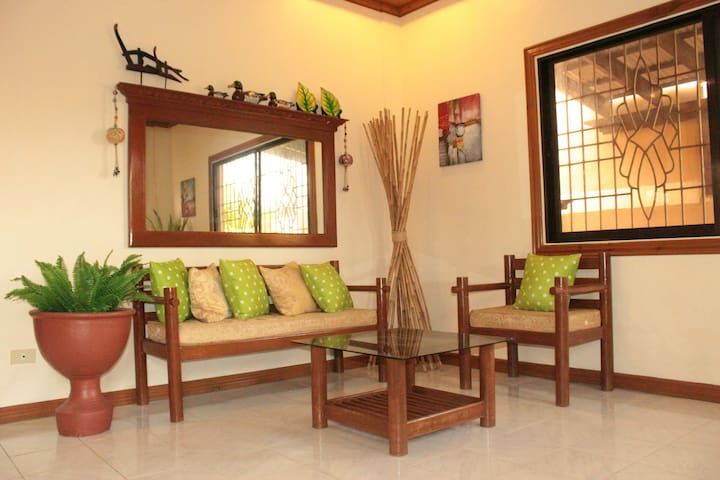 Overlooking the Sulu Sea in the village of Panitan, Malay, our cottage is small but comfortable with open plan living/dining area, kitchen & large attic bedroom. Ideal for a family seeking a quiet and relaxing holiday near to but NOT on Boracay,
Nestled on a small hill in a tiny sitio, or hamlet, called Panitan, the cottage is small but open plan and very light. It has full aircon as well as ceiling fans. Hot shower, fully equipped kitchen and dining area. Designed to relax in, the house is well equipped with three hammocks, three day beds and a king sized bed with mosquito net. Sun loungers and cloud chairs are available for use in the garden. There is also a small gazebo in the garden suitable for a massage (available on request) a quiet read or just a nap.
Please note: our home is NOT on Boracay, but close by on the main island of Panay. Our home is only 45 minutes door-to-door to the very heart of Boracay. We have a Boracay "cheat sheet" available with all our "do's and don'ts" and recommended restaurants, bars etc. It's an insider's guide to the island from people from the island. Just ask and we can mail it to you ahead of your stay. We are a short drive from lots of other attractions on the mainland, including Nabaoy River, Agnaga Falls and Hinugtan Beach in Buruanga, all areas of outstanding natural beauty. The hiking in the mountains of Panay is essentially limitless. The diving around Buruagna, Black Rock and Naasog Point are spectacular. Kiting and windsurfing on Union Beach is 15 minutes' drive away, three times the length of Bolabog Beach on Boarcay with none of the beginner kiters and tourists and none of the water quality issues. Panay is a mountain biker's dream with literally thousands of offroad trails and challenging routes. Ditto for trial motorbikes. We can also organize a paraw (a traditional Filipino sail boat) to pick you up at the local beach in Motag and take you direct to White Beach Boracay (and back if you like!) Beats the scheduled ferry any day! Don't miss the Motag Living Museum: a must see two minutes' drive from the house. Day trips to Antique Province and Tibiao (think a smaller scale Ubud in Bali) can also be arranged and there is good overnight accommodation available there too. Just ask us.
It was an amazing staying, very peaceful place. Beautiful surrounding with animals and rice fields. We wanted to skip tourist crowd and were searching a place like this, in the beginning we were not sure about here because there were no comments on airbnb, but as soon as we get in touch with Cleofe everything went well. She was very sensitive and very helpful on our concerns. She organized her staff and when we arrived there was a delicious dinner that they prepared for us. Elena and Ralph (staff) are very friendly and helpful. Very quiet and discreet also. They are in contact with Cleofe and very well organized. In the mean of privacy, it is not seen by other houses except Ralph's hut, so it is relatively isolated, but expect to see always someone around most of the time during the day (because they have to work there), therefore if you wish to go around naked and spend some private time with your partner in the house or in the garden, unfortunately not much possible. But they don't come upstairs without asking permission. The cottage is located in a Philippine village, in the nature, beautiful area, so if you search for a quiet, relatively isolated place with a real Philippines experience, then that is your place. If you search for a beach, tourist crowd, pollution and partying then go to somewhere else. It's a beautiful surrounding, as soon as you step out the scenery is mesmerizing, with beautiful rice fields and huts. It's not a touristic area therefore people around are not spoiled, they may look at you because they are not used to foreigners. Don't get it wrong, Just smile and say "Hi". They will smile back. They are very friendly and welcoming. I hope there will be nice people staying there, being respectful to the nature around including the chicks goats, geckos and all the animals roaming around freely. Also dogs; Milo and Amanda are very sweet and they brought a lot of joy to us during our stay. This place deserves good people.
Ayberk
2015-11-25T00:00:00Z
My family and I had spent 3 days of Lunar new year there. The house is very clean and enjoyable, and we had a really good time there! We all really think the time we had stayed there were too short! Friendly and helpful host, plus beautiful clean house = wonderful vacation!
Song Sheng
2016-02-11T00:00:00Z
Room Type
Entire home/apt
---
Property Type
House
---
Accommodates
6
---
Bedrooms
Malay, Western Visayas, Philippines
Our house is in Idio Sebaste Antique Philippines . We have four double room with tv and wifi each every Terasse have outside the shower and toilet . Our house is 50 m from the sea . We don't have a white sand but the beach is nice . I will show our guest some small islands ,waterfalls , nice sweet water resort for swimming, diving with a instructor from Austria he have a diving shool there . We have some restaurants there Italian , Swiss , Austrian
Flexible
Room Type
Private room
---
Property Type
House
---
Accommodates
8
---
Bedrooms
Idio, Sebaste, Antique, Philippines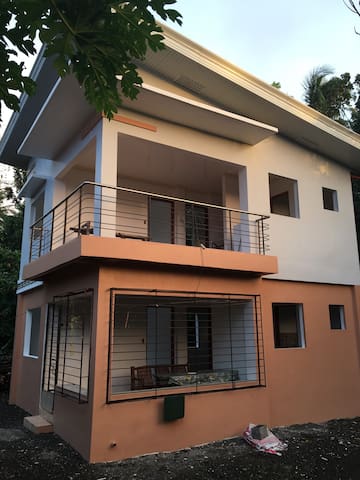 brand new luxury villa, 8 bedrooms, 10 bathrooms, over 6,000ft of indoor living space. 18 metre swimming pool with stunning views over boracay. 4 full time staff including personal van and driver. stunning views over boracay
This is a brand new home, with 8 bedrooms and 10 bathrooms and 5 full time staff. we have tried our best to think of everything, but if we have forgotten something, please let us know and we will try our best to arrange for you. the pictures of the house speak for themselves, but it is our staff and service that will truly give you a memorable vacation. 5 bedrooms have a kingsize bed and 2 bedrooms have 2 double beds and one bedroom has 1 double bed. all bedrooms have their own aircon, 40" tv ,en suite bathrooms with towels, soap, shampoo,hairdryer and private balcony. there is a large 18 metre infinity swimming pool with spectacular views of the island . large dining table for 14 people, fully equipped kitchen and large BBQ. the living room has a 60inch tv and also a selection of board games. there is a music system with speakers throughout the whole downstairs area and outside by the pool. we have a selection of music, or bring your own. any device that has a standard jack plug / headphone socket will work. we have wifi in all bedrooms, plus a second connection from a different internet provider downstairs in case one is not working (remember this is a small island ) the house is located in a quiet residential area, which is just a 10 minute drive to the main area of bars and restaurants. the house comes with a full time van and driver on call 24 hrs a day. it also includes 4 full time maids. the the staff are there for your benefit, they will cook, clean and go shopping for you or with you if requested. please note we do not have a professional chef, the maids can cook basic food, BBQ and will be happy to help you do your own cooking if you wish. we also have a selection of take away menus , pizza etc. that the staff will be happy to order for you. if you want a professional chef for a special dinner, please let us know in advance and we will try to book one depending on availability. the staff can also book restaurants or activities for you, just let them know and they will be happy to help. if you prefer your privacy, please just tell the staff and they will only come when requested. they live just underneath the house, so are on call 24hrs a day. we keep a large selection of basic food,tea, coffee, milk wine, beer, soft drinks etc. which you can order from us at cost, or else you can goto the mall and do your own shopping with the help of the staff if required. we also have a 24hr back up generator in case of power outages. if you have any specific requests of things you would like us to provide on arrival, then pls just send us a list and we will do our best Interaction with Guests we have 4 full time staff that live under the house and you can contact 24 hours a day. any problems you can also contact me 24 hours a day
This home was perfect for a large family and friends holiday. The home is new, spacious and everything is in great shape. The van with driver and the women staff are amazing and help to make the holiday that much better. They can help with anything. All were friendly and anything needed attention was dealt with immediately. Stephen contacted us before we arrived to make sure all was coordinated with our arrival and then checked in after we were settled to make sure all was fine. Overall, I highly recommend this home.
Jordan
2017-01-07T00:00:00Z
Overall housing condition is really good, maybe even exceed my expectation. The villa is really spacious where u can fit in more than 20 persons. Swimming pool is in good condition as well. Stephen is very thoughtful, he prepared everything for us, even beers, juices and snacks as well. Thanks to Belle and her teams for taking us so well, preparing breakfast and arranging all the activities for us. The only downside of the villa is the location and the bathrooms. Two of the bathrooms smell bad and the water pressure of shower is too low. However, we are very enjoyable during the stay. Definitely will come back again ;)
Renee
2017-03-06T00:00:00Z
Great stay. I would come back. Perfect for family. Stephen and staff was beyond great.
Rey
2017-03-12T00:00:00Z
The photos gives justice to the place, though the house itself is a bit far from the driver is very accommodating and would be willing to drive you whenever and whereever. The staff makes great filipino dishes and ensures you are comfortable!
Trix
2017-02-16T00:00:00Z
Awesome hospitality, excellent staff, picturesque view, perfect layout, sparkling clean, safe and comfortable.
Ladislav
2016-10-17T00:00:00Z
nice staffs and including maids and driver, we had fun and enjoy to stay here so much!!
Yuki
2016-10-12T00:00:00Z
view is truly good. swimming pool is awesome. Our family was altogether happy and satisfied~I'd like to go again if it's chance The place which is really good in party~!
Lee
2017-01-13T00:00:00Z
We were one week and had a great time. The villa is wonderful and the stuff was excellent. We will come again for sure
Moshe
2017-01-31T00:00:00Z
Room Type
Entire home/apt
---
Property Type
House
---
Accommodates
16
---
Bedrooms
Malay, Western Visayas, Philippines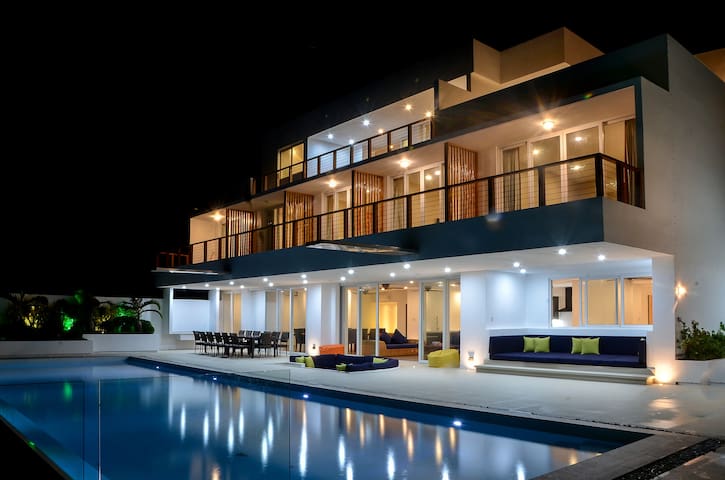 A very comfortable home 250 metres from the beach in a traditional area of Aklan between Kalibo Airport and 30 minutes from Boracay. A relaxing stay in our peaceful home is a great precursor to your Boracay Island vacation. Ladies or couples only.
Only female guest will be accepted..
Neighbors are always very friendly and always saying hello..
The host canceled this reservation 5 days before arrival. This is an automated posting.
Erol
2016-11-19T00:00:00Z
The quite big new house placed in a nice and quiet barangay Ondoy is very near to the main road between Kalibo and Caticlan and the room for rent was nice and clean with a comfortable double bed and own bathroom with toilet. The host's sister and her husband were very nice always willing to give all important advices and inviting to watch TV in the sala and offering some food and a morning coffee. We recommend to stay in the house for this unbeatable good price to everyone interested to rest in a very quiet environment and discovering the nearby Kalibo ir Boracay.
Miki
2017-01-19T00:00:00Z
Lina picked me up although it was very late. We had nice conversations and cooked together. Besides, I had a nice sleeping room and bathroom for my own and could get a good rest:)
Luise
2017-03-09T00:00:00Z
Room Type
Private room
---
Property Type
House
---
Accommodates
4
---
Bedrooms
Ibajay, Aklan, Western Visayas, Philippines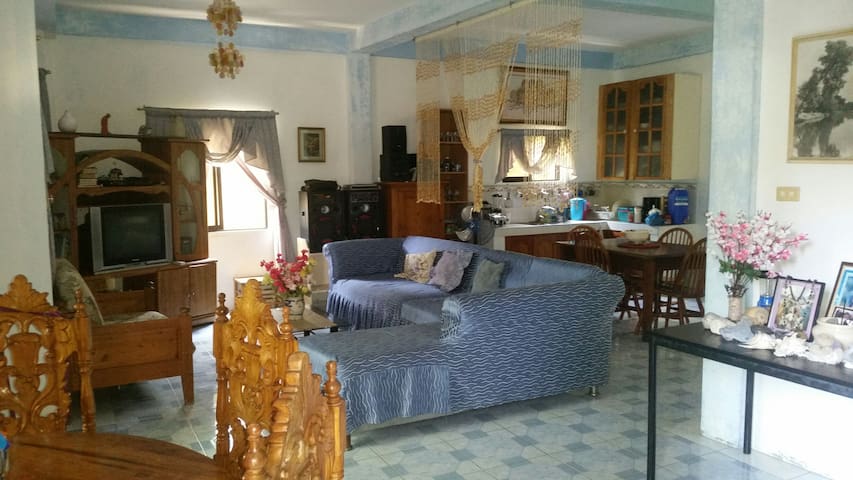 The house is 5mins away from the white beach of station 1 and 8mins walk to diniwid beach. Its a fan room with private bathroom (no hot shower) . Were on a tropical paradise so the weather is not that freezing enjoy the Filipino lifestyle.
A studio type room with own basic kitchen fridge will be provided for long stay .
Near to the strand resort, Boracay Teraces, Spider House, , Wahine beach bar, Diniwid Beach, legacy gym in diniwid and station 1 white beach.
Very affordable. Rachel is accommodating.
Abby
2016-05-10T00:00:00Z
Rachel's place was the perfect home base for us in Boracay. The room was very clean and had a great kitchen. We were able to get food from the nearby City Mall and cook all week long. It's also conveniently located near the beach and a scenic walk. Rachel's brother was very helpful and welcoming throughout our stay. Overall a great experience.
Taylor
2017-03-31T00:00:00Z
Good room. I advise you to stay here, the beach is 7 minutes. the room has a fridge, cooker, hundred and allows you to cook
Anya
2017-02-14T00:00:00Z
affordable room. great location. near to the beach. wifi faster than starbucks or mcd.
Syazwan
2016-07-16T00:00:00Z
Very nice place, near to white beach 10 or 15 min away to D mall by the beach. Everything close by. Rachel and his brother is very kind and helpfull.
Tomas
2016-12-08T00:00:00Z
Rachel and her brother were very accomodating.. Even tita living next in our room as well, thy were all very hospitable, keep it up rachel! Till our next trip :)
marvin
2016-08-24T00:00:00Z
Nice accomodation clean very quite and just few minutes walk to the beach, friendly host.
maurizio
2015-11-20T00:00:00Z
The room was in a great location at the tip of station 1 were it's the most quiet. You can walk to station 2 were most of the eating places are. There are cheap eats you just need to find them checking people's blogs. The room was good and only 2 mins walk to the beach, it was cool enough with the fan. Only basic kitchen so it's okay for heating up pasta but no fancy meals. I only wish the room had a fridge to cool our drinks. Communication was great. Wifi isn't fast and didn't work most of the time. I would definitely stay here again though as its really value for money.
Sheryl
2016-02-23T00:00:00Z
Room Type
Entire home/apt
---
Property Type
House
---
Accommodates
3
---
Bedrooms
Malay, philippines, Philippines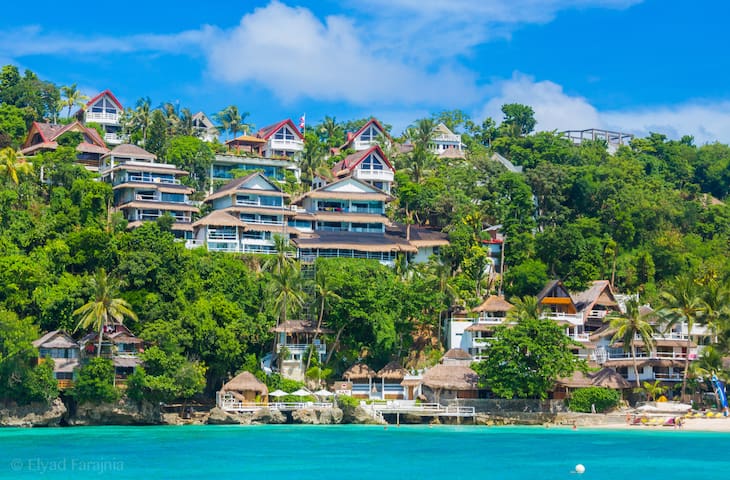 Papierus Pensionne is a family-run Guest House in Kalibo. Local and Foreign guests alike have commended our house's peaceful, relaxing surroundings; wonderful design and well-appointed rooms; and cheery, personal service.
Our neighborhood is located on the edge of Kalibo town proper, the area is called Capitol site since most of the surrounding buildings are schools, government offices, and the location of the provincial capitol building. It is quite busy by day but very peaceful at night.
The hostel was quite simple, perfect for our last night in town. Everything was working and clean. The staffs was really nice. We recommend it.
Alexis
2017-03-14T00:00:00Z
Very nice and quiet place to stay. A great value for the money. I would stay here again!
Michael
2017-02-14T00:00:00Z
The host canceled this reservation the day before arrival. This is an automated posting.
Angelo
2016-02-05T00:00:00Z
The check in was smooth and as hwell was room was spacious and clean. But there was no electricity by 9am. Our checkout time is 12nn. Nobody checked on us if we're ok. My husband went to find out what happened and it turns out they turned the electricity off because of 711 construction on their front building. The reception asked us to transfer to a room with electricity but did not assist us nor direct us. We ended up showering in a dark room with no hot shower using our mobile phone for light and pack our things with us of window lights. We are not expecting 5 star treatment, just the basic things we paid for like electricity. I texted the owner but she did not reply. We checked out at 10 am and there was no apology, though we were not expecting it coz they obviously don't care. Such a bad experience.
Gizelle
2016-12-03T00:00:00Z
Crispy and the other guy (i can't remember the name) are very helpful! Spacious, safe, clean, accessible, good place! Hassle-free vacation starts at Crispy's place. :)
Rica
2016-06-14T00:00:00Z
We did not have a hard time finding the place. The host was very helpful. The place was a good place to rest for an overnight stay or two. The aircon was not that cold, though. But the room was clean. And the bathroom was also clean. They even have their souvenir shop and they cater handcrafted products our of paper. It was cool. Overall, i'll rate this 8.5/10.
Niña
2016-08-30T00:00:00Z
It was my second time in this last trip to stay at Crispy's. I felt very welcome!
Cat
2016-06-19T00:00:00Z
It's a good place to stay when you had a late flight to Kalibo and only want to go the next day to Boracay. Kalibo isn't special so the location isn't either but the fact that it's close to the airport makes it ok. Rather expensive, we pay 60 pesos more now in station 2 at 50m from the Boracay beach. (Airco, wifi, hot water, no breakfast = the same)
Robin and Bianca
2016-02-22T00:00:00Z
Room Type
Private room
---
Property Type
House
---
Accommodates
2
---
Bedrooms
Kalibo, Aklan, Western Visayas, Philippines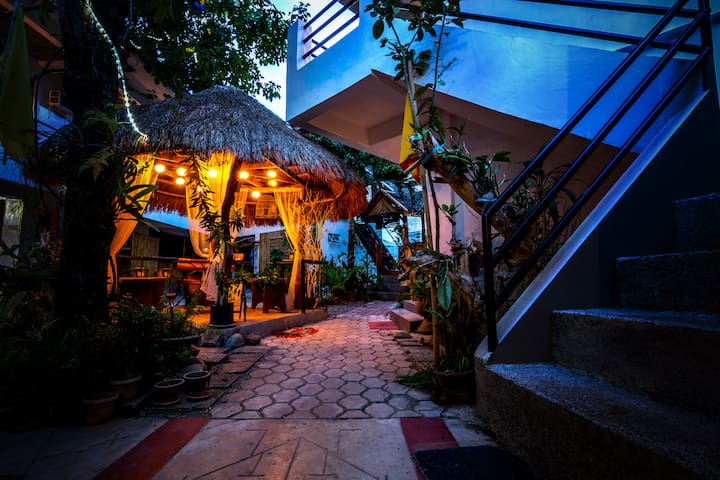 Our cozy 2-bedroom resthouse surrounded by a rock garden is truly eco-friendly. It comfortably fits 4 (max 10 pax) & is located along the cool & quiet Langan Hills at TEA Park close to the Zipline, Kawa, Butong River & the Bugtong Bato Falls.
The place is far from the neighborhood and is situated on a hill.
Well, I am happy to be the first European guest if Dr. To Mei. He was a perfect host, taking a good care of me. The house is great, in the middle of a natural park- with no neighbours at all, so you can really feel the peace around. Well equipped, it was even stocked up with enough food for a week :) Actually, there are no hotels or western standard guesthouses nearby at all - so I strongly recommend to my fellow tourists to give it a try, you wont regret it! The Dr. helped me to rent a scooter as well - which is required if you want some freedom to move around. Well, that was a perfect stay, easily the best during my 2 weeks in the Philippines. Thanks again Dr., all the bests to you and the family - I hope to see you again someday.
Viktor
2017-03-04T00:00:00Z
We are happy thats we are chosen the the House of To Mei. It is such a nice Place there. He is he perfect Host, friendly, sattentive and communicative. It was nice to talk to him. The House is in very good condition and includes everthing what you need. Also the Location of the House is great, easy to find, quiet and peaceful and glose to the attractions of Tibiao. So all in all it was a perfect Stay. Defenetliy we will come back sometime.
Rene
2017-04-05T00:00:00Z
Room Type
Entire home/apt
---
Property Type
House
---
Accommodates
4
---
Bedrooms
Tibiao, Antique, Philippines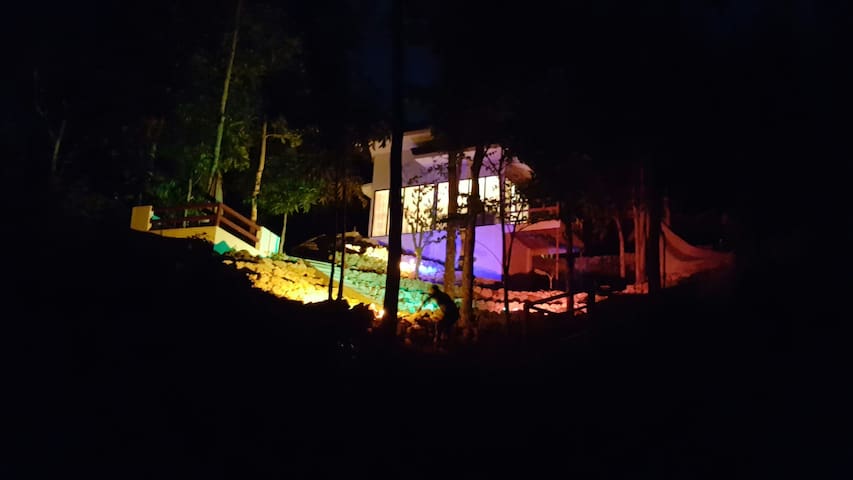 If you want to be close to the lively White Beach but still want it quiet and nice? This is the place. My private home is a very personal, charming and romantic place with a lovely seaview! The walking distance to white Beach is approximately 10-15 min but there are also tricycles around you can take. Suits best friends, couples, families. For elderly or handicapped the partly steep hill might unfortunately be inconvenient for you. Although the tricycles can take you to 50m from the house
Why spend lots of money in small hotelrooms when your friends or family can stay in "Elsas Place" for the same price or even cheaper? This apartment sleeps 5 althought its more convenient for less people. Suitable for a family! The apartment has one bedroom with one Queensize bed (150 cm) and one lovely, newly renovated loft-bedroom, (approx 12m2) with 1 Queensize and one sofa/single bed. It has also a marvellous panoramawindow with a great view over the ocean! The livingroom area has a charming "Thai"-bar with barchairs in front of and behind the bar. Behind is also the kitchenarea. A big cornersofa is facing the sliding doors opening up to the 30m2 big terrace with the lovely view!. With the sliding doors open you can just lay in the sofa, feeling the warm winds and fresh breeze while watching TV (or the stars) With just 3 steps you can enjoy the same but in the hammock- outside! (If you are lucky and it´s fullmoon, iIt´s absolutely magic to lay there and watch the moonrise!) The tranquility, the athmosphere and the view is extremely peaceful and still it´s only a 10-12 min walk to the famous and busy, busy 4 km long beautiful White Beach. Don´t miss the worldfamous sunsets there! (But don´t miss the Lovely sunrises in Elsas Place either!) Note that there are 2 apartments in "Elsas Place" Both can be booked together as a big family/friends house (sleeps max 9 + ev infants) or separated. (The other apartment is "Big value! Elsa´s Place", Boracay!) My caretaker will do his best for a pleasant stay and for your safety and comfort a securityguard is on duty night-time.
There are only residentials around "Elsa´s Place" and the neighbors are from all over the world. Along Bulabog Beach there are a resorts and hotels and approx 7-8 kiteschools. Small restaurants are located, most of them inside the kiteschools and they are offering very good budgetmeal, international and philippino. Most of them are closing early evenings. A beautiful golf course are located only 2-3 km away.
It's a great pleasure to live in Elsa Place!!! The apartment is so great!!!! Makes you feel like at home: clean and comfortable. You can enjoy the sunset in the balcony and also u can enjoy the birds singing. Dexter, who received us and helped us while we were living the apartment, is so nice! Thanks Elsa Thanks Dexters!!!!
DONGYING
2016-06-08T00:00:00Z
We had a great time at Elsa's place! The view is great and the flat has all you need. Dexter was also very helpful!
Antoine
2015-12-04T00:00:00Z
I and my friend stayed in Elsa's house for 4 days.Its a wonderful experience staying here especially the beautiful sea view and the quiet environment. And Dexter is also one of the best part in our memory in Boracay for his kindness and helping us a lot. This is the first time I went to Boracay, and I think I'll be back with my family and friends again. BTW,we like Dexter so much!!!! 我和朋友在这住了4天,我们觉得这很棒,房子在山上,从Dmall搭车我们每次都是100比索到山上私人路的入口(也许我们被坑了,但也不算贵,反正我们从海滩搭车到D mall也从来都是75比索),跟司机说到sunrise palaris就好,这里离D mall有一段距离但是离水上活动的海滩很近啊,顺着路走下去就好啦,虽然过了公路上来的私人路是有点抖但我们觉得还好吧,反正我们是可以接受啦 另外!!!最重要的一点!有活动想预订可以找Dexter帮忙!
罗增芬
2015-07-27T00:00:00Z
Amazing place
Milan
2017-02-11T00:00:00Z
Seven of us (plus one child) stayed in both floors of Elsa's property; as described, they are in the same location with two completely different entrances. Both have two bedrooms, a bar/kitchen area, a hammock and a comfy couch. If we had to pick which one we preferred, the upstairs unit would be the automatic choice but those who can't sleep without air conditioner in a humid tropical country might think otherwise (both rooms downstairs are air-conditioned but none of the two upstairs are, though fans are provided). The downstairs unit seemed slightly older or it could just be that the one upstairs receives more natural light. Overall, it could definitely be cleaner but for the price we paid, we had no complaints. We also had zero issues with the hill and location as Elsa made those clear right from the beginning, but do take both into consideration before booking, especially for those who want to be close to the more popular stretch of white beach on the other side of the island (station 1/2, about 10-15mins tricycle ride only). We didn't mind as we were interested in doing water sports (banana boat, parasailing, etc) and during the off peak season (July onwards), these are done on the side of the island closer to this property as the waves are too strong on the usual side - we still swam on the latter side when the waves were more manageable. All in all we had a delightful stay and would love to be back. Prior to booking, Elsa was very helpful in addressing all our queries and concerns and even if she wasn't around during our stay, Dexter was very helpful in everything we needed (airport pick-up, booking island hopping and other activities, etc).
Muriel
2014-07-25T00:00:00Z
Amazing sea facing view from Elsa's apartment. I'm pleased with the apartment except for the steep walk up the hill , guess that's an uncontrollable factor. I can say it's a safe neighbourhood .Dexter was very warm and service oriented. The only unpleasant experience was Dexter helped us coordinate the transfer from Kalibo to Elsa's place however the transfer company didn't show up and we waited nearly 45 mins. I called up Dexter and informed him on the situation and couple of minutes later the transfer representative appeared. They told us they were only informed now and didn't receive prior booking from Dexter. I'm not sure who to trust... Overall if you are fit enough to walk up the steep hill , go for Elsa 's place is worth it !
Selvaraj
2015-12-06T00:00:00Z
Elsa's Place is fantastic! The view from the livingroom and balcony of Bolabog Beach is unbeatable, it made our day every day. I recommend staying up for the sunrise, its so beautiful! The apartment had everything we needed: fully equipped kitchen, big livingroom, one bedroom with aircondition and a loft bedroom, clean bathroom, books for all tastes and a balcony that is accessible from the livingroom and the bedroom downstairs. The decoration is beautiful like a lounge. It is perfect for families, couples and friends of all ages. Elsa make sure you get all information you need to find your way from both airports to her house, and around the island. I dont agree with the comment that said Elsa's Place is far away from everything. It takes 10 minutes to walk to White Beach and D Mall which is the busiest section of Boracay. Elsa had to fly back to Sweden before we arrived but Dexter was there to take care of us. He is the friendliest person I've ever met and he helped us with everything from restaurant recommendations to ordering transportation back to the airport when we left. I'm looking forward to staying at Elsa's Place again the next time I travel to Boracay!
Christoffer
2015-04-22T00:00:00Z
Dexter was helpful and friendly during our stay there. He brought candles for us when the island went out of power for hours. Would be great if the place is better maintained, but overall lovely place with great sunrise view! Thank you Elsa and Dexter!
Minxing
2015-10-19T00:00:00Z
Room Type
Entire home/apt
---
Property Type
House
---
Accommodates
5
---
Bedrooms
Malay, Western Visayas, Philippines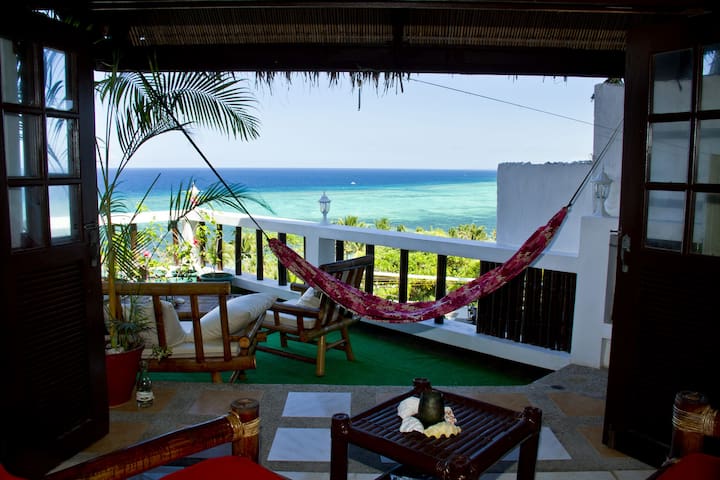 The rooms are located in the Bantud,manoc manco area of Boracay. Station 3 is a 5 min tricycle ride away or 10/15 min walk and the dmall only a 10 mins tricycle ride away/30 min walk. We also have a motorbike that we rent out to guest Ideal for couples or familys as the rooms are inside are family home. Room 1: Air-con,2 beds that can be made into a double,cable tv,wifi Room 2: Air-con,2 beds that can be made into a double,wifi Both rooms share the same CR which has a hot and cold shower.You have free use of all the amenities in the house including the living room with 32" tv,kitchen with full oven and cooker and washing machine(fair usage applies). For extra person:200php per person/under 12 free if using exsiting bed. We can arrange for airport pick up from kailbo or caticlan to the house with island star express Or please call us when you get to boracay so we can give directions to the driver.If not Please print the map in the pictures to show the tricycle driver when u get to boracay
When we got to the island, Michelle met up with us at the port. It was a short tricycle ride to the area close to their house. In getting to the actual house, please be reminded that it is a bit of an uphill walk, but manageable :) Oh, and there are lots of dogs at night so when coming home at night, be careful. We were given our privacy and space so it was a pleasant stay. Our hosts were friendly and gave us helpful tips during our stay. Rooms were ok and we were provided with clean towels and beddings, as well as drinking water. A/C was ok and we were allowed to use the kitchen. It takes a 10-15 minute tricycle ride to get to d*mall (station 2 if i remember correctly) which isn't bad. Thank you Michelle and Jonathan! :)
Rachel
2014-04-13T00:00:00Z
Jonathan and Michelle were very nice. Helpful but gave you the amount of space that's ideal. Their home would have been a bit hard to find at night on our own but it cost us only 100 pesos for them to pick us up and direct the tricycle driver. Its located in a very safe area. It's about a 15 minute walk to White Beach. It isn't bad at all. It was actually great to walk through the non-commercialized streets and paid only 40-60 pesos per meal. The room we stayed in had an A/C that worked really well! Hot/warm water showers. The room had a dresser and garment rack for your things. The room door locks. You have access to the kitchen. The wifi works really well.
Sheila
2014-07-11T00:00:00Z
Nice and affordable place. :)
Day Anicee
2015-12-14T00:00:00Z
At first, I had a little difficulty to find his house. But when I called him, Jonathan got out of his house to pick me up on the street. With their warm welcome , I have felt like a home and I even could use their washing machine and kitchen.. I could play with the dog and their daughter too. I will come to stay in their house next time. Thank you Jonathan , Michelle and your little princess.
la
2014-06-28T00:00:00Z
Nice place to stay to be away from the loud side of boracay. Lovley Family! Always recommended. Cheers :)
Angelina
2016-04-09T00:00:00Z
Great place and it's good price .Most importantly please give them a call before take tricycle so that they can guide you all . If you guys can't contact them ,home stay located at boraccay international high school.
Wolf
2017-03-25T00:00:00Z
Great! Some positive emotions. First - beautiful place. Jonny and Michelle have a wonderful home. Second, the hosts are very friendly and sociable. Thirdly - price. Boracay is not cheap Island, but this place has a really good price. Overall, I am very satisfied.
Andrei
2014-09-18T00:00:00Z
Staying at Jonathan and Michelle's place, we were able to really relax since the area is very private. If you are the type of person who wants to slumber peacefully when you're not out partying or swimming in Boracay, this is the perfect place. I say it's pretty homey, you have free use of the kitchen so you can go to D'talipapa to buy meat or vegies and just dish out a home-cooked meal (very budget-friendly to do that). You can also watch TV. Transportation anywhere in Boracay is not a problem, there are tons of them. From the accommodation, you can easily hail a motorcycle 'habal-habal' or go for a 10-15 minute walk to D'mall. The place is always clean, sheets changed every two days, and the bathroom (although shared) has hot/cold shower and is always clean. Michelle is an amazing host, made us really feel welcome. She gave us the cheapest rate for our activities and a lot of tips so we can save. She also accompanies you to make sure you get the rates as promised. If you want to, she can take care of everything you need in Boracay from activities to transportation. And she seems to know a lot of people there. All in all, it was an awesome stay, we enjoyed our time in Boracay.
Maricor
2016-12-12T00:00:00Z
Room Type
Private room
---
Property Type
House
---
Accommodates
2
---
Bedrooms
Boracay, Western Visayas, Philippines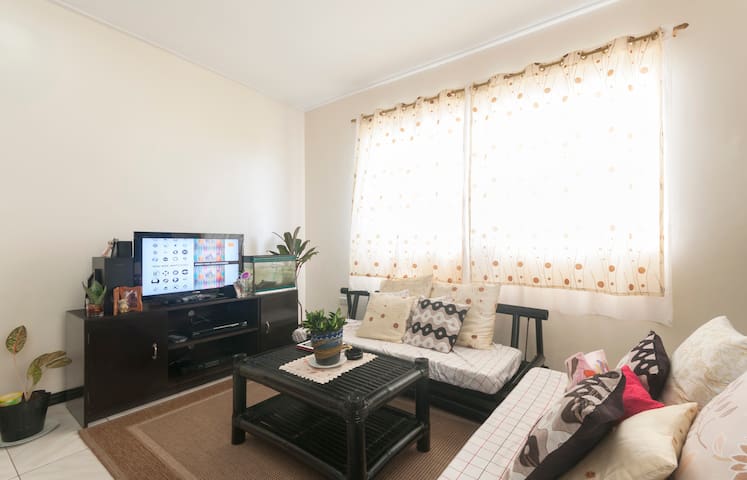 This house was made with a lot of love! This is a one bedroom apartment with a large bedroom (kingsize bed(, a living room and fully furnished kitchen and a bamboo terrace on the garden. Hot & cold shower, aircon or fan. Enjoy the breeze of the hill!
The kitchen is fully furnished. The bamboo terrace is facing a garden. The house is equipped with cable TV and Internet. A veranda with a bench opens in the bedroom. An extra mattress can be added for a child. Young children are welcome to co-sleep with their parents and will not be counted as extra guests under 12.
The neighborhood is very friendly, safe and quiet. Most people living around know each other and share time together. It's on top of the hill so when it's windy, it's always fresh in the house. We are surrounded by green and trees which is a nice break from the noise, crowd and beach.
Room Type
Entire home/apt
---
Property Type
House
---
Accommodates
2
---
Bedrooms
PH, Philippines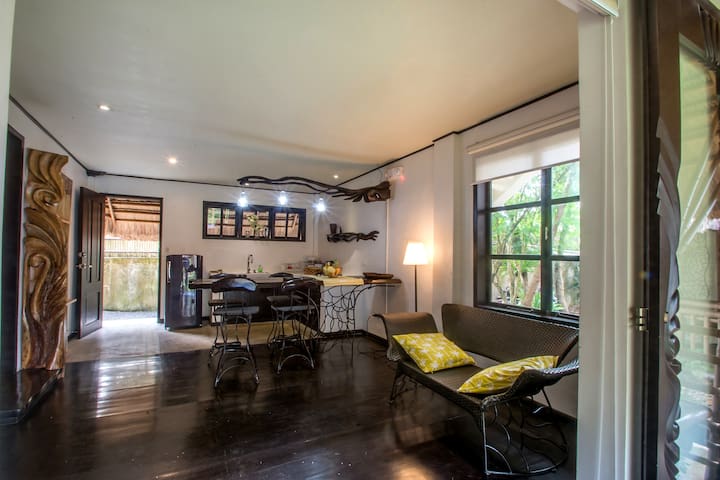 My place is close to Station 3 in the Angol Area, 3 minutes to the beach. You'll love my place because of the spacious living room, the view of the ocean and the Angol hill. It is located in the quiet area of Boracay, but close to the beach, where you will find nice places to lay down and enjoy the sunset and the beach. In 15 minutes you can be in the busier parts of station 1 &2.
The house is located on the Angol hill. You can see the ocean from there! There is a terrace on two sides of the house, perfect for bbq's. The large living room has a dining table and a comfortable sitting area with tv and a large ceiling fan.
The house is accessible from the new road connecting to the main road from the jetty port. If you take a tricycle you will be dropped of in front of the house. From the house it is a 3 minute walk downhill to the beach in station 3. To get to station 2 you can walk on the beach for about 15 minutes. The market is about 15 minutes.
Perfect! everything you would need for a trip to Boracay!. nice and very spacious place, beautiful view, great location almost on the beach, everything is within walking distance!, and its a great price. Czarina and her friends and family are amazing and really helpful (let me know if you go to Copenhagen on day, I'll have a place to stay for you) we had a great time here. I'll recommend it to anyone. Thank you and goodbye :)
Peter
2016-10-13T00:00:00Z
It was really nice and quiet place! Czarina is really friendly and she help us with everything! I can recommend it, we really enjoyed the time in her house!
Nikolušenka
2016-10-30T00:00:00Z
Room Type
Private room
---
Property Type
House
---
Accommodates
3
---
Bedrooms
Western Visayas, Western Visayas, Philippines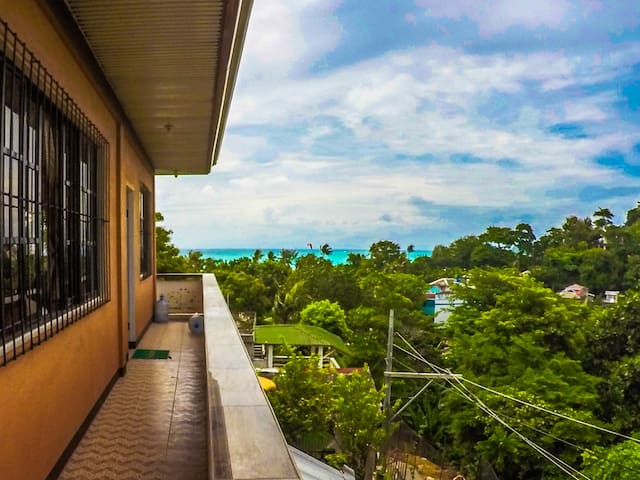 In new construction located in Diniwid on a small hill 50 meters from Diniwid Rd, 1 minute from the beach, spacious room separate entrance, king size bed, kitchenette, mini bar, Wi Fi, no air cond, large balcony, no view sea
New, comfortable, room and bathroom very spacious, airy, spacious balcony with kitchenette, mini bar, Wi Fi. Possibility of extra breakfast, daily cleaning included only the rooms, linen change every 5 days. No sea view. periodic treatment pesticide throughout the house and garden.
Diniwid is among the most popular beaches on the island, very quiet and comfortable with the locals on the beach.
This was a great 5 days expierence at Nonnas's house! The house is located just a short walk from the Diniwid Beach, away from the crowded streets of Borocay. However still at the reachable distance from all the Stations, shops, restaurants etc. It takes aprox 15 min to reach The White Beach by feet. If you prefer to drive - you have a tricycle parking just near the house. The Diniwid beach is very clean and not crowded, which allows you to enjoy the nice view and the water (White Beach is very crowded with loads of people&sellers). The house itself was perfect, our flat was located at the second floor with our own entrance. Everything very clean and the flat has also nice kitchen, where you can cook your own meal. And the owners- they were very lovely and always ready to help! Fabricio is a scuba divining instructor and I highly recommend to go for a dive with him! Just a couple of minutes from the house you can find also a very lovely place called Spider House! It has very tasty food with beautiful views from the terrace. I highly recommend to stay at Nonna's if you wish to spend beautiful holidays in Boracay! Thank you Nonna and Fabricio & lovely dogs as well, it was a pleasure to meet you and spend this wonderful time at your place!
Rolands
2016-06-03T00:00:00Z
Fantastic place! Host are very nice and helpful. Near to the diniwid beach and it's the best choice if you are looking for a place far away from noise and people. The room is huge and clean. There was no air conditioner but the fan is good enough, 'cause it is cool inside the room.
颖婷
2015-08-30T00:00:00Z
Nonna's House was fantastic. A big, beautifully designed airy room, the perfect place to relax. It is a short walk to the beach with great restaurants and away from most of the hassle of White Beach. We only stayed 3 nights in Room 2 because only 3 nights were available, but would happily have stayed longer. Hosts were lovely and welcoming I hope to get the chance to go back. Would recommend it to anyone!
chelsea
2016-01-16T00:00:00Z
It was our best vacation in Asia ever thx our staying at Nonna's House! Boriana and Fabricio are very hospitality and kind people! Our room was wonderful! Very clean (daily clanging), large and comfortable (king size bed, kitchen, bathroom - all very nice). The best location: 3 mins to Diniwid beach (there you can find the best bars on Boracay (for my mind) Wahine and Spider house with the best sunset view
Valiantsina
2015-04-23T00:00:00Z
Boriana is a wonderful host with the warmest most welcoming smile. She met us outside the house and her lovely staff took our bags and just like that we were 'checked-in'. The location is a bit further off from the usual tourist haunts but I personally loved that about it. We were close to Diniwid beach but also to Puka beach and other lovely locations. She was full of recommendations and ideas on what to do with our time. She and Fabrizio were super helpful with identifying a reliable dive shop for me. Overall an amazing Italian stay in Philippines!
Priyanka
2015-03-30T00:00:00Z
Great host, space, location. Loved the balcony facing the calm jungle. Nature as a luxury.
lennard
2017-02-15T00:00:00Z
If you are looking for a serene, lovely and more intimate place to stay in Boracay, definitely this is the place! House is clean and lovely, the view is amazing, wifi have great connection and it is close to diniwit beach which is a very nice, less crowded beach beach than station 1,2&3. Hosts gave us great tips that are very useful for our stay in Boracay (lovely couple). Would definitely stay here again! Thank you! Note that this place is 10 mins away with a tricycle drive from d*mall.
Angelica
2017-03-10T00:00:00Z
It was a very memorable experience staying at Nonna's house! The area was really quiet and relaxing and the hosts were very friendly and nice. The room was hot for my husband at night because there is no air conditioner and he got badly sunburned, but it was not hot for me because we had the fan on all night and the air keeps circulating because the upper wall of the room is open as you can see in the picture. you also have to walk up a quite steep slope for like 20meters before the house, so it was a good exercise :)
Ayano
2016-10-11T00:00:00Z
Room Type
Private room
---
Property Type
House
---
Accommodates
2
---
Bedrooms
Malay, Philippines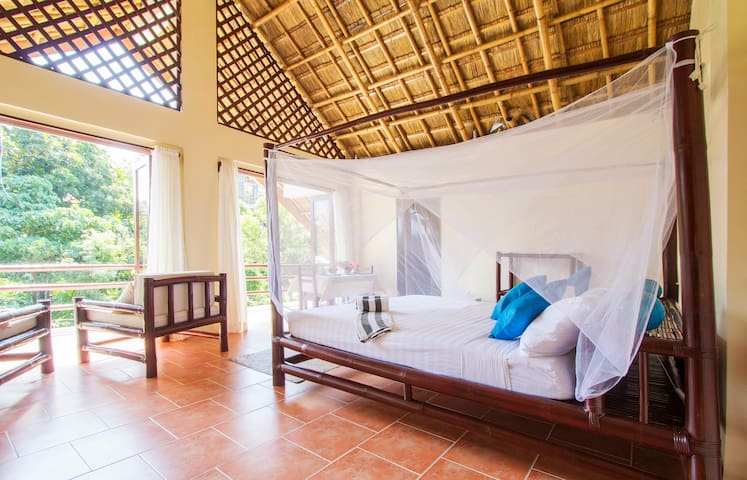 Come feel right at home in our guest room, where your comfort, relaxation, good night rest and safety are our utmost priority. We are located in a quiet and peaceful residential area. Kick-start your day with freshly brewed coffee, breakfast and fruits in season - our treat.
20 square meters room with veranda, fridge, split-type cool yet silent wall air-con, 32" LED HDTV with HD cable box, DVD player 5-in-1 surround sound, some DVD movie selections and private T&B with shower heater. With one double real bed and one 6-inch foamed futon, this guest room can comfortably accommodate up to four guests.
Peaceful residential homes. Police regularly patrols at night.
I was only in Kalibo for one night, needing a place to stay before my flight in the morning. Jesse was wonderful and helpful, picking me up from the bus station, and bringing me to the airport in the morning. It really was quite a relief, as I had been traveling on a bus and ferry for about 4 hours at that point. The house itself is gorgeous, and the rooms are spacious. Very elegant. Very comfortable. The grounds are very pretty as well. If I had stayed longer, I would have liked to sit on the back porch to take in the scenery. In the morning before I had to leave for the airport, a breakfast was prepared for me. It was very tasty and diverse in its offerings. If I were to ever come through Kalibo again, I would totally stay here.
Elaine
2015-01-29T00:00:00Z
Listing was right on! Jesse was awesome ! He gave great directions - he provided transportation above and beyond his responsibility. The rooms and breakfast were excellent. We needed information for our transportation and Jesse was very helpful and accurate with advice. We couldn't be more pleased with our experience with Jesse and his staff.
Sue
2016-02-02T00:00:00Z
Jessie and his home are great. Very welcoming and responsive. I had difficulty finding the place due to the road not having house numbers but that is not something Jessie can control. He also has a lovely dog that loves to play.
Harry
2016-12-09T00:00:00Z
Stayed for a night before heading to Boracay with my mom and friends. We arrived at Kalibo airport late night due to flight delayed. Appreciate Mr Jesse kindness for picking us up at the airport and dropping us to a local restaurant for our late dinner(for free). Also we like the privacy of the room, it was clean, spacious and comfortable and breakfast was good. Thank you for the warm welcome of the family (Mr Jesse, Ms Sandra, Ate Mila and husband and the adorable dog). Highly recommended when staying in Kalibo. God bless to your family!
Mary Jean
2017-03-25T00:00:00Z
The room and house are fantastic, Jessie is very nice, send us back and forth for the dinner, and also help us to buy medicine. The next day morning, his driver send us to the airport......Actually this is my first time to stay in the hotel of Airbnb, really enjoy it.
weiwei
2016-02-05T00:00:00Z
No wonder Jesse is a superhost, great communication and hospitality. Jesse is very kind and polite person we had a good stay in his place.
Samantha
2016-02-11T00:00:00Z
The room was very clean and nice and the location was perfect before going to boracay :) Jesse was incredibly friendly and helpful and polite :) we lived staying at your place and would definitely book it again! Thank you very much for everything!:)
Laura
2016-04-27T00:00:00Z
Jesse and his family made me feel very welcome on my first visit to the Philippines. He collected me from the airport and assisted me to find my way around the town and to get a SIM Card. Jesse provided wonderful breakfasts and these were an excellent start to the day. His house is in a quiet and pleasant location and it is very easy to get a tricycle to go into town. The room was very comfortable and the ir conditioning worked very well. I felt very honoured to be his first AirBNB guest and I encourage you to spend a few days in Kalibo on your way to Borocay.
Ernest John
2014-06-29T00:00:00Z
Room Type
Private room
---
Property Type
House
---
Accommodates
4
---
Bedrooms
Kalibo, Aklan, Philippines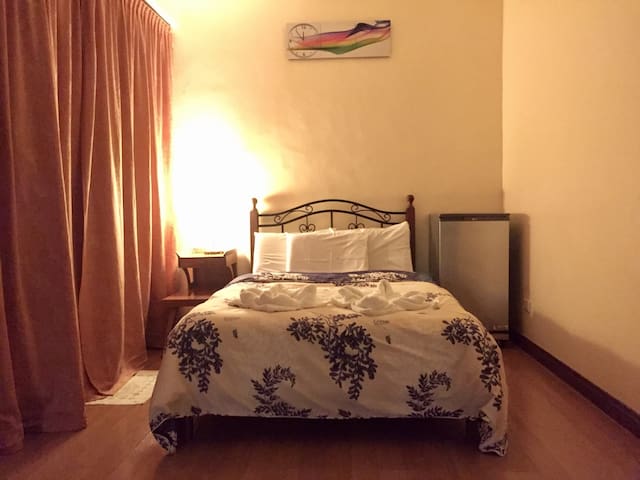 Brand new 7 double bedroom villa perched on a hilltop with far reaching views across Boracay, Panay and the ocean. The house has it's own infinity pool (17mts x 6mts), billiard room, indoor kitchen and outdoor kitchen with smoker/grill bbq. It has various seating areas including a cabana and bar plus a TV nook with 65" TV. It has hifi sound system throughout ground floor living area. The house has 5 staff including van and driver
We are happy to finally offer Kalamansi Loft House, a fabulous 7 bedroom villa equipped with as many amenities as we could fit in. The house is made up of a car port in the basement; a very spacious living area on the ground floor with open plan kitchen, living room and TV nook surrounded by openings onto equally spacious outdoor areas which include al fresco dining with bbq area, bar and cabana plus 18mt infinity pool; 5 double bedrooms with en suites on the first floor; two double bedrooms with en suites plus a billiard room on the second floor. The house is south west facing thus benefiting from fabulous sunshine throughout the day ending with the famous Boracay sunsets. It also benefits from a good breeze most of the year. To compliment the house we have a great team made up of 3 girls and two boys who are keen to make your holiday as seamless and pleasurable as possible. They will help with shopping for groceries and with cooking and tidying up. They will also make your room up when convenient for you. We keep a stock of basic food and drinks which you can have at cost. We have a brand new van and driver at your disposal 24/7. All the bedrooms have aircon plus wifi and cable TV with numerous HD channels. We have a generator to take care of the occasional power blackouts. Each bedroom will be made up for you at your convenience with new towels every day. We also supply shampoo and soap as well as a hair dryer. Each room has sliding doors onto an outside terrace. The house is situated in a residential area which is 10 minutes van ride from all the action on White Beach.
Nico was a kind, warm and helpful from the moment i stumbled across his listing. I had alotnof questions and alot of assistance required and he helped me through it all. The property is a mindblowing 7 bedroom villa. Every inch of this villa is well thought through and it was just beautiful. The view is amazing. Its jard to describe but the pictures he posted were spot on. With dedicated staff and transportation, we couldnt ask for more. Special mention also to his head of staff, Malou who got us from the airport and helped navigate through the entire process of jetty, van etc.. from caticlan to the villa and from villa to kalibo. I would recommend this villa to anyone, in a heartbeat, and we intend to come back every year.
Amish
2017-01-05T00:00:00Z
The pictures don't do justice for how beautiful this place is. The space is very spacious and comfortable and the views are out of this world. The location is great and 10-15 minutes away from everything. Malu and the staff were beyond amazing and helpful. The food the staff cooked was delectable especially the lapu lapu fish that we purchased at the market. I would recommend this place to anyone I will def be returning next year!!!!
Adilisha
2017-01-30T00:00:00Z
Nico's house is truly special and one of the most beautiful properties I've stayed at in the Philippines. I've been living in the Philippines for 5 years and this holds true even for some of the very high-end resorts I've stayed at, Nico's house beats them! While the pictures make it look pretty nice, you really have to see its full beauty in person! The layout of the house, especially the living are is designed in such an open way that it feels like being connected to the nature around the house and the beautiful views no matter if you are lounging in the living room or relaxing outside by the pool. It's a one of a kind experience! The amenities in the house are fantastic as well. All kitchen appliances are brand new and very high quality. The BBQ grill is great too and perfectly setup next to a large dinner table, even for big groups. Apart from that the house features many fun things to do, such as a pool table with gorgeous sunset views, darts, a bar area, a great home theater setup, inside/outside speakers where you can play your own music, etc. The rooms are very spacious and feature fantastic views of the island, all with their own bathroom and most with balcony access. The bath/showers are especially beautiful and feature high-end fittings. In some rooms you can shower or take a bath with beautiful views across the island, just lovely! Nico's staff is also one of a kind! They were available for us pretty much around the clock and took care of us perfectly. Everything we asked or wished for was handled quickly and efficiently. I can also highly recommend the private boat transfer that Malou arranged for us, it probably reduces your trip time by 45 minutes to one hour and drops you off at a beach close to the house. While the house is a bit too far away from white beach to walk, Nico's staff were happy to drive us there whenever we wanted, combining a secluded location with gorgeous views with a convenient way of getting to the buzzing party scene at white beach. Since the house is brand new a few very very minor things such as some light fittings were not fully completed. While visible in some ways, it did not bother us at all in any way. However you can see how the house will be even more beautiful once these are completed. Overall this was a fantastic experience and we will gladly be back in the future.
Franz
2017-02-06T00:00:00Z
Definitely the most beautiful and amazing house I have stayed in. All the details of this Kalamansi Loft was well-thought -- the lightings, the outlets, the bathrooms.. And don't let me start with the amazing team headed by Malou who picked us up from the airport and assisted us with all our needs. She even helped me to take care of my baby throughout the trip. Nico was also 24/7 reachable and always replies to our queries. The house was a 10-15 minute drive to Station 1in Boracay. Expect a bumpy ride :) Malou also dropped us off to the airport. We are going back to Boracay this summer and we'll definitel stay in this beautiful house again. :)
Mitch
2017-02-01T00:00:00Z
This place is amazing. The staff is amazing, service is superb. Only thing is it is not in a walking distance from the beach. But you have a van with a driver at your service. To me these pictures are downgrade from the actual house itself. We will come back to Boracay just to enjoy this villa and its wonderful staff once again.
Amarsanaa
2017-02-27T00:00:00Z
The pictures shown justice to the place, though the house itself is a bit far from white beach but the driver is very accommodating and would be willing to drive us out anytime. Nico send his driver and staff by transferring us from our stay at station 3 on 1st and 2nd nights to villa . He help us to solve the transport problem. Staffs there are very friendly and helpful whenever you need them. We travelling in group of 15 for 2 nights stay in Nico's villa. The stay worth the money! Great stay!
Eunice
2017-02-11T00:00:00Z
Words cannot describe how amazing our stay was at Nico's place in Boracay. Definitely a 10/10 experience. A true 5 star gem. First, the pictures of the villa do not do it justice. It is more gorgeous than what is shown. The bedrooms and bathrooms were pristine. The beds themselves were definitely comfortable for a great night's sleep. The views were breathtaking. The most impressive part of our experience however, was the staff. They made every part of the trip easy and convenient, going out of their way to make our group feel at home. Malou and Ronel were particularly exceptional. They are what make staying at Nico's villa a step far above any other locale in Boracay. I recommend this place without reservation, and would not hesitate to book again. Thanks!
Chadwick
2017-01-13T00:00:00Z
This may just be the most fantastic location for a family reunion in Boracay! The villa is designed incredibly well with great common spaces for everyone to enjoy. It is open, spacious, and has probably got the best west-facing view of the island. The villa is cleverly laid out to maximise sunrise and sunset, take advantage of the beautiful breeze that passes through, while also giving our family privacy in each bedroom. The best part of the house has to be the deck and cabana that border the pool. We had massages out there in the mid afternoon and they were magical. The staff on hand were delightful, and so helpful. They were knowledgable about where to go and what to do on the island, and always on call. The food and drink that the house is stocked with is also really good value, and on par with prices in the supermarket on the island. A big thank you to Nico, June, Malou, Ning, Ronald, Eileen, and the rest of the team :) Can't say enough good things about our stay. We hope to be back next year!
Jocelyn
2017-02-25T00:00:00Z
Room Type
Entire home/apt
---
Property Type
House
---
Accommodates
14
---
Bedrooms
Malay, Western Visayas, Philippines
Jungle Villa is a cozy one bedroom house with a complete kitchen and living area. It is located very near Diniwid Beach, which is a five minute walk form the house. The house is accessed through an 50 meter uphill walk from Diniwid Road, as well as an access road at the back of the property. It is close to several restaurants and bars such as Spider House, Wahine Beach Bar & Grill and Mama's Fish House. Diniwid Beach is away from the main tourist areas and maintains a more quiet and local vibe.
The house was originally designed for a couple with provisions for 2 more guests if needed through a sofa bed. Total floor space is about 100 sq. meters, making it quite a spacious place to be living in. It has a functional kitchen with utensils, a stove and a refrigerator. The space is designed with free flowing air around it and high ceilings to cool the place.
Diniwid beach is located just north of the world famous White beach. It is a very local residential area with several developments that have come up in recent years. Neverthless, the area maintains a very local and friendly vibe detached from the very touristy atmosphere on the main beach.
Thank you Paul for your little house and your kindness! Unique places in Boracay where you feel like at home! Great week in Boracay, Diniwid beach is really a nice place !!! Thank you to Marilou and Mickael for their welcome and their services, two very nice people !! see you soon
Chloé
2016-11-21T00:00:00Z
The host canceled this reservation 28 days before arrival. This is an automated posting.
林
2017-01-09T00:00:00Z
We stayed at the jungle villa at the end of October , 2016. To start with i would like to point out that the hosts we're exceptionally kind and helpful at all times. We felt very welcome and looked after at all times . I do have strongly mixed feelings in regards to the property though . It literally was a jungle villa , located in the mid forest. Massive bonus - very close the beautiful , semi private white sand beach that we used every single day. While hosts and proximity to the beach was wonderful , property itself Is a not for the lighthearted . If you are an adventurous backpacker, you might find it charming and unique, but it was a bit too much for us. Key problems was the wildlife - mosquitoes, lizards , spiders , other unknown wild animals that would get inside the property at night . Almost every day we had some new visitors disturbing us at night time , but it's a jungle villa , so I guess should be expected . No air con, only fans. They work ok, but are quite noisy. Main bedroom has a very nice extra large bed. Another bed is located in the mid kitchen / living room and it gets very bright in the morning . Overall Cleaning was very average , had to do some of it ourselves to get rid of spider webs etc on a first night . Kitchen is reasonable. Overall , I wouldn't stay here again , but can think of few people that would actually enjoy it. Depends on how adventures are you Place is hidden , unique and has a ton of character, and would suit edgy travelers seeking non traditional accommodation.
Monika
2016-11-02T00:00:00Z
I stayed in this villa for 3 days and 2 nights and I know that i made the right decision. The place is spacious and peaceful. It will make you want to stay more especially if you live in the metro or any congested place. Although, you cannot see the white beach immediately from the villa, it is very near and the beach is not also congested as compared with the known stations of Boracay. The host welcomed us upon arrival and they are very hands on in providing all the information and direction that I need to get to the place. We were allowed to have an early check-in. They are very sensitive about your needs like the privacy and other amenities or services they can extend like offering you to book your Boracay water adventures and where to buy cheap items or foods. We were able to cut some of the cost of our travel because the place will allow you to cook which i am very happy as I want a home cooked foods by my Father. The villa is more than enough for 4 people and I love the structure. The villa is private, simple without compromising the authenticity of its design, there are some DIY projects inside which makes the place more beautiful and I thinks it is what makes the place different from other accommodations or listings in Boracay. I was surprised that it has an internet connection which makes me love them more as it was not written on the listing description.The lights outside during night time is superb- it makes the place more elegant and romantic. I believe it has all the amenities that you are looking in a hotel with a plus plus. If you are looking for an elegant and peaceful place- this place is more than perfect for you and the family. If i will have the opportunity to go back to Boracay- I will not miss that opportunity to stay here again. Thank you to Sir Paul and To Ms. Marilou for the warm welcome and seeing to it that we have a wonderful place staying in the villa.
Marc Lorette
2016-10-11T00:00:00Z
Room Type
Entire home/apt
---
Property Type
House
---
Accommodates
2
---
Bedrooms
Malay, Western Visayas, Philippines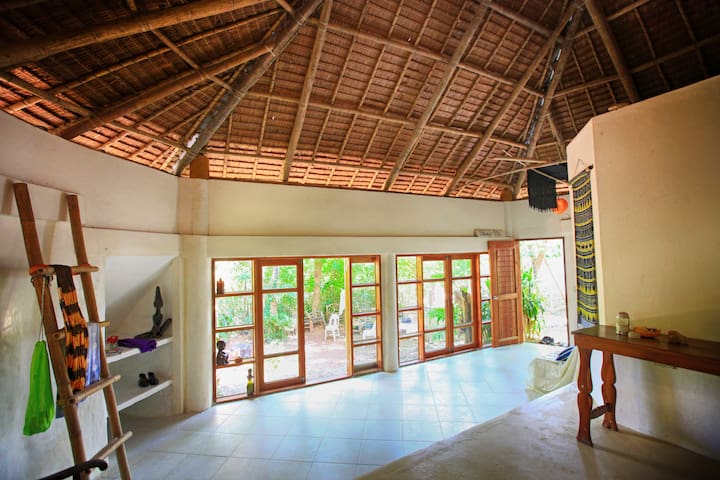 Just 5 minutes from the airport , a stone throw to the heart of Kalibo with fully furnished amenities (tv, wifi, air con , refrigerator ) . Your ideal stop over to Boracay . Airport pickup possible with a minimal amount .
Nice accommondation with friendly and helpful host. Just one small tip, the tricycle is 50P one way to plaza.
Steffen
2017-01-16T00:00:00Z
The host canceled this reservation 2 days before arrival. This is an automated posting.
Ralph
2017-01-11T00:00:00Z
The host canceled this reservation the day before arrival. This is an automated posting.
Leny
2017-01-11T00:00:00Z
Since you get off the airplane in Kalibo, Cezar provides you transportation to his house, we felt like in home during our stay.
Nelly
2017-01-19T00:00:00Z
Cesar and Farah are very kind and welcoming hosts that go lengths to make you feel welcome. We had a short stay with them but they went out of their way to help us with transport, making us delicious local food, and even checking us in for our flight! They exemplify what we think of Philippine people after our trip, the kindest people who welcome you like you are part of their family. I really enjoyed staying up in the "Tree Haus". The room was very nice: Comfortable bed, clean and excellent variety of international tv stations. Wifi signal and aircon was also good. Since it was a very short stay, we didn't manage to explore the surrounding area but for transitting between Kalibo and Boracay it was at least perfect. Good value for money! Would stay again.
Andrea
2017-02-01T00:00:00Z
The family is very kind and friendly with you. They are willing to help you every time. I just stayed one night with them, but I felt like in home seriously. Also, they invite you to some events in the city so you can experience more the Philippine culture.
Fernando
2017-01-11T00:00:00Z
Room Type
Shared room
---
Property Type
House
---
Accommodates
5
---
Bedrooms
Kalibo, Aklan, Philippines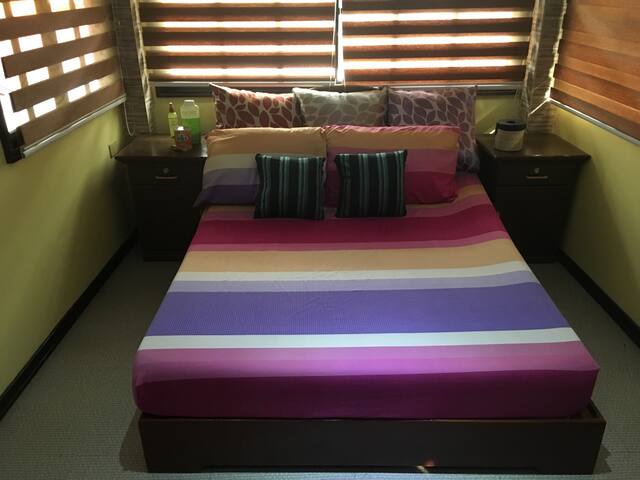 Its a unique place to be one with yourself, your family and with your sorroundings. PLEASE do not book before you contact me!
Room Type
Entire home/apt
---
Property Type
House
---
Accommodates
10
---
Bedrooms
Malay, Western Visayas, Philippines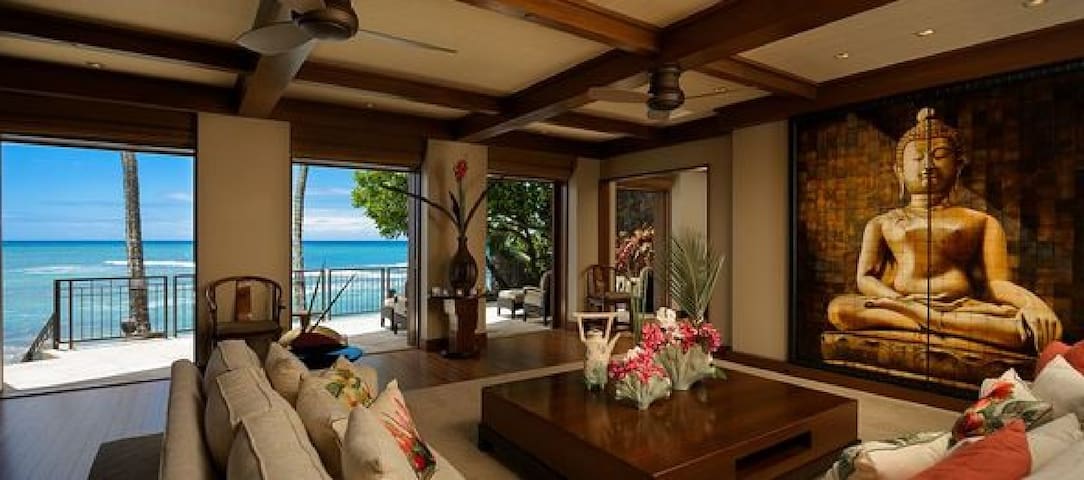 1

–

18

of

199 Home Rentals
Enter dates to see full pricing. Additional fees apply. Taxes may be added.