My beautiful cottage hidden in the woods is located directly on the crooked river which can take you anywhere in the world from your front door. You will enjoy two bedrooms, two full baths, a pull out sofa and a cozy wood burning fireplace. There is plenty of dock space, a covered boat slip, and a boat ramp. Peaceful and secluded yet walking distance from town. Along with that you get a full kitchen, including a dishwasher, and a washer and dryer.
We had an amazing time, the cottage is in a perfect location, very peaceful and you really couldn't ask for much more.
Adam
2016-07-17T00:00:00Z
We had a wonderful time at Don's place! Remote, comfortable, cozy, with a great lawn for our puppy to play. We had a few questions during our stay and Don was always prompt and helpful.
Rebecca
2016-08-08T00:00:00Z
Donald was very accessible theoughout the entire trip. If we had any questions I never felt like I was bothering him. The home was comfortable and perfect for a nice get away!
Meaghan
2016-08-11T00:00:00Z
Nice and beautiful place to stay with family to enjoy and relax.
Pranab
2016-08-01T00:00:00Z
We had a great time at Donald's house, it's super clean and the location is beautiful and secluded. Check in was super easy and the place had everything we needed. Alanson is a great little town.
Joseph
2016-07-14T00:00:00Z
We felt very welcome at the house! It was cozy & comfortable. He made it very easy for us to come and go as we needed! Would definitely recommend to anyone in the area!
Lauren
2016-09-05T00:00:00Z
We loved this place! The house and property, inside and out, was so clean and well-kept! The location is perfect, so many things we wanted to do within 10-15 minutes. We enjoyed watching the boats pass through the lock. On our arrival Donald had left a welcome basket with a lot of delicious goodies!!! A very good trip :)
Lisa
2016-08-05T00:00:00Z
This a beautiful location and home. We have been up twice this summer and really love it. The cabin is very clean and spacious with a great location for boaters. The surrounding town is great to check out as well. The owners are very quick to answer any questions. We will be back !!
Trisha
2016-08-14T00:00:00Z
Room Type
Entire home/apt
---
Property Type
House
---
Accommodates
6
---
Bedrooms
Alanson, MI, United States
Beautiful home with private entrance, bedroom, living area, kitchenette, and bathroom. There is a pack and play available for babies or toddlers. Two couches and air mattress if more than one couple or family. Located very near the Crooked River, right in between Burt Lake and Crooked Lake, and a fifteen minute drive from downtown Petoskey, Lake Michigan, and Harbor Springs area. Plenty of parking and an outside patio for use as well. Great for your summer vacation to Northern Michigan!
There is also a sauna available for use! Ask about operating the sauna before use. There is not a TV available at the moment. Will provide water and light snacks in the kitchenette area.
Room Type
Private room
---
Property Type
House
---
Accommodates
4
---
Bedrooms
Alanson, MI, United States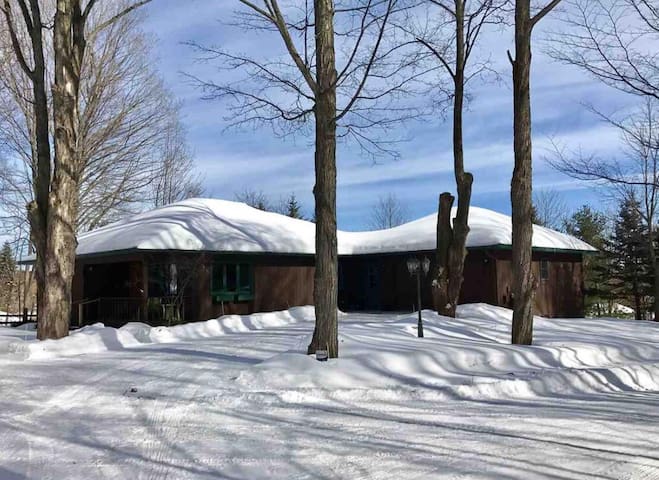 Country living w views of crooked lake and private easement and dock. Ideal location 5 min to Lake Michigan and 10 min to downtown Petoskey and Harbor Springs. Green room has shared bath with brand new double mattress (temprapedic). Room is on main floor. Air conditioning centrally .
Private dock on crooked lake , large 1.5 acre wooded lot. In country but close to everything great about Petoskey. 10 minutes to ski slopes! 10 min. To downtown Petoskey. The home is 2200 sq feet. Two levels. Modern decor. All beds are very comfortable. Large deck overlooks crooked lake!
Peaceful and quiet. The water makes this a quiet respite. The wooded land is healing. Great bird watching. We have an eagle that visits from time to time. Crooked lake is part of the inland waterway! Dock and canoe available for use in summer. Swimming at the state park in July and August is the best. Three bedroom two bath home. Lots of easy parking. This is a wonderful vacation home to experience.
Renee was very welcoming, and due to a change, she upgraded us to the private suite which was very spacious, clean and nice. Loved that we had privacy and a full kitchen to boot. Lovely view of her pretty backyard.
Maria
2016-09-18T00:00:00Z
Renee's house was located right next to the gorgeous crooked lake. My girlfriend and I stayed their for skiing. Only about 15-20 mins away from Boyne Highlands, so it was super convenient even though her place was tucked back and a cozy spot. Went to the bars in Petoskey and enjoyed "Tap 30" had quality burgers and mac and cheese. Overall it was a great stay and Renee was the sweetest. Quality host.
Brandon
2017-01-15T00:00:00Z
I came through on a coastal motorcycle trip. This house is amazing and perfect for someone at the end of a day of riding. Spoke with Renee for a while and she offered some directions and other tips that improved the bike trip I was on. Very helpful and a sweet person. I love the town and would definitely stay here again when coming through.
James
2016-06-13T00:00:00Z
We came in rather late and left early the next morning, which is very unfortunate, because Renee's house is in a beautiful location and we wish we could have stayed and enjoyed the scenery. Renee is very kind and generously hospitable.
Eugene
2016-06-23T00:00:00Z
Rene was very welcoming, friendly, and communicative. We really enjoyed her place - it is large and spacious and in a great location near town yet in a quiet, calm area. We were put into the master suite with a huge bed, TV and very large private bath. I wish we could have stayed longer because it would be a great place for a multi-day rest and recharge, close enough for excursions to Petosky, Charlevoix, tunnel of trees, and Macknaw Island.
Jeannine
2016-10-03T00:00:00Z
Very quiet, beautiful place. She has two cats that love snuggles which was a plus for me because I miss my cats. Her son started us a fire later in the evening. No complaints here!
Molly
2016-09-25T00:00:00Z
This is a great location, because it has easy access to Petosky and surrounding areas. The property is quiet and wooded, which makes it easy to relax and get away from a stressful life.
Alicia
2016-09-25T00:00:00Z
Our host Renee' was easy going, friendly and very accommodating. The wooded property was beautiful and very peaceful. The green room was clean and comfortable, as was the bed. She provided a couple dressers, and a shelf unit full of interesting books. We had the bathroom to ourselves, which was nice and clean. It included a pedestal sink, and a 36" fiberglass shower with a newer glass door. We felt very comfortable and safe here. We thank Renee' very much for her hospitality and look forward to staying here again in the future.
Randy
2016-09-08T00:00:00Z
Room Type
Private room
---
Property Type
House
---
Accommodates
2
---
Bedrooms
Petoskey, MI, United States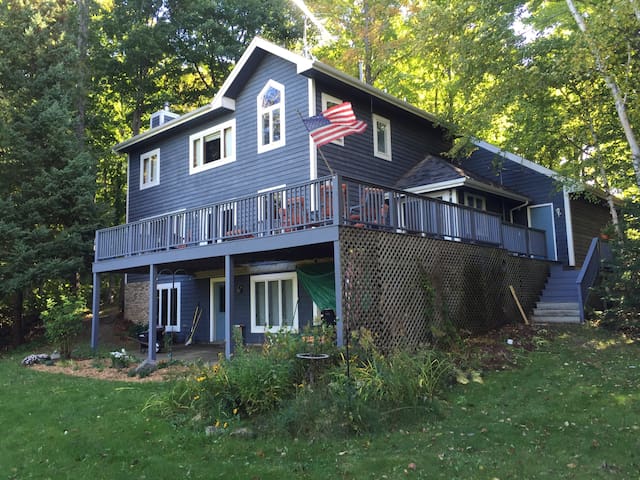 Riverfront cabin in the woods. This is my childhood home that has been out of my family for the past 20 years. I recently purchased the home back & have been remodeling it since. More to come, so check back often as I will be updating pictures. The cabin is very comfortable & is ready for guests to enjoy! It has 3 bedrooms & can comfortably sleep 7 people. Very private & beautiful setting. Only house in area is in our family as well so no neighbors. Escape technology and enjoy peace & quiet!
I came up with a group of friends to ski for the weekend and Don was very accomodating. He was very easy to get a hold of it anything was need. The cabin was clean and comfortable and a great value.
Chuck
2017-02-19T00:00:00Z
We went snowshoeing in the nature preserve that is basically at the end of the driveway.
john
2017-02-12T00:00:00Z
We loved our stay in Donald's cabin. We were there for a relaxing family skiing vacation for the 6 of us: my husband and I, three kids age 23, 21 and 16 and my mother. The place is spacious, cozy and charming, you can tell a lot of love went into decorating and equipping it. Beds were very comfortable, with plenty of spare bed linens and blankets. The best feature to me was the location itself: once you got to the cabin, you felt like you were alone with the nature: it was so private, tranquil and relaxing. We enjoyed watching the wildlife on the water out of the big great windows that maximize the beauty of the surroundings. Donald was easily reachable and quick to respond.
Oksana
2016-12-31T00:00:00Z
Great secluded cabin by the river. Just a short drive from Boyne Highlands. Perfect for a weekend of skiing.
Arjun
2017-01-15T00:00:00Z
The view of the river from the sitting room is amazing ! We're definitely coming again and loved the ski slopes
Eva
2017-02-26T00:00:00Z
Room Type
Entire home/apt
---
Property Type
House
---
Accommodates
7
---
Bedrooms
Alanson, MI, United States
Lakefront living on beautiful Pickerel Lake. Close to downtown Petoskey, Harbor Springs, Boyne Highlands and Nubs Nob. You'll love my place because of the location. My place is good for couples and families (with kids).
The house is very clean and cozy! We really like the detailed decoration, vintage~ ALSO, Jill is such a nice host, super nice, caring and considerate! We will definitely come back again:)
Kiwi
2016-11-27T00:00:00Z
Jill's place is really nice, spacious and cozy. The view is awesome, I wish we could spend more days there!
Yuwei
2016-10-23T00:00:00Z
The host was great - we could arrive at any time on the arrival day and could stay as long as we wanted on the day of departure - made it much more relaxing to not be on a tight schedule! The pictures don't do justice - the house is much larger than you'd think, and is decorated so nice!
Alexandra
2016-10-02T00:00:00Z
Room Type
Entire home/apt
---
Property Type
House
---
Accommodates
8
---
Bedrooms
Petoskey, MI, United States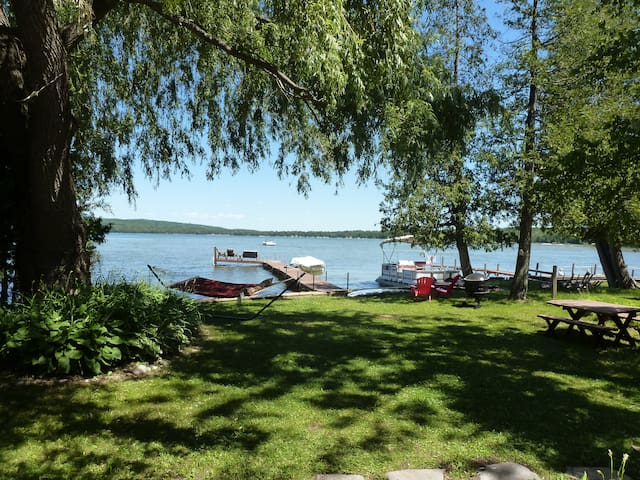 My place is close to the beach, family-friendly activities, nightlife, and the airport.
Len is a very friendly and helpful host. The room is simple, clean and correct. Any time I would come again. A quiet place to relax, pure nature.
Darlene
2016-08-21T00:00:00Z
Room Type
Private room
---
Property Type
House
---
Accommodates
2
---
Bedrooms
Alanson, MI, United States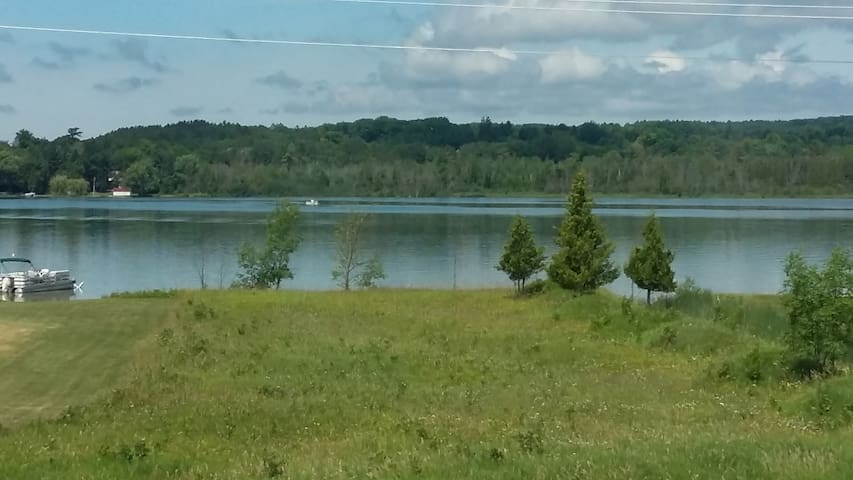 Enjoy a sandy bottom inland waterway lake w/over 10,000 acres of enjoyable boating, swimming, fishing, state land! Gorgeous 4 bedroom, fp, patio. Close to Petoskey, Indian River, Bay Harbor & Harbor Springs for all shopping/golfing. A true getaway!
This UP NORTH themed 2,500 sq. foot two story Cape Cod style home leased with pride. Home is spacious and clean on a wonderful private street across from Burt Lake. Public boat launch conveniently located at the end of the road. (4) bedrooms, (2) bathrooms, family room with large flat screen television, living room with gas fireplace. Sleeps (10). Complete with all appliances (including full size washer and dryer), linens, kitchenware ... everything you need to make this your home away from home vacation spot. Private outdoor patio area complete with propane bbq grille and firepit.
This tranquil neighborhood is wonderful for walking, jogging, biking and rollerblading. Lakes and rivers nearby to swim, canoe, kayak or just sit by the shore and relax!
Cathie has provided everything you could need and more! Her thoughtfulness is evident throughout her home. My family couldn't have been more comfortable. From the comfortable beds (temper pedic in the master) to the kitchen filled with every appliance and utensil we needed, this truly was a home away from home. The neighborhood was quiet and peaceful, filled with beautiful houses and friendly neighbors. I can't say enough good about Cathie's home, or even come close to properly expressing my gratitude for how much love and care she has put into it. Cathie truly has a gift for hostessing!
Amanda
2016-08-16T00:00:00Z
The house was immaculate and the welcome basket was a lot of fun. We enjoyed the fire pit and the fully equipped kitchen.
Ruth
2016-08-12T00:00:00Z
The host touched base with me a few weeks before and then about a week before. She provided very helpful information about sites and restaurants, etc. She provided a welcome basket too with goodies to eat, drink and read. It made us feel very welcome.
Kate
2016-09-05T00:00:00Z
Lovely home in excellent condition and very clean. We certainly appreciated the welcome package and the amenities (sports balls, fire pit, nice grill, inflatable boats, etc.) that were there for our usage. The location of the house is very good but it is important to note that while across the street from Burt Lake there is no lake access for swimming without driving. There is a boat launch just down the street. Overall we had a wonderful time at this property and would return.
M
2015-07-25T00:00:00Z
Our stay in Alanson was phenomenal. The house was spotless and very well-furnished, and Cathie went above and beyond to make sure we felt welcome. Burt Lake was incredibly scenic. All in all, it was a great place to stay!
Riley
2016-06-20T00:00:00Z
Great house, great location, very friendly hosts - wonderful experience!
Michael
2015-08-15T00:00:00Z
We absolutely loved staying in the home! Everything was as stated or better then expected. We would recommend to anyone to stay at their home. Loved the fire stand, the gas fire for those who wanted more ambiance, great sleeping arrangements and overall very informative with the surrounding area. Especially loved there was a 10x mirror available for those who can't see so well ;)
Brette
2015-08-09T00:00:00Z
When we arrived there was a couple of beautiful welcome packages. Such a lovely surprise! The home looks just as it is pictured. Quiet neighborhood close to lots of wonderful attractions. We enjoyed our getaway at this home.
Jen
2015-07-04T00:00:00Z
Room Type
Entire home/apt
---
Property Type
House
---
Accommodates
10
---
Bedrooms
Alanson, MI, United States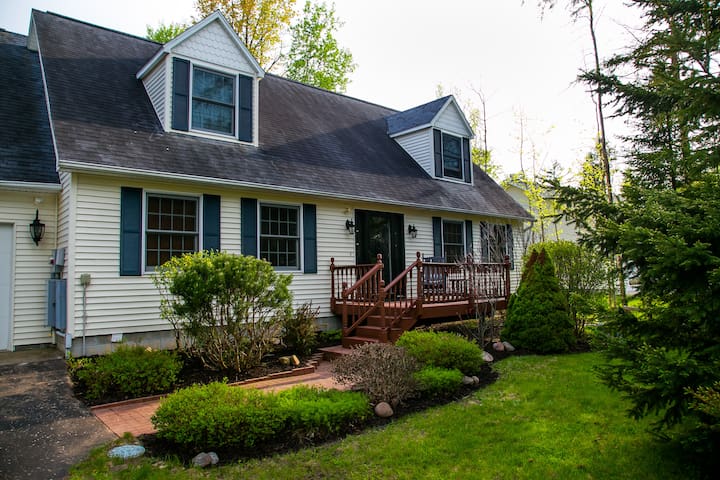 Crooked lake water front by private easement w pontoon rental Seperate. three bedrooms and two bathrooms - two levels of home rented. Wooded acre with many trees and birds. Very quiet and private. Great view of crooked lake and has dock on lake ! Cable tv and wifi ...beautiful home!
Lake frontage on crooked w dock... space for a shallow V hull. Must rent in summer from Saturday to Saturday. No discounts available for partial week rentals. Great place close to all the main destination attractions. PEtoskey Stste park is five minutes away/ Lake Michigan. Great place to take a run. Enjoy nature from back deck! This location and home are ideal for summer retreat. Prefer small families. No more than 6 people. Three bedrooms. 2,000 square feet. Plus wrap around deck overlooking crooked lake and covered porch in front of house. Enjoy!!
Quiet and peaceful. Many birds and wildlife !
The host canceled this reservation 49 days before arrival. This is an automated posting.
Laura
2016-11-08T00:00:00Z
We had a lovely stay at Renee's property in Petoskey. Crooked Lake is across from the backyard and can be reached by trail. The house is located at the end of a wooded driveway. It is absolutely beautiful and the nature surrounding the house is spectacular. There is a lovely deck off of the main portion of the house with very comfortable furniture and a fire pit. There is also a fire pit in the backyard for your use.
Charlene
2016-08-14T00:00:00Z
Room Type
Entire home/apt
---
Property Type
House
---
Accommodates
6
---
Bedrooms
Petoskey, MI, United States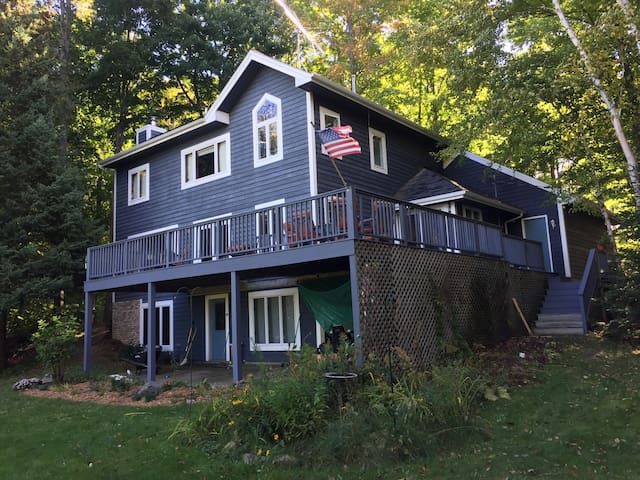 This waterfront Crooked Lake cottage is located on Graham Road - a quiet street just minutes from Petoskey, Harbor Springs, and Boyne City, MI where you can enjoy the lakes, bike/walking paths, shopping, festivals, golf, 10 min from Nubs Nob and Boyne skiing. The cottage is 1150 square feet, 3 bedroom, 2 bath & sleeps 8. It has a large wrap around deck, a long lot leading up to 50' feet of lake frontage for you to have fun and relax. The lake is clear and warm, ideal for swimming!
Please email me for link to YouTube video. The cottage is 1150 square feet. It has a large wrap around deck, a long lot leading up to 50' feet of lake frontage for you to have fun and relax. The lake is shallow near the shore and is ideal for swimming in the warm, clear water. Inside, the large master bedroom has a queen bed and attached bathroom with tub/shower. Bedroom #2 has 2 twin beds and bedroom #3 sleeps 4 with double bunk beds. Included is a fully furnished kitchen, large dining room table and gas grill for your grilling pleasures. The family room is spacious with a natural fireplace and flat screen TV. Free wi-fi with exceptionally strong signal is included. Petoskey, Harbor Springs and Mackinaw City are all easily accessible by car of course but also on the paved bike/walking paths as part of the state trails system. A boat hoist is available to use. You can bring your own or rent a boat or jet ski from the 2 marinas on the lake, Windjammer and Ryde Marinas. For winter activities, the slopes are close by at Boyne Highlands, Nubs Nob and Boyne Mountain. For off road fun, the Indian River ATV trail is nearby. **Please be advised this a non-smoking property. There is no smoking in the cottage, on the deck or within 50' of them.*** Minimum rental period in the Summer is 1 week - no exceptions - sorry!
Patrick was an excellent host! From the very minute we arrived, we felt at home. He made sure the house was warm for our arrival, recommended the best places to ski in the area, gave us a guide to the amenities of the home, and checked in via text periodically in case we needed anything. The cabin is a comfy space perfect for a getaway to Petoskey and the surrounding area. We cannot recommend staying here enough.
Joe
2016-03-05T00:00:00Z
We had a great time. The cottage was exactly as our host described it. The family/living area was spacious enough for relaxing or game playing. We did not use the screened porch but I'm sure if it had been summer this would have been our hangout. The kitchen was complete. Having 2 baths made it easy for everyone to prepare for our day and night. The house was clean, the beds comfortable and the house was even warm when we arrived! We did not go back into Petoskey after our day of skiing but it certainly would have been a quick drive if we wanted to. Without a doubt, we would stay here again.
Barbara
2016-03-09T00:00:00Z
Our experience with AirBNB and Patrick was fantastic! Patrick was extremely welcoming. He sent me the key code, wifi and amenities information in a timely manner. The heat was turned on at the cabin before we arrived and the cottage was completely clean! We felt like we were staying at a relative's cottage. I would highly recommend renting from Patrick again!
Heidi
2016-02-08T00:00:00Z
Many thanks to Pat for helping to make our weekend stay at Crooked lake a great one! Communication was excellent, and Pat was always quick to respond to any questions we had. The cottage was ready for our arrival (with the windows already opened to let the lake breeze in), and we found a delicious little welcome gift awaiting. The cottage was very clean and the beds comfortable. The kids loved the strong wifi signal, and they really appreciated the fact that Netflix was even available. The weather didn't provide a good opportunity to swim, but the lake is great for fishing. We did well just casting from the dock. All in all, the only disappointment from our stay was the fact that we couldn't stay longer. We look forward to coming back and spending more time at Crooked Lake soon!
KEITH
2016-09-12T00:00:00Z
We had a great vacation week. Cottage was great - reminded me of when i was a kid - and the weather cooperated.
Gregg
2016-08-21T00:00:00Z
We thoroughly enjoyed the lake house and had plenty of room for our group of seven (7) adults. The proximity to Petoskey, Charlevoix and Harbor Springs was a great benefit for attending a wedding, shopping and visiting with family and friends. We enjoyed great fishing (Bass, Pike, Perch and etc.), swimming, sitting around the campfire and the ability to entertain other family members and friends, visiting the area for the wedding, with a barbeque. In addition, it was nice to visit with the neighbors. Thanks for a great weekend experience.
Steven
2016-05-31T00:00:00Z
Patrick was great to work with! He was quick to respond to questions in preparation of our stay. The house is centrally located to Petoskey, Harbor Springs, Cross Village and Charlevoix. It was also clean, easy to find and great for a group of friends to visit.
Emily
2016-10-10T00:00:00Z
We loved our stay at this charming lack house! We were pleasantly surprised at the size. Plenty of games and activities included. Close to town and ski hills. Overall a great spot to come with family!
Lizzy
2017-02-20T00:00:00Z
Room Type
Entire home/apt
---
Property Type
House
---
Accommodates
8
---
Bedrooms
Petoskey, MI, United States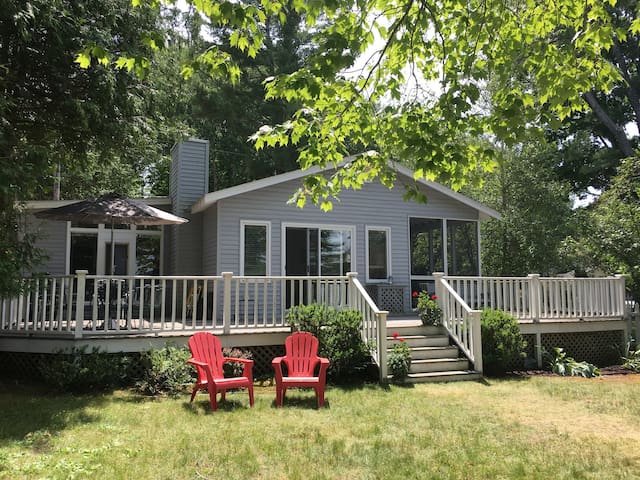 Come enjoy our family-owned summer house on the lake. Located on a quaint, private road, the lodge can easily accommodate couples, families, and big groups. Enjoy our 4 kayaks, aluminum fishing boat, and sunfish sailboat for you to use free of charge. Create lasting memories on the large sunbathing dock or our two expansive porches. Rise early for coffee and a sunrise watching hummingbirds and loons, or enjoy the night sky in one of the most breathtaking DARK SKY zones in North America.
Room Type
Entire home/apt
---
Property Type
House
---
Accommodates
12
---
Bedrooms
Petoskey, MI, United States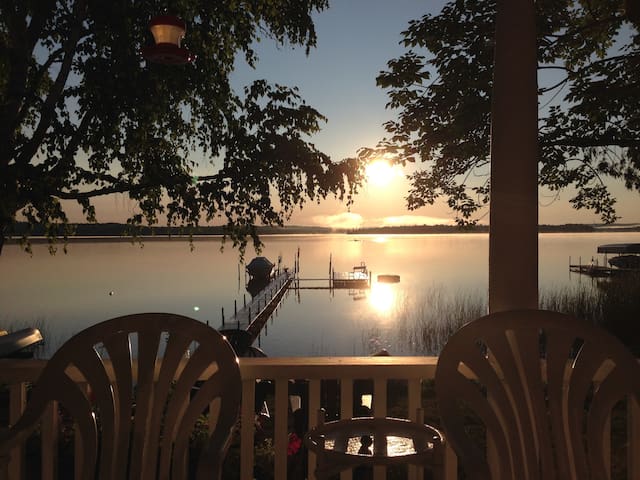 Somewhere in Time is a quaint two bedroom cottage located on the shores of Pickerel Lake. The sandy bottom lake is great for swimming and all types of water sport activities. Bring your boat or jet ski along on vacation to cruise the Inland Waterway.
"Somewhere in Time" is a quaint two bedroom cottage located on the shores of Pickerel Lake. This charming vintage lake cottage will take you back to a time of simpler living and evening fires on the beach roasting Smores'; all with the modern conveniences of internet, TV and a charcoal BBQ grill for grilling your burgers and steaks. There are two small bedrooms. One bedroom has a double bed and the second bedroom has two bunk beds accommodating six persons. The kitchen is well equipped with modern appliances. The all season porch is ideal for relaxing with a book or game nights. The sandy bottom lake is great for swimming and water sport activities. The lake has a natural shoreline with a shallow and gradual slope to deeper water, ideal for young children. This area is a vacation wonderland: bring your boat, or rent one nearby to cruise the inland waterway to Pickerel, Burt, and Mullet Lakes. Or if you're adventurous, go all the way to Cheboygan and Lake Huron. Golf at some of the finest courses, shop the cute boutiques of Petoskey, Harbor Springs, Charlevoix and Bay Harbor. Taste the wines and beers in our rapidly growing vineyard and microbrewery businesses. Spend the day on Mackinac Island. Enjoy the music and cultural events at the Bayview Association. Spend a beach day at Petoskey State Park or Sturgeon Bay. Try your luck at the Odawa Casino or attend one of the numerous summer festivals in area communities. Hop on the recently finished paved bike trail a few blocks away and travel to nearby communities. Somewhere in Time is a valued priced rental near Alanson, Michigan where supplies and restaurants are available. The resort communities of Petoskey and Harbor Springs are a 15 to 20 minute drive. Within 45 minutes drive is Mackinaw City and ferry boats to Mackinac Island, which are popular day trips.
Private drive with few seasonal neighbors.
Somewhere in Time was an end-of-summer dream come true! My friends and I loved everything about this cabin, from the rustic feel to some modern updates. There was plenty of room for 6 adults, and Pickerel Lake is shockingly clear and sandy for an inland lake! There were never more than 5-6 boats on the lake even on a busy Labor Day weekend, and the property is at the end of the dirt road, so there are no properties to the left of the cabin for lots of privacy. Secluded, yet close to Petoskey and only an hour from Mackinac Bridge! Vickie was easy to communicate with from start to finish. We can't wait to retun.
Sara
2015-09-08T00:00:00Z
Room Type
Entire home/apt
---
Property Type
House
---
Accommodates
6
---
Bedrooms
Alanson, MI, United States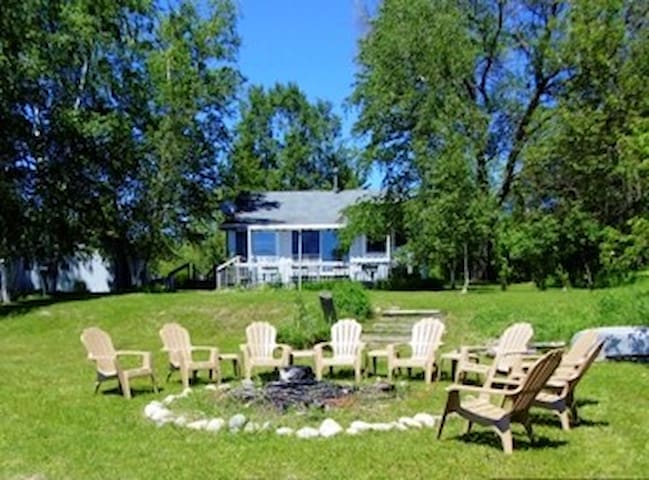 Grand waterfront cottage on Crooked Lake, built in the early 1900's. Wrap around porch, large yard and dock. Close to Petoskey and Harbor Springs, boating, golf and biking.
The cottage has 4 bedrooms and 7 beds. There is 1 queen bed, 1 full size bed, 1 set of bunk beds and 3 twin beds. In addition, there are 2 full bathrooms. The kitchen is full equipped with all appliances, coffee maker, dishes, pots and pans. There is a grill available for guest use.
This cottage sits on beautiful Crooked Lake. It's ideal for boating, swimming and fishing. In addition, the extensive bike trail is just steps away from the cottage.
Room Type
Entire home/apt
---
Property Type
House
---
Accommodates
9
---
Bedrooms
Alanson, MI, United States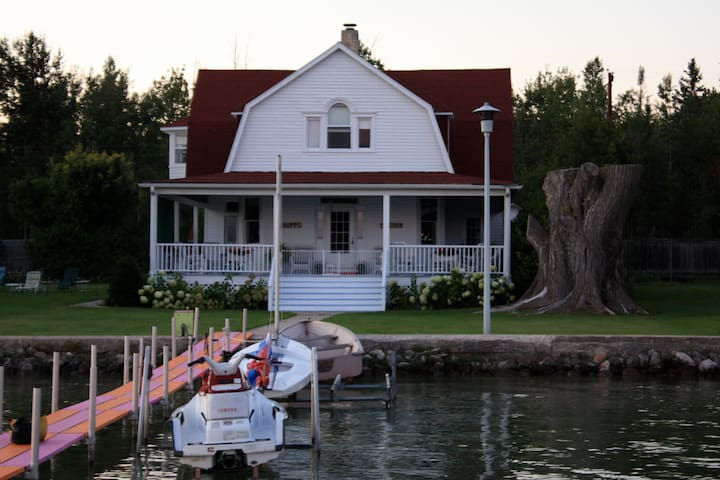 Private Room with shared full bath. Minutes to three beaches and wheel way.
We are centrally located to all the cool stuff. Be it the artisan water or the natural protected preserve we love it here and think you will enjoy yourself. We are friendly, kind and gracious.
Safe and quiet.
Room Type
Private room
---
Property Type
House
---
Accommodates
2
---
Bedrooms
Petoskey, MI, United States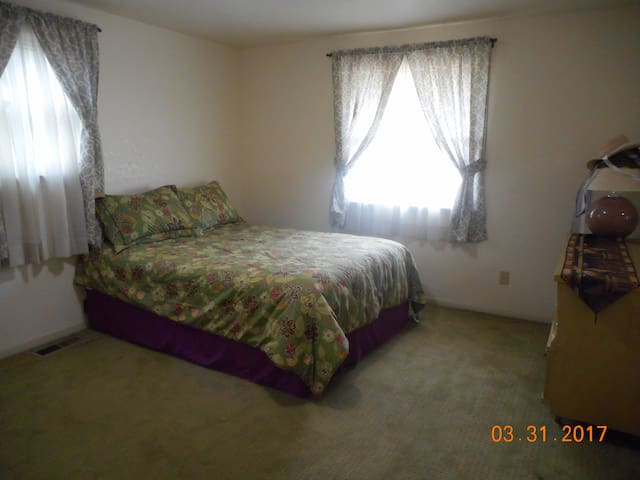 2,200 sq foot home, 3 available bedrooms overlook Crooked Lake , ten minutes to ski resorts and downtown Petoskey. Largest private room is 16' by 16' with bathroom attached,second and third bedroom shared bath . Many birds to hear from the wrap around deck. Lovely home and central location in Petoskey.
The home is centrally located and ten minutes from downtown Petoskey and the ski resorts. The home is nestled in a wooded area that is quiet and peaceful with a private easement and dock to Crooked Lake. In the summer I have a pontoon boat to rent. The recreation room is ideal for ping pong and kid fun. All bedrooms and bathrooms have locks on the doors. The living room space has a woodstove that host can start and maintain. The kitchen is large and well equipped. There are a total of 3 bedrooms that can be rented at individual room prices ranging from $49.00 to $99.00 per night.
space is quiet and neighborhood is quiet. Home sits on 1.5 acres. Crooked Lake is part of the Inland Waterway chain of lakes to Lake Huron. Boyne Highlands and Nubs Nob ski areas are close by( 10 minutes).
Though we had only a short stay, Renee made us feel welcome. The place was very nice, clean, and in a great location. Everything we were looking for!
Daniel
2016-09-17T00:00:00Z
6 out of 5 stars!!! Renee was an awesome host and provided a wonderful place to stay with beautiful views of the lake from the room and the deck. The house is also home to the worlds most friendly cat (its hypoallergenic too). House is very large and easy to come and go. Bed and bathroom were clean and spacious (newly remodeled and looked great). There is also an awesome dock to walk onto the lake too with a bench. More than well worth the price. It was our first airbnb experience and we will definitely be back. Very close to the city of Petoskey and the mountain (Nubs Nob, Boyne, etc.) as well. You're not gonna find a better place to stay, trust me.
Chloe
2016-06-06T00:00:00Z
Renee was very hospitable. Her house is in a very serene location overlooking the Crooked lake. She offered us breakfast. It was nice being near Petosky and the wonderful bike trails. Petosky has a very nice and cozy restaurant, The twisted Olive. Outstanding food and view of the lake (Renee's recommendation). I would recommend Renee's house to anyone looking for a relaxed time.
Isil Tuba
2016-06-11T00:00:00Z
Renee is a gracious host. Very clean home! Loved chatting her
Todd
2016-09-02T00:00:00Z
My boyfriend and I were looking for a place to stay for a night in Petoskey, and were very happy with our time here. Renee's home is wonderful -- decorated well, very clean and in a beautiful setting with a gorgeous view. Our private room and adjoining bathroom were cozy and clean. It is conveniently located about 10 minutes from Petoskey. While our paths didn't cross, Renee was communicative and made us feel at home. Also, upon arriving we were greeted by her adorable and friendly feline! We'd definitely stay here again in the future.
Stephanie
2016-10-16T00:00:00Z
Renee upgraded our stay to the lower level apartment, which was clean and spacious. The beds were comfortable. She responded promptly to texts.
Phyllis
2016-09-21T00:00:00Z
Communication was quick, booking was easy. We were welcomed and expected. Our stay was wonderful! We enjoyed the large clean blue room with comfy KING size bed. The bathroom was a treat as well. The view of Crooked Lake is beautiful. You must see the art prints on the walls here! Our host also gave us great advice when we asked about Bike paths to enjoy and scenic outings. We look forward to staying again when in Petoskey / Indian River area. I look forward to booking a massage next time as well with Renee! When traveling north there are few clean, comfortable, reliable private hotels to stay in so I will always Airbnb instead! Also notable-We enjoyed the utmost freshest breakfast at Parks Place Cafe in Conway, MI - a 6 min drive away.
Lisa
2016-06-15T00:00:00Z
Home was lovely. It's small-ish, but perfect for two people. The view is amazing. It was very clean . The decor was lovely and modern. The hosts were very gracious. I wish we had more time to spend there! Renee! exceptionally kind and friendly host
karthik
2016-05-02T00:00:00Z
Room Type
Private room
---
Property Type
House
---
Accommodates
2
---
Bedrooms
Petoskey, MI, United States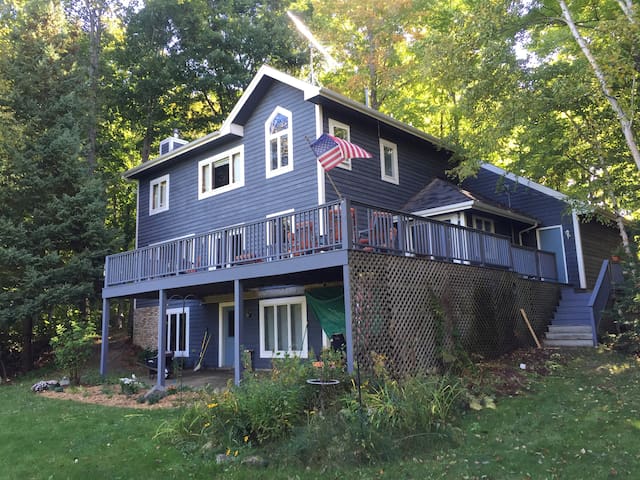 Beautiful large custom home sitting up on Burt Lake for beautiful views! Close to Mackinaw Island, Petoskey and other great northern Michigan communities. It is a quiet peaceful paradise where your family can gather and build memories.
House has been extras including hot tub, pool table, exercise room, large decks on home and down at lake, outdoor shower.
Room Type
Entire home/apt
---
Property Type
House
---
Accommodates
12
---
Bedrooms
Alanson, MI, United States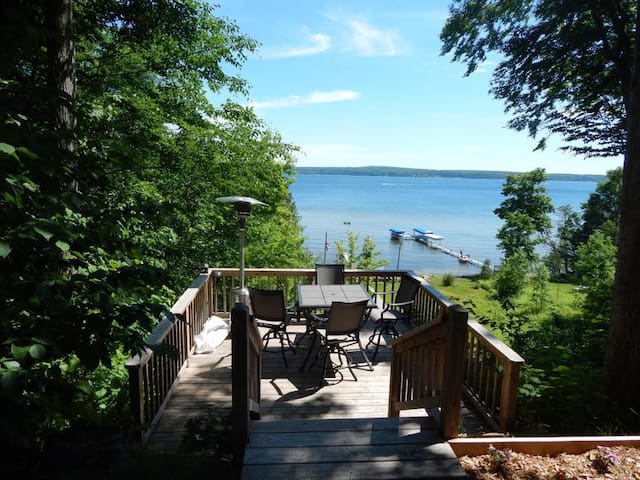 My place is close to the beach, restaurants and bike trails. There are family-friendly activities, and nightlife close by as well. You'll love my place because of the location and the coziness!
Room Type
Entire home/apt
---
Property Type
House
---
Accommodates
6
---
Bedrooms
Harbor Springs, MI, United States
Ready for the snow? Less than a mile from Boyne Highlands or Nubs. Come stay with my family for a winter escape, sit by a warm fire after a long day of skiing, snowboarding, snowshoeing, or snowmobiling. Cook yourself a nice meal in the easy to use entertaining kitchen, or eat your meals with us. We are also a short drive to Offield Family Nature Preserve, which is great for hiking, or snowshoeing. If you have any questions just ask!
The house is a 3 bedroom 3 full bathroom home. Guest bedroom and private bathroom is located on second floor. The guest room has a closet and luggage rack, nightstand, double bed, and dresser with mirror. Alarm clock if needed, and a small flatscreen tv and dvd player if you want to watch something in the room. There are two living rooms, kitchen has a nice breakfast bar, and also a dining room just off the kitchen. We do not have cable, but we do offer wifi and a netflix account to use at the house. There is a computer and printer if you need, and the living room t.v has netflix on it.
The house is located in a nice quiet subdivision, right smack in the middle of Boyne Highlands, and Nubs nob. Great area to take a walk, and right off a main road for easy access. **Enjoy Restaurant Week and Then Some, March 3 - 12, 2017. This is your chance to experience the culinary delights of the Harbor Springs area at an affordable price - and don't forget to pair your meal with one of the many wines or beers from the region. Winter time is a blast in Harbor Springs - come play in the snow and enjoy some amazing food!**
Our first visit with Rachael and her family was so lovely that we decided to make another trip north to ski this winter. Our second visit was as nice as the first. Her location/price is unbeatable for either Nubs Nob or Boyne Highlands and her hospitality is warm and welcoming. Well definitely return again.
Ann
2017-03-05T00:00:00Z
Rachael and her family were wonderful. Anything you need, Rachael can help you with. Incredibly nice and accommodating. We would love to stay with her again next time we're in the area.
Dana
2017-01-05T00:00:00Z
Rachael's place is really wonderful! It is very close to both Boyne Highlands and Nubs Nob, but has a nice neighborhood vibe. Rachael was very accommodating with check in and making us feel right at home. Her home is spacious and welcoming and the space was very clean. If you are looking to be close to the Highlands or Nubs, want a friendly host, and a clean place to stay -- then this hostess offers the mostess.
David
2016-12-23T00:00:00Z
Rachael is a very considerate hostess. The room and the bed are very comfortable. We had a wonderful stay very close to skiing and a super dinner right around the corner.
Margot
2017-02-26T00:00:00Z
First time using AirBnB and had a great experience Rachael's family was very nice love the location we would go again!
Alan
2017-02-15T00:00:00Z
Rachael was incredibly helpful with my trip and was flexible with my check in and check out. Any questions I had she was immediate to respond and was very kind and welcoming. I definitely picked a gem of a place to stay. Cozy, quiet, comfy, accommodating, and well worth the price! Right next to two ski resorts within a 5 or so minutes drive. Great place to stay! I would definitely stay here again!!
Alyssa
2017-01-17T00:00:00Z
We enjoyed our time at Rachael's home! It's centrally located between Boyne Higlands and Nubs Nob. It's also close to Petoskey State Park and other nature preserves. The house was cozy and spacious and had a lot of windows. We slept great and felt at home. Rachael was very approachable and hospitable! We didn't get to meet her but she made sure everything was going well. Thanks again!
Liz
2017-02-12T00:00:00Z
I had a very nice stay. Rachael and her family were superb hosts. It was like being at home, but cleaner. :) I had access to her kitchen, and she even offered to share her wine. The location is about 1 mile from both Boyne Highlands and Nubs Knob ski areas. Can't beat that!
Janet
2017-02-05T00:00:00Z
Room Type
Private room
---
Property Type
House
---
Accommodates
4
---
Bedrooms
Harbor Springs, MI, United States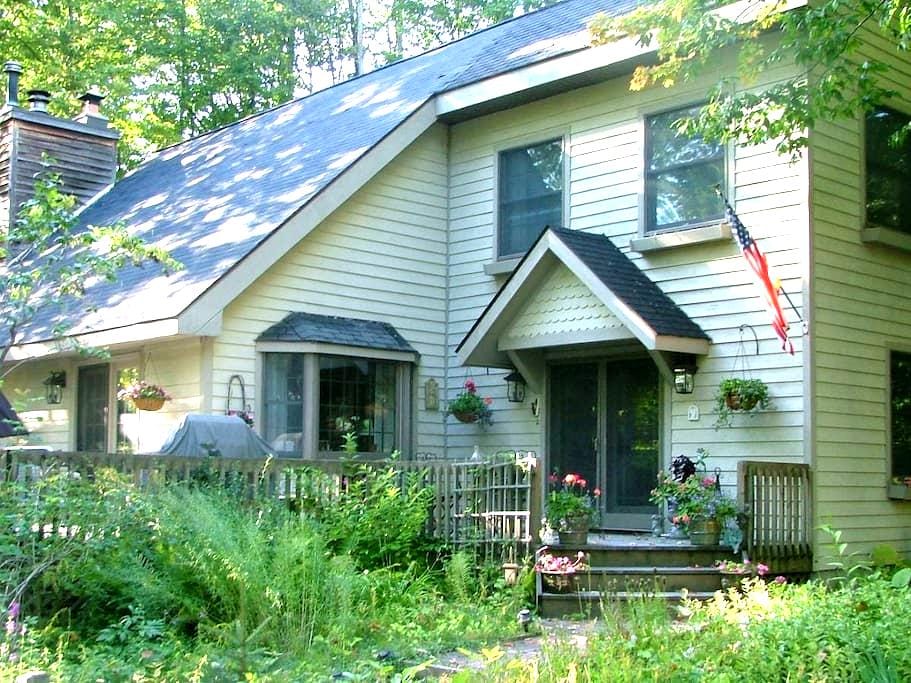 Custom built home close to parks (5 min Pickeral Lk), the best beaches (10 min) in the USA, great wildlife viewing, the casino (10 min), and the city center. 4 WD or AWD to access during winter. You'll love my place b/c of the outdoor space and the neighborhood. My place is good for couples, solo adventurers, business travelers, and families (with kids). If you want a place to unwind, enjoy the solitude and be close to amenities this is the house for you and your family.
Totally private wooded 10 acres- does require 4WD or AWD in winter.
Private wooded setting in prime location close to town and beaches.
Jodi's house was lovely and well maintained. It is located on a very peaceful lot but is still close to Petoskey. Be sure to have a AWD in the winter months as mentioned in the listing. Jodi was very easy to communicate with and was very accommodating. We enjoyed our stay and would like to stay again next time we're in the area.
Brooke
2016-12-28T00:00:00Z
Room Type
Entire home/apt
---
Property Type
House
---
Accommodates
8
---
Bedrooms
Petoskey, MI, United States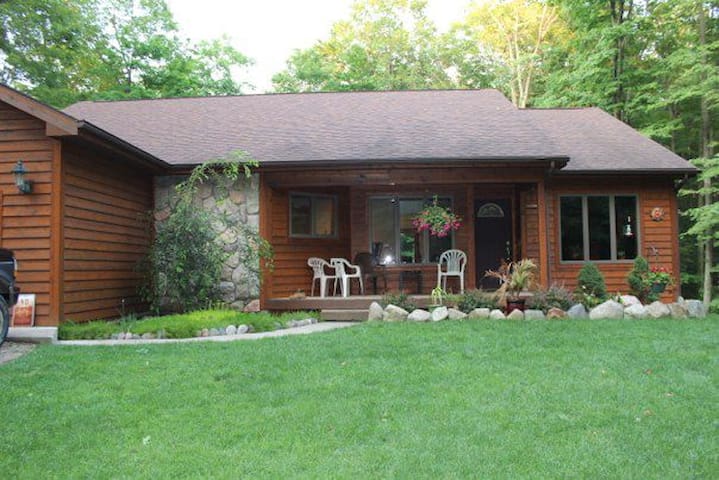 Alanson - Airbnb
:
Average

4.71

out of

5

stars from

102

guest reviews
1

–

18

of

83 Home Rentals
Enter dates to see full pricing. Additional fees apply. Taxes may be added.