Grace Place is close to the lake, the hospital, downtown, parks.. You'll love staying here because of the luxury casper mattresses, the beautiful woodwork, comfy furniture and lake views.. a home designed for your comfort. This listing is for the entire house. Each bedroom is also listed separately, this means if one of the rooms has been booked then this listing will be blocked for that entire stay. If the dates are not available for your desired trip, see if you'd like a one of the rooms.
Built in early 1900's the home is full of historic charm and has been maintained with excellence by the previous owner. Beautiful dark wood throughout. We've created this space with a desire to serve those coming and going from the hospital across the street. We have heard of many professionals looking for short term housing while they work here in this beautiful city. Family and friends would find this a great place to stay while visiting their loved ones who may be admitted to the world class care at the hospital. No matter your reason to be in Albert Lea, we would love to make you feel at home in any of the four private rooms or you could book the whole house if you like! We have separate listings for each bedroom and for the whole house. We are certain you will be comfortable! Enjoy the space and privacy of having the whole home to yourself! Each room has a smart TV so login to Netflix, Hulu, YouTube or whatever and enjoy your shows! Basic cable is available in the living room on the bigger TV. The comfort of the beds is really important to us, because that is pretty much the main reason you are looking for a place! A place to sleep! And that is why we chose to get Casper mattresses, let us know how you like them.
The best spot for coffee or a bite is The Interchange Wine & Coffee Bistro located a few blocks away at 211 S Broadway Ave, they often have live music. (URL HIDDEN) Another fun spot is 112 on Broadway, a nice venue with the address in the name! Park Ave was one of the most wealthy and earliest developed areas of Albert Lea primarily serving the doctors who worked at the Hospital. Grace Street is a one way street off of Park Ave and the apartment building behind was build to accommodate the nurses who worked at the Hospital.
This is a pleasant house that well-suited our needs. My main advise is to be aware of the $150 cleaning fee which is assessed for renting the house whether you are only using 2 rooms, as was our case, or all (we paid for rental of the entire house at the very reasonable rate for doing so.) We were in the area for a family medical emergency and were hardly in the house so it grated to pay for a whole house deep cleaning. I would suggest the owner consider using a security deposit (which we were not assessed) to cover cleaning costs that exceed normal usage by two people. Having said that, I found nothing else in the area that would have met our needs as well and the house provided us needed respite from our stressful days.
Lani
2017-03-26T00:00:00Z
Room Type
Entire home/apt
---
Property Type
House
---
Accommodates
7
---
Bedrooms
Albert Lea, MN, United States
I've undertaken the project of fixing up & living in this old creamery building on the Winnebago River in the rural town of Fertile. Guests can have the spacious upstairs to themselves & pass time in the common areas downstairs. Peaceful place. If you voted for Donald Trump, this place is probably not for you. Thanks for understanding.
A historical building curated in an artistic manner with an emphasis on relaxation & reflection. Still rough around the edges, but clean & inspiring. Extensive & eclectic library of books for guests to read. Upstairs (where your accommodations will be) has 2 bedrooms, 1 full bathroom, & a balcony with a table. The 2 bedrooms are separated by a hallway, but not a door. In the large, main room you'll find a queen sleigh bed. In the smaller room there is a queen bed & a twin bed. The stairs leading to up to the space are quite steep & might not be appropriate for some elderly or health-compromised folks. There is a lock on the door to the upstairs to give you extra peace of mind. Downstairs is comprised of 3 living rooms, 1 bedroom, & the kitchen. I have another listing on airbnb for a private room downstairs. If I have guests staying there (maximum of 2) while you're staying upstairs, you'll only be sharing the downstairs common area & the yard with them.
It's quiet. Rural. There's a park right across the river with picnic tables, a basketball court (can provide a basketball), a horseshoe pitch (can provide two pairs of horseshoes), a dam, waterfall, old mill. Many characteristic gravel roads surrounding Fertile provide opportunities to get lost among low hills, cornfields & prairie. Clear Lake is only a 10 minute drive away. I-90 is 20-25 minutes away, I-35 is 5 minutes away.
Nathaniel was a most welcoming host. He made sure we were comfortable in every way. Three of us, my husband, grandaughter and I had the entire upstairs to ourselves along with the use of kitchen and living areas on main floor. The private garden in the back, next to the river, is peaceful and a great place to sit and enjoy nature, the chickens and the cats. Nathaniel's home is so cleverly decorated with books and many interesting vintage objects. Books, nooks, crannies and charm galore. The old creamery is more than a resting stop from here to (URL HIDDEN) is a destination.
Ann
2015-06-21T00:00:00Z
I found myself in Northern Iowa needing a night's lodging, not wanting to stay in a chain motel. Luckily, Nathaniel and the Artistic Creamery were close; the anti-chain in every way. On short notice Nathaniel was incredibly responsive to my request for the night. The photos accurately highlight the accommodations, with a clean, private second floor suite and eclectic, quirky, welcoming, artsy home. I made myself a simple dinner and breakfast in what was a commercial kitchen, burrowed myself on the laptop in a wonderful work space upstairs and enjoyed a peaceful morning working online with an awesome view of the river. My only regret was that Nathaniel had a prior engagement and we had only a short visit. Best of luck Nathaniel and thanks!
clark
2014-04-17T00:00:00Z
This is a wonderful place. I stayed here at the end of a long day and a long drive, and I had such a restful and peaceful stay. There is plenty of privacy here, as you have the entire upstairs of the Creamery to yourself, but Nathaniel is also a friendly and welcoming host who will make you feel right at home. I would definitely stay here again.
Clare
2014-09-19T00:00:00Z
We were driving cross country and went out of our way to stay with Nathaniel in his renovated creamery. We arrived late, but with enough light to appreciate just what a beautiful place Nathaniel has created. The house is filled with beautiful antiques and lots of books, which made us wish we could spend a week there relaxing, taking in the slow pace and pretty landscape of Fertile, Iowa. We broke bread together and Nathaniel shared his knowledge of the area and helped us decide on a good route home. Seeing what Nathaniel has made is very inspirational and I would recommend his place to anyone who is interested in seeing how one person can make a small corner of the world feel magical.
Daniela
2014-07-31T00:00:00Z
Nathaniel's place is uuuuunbelieveable. We loved it. He creatively designed his house to give it a unique rustic feel, complete with antique furniture, a record player, and even a chicken coop. He was more than hospitable and made us feel welcome. He even made us an omlette using his chickens' eggs and herbs from his garden. I highly recommend staying with Nathaniel if you're traveling anywhere close to Iowa.
Keith
2016-07-13T00:00:00Z
Our stay with Nathaniel was amazing. We were on our way cross country from VT to MT and he was extremely flexible and patient when we kept changing our arrival time. When we arrived, we were blown away by the beauty of his home. His renovation and interior decoration of the creamery building created such a sense of peace and tranquility..exactly what we needed after a long drive. We cooked breakfast in his awesome kitchen in the am, during which he offered us fresh eggs from his chickens and some other items to add to food we brought. We shared coffee and breakfast together and loved our conversation and learning about one another. This is a must-stay if passing through this part of Iowa or if you are looking for a place for inspiration/creativity/relaxation in a beautiful setting. We would definitely stay here again!
Jennifer
2016-04-12T00:00:00Z
Just a magical space, loved the beauty and peacefulness. The furnishings, artwork, and attention to detail are amazing. We also loved the outdoors and our son enjoyed visiting with the cats and chickens.
Melissa
2016-06-20T00:00:00Z
Nathaniel met us at arrival; Had a nice visit to catch up, as we stayed there last year. Very Rural, quiet and eclectic surroundings, and the beautiful river runs through the back yard, just past the patio. Nathaniel told us about some great places to eat and have a beer; His kitchen is to die for, so you can do lots of your own cooking if desired. The bed linens are wonderful natural fibers (cotton!!!) Very comfy!! The free roam chickens are fun to watch..but dont let the rooster get too close..he didnt like me.. Looking forward to next year for our fall stay!
brenda
2016-10-02T00:00:00Z
Room Type
Entire home/apt
---
Property Type
House
---
Accommodates
5
---
Bedrooms
Fertile, IA, United States
Come stay in our private guest room and bathroom located in our fully finished basement, close to I-90. The room has a new queen size mattress, a large dresser, mirror, TV, desk, and full closet space. The clean and updated guest bathroom includes a shower and tub. You're welcome to use the kitchen, fridge, dining room, playroom, living room, laundry room and backyard. Extra mattresses and playpens are available for families with little ones. Our 60 ft driveway fits trailers.
The home is in a quiet suburb close to I-90. We always recommend you check out the SPAM Museum and the Hormel Historic Home. Our favorite restaurants include the Old Mill, El Patron, Top Noodle, Torge's, B&J, and Tendermaid.
The description was accurate and we had a wonderful stay with Jeremy and his family. Fresh linens, a very comfortable bed, and a nice bathroom with a bathtub. We felt very welcome! We would definitely return if we do another cross country road trip.
Lina
2016-09-04T00:00:00Z
What a great find! Jeremy was a prompt and friendly communicator before our arrival, and Sarah Lynn graciously greeted us and helped us settle in. We had the basement level to ourselves, which included a clean bathroom. We appreciated the privacy and quiet. We were only there for a night, and we arrived late and left early, but it was the perfect resting spot on our cross-country road trip. Thanks!
Beth
2016-08-10T00:00:00Z
Jeremy was a kind and generous host. I felt very welcome in his home, and he offered good recommendations of restaurants to go to downtown. Also, he helped me out, saving me a trip to the store by letting me borrow a few items I forgot to pack on my road trip!
Shail
2016-08-02T00:00:00Z
The host canceled this reservation 7 days before arrival. This is an automated posting.
Andrew
2016-09-05T00:00:00Z
I can guarantee that Jeremy and Sarah Lynn's place is the best spot to stay in the area. Jeremy was a fast communicator, and they were ready to receive us even though we arrived on the later side. They offered a fridge shelf and kitchen use. We were impressed by how large the downstairs area was- and it was all reserved for us! They even had a roku and TV in the bedroom, which is always nice. 10/10.
David
2016-08-24T00:00:00Z
I can't say enough kind words about Jeremy, his wife Sarahlynn, and their family! We had a fantastic stay at their home while we were in Austin. Jeremy was very easy to communicate with, made sure we were all set for a smooth check-in, and Sarahlynn was there to greet us when when we arrived. The downstairs room and private bathroom were immaculately clean, comfortable, well furnished, and plenty of extra toiletries were provided. Jeremy and Sarahlynn were very welcoming and happy to provide whatever help we needed (use of the washer/dryer, fridge space, kitchen, etc). We interacted with them frequently during our stay and I always enjoyed our conversations, they are a truly wonderful family to get to know. I would definitely stay here next time we're in Spamtown!
Aileen
2016-07-31T00:00:00Z
Room Type
Private room
---
Property Type
House
---
Accommodates
2
---
Bedrooms
Austin, MN, United States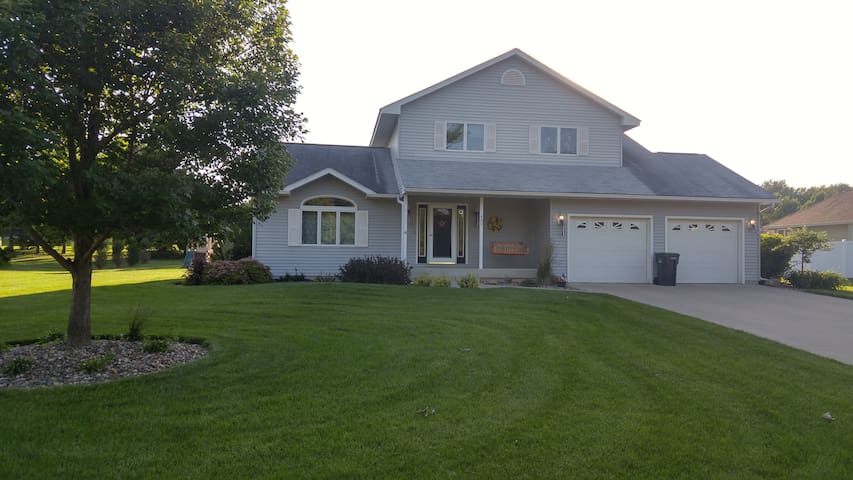 1941 Farmhouse. renovated in 2009. 3 BRs. 2 Full baths. Additional sleeping in Barbershop Lounge, Winthrop Playroom and Garden Room.
More relaxing than home! Spacious, fully equipped home for the whole family
Room Type
Entire home/apt
---
Property Type
House
---
Accommodates
10
---
Bedrooms
Mason City, IA, United States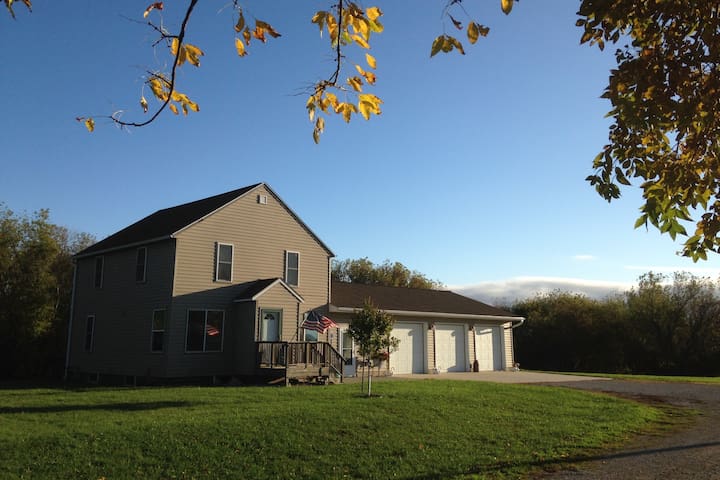 Open concept living/dining/kitchen. 4 or 5 sleeping rooms. Spacious dining and gathering options indoors and out! Situated on 22 acres of lawn, grove, creek, farmland. Handicap ramp!
Check out 24807 'C' across the lane for extra large groups.
Farm house with plenty of family space. Great yard and outdoor space. Our kids enjoyed the house and walking around outside!
Laura
2017-03-26T00:00:00Z
Room Type
Entire home/apt
---
Property Type
House
---
Accommodates
10
---
Bedrooms
Mason City, IA, United States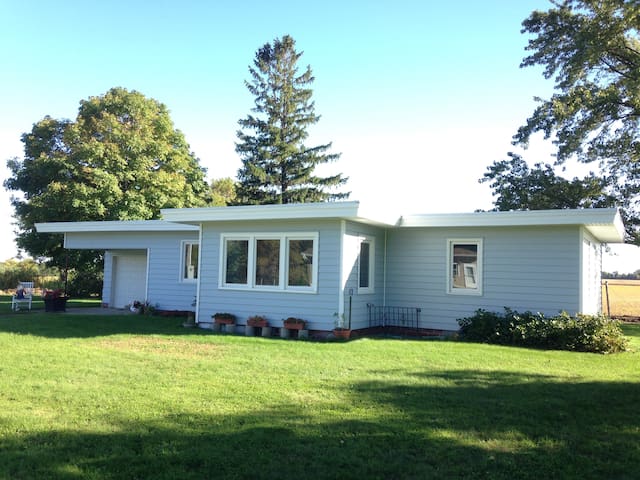 Master bedroom is in one end of the house with a king sized bed, large bathroom with a jetted tub and step in shower. Walk in closet for convenience. The other two bedrooms are located at the other end of the home. One has a queen bed and the other has two twins. The hallway bathroom is a full bath. The kitchen is large and open with a dining area and office space off to the side. Kitchen amenities include cookware, dishes, glassware, silverware.
Room Type
Private room
---
Property Type
House
---
Accommodates
2
---
Bedrooms
Owatonna, MN, United States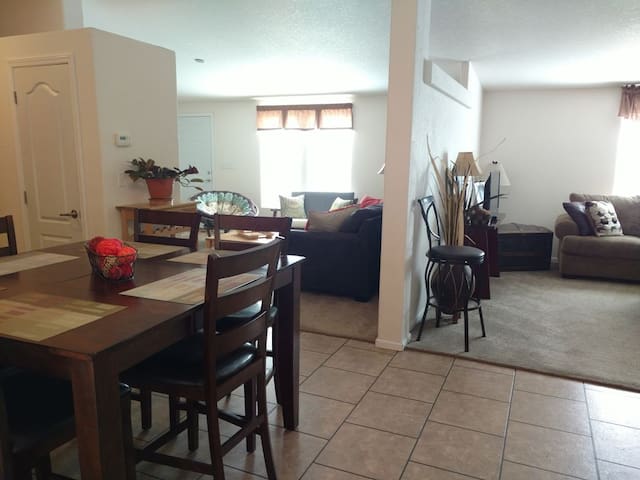 Albert Lea - Airbnb
:
Average

4.94

out of

5

stars from

171

guest reviews
Enter dates to see full pricing. Additional fees apply. Taxes may be added.