My place is good for business travelers, families (with kids), and big groups. It is large enough to host 20 people. Its 10 K sq ft including basement, 4 car garage. Boasts 8 bedrooms with 2 Master bedrooms, 1 on the ground floor and the other on the first floor, there is also a large bedroom/full bath in the basement. Heated pool, 8 person Hot tub/Spa, large back yard. Epson Projector 8 x 8 screen, Close to Lakes, Canoe available. Bicycles provided.
This Exquisite Custom 10000 SQ FT (including finished basement) Home has a beautiful 2 story grand great room and indoor heated swimming pool! Great for POOL PARTIES! This house is situated on almost an acre lot in the beautiful community of Mallard Lake Estates with VIEW of the LAKE! It has spacious land in the front and a large backyard. Finished Basement with Fireplace and 2nd Kitchen. The Lake offers peaceful pathways in its serene setting. The home also has a first floor large bedroom with sitting area and attached bathroom. Master bedroom has private balcony and tray ceiling. (There are 5 and a half baths in the house, so not all baths are private) We will do all we can to help you enjoy your stay! Outside patios/yard quiet after 10 PM. No pets allowed. No smoking inside the home. Parties & get-togethers that involve non-overnight guests subject to additional fees.
Centrally located, close to mall, shopping, lakes & highways.
Great house, great quiet location
joe
2016-09-10T00:00:00Z
The host was very accommodating. He met us when we arrived, and went through all the details associated with the house. In addition, he contacted us a couple of times during our stay to make sure everything was working fine.
Simon
2016-08-04T00:00:00Z
Beautiful place- it was perfect for our large family get together. Place was in great condition and hosts were very accommodating. Would highly recommend for a large group looking to have a good time in the Chicago suburbs.
Ashwini
2016-08-15T00:00:00Z
Asma and Syed were great: very understanding and flexible! The house was everything we expected and more. My only complaint would be that the house isn't very well sound proofed, so I felt like I could hear every whispered conversation and footstep from my bedroom downstairs. The neighborhood is definitely suburban and far away from the city, but there was never much traffic heading to bloomingdale from chicago, which was awesome. Overall, this listing would be best for someone who has a large family that is looking to spend an extended time in the area. It worked well for our purposes!
Mai
2016-09-05T00:00:00Z
The place was great for a large group of people for family reunions or business meetings. Enough bathrooms and gathering areas to feel comfortable. Hosts were very responsive with questions or needs.
William
2016-09-17T00:00:00Z
The mansion in Bloomingdale is absolutely beautiful!!! The hosts are a lovely family. They were very attentive and easy to work with. Although we stayed only one night it was a great family getaway. We all enjoyed ourselves and are definitely considering staying again with them, next time longer. The indoor pool was a hit, & everyone loved it. Most of us were not thinking in getting in but when we did. We were so glad they had extra towels for us to use. The home was more than expected. Everything was perfect. Thank you again!!!
Jessica
2016-08-22T00:00:00Z
Asma and Syed are wonderful hosts. They were exceptionally accommodating and gracious - when I arrived they had a tray of cookies waiting for me and my teammates! Syed was quick to respond to any questions I had during my stay. The house is fantastic and is as pictured.
Cate
2016-10-03T00:00:00Z
Wonderful space. Made my sister's bachelorette party so special. Everything was amazing and the house was great
Allysa
2016-08-08T00:00:00Z
Room Type
Entire home/apt
---
Property Type
Villa
---
Accommodates
16
---
Bedrooms
Bloomingdale, IL, United States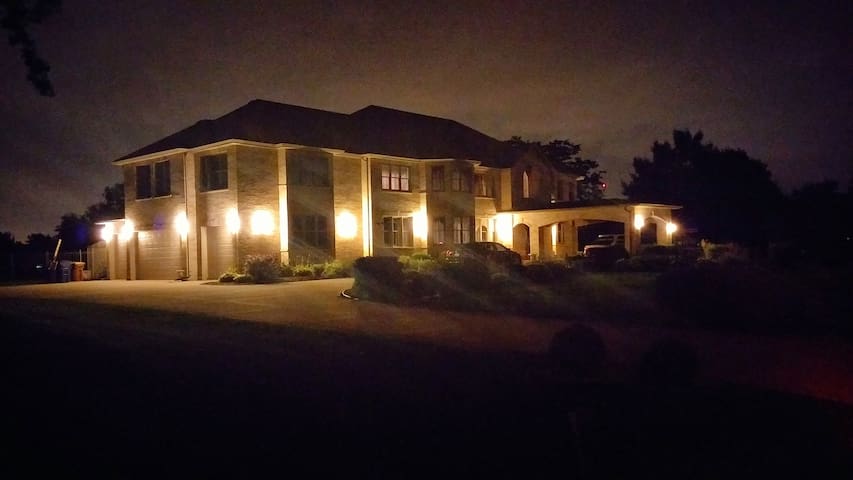 This stunning mansion has a gigantic backyard and borders the lake and golf course. The views and vibe are great. Luxury living at it's finest. Perfect for GOLF, staycations, reunions, and family get togethers. Near great restaurants ,shopping, club house, and other sites like the Botanic Gardens, malls, and theaters. Located in one of the nicest neighborhoods of Illinois (if you're lucky you may run into neighbors who are famous celebrities and athletes)!
This home has spectacular views of Lake Charles and is situated on the White Deer Run Golf Course allowing for great photo opportunities and beautiful sunrise and sunsets. Spacious interiors and beautiful rooms are the hallmark of this custom home. This home has 2 family rooms and 2 dining areas making it perfect for your family gatherings. Incredible location close to the some of the best restaurants and entertainment options. This home was featured on the "Parade of Homes". Overnight guests up to 14. Large deck , gas grill and oversized patio on site. If you are looking for a resort like feel in a home setting, this is the place for you!
Greggs Landing is located in Vernon Hills, Illinois west of Milwaukee Avenue off of Gregg's Parkway. Gregg's Landing surrounds White Deer Run Golf Course. The Golf Course is built on 240 acres of rolling terrain and picturesque lakes. Gregg's Landing was built on the famed Cuneo Estate.
We stayed over this place to celebrate our sons first birthday. Amazingly welcoming home set in a beautiful neighborhood. Definetely recommend to families to like to relax and enjoy a weekend :)
Reva
2017-02-26T00:00:00Z
Room Type
Entire home/apt
---
Property Type
Villa
---
Accommodates
14
---
Bedrooms
Vernon Hills, IL, United States
Quiet neighborhood and a big family park accessible for jogging and walking, and playing with your kids. Renting one room, but also using other spaces as if you are staying your home. Very easy access to the main routes of the northwest suburbs.
Easy access to I-53, which is close to Schaumburg shopping center. Free parking, and you rent one room, but use other spaces such as kitchen, living room, and basement (which is a library/office).
Quiet and Friendly. Well maintained landscape. A big family park
The house was exactly as described, and the room was comfortable. It's a far way out from Chicago, but if you have a car and are looking for options outside the city, this is a great place! I'll be going back if I ever land in Chicago again! Thank you for the wonderful time!
Sam
2015-08-10T00:00:00Z
Room Type
Private room
---
Property Type
Villa
---
Accommodates
3
---
Bedrooms
Buffalo Grove, IL, United States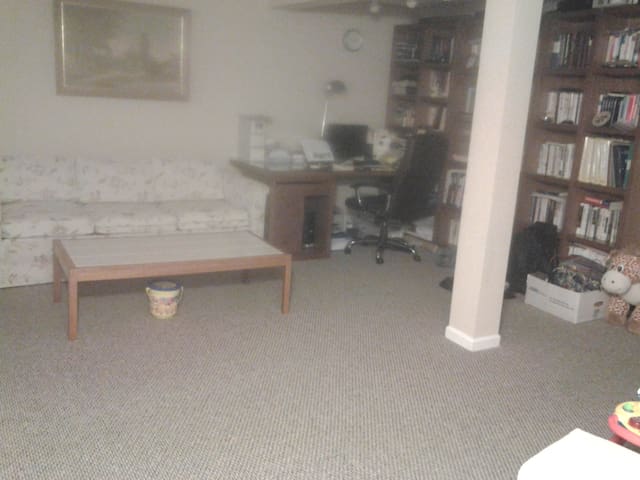 Our fully-furnished Abbey Villa is a getaway for a family, couple or friends. It is located adjacent to the Abbey Resort and Avani Spa, the two-bedroom, two-bathroom Villa features an open floor plan and includes most comforts of home. The second floor unit includes a dining room with seating for six, breakfast nook and outdoor deck that overlooks the pool and grounds. Enjoy the outdoor patio with seating for dining. Perfect for weddings. You may access all public areas of the Abbey Resort only.
The master bedroom has a king size bed and master bathroom en suite. The second bedroom has two twin beds and the living has a full-size pull out couch. There is a flat screen "smart" TV, Blu Ray DVD player and free Wi-Fi. The kitchen is fully-equipped.
This condo is within walking distance of summer outdoor swimming, boating and hiking and a short distance from shopping, golfing and antiquing. Delicious dining options are steps away including The Abbey Resort, which boasts an upscale French restaurant, relaxed American dining, a bar and Starbucks coffee shop. Most Resort amenities are available to the public, not the pools. Nearby Chuck's and Gordy's restaurants overlook Geneva Lake. Nightlife is also found in those same venues. Grocery store and fast food restaurants are close by. Pier 290 in Williams Bay.
We had a great time staying in the condo. The unit was very clean and well maintained. The pool was great, just outside the unit. It was a quick walk to the beach and the lake front bars and restaurants. I would definitely stay there again.
Robert
2016-07-15T00:00:00Z
This was our first experience with Airbnb and it was a very positive one! Our stay was wonderful! The accommodations were great and we thoroughly enjoyed the well landscaped grounds from our spacious patio. We also loved the many activities that were available ... swimming, walks on the lake trails, great places to eat out, boating, and a fantastic beach. Vida was amazing. She was available for any questions we had and even check in with us to make sure everything was acceptable. Can't wait to return again!
Susan
2016-08-16T00:00:00Z
We stayed here for our "Mini-Moon" to Lake Geneva and it was wonderful! The perfect getaway spot. The villa was very clean, comfortable, and had many great amenities for us to use. We even stayed in one night due to bad weather conditions and felt right at home while watching a movie on the couch. I would definitely stay here again!
Megan
2016-09-10T00:00:00Z
This was my first experience booking through Airbnb and I was extremely satisfied! Five lifelong friends enjoyed every aspect of our stay. The villa was well equipped, clean, and the owner Vida was very helpful. The large covered patio was a great place for meals and for looking onto the beautifully manicured grounds. The weather kept us from using the pool, but it looked very inviting. Vida's recommendations were spot on. We visited Chuck's close by, took a boat tour of Lake Geneva, and dined at Pier 290 in Williams Bay. I would definitely recommend this property for groups of 4 or 5 and plan on revisiting again! Thank you Vida!
Barb
2016-07-17T00:00:00Z
This was my first Airbnb experience and it was fantastic! Everything was perfect! It was nice to have our own space for a girls' weekend. Same price as a hotel, but so much more space and comfort. Vida was a great hostess and made sure everything went smoothly. Her place is lovely and very clean! Great experience! Thank you!
Jennifer
2016-09-11T00:00:00Z
This is a great place! It is not modern but it is clean, perfectly located, reasonably priced and equipped with all you would need for your stay in this beautiful area. Vida was an excellent host and very responsive.
Melanie
2016-06-27T00:00:00Z
We went for my birthday weekend. It was very relaxing. The place was clean and cozy, the bed was comfortable, large master room, plenty of towels and kitchen supplies. Only hitch was I couldn't get the gas fireplace working but I am unsure if it was me not knowing how to working or if it was out of order.
Bethany
2015-11-01T00:00:00Z
Enjoyed our weekend! Working with Vida was so easy. The villa had all the comforts of home and plenty of space for the 4 of us! We will definitely be back for another stay.
Martha
2016-02-07T00:00:00Z
Room Type
Entire home/apt
---
Property Type
Villa
---
Accommodates
4
---
Bedrooms
Fontana-on-Geneva Lake, WI, United States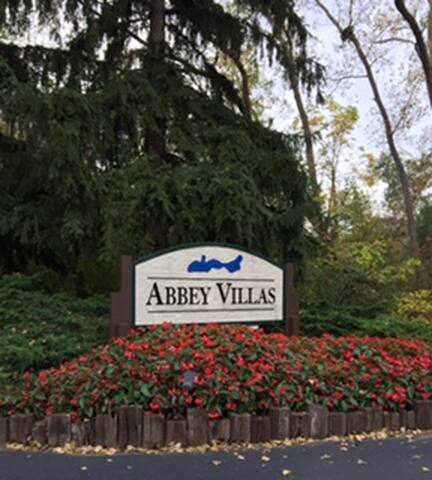 Located within a resort, this open and airy villa has vaulted ceilings and floor to ceiling windows. The peaceful view overlooks trees and a gently rolling hill with views of Lake Como in the distance. 5 minute drive to downtown Lake Geneva.
The resort is on the shores of Lake Como and across the street from Geneva Lake. The Ridge hotel is on the property, and they have a top-notch restaurant and bar with an additional outdoor bar with couches around a beautiful fire pit. We are a 5 minute drive to downtown Lake Geneva. There is a pool and tennis courts on the resort property. Sledding in the winter on the hill outside our door. 15 min drive to Alpine Valley.
Nice, clean place with drinks and kitchen stuffs available!
Viet
2015-09-21T00:00:00Z
Super relaxed villa with resort facilities. Clean and comfortable. Great living room space and greenery all around. Wendi provided us with a list of all her favourite restaurants which were spot on! We also used Wendis recommendation on boat rental. Overall wonderful stay.
Suna
2015-06-18T00:00:00Z
This apartment was perfect for our trip up to Lake Geneva for a wedding. Five of us stayed there, which made it super-affordable. (SENSITIVE CONTENTS HIDDEN) Maps didn't quite know where the resort was, but Wendi's directions got us there just fine. The apartment is just like it looks in the photos. We didn't take advantage of any of the resort services, so I can't speak to that. Wendi was very organized and sent us all the relevant information well in advance of our trip. The only drawbacks were that there was only one key to the place and that we started to watch the DVD of Macgruber, which is a terrible, terrible movie. :) I highly recommend Wendi's place to other travelers!
Maggie
2015-09-14T00:00:00Z
The 4 of us were in town for the Dave Matthews Band Concert at Alpine Valley and the allure of this rental was its proximity to the venue and Lake Geneva. This rental is in a great location! The unit is atop a hill with a view of the lake. We spent most of our days down at a local restaurant and bar which is just a walk down the hill. We even played Frisbee on the sprawling lawn. Wendi is a very responsive host and was very communicative while securing the rental and during our stay. She even resolved a minor issue in a matter of minutes. The unit was clean and the bedrooms were large. We had a great stay and made a ton of new memories at this rental!
Kathleen
2016-07-05T00:00:00Z
Room Type
Entire home/apt
---
Property Type
Villa
---
Accommodates
6
---
Bedrooms
Lake Geneva, WI, United States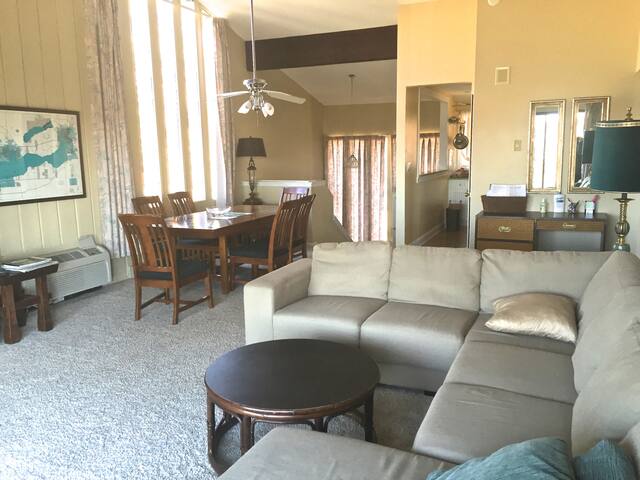 Enter dates to see full pricing. Additional fees apply. Taxes may be added.