Casa da Adega is a modern restoration of the old winery Quinta do Arco, with three rooms with bathroom, satellite TV and air conditioning. Surrounded by countryside crop fields and orchard, a beautiful garden and pool.
Magnifique maison, très beau paysage, nous avons été très bien accueilli. Nous recommandons cette belle demeure avec sa piscine. Merci Lucio
ANGELIQUE
2016-08-12T00:00:00Z
Très bon séjour. Très belle propriété dans un quartier calme et bien situé. Excellent accueil. Nous recommandons vivement !
Laurent
2016-07-16T00:00:00Z
Lucio a était très disponible pour nous aider dans notre séjour. d'une grande culture et parlant français, il a su nous donner les bonnes indications pour visiter la région. La maison est très propre et très bien équipé. nous conseillons vivement cette maison pour un rapport qualité prix parfait.
Bonte
2016-08-28T00:00:00Z
Logement parfait pour 6 personnes. Le logement est coquet, très propre, bien aménagé et possède tout le confort. Les chambres sont très spacieuses avec une salle de bain dans chacune. Le logement est bien situé. Très belle vue de la terrasse et du bord de la piscine. Lucio est un hôte très agréable disponible et attentif au confort des visiteurs.
Jean Pierre
2016-08-07T00:00:00Z
Nous avons passé un formidable séjour dans un cadre très agréable. Lucio a été un hôte très sympathique et attentionné. Nous recommandons la "casa da Adega" pour un séjour entre amis ou en famille près de Porto. C'est un lieu agréable proche de Porto, Braga, Guimaraes..qui saura vous satisfaire vous souhaitez à la fois vous reposer et visiter Porto et ses alentours.
Carlos
2016-08-21T00:00:00Z
Lucio nous a accueilli avec bienveillance et a fait tout son possible pour rendre notre séjour le plus agréable possible (corbeille de fruits à notre arrivée, conseils de visites, routeur internet car pas de WIFI). C'est un hôte disponible et qui parle très bien le français. Cadre agréable et piscine super sympa.
Clotilde
2016-08-02T00:00:00Z
O excelente acolhimento, a simpatia do anfitrião, a beleza da paisagem e a óptima qualidade do serviço deixaram-nos maravilhados.
Maria
2017-03-13T00:00:00Z
Lucio nous a attendu tard malgré notre arrivée à minuit! L'accueil était parfait, la maison très au calme dans la campagne était bien décrite; les 3 chambres avec salles de bain individuelles, télévision dans chaque étaient parfaites; piscine parfaite
Gino
2015-08-03T00:00:00Z
Room Type
Entire home/apt
---
Property Type
House
---
Accommodates
6
---
Bedrooms
Alvarelhos, Porto District, Portugal
Casa inserida em quinta rural, com total privacidade e acesso a piscina
House with 1 bedrooms, 1 bathroom and kitchnet. Ideal for 1 couple. Has access to garden and swimming pool 3 km from metro Vilar do Pinheiro, 10 km from the airport, 8 km from the beach and 18 km from Porto center.
The host canceled this reservation 33 days before arrival. This is an automated posting.
CHARLINE
2015-08-31T00:00:00Z
Séjour agréable et reposant. L'environnement (propriété , jardín et piscine) est vraiment très beau et le logement spacieux et confortable.
Fabienlg
2015-09-12T00:00:00Z
Unas vacaciones perfectas, una casa con unas instalaciones ideales para pasar unos días de descanso y poder visitar la costa norte de Portugal. Alvaro se mostró muy atento con nosotros. Seguro que volvemos!
Mirian
2015-08-15T00:00:00Z
Location que nous vous conseillons fortement. En dehors de Porto (il faut une voiture) nous avons trouver un havre de paix... Très belle propriété où nous avons apprécié faire une pause entre deux visites. La piscine est très propre et non négligeable au regard de la chaleur quand nous y étions. Le propriétaire fait tout pour que vous y soyez bien. Merci à lui pour toutes ses attentions. au niveau du logement nous avons trouvé tout le confort nécessaire pour deux personnes. Nous y retournerions bien avec nos enfants en louant l'appartement plus grand.
Frédérique
2015-07-03T00:00:00Z
Tout était aussi beau et propre que dans l'annonce ! La propriété d'Ana et Alvaro est un véritable eden (quel magnifique jardin !), situé à une vingtaine de minutes de Porto en voiture. Nos hôtes ont été charmants et notre séjour fut très agréable. Nous recommandons chaudement ce logement !
Nicolas
2015-07-20T00:00:00Z
Quartier très calme, lieu magnifique, hôte discret, appartement très bien, pas déçus de cette semaine passée à mosteiro ! Je recommande !
Valentine
2015-08-22T00:00:00Z
Notre séjour à Mostéiro était parfait! Nous avons été accueillis comme il se doit par le propriétaire de la maison. Le logement était propre, équipé et agréable. Un cadre verdoyant (très grand jardin et piscine) pour passer de très bonnes vacances. A 10kms du centre ville de Porto, la voiture est conseillée pour les visites. Néanmoins, le métro se situe à 3kms de la villa et c'est très agréable de se balader à travers les routes de campagne et sous le soleil du Portugal. La maison se situe dans un environnement calme, campagnard et paisible. Nous gardons un très bon souvenir de se séjour et nous ne pouvons que remercier Anna et son père pour l'accueil qu'ils nous ont fait.
Delphine
2015-06-02T00:00:00Z
Room Type
Entire home/apt
---
Property Type
House
---
Accommodates
2
---
Bedrooms
Mosteiró Vila do Conde, Porto, Portugal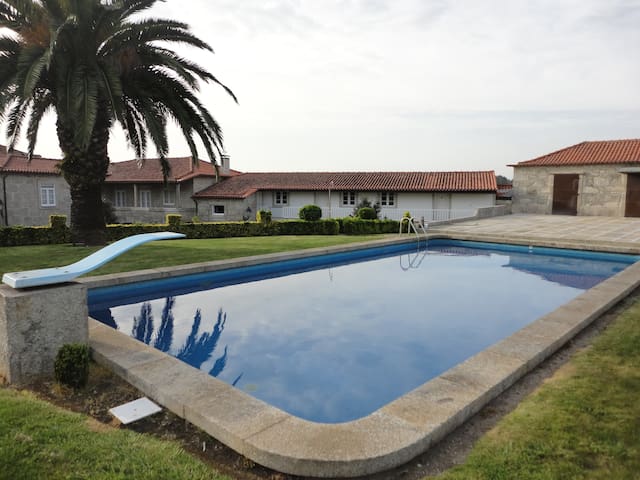 Room in a fancy country house with access to swimming pool,tennis/football/basketball court and snooker table. T
Room Type
Private room
---
Property Type
House
---
Accommodates
2
---
Bedrooms
Vairão, Porto, Portugal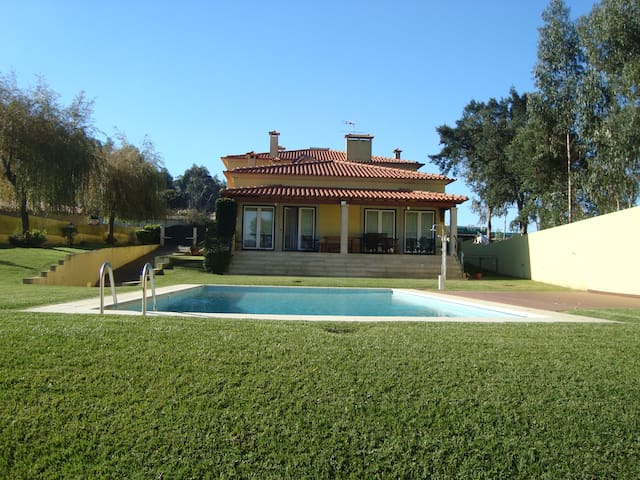 Venez profiter du calme à la campagne, à 6 km de la plage, à 8km de VILA DO CONDE et 18km de PORTO. Dans un village avec toutes commodité(URL HIDDEN) ( commerces, épiceries et cafés/restaurant.) Nous nous feront un plaisir de vous accueillir personnellement et seront à votre disposition pendant votre séjour pour vous conseiller ci-nécessaire.
Room Type
Entire home/apt
---
Property Type
House
---
Accommodates
6
---
Bedrooms
Vairão, Porto, Portugal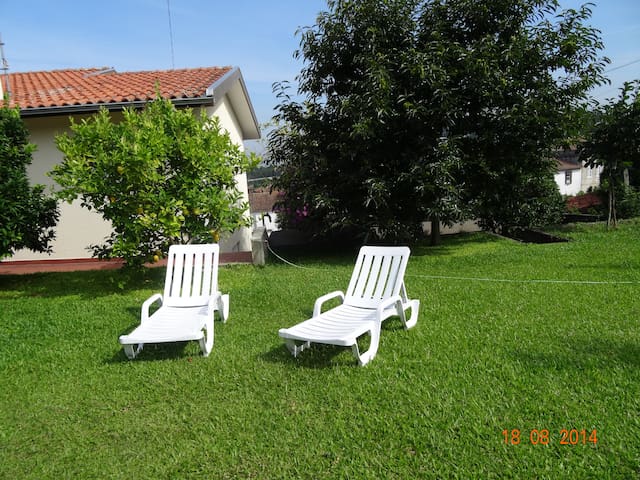 Escape the business of life for one night or one week. That's all you'll need in this state-of-the-art, newly renovated historic countryside home. Book your countryside vacation today!
This home consists of three bedrooms and two and a half bathrooms, sleeps 8 people. Each exquisitely decorated bedroom has amazing views and is equipped with queen size memory-foam mattresses, perfect for a relaxing night's sleep. The master bedroom has an ensuite bathroom. The main floor consists of rustic style, stone-walled living room with a wood-burning fireplace, flat-screen television and a sofa-bed for extra guests. The dining room is complete with a traditional wood-burning oven and skylight. There's a spacious kitchen with all modern fixtures and appliances including stove, oven, refrigerator and dishwasher. The laundry room is equipped with a washer/dryer, iron and ironing board. USB/Stick internet available. Extra mattress available upon request.
Soothingly quiet area with beautiful views, a perfect escape in rural Portugal from everyday city life.
Beautiful House in excellent condition, superb equiped, even with fresh lemons in the garden. We, a family of joung adults, parents and grandma loved this place. Pretty calm sourrounding and 20-30min from Vila do Conde and Famalicao.
Dominik
2016-08-03T00:00:00Z
What an amazing experience! Mario was so helpful with answering all my questions in the beginning. His daughter took over and welcomed us to our first European vacation. This was the most beautiful home we have ever stayed in. It was out in the country yet close enough for access to visit family and beautiful sites. It had everything we could possibly need- all the modern conveniences, yet the charm and warmth of a Portuguese home in a peaceful community. Even the neighbors made us feel at home! Daniela went above and beyond the role of a host. I can't thank her and her family enough for their kindness! Our only regrets were not having a GPS which Daniela recommended, not learning more Portuguese language and having a large rental car. A small car would have been much more appropriate for this area of the country. Do not drive a van here. Overall we had quite an adventure and would love to come back again one day!
Marianne
2014-08-09T00:00:00Z
We had a lovely stay at Casa da Francisca - the home is beautiful, a recently refurbished home dated back to 1896, I think. It is in the country, about half way between Trofa and Vila do Conde, which suited us perfectly, as we made it to the beach, but still spent plenty of time with family in Trofa - we were there only for the weekend. I went for a run on the country roads, through woods, and along the river, which was enjoyable. Our host were very welcoming, kindly offering to meet us at the airport, even waiting at the car rental while we got that sorted. And as it was very late at night when we arrived, we appreciated the effort. We would definitely stay here again in the future!
John
2015-07-13T00:00:00Z
The house is very well decorated. Very clean with very good equipments. If you like countryside it's perfect because it's in the middle of corn fields, forests and vineyards. I loved running in the forest close to the house. The house is well located as well because the same distance to Porto, Braga and Guimaraes. If you love beaches, its' a little bit far from the beach : about 20/25 minutes by car. I definitely recommend Casa Fransisca for holidays !
Gilles
2016-08-31T00:00:00Z
Una casa de sueño en un entorno ideal, muy bien equipada, las camas comodísimas...nos hemos sentido como en casa. ¡Volveremos!
Sylvie
2016-08-09T00:00:00Z
La casa es muy confortable, moderna y muy bonita, con todas las instalaciones para hacer cómoda y agradable la estancia. Se encuentra en el interior a 20 Km de Vila do Conde. Es un lugar perfecto para visitar los alrededores; Oporto, Braga. Viana do Castelo... El entorno en el que se encuentra la vivienda es muy tranquilo y hemos podido descansar y disfrutar de tranquilidad y silencio. Nuestro agradecimiento a los anfitriones y nuestra recomendación a quien desee visitar el norte de Portugal.
ISABEL
2015-08-18T00:00:00Z
Alugámos esta casa para um fim-de-semana de trabalho e teambuilding da direcção da nossa associação e gostámos muito das condições da casa, do espaço e da calma do bairro. Fomos muito bem recebidos, tendo até um cabaz de produtos à nossa espera e a casa tinha todas as condições anunciadas. Tivemos alguns problemas a ligar à internet mas os anfitriões mostraram-se disponíveis e muito prestáveis para resolver o assunto. No geral gostámos muito do imóvel e com certeza que voltaríamos a alugá-lo.
Inês
2015-07-20T00:00:00Z
Um de dois dias de estadia muito bem sucedida. Obrigado a Mario e sua filha são muito amáveis. Obrigado por todos os serviços prestados!
Diane
2016-07-17T00:00:00Z
Room Type
Entire home/apt
---
Property Type
House
---
Accommodates
8
---
Bedrooms
Vila do Conde, Porto, Portugal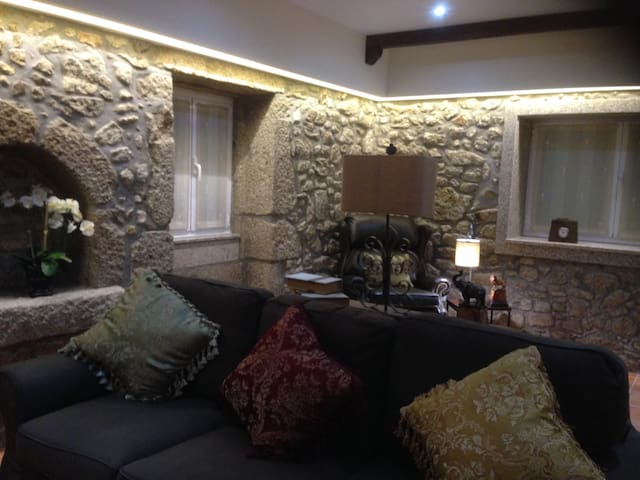 Enjoy quiet time in a centuries-old cottage 25km from Porto and minutes from the ocean. The antique furnished 10-room house sits in 6 acres of walled land. It hosts 4 guests, with all contemporary amenities and a bounty of space to spare. Each stay includes a basket of seasonal vegetables, fruits and eggs from our farm next door. Casa da Mineira is proud to welcome all guests.
Casa da Mineira is a airy 160 m2 or 1600sf house that sits in a 6-acre walled property. The grounds include a garden, lawn, granite patio and areas of orchard and cultivated fields. The grounds are part of a large 300-acre farm called Quinta de Vilarinho which has been in the family for many generations. The present configuration of the farm compound, with its mansion, barns and stables dates from the mid 19th century. The house has 2 large bedrooms with private bathrooms, an additional bathroom for visitors, a large and well equipped traditional kitchen, office, TV-room, living room and dinning room. The building was completely restored in the last year to offer all the comforts expected in a contemporary home. It has radiant-heated floors powered by solar-panels, cable TV, wi-fi, dishwasher and laundry washer. The traditional kitchen features an large walk-in chimney with a functional brick oven, a semi-professional stove, full refrigerator and freezer and is fully equipped to cook a feast. The formal dinning room sits six guests. It can very comfortably host 4 guests for a relaxing vacation, but it can also be the ideal workspace for a writer or scholar in a longer stay.
Casa da Mineira sits in the quiet village of Vilarinho, Macieira, county of Vila do Conde. The village offers basic amenities and commerce, such as a pharmacy and a supermarket.
We stayed in Inês' house for the second time. It's an excellent place to stay at for our business trips to Portugal. The house is magnificently restored and is in a great quiet spot between Porto and Barcelos. Inês is a very nice host who always makes sure there's fresh fruit and vegetables in the house. We've become friends with the ducks in the pond too! Just one thing, it's a big house and it can take some time to warm up in winter.
Peter
2016-11-26T00:00:00Z
This has got to be one of the most beautiful houses in the area between Porto, Barcelos and Guimaraes. We stayed here for a couple of days on a business trip, and it was a great place to come back to after a busy day. Iñes made us very welcome with fresh vegetables, fruit and eggs and invited us over to her garden too, which is located on the same square. She also pointed out a very friendly restaurant just across the street. With shops and bakeries nearby, it was a very convenient stay.
Peter
2016-05-04T00:00:00Z
Really worthy
LUIS
2016-03-26T00:00:00Z
The place was absolutely lovely, quiet and peaceful. We enjoyed our stay and the hospitality a lot and would recommend it to anyone who wants to spend some relaxing time in the countryside. The geese have already been changed into ducks that make no noise at all.
Nikolaus
2016-05-19T00:00:00Z
A beautifully restored historic house in a quite location. Not far from the coast and a 35 minute train ride to Porto. A car is essential however to get around. Clean, well equipped and spacious. Exactly like the photos!
Bev & Mark
2016-11-15T00:00:00Z
We had such a beautiful stay here! The place is beautiful and feels like home. Spacious, peaceful, and serene. Bonus there was fresh local fruit and veggies awaiting our arrival! We gladly recommend this place to stay and looking forward to returning ourselves! Thank you Ines!!
Isabel
2016-12-18T00:00:00Z
What a special place! The house is absolutely beautiful and the setting is enchanting. The welcome was warm, friendly and comprehensive. A lovely selection of home grown produce was left for us to enjoy. This, along with the fact that the house is so lovely you don't want to leave, meant that we cooked and ate "at home ". Within walking distance there is a butcher, a fishmonger, greengrocer, bakeries and a supermarket. If all this doesn't inspire you, there are also cafes and restaurants. The kitchen is well equipped and there is even an intimate dining room to showcase your efforts. The house is an absolute delight and we look forward to the next time we are able to stay.
Miguel
2017-02-10T00:00:00Z
This is the most spacious, elegant, quiet and beautiful place you can imagine. Everything is beautiful, clean and well thought out. Fresh fruits,vegetables and eggs await you in the kitchen - all from the farm's own production. Emilia welcomed us warmly and Ines answered all our questions. If you don't have to be in a big city, this is as good as it gets.
Uli
2016-06-15T00:00:00Z
Room Type
Entire home/apt
---
Property Type
House
---
Accommodates
4
---
Bedrooms
Macieira da Maia, Porto, Portugal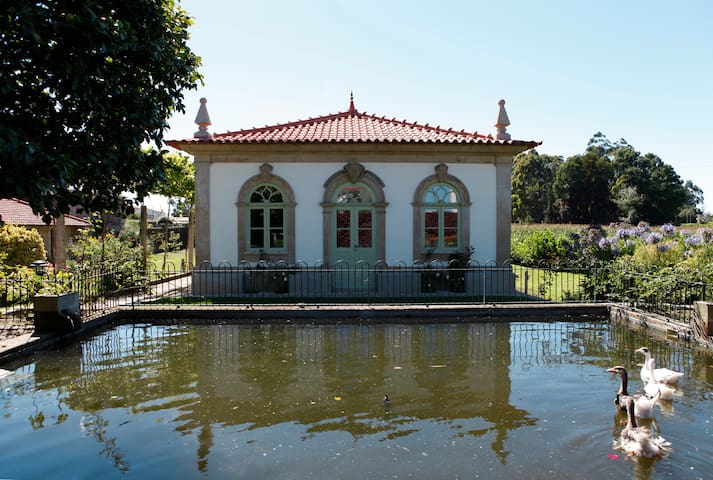 The perfect home from home! Just 2,3km from the airport (5 min by car and 20min walking). The Metro station is just 600m away. It will take you to Porto center in just 20min. Next to our house you can find a big supermarket, restaurants and cafes. You'll love my place because of the sunny bedrooms, one with a double bed, and extra single room, and a private bathroom, all brand new! The 2 rooms are maintained clean at all times. If necessary we have pick up and deliver at airport for 6 euros.
We have a big trampolin and a swing where you can have some fun while staying at our place. There are beautiful parks around our house. We also can lend bicycles if you feel like going for a ride.
Laura is an amazing host, beyond hospitable! I booked quite last-minute, and she was more than willing to pick me up from the metro stop, feed me, give me sandwiches and snacks for my trip, and drive me to the airport very early in the morning...not to mention fun company and conversation : ) Genuinely sincere and kind, I would love to come back...obrigada obrigada!!!
Filipa
2017-03-10T00:00:00Z
A very nice stay at Laura's. She received us perfectly, the room was very nice and clean I would definitely recommend her home. Thank you again for your warm welcome
Sacha
2017-04-09T00:00:00Z
Laura and her husband speak perfect English & are very helpful and knowledgeable. The room and bathroom (Cassa do baniou ?) was excellent, clean and a great home stay in, They made me feel so welcome I felt like a long lost son ! I plan to visit again soon, a wonderful Airbnb Host ! Munto obriagado Tchau ! Regards rodger C
Rodger
2017-03-30T00:00:00Z
It really was amazing! Portugal is so beautiful and Laura is an amazing host! So kind, helpful and nice!! Definitely recommend to stay there, best airbnb host! And the place is really close to the airport and the transport connections are really good as well
Laura
2017-04-04T00:00:00Z
Room Type
Entire home/apt
---
Property Type
House
---
Accommodates
3
---
Bedrooms
Vila Nova da Telha, Porto, Portugal
Room in a shared house 5 minutes from the Airport Oporto, best destination 2017 Thanks for checking out my place and I hope to talk to you soon! More information donw below or send privet message!
The space we have available for booking is a cozy room perfect for couples or single persons. The beds can be two single beds or a double bed. In the room you have a lockable wardrobe, a desk, a hairdryer and a heater. The room has a key that is given to the guest for greater privacy. The guests also have a shared bathroom. You also have access to the living room where you can watch TV or socialize with the owners of the house. Upon request, guests can also use the washing machine and microwave in the kitchen. If you need to leave the house you will be provided with the house key. With regard to transport, you can find just a few minutes away an underground station, bus and taxi if necessary. _________________________________________________________________ O espaço que temos disponível para reserva é um quarto acolhedor perfeito para casais ou pessoas individuais. As camas podem ser duas de solteiro ou então uma de casal. No quarto têm um guarda-fatos com chave, uma secretária, secador de cabelo e um aquecedor. O quarto tem uma chave que é dada ao hóspede para uma maior privacidade. O hóspede ao reservar o quarto tem direito a uma casa de banho partilhada. Também tem acesso à sala de estar onde pode ver televisão ou socializar com os donos da casa. Mediante o pedido o hóspede também pode usar a máquina de lavar roupa e o micro-ondas da cozinha. Se hóspede necessitar de sair de casa é-lhe fornecido a chave de casa. Relativamente a transportes, pode encontrar a apenas alguns minutos de distância uma estação de metro, autocarro e táxi se necessário.
The house is located in a quiet neighborhood and close to the airport. It is a well served area with public transport, you can find some cafes, restaurants, supermarket and pharmacy only a few minutes away. It is a great place for couples, friends or individuals. ________________________________________________________________ A casa localiza-se numa urbanização sossegada e perto do aeroporto. É uma zona bem servida de transportes públicos, podem-se encontrar alguns cafés, restaurantes, supermercado e farmácia apenas a alguns minutos de distância. É um ótimo sitio para casais, amigos ou pessoas individuais.
Catarina is a very warmfull person. Her and her father hosted me and my boyfriend with kindness. It was a very good place to meet nice Portuguese people and exchange with them. Thank Catarina and Carlos !
Clémentine
2016-11-14T00:00:00Z
Catarina and her father were very welcoming hosts and did everything to make me feel comfortable. I arrived in the evening and had to catch a flight early in the morning. As their house is 5min away from the airport it was very convenient. Copious breakfast. Good address!
Dominique
2017-02-23T00:00:00Z
Catarina and Carlos are very friendly and helpful. It was beautiful to be in the house from such great peoples
Hildegard
2017-03-02T00:00:00Z
I needed a place to stay close to the airport after a late arrival into Porto. Catarina was extremely welcoming, and the room was very cosy (huge bed!) and just what I wanted after a long flight. Breakfast was great and as I had to leave early again Catarina kindly made it for me at 8am. She is very friendly and always made sure I had everything I needed. Great host, thanks Catarina!
Emma
2017-01-31T00:00:00Z
Very nice room in a good position to join the airport. Catarina is very kind and the apartment clean and confortable :)
Guendalina
2017-01-06T00:00:00Z
great hospitality, and also the host tried hard and best. kind owner and her father. when i went down from bedroom, they always prepared breakfast and greeted me. it is worthy to stay this flat. sincerly recommend. They deserve higher price.
진우
2016-10-10T00:00:00Z
We had a wonderful, short stay at Catarina's home--a perfect destination for incoming and outgoing travel via the Porto airport. She was so kind as to pick us up from the train stop and take us to her home. She also recommended a lovely restaurant nearby where we had our last delicious meal in Portugal before flying home. Our room was very comfortable and impeccably clean, and Catarina went out of her way to make us a much appreciated, capital breakfast at 5:30am prior to our departure. A very nice visit, indeed--and all the more so because our host was such a sweet and kind person. Highly recommended!
Shane
2017-01-15T00:00:00Z
Catarina and her father were really, really nice hosts. I just stayed one night to catch a flight the next morning, and they received me like family. We had some nice and interesting talks with good porto. The room and beds are clean and comfortable. On top of that they even gave me a very good breakfast! I can only be positive! Absolutely recommended!!
Klaus
2016-10-30T00:00:00Z
Room Type
Private room
---
Property Type
House
---
Accommodates
2
---
Bedrooms
Vila Nova da Telha, Porto, Portugal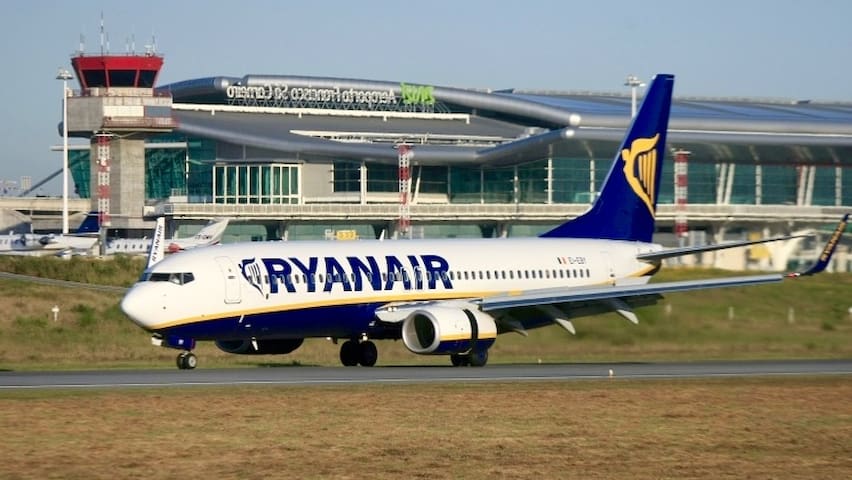 My space is close to the beach, public transport, restaurants and meals, night evida. You'll love my space because of the environment and people. My space is good for couples, solo adventures, business travelers, efamílias (with children).
Un'ottima accoglienza e disponibilità; l'ubicazione non è purtroppo delle migliori, ma può essere utile per fare pausa a prezzo ragionevolissimo.
Francesco
2016-08-15T00:00:00Z
Room Type
Private room
---
Property Type
House
---
Accommodates
4
---
Bedrooms
Vila Nova de Famalicão, Braga, Portugal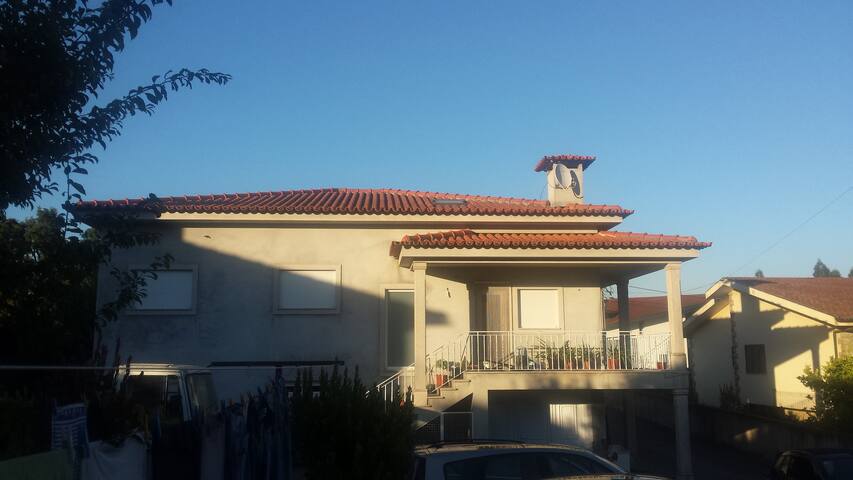 My space is close to beautiful scenery. You'll love my space because of the views, the warmth, and the location. My space is good for individual couples and adventures.
This House river it is in front of the River, it have a local beach, and it is the only house in that local. You can rest and relax, just with nature around, The house it is litle but it is full equiped.
This is one of the kind because it is near the river and you will have the river only for you, the house have amazing views, and it is about 5km of the ocean and Vila do Conde.
Room Type
Entire home/apt
---
Property Type
House
---
Accommodates
4
---
Bedrooms
Mindelo, Porto, Portugal
Room, with breakfast included, next to airport ,and 10 kms Porto
Room Type
Private room
---
Property Type
House
---
Accommodates
1
---
Bedrooms
Vilar de Pinheiro, Porto District, Portugal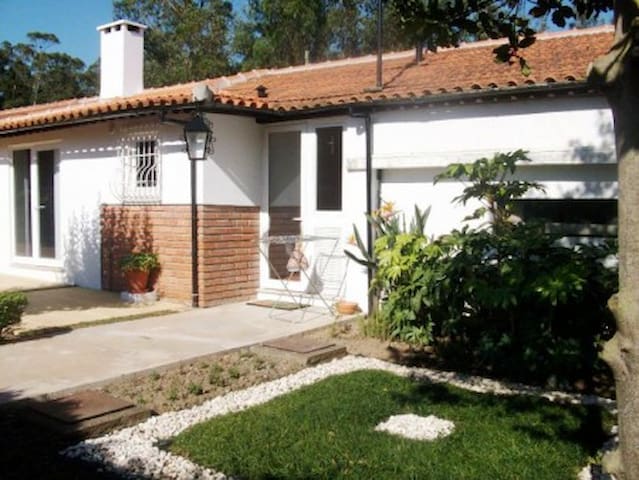 Magnifica Casa Rústica Centenária, mas com todo o conforto de uma casa moderna, totalmente remodelado em 2016. Situa-se na freguesia de Bagunte no conselho de Vila do Conde, a cerca de 20 km da cidade Invicta do Porto. Ótima localização para conhecer o norte de Portugal: - Parque Penada Gerês fica a cerca 1:20h; - Guimarães(considerado Património Cultural da Humanidade) fica a cerca de 40 minutos; - Vigo (Espanha) fica a acerca de 1:45h.
A casa tem 5 quartos com cama de casal; cozinha totalmente equipada; piscina privada; parque infantil;maquina de lavar roupa; ferro de engomar; churrasqueira; parque privativo; alguns animais como galinhas, ovelhas, etc habitam na parte exterior da habitação. Disponibilizamos serviço de "chef em casa". Se preferir fazer um almoço ou jantar mais requintado e não quer ir a um restaurante, temos o serviço de "chef em casa", onde pode escolher o menu de comida tradicional portuguesa e aproveitar para interagir com o chef na cozinha.
Fantástica experiência. Os responsáveis pela casa foram sempre prestáveis e ajudaram em tudo o que era necessário, realmente fantástico. Quanto à casa, o espaço é bastante amplo, privacidade garantida, toda a casa foi recentemente remodelada, está em condições fantásticas. A zona da piscina é incrível, boa vista, diversão garantida nesta casa. Sem duvida que recomendamos, principalmente para um grupo de amigos como foi o nosso caso. Devemos repetir entretanto. Bons acessos, local mais do que suficiente para estacionar todos os carros, sala super confortável. A repetir, sem dúvida.
Arnaldo
2016-09-25T00:00:00Z
Sítio fantástico com uma casa de sonho. O anfitrião sempre prestável. A única coisa a lamentar foi não poder ter ficado mais dias a disfrutar deste sítio. 5 estrelas!
Ricardo
2016-09-12T00:00:00Z
Tudo foi fantástico! A casa em si é maravilhosa. Tem tudo o necessário, ou talvez mais... As crianças deliraram com o pequeno parque e os animais da quinta. Relativamente à hospitalidade não podia ter sido melhor. Antes e durante a estadia, sempre disponíveis e com imensa simpatia. Uma experiência a repetir, da próxima vez com calor para usufruir da piscina!
Mafalda
2017-01-01T00:00:00Z
Room Type
Entire home/apt
---
Property Type
House
---
Accommodates
10
---
Bedrooms
Bagunte, Porto, Portugal
************** PLEASE NOTE THAT THERE IS A SPECIAL OFFER FOR THE MONTH OF JUNE - ONLY €90 / DAY!! ************** I'm renting out an amazing stone house dating back to 1640, just 15km away from Porto. It's a great place to spend some relaxing holidays in the countryside. The house has 2 bedrooms, one with a double bed and the other with two single beds. Both rooms have a bathroom and there's also a third guest WC. The kitchen is fully equipped (including a stove, fridge, microwave oven, dishwasher and a table). There's also a washing machine, an iron and an ironing board in the laundry area. In the living room you'll find a computer with an internet surfstick. There's also a garage where you can keep up to 3 cars, and above it another large room. You'll also have access to the old kitchen with a fireplace and a stone oven, where my family used to bake bread and, above it, a living room with couches, a foosball table, etc. There's lots of outdoors space where you can enjoy the nature in peace and quiet and also a private indoors swimming pool. The location is perfect because you can quickly reach Porto by car or train. If you like, I can also leave a car for your personal use. Otherwise, train connections are quite simple to Porto and you can reach Maia by bus.
Wonderful stay at Elisa's place as always! That is the sesond time we are coming and it has been a pleasure to be there again! Elisa is relly nice and the house is quiet and beautiful!
Judicaelle
2017-03-20T00:00:00Z
Warm welcome by Elisa and her husband at our arrival at the house. Terrific place with garden and not far from Porto and the airport. Kitchen with all the things you need to cook and clean the dishes. Plenty of space to rest and enjoy your stay in the region! Also nice location to go to with children!
Johan
2014-04-20T00:00:00Z
We had a wonderful stay in the Rustic House. It was quiet, convenient, with a beautiful garden and atrium. Perfect fallout for visiting Porto, but also to go on a trip up the river Douro and the surrounding area.
Ystvan
2015-05-16T00:00:00Z
We have had a wonderful holiday at this villa in Maia. A very nice house, clean and fully equipped, nice pool and magnificent view and garden (that could be considered more a park than a garden). The property was absolute perfect. The owners made sure that everything was at hand from beach towels , washingpoudre, ice bags... up to a very gentle selection of welcoming fruits (and not only fruits). We made several trips into the country, to the beaches around and to the cities Coimbra, Braga, Guimaraes, Aveiro and of course to Porto. The garden is a real beauty with tasteful decorations, nice hidden corners and perfect landscapes. There was a gardener working every week to keep the gardens and pool in perfect state. The view from the house is spectacular especially on the sunset, overlooking the green hills rolling down towards the sun. In the morning we had breakfast on the terrace while the sun came up and in the evening we enjoyed a couple of glasses of Porto in the lights of the stars. The Owners are a warm, open and friendly people, full of information regarding anything we've been looking for.
daniela
2014-09-05T00:00:00Z
The house is one of the nicest we have ever been to. It's perfcect location for people who like peace and quiet but it's also very close to tourist attractions if you like sightseeing. Elisa and her husband are very nice, helpful and caring hosts. It was very nice to meet and talk to them. Ewa
Ewa
2014-07-13T00:00:00Z
A big thank you to Elisa. We were making a last minute booking for a family funeral. We didn't know how many people were staying or exactly who was arriving when. Elisa could not have been more helpful and flexible. Also, the property we stayed in was a perfect, calm place to retreat to. It was also only a short drive to Alfena where other family members were staying.
Chris
2013-11-03T00:00:00Z
We really enjoyed our stay at Elisa's home. The house is very nice, clean and is big enough for 5 persoons. Unfortunately we could not enjoy much of the beauty of the gardens and the pool because we were only a couple of days The house is very well located and everything was in order and very clean. From there we visited Porto, Braga, Bom Jesus Mountain and Guimaraes. Elisa is a very nice, caring person and very good hostess. She had done some shopping (fruits, bread, cheese, ham) for us to make our arrival more comfortable after a long drive. I really recommend others to stay at Elisa's home. Elisa, thank you very much for your hospitality! Hope to see you again someday.
Ericka
2014-08-27T00:00:00Z
We have enjoyed our stay at Elisa's house. The house and the garden are very nice. We really loved the atrium: romantic breakfasts and lovely apéro when sun was getting under. There were many fruit trees from which we could enjoy the fruit. The nice, big strawberries for breakfast: mmmm... Elisa and her son have warmly welcomed us and gave us all the explanation on the house. Elisa is a very kind and caring hostess: she really wants you to enjoy the house. She gives you a lot of ideas to visit and enjoy Porto/Portugal. The house and the garden are well taken off. Clean beds, nice bathrooms and lovely kitchen. The swimming pool could use some love though. Over-all very pleased and we enjoyed our holidays a lot.
salima
2014-08-24T00:00:00Z
Room Type
Entire home/apt
---
Property Type
House
---
Accommodates
7
---
Bedrooms
Maia, Porto, Portugal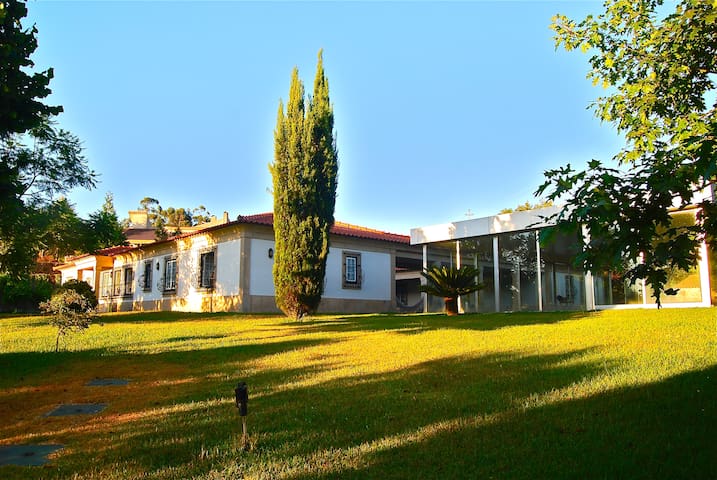 Beautiful bed room with a new king size bed and a bathroom, recently renovated, everything brand new. Just 5 min away from Porto airport (2.5km). Also very close to the metro (5 min walk) direction to Porto City. Comfy bed, fluffy towels, shampoo, conditioner, wi-fi and a delicious breakfast from 7 am to 10 am. We can also pick you up and deliver at airport from 5 am to 6 am (cost 6€).
A very safe local area with everything very close. Pharmacy, supermarket, café and places to eat. 5 min walking to the metro. 20 min walking to the airport.
Room Type
Entire home/apt
---
Property Type
House
---
Accommodates
3
---
Bedrooms
Barreiro, Porto, Portugal
My space is a retreat for those who want independence and a family atmosphere. You will like the room because it is a room with independent rest home 30m2, overlooking a garden with 200m2. Near Oporto Airport (Francisco Sá Carneiro) (1.5 Km), Metro (50m) has restaurant very close (50m). It is totally independent. The barbecue, banking, microwave and the bathrooms are outside. Space for pilgrims to Santiago de Compostela. It has twin beds and a sofa bed for two people.
It is an area of housing, very quiet with the metro five minutes and also the restaurant five minutes.
Room Type
Entire home/apt
---
Property Type
House
---
Accommodates
4
---
Bedrooms
Moreira, Porto, Portugal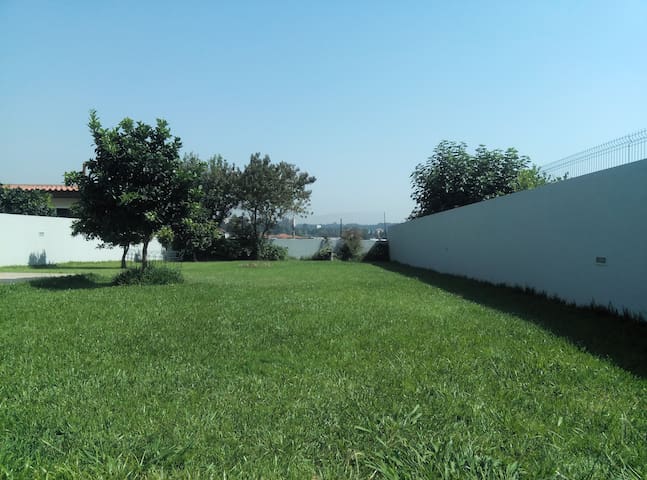 The gate house is located on a wine estate, surrounded by vineyards and slow-paced Portuguese village life. The estate includes several hectares of vineyard and is located immediately adjacent to one of the Camino de Santiago paths.
Our gate house has been lovingly restored to accommodate travelers from around the world in a comfortable manner.
The Quinta is located in the older part of the city of Maia, immediately adjacent to the centuries-old village church as well as the Zoo.
Barbara was super welcoming and nice with us. She explained many things about the area and we were very happy staying there. 100% Recommended!!
Pablo
2016-07-11T00:00:00Z
Barbara was a fabulous host welcoming us into her home with huge generosity. The apartment is gorgeous and comfy and the gardens and pool are the perfect place to relax by. We loved every moment of our stay and would recommend staying to here to anyone.
Kat
2015-11-13T00:00:00Z
Très bon séjour dans une demeure d'exception. Piscine, terrain de tennis, 3 hectares de vignes. Les hôtes sont d'une gentillesse rare, on se sent comme chez soit. La maison est à 45min de Porto en transport en commun. 20 minutes en voiture. Un très joli parc zoologique est à 5minutes à pied. Information à savoir (pas forcément dérangeante) : - la piscine n'est pas chauffé - les chambres sont un peu bruyante et lumineuse Nous recommandons ce logement. Nous y avons passé un très agréable séjour.
Thibaut
2016-10-02T00:00:00Z
Barbara nous a accueilli avec chaleur. Parlant allemand, portugais, anglais et français elle nous a donné des conseils et même emmenés faire les courses. Presente pour aider mais jamais envahissante. Elle a été une mamie pour nos filles pendant cette semaine. Et elle nous a aidé alors que notre vol avait été annulé. Viele danke!! La maison est a 20/30 min de Porto. Le zoo de Maia est à 5 min a pied. Le domaine est très beau et situé au centre de Maia.
Isabelle
2016-07-31T00:00:00Z
Room Type
Entire home/apt
---
Property Type
House
---
Accommodates
4
---
Bedrooms
Maia, Porto, Portugal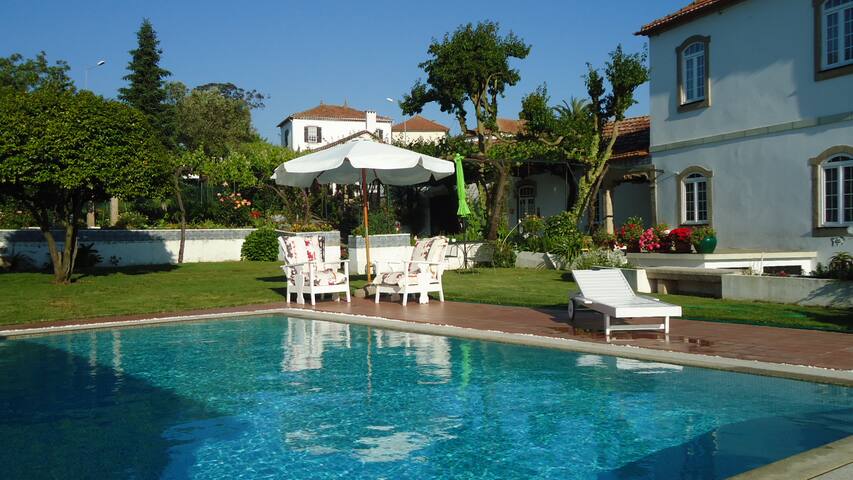 Maria´s Home é uma casa antiga situada na freguesia da Junqueira do século XIX, recentemente restaurada, oferecendo todas as comodidades necessárias para passar umas férias agradáveis.
A casa encontra-se inserida numa propriedade de 3 500 m2, rodeada de vegetação e ambiente rural. Sendo uma casa acolhedora com 5 quartos(acomoda 8), 4 casas de banho (uma com banheira hidromassagem), duas salas, uma ampla cozinha, lavandaria, piscina, jardim, churrasqueira, sala de jogos, dois alpendres, baloiços para crianças, pomar, parque de estacionamento privativo e com óptimas condições para animais de estimação. Na sua proximidade encontram-se vários locais de interesse histórico e cultural. A cidade de Vila do Conde situa-se a sensivelmente 7 Km de distância de fácil acesso de carro ou transporte público. Vila do Conde é uma cidade banhada pelo oceano Atlântico com uma extensão de 18 Km de praia que no verão oferece diversas actividades desportivas e de lazer, assim como, espectáculos de música (Azurara Beach Party). Pode ainda visitar o Centro Histórico de Vila do Conde e a Nau Quinhentista situado no Rio Ave.
Amazing places if you are looking for a quite and relaxing stay. Nicely renovated and decorated old farm house with a huge outdoor and pool area (bigger than it looks on the pictures). The owner brought fresh bread every morning and you can eat fruits and vegtables from the garden. Nice beaches and the next big city can be reached by car in 10-15 mins. Overall, perfect stay!
marc
2015-07-14T00:00:00Z
Emma your home rental is a perfect paradise for fantastic holidays with young children : MANY THANKS ! Your home is very very very clean, fully equiped, very quiet and ideally localised : near many sites to visit Your hospitality is at top level, as your many daily services to help your visitors living great moments : thanks for welcoming tapas dinner for a happy arrival expérience, your bread free delivery during breakfast, your daily cleaning service, and so many souvenirs... The pool is fantastic as the barbecue place and the children game part (ping pong, baby foot, table games...) without forget every places to sit and rest !! Congratulations !!! We hope to come back soon cause we really love your home
Xavier
2014-07-27T00:00:00Z
Que de points positifs ! Un grand merci à Ema pour nous avoir reçu avec beaucoup de générosité et de délicatesse (gentilles attentions à notre arrivée et au cours de notre séjour) et à Chantal pour nous avoir aidé à communiquer ! Ema, nous avons vraiment passé un moment agréable et avons adoré votre joli nid douillet ! Votre maison contient tout ce que nous pouvions désirer ... jardin verdoyant, petits salons extérieurs aux volumes spacieux pour des pauses agréables, piscine très bien entretenue et à taille humaine (même pour 7), salle de jeux, potager ... Chambres confortables et spacieuses. Cuisine, salon et salle à manger très bien équipés, à la déco bien pensée. L'ensemble est extrêmement propre ! Je recommande vivement cette villa et Ema est incontestablement une hôtesse fantastique !
Catherine
2016-06-04T00:00:00Z
Nous sommes trés heureux de ce voyage. nous ne connaissions pas le Portugal et il nous a semblé trés interressant : nous sommes plutot amateurs de "vieilles pierres " et repos: pari gagné. de façon générale les portugais nous ont parrus trés aimables aidants à l'écoute. En ce qui concerne la location nous avons été séduits, elle corespondait bien plus qu'à nos attentes aussi nous recommanderions sans arriere pensée le Maria's Home d'Ema c'était parfait pour ce que nous étions venu chercher repos et découverte , en effet elle est placée tres proche de Porto et trés accessible aux voies de communication .l'acceuil lui même vraiment parfait : aussi nous avons eu coeur de répondre à la confiance qui nous a été faite en nous confiant cette maison . Notre au revoir Ema et nos remerciements. (Elle n'a pas été déçue de notre passage?)
robert
2016-09-17T00:00:00Z
Room Type
Entire home/apt
---
Property Type
House
---
Accommodates
8
---
Bedrooms
Vila do Conde, Porto District, Portugal
Mon logement est a 1,5Km de Metro Porto-Povoa de Varzim et a 4,5Km du centre de Vila Do Conde , commerces ,plages , , parcs, les restaurants. Vous apprécierez mon logement pour le confort. Mon logement est parfait pour les couples, les voyageurs d'affaires, les familles (avec enfants) et les compagnons à quatre pattes.Dispose 1 Garage Privée et place de parking extérieur, Jardin 500m2 , petite terrasse avec table et chaises , cuisine équipée. 3 Vélos VTT pour la promenade,Voiture indispensable!
Estadia maravilhosa. Fomos super bem recebidos, a casa é ótima, com cômodos amplos e confortáveis. Recomendo
Maria
2016-08-13T00:00:00Z
en ayant délicatement prépare nos lits serviettes de bain et en nous ayant fait (URL HIDDEN) description était correct et la maison était propre.le quartier calme . encore merci pour cet agreable sejour.
Victor
2016-08-21T00:00:00Z
Resposta imediata, acolho muito agradável e prestável. A casa é ótima para uma família e tem todas as condições e conforto prometidos.
Graça
2016-06-02T00:00:00Z
Alojamiento muy amplio, cómodo, bien equipado, zona tranquila y cerca de Vila do Conde y playas, en coche. Una estancia muy agradable.
Juan Maria
2016-08-30T00:00:00Z
Room Type
Entire home/apt
---
Property Type
House
---
Accommodates
6
---
Bedrooms
Vila do Conde, Porto, Portugal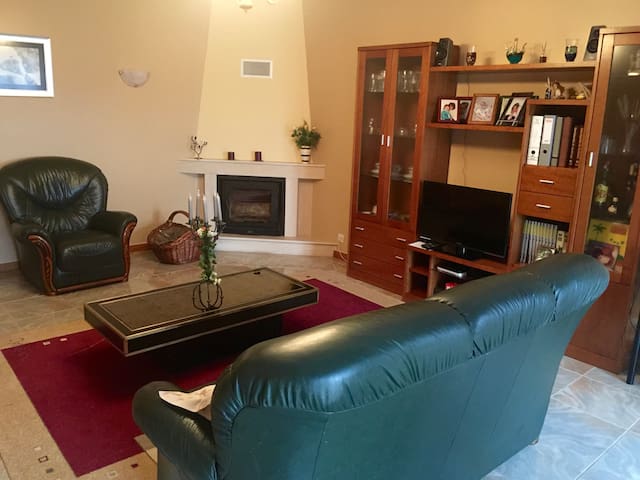 1

–

18

of

18 Home Rentals
Enter dates to see full pricing. Additional fees apply. Taxes may be added.