Das Haus befindet sich im beschaulichen Wintersdorf. 2014 wurde es von Grund auf und mit viel Liebe zum Detail renoviert und komplett neu möbliert. Seitdem steht das Haus Reisenden als gemütliche und preiswerte Unterkunft zur Verfügung.
Das Häuschen erstreckt sich über 2 Etagen. Dabei befinden sich Küche, Bad & Wohnzimmer im Erdgeschoss, die beiden Schlafzimmer und ein Flur mit Kleiderschrank im ersten Obergeschoss. Dabei richtet sich das Haus an Gruppen von bis zu 4 Personen. (URL HIDDEN)
In ca. 100 Meter Entfernung gibt es einen Bäcker und Metzger. Ebenfalls befindet sich im Ort ein Supermarkt. Sollte man einmal nicht selber kochen wollen, gibt es im Ort zwei Restaurants, einen Italiener mit schönem Biergarten und Spielplatz sowie ein griechisches Restaurant.
The house was very cozy and very clean. It has everything you may need during a visit to Further or Nuremberg. The kitchen had all imaginable utensils for cooking and cleaning. This being the outskirts of Zirndorf, it also quiet as can be, and only about 3 minutes drive to Playmobil Funpark.
Roman
2015-10-31T00:00:00Z
We arrived and were immediately greeted by Melanie's neighbor who explained the area and house to us in great detail. The house was very clean and was well equipped with all the amenities that we needed for our stay.
Scott
2016-07-08T00:00:00Z
Wonderful quiet village atmosphere, clean and well appointed cottage with all amenities, ideal for our family of 5. Located close to Zirndorf and Playmobil Land.
Jamie
2016-04-10T00:00:00Z
Helmut and his family were very welcoming, and gave us clear instructions on where things in the area were (supermarket, restaurant, bakery). We also found some sweets on our pillows, which was a very sweet touch! Good amenities within easy walking distance. The property had everything we needed, and was well furnished, with comfy beds and a very nice bathroom.
Jacqueline
2014-10-31T00:00:00Z
Everything was fine. Helmut is a very nice person and the house was clean and fonctional.
Adrien
2016-02-14T00:00:00Z
The house was spacious, beautiful and very clean. The location is outstanding. Communication with the host was great! Also the neighbors were helpful and friendly.
Jacob
2017-03-30T00:00:00Z
Very nice place, very well organized for check-in and check-out, easy and fast comunication!
Lorenzo
2017-02-06T00:00:00Z
A very nice, functional and modern little house in quiet surroundings yet close to the city center. We would definately book it again.
Jens Ulrik
2016-03-08T00:00:00Z
Room Type
Entire home/apt
---
Property Type
House
---
Accommodates
4
---
Bedrooms
Zirndorf, Bavaria, Germany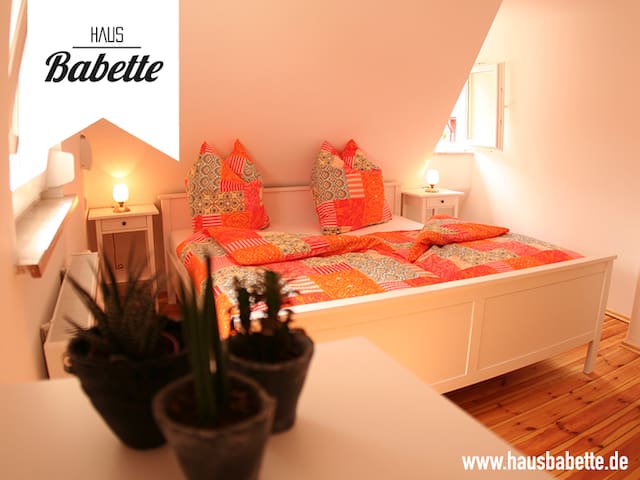 Stilvolles kleines Haus *CASA LOFT* für 1-10 Personen mit Zentralheizung, Kachelofen und WLAN. Messe Nürnberg 22 km, Christkindlesmarkt, Playmobil FunPark 7 Min, Kletterwald/-halle, Wald, Aussichtsturm, Spielplätze, Schwimmbäder. Im Ort: Griech. Restaurant, Pizzeria, Pizza-Lieferservice, Bäckereien, Supermarkt: 2,5 km. Gute Anbindung: Bahn, Bus, Autobahn. Nürnberg: Altstadt, Kaiserburg, Hauptmarkt, viele Museen, NS-Dokuzentrum, Zoo, Flughafen. Outlet-Center: Puma & Adidas in Herzogenaurach.
Dieses wirklich originelle Haus bietet auf 70 qm einen besonderen Flair, auch für ruhige Feiern (bis 10 Personen), da der große Loft-ähnliche Wohnraum Kochen, Essen und Wohnen miteinander verbindet. Bis unter den Giebel offen, fällt durch die Dachfenster zusätzlich viel Tageslicht ins Innere und vermittelt durch die Größe des Raumes ein Wohn-Gefühl von reichlich Platz und Bewegungsfreiheit. Die aufragenden Decken und querlaufenden offenen Balken sind aus Echtholz und geben der Unterkunft ihren besonderen Charakter. Die Beleuchtung sorgt für gemütliches Wohnen am Abend. Der Fußboden ist vollständig mit Holzdielen in warmen Farbtönen ausgelegt (ausgenommen das Bad, das weiß gefliest ist). An kalten Tagen kann zusätzlich der gemütliche Kachelofen in Betrieb genommen werden. Am Esstisch haben 10 Personen Platz und ist auch für ruhige Feiern sehr geeignet! 1 Kinderstuhl und 1 Babystuhl können bereitgestellt werden. Die Sofalandschaft im Wohnbereich kann schnell in ein komfortables Bett verwandelt werden mit zusätzlicher Matratzenauflage mit 2 m x 1,40 m für 2 Erwachsene oder 3 Kinder. Auch Platz für größere Leute bis 2,20 m. 2 Kinder oder 1 Erwachsener können ohne Umbauen auf dem Sofa schlafen. Falls es mehr als 6 Personen sind, können 3 Personen auf Matratzen auf dem Boden schlafen. Ein Babyreisebett kann bereitgestellt werden. In den beiden Schlafzimmern stehen Betten mit 2 m x 1,60 m und 2 m x 1,40m Größe. Diese haben bequeme ungeteilte Matratzen, verstellbare Lattenroste (das 1,60 m breite Bett hat einzelne Lattenroste). Bettdecken und Kopfkissen sind antiallergisch. Es gibt 2 Bettdecken 2,20 m x 2,40 m groß, 6 Bettdecken 1,55 m x 2,20 m, alle in Sommer- und Winterausstattung variierbar. Angenehme Bettwäsche ist vorhanden. Die beiden Schlafzimmer können abgedunkelt werden. Das geräumige helle Bad mit Dusche hat 2 Fenster. Weiche Handtücher liegen bereit. Wäscheständer, Bügeleisen und Bügelbrett vorhanden. Waschmaschinen- und Trocknerbenutzung nach Absprache möglich ( im Nebenhaus, zusammen für 5,-€ incl. Waschmittel) Die Küche ist ausgestattet mit: Mikrowelle, Herd mit 4 Ceranfeldern, Backofen, Spülmaschine, 200 l-Kühlschrank mit Gefrierfach, Wasserkocher, Kaffeemaschine, Nespressomaschine mit Milchschäumer, Toaster, Handrührer, Smoothiemaker, Moulinette, Salatschleuder, 20x Geschirr und 24x Besteck, Gläser, Tassen, Töpfe, Pfannen, Schüsseln, usw. Die Terrasse schließt direkt an den Wohn-Küchenbereich an und ist ideal zum Draußensitzen und -essen durch den ausziehbaren Tisch und 6 Stühlen. Klappstühle können zusätzlich zur Verfügung gestellt werden. In unserer kleinen Oase steht unseren Gästen ein Grill ( sehr guter Weber-Kugelgrill), 3kg Grillbriketts und Astholz zur Verfügung.
Nette, familienfreundliche Nachbarn. Gehobene Wohnlage in der Nähe von Zirndorf. 3 Gehminuten entfernt befindet sich ein sehr schöner, abwechslungsreicher, lichter Wald mit zahlreichen Wegen, Kletterwald, Abenteuerspielplatz, Möglichkeit zum mutigen Mountainbiken in alten Sandsteinbrüchen und ein Aussichtsturm mit Blick über Zirndorf und Fürth bis Nürnberg und Erlangen, bei guter Sicht bis zur Fränkischen und Hersbrucker Schweiz. Einer von vielen Spielplätzen ist gleich gegenüber in der nächsten Straße, ohne ihn zu hören. Ausgedehnte Spazier-und Radwege über Felder mit Aussicht auf Nürnberg, auch zu Playmobil möglich. Nach Cadolzburg zur wiederhergestellten altertümlichen Burg (in der Nähe sehr gute Eisdiele) und einem weiteren Aussichtsturm lohnt sich ein Ausflug zu Fuß oder mit der Bahn (2 Haltestellen von Weiherhof). In Zirndorf ebenfalls sehr gute Eisdiele "Eisboutique" und u.a. nettes nostalgisches "Café Eders".
Jurgen & Judith's Casa Loft was perfect for our family of four. It is steps away from a bus stop with easy transport to downtown Zirndorf. Nurnberg is an easy commute by train. Casa Loft had everything we needed-comfy beds, towels, coffee maker (and the coffee), tea kettle (and tea), hairdryer. We were there at Christmas time and it was even quaintly decorated. Jurgen and Judith went above and beyond as hosts. Jurgen picked us up at the local train station upon our arrival and Judith mailed a phone that we had forgotten when we checked out. Very kind hosts who were quite accommodating.
Courtney
2016-12-23T00:00:00Z
Our stay at the Gemütliches Loft was very, very pleasant and Jürgen & Judith were simply fabulous. Their flat is scrupulously clean, well thought out, beautiful and cozy (you must (SENSITIVE CONTENTS HIDDEN) 'Kachelöfen'). A small free-standing private house next to Jürgen & Judith's house, the 'Casa Loft' is fully equipped with everything you could need or want; there was plenty of coffee and tea and all the kitchen amenities that you would need to prepare a full meal. The two bedrooms are perfect for a pair of couples, as we were, and there was plenty of space for relaxing. We chose to prepare a meal and eat in, enjoying the charming atmosphere, rather than go out to a restaurant. Jürgen & Judith are very helpful and hospitable, and they went out of their way to ensure we were comfortable and cared for and that all our questions were answered. If you are in the Nürnberg area, this should absolutely be your No. 1 choice. The location is perfect: a quiet village nestled in the woods, nearby and very accessible to the city. It is easy to find street parking. To get to the centre of Nürnberg, it's an easy drive or you have multiple connections each hour via the S- and R-Bahn; the station is just a 5-min walk from Jürgen & Judith's place, and the bus stop is even closer. We will definitely choose Jürgen & Judith's place when we return to Nürnberg.
Daniel
2016-12-11T00:00:00Z
Impressive lighting decorations, smart devices, host very patient waiting for us at night for our coming. Very clean washing room and kitchen. We learnt a lot of concept about life quality details. If I want to have a romantic holiday, I would like stay at Mr Jurgen & Judith casa loft in future.
Yu
2016-11-25T00:00:00Z
Our stay at Jurgen and Judith's home was a great experience! Nothing was lesser than the pictures shown. In fact the experience was way beyond our expectations! It was really warm and nice to have the owner to welcome us personally nearby the premise. We found a lovely personalized welcome greeting at the entrance :) The design and condition of the house is really impressive! It was clean, tidy and cozy. We will definitely come back again!
YEE SAN
2016-10-14T00:00:00Z
Amazing, cute house with hospitality owners! Our family was so happy to stay here! Every detail is perfect! Kitchen with all tools! Big thanks for baby chair! Bedrooms with soft beds and big spacious living room! Thank you! Hope, we'll be back!!!
Ольга
2017-03-26T00:00:00Z
Jürgen & Judith have been from the first minutes very welcoming. The house is very well decorated in a way that you feel like home ... Nothing is missing ! Definitively we'll be back next year !
Regis
2017-02-08T00:00:00Z
If I could give more than 5 stars I would do it for this apartment. The whole place is clean and has charm. You can tell the host has put a lot of thought and effort into making a home away from home for people to stay. The host was extremely kind and accommodating with our late arrival. The toys and food that were available made getting up and getting 6 young kids out the door happen much more smoothly. Again, very nice apartment that we wouldn't hesitate to recommend, or stay there again.
Sarah
2017-04-08T00:00:00Z
Jurgen and Judith are very nice,theirs hom is very nice and sweet. You will feel at home. Thanks for their warm reception.
Tracy
2016-09-30T00:00:00Z
Room Type
Entire home/apt
---
Property Type
House
---
Accommodates
10
---
Bedrooms
Zirndorf, Bayern, Germany
This small guest house is located in Oberasbach and is situated in a quiet location near the forest. At request there is breakfast both vegetarian, vegan, raw food with wild herbs and meat products in organic quality. The price is from 7.50 per person. The popular Playmobil Fun Park is 1.3 km away from the pension. The nearest bus stop is just a 2-minute walk from ÖkoHausNamasté and provides good connections to Nuremberg.
Das Zimmer war sehr gemütlich, sehr sauber und die Gastgeberin ist eine angenehm zurückhaltende Dame, die bei Bedarf aber gerne für Tipps und Anregungen bereitsteht. Das Frühstück war sehr umfangreich und total lecker. Gerne wieder :-)
Uwe
2017-03-24T00:00:00Z
Sehr liebevolle und heimelige Unterkunft mit einer reizenden Gastgeberin. Das Haus ist sehr ruhig gelegen, die Zimmer warm und sehr freundlich eingerichtet und etwas abseits der privaten Räume der Gastgeberin. Eben eine richtige kleine Pension. Der Empfang ist sehr herzlich und mein Aufenthalt war wirklich sehr angenem. Vielen Dank dafür.
Sandra
2017-04-02T00:00:00Z
Room Type
Private room
---
Property Type
House
---
Accommodates
2
---
Bedrooms
Oberasbach, Bayern, Germany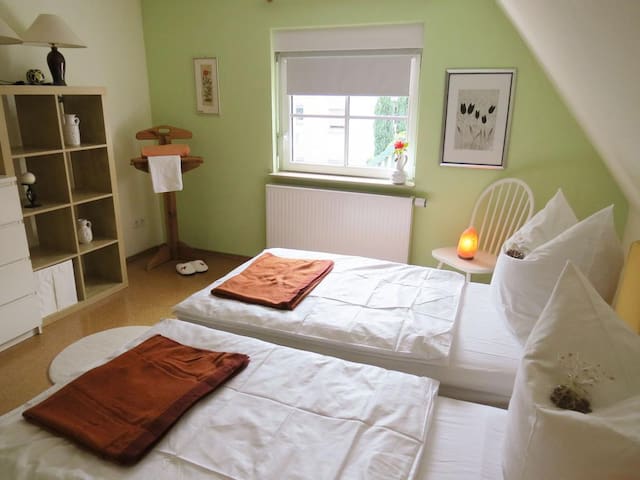 This small guest house is located in Oberasbach and is situated in a quiet location near the forest. On request, breakfast is served in bio quality both vegetarian, vegan, rohköstlich with wild herbs and meat products. The price is now 7.50 per person. The popular Playmobil Fun Park is 1.3 km from the guest house. The nearest bus stop is far from ÖkoHausNamasté just 2 minutes and provides good connections to Nuremberg.
Room Type
Private room
---
Property Type
House
---
Accommodates
3
---
Bedrooms
Oberasbach, Bayern, Germany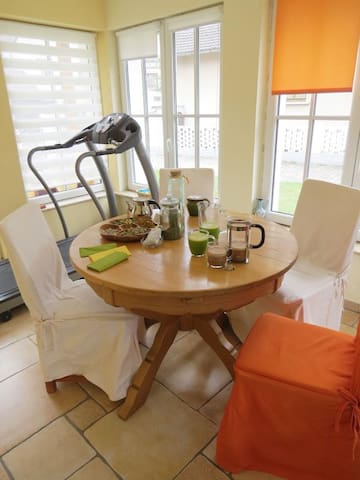 Though the apartment isn't situated right in Nürnberg, it has a good location - 7-minutes walk till S-Bahn-station, then 10 minutes till the central train station Nűrnberg via S-Bahn. Peaceful environment and a very nice, spacy and cozy room. I liked this place very much and highly recommend this apartment and Christine. She is a charming host!
Nataliya
2017-03-10T00:00:00Z
Vielen lieben Dank für diese feine, so spontane Übernachtungsmöglichkeit. Es war ganz wunderbar - vom herzlichen Willkommen über ein schönes Zimmer bis hin zu einer super lieben Gastgeberin. Merci Merci Merci - ich komme sehr gerne wieder!
Leonie
2017-03-19T00:00:00Z
Super nette Gastgeberin! Vom Check-in sehr flexibel. Zimmer war schön hell, ordentlich und sehr freundlich vorbereitet
Christine
2017-03-26T00:00:00Z
Die Unterkunft ist sehr sauber, gemütlich und in angenehm ruhiger Lage. Christine ist eine bezaubernde Gastgeberin! Ich würde jederzeit wiederkommen :)
Angela
2017-03-27T00:00:00Z
Der Aufenthalt und die Unterkunft bei Christine hat mir sehr gut gefallen. Gerne buche ich wieder bei Christine wenn ich im Nürnberger Raum bin. Das nahe Naturschutzgebiet Hainberg ist sehr erholsam und wunderschön. DANKE
Azadeh
2017-03-30T00:00:00Z
Christine war eine sehr freundliche und zuvorkommende Gastgeberin! Kann diese Unterkunft in ruhiger Gegend nur weiterempfehlen :) Christine was a very friendly and courteous host! It´s an appartment in an nice and quite area - fully recommended :)
Isabella
2017-04-06T00:00:00Z
Mein Aufenthalt bei Christine war perfect. Das Zimmer ist sehr schön eingerichtet und sehr sauber. Das Bad ist sehr sauber, groß und warm. Christine hat jedes Mal Blume und Wasser auf dem Tisch gestellt. 100% zu empfehlen. Danke liebe Christine.
Azadeh
2017-03-23T00:00:00Z
Ein sehr gemütliches Zimmer, das perfekt sowohl für kleine Familien, als auch einzelne Reisende passt. Eine günstige Lage und nah zu Nürnberg. Man kann schnell in die Stadt kommen und die Natur genießen - in der Nähe gibt es einen schönen Park.
Nataliya
2017-03-31T00:00:00Z
Room Type
Private room
---
Property Type
House
---
Accommodates
2
---
Bedrooms
Oberasbach, Bayern, Germany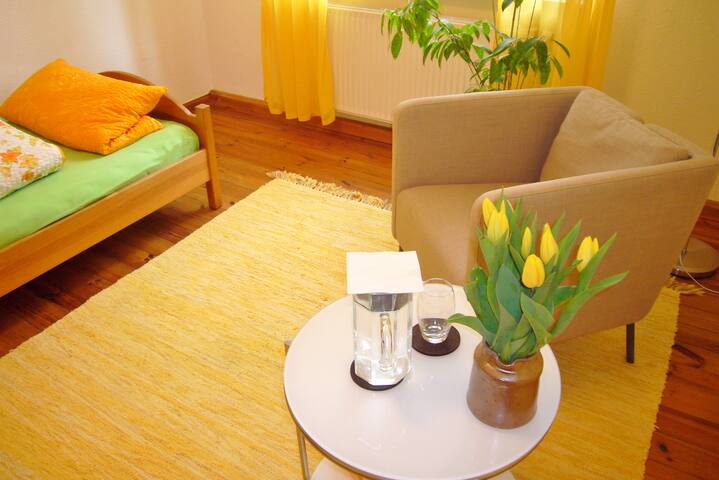 appartement au dernier étage convivial à la périphérie de la métropole culturelle de Nuremberg / Fuerth. Playmobil 5 min. Arrêt de bus devant la porte. Le centre d'exposition est d'environ 20 minutes en voiture.
A gorgeous attic apartment on the outskirts of Nuremberg. With Dopelbett and bolder kitchen and air conditioning. The price refers to the apartment (2 persons) Our house is situated in a wonderful, quiet and residential area close to nature. Directly opposite is a beautiful, romantic nature reserve with old trees. Bus, bakers and Edeka, post, beverage market, pharmacy, doctors and bank are all very close. The Appt. has a living-sleeping area with American kitchen. The bathroom (with window), shower, sink and toilet, only for you. Towels and sheets and a hair dryer are available for free. The apartment has central heating and, if required, air conditioning (Zuzahhlung € 5.00 pd). The apartment has a roof balcony-tilt windows, sodas you can put into the open. The apartment itself (about 50 square meters with high ceilings 2.30 m!) Is furnished with a TV set, with a comfortable double bed, (L 1.90m, B 0.90 per bed individually extendable), a couch with marble table and two chairs. In addition is a nice kitchenette with large countertop and some electrical appliances (toaster, microwave, coffee maker, kettle, etc.) Of course, we cookware, cups, plates, bowls and utensils available, as well as sugar, oil, vinegar, salt and pepper and some spices. I am pleased, if your contact aufnehmt with me and live in my apartment want .-)) The access to the apartment by the owner hallway My wife and I are retired and always at home. But we take our happy time for you to answer questions or to sit times together. Besides, we also accept complacency courses By car it is in a few minutes on the highway. Until the suburban train stop Unterasbach is about 5 minutes. The bus stops right outside the door and you are in about 25 minutes on the main market in Nuremberg. In addition, a bus to Zirndorf or stone.
Hiking and cycling in the adjacent national park and on bike paths in the surrounding countryside.
The host canceled this reservation 163 days before arrival. This is an automated posting.
Μαρία
2016-08-22T00:00:00Z
The flat is very nice and cosy... we enjoyed our 2 days in Joe and Heidrun house ...
Sana
2017-03-02T00:00:00Z
Great place to stay, host was very friendly and helpful. We ´ve got everytnihg what we need and also something extra. Can not imagine better place, location was quiet. 5 star trip, can just recommend! Thanks
Martin
2017-03-05T00:00:00Z
Alles gut
Karina
2017-03-19T00:00:00Z
Hier war alles wie beschrieben und in den anderen Bewertungen gelobt. Schöne, gemütliche Wohnung, gute Lage und sehr netter Kontakt. Vielen Dank, wir kommen wieder :-)
berit
2017-04-07T00:00:00Z
Wir wurden sehr freundlich empfangen und fanden eine sehr saubere Wohnung mit allem notwendigen vor. Die Wohnung liegt in einem ruhigen Wohngebiet mit guter Verkehrsanbindung. Der Aufenthalt hat uns sehr gut gefallen. Wir können die Wohnung nur weiterempfehlen. Wir würden jederzeit wiederkommen.
Dorothee
2016-03-08T00:00:00Z
La estancia en casa de Joe y Hedrun, ha sido muy agradable, son unas personas muy amables, siempre muy pendientes de cualquier cosa que pudieramos necesitar, (nos hicieron sentir como en casa) pero siempre respetando nuestra privacidad. El alojamiento era tal y como figura en el anuncio, pero quiero añadir algo que nos gusto mucho, es como un pequeño apartamento, con salon-dormitorio baño y cocina,en la parte alta de su casa (pero independiente). El barrio muy tranquilo. Estaba todo muy limpio. Lo recomiendo. Gracias , Joe y Hedrun
Ana
2016-01-31T00:00:00Z
Ohne Einschränkung weiterzuempfehlen!
Lisa
2017-03-09T00:00:00Z
Room Type
Entire home/apt
---
Property Type
House
---
Accommodates
2
---
Bedrooms
Oberasbach, Bayern, Germany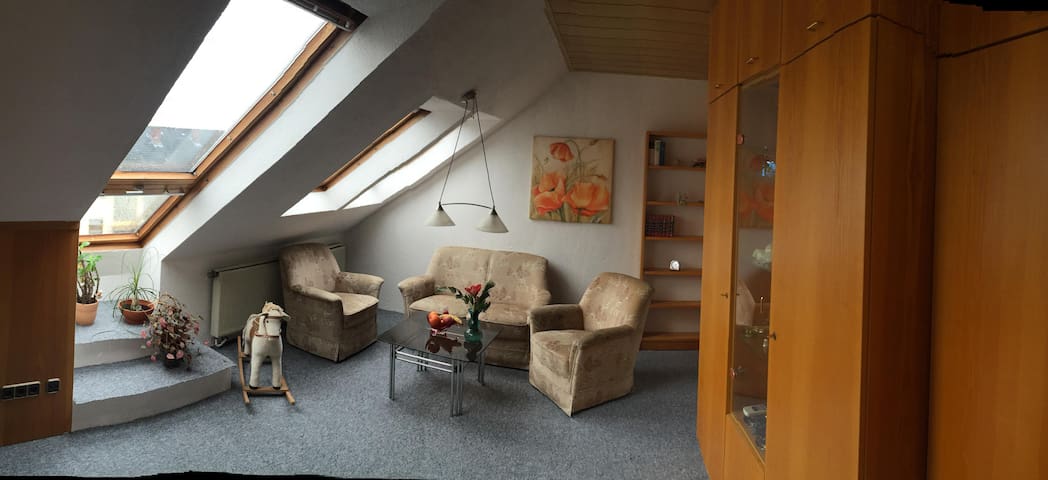 Much green, quiet, clean air and yet a central location close to the fair, the Nuremberg Old Town, the railway station and the airport. Supermarkets, pharmacies, bakeries and smaller restaurants are few car or walk away.
Everything was as described. It's a beautiful, quiet and clean house in a beautiful and safe middle to upper middle class neighborhood. Despite of being very busy that weekend, Martin took very much care that everything would be to my convenience.
Daniel
2016-09-25T00:00:00Z
The flat is good for relax. Martin is a nice guy and helpful.
Pinghin
2016-06-06T00:00:00Z
Martin was a very friendly and kind host. Well organized, and clean.
Victor Manuel
2017-01-04T00:00:00Z
a bit far fronte the center without a car but Martin its a super nice man the house is clean and comfortable I have really appreciate everything.. suggest
Massimo
2016-11-27T00:00:00Z
The place is in a quiet neighbourhood, and is a good place to stay on the way. Martin was very generous providing varied food, and was overall very nice. The list of house rules, though generally reasonable does make it a bit difficult to feel at home.
Hagai
2016-08-17T00:00:00Z
Martin is a friendly host. The room is neat and clean. It takes less than 3 minutes to bus stop and takes around 20 minutes to Nuremberg main station. Recommended place for Nuremberg sightseeing
Kawin
2016-12-18T00:00:00Z
Room and flat is clear, but not convinient because of layout of rooms: bedroom is in basement (! no light of day, no air), kitchen + toilett is in 1st floor, bathroom on 2nd. Kitchen is not for having meals you need to deliver everything down and up. No shelf, no wardrobe for package. Rules sticked on dozens of post-its, depressing... Children our unadvised. We waived second and third nights, we felt we have disturbed owner.
Márton
2016-08-29T00:00:00Z
Our time in Martins air bnb was great. We appreciated the peaceful atmosphere and quiet area.
Wendell
2016-07-16T00:00:00Z
Room Type
Private room
---
Property Type
House
---
Accommodates
6
---
Bedrooms
Fürth, Bayern, Germany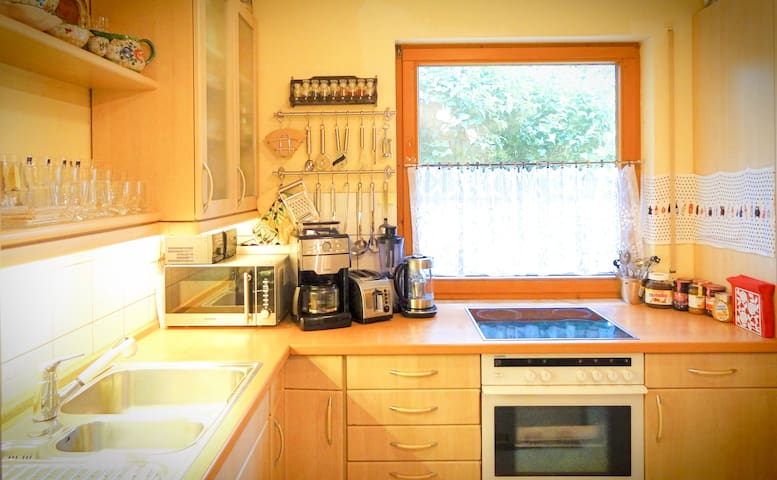 This small guest house is located in Oberasbach and is situated in a quiet location near the forest. At request there is breakfast both vegetarian, vegan, raw food with wild herbs and meat products in organic quality. The price is from 7.50 per person. The popular Playmobil Fun Park is 1.3 km away from the pension. The nearest bus stop is just a 2-minute walk from ÖkoHausNamasté and provides good connections to Nuremberg.
Room Type
Private room
---
Property Type
House
---
Accommodates
3
---
Bedrooms
Oberasbach, Bayern, Germany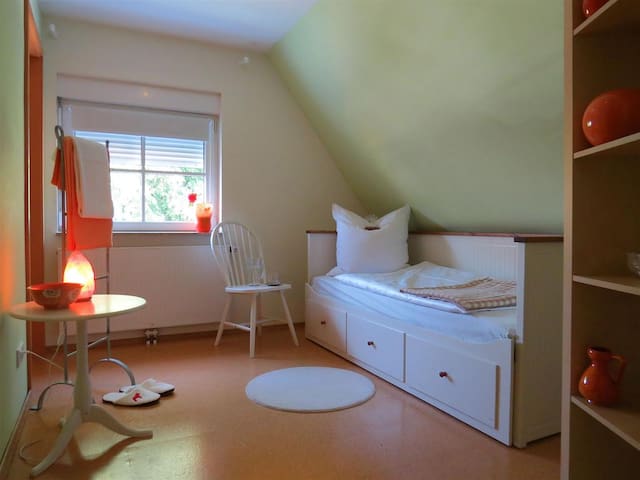 The house is situated in part of the Dambach Housing Area, one obtained in the character of the former officer settlement US forces. The plots of typical American single and double houses are separated by no walls or fences. Single / double bed, bathroom (joint use), Internet (LAN / WLAN), Garden (terrace / pavilion), kitchen (joint use)
The house is situated in the famous Dambach, a district of Fürth. The American region fascinated by your open gardens and her long slightly curved and wide streets. The house is very modern and stylish furnishings. We offer a beautiful garden with gazebo. The kitchen is spacious and has an open view to the living - and dining area. The fireplace provides warmth in winter. The bathroom is very modern and has a large shower with lots of extras. The house has 3 toilets, 2 showers and 5 washbasins, divided in basement, ground floor and first floor. For guests: Upstairs room (alone use) Bathroom in the basement (Only use) Kitchen downstairs (shared use)
Peace and serenity.
I spent a whole month living at Marcel's house, so I can tell very well how it is. First of all, the house description is faithfull 100% ! I had a great room with bed, desk, TV, wardrove, lamps, etc. I also had my own bathroom. The kitchen is awesome, it has everything you might need for cooking. The living room is great too, with a ver comfortable couch and a huge TV and sights to the green garden. The whole house was always very very clean. You can also use the washing and dryer machines, which is a big help. There are no words to express how much Marcel and his family helped me. They are extremely NICE people, not only because they made me feel at home, but also because even if they were having a hard day they were constantly offering me help, or asking if I needed anything. I felt like I got true friends after my stay. If you are considering to stay in Fürth, don't hesitate: this is your place! See you next time! 100% empfehlenswert! Bis zum nächstes Mal! :)
Sergio
2017-02-28T00:00:00Z
It was great time to stay in Marcels place. The house is freshly renovated, the room is clean with all the neccecery furniture . Marcel is always in touch and will give you any information you need. I would like to mention that in the kitchen you have everything you need for making food for yourself. The shower room was super clean as well . Near the house you have big supermarket.
Boris
2017-01-20T00:00:00Z
The host canceled this reservation 6 days before arrival. This is an automated posting.
Adil
2016-09-22T00:00:00Z
I stayed for a business trip to the messe. The accommodation was perfect and very convenient . Marcel and his Dad were a great host and gave very helpful directions to get to here and made me very welcome. I would highly recommend to anyone.
Ajaib
2017-03-15T00:00:00Z
We really enjoyed our stay at Marcel's. We could use his coffee machine, kitchen and bathroom. Everything was clean and we got sightseeing recommendations from him and his Dad :) We drove there by car - so the only thing we can say about public transport is that we saw some bus stops and a trainstation nearby.
Marlis
2017-03-05T00:00:00Z
Das zweite Mal Übernachtung bei Marcel - wie beim ersten Mal alles gut - bei Bedarf gerne wieder.
Swen
2016-12-01T00:00:00Z
Super flexibel und super nett , gerne wieder !!!
Philipp
2016-11-10T00:00:00Z
Luigi und sein Vater waren ganz nett und hilfsbereich. Man braucht gar kein angst dagegen. Es war eine sehr bequeme Reise für mich. İch hatte mein eigenes Zimmer und Badezimmer. Alles war ganz sauber. İch würde wieder ihm Besuchen.
Taha
2016-09-17T00:00:00Z
Room Type
Private room
---
Property Type
House
---
Accommodates
2
---
Bedrooms
Fürth, BY, Germany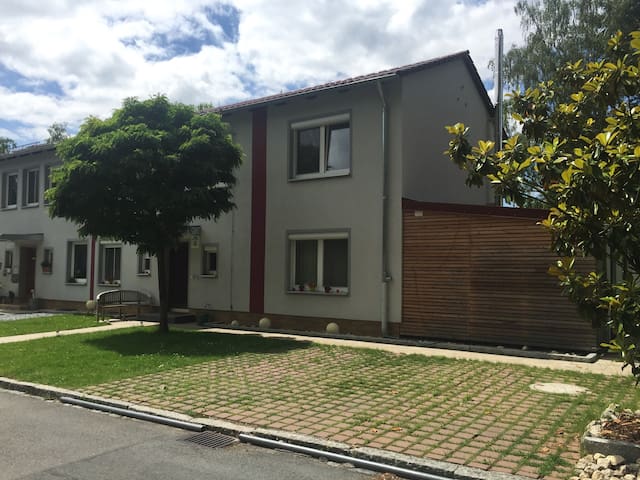 Unser gemütliches Appartment in Stein, 3 km v. Nürnberg entfernt, liegt mitten in einem schönen Garten an einem Waldweg/ Naturschutzgebiet. Auf 2 Terrassen können Sie bei schönem Wetter frühstücken oder sich neben dem asiatischen Garten entspannen.
die liebevolle individuelle Ausstattung und die friedliche naturnahe Umgebung bieten viel Möglichkeit zur Entspannung
Stein ist sehr malerisch mit alten Fachwerkhäusern, dem Fluss Rednitz und dem Schloss Faber-Castell. Unser Grundstück liegt sehr ruhig und naturnah etwas außerhalb von Stein.
Jurgen, thanks for hosting us and your flexibility. We arrived late, but that was no problem for you, and you recommended us a nice restaurant. Everything we needed was present, even a chocolate for dessert :)
Christophe
2017-02-06T00:00:00Z
The host canceled this reservation 36 days before arrival. This is an automated posting.
Ljubica Buba + David
2016-04-20T00:00:00Z
Heike and Jürgen are very friendly. They took us from the nearby train station by their car. The apartment is nice and comfortable, the place is very quite and the walk throw the forrest in the way back and forth to the train station was a relief. I think it would even be better in summer.
Sherif
2016-01-29T00:00:00Z
Very cozy place, very nice hosts. Location is really great: it's not in the city and you can enjoy silence, birds, fresh air and beautiful forest. The same time it is only 10 minutes to walk to S-Ban station and next 15 minutes you are at the center of Nuremberg. If I'm in Nuremberg again I would be happy to stay this place again.
Leonid
2016-09-30T00:00:00Z
Sehr sauber, hat ein gewisses Flair
Petra Beate
2017-03-05T00:00:00Z
Heike! Спасибо вам за теплый прием и уютные апартаменты! Расположение очень удобное, 15 минут до центра города. Рекомендую! В следующем году обязательно приедем снова!
Pavel
2015-01-31T00:00:00Z
Die Gastgeber waren sehr freundlich sehr bemüht uns den Aufenthalt so gemütlich wie möglich zu machen. Sehr schöne und gemütliche Unterkunft. Der Garten ist auch wenn es Winter war sehr großzügig und schön. Wir kommen auf jeden Fall wieder und können den Ganesh-Garden sehr empfehlen. Vielen vielen Dank
Robby
2017-01-01T00:00:00Z
Super Tolle Unterkunft!! es hat mir sehr gefallen, so am Rande eines Waldes gelegen, die mit viel liebe & individuell gestalteten Wege & Terrassen - das hat was - Die Kommunikation im Vorfeld & während meines knapp zweiwöchigen Aufenthaltes lief Super! Der defekte Fernseher =`umgehend erneuert worden - die Grundeinstellung der Heizung zu ändern ( in meiner Zeit fiel Schnee & draußen war es Bitter Kalt ) machte keinerlei Probleme, das Gartenhäuschen ist gut Isoliert & keinerlei Zugluft zu spüren. Im Sommer muß es hier herrlich sein, so mit Frühstück auf der Terrasse &`so... Habe Heike selber nicht angetroffen, aber Jürgen = ein super netter hilfsbereiter freundlicher Zeitgenosse, immer für einen da! Das Bad ist recht klein, siehe auf`n Bild den Anbau auf der rechten Seite, aber ausreichend, mit Steckdosen & mit etlichen Abstellmöglichkeiten & schnellem heißen Wasser aus der Leitung. Ich würde mich sehr freuen bald wieder eine Baustelle in Nürnberg zu haben - den dann wüßte ich WO ich mich einquartiere. An Heike & Jürgen, nochmal ~ Besten Dank ~ für den netten Aufenthalt bei Euch - man sieht sich immer zweimal im Leben :-) :-) OK. gez.: Onkel V aus DO.
Volker
2015-12-01T00:00:00Z
Room Type
Entire home/apt
---
Property Type
House
---
Accommodates
2
---
Bedrooms
Stein, Bavaria, Germany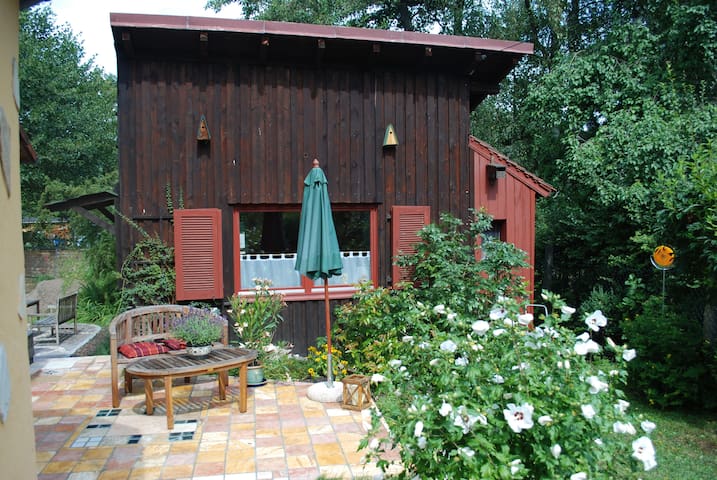 I live quietly and centrally in the west of Nuremberg-Fürth. By car in 15 minutes to the old town or fair. Also bus leaves from around the corner. Ideal for city travelers and business! This quiet and bright room in a house (with fully equipped kitchen, Wi-Fi, garden) - and including breakfast (with nutella etc.)! For well-being is taken care of: a supermarket and restaurants are within walking distance. Athletic? Jogging by the river in the morning sun or in the forest possible, or with Fitnissgeräten in the house.
Geachte gasten, je huis is gelegen in een zeer rustige chique woonwijk met een zeer goede verbindingen met het openbaar vervoer, zodat men (18 minuten) of naar de beurs (35 minuten) komt al snel in het centrum van Neurenberg. Met de auto duurt het slechts 15 minuten naar het centrum of naar de beurs. De woonwijk is zo geweldig dat je geen verkeerslawaai! De slaapkamer en Arbeitsszimmer is gericht op het zuiden en daarom heldere en warme - de ochtend zon schijnt direct op uw bed. De grote en comfortabele twee meter brede dubbele bed is ideaal voor twee personen (met extra bedden voor maximaal vier personen). Natuurlijk is een ronde tafel met stoelen voorzien. Voor uw bagage en kleding is er een garderobe met berging. Een andere garderobe is in de hal. In een aparte ruimte (kelder) is er de wasmachine en droger, en zijn voorzien van alle nodige informatie voor Bugen. onze dagelijkse ontbijt: toast, Nutella, jam, honing, ontbijtgranen, kaas, beleg, eieren, fruit, koffie, melk en thee uit de hele wereld ... Sportief? is het mogelijk ... joggen langs de rivier in de ochtendzon (2 minuten), Fitniss op joggingpaden in het nabijgelegen bos (4 minuten), het uitoefenen van (licht) gewicht actie (in het huis), training voor een nieuw fitness-station (in de kelder). Restaurant en supermarkt? Gemakkelijk bereikbaar: Om de hoek een Italiaans restaurant en lokale gerechten te voet binnen 5 minuten te bereiken. Supermarkt, apotheek, bakker en apotheek zijn binnen 8 minuten lopen (of 3 minuten met de auto). Reist u met kleine kinderen? Kleine kinderen zijn welkom, maar let wel bij de reservering dat peuters zijn ook gasten van het huis. Dus als twee volwassenen en twee kleine kinderen, dan zijn er 4 personen. Gezondheid en veiligheid? Zijn onze topprioriteit: Alle prive-kamers en gemeenschappelijke ruimtes zijn rookvrij (als roken, dan kunt u buiten). Alle meubilair en nieuwe spreien (bv eco-tests) zijn geschikt voor mensen met allergieën UW. Zoals onze trappen zijn voorzien van zachte trappen spaarder, is het zeker rustig. Voor verdere veiligheid van onze gasten zijn er rookmelders in de kamers, brandblusser, EHBO-kit, water detector, en onze voordeur is uitgerust met beveiligingscamera's (binnen en buiten).
Much green, quiet, fresh air, central location close to downtown and the fairgrounds and attractions: Old Town, Dutzendteich, Stadium, documentary center, Norisring, Rock im Park site. Very quiet neighborhood. The living area is secluded. It is undisturbed - in all rooms and on the terrace!
Martin was an amazing host. Went out of his way to make the home feel welcoming. The house was gorgeous and super clean. The place has every amenity you could ever need. The kitchen has everything you could possibly need to make a nice home cooked meal. The patio and garden provided the perfect oasis to relax in. The house is located in a superb neighborhood. This was by far the best Airbnb experience I've ever had, and hope to stay here every time I am in the city.
Salih
2016-03-09T00:00:00Z
Martin was very helpful, at guest's disposal. He explained how things work and was very pleasant. The accommodation is what is says, clean and nice.
Dajra
2016-11-24T00:00:00Z
A nice house, clean and cousy. Everything you need to spend a quiet night. Martin very helpful and symphatic. Thanks a lot Martin!
Sofia
2016-07-17T00:00:00Z
Mr Martin is a very nice man! The house is very clean. you have very good connection to nürnberg! Everything was perfect! Thank you :) best wishes
Venice
2016-09-20T00:00:00Z
Martin was a great host and we hope we'd return back if we visit Furth again.
Wayne
2016-12-07T00:00:00Z
We had a great time in Fürth/Neurenberg! Our room was very spacious and clean and the neighbourhood was quiet. Sadly, we didn't get to see Martin very often, but he gave us a very comprehensive tour of the house when we arrived and told us everything we needed to know. We arrived later than planned, but he was very relaxed about it and replied to all our messages very quickly.
Maartje
2016-10-30T00:00:00Z
Located in a quiet park-side setting, Martin's house has a great value for money. The rooms are clean, tidy, quiet, and private. We loved the fact that there was fully equipped kitchen and a rich breakfast as well. The bus stop is very close by and it was convenient to go to the city center for sightseeing. Martin was very accommodating, friendly and responded to all of our questions immediately and tried to help as much as possible. We would definitely stay again and highly recommend it.
Axel
2016-02-29T00:00:00Z
I liked the host. He answered all my questions really quickly. The house was nice and convenient.
Viire
2016-10-16T00:00:00Z
Room Type
Private room
---
Property Type
House
---
Accommodates
5
---
Bedrooms
Fürth, Bayern, Germany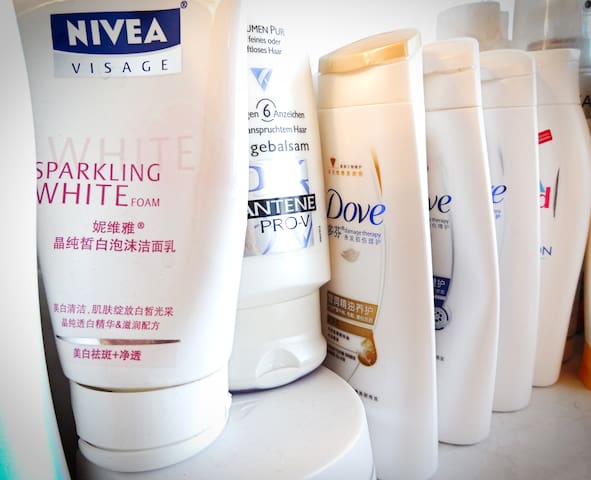 Die Unterkunft liegt an der Peripherie von Nürnberg-Fürth-Erlangen. 5 km zum Bahnhof, S-Bahn Hauptbahnhof Nürnberg- Messe. Meine Unterkunft ist gut für Geschäftsreisende, Paare, Alleinreisende. Fränkischer Baustil mit Fachwerk, eine typisch fränkische Unterkunft auf dem Lande, ruhig und dennoch verkehrsgünstig gelegen. Nur 9 km von der Autobahn A6 entfernt. Der Parkplatz ist kostenfrei. Der Eingang wird Video überwacht.
Der Mietpreis gilt für 1 Doppelzimmer = 55 EUR/DU/WC/2 person/1 overnight or 1 Single-room/DU/WC/1 Person/1 overnight = 40-45 EUR More 3 double/single rooms possible > but more costs > ask me please
Room Type
Private room
---
Property Type
House
---
Accommodates
2
---
Bedrooms
Heilsbronn, Bayern, Germany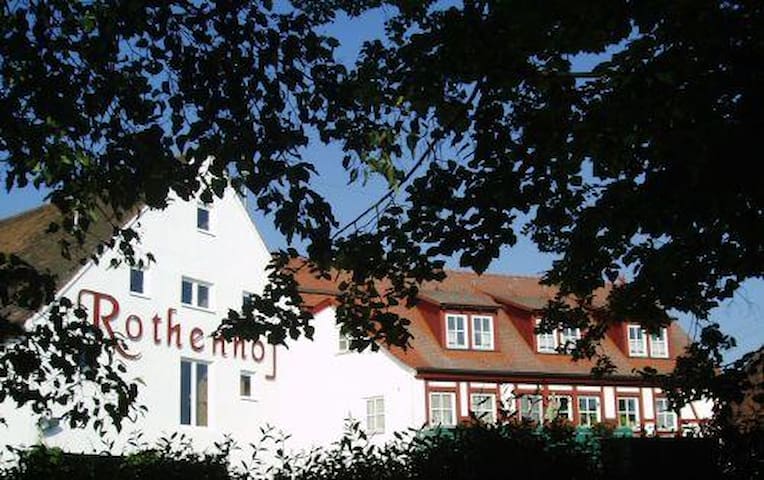 Schönes Kellergeschoss Zimmer mit 1,40 m Bett, und ein Einzelbett Fernseher für DVD zum schauen, Radio.
Clean place with everything you would need! Private bedroom and bathroom with all necessary accommodations. Comfortable beds with spacious room. Great place and accurate description. The place is a bit of a ways out of the city, but public transportation is accessible. Great value!
Audrey
2017-03-25T00:00:00Z
This was an excellent place to have a good night after and just before a long bike ride.
Lukas
2017-04-09T00:00:00Z
We had to look pretty last minute for a place to stay one night in/near Neurenberg, and Lisa replied within minutes. We booked one day before coming over, and we weren't sure when we would arrive. Despite arriving later than expected we were still welcome, that was very nice. The connection to the Neurenberg city center is a bit hard, but very cheap by public transport so it's not too bad. It'd have been nice to have a table to eat our breakfast at in the morning and maybe a trash can for our trash, and perhaps a little place for our toiletries in the shower. Besides that the towels and bedding were all in perfect order, so all in all a good stay for the price.
Marie-Louise
2017-03-12T00:00:00Z
Ich kann gerne diese Unterkunft empfehlen.
Maged
2017-02-28T00:00:00Z
Der Aufenthalt war sehr unkompliziert. Ich war für meine Prüfungphase bei Tina und hatte alles was ich dafür gebraucht hab, ne Dusche ein Bett und meine Ruhe zum lernen. Die Familie ist sehr nett und zuvorkommend falls man ein Anliegen hat. Ich kanns nur weiterempfehlen
Robin
2017-01-24T00:00:00Z
Eine nette und hilfsbereite Familie. Es wurde nachgefragt ob etwas benötigt wird. Ein- und Auschecken waren vollkommen unkompliziert.
Heike
2017-02-25T00:00:00Z
Alles war gut
Hayk
2016-12-04T00:00:00Z
Gerne wieder
Daniel
2016-10-21T00:00:00Z
Room Type
Private room
---
Property Type
House
---
Accommodates
3
---
Bedrooms
Langenzenn, Bayern, Germany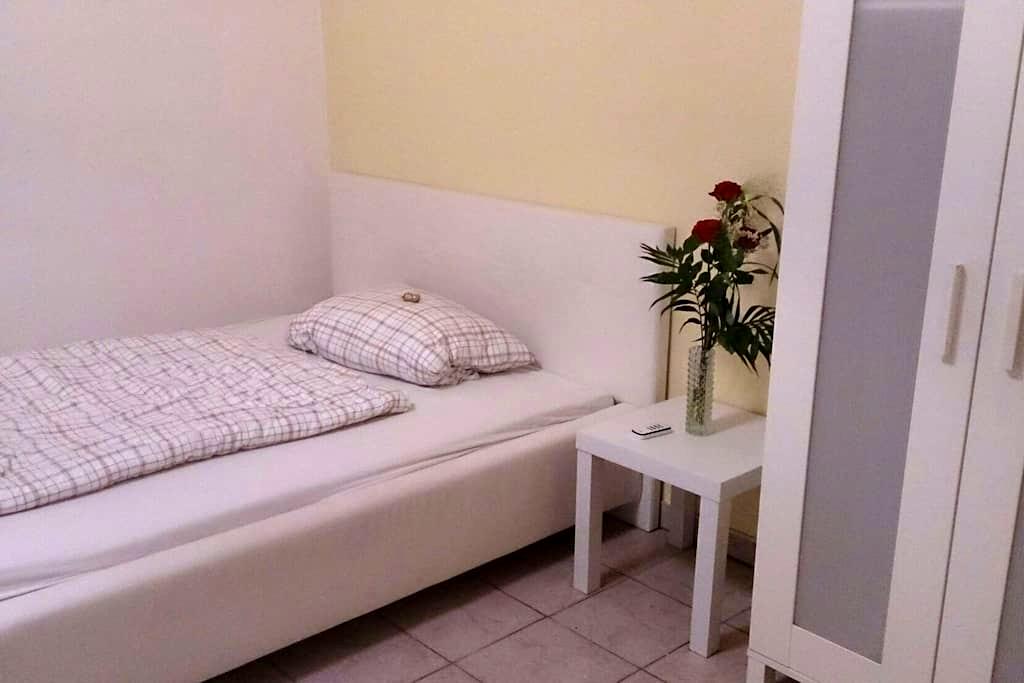 In our cozy apartment you will find a bedroom, a living room, bathroom with shower / bath / toilet, kitchen with stove, oven, microwave, refrigerator, and a terrace.
Veitsbronn is located in the beautiful Zenntal valley with opportunities for hiking, biking u. Two trips to Nuremberg. Also Veitsbronn has a very nice pool.
Veitsbronn consists of seven districts. Our house is located in the district Kagenhof. Veitsbronn has a variety of shops such as bakers, butchers, supermarkets, pharmacy. In addition, there are several doctors. Also for the physical well, in the form of several restaurants, is taken care of.
A wonderful place with everything you need.. its like home away from home. Very nice, friendly and helpful hosts. We had a great time stayimg over thr!
Ravi
2017-02-07T00:00:00Z
The host canceled this reservation 29 days before arrival. This is an automated posting.
Csaba
2016-05-12T00:00:00Z
The apartment has plenty of space with a full kitchen and large bathroom. The pictures are fairly accurate, it's a little outdated, however the host was very welcoming and we had a great stay.
Alana
2017-02-19T00:00:00Z
Birgitte and Rudolf are to very kind people ... And it was so wonderful that we could use the garten
Lotte
2016-07-11T00:00:00Z
Nice apartment in suburb locality. It looks better than on photos - cozy home :)
Jana
2016-12-04T00:00:00Z
Uns hat es super gut gefallen! Sehr nettes Ehepaar. Wir kommen wieder :)
Benjamin
2016-07-25T00:00:00Z
Sind sehr begeistert! Zuvorkommende, nette Gastgeber. Gepflegte tolle Unterkunft. Rundherum zufrieden.
Anja
2016-07-20T00:00:00Z
Sehr nette Leute hat alles wie beschrieben und Besprochen geklappt. Wir kommen gerne wieder.
Frank
2016-12-11T00:00:00Z
Room Type
Entire home/apt
---
Property Type
House
---
Accommodates
4
---
Bedrooms
Veitsbronn, Bavaria, Germany
Recientemente renovado apartamento 1 1/2 habitación con ducha / WC, suelos laminados, TV vía satélite y conexión a Internet (de pago). La cocina es buena, con microondas, tostadora, cafetera y hervidor de conexión ausgestattet.Sehr al público. Transporte U1 u. DB La segunda cama es una cama para la segunda persona.
Fürth-Hardhöhe, agradable zona residencial tranquila con mucha vegetación. Muy buen acceso al transporte público. La estación de metro U1 se encuentra a 3 minutos a pie. conexión rápida en auto a la tangente al sur de Nuremberg, A9 y otras carreteras. Todas las tiendas para el uso diario en las inmediaciones.
Nowhere else could be more appropriate to spend this entire time than the accommodation from Michaela. Very well located, just a short walk to U-Bahn station which crosses both cities Fürth and Nürnberg, market and bakery just close by as well as many other services like Fruit shop, cash points, etc. The neighbor is perfect for those who intend to avoid stress and loud places, there is plenty of green and nature around. The apartment is equipped with everything a person needs, from fresh towels to pots, from refrigerator to a comfortable bed, everything. Last but not least, so far the best Staff I could ever get along with. Highly recommended!
Henrique
2017-03-06T00:00:00Z
Room Type
Private room
---
Property Type
House
---
Accommodates
2
---
Bedrooms
Fürth, Bayern, Germany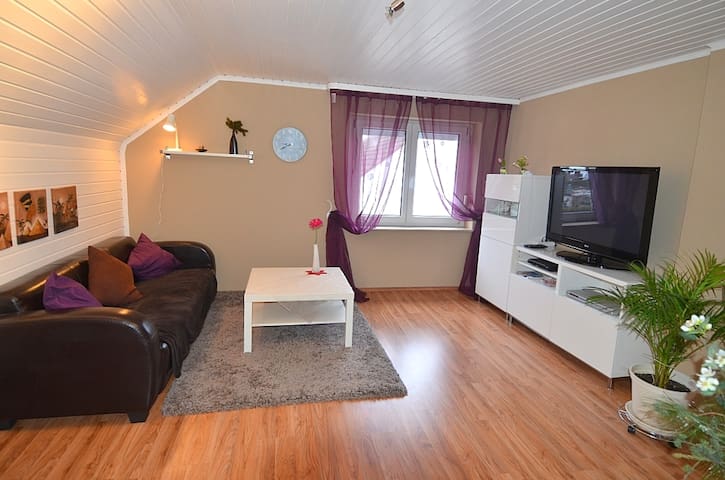 This cosy room for 1 , 2 or 3 people , there are 2 beds, near to Nuremberg (15 min. by Metro) is in the 2. floor with view to a nice park. So you can after a sightseeing tour or after a hard business day completely relax. Stay and feel good.
My appartment is quiet and at the same time convenient to reach. U-Bahn (Metro9 Station and maintrain station Fuerth are very close (5 minutes to walkl). Check-In and Check-Out times must be agreed. I try to be as flexible as possible.
In Fuerth is a lively scene road, the Gustavstrasse. Name is e.g. "Kaffeebohne" or "Die Bar" just 10 minutes to walk. In close neighbarhood there are two Cafes and two cinemas.
The appartment is spacious and clean. the neighborhood is very calm but you can easily go to nürenberg (subway so close). Manfred is a very helpful and nice (URL HIDDEN) Manfred's you feel peace and "zen" Thank you Manfred for all.
Nouri
2016-02-02T00:00:00Z
This house is a short walk from public transportation and is a wonderful place to stay - clean, comfortable, and with a friendly host. Highly recommend!
Caroline
2016-12-07T00:00:00Z
Very central location, close to restaurants and amenities.
Holger
2016-08-16T00:00:00Z
Room was wonderful. Really nice Christmas market close by during the Christmas season. Manfred was very welcoming. Highly recommended.
Tenshiro
2016-12-23T00:00:00Z
Manfred is an excellent host. Very nice person with a wonderful living space. Especially enjoyed his personal touches with Buddha statues and pictures.
Chad
2015-07-26T00:00:00Z
My wife and I just spent one night in Fürth. The apartment is clean, nice and perfect for relax after long driving. Because Manfred was not able to meet us we have been given all instructions and everything went smooth and easy. Thank you Manfred to being there for us. Actually great experiences.
Oto
2016-05-10T00:00:00Z
Excellent serviice, Thank you Manfred.
Emanuele
2017-04-02T00:00:00Z
He is very nice and talktive. Room is clean and cosy. Thank
James
2015-12-05T00:00:00Z
Room Type
Private room
---
Property Type
House
---
Accommodates
3
---
Bedrooms
Fürth, Bavaria, Germany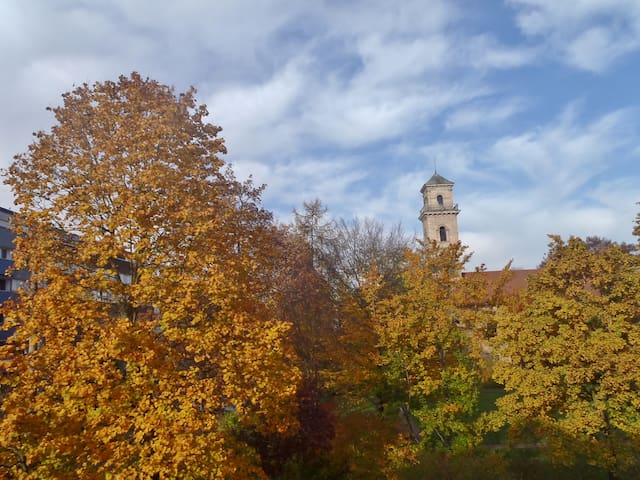 The suite is perfect for business travellers and their families or colleagues. This large and quiet room (35qm) is located in a house (souterrain) a quiet neighborhood, just a 15 minute drive to the city center and trade fair and to many other fabulous places (e.g., historic castle). The premium amenities assuring you have everything you need to feel at home away from home: rich breakfast, new beds, microwave, coffee machine, toaster, fitness equipment, WLAN, terrace and flower garden...
Cari visitatori: Il tuo grande sala è molto tranquilla, con ottimi collegamenti di trasporto: Tu vieni rilassato e rapidamente in auto in 15 minuti per la fiera o nel centro storico di Norimberga. O in circa 20 minuti alla stazione centrale di Norimberga con i mezzi pubblici. La nostra zona residenziale è così terribile che non abbiamo avuto il rumore del traffico qui! Le nostre camere completamente attrezzate nel seminterrato (con riscaldamento) è diretto a sud e ad ovest e grazie a due finestre luminose. La vostra zona giorno è adatto per le persone che soffrono di allergie, in quanto (luce) piastrellato e senza tappeto (anche l'umidità è controllata in buona salute nella nostra casa con uno ionizzatore.) La zona giorno è ideale per i viaggiatori d'affari, come con ... -> la prima colazione (pane tostato, Marmlade, miele, nutella, cereali, formaggio, pancetta, uova, frutta) e un sacco di caffè e tè da tutto il mondo. -> una scrivania separata, -> un armadio separato, -> un tavolo con sedie per ogni ospite, -> una credenza separata e libreria ( "Living sentimento"), -> la prima colazione (pane tostato, cereali, formaggio, uova, frutta) e un sacco di caffè e tè, e -> nuovi letti singoli per ogni persona. Il sole della sera può voi sulla grande terrazza (25 mq) godono (anche in una sedia a sdraio) e di condividere. Per il benessere è curato nella cucina completamente attrezzata. Si tratta di "dolce" Colazione disponibile (per esempio pane tostato, miele, fiocchi), con un sacco di caffè e tè, e frutta. Vano frigorifero è riservato per voi. Supermercati, farmacie, panetterie e piccoli ristoranti sono un paio di auto oa piedi. Siamo ansiosi di molti ospiti e di essere più domande sono sicuro che avremmo felici di aiutarvi! Sporty? è possibile ... jogging lungo il fiume al sole del mattino (2 minuti), Fitniss il jogging nella vicina foresta (4 minuti), esercizio (luce) l'azione del peso (in casa), la formazione sulla nuova stazione di fitness (nel seminterrato). Ristorante e supermercato? Facilmente raggiungibile: Dietro l'angolo è un ristorante italiano e la cucina locale è raggiungibile a piedi in 5 minuti. Supermercato, farmacia, panificio e la farmacia si trovano a 8 minuti a piedi (o 3 minuti con l'auto). In viaggio con i bambini piccoli? I bambini piccoli sono i benvenuti, ma vi prego di notare che se prenotate che i bambini sono anche gli ospiti della casa. Quindi, se due adulti e due bambini piccoli, poi ci sono 4 ospiti. Salute e sicurezza? Sono la nostra priorità assoluta: Tutte le camere private e le aree comuni sono non fumatori (se il fumo, si prega all'aperto). Tutti i mobili e copriletti nuovi (es eco-test) sono adatti per allergici uW. Come le nostre scale sono dotate di scale soffici saver, è garantito tranquilla. Per ulteriormente la sicurezza dei nostri ospiti ci sono rilevatori di fumo nelle camere, estintore, kit di pronto soccorso, rilevatore di acqua, e la nostra porta di casa è dotato di telecamere di sicurezza (interna ed esterna). Viviamo in buona salute, ma è ancora più sano: Se lo si desidera, uno ionizzatore può pulire l'aria ed essere regolato individualmente per un'umidità preferita (su richiesta). Al momento del check-in l'ospite viene mostrata la cosa più essenziale in un giro della casa, in modo che il cliente dal momento in cui si può sentire a casa. Qui, il funzionamento di tutti i dispositivi elettronici è, per esempio (Es: lavastoviglie, forno, lavatrice)., Tutte le aree comuni come cucine e bagni, così come tutte le misure di sicurezza (ad esempio rilevatori di fumo, scatola di pronto soccorso). Come è anche il punto di basi verso il basso come: Non ci sono scarpe da strada in casa, raccolta differenziata, i periodi di riposo (tra le 0:00 a 7:00), ecc Naturalmente siamo a disposizione per rispondere a domande e felice di fornire consigli utili per rimanere il più rilassato e per rendere più piacevole possibile.
Much green, quiet, clean air and yet a central location close to the fair, the railway station and the airport.
Very fine visit at Martins. Breakfast was available which were very convenient.
Christian
2016-01-29T00:00:00Z
Martin is very nice and helpful person. The accommodation was very clean and comfortable! Full recommended for Martin!
Monika
2017-01-08T00:00:00Z
Martin's place is in a quiet residential area in the suburb of Fürth. There is a bus stop within a few minutes from his place where you can get a bus to the center of Fürth (connections to Nürnberg). Martin was a great, friendly, communicative and helpful host. There were more of us than he would normally host and we arrived late night, but that wasn't an issue for him. He was there if needed, but at the same time it was like the house belonged to us. ;) We also had a nice breakfast which gave us enough energy till a late lunch. Thank you.
Marton
2017-01-01T00:00:00Z
Perfect stopover on the way through Nurnberg. (you need car to get here since it is out of the city, but perfect for the autobahn). Martin is very very attentive to ALL details and supplies all necessary linens, towels, shampoo and a good DIY breakfast.
Frederik
2016-08-01T00:00:00Z
Martin is a very nice, patient and helpful host. The area is very calm. The kitchen and bathroom well equipped.
Anna
2016-07-03T00:00:00Z
Martin is an excellent host. He answers all your questions and his notes in all over the house are very useful. There are a lot of facilities: a very complete breakfast, lots of bottles of shampoo in the bathroom and spacious rooms. Everything is tidy and very well organized. The neighbourhood is paceful and beautiful. I would recommend you it!
Anna
2016-08-02T00:00:00Z
Martin was truly an excellent host, one of the better ones on AirBnB. The notes throughout the house made everything easy. It was a pleasure to talk with him. The breakfast provided was a great variety and plentiful. Parking was easy. Shower and bathroom were perfectly clean. His backyard with fruit trees is beautiful. Only minor problem is that the wi-fi didn't work so well in the basement where we slept, but not a big deal, elsewhere in the house it is good. I would highly recommend Martin's place for any type of traveler.
Philip
2016-07-19T00:00:00Z
Room Type
Private room
---
Property Type
House
---
Accommodates
8
---
Bedrooms
Fürth, Bayern, Germany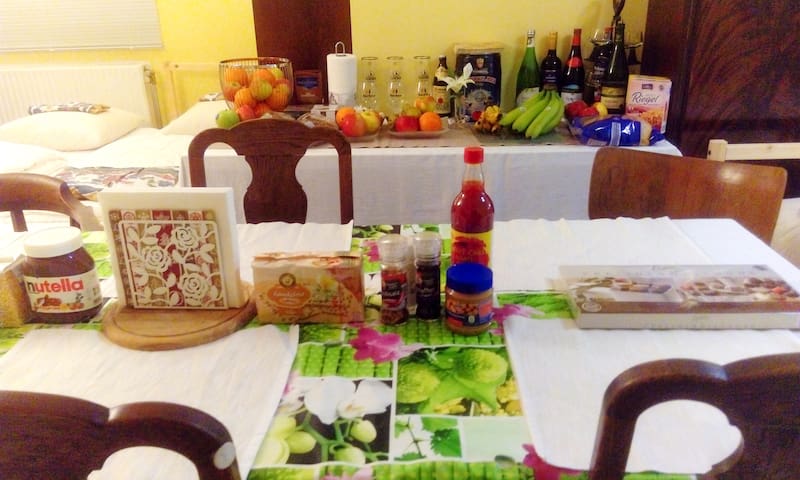 Liebe Reisende, Sie werden in einem gemütlichen, ruhigen Zimmer wohnen in einer ruhigen Baumallee-Straße. Von unseren bisherigen Gästen wurden wir mit Bestnoten bewertet. Das spricht für uns! Wir sind sehr bemüht Ihre Wünsche zu erfüllen und Ihnen bei allen Fragen behilflich zu sein. Freundlichkeit und Hilfsbereitschaft zeichnen uns aus.
Hello fair guests, travellers, tourists and people working in Süd-West-Park in Nürnberg: Take place in our friendly, charming room with internet-connection (W-lan), floor-heating, electrical blind. A small bathroom with toilet and shower is for your own use, as well a hairdryer. There also is a new sofa using as a double bed. Our life-stile is as well modern, warm and comfortable. Your breakfast is loving served in a big livingroom with an opened kitchen. You can expect more than a standard breakfast. We try very hard to fulfill your wishes. My special offer: after a bussy day, have a chilling, energising and relaxing back-massage, one hour for only 35 €. You can choose between two different massage-types and feel like new born! We live in a quiet street with many trees and very good connections to S-Bahn (train) and bus. By S-Bahn it takes about seven minutes arriving central station (Hauptbahnhof Nürnberg). By bus Nr. 67 only few minutes to underground, than about ten minutes to central station (Hauptbahnhof). All in all from our place to any fair (Messe) for example 35 minutes.
Die schöne Baumallee unserer Straße und die Ruhe (es ist eine Spielstraße!). In der Nähe gibt es sehr gute Einkaufsmöglichkeiten und auch gute Restaurants. Die Leute im Stadtviertel sind freundlich.
Dagmar was an amazing host! It was our first Air bnb and she and her husband made us feel so welcome and at ease. Our room was pristine and exactly as pictured, and the bathroom and amenities were fantastic. The location was perfect! The neighborhood was quiet and lovely and so close to public transit. Dagmar made sure we knew exactly how to catch our bus the next day. She asked us what we wanted for breakfast and the spread the next morning was more than we could have imagined! Basically, everything was perfect and Dagmar was so friendly and hospitable. I want to come back to Nuremberg so I can stay with her again!
Kelli
2016-06-06T00:00:00Z
I traved before for several countries, normaly 5 starts hotels, its my first time in Housing room. To say about my experience i just can say it was a mixed of 5 starts & feel home . Dagmar Maria and her husband were more then welcoming people , just a word away from whatever you want . thanks Dagmar for that . reg, Taha
Taha
2017-02-26T00:00:00Z
Home away from home. What else do you need!!! Excellent hosts cAring courteous kind soft. Dagmar & Stefan are wonderful couple. Staying with them was a nice experience. House is very close to s bahn station and you reAch central Station in 7 mins. Nice area all good about it. Would surely come back to stay with Dagmar and Stefan.
Ravi
2014-11-14T00:00:00Z
Thank you for her hospitality and friendly talking. it was nice place and cozy , and also very quest to enjoy relax.
Bryan Kyoungho
2016-03-18T00:00:00Z
Dagmara and her family was very kind and welcoming. They are interesting persons to talk with. Apartments was very nice and clean, and it is easy to find them from center or airport. It is just some minutes from center by train. We would love to return there next time, when we will be in Nuremberg.
Janis
2014-02-04T00:00:00Z
I greatly enjoyed my stay with Dagmar. She was ultra friendly (really friendly) and made my transition into Germany comfortable!
Sean
2014-06-01T00:00:00Z
Dagmar and her husband Stephan are a very nice couple. They would prepare hearty breakfast for you every morning. The room is very clean and you even can have your own bathroom that you don't need to worry about if they're going to use the bathroom anytime. Thanks a lot for their hospitality and I really had a very wonderful time staying with them. Highly recommended~!!!
Dawning
2016-07-14T00:00:00Z
Dagmar is a great host. I would recommend this property for anyone visiting Nuremberg and looking for a short term single accommodation.
Ganapathisubbu
2016-10-14T00:00:00Z
Room Type
Private room
---
Property Type
House
---
Accommodates
2
---
Bedrooms
Nuremberg, Bavaria, Germany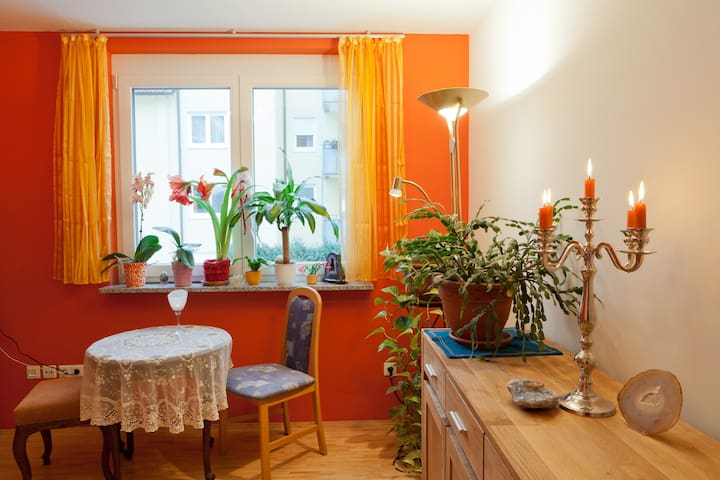 1

–

18

of

92 Home Rentals
Enter dates to see full pricing. Additional fees apply. Taxes may be added.