A lovely, contemporary home with a spectacular view overlooking the Arctic Ocean and Frobisher Bay in exotic Iqaluit, Nunavut. We are happy to provide you with information on sightseeing and an entry to Inuit cultural events. Full kitchen you are welcome to use, clean linens, ensuite washroom, healthy and gluten-free breakfast options, washing machine, WIFI and more. 1 bedoom with Queen Bed and adjoining full, private washroom. Free Wifi. Within walking distance to downtown Iqaluit and the sea. A few minutes from the territorial park.
Ellen and Chris were fabulous hosts and the accommodations were exactly what I expected and hoped for. They were very welcoming and warm. Would definitely stay here again!
Holly
2014-06-24T00:00:00Z
Ellen and Chris are lovely, kind and generous hosts, who go out of their way to make sure that you're comfortable and to help you navigate Iqaluit. Their home is beautiful, and the room provided is spacious with great facilities. The home is walking distance to downtown Iqaluit, so it's very easy to get around.
Kareena
2014-10-10T00:00:00Z
The reservation was canceled 69 days before arrival. This is an automated posting.
Andrew
2015-01-24T00:00:00Z
Ellen and Chris's home in Iqaluit was perfect in every way. It was about a 15 minute walk into the main part of town and our room was attractive, comfortable and exceptionally clean. We were grateful to be able to use their kitchen to prepare some of our own meals and the views out the windows of the city and Frobisher Bay were fabulous. As first time visitors to the Arctic, we were so appreciative of Ellen and Chris's suggestions of things to see and do and of the opportunities we had to talk with them about life in Northern Canada. Thank you so much for your warm hospitality.
Kathy
2014-07-23T00:00:00Z
We could not say more about how lovey our time was with Ellen and Chris - they made us feel completely welcome, and at home. Their place is beautiful with an amazing view - we can't wait to come back again! Thank so much. Anne and Noah
Anne
2016-10-30T00:00:00Z
Unfortunately we did not get to meet Ellen and Chris but Ellen was still a lovely hostess. She had everything ready for our arrival and was available via phone for any of our questions. She was so welcoming when we spoke. The house was beautiful and clean with an incredible view. Ellen's decorating was so homey with so many lovely touches and art pieces local to the area. The house was about a 10 min walk to downtown.
Erin
2016-10-01T00:00:00Z
Raven's Nest is a modern house set on a ridge overlooking the central area of Iqaluit. The room is spacious and comfortable (single or couple) with a full ensuite. The bedroom and open-plan main living area of the house have great views west to the town below and out to Frobisher Bay. Ellen and Chris are welcoming hosts, helpful and friendly. They are intelligent and interesting artistic people you would like to have as friends. As they are long time Northernphiles, you benefit from their experience and knowledge; you feel as if you really know life in Iqaluit. In summary, a wonderful place to stay!
Evan
2013-12-12T00:00:00Z
This was a perfect place for my short visit to Iqaluit. The place is brand-new, very functional, and exquisitely decorated with Inuit art. The neighbourhood is just a few minutes from the town centre (if walking downtown, you will need to walk uphill when you return). The view is really very nice (you can see the famous yellow Iqaluit airport terminal).
Edgard
2014-06-21T00:00:00Z
Room Type
Private room
---
Property Type
House
---
Accommodates
2
---
Bedrooms
Iqaluit, NU, Canada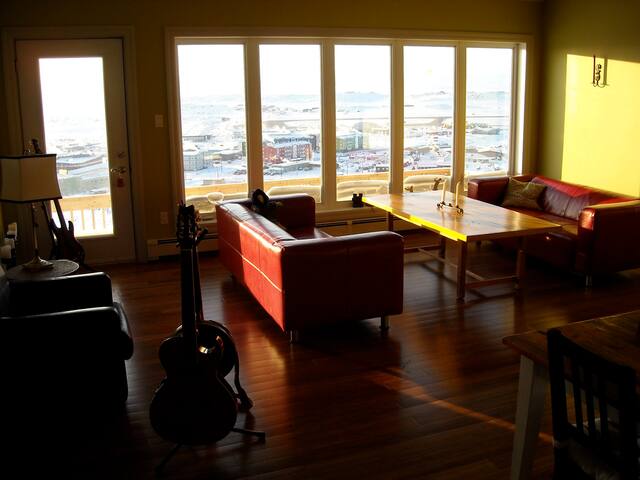 Large room with private bathroom and shower and a beautiful views of Iqaluit and Frobisher Bay. Located in a quiet area, walking distance from downtown. A great place for couples, solo adventurers, and business travellers looking to experience Iqaluit.
Kristine was extremely welcoming and went out of her way to make me feel at home and like part of her family. I could not have imagined a better way to discover Iqaluit for the first time. The house is lovely and welcoming, with beautiful views on the bay. The room is very cosy and has a desk and a long chair; the room is nicer and larger than it appears in the pictures on Airbnb, I was pleasantly surprised. I would strongly recommend Kristine's place to anyone traveling to Iqaluit, it was a wonderful experience and one that I am sure to repeat on my next trip to Nunavut. Thank you!
Audra
2016-09-30T00:00:00Z
The large room at Kristine's has a killer view, private bathroom and is very private and cozy. There's a little fridge stocked with some food, juice, a kettle, coffee maker, lots of storage and really comfy bed. Internet access is provided. Plus access to living/dining room and kitchen. Kristine and her kids are very friendly and welcoming. The house is a bit of a hike from town but walkable or cabs are easy. It's worth it for the views!
susan
2016-11-24T00:00:00Z
Great place! Great view! Great people! I will definitely stay there again whenever I am in Iqaluit.
Scott
2017-04-06T00:00:00Z
I had a lovely stay at Kristine's place. The rental area had a beautiful view of Iqaluit, and they were very welcoming while allowing for privacy.
Laura
2017-03-23T00:00:00Z
Kristine and her family were really friendly and lovely to talk to. The room is clean and very nice, with a breathtaking view. It's in a suite to the side of the house, with its own bathroom, so it's pretty private. I really loved staying here and would recommend it to anyone visiting Iqaluit!
Melody
2016-10-06T00:00:00Z
Kristine's home, and family, were beautiful. The home is spotless and ideally located for getting around Iqaluit on foot or by taxi. Kristine was so very accommodating and helpful - an essential part of making our Arctic trip amazing. I would recommend Kristine's home to anyone who is traveling to Iqaluit.
Heidi
2016-11-25T00:00:00Z
Highly recommended place to stay. Kristine's place is wonderful, clean and comfortable. Great host, Kristine quickly answered any questions that we had. The views are awesome and easily offset the additional distance to downtown, we walked it most of the time even though the cabs are all fixed price of 7$ in town. The day care next door was generally quiet, it added some wonderful life and character to the house that no commercial accommodation could beat.
Scott
2017-03-31T00:00:00Z
Kristine's home, and family, are both beautiful. The home is super clean and organized and very comfortable. Beautiful views from every room as the house sits atop a hill overlooking town and Frobisher Bay. Everything is within walking distance however taxis are readily accessible and very affordable if you prefer not to walk. Kristine went above and beyond to make us feel welcomed and right at home. I would recommend Kristine's home to anyone for their stay in Iqaluit.
Heidi
2016-11-28T00:00:00Z
Room Type
Private room
---
Property Type
House
---
Accommodates
2
---
Bedrooms
Iqaluit, NU, Canada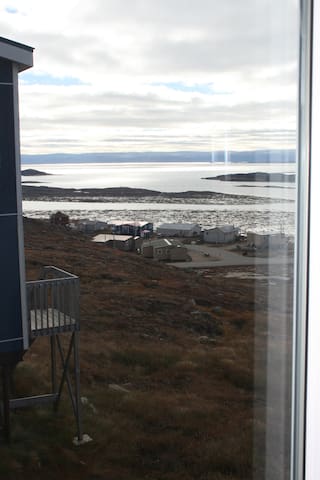 Private bedrooms for rent in a fully renovated appartment. Up to 4 rooms available. Located in Apex (same cab price than anywhere in town), very traditional community and very quiet. Lots of walking trails, beach, and water view. See photos.
Joelle is amazing. I spent a week at her lovely home in March. Apex is a bit of a drive from town, but I never regretted it. She made me feel welcome from the minute I touched down in Iqaluit, and showed me around town. I'm so glad I ended up staying with Joelle instead of the overpriced hotels in town.
Mark
2014-03-31T00:00:00Z
I'm so glad I stayed with Joelle, she is a friendly and cheerful person and an accommodating and welcoming host. Joelle picked me up at the airport and showed me around town. I spent most of my time in Iqaluit working but when I had free time Joelle invited me to different events and activities so I got to experience the local life as well. Thr house is well-maintained. The room is in an excellent condition, clean and with nice artwork. I was glad to have access to the kitchen and be able to cook once in a while.
Alina
2017-02-24T00:00:00Z
We loved Joelle's place! The bedrooms are very confortable, the rooms are large et really nice. Joelle was very flexible , and attentive. I can't recommend this place enough!
Maéva
2017-03-10T00:00:00Z
Room Type
Private room
---
Property Type
House
---
Accommodates
4
---
Bedrooms
Iqaluit, NU, Canada
Great view of Frobisher Bay. It can fit up to 5 people, 2 bedrooms with double beds and a pull out couch in the living room. However, please note and make sure to ask us if we are there: if so only 1 room w a double is available.
We can rent our whole house when we are away for vacation or work OR 1 room and a pull out couch when we are home. Please make sure to ask us when you inquired to see if we are home or not. Our home is in a great part of town and has a view directly on Frobisher Bay. Its a bungalo style home with 2 bedrooms and an office and an open living room and kitchen. Fully furnished with space to park 3 cars if needed. Our home is located in Tundra Ridge, which is about a 10-15 min walk to "downtown". There is a quick stop convenience store just around the corner for quick groceries, coffee (Tim Hortons) or gas.
Tundra ridge is located near the middle school and elementary school, our house is located on a pretty quiet street with a great view. Easy access to the tundra, Arctic Winter games arena and quick stop. Not far from downtown, you can walk to grab a cab very easily.
Very clean, easy to contact the host with any questions and concerns, wonderful view of the bay, the accommodation was exactly as described by the host. We had a HOO-t!
Andrew
2015-12-21T00:00:00Z
Our host was nice and welcoming. The house was beautiful and the view was great. I would for sure recommend future travelers to stay here when they get a chance to come to Iqaluit.
Tina
2016-03-05T00:00:00Z
After unexpectedly finding an airBnB in Iqaluit we were pleasantly surprised by the accommodations when we arrived. The place was very spacious, clean, and had a very warm feel! Rosanne and Vincent were always available to answer any of our questions and went out of their way to supply us with tourism information and point out the ins and outs of Iqaluit. We would definitely stay there again! Thanks for the accommodations!
Matt
2016-02-21T00:00:00Z
Rosanne and Vincent made me feel very welcome. They made feel as if I was home from home. They gave me full access to the kitchen and and gave me rides around town. They also provided me with more appropriate warm cold weather gear. (Without this I would have been confined to indoors all the time)
David
2016-04-08T00:00:00Z
Room Type
Entire home/apt
---
Property Type
House
---
Accommodates
5
---
Bedrooms
Iqaluit, NU, Canada
Arctic Ocean - Airbnb
:
Average

5

out of

5

stars from

42

guest reviews
Enter dates to see full pricing. Additional fees apply. Taxes may be added.