Our cottage house nestles in a beautiful and tranquil wine growing region of Prekmurje, Goričko Nature Park. The house sits on top of the hill and is surrounded by vineyards and fruit trees and offers magnificent views.
The place is ideal for long walks in the nature, barbecues, wine tastings or simply to relax and enjoy the surroundings of the unspoiled nature. There's plenty of natural hot springs in this area so you can indulge yourself in one of the thermal spas which are less then 10min away from the house (our favourite and regions best are Terme 3000 Moravske Toplice or Terme Vivat). Or if you're looking to be even more active, it's a perfect terrain to cycle among many trails all over Goričko. Bikes can be rented out at a thermal spa nearby. The cottage house sleeps 5 people and is ideal for families with children or couples. It offers one master bedroom with beautiful views, second bedroom with a double and a single bed, bathroom with a shower, fully-equipped kitchen with spacious living room with beautifully exposed wood-beams and an old fireplace which is the centrepiece of the living area and around which all rooms have been divided. There is also a big balcony with fantastic views of the region which is ideal for a morning breakfast and a cup of coffee. Or you can relax in the large garden in front of the house which offers a big wooden table with an outdoor grill and a resting net overlooking the neighbouring green fields. With the arrival of Spring, each window beautifully frames its wonderful and unspoiled surroundings and the house becomes very bright and airy. All rooms have a rustic look and we have kept the traditional elements of the house where possible. We will meet and greet you upon arrival and you will be served with traditional cold meats and homemade wine from the vineyard to give you a warm welcome to our house. There are a few supermarkets in the area, however not walking distance from the house, only 7min drive away, where you can buy fresh bread and other ingredients for cooking. Majority of shops have traditional culinary delights from the region such as pumpkin oil, wreath bread, various cold meats etc so you can have a real taste of Prekmurje. There is internet in the house. You will have the cottage to yourselves. House is private and has gated doors at the bottom of the hill. Parking is outside the gated doors.
Rural, quiet and surrounded by vineyards and fruit trees. There are a couple of other houses in the area and all neighbours are very friendly.
Communication with Petra was excellent. We were greeted by her mother who prepared us a traditional Slovenian welcome including local wine. We were absolutely delighted with our hosts, they could not have been nicer people. The house is recently remodeled with all new appliances, furnishings, and linens , including very comfortable beds. There is an amazing view out of the windows and the balcony and the neighbors are very kind. The next-door neighbors even shared some food and wine from a birthday party they were having. They were also very sweet to our children. Petra provided us with a great guide book of things to do in the area and we thoroughly enjoyed the water park Terme 3000 and the town of Maribor. We recommend staying here with our highest confidence that you too will enjoy Petra's hospitality and the surrounding area.
scott
2016-05-09T00:00:00Z
We had a very nice welcome as we reached the adorable small house. The place was clean and surrounded by nature, although relatively close to Murska Sobota and some very nice hot springs (Vivat) where we went to relax for a few hours both days we were there. I would highly recommend the place if you want to be away from the daily hustle and bustle of a big city for a few days!
Jerneja
2016-06-29T00:00:00Z
The cottage was as described, and was fantastically clean. The house is stylishly decorated and is well equipped for self-catering. A car is necessary to get around. The nearest grocery stores are in Murska Sobota, but you can get everything you need at the InterSpar. We chose the location because we needed to re-energise, and for that the cottage was perfect - peaceful and quiet. Petra also provided a lovely little booklet that listed local amenities, and there were detailed maps of the area (great for exploring - the surrounding area is mostly flat, but with some hills, so is ideal for cycling). While we never met Petra (her aunt and cousin met us on arrival with a little platter of cheese, meat, peppers and bread), communication with her, prior to and during the stay was always efficient. The only thing worth pointing out is that the flight of stairs between the bedrooms and the living room is quite steep, and so can be difficult for the elderly or very young.
Kevin
2016-11-05T00:00:00Z
We enjoyed staying in the vineyards. The house is as described, provides everything for a nice stay. A car is needed to explore the region.
Peter
2016-08-14T00:00:00Z
We had a great relaxing stay at Petra's place. We were greeted by her aunty and cousin with a lovely meat and cheese platter and local apple juice. They were very friendly and helpful making the time to show us the house and activities available in the surrounding area. The house was very presentable and clean, perfect for a great stay in the countryside. Communication with Petra was easy and we would recommend staying here.
Marie-Louise
2016-09-29T00:00:00Z
This was nearly the best place we ever had. Really quiet area and perfect to relax. Petra is a very friendly host and the house is larger and better equipped than we expected. We really love the area and the house and definitely we will come back soon. Also because of the very friendly neighborhood.
Kai
2016-08-21T00:00:00Z
We were met with great warmth and hospitality by Petra and her family upon arrival. The house is newly refurbished and all very nice and clean. The surroundings are quiet and peaceful, great for relaxation.
Sigurbjörg
2016-07-22T00:00:00Z
This was our second stay in the house and al was perfect like it was on the first time. But we did a huge mistake because we left a day to late. We are really sorry for that, Petra handled it perfectly and professional.
Kai
2016-10-04T00:00:00Z
Room Type
Entire home/apt
---
Property Type
House
---
Accommodates
5
---
Bedrooms
Vaneča, Murska Sobota, Slovenia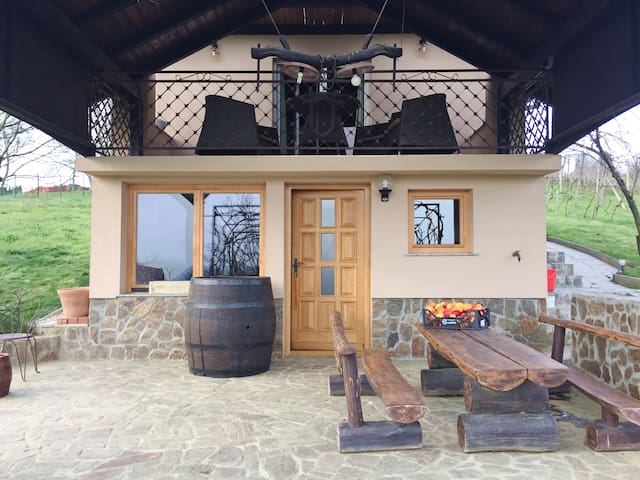 There is a double bed, a small shower, sink and toilet. The apartment is located in a private house of my old farm in really quiet location. like there can also be used creatively (pottery, painting ...). Herbs and vegetables are currently available in abundance.
A large room, but simply tastefully furnished and in a quiet location, surrounded by nature, invites you to relax. The wood stove brings cosiness and underlines the original character.
My boyfriend and I stayed in Theresa's beautiful, quaint studio for a week. It was perfect! We had everything we needed and Theresa and her family made us feel extremely welcome and comfortable. We were able to use her bikes whenever we wanted and due to the warm season we got some delicious fresh vegetables from her garden too! The studio has everything one would need for a stay in the countryside: it is very bright and spacious, with all necessary amenities, and a lovely wood stove to keep you warm on colder evenings/days. We loved it :)) Mein Freund und ich haben eine gemütliche Woche in Theresa's Atelier verbracht. Das Atelier verfügt über alle Notwendigkeiten für einen Urlaub am Land: der Raum ist groß und geräumig, mit viel Licht und einem Schwedenofen für kältere Tage/Nächte. Dazu standen auch immer 2 Fahrräder frei zur Verfügung. Theresa und ihre Familie waren sehr lieb und hilfsbereit: wir haben uns sehr wohl und wilkommen gefühlt. Es war eine tolle Erfahrung hier zu wohnen - wir hoffen wir schaffen's bald wieder nach Windisch-Minihof!
Priyanka
2016-09-10T00:00:00Z
Idyllische Umgebung, romantischer, künstlerisch gestalteter alter Bauernhof, viel Ruhe und Grün, familiäre Atmosphäre und liebevolle "Betreuung". So richtig zum Erholenund mit der Seel baumeln.... Danke!!
Barbara
2016-05-30T00:00:00Z
Wir haben ein wunderschönes Osterwochenende in Windisch-Minihof verbracht. Ein gemütliches Zimmer mit Ofen, alles sauber und geschmackvoll eingerichtet, tolle Gastgeber und viel Natur! Sehr zu empfehlen und gerne wieder :-)
Heike
2016-03-29T00:00:00Z
Ein wunderschöner Platz! Danke liebe Theresa für Alles!
Piroska
2016-08-06T00:00:00Z
Zimmer groß und geräumig, sauber, sehr "rustikal" eingerichtet!
walter
2017-03-26T00:00:00Z
Room Type
Entire home/apt
---
Property Type
House
---
Accommodates
4
---
Bedrooms
Minihof-Liebau, Burgenland, Austria
If u need
Nice place for rest, sightseeing and wandering around region. Suitable for one or two families. House and location are very nice in pictures, but even nicer when you get there. Definitely place to come back. Host is very kind.
Sandi
2016-08-13T00:00:00Z
Great house, beautiful view, nice hosts. All you can ask for ;)
Katerina
2016-09-25T00:00:00Z
An excellent stay, from all points of view! Everything was perfect, ranging from the house (very well-equipped, comfortable and spacy) to the hosts (extremely nice, helpful and available). The surroundings are marvellous as the listing is located in the middle of wineyards on the top of a little hill. Calm, safe and accessible (count 20 min. from Murska sobota), we will come back with pleasure =)
Charles
2016-10-31T00:00:00Z
although the owners vineyard might guide your sight elsewhere, the view is the absolute unique selling point of this house. a gentle hill provides enough elevation to see as far as Hungary, Croatia and Austria. Closer by is the traditional agricultural landscape of Pomurska which is crowded with deer and many birds. The Owners have done everything to make our stay most pleasant. Perfect beds, nice welcoming drinks, Lots of space and with a big smile!
Ewout
2016-08-12T00:00:00Z
Great place and fantastic view!!!!!
Mitja
2016-08-14T00:00:00Z
Danke den Gastgeben ūr Unterkunft. Wir haben uns willkommen gefūhlt. Um alles wurde gesorgt.
Anita
2016-07-26T00:00:00Z
Room Type
Entire home/apt
---
Property Type
House
---
Accommodates
4
---
Bedrooms
Šalamenci, Murska Sobota, Slovenia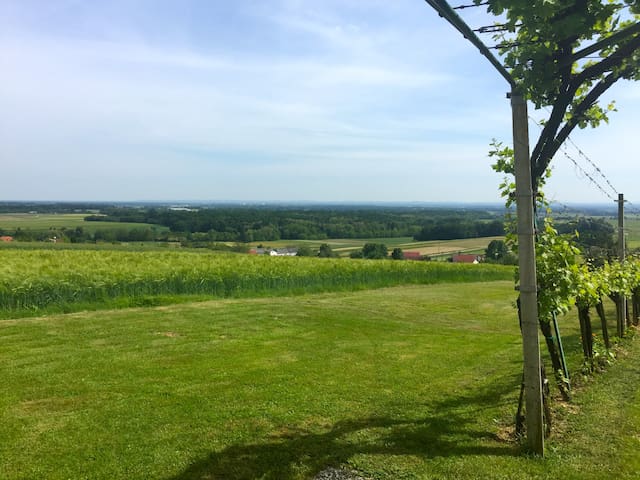 The whole house just for you. It includes 2 bedrooms with double beds and a couch for (up to) 4 people in the living room. All together 8 beds. The house also includes a kitchen, living room and bathroom, all equipped with HI-TECH furniture. There is a TV in the living room, perfect for parties. The house also comes with quite some grass area, which is great for picnics and outdoor sports. Enjoy your stay!
Groups, with up to 8 beds. Picnics and parties.
Vse je bilo super. Imeli smo prijetno bivanje v hiški in smo uživali v raziskovanju Prekmurja.
Ana
2017-02-19T00:00:00Z
Room Type
Entire home/apt
---
Property Type
House
---
Accommodates
8
---
Bedrooms
Gradišče, Murska Sobota, Slovenia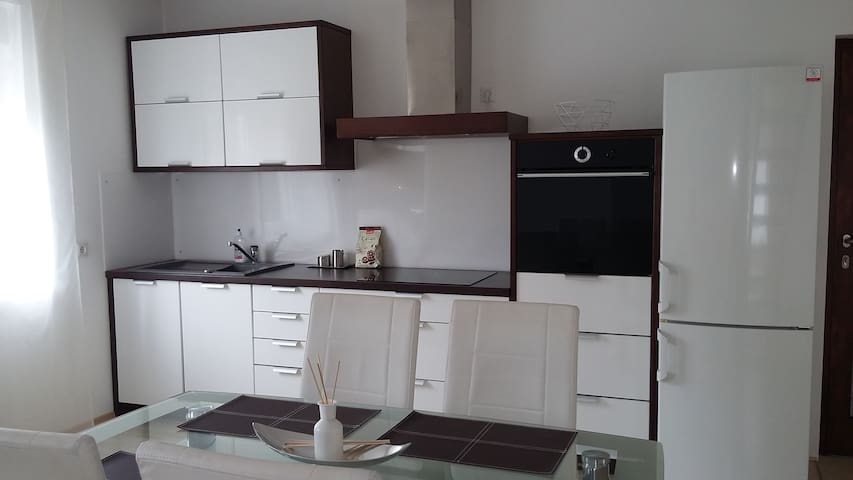 This very unique eco friendly house is for rent in the north-eastern part of Slovenia. The architecture and interior design is truly special with strawbale walls covered with a layer of mud, handmade functional motifs, wood, and other natural materials. Outside: permaculture garden, herbs, surrounding nature... Distances: - Supermarket, post office, bank, cafes (2,5 km) - Gas station (8km) - local restaurant (500m) - bigger town Murska Sobota (22 km)
Do you need to slow down and get a break from your busy life? Do you want peace and quiet and a real connection with nature? If so, this beautiful, unique and cosy eco house in the unspoiled Goricko national reserve, part of the trilateral natural park Goričko-Őrség-Raab, is the perfect spot to rest your mind, body and spirit, where the house breathes with you and wild life spotting is an everyday thing. The house sleeps 4 people comfortably on the gallery and the living room. There are no bed frames but mattresses (1 double, 2 single) that can be easily folded up for your convenience. The house is cosy and has a very warm ambient on about 50m2. It is complete with a kitchen and bathroom. The water heater can be controlled for warm water and there is a fireplace (wood) for the winter months. This can be operated by the owner upon request. There is a small deck in the back of the house that overlooks the backyard. The back-yard is well-maintained with plenty of different herbs for your own tea. Following is the permaculture garden, a work in progress with lots of veggies growing. You are welcome to use the fresh bounty of veggies in the summer months if you feel like cooking at home. There are also some chickens running around, Lotka the cat and occasionally a friendly neighbor dog. If you should need help with anything, there is a nice tenant at the back of the property who can help you. She has her own place and takes care of the permaculture garden and the animals.
Room Type
Entire home/apt
---
Property Type
House
---
Accommodates
4
---
Bedrooms
Šulinci, Murska Sobota, Slovenia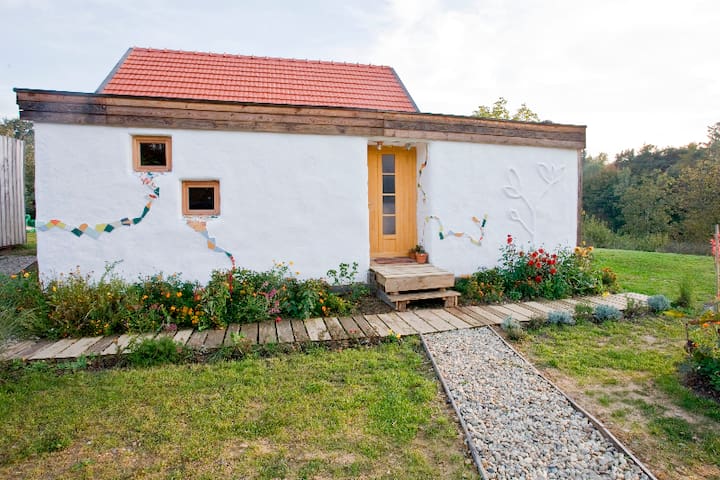 The heart of Pannonian villa is large and carefully decorated kitchen made out of wood with dinning table for 8 persons. For guests there are available all modern kitchen accesories. Kitchen and dinning room are combined with the living room.
Toen we aankwamen bij het huisje stond Sanja te wachten tot wij aankwamen. Heel netjes en samen met ons is ze het huisje doorgelopen. Hier en daar heeft ze wat dingen uitgelegd over de apparatuur. Het huisje zag er van binnen netjes uit. Genoeg pannen die er ook netjes en schoon uitzagen. Wij waren met 4 personen in het huisje dus plek genoeg op de bank. Maar als je met z'n zevenen zou zijn is de bank waarschijnlijk te klein. De omgeving was erg mooi en rustig. In de buurt zit een lekkere pizzeria en een dorpje verder kun je boodschappen doen bij de spar. Op loopafstand zit het restaurant oaza. Zeker een aanrader! Verder was de douchekop beneden al redelijk stuk voor we aankwamen overal spoot water uit. Dit was iets minder. Ook de warmte regelen was soms lastig. Jammer dat er geen oven in de keuken zit. Wel een magnetron, kookplaat en een vaatwasser. De matrassen zijn vrij hard. Die hadden wel beter gekund. Het was erg fijn dat Sanja altijd te bereiken was wanneer dit nodig was. Ze reageert erg snel op berichten.
Melissa
2016-05-08T00:00:00Z
La casa si erge in una splendida zona rurale della Slovenia, è un complesso di di diverse unità tutte uguali che formano un mini-villaggio. Le case hanno un'ottima privacy, l'interno è rustico ma dotate di ogni comfort. Da ritornare.
Matteo
2016-03-07T00:00:00Z
Room Type
Entire home/apt
---
Property Type
House
---
Accommodates
7
---
Bedrooms
Moravske Toplice, Murska Sobota, Slovenia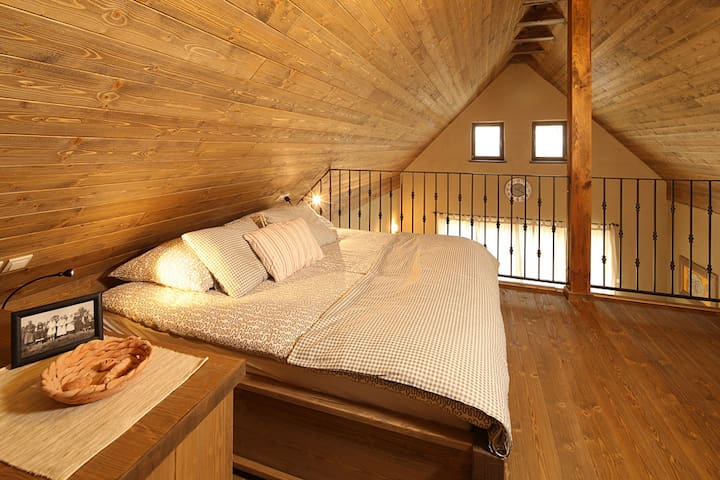 In the Styrian wineroad of Slovenia is "Dr. Thelen's Vineyard" near a hamlet called "Jeruzalem", a legendary place of the Knights Templar. Live in a 100 year old renovated "winemakers house" among antiques & enjoy the the terrace sitting under the fruity smell of the grapes.
The winery and vineyard cottage surrounded by hills lie at the end of a quiet valley. Whether you come alone or stay comfortably as a couple, up to 4 guests can be hosted. Only you and your guests live in the old house and enjoy the lovely wine surrounded by vines and vines terraces. The house is set on 2 levels. On the ground floor is the master bedroom with double bed, shower and toilet. A special sleeping climate create here backlit salt stone walls and the old biologically conserved bricks. Next you have a fully modern small arched kitchen including dishwasher, electric stove with oven and all utensils to cook healthy. By the way,our water is excellent drinking water quality.You are welcome to use - depending on the season - the herbs, fruit and vegetables from the garden. The living room contains original wooden ceiling, comfortable wing chairs and a fireplace and a large dining table. A glass door leads to the breakfast terrace. Upstairs is the cozy and well-equipped library. You can use the singing bowl collection and browse the interesting world of books. If communicated in advance, this space can be used for 2 people with a "air-double-bed" as additional sleeping space. The outdoor area is at the end of a reorganized old cart road without any traffic - the silence pure in the Natural Park Jeruzalem. After years of intensive care and revitalization you find the "Old Vines" - especially in summer you enjoy the smell of the red grapes as Jurka, Isabella and Clinton. More than an acre of wine, mixed with an over 300 year old oak and fruit orchards and even a sycamore tree surround the small estate. On two terraces, you can taste our own wine, enjoy the views of the nature, sunbathe or dine outside. A barbecue is available upon request. Within 1 - 3 kilometers -whether on foot or by bike – there are easily accessible wineries and typical restaurants for a tasting.Special is the culinary famous "Taverna" from the winery "Kuplijen". The wider area is suitable for motorized trips. By car it is only 20 to 30 minutes to thermal baths or to stroll in the restored baroque city of Varazdin or visit the River Drava´s historic castle town of Ptuj - former European Capital of Culture in 2012.
Special is the peacefulness and calmness in the middle of the wine region, without disturbing through traffic in the Natural Park Jeruzalem. But you can also play music from our extensive CD collection to your heart's desire - the next very sympathetic, neighbors are far enough away.
An absolutely amazing place in Slovenia's famous wine region; Stefan's place is lovely, quiet surroundings, nice garden with vineyard next by, some good and typical restaurants near by. Also sauna and pool are fantastic for relaxing, we really enjoyed our stay at Stefan's place and will come back for sure. Stefan also prepared some helpful information on the region.
Jennifer
2014-08-10T00:00:00Z
Stefan was excellent with communication prior to and during our brief stay. Nusa, his property manager (?) was pleasant and took her time showing us the many "how to's" and rules of the house. We had to cut our stay short due to my mold allergies and the excessive amount of moisture in the house. The area of Jeruzalem is just stunning so we did decided to stay in the area at the top pf the hill. Stefan's home is unique and has a lot of character. The kitchen is well stocked with cooking equipment. He provides one free bottle of wine, which is quite good! You may purchase more if you choose for 8 Euro a bottle. Which leads me to one area of attention: The price list. One of the main reasons we chose this listing was the sauna and Jacuzzi and potential use of bikes (had weather permitted). After settling in we discovered an extensive price list for various usages around the house. There is a an allotment of 1 sauna every 4 days, and the guest is asked to pay for any additional usage. There is also request for payment for a 2nd bike (first one is free). The list goes on with "donations" requested for spices in the kitchen as well as fire wood use! Had we been able to stay we would just have not used any of the amenities to avoid these costs. But we DID choose this airbnb based on the fees indicated in the listing and, as we are on a strict budget, would probably have chosen otherwise had we known all the extra costs not listed. If you are not on a strict budget, can afford a few extras and are looking for a rustic get away I am sure you will be happy here.
Brenda
2014-10-22T00:00:00Z
A good accomadation for some relaxing days in the outstanding wine region of Jeruzalem. The communiction for the arrival was good as well the arrival it self. Eventhough the bed was a bit uncomfortable for us, we had a pleasant stay.
Joost
2015-08-08T00:00:00Z
Our stay in Stefan´s place was fantastic! A well hidden little paradise right in the middle of Jeruzalem´s beautiful wine area. You can visit nearby vinyards and restaurants or do little hikes in this georgous landscape. Checkin was really easy, we met Nusa and drove up to the house together. This is really important because you will probably not find it by yourself. Everything was explained to us upon arrival, after that you have the house/s all to yourself, we enyoyed the garden with home made wine and grapes. The house is well equipped and furnished, there is everything you might need. We will defenetly come back again!
Marius
2014-09-29T00:00:00Z
.
Jerome
2016-03-08T00:00:00Z
Die Beschreibung entspricht voll und ganz dem schönen Haus. Wir haben uns sofort wohl gefühlt, nachdem wir sehr freundlich empfangen wurden. Leider konnten wir dabei Stefan nicht selbst kennen lernen. Das Haus strahlt eine Ruhe und Gelassenheit aus. Die Küche ist ausgesprochen gut ausgestattet. Wir haben uns besonders über die CD Sammlung gefreut, die unserem Geschmack sehr nahe kam. Wir waren zu Fuß ohne Auto untwerwegs und fanden in der näheren Umgebung (max. 3km) genügend Möglichkeiten gut zu essen und Wein zu trinken.
Bernhard
2015-08-16T00:00:00Z
Room Type
Entire home/apt
---
Property Type
House
---
Accommodates
4
---
Bedrooms
Gresovščak, Slovenia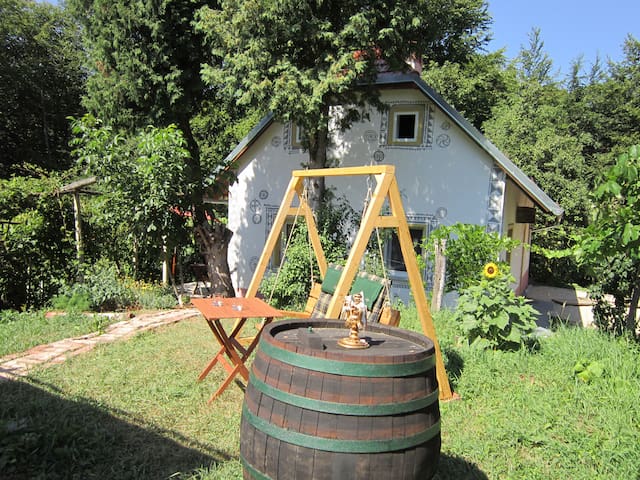 Surrounded by forrests and fields in the middle of the slovenian hills you'll find our lovely farm which we started to renovate since 2014. A quiet place where Nature comes first ;-) Breakfast will be included - homemade bread, jams, tees & honey
The house was build in the 1930ies out of all natural materials including red bricks and cob. It has an open wooden attic and a bare soil basement cellar for storing purposes. On the property you'll find many fruit and nut trees including wallnut, chestnut, apple, pear and many others.
You'll beThe neighborhood is quiet and there are only a few houses around on the hill we live. Within 5min by car you'll find a supermarket, few cafes and a Pizza place. About 15 min away you'll find the next bigger (small) town in Austria called Mureck which has all the infrastructure including a post office, serveral supermarkets and other places to go and do some shopping if needed.
Claudia and Dominic were great hosts, and their farm is idyllic, in a beautiful place. Fresh eggs and bread for breakfast, and a super friendly hosts, absolutely charming.
Mark
2016-05-14T00:00:00Z
Claudia and Dom were very warm and welcoming hosts. We loved relaxing on their farm and exploring the surroundings. They even invited us to join them and their friends for dinner experimenting with their new pizza oven. And breakfast each morning with amazing home made breads was so delicious. Would definitely recommend for a bit of R&R!
Carrie
2015-08-24T00:00:00Z
Our holiday couldn't have ended nicer: such a beautiful place, the cutest pets and the friendliest hosts! We enjoyed our stay very much and we are looking forward to meeting Claudia and Dominik again. We are for sure coming back: Not only to see them but also all the changes of their big property, which is full of history. They take so much care of renovating and collecting furniture to masterpiece of vintage-countryside-cosiness! It is a real pleasure to look around and discover all the details. So after all, the limitation of our permit sticker of the Slovenian motorway was the best that could happen to us: 'cause otherwise we probably would not have looked for Claudia and Dominik's place and – find 5 new friends :)
Marie
2014-09-08T00:00:00Z
Simply amazing, Claudia is an amazing host. Me and my girlfriend arrived a little bit late but it was no problem. Very nice and quiet area, comfortable bed and very tasty breakfast :-) Wish we stayed a bit longer. Will recommend it to everyone. Loads of love for all of you
Andrzej
2015-08-26T00:00:00Z
Ah..what to say? :-) Place was awesome. Claudia was very nice and very helpful. Our room was nice,clean and comfortable.Breakfast was delicious. I wish we could stay for a week.
josipa
2015-06-15T00:00:00Z
A fantastic stay, calm enviroment and just what I needed! The hosts were friendly and very helpful! I really enjoyed and recommend it to others! Thank you Caludia and Dominic! Best regards Elaine
Elaine
2016-07-09T00:00:00Z
Claudia and Dominic and were really nice hosts. Their property was great to explore and the living space was perfect. We'd love to have stayed longer.
james
2015-07-30T00:00:00Z
Claudia is a very very nice person. We were lost in the middel of the night in the mountains of slovenia. She came and picked us up with here car. Her house is beautiful decorated and the surroundings are spectacular. The bed is hard but good. Unfortunately we could not stay for breakfast because we were on a time table, next time we will stay longer! Thanks again for rescuing us ;-)
Marinke
2015-07-25T00:00:00Z
Room Type
Private room
---
Property Type
House
---
Accommodates
3
---
Bedrooms
Cersak, Slovenia
Das Winzerhäuschen wurde 2014 von uns liebevoll renoviert, wir arbeiten ständig an Verbesserungen um es für unsere Gäste noch gemütlicher zu machen Unser Winzerhäuschen ist ideal für 2 Personen, wir stellen aber gerne ein Zusatzbett zur Verfügung.
Unser Winzerhäuschen liegt inmitten der Burgfelder Weinberge, ca 3km außerhalb der Stadt Fehring, in ruhiger Lage. In der Nähe befinden sich ausgezeichnete Buschenschänke, Schloss Kapfenstein, Riegersburg und die Thermenregion. Auf Wunsch führen wir geführte Radausflüge mit unseren Gästen durch. Der besondere Reiz liegt in der hügeligen Gegend und der großen Auswahl von kulinarischen Köstlichkeiten die in Buschenschänken und Restaurants angeboten werden.
Das Winzerhäuschen liegt an einer wenig befahrenen Straße.
Great hosts, charming surrounding, cosy and clean apartment. Perfect place to leave the hectic citylife back.
Viktória
2015-09-13T00:00:00Z
Unfortunately I had to skip my stay at Ewalds place, but I'm sure it would have been a nice stay
Peter
2015-09-17T00:00:00Z
Ewald and Susann were welcome and warm hosts. The place was as descrided and clean. It is a nice and friendly area to discover. Our hosts shared their passion of wine and it was a great moment. We hope to come back soon.
Luc
2014-11-02T00:00:00Z
Our stay was short but perfect. We were on our way back to Austria from a trip and wanted to stop at the Zotter Chocolate Factory the next day. Ewald's place was the only Airbnb nearby and was in a great location, only a 20 minute car ride in the morning. We didnt realize their home is a winery which was a great surprise, the country side is definitely something to see. Ewald and his wife were there to greet us when we arrived. Super friendly people. The house has one bedroom with the option of a third single bed which worked well for us and had everything we needed. Highly recommend Ewald and their spare home.
Michael
2015-08-05T00:00:00Z
Everything we needed was provided, the accomodation is very nice but also the surrounding. Ewald, his wife and his father were very kind and caring. Definitely a recommendation.
Oliver
2016-10-30T00:00:00Z
The house was clean and nice. Everything just was like in the pictures. The nearby is very nice. We liked it and we will recommend this house to our friends, as well!
Balazs
2016-01-02T00:00:00Z
Stayed with Ewald and Susa in their lovely appartment in such a beautiful setting. Our welcome from Kern Senior was nice and Ewald and Susa made us fully welcome. The appartment was well equipt and we had everything we needed.
Steve
2016-02-03T00:00:00Z
Ewald's family were great hosts and we had a very nice time.
Balint
2015-08-14T00:00:00Z
Room Type
Entire home/apt
---
Property Type
House
---
Accommodates
3
---
Bedrooms
Burgfeld, Styria, Austria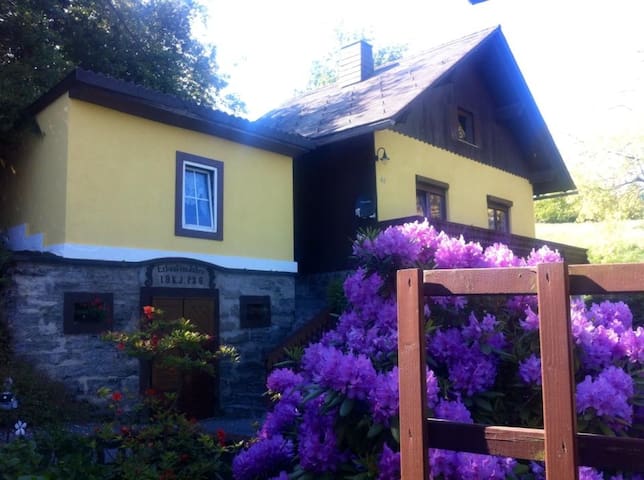 The House is surrounded by nature, on a Hill in a very beautiful area. The room is simple, the morning sun shines in the room. There is a huge terrasse, and a very big Garden. The kitchen is also big and there is everything you need. It is perfect for couples or single travelers to relax and enjoy the natur... It is possible to come with Public transfer (ten minutes walk from Bus Station) but it is good to have to have a Car...
A quiet space in the natur
Nettes Häuschen in ruhiger Lage umhüllt von Wald :) Robert ist ein sehr netter Gastgeber und es herrschte eine tolle Atmosphäre. Insider Tipps gibts auch genug ;) nicht weit weg von der Therme Loipersdorf und perfekt zum entspannen. Nur einige Minuten von der slowenischen Grenze um einen Abstecher zum Duty free Shop zu machen. Auch das Grenzgasthaus ist sehr zu empfehlen :)
Tante
2017-03-19T00:00:00Z
Room Type
Private room
---
Property Type
House
---
Accommodates
2
---
Bedrooms
Neuhaus am Klausenbach, Burgenland, Austria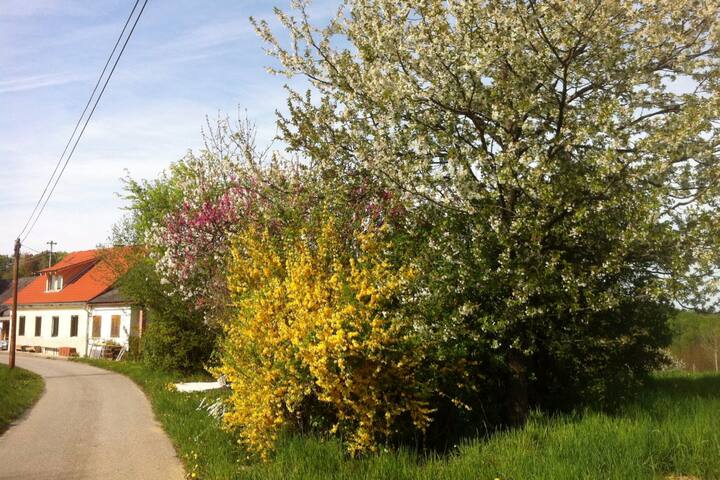 The house is located in a quiet part of the country and is ideal for people who want to relax without the hassle of constantly checking emails (there is no internet in the house). The area is perfect for cycling and hiking. The city Murska Sobota and the waterpark and spa Moravske toplice are close by. If you are traveling by plane, we can arrange a pickup for you from airports in Slovenia or the Austrian Graz.
Really nice house, we had a good experience here. Everything is so peaceful and quiet. Good place to have an excursion in the forest(few minutes walking) which was beautiful caused of the fall colours. Breathtaking view.
Kovacs
2016-11-01T00:00:00Z
Room Type
Entire home/apt
---
Property Type
House
---
Accommodates
3
---
Bedrooms
Budinci, Murska Sobota, Slovenia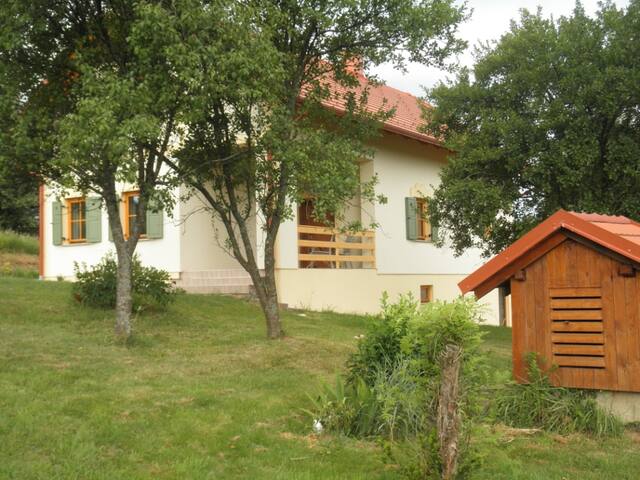 The place is a great getaway from all the city rush. It's located in the municipality of Savci and it's a part of geographic region called Slovenske gorice or "Slovenian hills" in english. There's a lot of sightseeing we can provide like local wineries and old craftsmenship.
Room Type
Entire home/apt
---
Property Type
House
---
Accommodates
4
---
Bedrooms
Savci, Ormož, Slovenia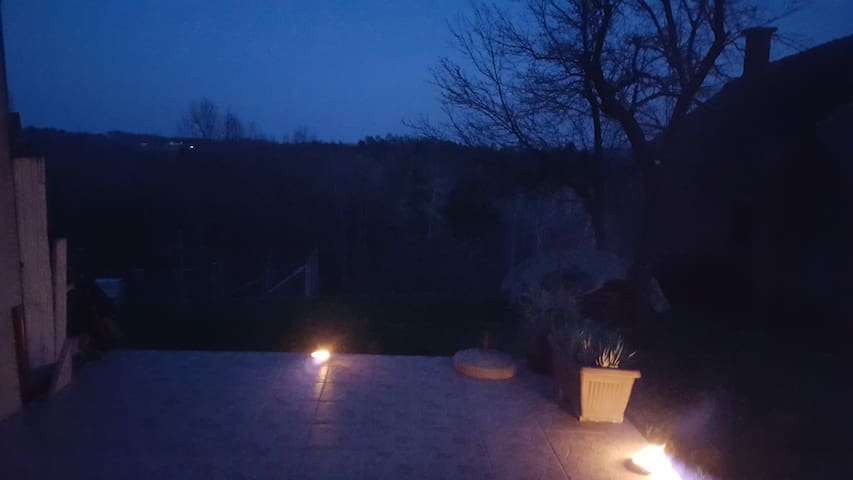 Very cosy and welcoming. There are 2 bedrooms. One with a king-size bed and one with 2 simple beds. Ideal for a couple or for a family with 2 children. This house is part of a big property surrounded by a stream, forest and Andalousian horses
You can order delicious and freshness homemade dishes from Hungary direct from the farm kitchen for a little price. This apartment is a part of a large farming property in the heart of the Hungarian National Park. Moreover you will have a full access to several outdoor activities such as horse riding, green bowling, walking, bike riding... Full access to the swimming pool and others facilities like volley ball ping pong kayaking, tennis...
La ferme se trouve en plein coeur du parc national hongrois nommé Örség, entourée de forêts, ruisseau, grands espaces verts. La Slovénie est à 5 minutes à pieds.
Laszlo was great host! He welcomed us on his beautiful ranch with 17 horses. We even had a chance to ride one of them. Our home whick was for days we stayed there little romantic house was perfect. Even better than on pictures. Fireplace in the room was very romantic and made warm atmosphere. The food was great - we ordered breakfast and dinner. Everything was home made and very delicious. We even bought home made pumpkin oil and honey. It is a great place to relax, enjoy the nature, ride or just watch beautiful andalusian horses and to take a walk around. Highly recommend Laszlo's place.
Slavica
2015-11-15T00:00:00Z
Es ist ein wunderbares Reiterhof, mitten in der Natur. Gute Luft und Produkte von Ort sorgen für kulinarische Höhepunkte und auch die Nichtreiter können schöne Wanderungen in den fast menschenleere Grenzregion unternehmen.
Sandor
2016-05-18T00:00:00Z
Laszlo est un hôte tout à fait charmant, il vit pour le bonheur de ses hôtes et ça se sent. La ferme est absolument magnifique avec plusieurs maisonnettes et une cabane dans les arbres. Une piscine est à disposition de tous les visiteurs. Il y a également un pâturage avec une vingtaine de chevaux en semi-liberté. La description de la maisonnette est tout à fait juste. Je conseille cet endroit pour être à un endroit reposant en pleine campagne. En revanche prenez avec vous de quoi faire à manger. Il y a juste 2 plaques électriques à disposition et un micro-onde et des couverts. Laszlo propose en revanche un petit déjeuner et le repas sur commande. Nous avons eu beaucoup de plaisirs lors de notre séjour. Nous remercions Laszlo pour son accueil et sa sympathie.
Kian
2016-08-01T00:00:00Z
Room Type
Entire home/apt
---
Property Type
House
---
Accommodates
4
---
Bedrooms
Kercaszomor, Vas County, Hungary
The apartment is located in a peaceful area of the city, offering amazing views of Maribor. The center of the city is 5 minutes away by car and 10-15 minutes by foot. It can accommodate 3-4 people, with its grand master bedroom with a king-size bed and one extra single bed in the separate room. It has contemporary furnishings, with a few designer pieces for a modern feel. Benefit from a balcony, a beautiful green private garden, smarthome amenities and on-site parking for a pleasant stay.
The apartment is located on a beautiful spot, nearby the forrest. It is 110m2 and consists of two parts - the inside living area - and the outside garden terrace. It has a fully equipped kitchen, a modern dining room, a living room with beautiful views of nature and a large hallway with an artist's corner - that's where the white piano is. The other three rooms are separated with doors and another hallway, that's leading all the way to the grand master bedroom. The apartment has a big bathroom with a bath tub and a separate shower and one separate toilet. There is also one extra bedroom with a single bed and a workspace. With your access to a beautiful green private garden, smarthome amenities and on-site parking, this is really a place to stay.
The apartment is situated in a very quiet neighbourhood, not too far away from the city centre. It is located in a very hilly area and offers some amazing views of nature.
Apartment was large and clean. Very peaceful at night. Has everything you need for cooking and bath. Hosts are wonderful and friendly. Easy parking and a quick drive close to the city if you have a car.
Asja
2017-04-05T00:00:00Z
Nina's parents were fantastic hosts. They greeted me cheerfully upon my arrival and provided very useful information about the beautiful town of Maribor. The view from the apartment is outstandingly beautiful - just as Nina described, the house has a large outside sitting area with a garden, which is even prettier in real life than in the pictures. The apartment had a special, positive energy. I really recommend it to anyone who likes style, good spirit and a hint of vintage. It is great for families. I was curious to try their breakfast option for an addition of 5eur and all I can say is... Scrambled eggs made in heaven!
Robert
2017-02-26T00:00:00Z
Room Type
Entire home/apt
---
Property Type
House
---
Accommodates
4
---
Bedrooms
Maribor, Upravna enota Maribor, Slovenia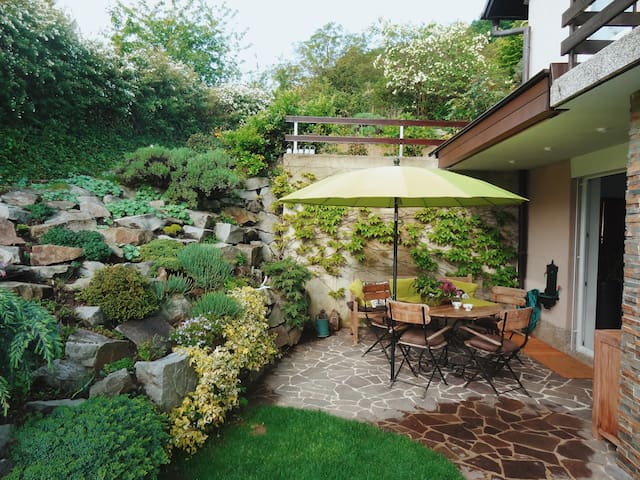 the atmosphere of the Árpád-era church and residential condominium towers combining two bedrooms, comfortable, well-equipped kitchen and dining area, bathroom, air conditioning and free WiFi. The house is furnished in antique farmhouse where relaxation is guaranteed!
Accommodation Our position in the Árpád-era temples and residential towers were inspired by the furnishings are the nearby villages themselves, antique farmhouse furniture. The house has free wi-fi, fully equipped kitchen, heated with a hair dryer, a shower, a toilet, two bedrooms and a lounge. The upstairs bedroom has an LCD TV is housed, which is able to play movies on flash drive. Towels, linens and soap are added.
The Guard perhaps the loveliest and quietest, legtermészetközelibb village of Velemér find our accommodation, where you are guaranteed to forget rohanós caused by the stress of working days and drive. Velemér and Cserépmadár can stay calm, silence and peace in the Lord.
Beautiful place and house, ideal for hiking in the neighborhood or just relaxing. Ideal for families or 4-5 people. Very disciplined host, make sure you leave on time (10.00 am).
Dora
2016-08-22T00:00:00Z
This was a fantastic experience. The house is superb, we enjoyed staying there. The building is very special with its unique style. Quality furniture in nice harmony with the fairytale like atmosphere. Well equipped kitchen. Don't forget to ask the host to show his special collection of rooftop tiles with symbols. Nice walks in the neighborhood. Fantasztikus élmény volt. A ház igazán pompás, nagyon szerettünk ott lenni. Az épület különleges, egyedi stílusú. Igényes bútorok, jól harmonizálva a meséket idéző hangulattal. Jól felszerelt konyha. Ne felejtsék el megkérni a házigazdát, hogy mutassa meg különleges tetőcserép gyűjteményét! A gyönyőrű környék ideális sétákra, kirándulásokra.
Tamás
2016-08-11T00:00:00Z
Kedves házigazdák, Kényelmes, igényes szállás gyönyörű környezetben. Kisgyerekes családoknak is tökéletes.
Peti
2016-08-18T00:00:00Z
Geza nagyon kedves es segitokesz vendeglatonk volt,a haz es a kornyek kifogastalan,nyugodt szivvel ajanlom barkinek!
Karoly
2016-08-06T00:00:00Z
Room Type
Entire home/apt
---
Property Type
House
---
Accommodates
5
---
Bedrooms
Velemér, Vas County, Hungary
A comfortable and cozy renovated old house in the heart of Ptuj, the oldest Slovenian town, is located in the close vicinity of the Ptuj Castle and the town center. In our gallery, near the house, we're organizing art and cultural events.
The house, which was completely renovated few years ago, can accommodate up to 5 people. It has a kitchen, bathroom, dining room and attic where you can enjoy the most beautiful view on the vineyards, the Ptuj Lake and Mariborsko Pohorje Mountains. Adjacent to the house is a small gallery held by the house owners exhibiting the works of Slovenian contemporary artist. The house is located in the close vicinity of the Ptuj Castle and the old town center with fascinating monuments, including the Orpheus' monument, a Roman tombstone from the 2nd century AD. In the walking distance from the house there's also Hotel Mitra with a spa and Ptuj Thermal Spa. Ptuj is an ideal place to rest or create, there's no traffic and the view over all old town is amazing. You can enjoy in beautiful walking paths and can discover many charming places. House is enough big for a couple with children and enough intimate for the person alone, who needs rest.
Despite the fact that the house is located in the heart of of the city, the neighbourhood is very calm and you can enjoy the silence during the evening... Ptuj's monuments are a testimony of the ancient past, starting from the Roman Poetovio onwards. Just to mention few of them: Ptujska Gora with its famous pilgrimage church and the Štatenberg, Vurberg and Borl Castles. Ptuj Thermal Spa is an excellent place to relax and get pampered while the Ptuj Lake, a reservoir on the Drava River, offers fishing, rowing and sailing. It takes you only 20 minutes with a car to the ski slopes of Mariborsko Pohorje where you can do a lot more than just skiing. The region is also famous for its vineyards and wine routes. Indeed, Ptuj takes pride in Slovenia's oldest wine cellar. Throughout the year Ptuj is the venue of many festivals dedicated to wine, poetry, culture, tourism, etc. It is also the 'hometown' of kurent – the main figure of one of the most ethnologically significant Slovenian carnival festivals which is celebrated on Shrove Sunday.
Metla thankyou for picking us up from the station upon late arrival,your house had an unexpected modern feel about it with its simple crisp layout .We would well recommend Ptuj to others for its attractions and very friendly and helpful people.All the best Annette and Jim
Annette
2016-05-21T00:00:00Z
We really enjoyed our stay in Ptuj. Metka is a very friendly and helpful person. The apartment is very light and has beautiful facility. The location of the house is perfect for a stay in Ptuj.
Thea
2016-07-25T00:00:00Z
Everything was (URL HIDDEN) deed..great house.great view and the utilities are top!me and colleague stayed there for 2 weeks and hope to be back soon with our (URL HIDDEN) cozy and elegant.warm and chic to be fulfil.
eduard
2016-07-01T00:00:00Z
The place was great and clean. It is in the center of Ptuj. Metka was really good host.
Andrej
2017-02-26T00:00:00Z
We stayed in Metka's stylish and comfortable home in Ptuj for two nights in May. The location was ideal, on a quiet, car free cobbled street minutes walk from the impressive castle in one direction and the town centre in the other. The house itself is beautifully decorated and has more mod cons than my own home (induction cooker and a deep bath with limitless hot water). The views from the top windows stretch out over the whole city to the river and beyond. Metka was an excellent host, and made us feel very welcome on our first night in Slovenia. She met us at the house when we asked, provided brochures on local attractions, and always answered any queries we had by text within minutes. We were only sorry we had to leave so soon, and can't wait to come back for longer next time. Thank you !
Henny
2016-05-25T00:00:00Z
In the center of the village, well located and clean. Spacious but we expected 2 real bedrooms (more 1 large bedroom with a sofa in the leaving room). Metka welcomed us and was very nice. Internet access not easy.
veronique
2016-08-12T00:00:00Z
Metka is a wonderful host. It was very easy to talk with her and even she also helped us to carry our baggage up to the apparment The house is very close to the castle in a very old street. It is a historic charming house nevertheless it fullfills the modern life standard :-) (The appartment has all things you need for a short stay). We enjoyed the breakfast and dinner on the terrace in front of the house. We recommended this house for a lovely stay in Ptuj.
Alexander
2016-05-30T00:00:00Z
We enjoyed our stay in Metka's house in Ptuj. The house is very spacious and the location is great! Really quiet and calm but also close to Ptuj's cafés and restaurants and to the Castle. The little patio is perfect for having breakfast or dinner. Metka is a very good host, she always responded quickly and was very helpful.
Willemijn
2016-08-01T00:00:00Z
Room Type
Entire home/apt
---
Property Type
House
---
Accommodates
5
---
Bedrooms
Ptuj, Ptuj, Slovenia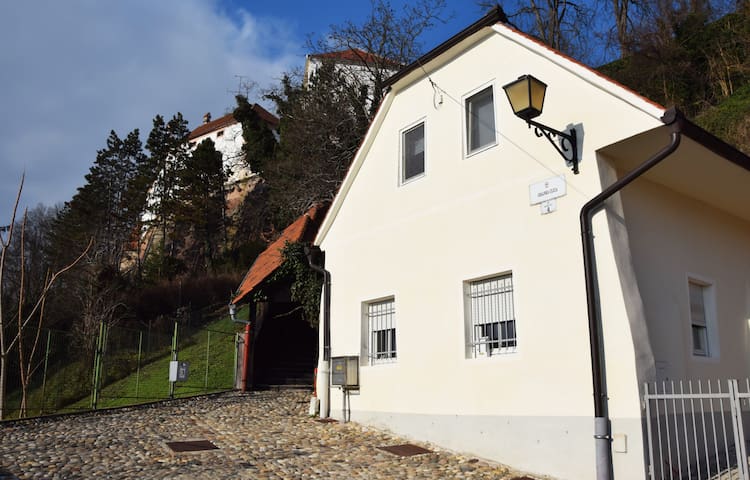 Podhamer is a unique spot on the top of the hill with a 360° breathtaking view of the endless vineyards. Vineyard cottage Podhamer is a great starting point for tourists seeking peace, for pleasure seekers and people with adventurous spirit. You can choose from many sports activities or you can spoil yourself in many ways that we offer. You can also relax in many local spas located in the vicinity: Bioterme Mala Nedelja, Terme Banovci, Terme 3000 Moravske Toplice...
Holiday house (apartment) Podhamer is located directly on the top of the hill and there is the road just to the house - no other vehicles pass the hill... All spaces in the house belonging to guests... the best place for relaxation is a glass terrace where you have free play billiard option or resting in a hammocks with a divine view of the valley. Wine lovers will also come into your own... under the house you will find the small cute wine cellar with the possibility of wine tasting and buying wines.
Holiday House Podhamer iz a great starting point for people wanting tranquility, pleasure seekers and people with restless spirit looking for adventures of different kind. There are many possibilities from walks in the vineyards and forests to cross country biking of all levels of difficulty. You can also relax in many local spas located in the vicinity: Bioterme Mala Nedelja, Terme Banovci, Terme 3000 Moravske Toplice, Terme Lendava and Zdravilišče Radenci. If you don't want to go anywhere, you can enjoy the free billiards. Near holiday house you can explore and find a lot of interests and activities: - RAFTING ON THE RIVER MURA - TENNIS AND SWIMMING - GOLF - HORSE RIDING - HIPPODROME IN LJUTOMER - FISHING - WINDSURFING - BEEKEEPING
Perfect holiday home. The only downside is that you don't want to leave the house to see the surrounding area: the place is just too nice to leave. The view is fantastic, the pool table awesome for long evenings and the winecellar a nice, cool retreat. Sebastian was easy to reach, and everything was perfectly arranged. He gave us a very good tip for a wine tasting close by. There are enough shops and restaurants in the area. Would absolutely visit it again (and hope to do someday)
Margot
2016-08-02T00:00:00Z
Fantastic location, in the middle of the wineyard, nobody arround, wonderfull to walk, fantastic views, great place for relaxing and drinking wine! I can everybody recommend this location.
Stefan
2016-08-20T00:00:00Z
Sebastian met us promptly after we called and told him we were on our way. The home is conveniently located just a few minutes outside of Ljutomer, which has several grocery stores and a few restaurants. As we drove up the hill toward the house, my smile grew wider and wider as the view of the surrounding hillside vineyards just got better and better. The house is in an amazing location with 360 degree long views of the surrounding countryside. I'm pretty sure you can see all the way into Croatia! The home itself was clean and very cozy, with an amply stocked kitchen, TV, stereo system and Wi-Fi. There is a very large "playroom" with amazing views, a couple of hammocks, large sitting area and a pool table. During our initial tour, Sebastian also showed us the private wine cellar which had many bottles of wine available, with the price ranging from 3 to 5 Euros! He also gave us a great recommendation on where to dine that evening and was generally very kind and helpful. When it came time to leave, Sebastian was again very prompt. One word of caution, the steps going up to the bedrooms are narrow and very steep so if you have any physical limitations, this may not be for you. Other than that, it is something that everyone should experience at least once.
Joseph
2015-07-31T00:00:00Z
When I saw the photos of this holiday house in AirBNB I instantly knew we need to stay there. There was of course some fear cause photos are often lying. But not this time. Sebastian's holiday house is even better live than on photos! Amazingly clean, gorgeous all over and ready to spoil their guests. And the wince cellar with tasty wines.. I could go on and on. I could stay there for at least a month and I would still have fun. We were two couples with a one-and-a-half year old child and he was also enjoying the scenery very much. The owner of the house, Sebastian is an amazing guy. We met in the evening in the centre of Ljutomer and we knew at the moment that he is great! We talked about house, Ljutomer, drink spricer... Everytime we met was great. Pure Ljutomer guy. I really recommend this place but watch out, next year in the middle of July is still mine! ;)
Primoz
2014-07-21T00:00:00Z
Dear Sebastian, thank you for the fantastic house! This place is amazing! Gorgeous quiet location, lovely design and comfortable kitchen. We met many friendly people during our stay in Ljutomer! Wine trip with Miso - must! We are in love with Slovenia and Sebastian's great house!
Natalie
2016-08-14T00:00:00Z
We loved staying at Podhamer! Sebastian very kindly transported us from town centre to the property and vice versa which was much appreciated as we were without a vehicle. Communication with Sebastian was excellent in the lead up to our stay and on the one time we contacted him during. The house is a very relaxing place, with excellent heating, entertainment area with pool table. The house also has its only private cellar which was excellent and we loved it! We tried almost every type and they were delicious and very affordable (max 5 Euros). The winery the house is positioned on is absolutely stunning and even more beautiful than the photos do justice. It's an incredibly relaxing and peaceful place and we highly recommend it!
anna
2015-10-11T00:00:00Z
We had a lovely stay here! It is incredibly beautiful, the home is immaculately clean and has everything you need. We only could stay for two nights, but we wish it could have been more. The view is 360 degrees of beauty and so peaceful. There were games, ample supplies in the kitchen and even a pool table. However, the best part is just being still in a hammock at sunset with a drink in hand. Sebastian is a gracious host. Highly recommended.
Marni
2015-08-08T00:00:00Z
比图片上的景色还要美!!很棒的地方
LING
2015-05-31T00:00:00Z
Room Type
Entire home/apt
---
Property Type
House
---
Accommodates
7
---
Bedrooms
Nunska Graba, Ljutomer, Slovenia
The house is located in a beautiful Slovene countryside surrounded by vineyards and nature. It is a perfect opportunity for all of you who want to "get away from the city hustle" and spend some time in nature.
The house is located in a beautiful Slovene countryside surrounded by vineyards and nature. It is a perfect opportunity for all of you who want to "get away from the city hustle" and spend some time in nature. This house is located in a beautiful Slovene countryside surrounded by vineyards and nature. The house was originally built in 1974 but was renovated by my family in 2013. It is a perfect opportunity for all of you who want to "get away from the city hustle" and spend some time in nature. - 70 m2 - A bathroom with shower (towels and hair dryer included) - A corridor - A spacious living room with the access to a terrace - A kitchen with all necessary dinning and cooking equipment + refrigerator - Two big bedrooms - One queen-size bed (blankets and pillows included) - Three single beds (blankets and pillows included) Wifi is available upon request. The house is located near city Ptuj, only 10 kilometers of drive from the Ptuj's city center. Moreover, it is situated on the top of the hill, offering beautiful views to neighboring vineyards and the Slovenske Gorice area. Even though house is in a remote location it is still offer a very easy access as any GPS will help you find a way. I will not be present at the house during your stay, unless you will need me. However, I will accept you at your arrival. Activities: Cycling (bicycles rent available in Ptuj) Walking Swimming (thermal parks) Golf Fishing Skiing in winter 5 minutes car drive to the nearest shop (Jursinci) 10 kilometers car drive to Ptuj 15 kilometers car drive to Thermal Park Ptuj 15 kilometers car drive to Golf Club Ptuj 10 kilometers car drive to Bio Thermal Park Mala Nedelja 10 kilometers car drive to Fishing Club Savci 40 kilometers car drive to Maribor 45 kilometers drive to professional skiing resort Pohorje Maribor
Activities: Cycling (bicycles rent available in Ptuj) Walking Swimming (thermal parks) Golf Fishing Skiing in winter
Our stay in Gradiščak met all expectations. Beautiful neighbourhood with amazing views. Well organized, cosy house with terrace. Very friendly hosts welcomed us on arrival with bottle of regional wine. We had a great time. Highly recommended. Thank you.
Waldemar
2015-09-14T00:00:00Z
Extremely nice house! Very well located literally in the middle of a very peaceful vineyard. A bottle of wine grown on their vineyard was very kindly left for us. I highly recommend this house!
Jonathan
2014-08-15T00:00:00Z
Beautiful countryside of Slovenia. Absolutely loved it! The location is magical, view is fantastic and the house is well equipped. We loved the home made wine! Highly recommended getaway.
Itay
2015-08-26T00:00:00Z
Absolutely lovely house located in a vineyard, very confortable and nicely decorated. Lovely place, very quiet. Klara and her family are lovely people, they come to welcome us and offered a bottle of their own wine. Many brochures and suggestions for visits available in the house. Very well located, close to Ptuj, Maribor, the wine area and with thermal swimming pools around. We'd love to come back !
Karine
2015-08-25T00:00:00Z
A very peaceful country side. Strongly recommend to stay few days there. The owner provides a bottle of wine free of charge, we like the wine and buy second bottle with two euro only.
Yu-long
2015-07-30T00:00:00Z
Klara and her parents were wonderful and very friendly hosts, their place is beautiful situated within the vineyards and offers a lot of opportunities to explore the nearby area (walking, cycling, visiting ptuj...). Absolutely recommended!
Ulli
2015-05-03T00:00:00Z
Such a nice and cozy place! We had such a great time there! The view is amazing! The place is fresh and clean and very comfy! We recommend 100%
Masha
2014-04-17T00:00:00Z
Room Type
Entire home/apt
---
Property Type
House
---
Accommodates
5
---
Bedrooms
Gradiščak, Ptuj, Slovenia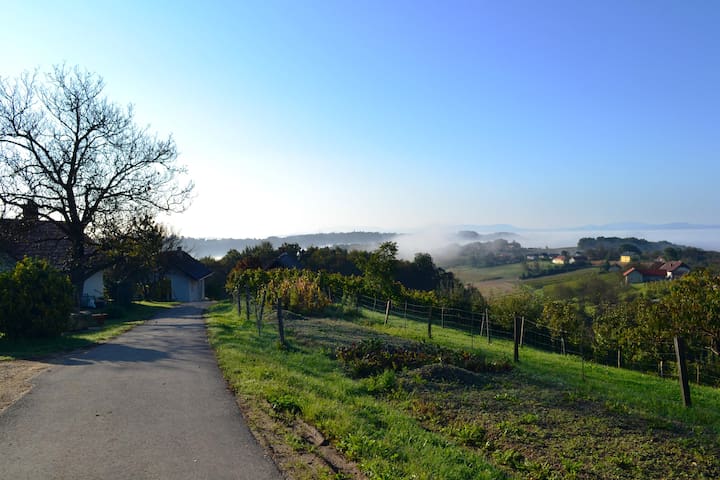 1

–

18

of

77 Home Rentals
Enter dates to see full pricing. Additional fees apply. Taxes may be added.