Queens size bed in master bedroom with private bathroom at Queensbay Area.Room have various views overlooking the Queensbay. Less than 10 minutes walk to beach Queensbay , Eastin Hotel and University Sceince Malaysia. High speed broadband wifi 30Mbps. Easy access to Sungai Nibong bus station 10 min drive to Penang International Airport & Penang SPICE arena.(sport arena indoor stadium) Basic toiletries are provided . i also have bicycle to lend..you can easily cycling to the beach
Room with aircond and shower with heater
Friendly
Simple n basic room. Neat n clean. Car park provided. I made the reservation on that day itself. Fast response. Friendly host.
Ji Hao
2016-06-01T00:00:00Z
Not a bad place to stay
KuNur Diana
2016-12-15T00:00:00Z
The host is very friendly and helpful. We felt joyful for staying there. Next time will stay there again!
Kar Ting
2016-11-07T00:00:00Z
Simple basic room. Very convenient to access food and amnesties. Queensbay Mall is just 10minutes away. Carpark was provided. Ms Foo was kind & accommodating / flexible with key arrangement too. Didn't have much time to chat , but friendly indeed. TQ
Ronnie
2016-04-05T00:00:00Z
Convenient location. Awesome host. Accommodated my extremely last minute booking. (Literally 2 hours before I arrived). Thanks Ms.Foo
Palani
2016-09-25T00:00:00Z
Host was very welcoming. Great value for money!
Valerie
2016-07-25T00:00:00Z
Room as describe , Host are very nice .Queenbay Mall in walking distance.Definately will stay here again. Thank you for fetch me to the airport.
Low
2016-05-04T00:00:00Z
Host was very friendly, helpful and was a very pleasant experience! Pick up from the airport was so convenient! The place was very simple, not flashy but felt very safe and a good sleep. Very convenient from shops and about 10 minutes walk to queensbay mall.
Isabelle
2016-06-26T00:00:00Z
Room Type
Private room
---
Property Type
House
---
Accommodates
2
---
Bedrooms
Bayan Lepas, Penang, Malaysia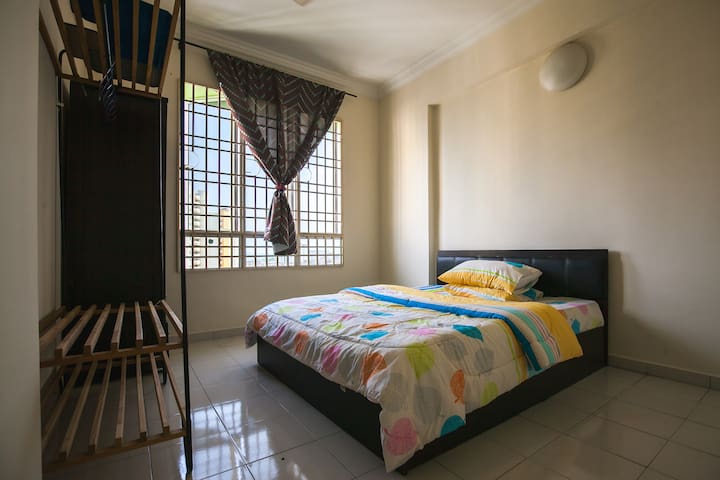 Spacious doubles story house with cozy design. 5 minutes from the Penang International Airport. A minute walk to seaside with a very beautiful view. Suitable for big group (up to 12 guests), family with kids, couple and solo traveler.
nice host and great place to stay. highly recommended.
Hanim
2017-03-20T00:00:00Z
A friendly host, always follow up with us either arriving or staying. A big house with full air con, very tidy and clean. The environment very silent and peace.
Wan Lin
2017-01-31T00:00:00Z
Thanks to Kar Siew for making the stay for my team smooth and comfortable. The house itself is very spacious and well maintained, clean and the service provided by the owner was exceptional. Kar Siew will respond immediately to any circumstances arise and made my team felt welcome. Much appreciated!
Siti
2017-03-26T00:00:00Z
We loved the house as the rooms are spacious and quite clean. Although there is a beach right next to the house, the water is not clear; however, the surroundings overall still made us feel relaxed and clam. If you wish to play with the water, you could walk along the seashore for about 8-10 mins, where the beach is cleaner. You may find the house a bit far from shops, restaurants and other public amenities, nevertheless, it would not be a problem if you are driving a car. Above all this, what made our stay pleasant is the way our host received us. He took the initiative to contact us right after the booking, and then he led the way to his house upon our arrival, which made our check-in experience so great. When he knew that we are Muslims, he even offered to replace all the dinnerware with a new set. In short, our host Kar Siew is very enthusiastic and exceptionally considerate. Thanks a lot for being a great host! We absolutely recommend his place to other travelers who matter experience a lot.
Yue
2017-02-12T00:00:00Z
Room Type
Entire home/apt
---
Property Type
House
---
Accommodates
8
---
Bedrooms
Bayan Lepas, Pulau Pinang, Malaysia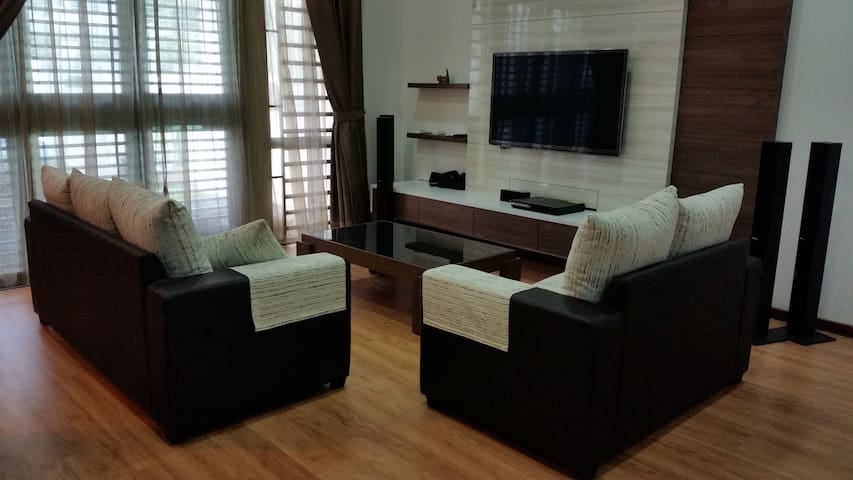 Happy Time vacation home provides a clean, comfortable and spacious place for family stay and gathering, holiday stay, business trip and holding of reception for wedding ceremony. This house lies in between modern living and natural greenery.
This place is good for families with kids an big groups. It is equipped with cooking amenities, fridge, water dispenser, hair dryer and iron. You will love this place because of its location is very near to SPICE Arena, a friendy neighbourhood and landscaped surroundings. Jogging track and playground can be reached from backyard door, allowing guests and children to enjoy lush greenery.
Absolutely accurate to what Aggy wrote in the descriptions. We had a huge year end gathering and so happy that Aggy could accommodate the big bunch. We had our steamboat in the huge living room. The mattress and stuff were hotel grade (we didn't expect that), which is a plus! Everyone had a good night rest even though we played through the night. Awesome place indeed for gatherings of big crowd.
Eric
2017-01-01T00:00:00Z
非常舒適又乾淨的家。 屋主很親切,照顧周到。 非常好!好評!
Michelle
2017-02-01T00:00:00Z
Room Type
Entire home/apt
---
Property Type
House
---
Accommodates
16
---
Bedrooms
Bayan Lepas, Pulau Pinang, Malaysia
This cozy private room is strategically locate 3mins drive from the airport. Our listing is gated-community. This private room is suitable for Solo FEMALE traveler (Solo MALE traveler kindly tell me more about yourself), Couples Travelers & FEMALE Business Traveler. The room has both Air-Conditioning and Ceiling Fan. The room comes with build-in wardrobe and 2 side tables. Free WIFI.
Queen size bed 2 side tables Build in Wardrobe Equip with Air-Conditioning & ceiling fan Pillows & blankets NOTE: Kindly switched off all electricity when you leave the room.
3mins to airport 3mins to 24hrs McD 3mins to Straits International School 5mins to Bayan Lepas Industrial Zone 10mins to SPICE Arena formerly known as PISA 10mins to PISA FoodCourt (plenty of hawker stalls night time only) 10mins to Giant & SunShine Square 15mins to Queensbay Mall
Amazing room and friendly family Highly recommended!
Joelene
2017-02-19T00:00:00Z
Room Type
Private room
---
Property Type
House
---
Accommodates
2
---
Bedrooms
Bayan Lepas, Penang, Malaysia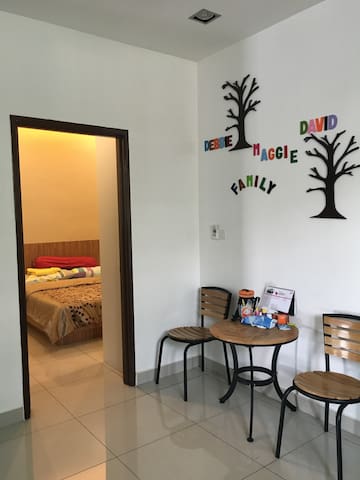 A comfortable environment where you can relax and enjoy your stay. We offer extra large bedrooms; huge living, dining and kitchen areas with flowering garden. Walking trails and gymnastics landscaped park is right at the back of the house.
Beautiful interior space with lots of light and ventilation. Super link house; corner unit with extension. First floor (Guests area) : Master bedroom equipped with 1 king size bed for 2 guests. Bedroom 2 equipped with 2 queen size beds for 4 guests. Bedroom 3 equipped with 1 king size bed for 2 guests. Living area with sofa. One large family bathroom with toilet and hot water shower. Shampoo, washing gel and lotion will be provided. Large balcony. Washing and clothes drying area. Ground floor (common area) : 700 sq. ft. front living areas. 300 sq. ft. dining hall for ten people. 100 sq. ft. TV area. 110 sq. ft. kitchen equipped with freezer and fridge, microwave, Coway water system, induction cooker, slow cooker, rice cooker, stove, toaster, steamer, kitchen utilities and dining set. 200 sq. ft. sitting area with sofa. Bathroom with toilet. You can enjoy your afternoon tea in the flowering garden when the weather is not too hot. A well-maintained park is located at the back of the house. In addition to 24-hour gated and guarded security with patrol services.
A prime residential area housed many professionals. This residential area is a signature development of the top developer - SP Setia in Malaysia. The area is beautifully landscaped with walking trails and outdoor gymnastic equipment.
Very nice and friendly host. Will be back again.
Alexander
2016-08-14T00:00:00Z
I have stayed with Airbnb in 3 countries, including Malaysia, New Zealand and Australia. I have never seen such well set up accommodation at all. The space is as spacious as a luxury hotel, and the quality of the built material is superb. The host is friendly and helpful. If you stay here you will definitely not regret it!!
Lee
2017-02-15T00:00:00Z
My family and I enjoyed our 2 nights stay here. The rooms were spacious and clean. Love the garden and the quiet neighbourhood surrounding eventhough travelling to the city may be a slightly further. Best is the host, ChiewPhaik and Mr Quah are friendly and approachable. Would definitely stay here again.
Susie
2016-12-26T00:00:00Z
Nice experience
christopher
2017-01-01T00:00:00Z
Our host are simply amazing, it was pleasant and perfect. The house is spacious and very comfortable, love the oriental interior furniture. Recommended for business trips or for holidays with family and friends.
Nadia
2017-02-27T00:00:00Z
Mr. Quah went out of his way to make us feel welcome in his home. He not only picked us up from the airport, he gave us a welcoming tour around his home and offered to drive to get us food. He was so kind and provided us with medication after hearing us cough. When we told him that we had some concerns over some of his household decorations, he took care of them right away. The house was spacious with 3 large bedrooms and a beautiful garden. We would have preferred if there were two bathrooms on the same floor instead of one, but it was not a huge concern. Mr. Quah let us in and out of his home as we pleased and he never got in our way, instead he made us feel welcome in his home. When we asked if there was internet connection, he told us that they did not have it. But later in the day he went and got it fixed and the internet worked very well. He really did not have to go out of his way but he did anyway. On our final day, after leaving the home we realized that we had left some items behind. He did not hesitate to check if we had left the items and told us that we could come get it later at our own convenience. Overall, we had a great time at Mr. Quah's home and we are very grateful for his hospitality.
Syahira
2016-08-29T00:00:00Z
I would recommend definitely for a perfect stay,the apartments is extremely clean, well equipped, good situation,very quiet area,no noise at all and close to the (URL HIDDEN) is better than as (URL HIDDEN) was a very special be hosted by chiewphaik and her husband ,thank again for everything.super advices.
fangfang
2016-07-10T00:00:00Z
It was a very comfortable stay. Its more that what we expected. definitely value for the money we paid. Highly rerecorded for those travelling to Penang. The host was very friendly and accommodating.
Nanthini
2016-07-31T00:00:00Z
Room Type
Entire home/apt
---
Property Type
House
---
Accommodates
8
---
Bedrooms
Bayan Lepas, Pulau Pinang, Malaysia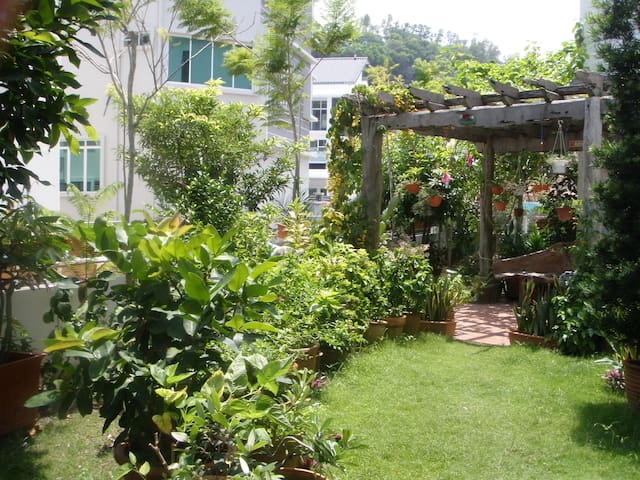 De Bien Penang Homestay: • Fully furnished aircond house with astro, car park, kitchen & amenities • BB, kid & Muslim guests friendly • Clean drinking water (Water Filter & Kettle) • Penang Food Guide given Convenient, Easy Access to any part of Penang via the expressway: • Penang 2nd bridge (3 mins), Airport, SPICE Arena (10 mins) • Georgetown (15-20 mins) • Shopping Mall: Queensbay, Tesco, Giant, Sunshine (8 mins) • Nearby tourist attraction, famous hawker food & seafood
Our guests' drinking water quality is important to us. We have prepare: • Panasonic water filter • Stainless Steel Water Kettle • Ceramic & Glass Water Container • Glass Cup Suitable for: Family, Leisure Vacation, Business Travelers ** For Wedding Accommodation, Gathering, Small Group Team Building & Events, please message us to discuss before booking. Complimentary Amenities : • Entertainment: TV + Full ASTRO Channel, Family Board Game • Hair Dryer • Iron • Laundry: Washing Machine • Water Heater Shower • Shampoo, Body Wash • BABY Amenities : Baby Wash, Baby Bathtub, Avent steamer and blender, Water Flask & Crib (Please request from us) 3 Bedrooms Deluxe : [ Spring Room ] = 1 King Bed [ Summer Room ] = 2 Single Beds [ Winter Room ] = 1 Queen Bed [ Add-on Bed] = 4 x Single Portable Mattress, Sofa Bed (2 pax) * All Beds come with Pillow & Blanket ** All Bedrooms come with Wardrobe & Dressing Table Well-equipped Dry & Wet Kitchenette: ** We have separate kitchen supplies for Halal guests - Panasonic Water Filter - Stainless Steel Water Kettle - Fridge - Microwave - Hood & Hob Cooker - Cooking Utensils
De Bien Penang Homestay is located at the residential area in Bayan Lepas. The neighborhood are with families and suitable for guests who looking for quiet & friendly environment. • 5 mins walking distance to Penang War Museum • 4 mins drive / 10 mins walking distance to Sam Poh Footprint Temple
Fantastic stay over here, every single items and info are well considerate for guests who stay here. Nice design, quality, quiet and cozy. Highly recommended. It is better to possess own vehicle to move around. Easy access to 2nd bridge and airport.
Yap
2016-09-17T00:00:00Z
The host canceled this reservation 3 days before arrival. This is an automated posting.
Husam
2016-09-20T00:00:00Z
A home stay that can accommodate for 10 people. Suitable for family and friends.
sheau yii
2017-01-08T00:00:00Z
Nice & comfortable place,friendly owner
Jordan
2017-02-02T00:00:00Z
Thanks to Amanda and her brother James for this 2 nights stay in Penang. Its a 1st time of Airbnb experience for my family and they really love the house, especially the tv with Astro channels! Haha! And also, the Penang famous foods tour book that well prepared by them is just really useful;) Despite the low wifi connection and the upstair connected toilet water clogged problem (just small matter for us and we did referred to Amanda, she and her brother are really responsible and serious on that) Overall is excellent! Recommend to a group of friends or family who planning to Penang :)
Liz
2016-12-28T00:00:00Z
Good place for families and groups to explore penang, quite area in penang, close to a fancy restoran (Pen Mutiara, walking distance), Nice place to stay for business trip near bayan lepas industrial area.
Syafiq Fauzi Bin Kamarulzaman
2017-03-18T00:00:00Z
Everything in the house are complete & comfortable. Very surprise the amenities are new & high quality. We like it so much & enjoyed the stay. Thanks to friendly hosts James & Amanda for the warm welcome, they recommend us great place for food & visits. Thumbs up!
Amanda Shi
2016-09-15T00:00:00Z
Really thanks for your welcoming us to Penang with your house! Thanks for waiting us till 2am even though we are late due to jam on the way. Very appreciated with that. Your house warmed us in these 2 nights and mattress and other tools is great and good enough for us. And my family is very happy and no any word about complain but praise the Owner Amanda. Thank You. Good day!
Hsioa-Fei
2016-09-11T00:00:00Z
Room Type
Entire home/apt
---
Property Type
House
---
Accommodates
12
---
Bedrooms
Bayan Lepas, Pulau Pinang, Malaysia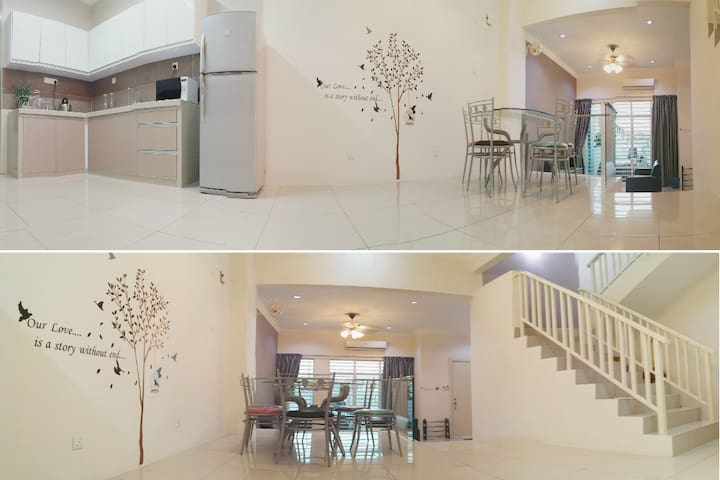 This spacious, family-friendly semi-d has 4 en-suite bedrooms & a large compound! Metropolitan Park is only 5 min walk! Only 15 min to Penang Airport 10 min to Industrial Zone 15 min to Queensbay Mall 25 min to Georgetown
Welcome to Charlie Brown Homestay! Travellers, visitors, family and friends are all welcome to this gorgeous new home in a cooling and lush part of Penang Island! The home is just 5 minutes walk to the second largest public park in Penang island, the Metropolitan Park, with lush green forest reserve around the corner. It is quiet and cooling as the property sits at the bottom of the hill. The Semi-D has 2,000+ sq ft of green compound, suitable for hosting BBQ party and various activities. The house is new. Only completed in 2013, fully furnished with air conditioning in all the rooms, sofa, dining table, TV, kitchen cabinet, fridge, kettle, water heater in every room, etc. Spacious 2 storey Semi-D house with 4 en-suite Bedrooms. Built up: 2,260 sq ft Land area: 4,300 sq ft Location: Located at Relau, within the city of Bayan Lepas, Penang. Easy to access to the Free Trade Zone Industrial park and major tourist sites, such as Pulau Jerejak, Snake Temple, War Museum, fruits farms, GeorgeTown, International convention center. Walking distance to many amenities and public transit. -5 minutes drive to Bukit Jambul Penang Golf Club! -Less than 10 minutes drive to Pantai Mutiara Hospital. Free Trade Zone Industrial Park, seaside, Queensbay Mall, Estin Hotel, Hotel Equatorial, Vistana Hotel, Alora Hotel and petrol station. - Less than 15 minutes drive to Airport and Penang bridge. - 20 minutes drive to GeorgeTown.
With the lush green hills of Paya Terubong surrounding the house, you will find that the house remains fairly cooling and quiet throughout the day. The huge Metropolitan Park is only 5 minutes walk! There's also a 24 hours mini market just 5 minutes walk away should you require anything. Less than 5-10 Minutes drive to 1. Penang International Sports Arena 2. SPICE convention center 3. Queensbay Mall 4. Equatorial Hotel 5. Eastin Hotel 6. D'piazza Mall 7. Penang Free Trade Zone Industrial Park 8. FTZ Industrial Park 9. Penang Airport The house is also 5 minutes drive away from the fantastic PISA Corner food court where you can find all of Penang's best street food offerings under one roof! 15 to 20 minutes drive to Geogetown 20 to 30 minutes drive to Gurney drive
The host canceled this reservation 14 days before arrival. This is an automated posting.
Frances
2016-01-27T00:00:00Z
Highly Recommended for traveller in group of 6-8.
Mohd Hairee
2016-08-30T00:00:00Z
The place is very spacious and clean as shown in the pictures. It is perfect for a large group with own transport. The host is very helpful, my group members had different arrival time and he made arrangement with us so a group of our members could check in earlier. It is a very comfortable stay.
BENG YOONG
2016-11-29T00:00:00Z
Melvin very friendly And helpful. Home very nice and clean . Very enjoy our trip
maggie
2016-09-01T00:00:00Z
There's no place like home ! This is the feeling I get when I step into this house. Very clean and spacious and I hope the next tenants will continue to preserve this clean place coz I would come back to this place for sure ! The spacious bedrooms all with attached clean bathroom is so convenient ! Very strongly recommend for everyone ! Good polite host ! Well done Melvin !
Chang
2017-01-30T00:00:00Z
Host is helpful and the location is strategic, drinking water filter is available and comfort sleeping environment.
Ooi
2017-02-16T00:00:00Z
It's a nice and comfortable place
Jessie
2017-03-26T00:00:00Z
The accommodation is exactly like the pictures. We like the unit very much and felt very comfortable staying here. Strongly recommend for bigger group of friends or families.
Alice
2016-12-05T00:00:00Z
Room Type
Entire home/apt
---
Property Type
House
---
Accommodates
11
---
Bedrooms
Bayan Lepas, Penang, Malaysia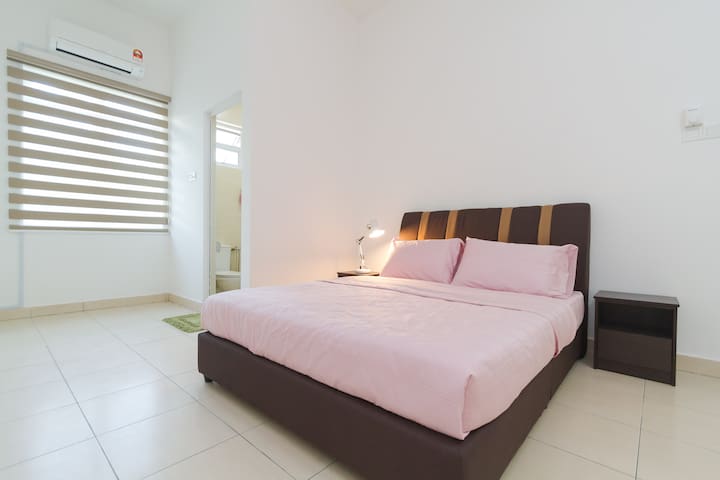 We're a small establishment that provides rooms to rent at a reasonable & affordable price. We strive to make your stay as comfortable as possible. We always provide clean & spacious rooms. We make it our top priority to ensure your happiness.
Very nice place to stay for holiday
Daniel
2017-02-02T00:00:00Z
Everything was just great! Great place, place was exactly the same as shown photos. Highly recommended!
Karen
2017-01-08T00:00:00Z
A very kind person, was in service for us all the time. A clean and beautiful place. will recommend it for sure.
Farah
2016-05-10T00:00:00Z
Overall a great stay! Only towels are provided with basic shampoo. You might want to bring along your facial wash + hair shampoo.
Duncan
2016-11-28T00:00:00Z
A quite neighborhood. House was spacious and clean except the sofa in the living room is with stain. The house is warm during day time if you just on the fans. Host is moderately welcoming as he allowed early check-in if the space is available. You will need a car to get around to George Town if you stay here.
Hoo
2016-03-26T00:00:00Z
Had a pleasant stay here with a group of friends. The house was clean and homely. The host was very friendly, helpful and he even went to the extent of providing newspapers (Chinese and English) for us. Am impressed :) Will be back there again for our next trip to Penang.
Cindy
2016-03-21T00:00:00Z
Clean house, good for family. Will come back again
Saw
2016-12-25T00:00:00Z
The house was exactly what we saw in the pictures. It was nice and feel like at home when staying there. The host was friendly and even extend our check out time. Thanks a lot!!
Ann
2016-05-04T00:00:00Z
Room Type
Entire home/apt
---
Property Type
House
---
Accommodates
10
---
Bedrooms
Bayan Lepas, Pulau Pinang, Malaysia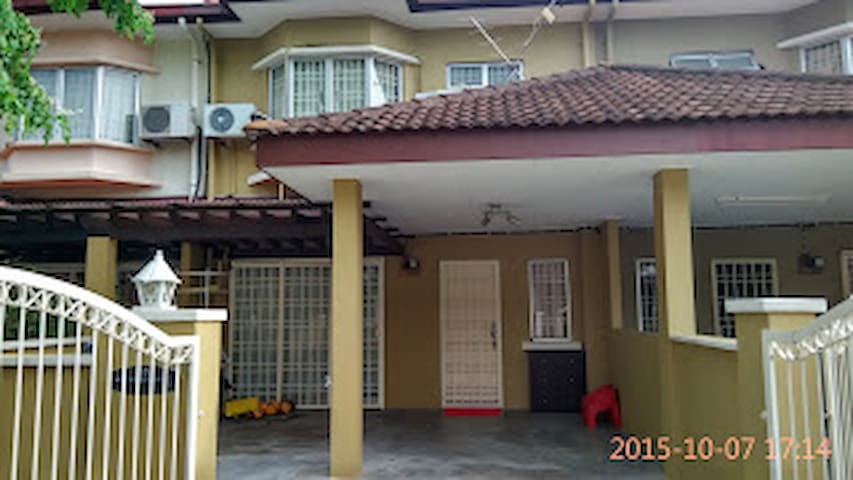 The Moments 相框小築是一間以人文、藝術與自然相結合為概念的民宿。位於檳城 Bayan Lepas,與當地地標 Setia SPICE 相毗鄰,離檳城國際機場約有5分鐘車程,臨近 Queensbay Mall, Sunshine Square, Giant Hypermarket, 24小時 Mc Donald's (有 Drive-tru) 及多家便利商店 (7-eleven, Happy Mart 等)。 我們在一所三層樓房,擁有4間寬敞的臥室、4間浴室、2個客廳、飯廳、廚房、涼衣間,全間冷氣設備,提供免費 WiFi,平板電視與 Astro 頻道。 我們也提供吹風筒、電水壺、電熨斗、浴室拖鞋、浴巾及免費衛浴用品。 在這裡您會發覺我們處處為您設想周全,讓您彷彿置身於自覺般輕鬆自在,給您的路程增添幾分美好的moments。,您一定会爱上我的房源。我的房源适合有小孩的家庭和大型团体。
The Moment is a homestay with the combination of humanity, art and nature. We located at Bayan Lepas, which near to Setia SPICE, about 5 minutes from Penang International Airport, also near to Queensbay Mall, Sunshine Square, Giant Hypermarket, 24 hours McD (with drive-tru) and several mini mart (7-eleven, Happy Mart, etc). We are a 3 story house with 4 spacious bedrooms, 4 bathrooms, 2 living hall, dining area, kitchen and drying area. Th Moments is fully air-conditioned, come with a flat-screen TV with Astro channels. For your comfort, we also provide you with hair dryer, electric kettle, iron, bathroom slippers, bath towels and free toiletries. At here you will always find that we think of you everywhere to make you feel at home and adding some good MOMENTS to your journey. Wish you have a beautiful and unforgettable journey.
Room Type
Entire home/apt
---
Property Type
House
---
Accommodates
15
---
Bedrooms
Bayan Lepas, Pulau Pinang, Malaysia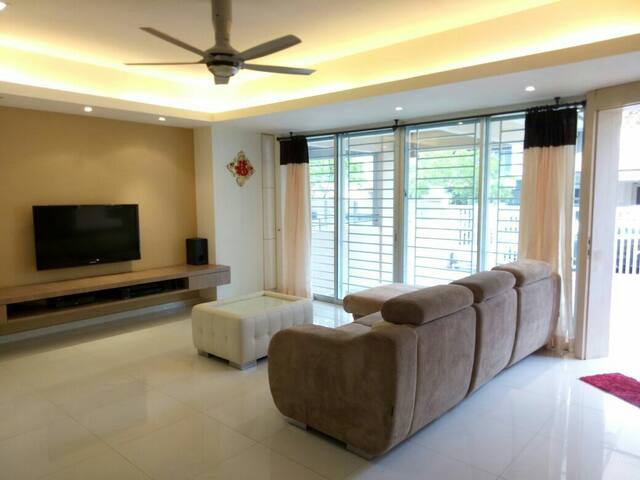 My place is close to the airport, parks, and great views. You'll love my place because of the views, the location, and the outdoors space. My place is good for couples, solo adventurers, business travelers, families (with kids), and big groups.
First of all, reservation was confirmed and paid on the day of booking, but I received a surprise message two weeks before D-Day, asking if I'm still interested to stay? The host didn't check the booking??? That's freaked me out and I thought my reservation was not confirmed! On the day itself, I've requested for RM100 as security deposit that was not stated in T&C. After the argument, the host didn't insist for the security deposit anyhow. When I checked in, I noticed that the shared-bathroom has very low water pressure. I asked my friend to inform her about it, she asked her to use another bathroom instead. When I came down from upstairs, she already gone. Right after that, I immediately noticed the carpet was dirty and the floors have hairs, ants and dirt spots. I text her to see if she has vacuum cleaner, she said it was in the locked store room where I can't access, but she insisted that the floor was clean. After that, I noticed the shared-bathroom's flush was not working. I text her again, and she insisted that it was working in the morning. A group of 17 people just checked out that morning and have no complaints. I was lucky I didn't pay the security deposit, else who knows what will happened with my money? I went out for dinner right after that while she still arguing that the flush was working without actually solving my problem. At the end, she said something that really pissed me off, "we will request you to find another place to stay and refund your money. It is not good to rent a place when the flush not functioning". So she was expecting me to find another place at that late hour ~10pm? My friends decided to call for help from relatives and friends, and we managed to get two places to stay and we have to split up - one in Penang Island, and another one in Parit Buntar. It really spoilt the day. Very irresponsible host. Not solving the guest's problem, but insisting it was all ok. If you want to stay there, good luck to you. Make sure you have friends in Penang to back you up in case you need one, like me.
JOEAN
2016-12-04T00:00:00Z
Floor is dirty and a lot of hair lying on the floor. Toilet not clean.
nik siti rashidah
2016-10-22T00:00:00Z
Room Type
Entire home/apt
---
Property Type
House
---
Accommodates
6
---
Bedrooms
Bayan Lepas, Pulau Pinang, Malaysia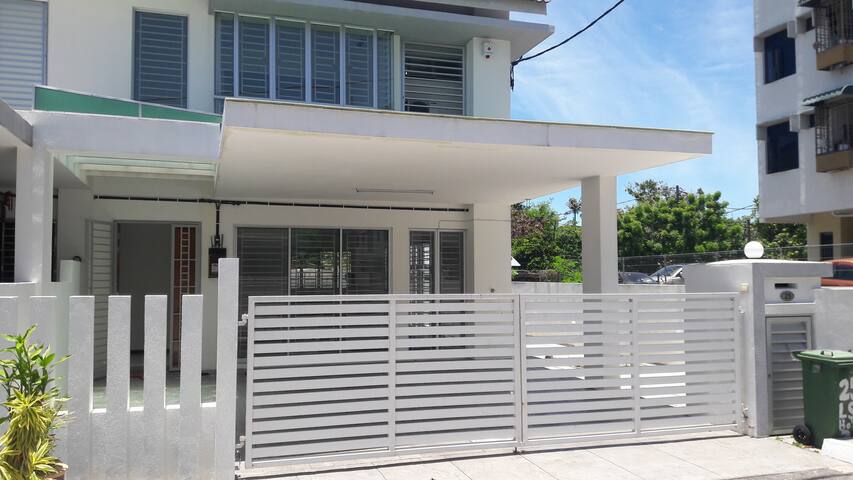 The house is 5 mins walk to the Teluk Bayu seaside overseeing sunset view with casuarina trees & lake nearby. 10 mins drive to Penang airport. Public bus transport is available within 10 mins walk. Quiet, safe and breezy environment for a good rest.
It is double storey corner with big compound. Master room is also available for 2 guests with attached toilet and air con.
You may have the opportunites to interact with local fishing village communities. Have a good view of colourful fishing boats.
The place is clean and Christine is a really nice host. It has been an enjoyable experience.
Deric
2016-12-14T00:00:00Z
Christine was a very nice and helpful host who made me feel at home. The room is spacious and comfortable and the house is located 5 minutes from a beautiful beach. There are some eateries around and a bus stop 10 minutes from the house.
Laia
2017-04-03T00:00:00Z
Christine is very friendly and helpful. she always text and remind us whenever there is any. place is clean and comfortable.
Jenny
2016-11-27T00:00:00Z
Christine is very kind, considerate, and a wonderful host. She took us to buy things we needed and gave us rides. The house is new with all new appliances and furnishings. It is in an excellent location on a quiet street. It is very convenient to everything in the town of Telek Kumbar, including buses to reach other parts of Penang. We really enjoyed our stay there and give high recommendations for both the house and the host.
Eric and Janet
2015-06-10T00:00:00Z
Room Type
Private room
---
Property Type
House
---
Accommodates
2
---
Bedrooms
Bayan Lepas, Pulau Pinang, Malaysia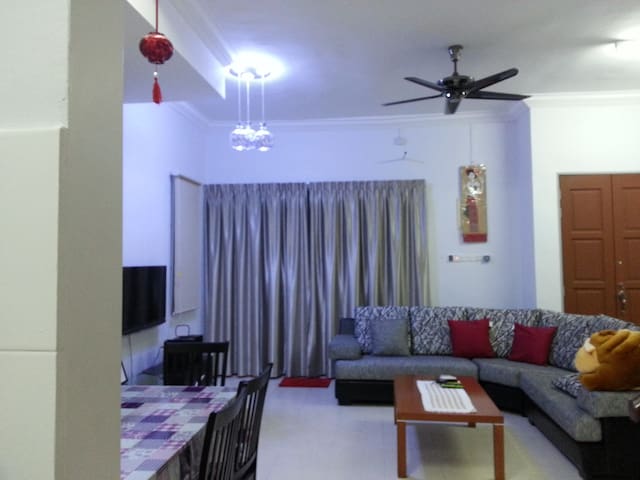 The Joyous Home is tucked in the serene neighborhood in Sungai Ara, Penang. An end lot, spacious, fully furnished and comfortable 2-storey terrace house with ample parking space that make your stay feel being like at Home.
The Joyous Home is an end lot, well ventilated, bright, fully furnished, spacious and well maintained 2-storey terrace house with 2,000 square feet of built-up area. Instead of staying in a hotel / high rise apartment/condominium, some people prefer the idea of spending their holiday in a comfortable landed residential house. With this, we can enjoy the company of a bigger group staying under one roof. ~1st Floor~ - Living Hall - Dining Hall - Dry & Wet Kitchen - Bathroom - 4th Bedroom ~2nd Floor~ - Master bedroom with attached bathroom (with one king size bed & one single bed) - 2nd & 3rd bedroom with attached bathroom (with one single bed each room, extra single bed can be added upon request) - Second living hall
The surrounding neighborhood is the pristine Setia Pearl Island and Ideal Residences. A very serene environment surrounded with greens and hills.
Kevin is kind to offer the flexibility of check in and out time. The house itself is clean and tidy and we were also given bottles of mineral water (essential for the hot weather! :) ). Furniture and house appliances are a bit old but still well functioning. Overall, our stay has been a pleasant one.
Yuki
2015-06-15T00:00:00Z
屋子很宽敞很整洁,设备很齐全,住进去就像回到家一样,什么都有,很方便!只是地方有点偏远,没有自己的交通工具会比较不方便。
Sylvia
2015-05-04T00:00:00Z
Room Type
Entire home/apt
---
Property Type
House
---
Accommodates
5
---
Bedrooms
Bayan Lepas, Penang, Malaysia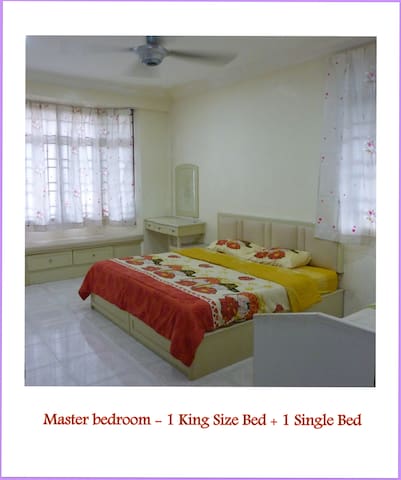 A very clean, spacious and fully furnished double storey landed house located within walking distance to SPICE ARENA, less than 5 mins from Penang Airport . about 25 min to Georgetown.
The house has 4 rooms + 3 bathrooms, and is fully equipped with build-in wardrobe, desk, air-con and fan, washing machine, refrigerator. This will comfortably sleep 12 people . Extra mattress can be provided upon request up to 15 pax (addtional charge apply) . Suitable for big family on vacation, friends gathering or wedding event.
Within walking distance to SPICE ARENA Stadium. Giant supermarket is nearby for grocery shoppoing.
Hi mdm low.. My brothers asked me to give you 5stars for your hospitality..
hananni
2016-03-15T00:00:00Z
The host canceled this reservation 32 days before arrival. This is an automated posting.
Cheah
2015-12-12T00:00:00Z
good experience. the host is very friendly and helpful.
Danez
2016-09-25T00:00:00Z
It was really wonderful experience staying here. The house was need and clean as illustrated in the posting. The host is really friendly. Definitely will stay here again next time. ;)
Siva Balan
2016-01-26T00:00:00Z
Our group really enjoyed the homestay and we had a great time. Low was really helpful and she ensure that we all enjoy our stay. Definitely will recommend Low! :)
Luke
2017-03-26T00:00:00Z
The owner is very helpful in introducing the local places to visit especially food. Also, she is being helpful in granting our request. The environment of the homestay is nice and comfortable.
Kelvin
2016-12-29T00:00:00Z
The owner is very friendly and accommodating towards our stay in the place. She communicated well and is very responsive towards the requests. However, I believe the house could be better improved with regards to cleanliness and maintenance of the house. The house was not as clean during our stay which resulted in some uncomfortable experience and some of the facilities were broken during our stay.
Khadijah
2016-04-26T00:00:00Z
Room Type
Entire home/apt
---
Property Type
House
---
Accommodates
12
---
Bedrooms
Bayan Lepas, Pulau Pinang, Malaysia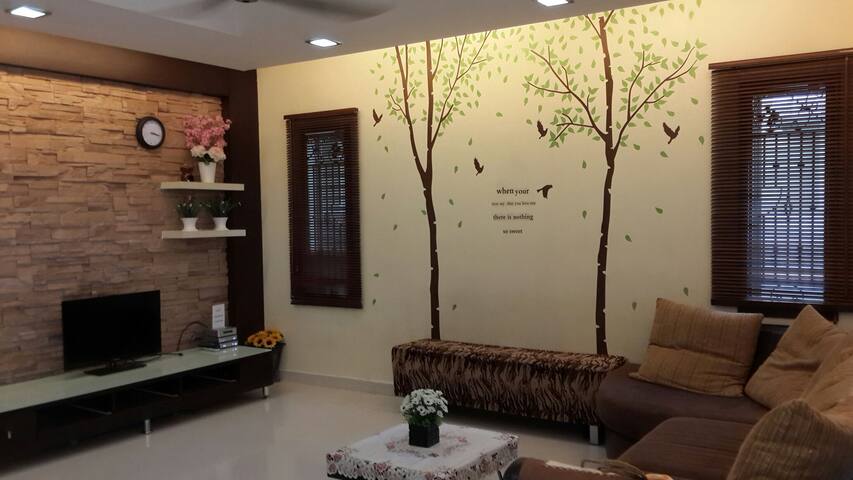 Strategic Location in between Penang International Airport and Georgetown UNESCO Area. 10 Mins to Penang International Airport 5 Mins to Queensbay Mall 15 Mins to Georgetown and Heritage Walk 8 Mins to University Science Malaysia 10 Mins to Pantai Hospital 5 Mins to Penang FTZ Industrial Area 8 Mins to SPICE Arene (PISA) *based on traffic condition
Spacious, tip top cleanliness and great facilities! Great location, 5-10 minutes walk to one of Penang famous Kuey Teow Tng stall and Bus Terminal, 10-15 minutes drive from airport! Host is very friendly, helpful and generous! Check in and check out time very flexible, able to keep in touch at all times in case of any last minute changes! It was a rainy on our second day of stay, Mr. Ooi came over and lend us a few umbrellas just in case we want to have a short walk to nearby eateries for supper. Very tactful of him! Overall stay was very pleasant and enjoyable, highly recommended, money worth the price!
Tifa
2017-03-29T00:00:00Z
Room Type
Private room
---
Property Type
House
---
Accommodates
3
---
Bedrooms
Bayan Lepas, Pulau Pinang, Malaysia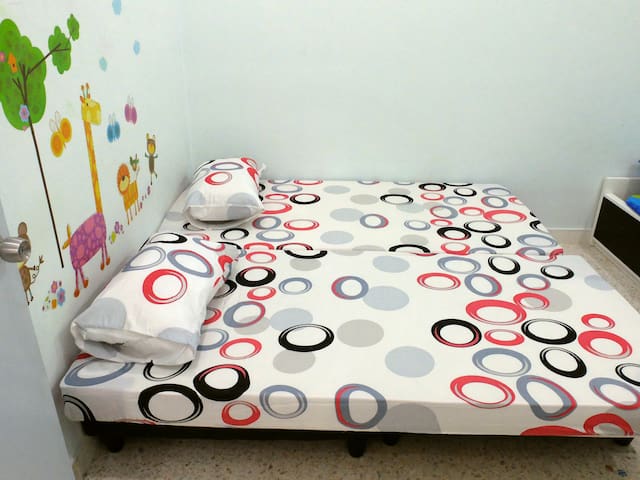 My place is close to restaurants and dining and family-friendly activities. You'll love my place because of the ambiance. My place is good for business travelers, families (with kids), big groups, and furry friends (pets to keep outside). Extra guest is charged at RM30/pax upon the request of preparation of extra mattress, pillow & blanket, one time charges basis and pay upon check-in.
Room Type
Entire home/apt
---
Property Type
House
---
Accommodates
16
---
Bedrooms
Bayan Lepas, Pulau Pinang, Malaysia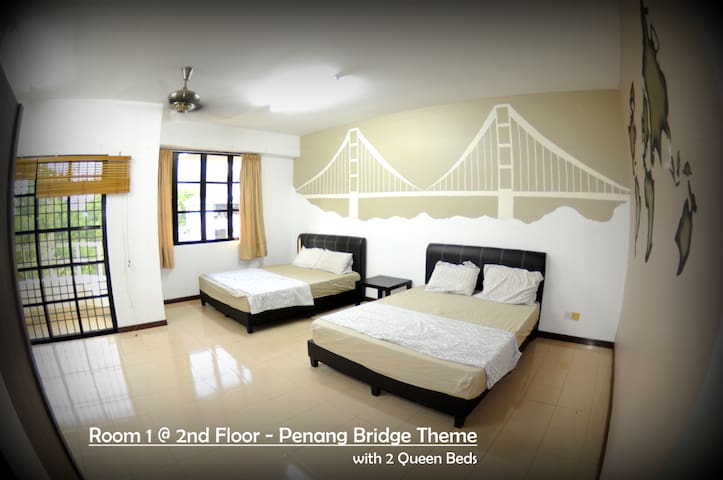 My place provides spacious three stories of accommodation for group outings in the scenic Teluk Kumbar beach area surrounded by renowned seafood eateries by the beach. My place is centrally located : 1) within 25 minutes drive to Georgetown 2) 10 minutes drive from Penang airport 3) 15 minutes drive from the second Penang bridge 4) 30 minutes drive to Batu Ferringi via the scenic Balik Pulau route.
1) 3 storey semi-detached house 2) 6 bedrooms, 4 bathrooms 3) Equipped kitchen for cooking and serving meals
1) 10 minutes drive to scenic Balik Pulau durian orchards, forest reserve, Klawang waterfall and reservoir dam. 2) 5 minutes drive to the Teluk Kumbar secluded beach, seafood paradise and fishing village. 3) Near to forest reserve with natural settings.
nil
Jaisheila
2017-04-02T00:00:00Z
Room Type
Entire home/apt
---
Property Type
House
---
Accommodates
12
---
Bedrooms
Bayan Lepas, Pulau Pinang, Malaysia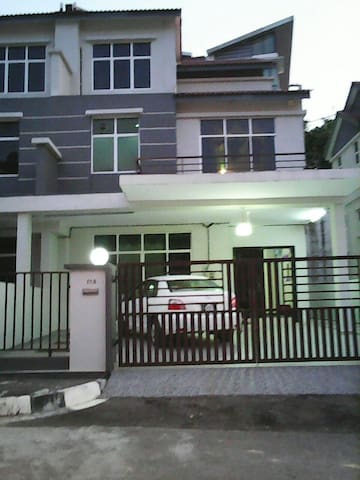 A 3-storey house with a living room, kitchen, garden area. Fully furnished including refrigerator, plates and cutlery. All 5 Bedrooms with fans and air-condition. The house can accommodate 20 people, we provide bedding for 5 rooms for up to 10 pax, no party is allowed but we allow cooking in kitchen. Very suitable for wedding reception, family stay, gatherings, school holiday trips.
There are a lot of carpark in front as we are in a new developed area
Appreciate Jeffrey quick response on our request even we give short notice for the check out time. The house is big with nice deco. Ample of parking and able to accomdate lots of people. We are satisfied.
Natalie
2016-06-27T00:00:00Z
it was a great stay, the house and rooms are very nice and clean. check in was smooth and owner was friendly enough to let us checkin early. really happy to get such a big house with the rate of a hotel room and five star service. thank you for the great stay! will come back again next time!
Teh
2016-05-26T00:00:00Z
It was a good stay and the arrangement was flexible for us to arrange our trip for check in and check out.
Lim
2016-05-11T00:00:00Z
Jeffrey and Shi Hao is very helpful and attentive.
Sherone
2016-11-19T00:00:00Z
Excellent host and excellent communicator. Goes out of his way to make the home ready for my big group. I believe communication is important to make the holiday good and my host is an excellent communicator
Edward
2016-10-02T00:00:00Z
The place was easy to find.. no issues. Few points listed below.
Josephine Monica
2016-08-29T00:00:00Z
Check in smoothly as the host have called up for several times for DOUBLE & TRIPLE confirm for our arrival time. A very spacious & comfortable place for a group of friends or a big family to stay.
Chin Leong
2016-09-19T00:00:00Z
The place is really spacious, can accommodate up to 16ppl
Yi
2017-03-26T00:00:00Z
Room Type
Entire home/apt
---
Property Type
House
---
Accommodates
16
---
Bedrooms
Bayan Lepas, Pulau Pinang, Malaysia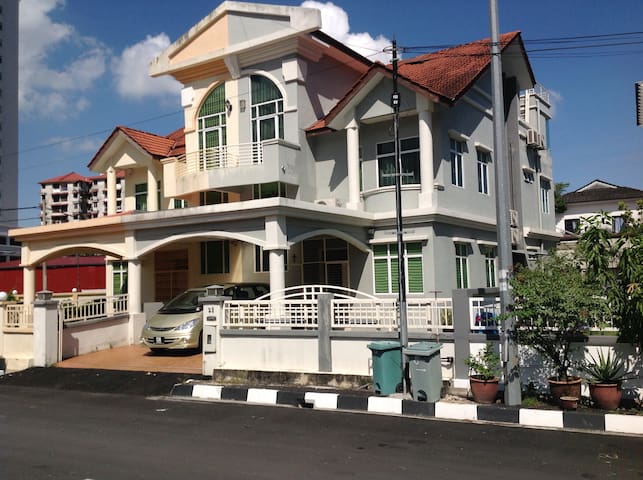 Double storey terrace with outdoor pool, cooking area, gym and also playground. It's gated house and the security guards going around to make sure the area's safety.
It's a quiet residential areas. As long as you dont disturb the neighborhood, anything is fine.
Room Type
Entire home/apt
---
Property Type
House
---
Accommodates
8
---
Bedrooms
Bayan Lepas, Penang, Malaysia

Bayan Lepas - Airbnb
:
Average

4.32

out of

5

stars from

153

guest reviews
1

–

18

of

300+ Home Rentals
Enter dates to see full pricing. Additional fees apply. Taxes may be added.