Enter your check in date in the format dd-mm-yyyy
Enter your check out date in the format dd-mm-yyyy
Listings you can book without waiting for host approval.
Enter dates to see full pricing. Additional fees apply. Taxes may be added.
This July and August, you can try one of these 100 highly-rated homes, at all price points, and experience a local's view of Sonoma. 24-hour check-in, Instant Book, and local wine and snacks let you just sit back and enjoy your trip.
La vivienda está totalmente amueblada y equipada con piscina cubierta o abierta en uso desde mayo a noviembre .Una decoración muy acogedora y con calidades de lujo como suelo de parquet y ventanas de doble rotura puente térmico. 2 dormitorios con camas de 1.80 de ancho y colchones visco elásticos para la mayor comodidad. Tipo bodega, 2 baños completos, salón con chimenea , cocina americana (totalmente equipada, con horno, vitrocerámica, lavavajillas, microondas, nevera etc,
ES UNA VILLA QUE ESTA DIVIDIDA EN DOS CASAS , PLANTA BAJA Y ALTA TIPO DUPLEX , PISCINA CLIMATIZADA O NATURAL ( SOLO ESTA DISPONIBLE DESDE MARZO A NOVIEMBRE . La casa tipo bodega es muy acogedora y única , con paredesde ladrillo viejo , suelos de tarima flotante , ventanas con aislamiento , chimenea cerrada para calefación , muy acogedora y equipada , tiene su entrada privada y tambien despone de terraza privada , aparcamiento cubierto , internet y muchos mas detalles . Situado en la falda del Parque natural de Cazorla ( JAEN ) ubicada a 4 kilometros de Pozo Alcón , un típico pueblo Andaluz , en el pueblo tiene todos los servicios , como restaurantes con las típicas tapas y comida. Es compartida la piscina , todo lo demás es privado. Preciosa casa en la zona sur de parque natural de Cazorla, situada en la planta baja de la Villa , camas de 2*2 , baños completos , tv plasma , piscina privada , aparcamientos etc. MUY EXCLUSIVO Y PRIVADO, TRANQUILO EN UN ENTORNO PRECIOSO DE MONTAÑA Piscina , jardines , terrazas COMPARTIDAS . estaré en la villa para cualquier cosa que necesiten o ayudarles la villa está situada en la falda de la sierra , donde hay restaurantes cercanos , y todo lo que ofrece un entorno de montaña con coche la villa está situada a 4 kilometros de Pozo Alcón , donde se come muy muy bien , hay rutas para senderismo , deportes de aventura , zonas de baño , pesca intensiva EN LOS ALREDEDORES HAY ACTIVIDADES DE DEPORTES DE AVENTURA , PESCA , CAZA , ZONAS DE BAÑO , RÍOS , SENDEROS PARA CAMINAR , RESTAURANTES , BARES DE TAPAS , FARMACIAS , SUPERMERCADOS , CENTRO SALUD ETC HAY UN TELÉFONO DE CONTACTO PARA EL CLIENTE .
ESTA EN LA ZONA SUR DE LA SIERRA DE CAZORLA , CON VISTAS PRECIOSAS DE LA SIERRA . SE NECESITA VEHÍCULO PARA TRASLADARSE El cliente dejará un deposito de seguridad y se devolverá a la salida . No se permiten ruidos o alterar el orden , no se permiten fiestas que alteren Esperamos clientes en familia o amigos que quieran disfrutar de la casa y de su entorno .
Lugar privilegiado y casa muy bonita, aunque deficientemente equipada en cosas básicas tales como papel higiénico, sal, azúcar u aceite en comparación con otras casas rurales. En época fría cuesta calentarla y cuando pusimos los calefactores, salto la luz en más de una ocasión porque la potencia contratada no da para ello y el cuadro de la luz no está en la parte alquilada de la casa. La casera nos solucionó los problemas aunque constantemente nos hacía sentir como si nos estuviera haciendo un favor. La piscina es grande, aunque climatizada como tal, no lo es. Es cubierta. Buena para verano. Objetar que para la personas altas el techo va justito. Aunque así te puedes sentir más acogedor. La decoración de la casa es fantástica. Tiene chimenea, pero no pudimos usarla porque el humo entraba a la sala. Además, el montón de leña suministrado era escaso para el precio. Aunque para la primera dos horas nos lo regaló. Todo quede dicho. Quizás la casa sea más recomendable para la estación de verano.
Rocio
April 2016
Room type
Entire home/apt
---
Property type
---
Accommodates
8
---
Bedrooms
3
Pozo Alcón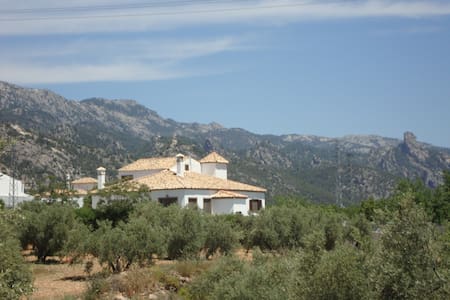 Situado en la sierra de Cazorla, Pozo Alcon, donde podran visitar: Embalse de la Bolera, con zonas de baño a la naturaleza Sierra de Cazorla, Segura y Las Villas Cerca de Ubeda y Baeza Casa Privada Diferentes actividades en el Parque Natural, Barranquismo, Canoa, rutas a Bicicleta, senderismo, etc. Cerca del Pueblo para cualquier recurso
Room type
Entire home/apt
---
Property type
---
Accommodates
9
---
Bedrooms
4
Pozo Alcón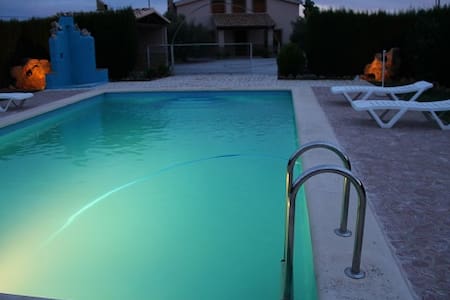 Region of outstanding beauty. This old Cortijo has been converted into a spacious villa, with 360* panoramic views of the Andalucian mountains. The property has 2200 m2 of beautifully kept gardens. With a terrace and a piscina. Converted yoga studi
Located on a raised plateau, exquisite 360* panoramic views of the surrounding Andalucian mountains. The space feels vast, tranquil and a sense of freedom under the night stars. The piscina and the sunshine adds a sense of Mediterranean luxury. Newly converted Yoga studio There are two airport options, Almeria or Murcia San Javier. Almeria is one hour drive and a hire car can be attained at the airport. Alternatively for £200 a week a 4x4 can be dropped at Murcia which is an hour and forty minutes from the airport. SatNav on phone app is essential or good map reading skills for the more adventurous type. (Make sure you fill up petrol at San Javier). Meet and greet Grounds man on hand
Gabo de Gata (Natural Park and beachfront 40 mins drive) Andalucian Mountains 30 mins drive. Lake Negratin thermal swimming pool 1 hour drive. 5 mins drive into Albox the hotel Parilla does a 10 euro 3 course meal. Albox is a beautiful old town with supermarkets and a local market on a tuesday, full of bars for tapas and beautiful old churches and plazas. For nightlife, Mojacar is an 1 hour away. Car essential. Parking on Villa property. Due to high demand during peak season the rates are higher , please ask before booking. During the out of season months, mid october to the 1st of May I can do a reduced price (please contact) In the summer months there are 2 double rooms with double beds and a double room with two single beds. So sleeps 6 . Aircon not included in the price so to be used only when necessary
Great place with beautiful views and perfect location! We loved our stay here. Gabriel is easy to communicate with and is eager to make you feel welcome. The place looks just like the pics. The place could have used a little cleanup, there was a lot of dog hairs. That being said, we would definitely go back for another stay
Thor
July 2016
Really enjoyed our stay at this lovely home, it was everything we expected from info and pictures we had seen. Ezra was very welcoming and helpful throughout our stay. Albox was only a ten minute drive away with shopping, bars and lots of places to eat out. We would love to stay there again some time.
Jean
September 2016
We had a truly great time here. Gabriel was discrete and always a valuable to help us. The home is well kept and had great wifi. Albox is 5 mins away woth great food and stuff to see. Defiantly recommend Gabriel and his home to anyone. Such a good experience.
Ashley
July 2016
Amazing views in the middle of a desert-like landscape, a nice pool to cool down in a hot climate and more space than we could have ever used + a great host. Gabriel was always there, if we had any issues or questions. Would definetly recommend and book again
Kamil
August 2016
My friends and I loved staying at Gabriel's villa. It is a perfect place for people to relax and wnjoy the peace, quiet and amazing landscapes of Almeria. The house is massive, really spacious and it does look like the pictures. Host was really flexible and accommodating. Albox is the closest town and just 10 mins away by car. The pool is amazing and Clean. Suitable for families and people who want to relax and live like a local. Great value for money. Este lugar es perfecto para quien quiere relajarse y disfrutar de los lindos paisajes de Almeria. La casa es exactamente como en las foto. Hay mucho espacio y Gabriel fue muy amable y flexible. En 10 minutos puedes llegar al pueblo de Albox, donde hay tiendas, supermercados y restaurantes. Muy bueno para familia y gente que quiere relajarse.
Arianna
July 2016
Nous avons passés un excellent séjour dans cette villa. C est un endroit idéal pour se reposer, la piscine, le coucher du soleil... Gabriel est un super hôte, C est une personne discrète mais qui est disponible dès que vous avez besoin de quelque chose. La ville la plus proche est à 5min, où vous y trouverez plusieurs magasins mercadona, Lidl, Aldi.. La plage est à 40minutes de la villa. Nous recommandons cette villa !
Anissa & Souhael
July 2016
La casa de Gabriel es un gran valor. Una piscina privada genial!! Se disfruta mucho. Es muy tranquila ya que no te molesta nadie y puedes estar a tu aire. Optima para familias, amigos y parejas que quieran descansar y diafrutar de esta zona de Almeria. De laplaya está a una hora, pero bo se echade menos, ya que el calor y el agua( de la piscina muy limpia) esta garantizada. Gabriel ha sido muy atento y diapuesto a ayudar en todo,, asi como diacreto en su presencia( vive al lado pero a su aire, asi que le puedes consultar cualquier cosa) . 100% recomendable. Todo como en el anuncio
Lorenzo
August 2016
Casa muy tranquila,muy bien equipada. Nos trataron con mucha simpatia y en todo momento se ofrecen ayudarnos en todo. muy contento con esta casa y el lugar, recomiendo 100%
Raul
October 2016
Room type
Entire home/apt
---
Property type
---
Accommodates
8
---
Bedrooms
4
04810 Partaloa, Almeria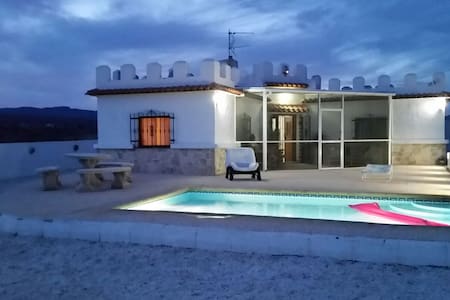 An eco-friendly and fully off-grid farmhouse nestled within the impressive Sierra de los Filabres mountains. There are 2 double bedrooms, a fully equipped kitchen, a living room with fireplace, BBQ, 1 acre garden set in 26 acres of almonds and olive trees. Whether you are a photographer or painter, a sunbather or stargazer, a stroller or sightseer, here at Cortijo Rincon de la Alcudia we cater for your every need. A great place to enjoy the outstanding nature of Southern Spain.
Situated in authentic rural Spain in the Sierra de los Filabres mountains away from the hustle and bustle, the farmhouse is located 200m along an unsurfaced road in a very quiet and peaceful corner of Almeria. The house has 2 separate bedrooms that comfortably sleep four people. The bed linen, towels, kitchen towel, dish detergent, shampoo and shower gel are all provided. The kitchen is fully equipped with fridge freezer and a gas oven with 4 burners to prepare meals as well as Italian coffee maker, tea, coffee, sugar, olive oil, vinegar, salt and some herbs and spices. Just off the kitchen is a large dining room. The house is perfect for relaxing and peace and quiet, there is a TV and wireless internet and a selection of books and games are provided. As it is powered with solar energy, there is no microwave oven, dishwasher or washing machine. The living room is equiped with a wood burning heater and a fireplace. A bucket of wood and a pack of fire tablets are provided upon arrival (winter time only). Outside is a BBQ and a comfortable seating area to enjoy meals or drinks relaxing in the sun or under the stars. There is also a 6x4 metre swimming pool to cool down on those hot days and sun loungers for relaxing. The guests have private access to the house and the surrounding area without any restrictions. As much or as little as you would like.
The house is located midway between the pretty whitewashed villages of Alcudia de Monteagud and Tahal, where you will find local shops, pharmacy and authentic Spanish wine bars and restaurants. The ideal choice for those wanting to experience life in rural Spain. 25 minutes away is Oasys Mini Hollywood and Zoo, Fort Bravo and Western Leone which are all themed around the movies made in the area. 40 minutes or so away are the Caves of Sorbas with guided tours for 3 different levels of fitness, taking from one and a half to four and a half hours duration. A car is recommended to visit this area as public transport is limited. However we can provide a pick up and drop off service for a small charge (if required). Hiking is very popular in this area with many routes to choose from. Hiking maps are available upon request.
Room type
Entire home/apt
---
Property type
---
Accommodates
4
---
Bedrooms
2
Alcudia de Monteagud
If you are looking for a relaxing break, away from the hussle and bussle of a big town, this would be ideal for you. This villa is situated in a small, typically Spanish village high in the mountains. You will be surrounded by stunning mountain valley views and the vast fields of almond trees. There are numerous bars in which to eat and drink all at local (not tourist) prices, three supermarkets (all reasonable priced), butchers and banks, all within walking distance.
Room type
Entire home/apt
---
Property type
---
Accommodates
6
---
Bedrooms
3
Oria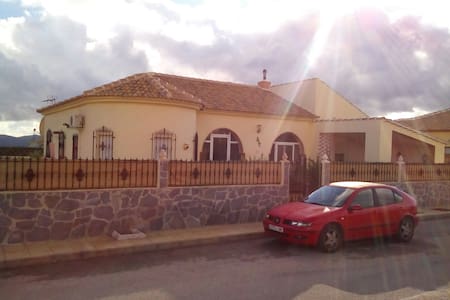 Our beautifully furnished villa sits quietly on a Spanish country lane surrounded by orange groves and mountain views - with own pool - very private and secure with marbled driveway and terrace- nestled amongst its own palms. Idyllic setting and short walk to the traditional Spanish village of Cantoria. A Joy to Stay
Set in own grounds with marbled driveway and gated access with parking Fully air conditioned Wifi - 12m pool- bbq's gas and coal - 10x sunbeds - As required
Stunning mountains views Nestled down a quiet country lane Short walking distance to village Palms and flowers cacti species around the villa Car hire from airport Collection can he arranged local taxi services available Books and games and DVDs Beach and bath towels supplied Fresh bed linen Shopping service provided
Room type
Entire home/apt
---
Property type
---
Accommodates
10
---
Bedrooms
5
Almeria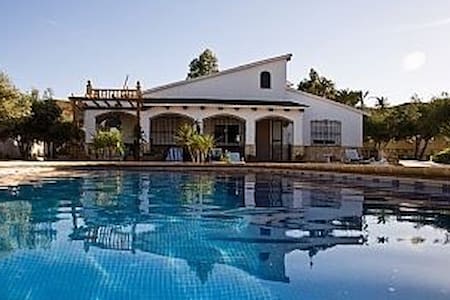 Aux pieds des montagnes et 30 minutes des belles plages, la villa Jazmines vous permet de profiter de l'Espagne rurale dans une confortable villa avec piscine privée et toutes les commodités à proximité.
La Villa Jazmines est équipée du Wifi, de la climatisation avec réglage individuel dans le salon et chaque chambre, de moustiquaires sur toutes les fenêtres et d'une alarme de sécurité. La villa dispose d'un grand salon/salle à manger avec porte-fenêtre donnant sur la terrasse arrière. Chaise haute enfant et set bébé à disposition. La cuisine dispose de toutes les commodités nécessaires (lave-vaisselle, machine à laver, micro-ondes, machine à café, grille-pain, ...). La chambre parentale, avec sa porte-fenêtre donnant sur la terrasse avant, possède un lit double et une salle de bain avec une douche et une baignoire. La deuxième chambre dispose d'un lit double et la troisième chambre possède un lit double rétractable et un lit simple (Sèche-cheveux, chevalier, …) À l'extérieur, la villa est entourée de 3 terrasses. Un petit jardin avec des arbres fruitiers et herbes aromatiques (figuiers, orangers, citronnier, mandarinier, vignes, basilique, romarin, …). La configuration vous permet de profiter de l'ombre ou du soleil à votre guise. La terrasse avant est munie d'une grande table, 6 chaises et d'un grand parasol. La terrasse arrière vous accueille avec sa petite table ronde et ses 4 chaises. Assez d'espace pour que chacun trouve son repos. Un B.B.Q. est également à votre disposition. Il y a également une « Casita » et son solarium (toit terrasse) avec une vue exceptionnelle sur la vallée et les montagnes. Profitez de la piscine de 8x4m, spacieuse piscine avec un escalier romain, parasols et transats à disposition. La piscine est séparée de la maison par un portail (protection pour enfants). La villa est facilement accessible de l'autoroute et proche des trois aéroports: Almeria (60 min), Murcie (90 minutes) et Alicante (120 minutes).
La villa Jazmines vous permet de profiter de l'Espagne rurale dans une confortable villa avec piscine privée et toutes les commodités à proximité. Albox est la plus grande ville dans la région et est à environ 10 minutes en voiture. Bars, cafés, Bowling, boutiques, restaurants, pharmacies, centre médical, banques et supermarchés. Tous les mardis et samedis, il y a un marché. Arboleas est à 15 minutes en voiture et dispose d'un supermarché, des bars, pharmacie, bureau de poste, un bowling de dix broches et un marché de rue tous les samedis. Huércal-Overa est à 20 minutes en voiture. Elle possède son lot d'infrastructures (bars, restaurants, hôpital, boutiques, pharmacies, banques, supermarché, marché hebdomadaire, …) À seulement 30 minutes en voiture des belles plages de Mojacar, Vera, Garrucha et Villaricos. Mojacar Pueblo, la vieille ville avec vue sur Mojacar Playa, est un emplacement "must see" avec une vue imprenable, cafés, restaurants et beaucoup de boutiques de cadeaux. Vous trouverez des parcs aquatiques, plusieurs Golf dans la région et le parc d'attractions de Holywood Mini se trouvent à proximité. Bien que la villa ne soit pas isolée, une voiture est indispensable et nécessaire pour explorer la région. La villa possède son parking privé.
Le logement est identique au photo et au description faite par Mireille. C'est un endroit au calme avec de très belles vues. Christelle et David sont des personnes très sympathique et restent disponible tout le long du séjour. Nous avons passés de très bonne vacance et nous recommandons fortement ce logement.
Lucie
September 2016
Pour un séjour de 2 semaines. La villa est parfaitement adaptée à une famille avec enfants, tout est fait pour nous mettre à l'aise et nous faire sentir chez soi, la piscine est magnifique et très bien exposée. Équipement complet et hôte très disponible. David et Christelle sur place sont également super: Entretien piscine, changement draps, serviettes... Endroit permettant de se dépayser complètement et de se reposer. Population très accueillante. Villa parfaite si vous êtes véhiculés.
Fatima
August 2016
La maison correspond parfaitement aux photos - tout est propre, tout fonctionne et la piscine est très agréable. Mireille s'est montrée très disponible tout au long du séjour. Tout s'est donc très bien passé! A noter seulement que la plage n'est pas à côté mais la piscine compense - tout dépend ce qu'on recherche. Le village est très calme et le paysage magnifique.
Sarah
September 2016
Super hôte, bonne communication, bien organisée et très à l'écoute. La villa correspond parfaitement à la description sur Airbnb. Les personnes qui cherchent le calme, la nature et l'air frais des montagnes de l' Andalousie ne seront pas déçues. Seul petit point mais bien renseigné dans l'annonce c'est l'importance de la voiture pour sortir et aller s'approvisionner à la petite ville la plus proche (Albox).
Salah
August 2016
Room type
Entire home/apt
---
Property type
---
Accommodates
6
---
Bedrooms
3
Arboleas
Beautiful romantic villa completely enclosed, super quiet location in a typical Spanish village of Partaloa. The villa is equipped for 10 persons and has 3 bedrooms and 3bathrooms and a guest house with 4 beds and a bathroom. There is a pool house and a beautiful swimming pool of 8mx4m with a tiled terrace with luxury garden furniture. My room is suitable for couples, families (with children), large groups and furry friends (pets).
The fenced plot is 2.600m² and the garden is beautifully landscaped with local plants and fruit trees. Through the covered terrace (overlooking the pool) you enter a spacious living room with dining area and lounge. In addition to the dining room is a kitchen and there is also a door towards the terrace. Here you can enjoy a delicious meal with wonderful views of the region. The kitchen is equipped with every comfort (oven, dishwasher, microwave, ...). All rooms, the guest house and the living room have air conditioning / heating as well as radiators. There are 3 TVs, DVD player, video, cable TV (TV Flanders), stereo ... All bedrooms have king size beds. 3 bedrooms have their own ensuite bathroom and the 4th bedroom has a separate bathroom. All windows are double glazed windows, shutters and mosquito windows. From the terrace in front of the villa you have stunning views of the mountains and pool. Beside the pool is a summer cottage of 18m² and there is an outdoor kitchen with BBQ. Loungers, cushions and other garden furniture so you can enjoy the whole day of Blessed Spanish termperatures. The villa is situated at the end of dead end street with very few neighbors and within walking distance of the village of Partaloa. Here is everything you need for everyday life, such as a bakery, supermarket, doctor, pharmacy, public swimming pool, tennis and sports and also some bars where you can eat or drink. The town of Albox is about a 10 min drive and there are all kinds of shops and supermarkets. The coast is about a 30 min drive and there are also quite charming villages and km long sandy beaches present. Everything for a luxurious holiday in style! Casa Colina offers a cozy vacation hideaway to relax and enjoy family, sun, sea, nature, culture, privacy and the real Spain. In short, the ideal holiday
Room type
Entire home/apt
---
Property type
---
Accommodates
10
---
Bedrooms
4
Albox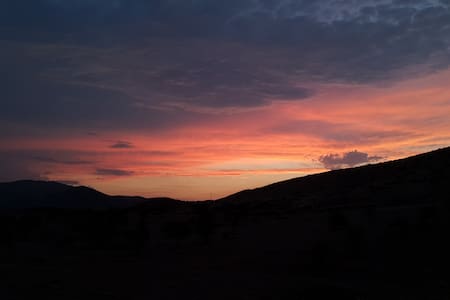 You'll love my place because of The peace and quiet. Just watching the light on the mountains makes them look different every day or hour. Very relaxing. Or you can go hiking or cycling if you bring your own bike. Small Spanish town. Has a street market on a Satuday. Few bars and restaurants locally. You would need a car to come here.
Room type
Private room
---
Property type
---
Accommodates
4
---
Bedrooms
1
Almería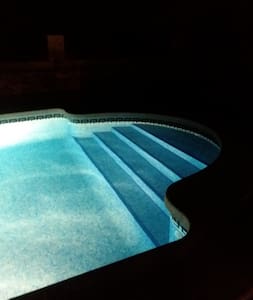 An Oasis set in the only european desert - experience the most hours of sun in all of Europe. 15 minutes to Tabernas village, It is a very short drive to the Oasis mini Hollywood park, walk in the footsteps of many a famous actors, watch the wild west reenactments. 5 minutes from the famous Circuito de Almeria, plenty of walks and western riding available within short drive, close to picturesque village of Sorbas with its famous cuaves de Sorbas (caves of Sorbas)
Room type
Entire home/apt
---
Property type
---
Accommodates
6
---
Bedrooms
3
Tabernas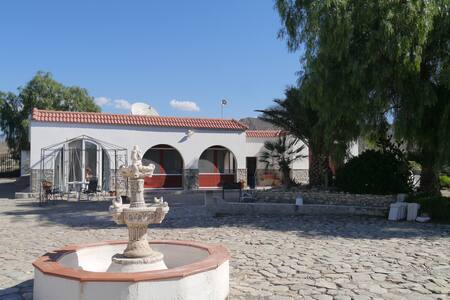 1

–

15

of

15 Villa Rentals