Beautiful detached house, close to centre Amsterdam! A very special and beautiful detached house from the 30s, with a large and sunny garden. The house is located in a part of Amsterdam that used to be a small village and was added to Amsterdam in the 60s. Cycling distance to downtown is 7 minutes (12 minutes with small Ferry after that). Staying in our house is ideal for those looking for a quiet stay and want to explore the Dutch capital.
The host canceled this reservation 78 days before arrival. This is an automated posting.
Thomas
2017-03-02T00:00:00Z
Room Type
Entire home/apt
---
Property Type
Villa
---
Accommodates
5
---
Bedrooms
Amsterdam, Noord-Holland, Netherlands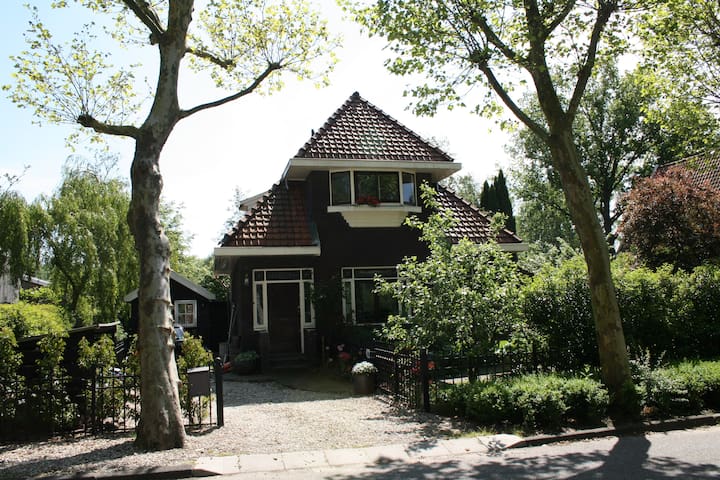 Authentic 17C Waterfront Canal Villa. Stay in the ambience of Holland's Golden Age and live like a 17th century aristocrat at Amsterdam Canal Villa. The villa is located just around the corner from a working windmill. This luxurious, beautifully preserved and in 2017 renovated villa was built by a Dutch East Indies captain to house his family while he was at sea. It is centrally located, a mere 7 minute bike ride to the heart of the city. Parking is free! The home has canal views, is quiet, quaint and authentic, boasting all the amenities of the 21st century. It has original beams and a mantle piece. It is furnished with antiques and has artwork on the walls and original sculptures in the rooms. Your comfortable bedroom has WiFi, a private bathroom with rain shower, a toilet bidet, a 2nd 1/2 bathroom and a sunny patio. There is a spacious lounge area with kitchenette, microwave, coffeemaker, electric kettle, toaster, washing machine and fridge. Coffee, tea, fruit, milk and muesli are available. Hosts (MD and linguist) are well traveled and friendly. Together they speak 5 languages. A brand new public swimming pool with open access café and patio is located across the street. Facing your home is a large public park offering open-air performances in the summer. You can actually swim in the canal! Bike routes abound. Golf lovers have facilities nearby. The local grocery store is a short walk from your lodgings and there is an open-air market in the neighborhood. Buses and taxis are close by. Our neighborhood, Buiksloot, was originally a separate village that was incorporated into Amsterdam in 1911. Now part of trendy Amsterdam-North, this section of town boasts hip restaurants, cafes, the NDSM cultural hotspot and the new Eye Film Museum/Art Film House, which overlooks the harbor. Dine there while enjoying views of the Amsterdam skyline. Amsterdam Canal Villa is one of a kind. It is a designated national landmark. Museums: Van Gogh and Rembrandt at your service; canal boat rides, windmills, tulip fields, theater, restaurants, cafes, bike paths, festivals, swimming, golf, fitness. Amsterdam has something for everyone! Live like a 17th century aristocrat at Amsterdam Canal Villa. Interaction with guests: as much or as little as you like! Our safe and scenic 17th century village waterfront neighborhood is a mere seven minutes by bike from downtown Amsterdam. It is the perfect combination of city and country, historic architecture and trendy, state-of-the-art hotspots! Parking is free, safe and right outside the door. Airport connections are a simple 20' train ride to Amsterdam Central Station and a short bus trip to our home. Public bus transport to Amsterdam city center is frequent: a five-minute stroll from your front door. Fresh food grocery shopping is a mere 3' walk. Peace and quiet and easy access to the hustle and bustle of downtown Amsterdam. Museums: Van Gogh and Rembrandt at your service; canal boat rides, windmills, tulip fields, theater, restaurants, cafes, bike paths, festivals, swimming, golf, fitness. Amsterdam has something for everyone! Live like a 17th century aristocrat at Amsterdam Canal Villa. Interaction with guests: as much or as little as you like! Our safe and scenic 17th century village waterfront neighborhood is a mere seven minutes by bike from downtown Amsterdam. It is the perfect combination of city and country, historic architecture and trendy, state-of-the-art hotspots! Parking is free, safe and right outside the door. Airport connections are a simple 20' train ride to Amsterdam Central Station and a short bus trip to our home. Public bus transport to Amsterdam city center: a five-minute stroll from your front door. Peace and quiet and easy access to the hustle and bustle of downtown Amsterdam.
Hi Janet, Marco and Julia were very pleased with the accommodation you provided!
Sylvana
2014-06-06T00:00:00Z
Wonderful authentic beautiful place to stay, quiet, relaxing. Just what we wanted and needed! Clean and host are adorable , kind , generous. We loved our time in Amsterdam
Elizabeth
2013-12-10T00:00:00Z
Friendly host
Shelby
2015-10-10T00:00:00Z
Janet and her husband Leo are friendly and accommodating hosts. Despite our arrival before check in time they were there to welcome us, show us around and orientate us to the necessary practicalities. The accommodation is very comfortable, clean and attractive, set in a tranquil green area with no traffic noise, thus allowing us a restful night's rest after our busy days exploring Amsterdam's Centre. The house is north of the centre in a settled suburban type area which shows another side to Amsterdam. It is well served by frequent buses- 5 mins walk from the house, or one can walk directly along the adjoining camel- about 30 mins. All in all we recommend this house for a quiet and comfortable base to visit Amsterdam. Clodagh&Diarmuid
Clodagh
2016-05-03T00:00:00Z
We had a warm welcome from Leo and were supplied with maps, restaurant suggestions and tips for getting around. It was a perfect spot to stay if you are travelling by car since parking is free and it's a half hour walk into the city. It felt like home away from home :)
Leena
2015-10-25T00:00:00Z
We had a very good time by Janet and Leo. They are very nice and welcoming. We are thankful for the birthday present they gave us! It was a good start in the year. The place is not in the city center but very easy to reach with the busses from the central station and there is also a night bus (763) in case you want to go out. The room was cosy and comfortable and we had also a small kitchen if you want to drink a tea or coffee... You have also a beautiful private bathroom. Everything you need is there. We recommend this place :)
Cécile
2016-01-02T00:00:00Z
Janet was very communicative from the start and flexible in the arrangements to check-in. Unfortunately we did not stay at her place in the end due to travel mishaps, though she was also very understanding and accommodating. Will look to book in the future when visiting Amsterdam!
Richard
2013-04-01T00:00:00Z
We had a very nice stay at Janet's place. The house/room is lovely and situated in a very charming and quiet place. Janet is a very kind host, she took care of us, checking regularly if everything was OK. The beds are confortable, wifi access OK, speaker for ipod, tea or coffee, fridge available.. For people that like cycling,it's very practical : You can let your car near the house, rent or use your bicycle to discover the center of amsterdam, as it's 15 min away from central station by bicycle, accross a park. (10 mn by bus). Your bicyles can be safely parked in the backyard. I recommend this room.
Damien
2013-09-30T00:00:00Z
Room Type
Private room
---
Property Type
Villa
---
Accommodates
2
---
Bedrooms
Amsterdam, North Holland, Netherlands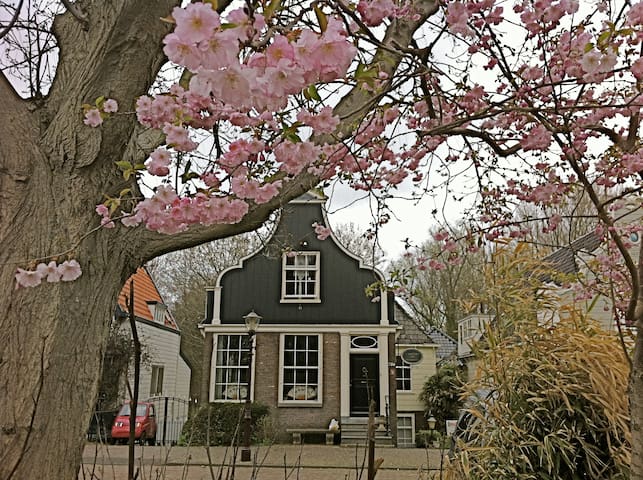 Large double room with queen size bed next to lush patio - Private bathroom - Breakfast available - Sunny rooftop terrace - Located in trendy East Amsterdam - 12 min to center and 15 min to Central Station by tram. Only couples of 30+. Free parking!
The room and bathroom are located in a seperate wing of the house which will secure you from lots of privacy.
Our villa is very well located in the modern and trendy East Amsterdam called Yburg. Excess to the center is excellent with frequent tram. Free parking is available!
Beautiful spacious room in a quiet area, and well connected to the centre. Marc and Ellen made us feel very welcome and suggested plenty of things to do in Amsterdam. Thanks for a great weekend!
Stan
2015-04-26T00:00:00Z
Ellen and Marc have been wonderful hosts providing very good advice and hospitality. The place is calm and just outside of downtown in a nice suburb. We liked it a lot!
Stephan
2016-10-04T00:00:00Z
Marc and Ellen were a perfect host, they helped us in all they could, they give to us a good information about the area. Also I was moving into Amsterdam and they helped me with their knowledge about Amsterdam and Deutch. Their place is awesome, really comfortable beds. 100% recommended
Luis
2016-08-31T00:00:00Z
everything was as ıt is declared.
taner
2016-03-06T00:00:00Z
Very nice and friendly host. The room was precisely as it was described with a private bathroom. Marc was very helpful providing vital information from how best to locate the apartment to fun places to visit. I will definitely chose to stay here when next I visit.
Bob
2016-05-12T00:00:00Z
Had a very nice stay at Marc and Ellen's place. They are easy going and always smiling, and made our stay even better. Their place is exactly as the pictures. Would recommend to anyone. :-)
Frode
2016-11-21T00:00:00Z
Marc and his family are really welcoming. They gave us a lot of useful tips, where to go and what to see the city.
Krisztina
2015-08-22T00:00:00Z
We had a great experience with airbnb and a wonderful experience in Marc's house. The place is located in a very quiet , clean and beautiful suburb and it is 15 mins away from Amsterdam Central through the Tram. The place is conveniently connected through the Tram services. The directions given by Marc to reach his house was perfect .Marc and Ellen were excellent hosts and took time out to explain us the various places of interest in Amsterdam and offered their services to take us out. Great place and great people. I strongly recommend this place to others who visit Amsterdam.
Ravi
2015-10-12T00:00:00Z
Room Type
Private room
---
Property Type
Villa
---
Accommodates
3
---
Bedrooms
Amsterdam, Noord-Holland, Netherlands
Beautiful designed water villa with 2 terraces, one on the top floor with nice view over the lake and one swim terrace right on the waterfront. The villa is spacious and light, with all the comfort you need. The surroundings of the house are quiet and peaceful, that is of great comfort after a day in the busy town of Amsterdam. Easy and quick access to the city centre by public transportation.
The houseboat has 3 floors, downstairs is the spacious and luxury bedroom with one big double box spring bed, and a beautiful bathroom with rain shower and bath. On the ground floor you will find the fully equipped kitchen with oven, fridge and water cooker. Outside you can enjoy the swim terrace in summer. On the top floor you have access to the light and comfortable living room with pantry, including fridge, water cooker and Nespresso coffee machine, and an outside terrace with table and couch.
IJburg is a modern architectural area with beautiful designed water villa's. The area has all the facilities you need, including supermarkets, nice restaurants and bars and a great beach club called Blijburg. There is also a nice harbor with terraces, where you can enjoy the boats coming in and out of the big lake.
Inge and her partner were very direct in communication: When we asked about bike-rental close to the house, they did the research for us in advance and recommended a good place nearby. - In the house they made us feel at home with different beverages in the fridge and took the time to answer all our questions regarding the location, which is very special indeed. - We would recommend this place for people who know the city of Amsterdam (center) already and would like to experience a new and modern town. Lots of great new architecture and urban landscaping in the outskirts: best to discover on bikes.
Maya
2016-08-07T00:00:00Z
great stay in new modern apartment just 10-15 mins by tram to city centre. Brilliant hosts - very thoughtful and caring to make our brief stay the best!
Kate
2016-10-23T00:00:00Z
Inge and Ruud are very friendly and authentic people. They made us feel at home from the very first moment. After a cup of coffee they gave us a tour through the house, showed and explaned everything and gave us lots of tipps and information. The villa is exactly as nice, airy and luxurious as shown on the pictures and it offers all the amenities of a high standard home. The kitchen has all the equipment you may need and you can see and feel, that Inge and Ruud have created a "home" where they live themselves if they don't rent it out. It's like living in a house at the lake - only better. You don't live NEAR the water but ON it and you can jump in the lake directly from the swimming platform. A hot shower afterwards is wonderful. But I have to warn you: you can get addicted to the rainshower with the soft, smooth water! My partner had to lure me out with a cup of coffee from the nespresso machine, otherwise I'd have been standing there forever.... The location is very good. We went to Amsterdam by bike several times. It took us approximately 15 - 20 Minutes to the center. For everyone who loves the water, likes to ride a bike and live in a luxurious, appealing home from very frIendly people: this is your adress!
Christa
2016-07-31T00:00:00Z
Room Type
Entire home/apt
---
Property Type
Villa
---
Accommodates
2
---
Bedrooms
Amsterdam, Noord-Holland, Netherlands
This charming Town House has all the factors to ensure you will have the ultimate Amsterdam experience. Located in the popular district ''De Pijp'', the famous Amsterdam street market is around the corner.
We had a nice stay at Loes' accommodation. We had the whole second floor of her town house to ourselves: bed room, living room/kitchen, bathroom. Located in the hip De Pijp area, the accommodation is in walking distance to the centre and to the museum district – and in general the house had that amazing flair that I think is typical for Amsterdam.
Lukas
2017-03-19T00:00:00Z
lovely location and room, clean. I had literally an entire floor for me. situated in a very beautiful part of Amsterdam and very convenient to access both centraal station and the airport and surrounded by convenience stores. I really had a great time here. better to give Loes a call in case of emergency rather than sending messages over airbnb. I would definitely stay here again.
Miguel
2015-09-14T00:00:00Z
De Pijp is a cool area, and Loes's place is good to stay and discover the area and the city
Irina
2017-04-13T00:00:00Z
It's a great location with a clean bedroom and bathroom. We pretty much had the whole floor with kitchen! Thank you
Lihe
2016-05-10T00:00:00Z
This is an amazing apartment! I honestly was pleasantly surprised to see how big it is! You have an entire private floor - bedroom, kitchen/dining room, and bathroom. There are cats that live in the house, one of them kept us company, which was cute :) The location is great. We walked everywhere - it's only a 20 minute walk downtown, there are lots of museum to visit within a 15-30 minute radius. It's close enough to the busy city center, but far enough to come home after a long day and relax. Highly recommend!
Darya
2016-01-25T00:00:00Z
We really enjoyed our stay! The flat was really cosy, nice bedroom, good shower and a kitchen area. The location itself is really good, not too far away from the center and not too touristic.
Tatiana
2017-02-13T00:00:00Z
We had a nice stay at The Appartement. I can totally recommend it!
Bruno
2015-09-20T00:00:00Z
I was greeted at Loes' place with a welcome beverage, help with my luggage, an introduction to the rooms on the floor I rented, and advice regarding where I could buy a tram/metro ticket more cheaply (i.e., the tobacco shops nearby, NOT inside the trams). There was printed information provided about best places to dine, where I could reach Loes if necessary, and house rules (not too many!). I enjoyed great privacy the entire time of my stay. There were three very friendly house cats who provided my "cat fix" (i.e., I have cats of my own and like them). I loved having my own bathroom with hot shower at my convenience, kitchen where I made my wake-up coffee every morning, and spacious, high-ceilinged bedroom. It was just perfect! The location in DePip neighborhood was very convenient to the #4, #7, and #10 tram stops and offered a vast array of international dining options, as well as quaint cafes within the neighborhood itself. A grocery store was also just down the block, where you could buy groceries if you wanted to cook meals yourself. Loes' place is also right across the street from the Albert Cupkt Market, where you could buy ANYTHING you might desire, at much cheaper prices than the museum gift shops and shopping areas in and around Dam Square downtown. Her townhouse is also within very easy walking distance from the area where the majority of the museums are located. The townhouse location was excellent for both my professional conference and leisure/vacation needs and requirements. Thank you so much Loes for making my first experience using Airbnb a very positive one! I'd love to stay with you again during my next trip to Amsterdam. I had a great time and you were a wonderful, gracious host.
Holly
2016-07-26T00:00:00Z
Room Type
Private room
---
Property Type
Villa
---
Accommodates
2
---
Bedrooms
Amsterdam, Noord-Holland, Netherlands
Experience this unique 150m2 modern house! Our building and area has won several architecture prices for its special design. Living in a car-free park & only 10 min by tram to Central Station and Leidse plein- the center of the city...
Our bright, modern city villa is situated 3 tram stops away from central station. This stylish, award-winning building situated inside a carfree park, Funenpark, offers a special living experience for families.150 sq meters over 4 floors with park patio and private roof deck. One-of-a-kind house ideal for families with kids! We have 1 master bedroom with a queen bed 1 bedroom with twin size bunk beds (2 beds) 1 bedroom with a twin size bed Free WiFi Smart TV & Netflix Nespresso coffee machine A big playground is in the the car-free park Walking distance also from the hip city beach area called Roest. Perfect on a warm sunny day. You're also walking distance from a monumental windmill that now hosts a famous brewery. Watch an arthouse film at Studio K, shop at the Dappermarkt, or enjoy the exotic cuisine in the Indische buurt. All of this you can do by foot or by bike if you prefer. 5 minute taxi ride from central station Bus 22 going to central station stops right outside the park entrance. Tram 10 going to Rijks museum & Leidseplein just a 5 minute walk.
There is a playground in the park. We are walking distance from the hip(pie) city beach area called Roest and pizza & steak restaurant Rosa & Rita. Close by there is a monumental windmill that now hosts a famous brewery. Watch an arthouse film at Studio K, shop at the Dappermarkt, or enjoy the exotic cuisine in the Indische buurt. All of this you can do by foot or by bike if you prefer. There is a take out thai place, two italian restaurants and a yummie breakfast/lunchplace very closeby. A couple of little giftshops and vintage/trendy clothes shops in the street as well.
Thank you so much Gloria and Amir!! We had an excellent stay at your lovely home! The house was exactly as shown in the photos. Lovely neighborhood, especially if you are traveling with young children who can play outside freely and safely. Some nice restaurants close by. About 12 minutes walk to Tram station to city center and to a big nice supermarket (Jumbo). Gloria was a terrific host! always available to us, helping and advising with great tips for restaurants, transportation and attractions. The bedrooms are on the 3rd and 4th floor of the house, which means a lot of ups & downs the stairs (it wasn't a problem for but should be noted). Bedrooms were cozy and spacious, could easily fit a family with up to 4 children (young). It was our first experience with Airbnb and it was defiantly a good one! Amit
Amit
2015-08-23T00:00:00Z
Gloria and her husband Amir are lovely hosts ! The appartment was very comfortable, cleaned and well equipped ! It's located in quiet parc, well deserved by bus. I recommend Gloria's appartment for your holiday in Amterdam !
Julien
2016-05-09T00:00:00Z
Gloria and her husband gave us the best experience in Amsterdam! The house was super furnished and cleaned, beautiful area and quiet, easy to access with taxi and absolutely comfortable! I strongly recommend this nice place to stay.
Anna
2014-10-20T00:00:00Z
Gloria was out of town when we arrived, however, she had one of her many friendly neighbors welcome us, show us the house and made sure we had everything we needed. The house itself worked well for our family of 5. The kids enjoyed playing with toys and sleeping in bunk beds. The location is just a short tram ride to the city center and a quiet and safe place for the kids to be outside.
Brian
2015-05-04T00:00:00Z
WOW - it was just great in amsterdam & the house of gloria and her family! very easy to comunicate & very very open & helpfull - thank you so much for all the help! the is in a perfect spot - very quiet little park and close to the trainstation & centre (10min bike) - we had good times! THANKS marc
Marc
2014-05-06T00:00:00Z
The apartment is PERFECT! È dotato di tutti i comfort possibili e immaginabili; inoltre è ubicato in una bellissima zona residenziale immersa nel verde e a pochi minuti di tram da tutto. Si sviluppa su 4 piani con un bagno fantastico e due camere da letto arredate con gusto, una cameretta con letti a castello ed un salone molto grande. Ciliegina sulla torta: la gentilezza e la favolosa accoglienza della proprietaria Gloria con tanto di birre, succo di frutta, formaggio e tanto altro in frigo per noi, per non parlare poi delle capsule del caffè nespresso, delle tisane e thé di tutti i gusti, della marmellata e del pan carré tutto a nostra disposizione incluso nel prezzo pattuito. Da consigliare assolutamente!
anna
2014-10-30T00:00:00Z
Eccelente l'accoglienza di Gloria e Amir, si sono messi a nostra disposizione come se fossimo di famiglia. L'ubicazine di Funenpark è perfetta, solo a 5 minuti di bus (22) dalla stazione centrale. Funenpark è inoltre un progetto architettonico molto interessante e assolutamente ospitale, senza auto. Solamente bambini, gente e biciclette, ovviamente. Una vera comunità che interagisce. Davvero una bella esperienza.
Davide
2014-10-05T00:00:00Z
Room Type
Entire home/apt
---
Property Type
Villa
---
Accommodates
6
---
Bedrooms
Amsterdam, North Holland, Netherlands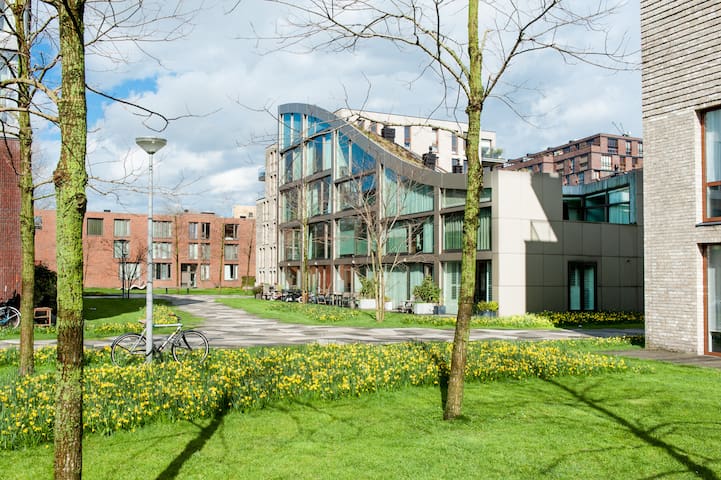 Room downstairs in villa, free parking, shared bathroom, kitchen and living room, all facilities 15 minutes to centre by public transport in familyhouse if wished you can bring kids extra mattresses available! Double bed 120 cm wide... Swimming, canoeing, trampoline, (URL HIDDEN) DRUGS USE OR DRUNKNESS INN THE HOUSE PLEASE ...
Yardeen & Maurice are very welcoming and friendly. They are warm and cheerful people. They make us feel so at home even when we just arrive. They are also extra helpful in guiding us through visiting the city and also dealing with our extra queries and requests. Living in their home feels just like visiting an old friend & still having your privacy at the same time. Best of both worlds! The space is big & clean. It feels serene and close to nature. More activities could be done when the weather gets warmer! The location is also perfect as the station is just on the main road outside. Hop on Tram 26 and you'll be in the busy busy city! Have all the fun you want and come back to a peaceful home and have all the rest you (URL HIDDEN) short, reasonable price ( parking is another plus point if you have a car ! Most hotels in the city does not have parking or they cost you a bomb ) , good location and most importantly , you get a host that really take care of you and you make a good friend ! Strongly recommend this place and we are planning to come back & stay here during the Tulips festival ! See you very soon, Yardeen !
Annabella
2016-03-28T00:00:00Z
The house and the surrounding area is beautiful and Yardeen and her family were friendly and a pleasure to talk to. Yardeen went out of her way to help make our stay great on numerous occasions. I've only have positive experiences with AirBnb but Yardeen is still easily the best host I've had. I would definitely stay here again.
Alex
2016-04-12T00:00:00Z
Yardeen is a really nice host, she showed us the house and made us feel home, right from the beginning. The location is perfect if you wanna see the city but also relax. You are in the city center in 15 min by public transportation and you got a garden right on the water - perfect combination. I would definitely stay at yardeens house again :)
Carolina
2016-05-29T00:00:00Z
Yardeen and her family are super nice. We arrived in the morning. She prepared tea for us. And send us Holland famous waffle cookies as a gift. She and her little son help us to plan our trip in Amsterdam . That was really helpful. I would love to go back again. PS: love their garden and the lake
Lin
2016-10-30T00:00:00Z
The host canceled this reservation the day before arrival. This is an automated posting.
Frances
2016-05-28T00:00:00Z
It's a great experience, Yardeen's house locates in a quiet zone and you can take the tram to center directly, Yardeen is also very friendly!
Álvaro
2016-03-30T00:00:00Z
The house is located in a nice residential area, some 15 min. away from the central train station by public transportation. The room was clean and the host made available an extra mattress. The bathroom is shared with the family, as described in the profile. The host replied very fast to the few questions we raised before our stay and she made sure that we can enter the room, despite our arrival late in the evening. We also appreciated very much the typical biscuits that the host left on the desk of the room to our attention. So everything went well and we can definitely recommend this place to travellers.
Florence
2016-06-20T00:00:00Z
Yardeen wasn't at home when we arrived, but she told us how to get in, so it was no problem! She was really nice and helpful and gave us a few hints about what we could do in Amsterdam. So everything was easy and went good and we enjoyed our stay
Tim
2016-06-26T00:00:00Z
Room Type
Private room
---
Property Type
Villa
---
Accommodates
2
---
Bedrooms
Amsterdam, Noord-Holland, Netherlands
This house is a unique get away in Amsterdam with several highlights (jacuzzi) you should know: * We have a free parking place for you * The house in on the water, the terrace has a view over the water * There are 2 bedrooms + bathrooms, one both floors. So you can sleep & shower separate, if you're with 2 couples or colleagues. * There is a jacuzzi in one of the bathrooms * We have a private roof terrace and 2 balconies on each side of the house * There is baby crib
The perfect base to explore the city; Enjoy the jacuzzi in the bathroom, or use our little gym for sports. If the weather is good, you'll enjoy the private, quiet and spacious roof terrace. Or you can sit on the terrace at the water. When the sun is on the other side of the house, you can also use the balcony over there. A lot of space for a nice moment outside. :) We have two bedrooms, each with a double bed. There is also a baby crib. Are you traveling with the car? We have a free parking place for you.
Do you want to enjoy the beautiful historical city center of Amsterdam, with its canals, pubs and museums, but also have a relaxing stay? IJburg is the place to be. You can do your shopping at the nearby shopping centre, with two supermarkets, a bakery, butcher's shop, fishmongers, pharmacy and local restaurants. We even have our own community store, selling products made by local artisans. IJburg's location is not only practical, it is also beautiful as it is surrounded by water, natural parks and modern architecture. Also, it has a very nice city beach (Blijburg) with restaurants and pubs. In the summer, you can have a swim in the lake or go to the harbor to rent a sailing boat, surf gear or a wakeboard. In the winter, if its cold enough, you can go ice skating on the canals of IJburg. Also, nature lovers can go for a run in one of the nice natural parks IJburg is surrounded with.
Room Type
Entire home/apt
---
Property Type
Villa
---
Accommodates
4
---
Bedrooms
Amsterdam, Noord-Holland, Netherlands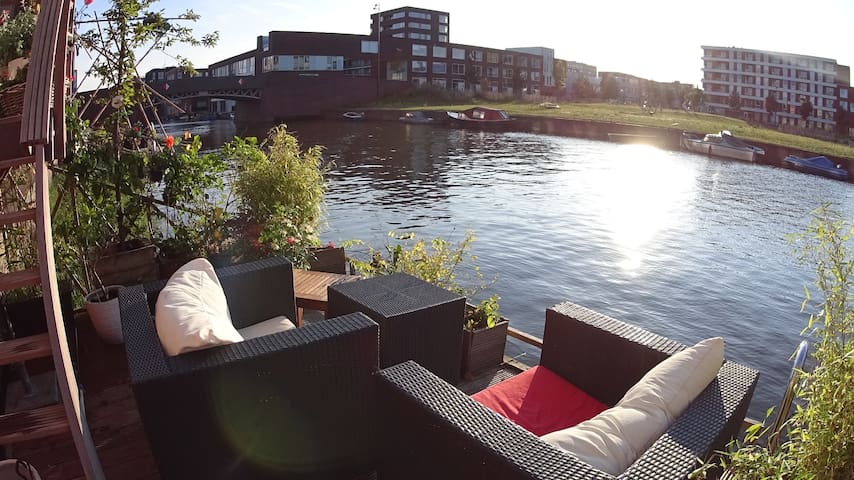 Beautiful modern villa at Amsterdam IJburg. Just 15 minutes from the city centre; close to IJburg beach and Diemerpark. A spacious, loft-like first floor with kitchen and intimate library. On the second floor: two bedrooms (one with balcony) and bathroom with rain shower. Outside spacious terrace and garden, parking place on the terrain.. Mijn ruimte is geschikt voor stellen, solo-avonturiers, zakenreizigers en gezinnen (met kinderen).
Room Type
Entire home/apt
---
Property Type
Villa
---
Accommodates
4
---
Bedrooms
Amsterdam, Noord-Holland, Netherlands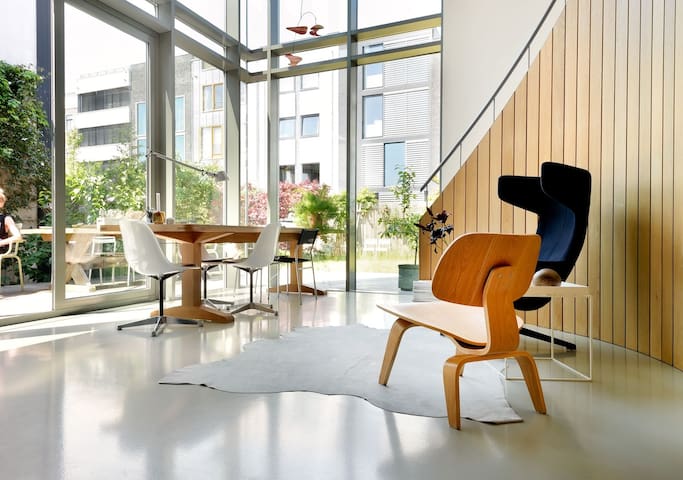 Our house is very well located, the shopping center with supermarkts, pharmacies, stores, organic shop and much more is 2 minutes walking distance and so is the stop for tram and bus. Diemen park is right around the corner in 5 min walking you are right in nature. The house is comfortable and spacious(225 m2), with plenty of natural light and spetacular views of canal . Ground floor has a studio/play room with a sleeping couch for 2. Great yard with lounge area
Nice and spacious family home 225 square meters. On second floor: 3 bedrooms: - master with 1 queen bed - boy's room with 2 twin beds - girl's room with 1 twin bed and 1junior bed suitable for a kid up to 5 years old Bathroom with bathtub and shower Office space On first floor open plan living room and dining room with plenty of natural lighting, with spectacular views of the canal (boats, paddle boarders, swans...). Half bathroom, hall and laundry room. Also fully equipped kitchen with all kinds of gadgets/appliances and american refrigerator, overlooking sunny backyard and the water. On the ground floor you will find the entrance to the house, door opens to a broad staircase that leads to the upstairs living room. On this same level we have a guest studio/playroom with a private full bathroom, a sleeping couch(sleeps 2 persons), TV-cable and a small kitchen. This studio is connected through an inside door but also has an independent entrance from the garden for more privacy if needed. Garden gets sun all day long, sun shifts to different areas in the yard. Garden offers lounge/bbq area plus a outside cold/hot shower and canal to swim in. There is space to park your car in the driveway in front of the house and there is also a table and chairs out there, so you can relax and catch some end of the day sun, watching the kids playing in the street.
IJburg is a lovely , family friendly neighborhood, with lots of green areas, water and playgrounds. It allows you to have the best of both worlds, quiet and safety for the kids and still very close to the center of Amsterdam and all the lovely attractions the city has to offer. Big supermarket, organic products store, bagel & beans , pharmacy and other shops are within 2 min walking distance. Beautiful fresh water beach with restaurant and snack hut 20 minutes away walking/ 2 min by car, with parking lot. There is also a few restaurants around (Greek / Italian/ French/Turkish/Asian) among others.
The host canceled this reservation 171 days before arrival. This is an automated posting.
Tina
2017-03-27T00:00:00Z
La casa è stupenda, molto ampia. Perfettamente arredata, pulitissima e con tutto il necessario per la colazione. Noi eravamo in sette e siamo stati tutti molto comodi. Dista 10/15 minuti dal centro ma è vicinissima, circa 100 metri alla fermata del tram 26 il quale passa ogni 10 minuti. La comunicazione tramite mail è sempre stata precisa e puntuale. Apprezzatissimo il gesto di venirci ad accogliere alla fermata del tram al nostro arrivo. Wifi sempre disponibile e funzionate. Sicuramente torneremo a visitare la città, stupenda e da vedere assolutamente con più tempo, ed alloggeremo sicuramente ancora qui. GRAZIE
GIANFRANCO
2016-10-23T00:00:00Z
Room Type
Entire home/apt
---
Property Type
Villa
---
Accommodates
8
---
Bedrooms
Amsterdam, Noord-Holland, Netherlands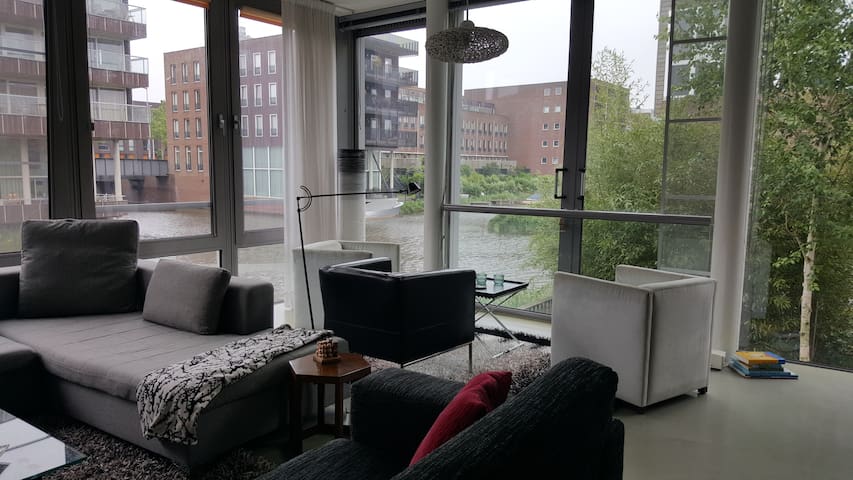 If your are looking for a nice place with your family to enjoy Amsterdam this is the house for you! The house has everything you need. It is beautiful, light, and modern in a peaceful location. The perfect place to explore Amsterdam.
This house is located in a quiet, safe and family friendly neighbourhood. It's luxuruous, spacious and modern. The perfect place for your next vacation. The house is owned by an interior designer who designed the house in a contemporary style. It has an open-floor plan with a large comfortable living room and kitchen. The kitchen is fully equipped with appliances (steamoven, microwave and oven, built-in coffee machine, fridge, freezer and dishwasher). If you like to cook you can enjoy cooking with a view. This luxuruous home has four spacious bedrooms. Two bedrooms have a comfortable double beds and the other two bedrooms have single children's beds. The bathroom is sleek and spacious. A separate playroom has a TV and Wii for the children. The fantastic back yard with a dock is a perfect place to enjoy a late evening dinner, enjoy the view or watch the stars at night. Bordering the south facing garden is swimming water connected to a big lake (IJselmeer). In the garden deck is a built-in trampoline, also nice for adults to jump on! You can enjoy beautiful sunsets on the swimdock. A small beach is close-by and a bigger city beach with lifeguards and a nice restaurant is also within walking distance. Biking is the dutch way of traveling. Rent one and bike along the lakeside. There are great hiking/biking trails accessible from the house. If wanted the house can be professionaly cleaned on a weekly base. HOUSE HIGHLIGHTS: • Luxurious, Modern, Spacious • Amazing on the River w/ view • FREE PARKING • Fully equipped kitchen • Free Wi-fi • Washer & Dryer • Quiet location Minimum stay 3 days. Families only, this is no party house!
The house is located just outside the city center, in a typical Amsterdam neighbourhood with everything you need and more: nice restaurants, a city beach and local supermarkets. It's a safe and popular area among locals and architecture lovers. The place is perfect for families.
The photos do this wonderful property justice. The house is in a very peaceful location about a 20 minute tram ride away from the centre of Amsterdam. The property was fantastically clean and tidy. We were a family of four with two teenage daughters and we stayed 3 nights which we all thoroughly enjoyed. Highly recommended!
Julia
2016-08-08T00:00:00Z
Ingrid arranged everything to work out super smoothly. Ingrid's house is located in a lovely, quite area which is still conveniently and directly connected to the center (Central) via tram and a very short walk. Everything was clean and its was easy to feel at home. The highlight of the house is the spacious, bright and modern living room & kitchen area with a wonderful terrace right at the water. We had a very nice to stay and can certainly recommend this for families and visitors who don't need to be right in the center and prefer the quietness of Ijburg and the chance to relax a bit on the terrace after an exhausting to in Amsterdam.
Jan
2016-05-09T00:00:00Z
Ingrid's home is lovely, really spacious and we loved being by the water. We had a great time, it was a brilliant location and meant we were able to get out and about really easily. It is a relaxing, friendly, family neighbourhood and only 10minutes on the tram into Amsterdam. We would recommend local restaurants Bloem Op Ijburg and Dok 48 and day trips to Marken, Edam and Alkmaar (cheese market on Friday morning). The home is very well equipped, clean and welcoming. Thank you Ingrid.
Alex
2016-08-21T00:00:00Z
Incredible stay, all organised perfectly and everything as promised. Great communication whilst there and would recommend the place to any of our friends. Thank you so much Ingrid!
Philip
2016-08-14T00:00:00Z
Room Type
Entire home/apt
---
Property Type
Villa
---
Accommodates
4
---
Bedrooms
Amsterdam, Noord-Holland, Netherlands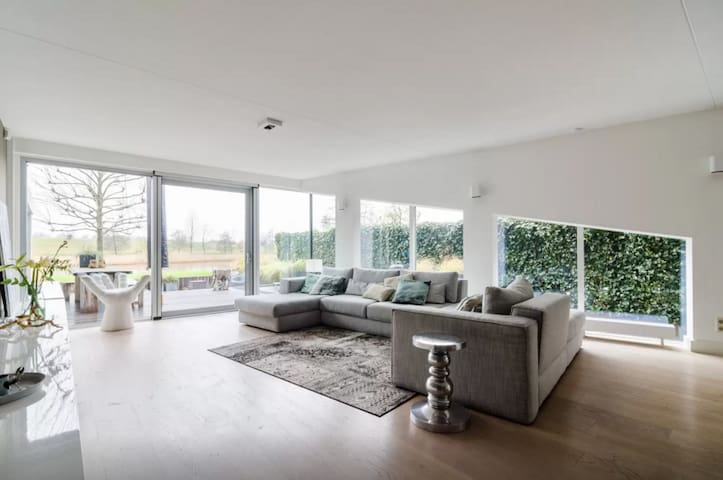 Stunning water-villa, located 15 min from the city centre, free parking. Travel into the City Centre by tram (15 min), car (15 min) or bike (30 min) and stay in Amsterdam in the most luxurious way you can imagine. The house has one masterbedroom and two kids rooms and can accommodate 2 adults/ 2 kids and has everything you need including a big garden on the south. Please note: we have 2 cats.
A unique house located on a beautifull part of Amsterdam, a small island kwown for its architecture and the city-beaches. The house is very suitable for kids as we have two kids ourselves (2 girls ages 6 & 8). We have lots of toys to play with, which we will stow away (as much as possible) if you're visiting without kids.
You will find everything you need on IJburg. If you need more, the City Centre is only ten minutes by car. IJburg has a beautifull beach Blijburg on biking distance. In the harbour there are several nice restaurants. If you're looking for kids-friendly restaurant you should visit 'Krijn' in the harbour. Also in the harbour is one of our favorites NAP with lovely food & wine. If you like Asian food, you should defenitly go to Mchi on the IJburglaan (make reservations as they tend to be pretty busy). Bloem (also on the IJburglaan) is very nice Italian restaurant that also has take-away pizza. On the IJburglaan is also a small mall with a supermarket, bakery, pharmacy etc.
It was a fantastic experience in Amsterdam. The house is placed in a quiet neighbourd but very close to the city centre. The tram is every five minutes and takes 15 minutes until Central Station. Philo has left some good tips about reataurants in Ijburg that we loved. I highly recommend the house and the place.
Carmen
2016-08-09T00:00:00Z
Philo and Bas were great and very friendly hosts! Their home is beautiful with a nice terrace facing the water. It matched the description completely. The location in IJBurg was perfect for us, with shopping options and nice cafes and restaurants. It is very easy to get to central Amsterdam with the tram. We give the house and hosts our best recommendations.
Kristine
2016-07-25T00:00:00Z
Cadre exceptionnel, Philo nous a accueilli de manière très agréable. Un pied à terre parfait à proximité très raisonnable du centre, dans un très joli coin d'Amsterdam. Je le conseille vivement.
Romain
2016-08-22T00:00:00Z
Tolle Unterkunft, genau wie beschrieben und auf den Bildern ersichtlich. Sehr nette, freundliche, hilfsbereite Vermieterin & dementsprechender Kontakt. Prima öffentliche Anbindung an die Innenstadt.
Petra
2016-06-21T00:00:00Z
Todo perfecto
adry
2016-08-16T00:00:00Z
Room Type
Entire home/apt
---
Property Type
Villa
---
Accommodates
4
---
Bedrooms
Amsterdam, Noord-Holland, Netherlands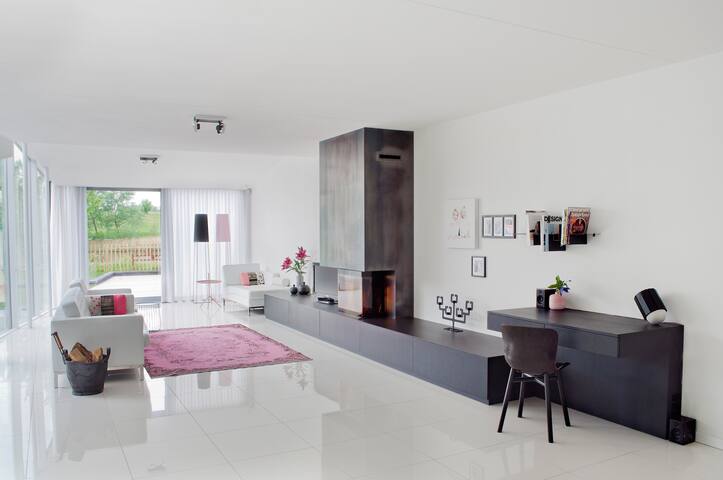 Beautiful villa located in Amsterdam. Close to the city centre and all the cultural attractions Amsterdam has to offer. The house is on the water and very comfortable. It has 5 bedrooms and free parking for 4 cars.
This villa is built in 2011 on an artificial island in Amsterdam. It is very private, surrounded by water and has a spectacular view. Yet it's very close to Amsterdam city centre and all it's cultural attractions. The house has 5 bedrooms, 2 bathrooms and free parking for 4 cars.
In the IJburg area there are some nice restaurants, a beach and a small harbour. The street is very easy going and quiet, yet very close to the busy city of Amsterdam.
The host canceled this reservation 40 days before arrival. This is an automated posting.
Marcel
2015-11-17T00:00:00Z
Room Type
Private room
---
Property Type
Villa
---
Accommodates
8
---
Bedrooms
Amsterdam, Noord-Holland, Netherlands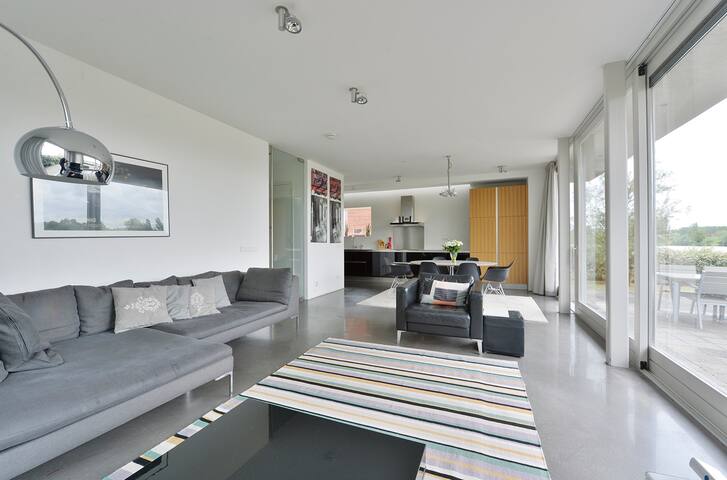 Spacious (250 m2), modern villa with 4 bed rooms; 2 x doubles + 2 twins. Living room of 80 m2 with roof top terrace. Beautiful lake area with private jetty attached to garden and excellent swim facility. Extremely comfortable for 4-6 people.
Directly at the waterfront in quiet green area and only 12 min by tram away from the center of Amsterdam. 2 Free outside parking lots in front of the house.
Room Type
Entire home/apt
---
Property Type
Villa
---
Accommodates
6
---
Bedrooms
Amsterdam, Noord-Holland, Netherlands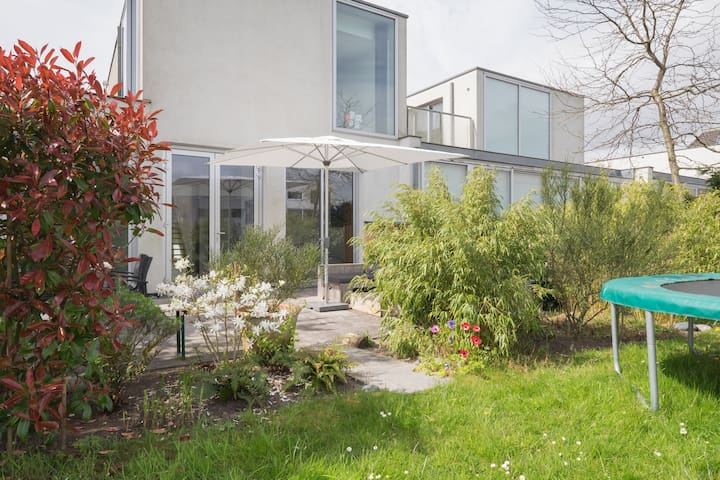 A great house with two bathrooms and four sleepingrooms (one doublebed, three single beds) great for families and couples. A luxuary kitchen a studyroom a grand piano three free parkingspots water to swim in front of the house in the garden...
This villa is 15 minutes from the heart of the centre in Amsterdam with countrylive quality, a swimming possibility just behind the garden 3 spots for free parking, bycicles, cargobike, beautifull vieuw a trampoline and wonderfull possibilities to take a trip in the canoe or our small sailingboat which is also at the back of the garden in the water! Great restaurants and all the possibilities to hang out in nature, or in town..... Two floor villa with 2 bathrooms with a bath and 2 showers, 2 toilets, 4 sleepingrooms, a huge livingroom with kitchen a grandpiano, a big storage... Public transit on 5 minutes walk. The public transportation brings you in 15 minutes to the central station in the heart of town (Amsterdam). In our neighbourhood there are lots of touristic atractions going to Pampus, Muiderslot, (email hidden)gging, byking, windsurfing, waterskiing.... We have a big pont behind the house so you have your private natural pool with entry through a swimmingstair!
The house is located in one of the most beautiful streets in ijburg. it is located near the end of the (dead end) street
Yardeen is a great host and the property is fantastic. We stayed here for a quick year-end visit. The location is ideal; direct access to Amsterdam central station and quiet nights in a peaceful setting. The house is very personal and well appointed. There is a trampoline and Wii for the little kids, a SONOS system and baby grand piano for the older kids and super fast wifi for everyone. Would stay again and will recommend it to others.
Stephen
2016-12-30T00:00:00Z
My family and I had a fantastic stay at Yardeen's place. The house is close to the city but with a country feel, and we were able to go swimming and kayaking on the river behind the house. The house is child friendly, the children liked the trampoline, PS4 and grand piano. There were five of us and everyone had their own room. There is a tram five minutes away which goes to the centre of town. Yardeen and Maurice could not have been more friendly and helpful. We loved it and want to go back !
Zev
2016-08-16T00:00:00Z
Beautiful house. Extremely scenic backyard with a trampoline! The views were life changing. Phenomenol showers and bedrooms. We were even greeted with a welcoming Shabbat dinner!
Connor
2017-02-19T00:00:00Z
The host canceled this reservation 13 days before arrival. This is an automated posting.
Luke
2016-02-20T00:00:00Z
Yardeen's house is modern and very spacious. We were a group of 5 and the house was perfect for us.The house is located in a quiet area. Everything you need - supermarket, restaurants - you will find in walking distance. We had an amazing week around the kingsday! Everything was ok.
Torsten
2016-05-01T00:00:00Z
Staying at Yardeen's place was like at staying at home and not an airbnb rental at all. She was very kind, accommodating and her place was awesome for our group of 4. Highly recommend and I will totally book again when visiting Amsterdam
Kanchan
2015-08-03T00:00:00Z
La experiencia en casa de Yardeen y su familia sólo la puedo describir con una palabra: perfecta. ¿Por qué? 1. La casa es increíble. Nada más llegar, maldije no haber reservado un par de días más tan sólo para poder disfrutar de su hogar. Es una de esas casas que nada más entrar por la puerta te acoge como si fuera tuya. La cocina, salón y jardín son sencillamente de cuento. Es sencillamente imposible, no querer regresar corriendo a casa para disfrutar de una relajada comida en su hogar. 2. Yardeen y su familia nos trataron como si fuéramos parte de su familia. Siempre siendo comprensivos, cariñosos y ofreciendo todo a nuestra disposición. A punto estuvimos de perder nuestro viaje de vuelta por quedarnos más rato charlando con ellos. 3. La casa está magníficamente comunicada con el centro de Amsterdam. Una casa, en una zona tranquila, junto al rio, rodeada de naturaleza y que a la vez, en 20 min en tranvía te deja en el más puro centro de Amsterdam 4. La zona y alrededores son sinceramente de cuento. Coger una bicicleta y disfrutar de la naturaleza no era mi plan inicial pero es algo hay que hacer! No sólo conocimos Amsterdam como cualquier otro turista sino que pudimos experimentar cómo es la vida de un local.
Izaskun
2014-10-20T00:00:00Z
La maison était aussi belle que présentée sur les photos, très spacieuse et agréable avec de nombreuses chambres. Le centre ville très facilement accessible en transports en commun, il est même possible de prendre des vélos et de faire un tour de bateau ! Yardeen nous a accueilli très chaleureusement et sa présence quelques heures ne nous a pas dérangé du tout compte tenu de son hospitalité et sa gentillesse.
Julien
2015-07-14T00:00:00Z
Room Type
Entire home/apt
---
Property Type
Villa
---
Accommodates
6
---
Bedrooms
Amsterdam, North Holland, Netherlands
New Garden studio with your own PRIVATE terrace. Also free parking on own drive. PRIVATE entrance.The studio is situated in a quiet villa neighbourhood and attached at the back of the mainhouse.The area is near the Zuid as, University, a lot of transportation tram, bus/metro in a 5 minutes walk. It takes 15 minutes with the tram to the famous musea(Van Gogh,Rijks and Stedelijk) and 20 minutes to the centre. Also one step away from the Amsterdamse Wood, where you can relax eat and be sportive.
The Studio has its own entrance and 2 electric hobs where you can make a small ! mael. A refrigarator. Nespresso machine. A separate shower,toilet and sink. A wardrobe with mirror. A double bed with 2 mattresses from (PHONE NUMBER HIDDEN)). The whole studio/ bathroom has floor heating. And a private little terrace for relaxing (and smoke if you do). A table 2 chairs and a welcome packet. (always enough coffee and tea). Enjoy the green/birds after exploring the city.
It is a safe and quit location near the Zuid as (financial place) and the Amsterdamse forest.And yet within 15 minutes by public transport to the centre.
We have no words to describe our experience! Location, location location!!! A++++!! The Studio is perfect! Even better than pictures! Tidy clean, modern, very private and Cozy. Within minutes on Bike to all of Amsterdam's main attractions and to Airport, even hospital in case of a not desired emergency. The neighborhood is amazing, full of trees and greens, close to beautiful parks and sporting fields, good restaurants and markets. But most important is the human quality of Wenneke and her family! Amazing people, respectful, warmhearted and striving to the finest detail for making your stay the most enjoyable experience. Wenneke's last name " de Kool" certainly describes her: she is the coolest person you can meet in Amsterdam! We are glad and thankful for having the opportunity to stay at their place. We loved it and we loved them!!
Alejandro
2016-09-06T00:00:00Z
Great place to stay, close to Amsterdam Zuid station and even closer to VU Amsterdam. It was quiet, well-equipped for a short stay and Wenneke was really easy to communicate with.
Anniek
2017-04-07T00:00:00Z
The location is great but depends on what you plan to do. The room is beautiful and clean. :)
Tom
2016-12-04T00:00:00Z
We had a very pleasant stay and wenneke is very nice and welcoming. She explained everything so we could enjoy our trip. The studio is very comfy, there is all you want for being indépendant and the garden has a nice view on a little canal and is peacefull. We would go back there with great pleasure for our next Amsterdam trip
Gregory
2016-07-18T00:00:00Z
Took care of everything, easy and fast answers and support. I am very grateful for the consideration, care and respect at this site.
Bruce
2016-11-06T00:00:00Z
Wenneke is the best host I ever met. Her place is cozy, clean and beautiful and she is such a lovely person that has everything planned and explains it for you. We loved staying at your place.
Vanessa
2017-01-01T00:00:00Z
Wenneke was a fantastic host, and the studio was well appointed, clean and modern. I have no hesitation in recommending her listings to others wanting to explore Amsterdam.
Ryan
2017-01-16T00:00:00Z
Wenneke was a super host. The accommodation is perfect, we would recommend it to anyone.
david
2017-04-10T00:00:00Z
Room Type
Private room
---
Property Type
Villa
---
Accommodates
2
---
Bedrooms
Amsterdam, Noord-Holland, Netherlands
Stylish, cozy spacious 4 floors Villa. Own entrance. The house offers modern comfort and convenience. Group of 6 maximum. Lovely for families with 4 children (6 total). No extra guests! No party! 2 indoor Cats/MaineCoon NEARBY POINTS OF INTEREST: Cycling time or public transport is 1/3 of walking time: • Trams/Busses max 5 m walk • Playground - 2 m walk • Shoppingstreet (organic) – 4 m walking • Cafés, restaurants and bars – 4 m walking • Vondelpark -7 m • RAI 15 minute walk
FEATURES: • 3 bedrooms, 1 bed of 180cm, 2 beds of 140cm. • Attic 2 single beds. • Cellar with yoga possibility, flatscreen or to chill. • 2 bathrooms (attick and 1st floor) • 3 Flatscreen TVs (cellar livingroom and attic) • Sonos Sound system on the ground floor • WiFi internet • Double glazing • Marble large open kitchen with Pitt-cooking • Complete kitchen inventory • Nespresso machine • Microwave & Ovens • Toaster • Quooker • Dishwasher • 2 Bathtubs • Hairdryer • Washing machine/dryer • Iron and ironing board • Bed linen • Thick new towels • NO SMOKING • NO PARTY POLICY • Toddler safety is low, no stairgates in the house. • Babycot and highchair available on request, please ahead of time.
Surroundings: This is really the ideal location to explore Amsterdam. Quiet but sophisticated area. The supermarket (albert heijn) is at the Beethovenstraat. Marqt(organic as well, as on the Stadionweg. You can find restaurants and Starbucks at the Beethovenstraat as well, like Fidelio (daily menu for 12euro's), Gauchos (Steakhouse). Food-wise you are spoilt for choice - surrounded by so many amazing restaurants. Some of our favourites are Red Sun (Sushi @Stadionweg), Blauw (indonesian @Amstelveenseweg), Ron Gastrobar (exclusive @Sophialaan 55/corner Amstelveenseweg), Marathonweg (Grill, salads etc. and beautiful terrace @Marathonweg 1-3-5), Carter (Trendy, nice terras and cocktailbar, Valeriusstraat 85), Franklin bar&kitchen (cocktailbar and nice food @Amstelveenseweg 156) On Saturdays you have Zuidermarkt, a 15 minutes walk. a Biological tiny market with the most lovely fresh flowers and beautiful food and Dutch pancakes. a sofa-bed. @Jacob Obrechtstraat/Johannes Vermeerstraat. Located at a favorite neighborhood in the heart of Amsterdam South, 7 minutes walk to the Vondelpark. 4 minute walk to Trams, 15 minutes walk to Stedelijk Museum, Van Gogh Museum and Rijksmuseum. 20 minutes walk to the shopping street PC Hooftstraat where you'll find shops like Chanel Gucci Prada Mulberry Zadig&Voltaire Massimo Dutti etc. Cornelis schuystraat is lovely small street with high end shops and little terraces. I Love Babassu for example. Beautiful organic perfumes, soaps and creams.
We were six adults in this beautiful house and it was perfect. We really recommend this house, it's very quiet and not far from the center of Amsterdam.
frederic
2017-01-02T00:00:00Z
Beautiful home, lots of space and very comfortable. Located 20 minutes from the airport and only 15 minutes from city centre. Highly recommended for anyone looking for something special. Photos don't do it justice.
Allan
2016-10-09T00:00:00Z
What to say !! Yvette is so Nice and her House is wonderful. And the House is way better in Real than in the picture. You have all the confort you expected to spend the week-end or more ! The House is cosy, you feel like home and Yvette is here if you need anything ! Thanks Yvette! NO place better to enjoy Amsterdam with family or friends ☺️
Chacha
2016-11-20T00:00:00Z
The apartment is absolutely stunning. The host, Yvette, is gracious, generous and very flexible and accommodating. We loved our stay so much that we extended it for an extra day and Yvette was very flexible and helpful. She left us so many yummy foods for our stay and she made sure the kids had wooden trains to play with. The house is beautifully designed and so cozy. We will definitely be coming back in the future!
Francesca
2016-09-19T00:00:00Z
The house is amazing and Yvette is a great host. Very kind and generous with all the food she left. I cannot rave enough about the house! The space is as amazing as it appears in photo and then some!
Francesca
2016-09-18T00:00:00Z
A big and beautiful house with all the imaginable facilities - an amazing kitchen, a fun sound system and a luxury bathroom. Yvette was at our reach all the time and was happy to answer any question we had and help in any way that she could. Highly recommended!
Yael
2016-10-24T00:00:00Z
I stayed at Yvette's beautiful house for 3 nights. The house is gorgeous, very clean and the cats are adorable and an added bonus. I didn't get a chance to actually meet Yvette but our communication was seamless. She did everything possible to make our stay as comfortable as could be, even set us up with food and wine. Would absolutely recommend.
Kathy
2016-09-11T00:00:00Z
Yvette is a really cool woman, her house its really beautiful and new, you have everything to enjoy your stay, and the cats are really cool, i really recomend this place =)
David
2016-07-25T00:00:00Z
Room Type
Entire home/apt
---
Property Type
Villa
---
Accommodates
6
---
Bedrooms
Amsterdam, Noord-Holland, Netherlands
Beautiful private spot in safe and quiet neighborhood. Brand new studio with private entranc and teracce. In front of the studio your own free parking place. 2 minutes to public transport (bus) and 7 min. to tram,that will take you in 15 mn to cente
The cosy studio has two electric hobs where you can make a small ! meal if you want and a refrigerator. Nespresso for making good coffee. Separate walk - in shower toilet and sink. A double bed : two mattresses from 80, (160x200) witch we can separate from each other. A little table, 2 chairs and a closet with mirror. The studio has floor heating, also in the bath room. Patio doors to the outside. The studio is attached to the mainhouse and has its own ENTRANCE. We also have another studio at the back of the house (also at airbnb) Free parking place in front of the studio (own drive). The studio is for two persons we can not add another bed.
This is a quit and safe area with a lot of trees. A foot step away from the Amsterdam Forest but also quick to the center with public transportation. Or by bike 25 minutes.
Bit smaller than expected, otherwise perfect!
Wouter
2016-11-17T00:00:00Z
Wenneke is super friendly,help me a lot. My mum and I really enjoyed the time in Amsterdam.
Esther
2016-11-05T00:00:00Z
My husband and I loved our little studio, in a quiet little neighborhood. It had everything we needed. Wenneke greeted us and made us feel welcome. It was a perfect location for us, near the Free University.
Christina
2016-10-15T00:00:00Z
Great little studio. Very clean and quiet. Wenneke is friendly and very helpful so I definitely recommended her.
alberto
2016-10-06T00:00:00Z
Winneke is a great host and has and has an awesome house. She provided coffee and snacks, gave us directions for things to do, and was very friendly. The house was immaculate. Really, couldn't ask for anything more. Perfect!
Jeremy
2016-07-24T00:00:00Z
The welcome was very warm, communication was excellent ant Wenneke had so many useful tips and information on how to enjoy the city. She was extremely friendly, interested and trustworthy. The appartment is somewhat outside the city, but we knew this before. It is about 15 minutes by bicycle to the city centre and it is no problem to hire bikes nearby. We enjoyed our stay a lot and recommend this place to anybody who doesn't mind a short bike ride to the city centre.
Thomas
2016-12-09T00:00:00Z
Friendly host, lovely weekend in clean, well equiped apartment. Beautiful neighbourhood. Had a great stay.
Anine
2016-10-09T00:00:00Z
Sweet little studio in immaculate condition (hotel standard), peaceful surroundings and very well located - highly recommended. The only thing that wasn't as expected was two single beds placed together rather than a double. Wenneke was very helpful and welcoming - thank you
Karis
2016-11-25T00:00:00Z
Room Type
Private room
---
Property Type
Villa
---
Accommodates
2
---
Bedrooms
Amsterdam, Noord-Holland, Netherlands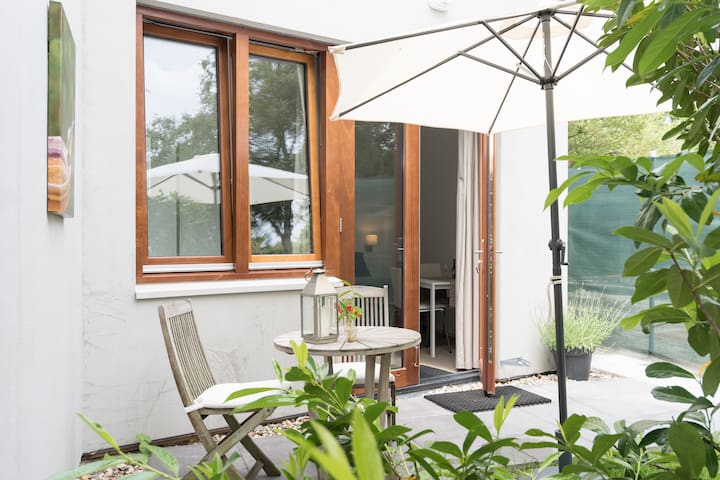 1

–

18

of

92 Villa Rentals
Enter dates to see full pricing. Additional fees apply. Taxes may be added.