shady cottage on 2 hectares, with indoor heated pool, tennis, mini farm, Bikes. The cottages are fully equipped with air conditioning, covered terrace, garden furniture. Quiet, near the caves of Roquefort and Millau
accommodation is simple but well equipped with everything needed for cooking: fridge, freezer, 4 electrical plates, microwave and air conditioning .... 2 bedrooms, 1 with a double bed and the other with two single bunk beds living room with couch and TV
calm with the village of Montlaur 300m with its restaurants and its shops
Joli chalet situé dans une résidence de vacances au calme à 50 minutes de Millau. Très belle région à visiter. Accueil excellent de la gérante et chalet propre et très agréable/fonctionnel. Seul petit bémol, une toute petite pièce à vivre difficilement partageable à 5 comme c'était prévu au départ (à la rigueur idéal pour un couple avec 2 jeunes enfants). Nous étions finalement 3 heureusement. Un canapé plus confortable serait le bienvenu aussi. Par contre logement fonctionnel et agréable pour la cuisine et la salle de bain. Une jolie terrasse et des équipements extérieurs très sympa. Excellent contact avec les gérants très souriants et disponibles avant l'arrivée ainsi que pendant le séjour!! On reviendra!
Myriam
2016-10-25T00:00:00Z
Très bon accueil efficace.le hameau des genêts est un havre de paix en septembre situé dans un paysage bucolique . Je recommande ce village vacance et j y retournerai
Nathalie
2016-09-09T00:00:00Z
Room Type
Entire home/apt
---
Property Type
Chalet
---
Accommodates
5
---
Bedrooms
Montlaur, Midi-Pyrénées, France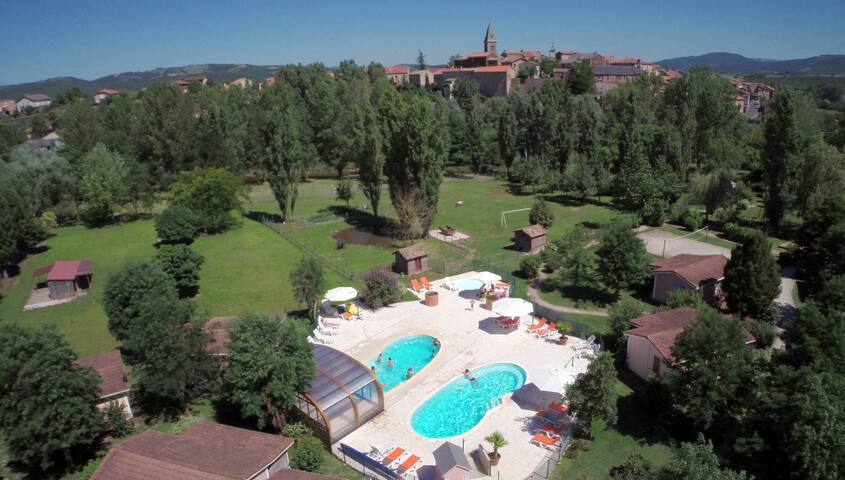 House in Montlaur, in the heart of Rougier of Camares. Backed by the town, it offers a breathtaking view of the river. It has the necessary comfort for an exciting holiday in the quiet southern Aveyron. Near Millau, Roquefort, Sylvanes, Larzac.
The house has stunning views, not overlooked on Rougier. It is spacious to accommodate 2 families. It has 4 bedrooms, a kitchen, a bathroom and a large living room. The village shops are within walking distance of the house, like the skate-park for children, tennis court and ball game. cot and high chair are available.
Montlaur is a peaceful village, full of charm, offering many activities: cycling, fishing, tennis, bowling, skate park, river swimming (lake Camarès), hiking in the heart of Rougier. Possibility to go canoeing on the Tarn. Its location allows to visit: Abbey Sylvanes (music festival), Millau (viaduct micropolis), the Roquefort caves, the Larzac plateau, the castle of Montaigut .A little further (1 hour drive) and Albi its cathedral, Toulouse Lautrec museum, or Rodez with Relieves museum. RMK: small supermarket in the village and big box Camares (8km)
Séjour très agréable dans cette maison de "mamie" revisitée au bord de la rivière. Vacances à la campagne en toute tranquillité.
élise
2016-08-21T00:00:00Z
Nous avons été très chaleureusement reçus en dépit de notre retard sur l'horaire prévu. Tout était fait pour nous rendre le séjour agréable.
francoise
2016-07-30T00:00:00Z
Room Type
Entire home/apt
---
Property Type
House
---
Accommodates
8
---
Bedrooms
Montlaur, Languedoc-Roussillon Midi-Pyrénées, France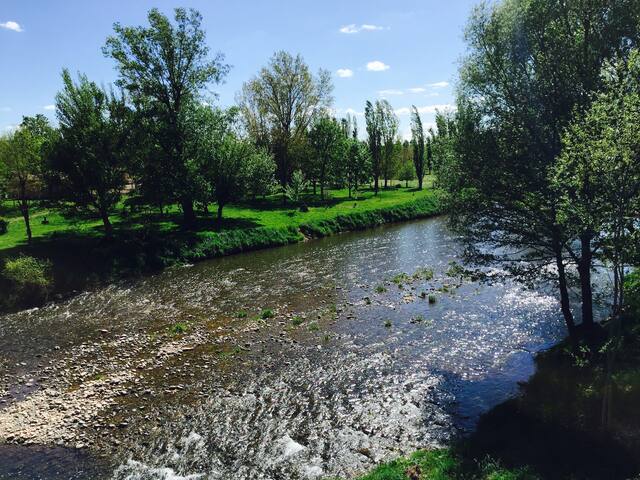 Hello, This very bright accommodation comprises a spacious kitchen, a bathroom (bath & shower), an adult bedroom, children's room with two beds, a living room with TV. It also has a swimming pool.
For rent in a house of an ancient mill a 70m2 cottage for 4 people. This accommodation is very bright, it has a large pool which is available by the owner and a terrace.
This cottage is located in beautiful southern Aveyron region in the heart of rougiers Camarès. Nearby attractions: Millau viaduct, Roquefort Caves, Micropolis, Soulages museum, Castle of Montaigut, Sylvanès, the Gorges du Tarn and Dourbie, La Couvertoirade, Larzac ...
Indeed a very nice gîte, with a great view over the fields and river from the terrace. The kids loved their room, with a wooden mini house for each cot. Everything was as it should be and Clarisse and her family made us feel very welcome. We had a great time in the beautiful Aveyron and would certainly come again to Montlaur.
Jeroen
2015-07-19T00:00:00Z
Great accomodation. The pool was perfect, the children were very happy with their small huts. The kitchen was well appointed, we missed nothing. The village has a small shop, with enough on offer that you wouldn't need to drive anywhere. The pool and garden are shared with the owners when they're here, but that's absolutely not intrusive. The children enjoyed playing in the nearby river too. The place was a watermill and in the owner's family for several generations. The building was actually transformed into an apartment for the family, and other guests now have the privilege to enjoy it too. The place is very very quiet, except maybe the frog concert at night. So very relaxing. Also lots to do and good recommendations from the owners: - Playing in the nearby river - Visit Montaigut castle - Visit Roquefort caves - Velorail du Larzac (very good) A bit further away, we saw the Causse Mejean and the Dargilan cave. The only thing to improve : WiFi!
Christelle
2016-07-10T00:00:00Z
Location conforme aux photos, situation très agréable dans un environnement rural et relaxant, située à proximité directe de la piscine des propriétaires (baie vitrée avec vue directe sur la piscine). Peut être un point négatif à être à proximité des prés avec des chevaux, beaucoup de mouches qui vous parasitent votre bain de soleil après la piscine, mais c'est la campagne et on ne pourra pas imputer cela aux propriétaires ! Draps et serviettes fournies, mobilier complet pour passer une semaine agréable comme à la maison. Nous y avons passé 3 jours agréables. Propriétaire très sympathique, peut être un peu trop présent à notre goût car nous cherchions surtout de la tranquillité. Seul point négatif : pas de connection internet, en l'absence de réseau mobile... Au total, séjour agréable!
Albert
2016-09-06T00:00:00Z
superbe gîte, l'endroit est superbe. La maison est très fonctionnelle et parfaite pour se reposer. L'accueil est très chaleureux et les propriétaires sont très disponibles si vous avez besoin d'informations. Bref, nous recommandons vivement le gîte !
sophie
2015-08-29T00:00:00Z
Logement parfait, cadre magnifique, repos assuré, bon accueil... Rien à redire, nous recommandons !
Francois-xavier
2016-07-18T00:00:00Z
Nous avons passé un séjour incroyable au Moulin-Montlaur auprès de la famille de Clarisse. Nous avons été très bien accueillis et avons passé un moment au calme, au sein d'un ancien moulin chargé d'une histoire familiale touchante, réhabilité avec passion, patience et goût. Nous recommandons fortement ce gîte tout équipé, les espaces chambres sont très confortables, la salle de bain agréable, la piscine parfaite pour se rafraîchir. Merci encore :) Alexandre, Matéo, Catalina et Clément
Alexandre
2016-08-14T00:00:00Z
Room Type
Entire home/apt
---
Property Type
House
---
Accommodates
4
---
Bedrooms
Montlaur, Midi-Pyrénées, France
Come relax with family or friends in this fully restored barn located south of Aveyron. Lazy at the pool, discovered soil, sports or unusual activities, an unforgettable stay ... even out of season!
Authentic with its stairs and stone walls, vaults and beams, modern with all the comfort needed for a perfect holiday: 6 bedrooms, 3 with private shower, a bathroom, 4 toilets, laundry room a kitchen open living room of 60 m2 and 6 m high ceilings, a terrace garden
Roquefort and legendary caves, the Millau viaduct, the Gorges du Tarn, the Old Montpellier ....
We appreciated the nice countryside and quiet place in small village segunsac, but it is a bit far away from town vabre labbaye and from shops. Swimmingpool and equipment/interior of house were nice, but sleeping rooms in this renovated barn were not that comfortable, due to high temperature and insects. Local french hosts were friendly and helpfull.
Sipke Joost
2016-07-31T00:00:00Z
The host canceled this reservation 61 days before arrival. This is an automated posting.
Pierre
2016-08-21T00:00:00Z
Très beau logement, spacieux, confortable, agréable. juste la météo hivernale, qui nous a empêché de profiter de la piscine et de la terrasse!!!
Daniel
2016-05-02T00:00:00Z
Week end entre amis magnifique dans la maison de cecile :) Les couchages sont géniaux, le salon est immense. L'accueil est tres sympa , et il y a tout le confort necessaire a ce genre de petits evenements. La meteo ne nous a pas permis de profiter pleinement de l'exterieur, mais l'interieur suffit largement ! Vraiment a recommander On y retournera avec plaisir ! Merci cecile
Hugo
2016-09-18T00:00:00Z
endroit reculé
Romain
2016-09-05T00:00:00Z
Nous avons passé un séjour très sympathique dans cette magnifique demeure. Nous avons été bien accueilli et nous recommandons l'Ostal d'Albowan à tous ceux qui veulent passer un moment de détente dans un joli hameau.
Jonathan
2015-09-14T00:00:00Z
La maison est spacieuse, confortable et très bien rénovée, elle est idéale pour passer un très bon moment entre amis! La terrasse et le barbecue permettent de profiter pleinement du jardin. Seul petit bémol concernant la piscine qui n'était pas chauffée mais dans l'ensemble nous avons passé un très bon weekend à l'Ostal d'Albowan!
Flavien
2016-06-06T00:00:00Z
Room Type
Entire home/apt
---
Property Type
House
---
Accommodates
12
---
Bedrooms
Vabres-l'Abbaye, Midi-Pyrénées, France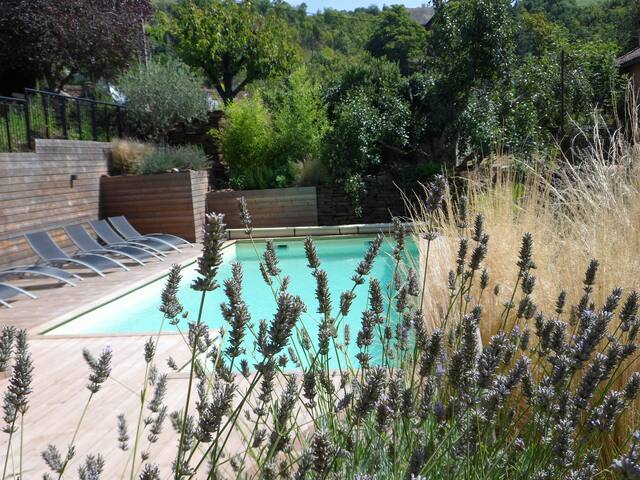 Come relax with family or friends in this old barn fully restored combining modernity and authenticity. Enjoy the many activities surrounding or farnienterez beside our heated pool.
With a ceiling height of 6 m, 60m2 living room is a veritable cathedral with its stone arches and wooden beams. With 6 bedrooms with three en suite showers and bathrooms, everyone will benefit from his holiday in peace.
At the heart of a hamlet, very quiet, no passing vehicles. shops 11 km (supermarkets, swimming pool, cinemas and restaurants).
Magnifique gîte correspondant parfaitement à la description, dans un endroit calme et paisible. Nous avons passé un excellent séjour!
Jean-Rémi
2015-09-21T00:00:00Z
Nous sommes un groupe de personnes qui avons participé à la Rasp E Trail. Nous voulions un maison grande pour nous loger avec nos familles et on a trouvé l'Ostal d'Albowan, qui était assez grande pour tous et à un distance de Le Truel convenable. La maison est charmante, très bien équipée et dans un petit hameau idéal pour ceux qui cherchent s'isoler du bruit. Il faut dire que ceux qui se logent aux étages supérieurs on a besoin d'être en forme pour monter et descendre tout autant d'escaliers ;) Cécile a été très aimable et patiente avec toutes les doutes que on a eu avant nous décider pour sa maison. Sur place c'était Résa qui a été très accueillante. La région est belle, spécialement avec les couleurs d'automne.
Diego
2015-10-12T00:00:00Z
Nous venons de passer un week end avec 6 de nos amis dans cette fantastique maison. Les photos de la piece à vivre ne rendent pas l'incroyable impression que vous avez en y entrant. Donc chut...on vous laisse la surprise. Toutes les chambres de cette maison sont superbement meublés entre chinage et modernité. les proprietaires ont réussi leur pari! Le plus: les chambres sont équipés de leur salle de bain. exterieur tres agréable même en novembre. Cuisine super équipée et Résa vous acceuille de façon charmante...bref le bonheur!!!
PLANA
2015-11-08T00:00:00Z
Très bon séjour ! La salle centrale est juste whaaaaou ! Nous avons eu quelques petits soucis avec le chauffe eau mais Réza et son mari ont tout fait pour trouver une solution sur place. Je recommande vivement cette maison décorée avec très bon gout !
Charlene
2017-01-01T00:00:00Z
Room Type
Entire home/apt
---
Property Type
House
---
Accommodates
14
---
Bedrooms
Vabres-l'Abbaye, Midi-Pyrénées, France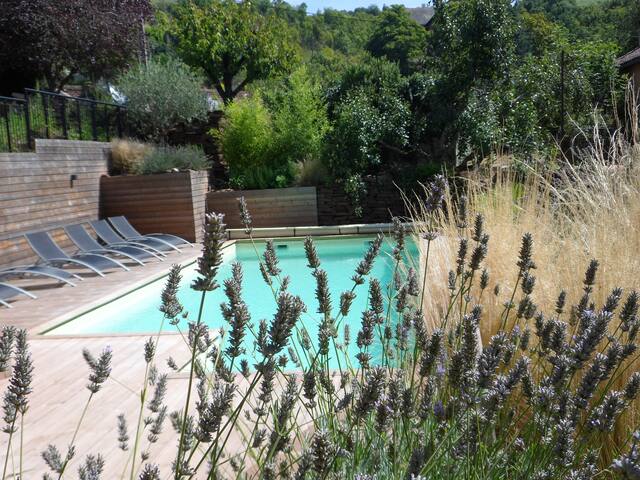 Renovated in 2014, the tourism furnished (3 stars) with 3 rooms is ideal for a family or friends to 8-10, in this special area that is the Rougier of Camares. Rental of 3 nights
Room Type
Entire home/flat
---
Property Type
House
---
Accommodates
10
---
Bedrooms
Montlaur, Midi-Pyrénées, France

Family house in the village of Segonzac, independent, on 1000m2 of land. 90m2 living space over 2 floors. A nearby church cemetery, overlooking the countryside and the village. Calm and greenery.
There is no service to the village. all amenities are in Vabres, 8kms. Creamer butcher passes once a week to Ségonzac.
Nous avons passé un très agréable séjour en Aveyron. La calade est située dans un petit village tranquille ; c'est idéal pour passer un séjour tranquille.
Marc
2016-08-06T00:00:00Z
Accueil sympa. Environnement calme. Maison située près des gorges,du Tarn, de la Jonte, de la Dourbie. Larzac et villages templiers à 2 pas. Un bon séjour pour nous !
Paul
2016-07-17T00:00:00Z
Nous étions attendu par Danièle, très disponible malgré notre arrivée plus tardive que prévue. Danièle est très gentille et elle aime vraiment beaucoup cette maison, pleine de charme, on y est comme à la maison avec des centaines d'objets précieux appartenant à la famille de Danièle mais que nous respectons comme des marques de confiance. Cette maison est pleine de charme, tant dans son architecture sur trois niveaux mais aussi par la manière dont elle est aménagée. Le lit était douillet et confortable, le silence, l'environnement parfait, le jardin qui permet d'y prendre du bon temps en regardant la nature très belle environnante. Nous avons passé un super séjour dans cette jolie maison.
Martine
2016-07-07T00:00:00Z
Room Type
Entire home/apt
---
Property Type
House
---
Accommodates
4
---
Bedrooms
Vabres-l'Abbaye, Midi-Pyrénées, France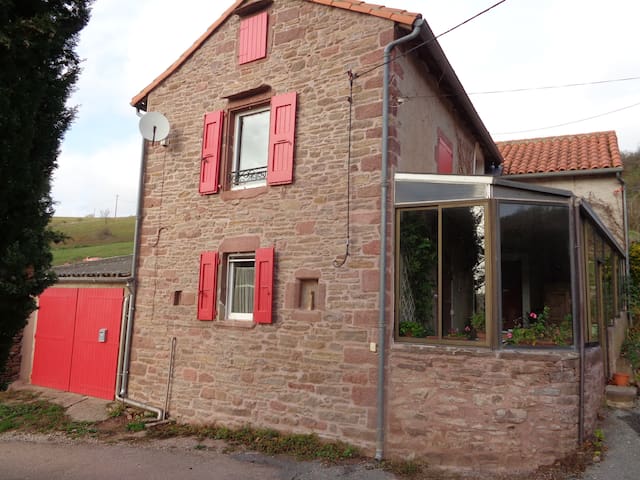 Maison de campagne 120M2, pleine nature, calme, randonnées, VTT, proximité sites UNESCO Albi, Causses du Larzac, Roquefort, Viaduc de Millau, Stages Abbaye de Sylvanès. Dégustations. Paysage "Colorado" (rouge et sableux) très typique. Convivialité.
Maison pour 4 personnes maximum, située dans une exploitation agricole.
Le contexte est très calme, propice au repos. Il sera opportun d'alterner des activités sportives et des sorties culturelles. Les propriétaires donnent les indications et orienteront volontiers le vacanciers vers "les incontournables".
Nous sommes arrivés chez Anne claire après avoir passé la journée en moto sous la pluie.. Accueil très chaleureux, nous étions attendus avec de délicates attentions! Hôtes charmants, petit déjeuner copieux avec des produits artisanaux, bref adresse à recommander...
BRUNO
2015-08-10T00:00:00Z
La maison est entièrement rénovée et située dans une région agréable et rurale. L'accueil est plus que bienveillant et Anne-claire et son mari sont accueillants, serviables et discrets. Nous avons beaucoup apprécié notre séjour d'une semaine, en rayonnant en voiture entre le Tarn, Albi, le Larzac et les villages du rougier, plus quelques agréables moments d'échanges avec nos hôtes. Un très bon rapport qualité-prix. Dommage que nous n'ayons pas pu profiter plus du jardin à cause des épandages de l'agriculteur voisin.
Anne
2016-08-14T00:00:00Z
Room Type
Entire home/apt
---
Property Type
House
---
Accommodates
4
---
Bedrooms
Rebourguil, Midi-Pyrénées, France