Our modern two bedroom apartment offers you privacy. It comfortably fits 4. We are just a few miles from the adorable Cape Charles. You have the whole apartment to yourself, privacy!
It is on the second floor. 2 bedroom, kitchen, dining table seats 4. Living room, two recliners, and large sofa. Second floor deck, suitable for smoking, wonderful view of sunrises. Hardwood floors throughout. House can sleep up to 6 people. All bedding and kitchen needs are supplied. All modern appliances. Convection oven, dishwasher, stove top, and microwave. (note: **no conventional oven**) Huge fridge (PLEASE no fresh-caught fish in fridge, Cooler available upon request) Although not completely ADA compliant, the space is semi-handicap accessible, with a stair-lift to the apartment. The shower is accessible, with a seat inside, a wheel-chair moves freely through the apartment. If you need further details or description of the space, please feel free to message me.
This area is rural, quiet, especially in the the fall-winter months. You will enjoy the solitude. The town of Cape Charles is just 3 miles driving distance from us. It is the most picturesque little town. Excellent birding in the area, a photographers/artist paradise.
AirBnb came exactly as listed and equipped with everything we could have needed. Vicki was accommodating and easy to get in touch with. I'd definitely stay here again.
Eileen
2016-10-24T00:00:00Z
Vicki welcomed us warmly, and made certain we were able to connect to internet and Netflix. She offered to provide information about local points of interest and invited us to contact her at any time with questions or concerns. The apartment was exactly as described, and we found it to be a very comfortable and enjoyable place to relax and use as home base during our five days of exploring the Eastern Shore. Vicki was never intrusive, but gave us a sense of security by being available by text or phone if we had questions. Excellent value if tv and waterfront are not a high priority. We highly recommend Vicki as a hostess and loved staying at her listing.
Debbie
2016-10-16T00:00:00Z
Very warm welcome from Vicki and her children. They pointed out everything we needed to know. Spacious apartment with a fantastic view of the sunrise, for us it was accentuated by Hurricane Matthews. We loved our stay -- we had the space, amenities, peace and privacy to enjoy our time.
Vijay
2016-10-09T00:00:00Z
The place was very nice. Comfortable beds, big kitchen and living room. Shower and bathroom was luxurious. Very quite but only a few minutes from Cape Charles.
James
2017-03-26T00:00:00Z
A nice place to stay all around. More than enough room for the two of us. Peaceful and quiet neighbourhood, so we had a good night's sleep.
Robin
2016-10-26T00:00:00Z
Great experience. Very modern building and everything you might need to prepare food you bring or buy (if you'd like to). Very comfortable and exactly as described. Super comfortable bed! Lovely location in a open field in the country.
Ruth
2017-03-11T00:00:00Z
I highly recommend a stay at Allgeier Acres! The apartment was as described, clean, well appointed & comfortable. The family is onsite to help in any way but respects your privacy. Three friendly dogs & a cat that loves his ears scratched! I hope to return soon.
Mary Jane
2015-10-09T00:00:00Z
Very comfortable, roomy, and clean. Hosts were very friendly and helpful. This was a detached apartment over a garage, full kitchen and two bedrooms. It was about 5 minutes from downtown Cape Charles. We would certainly stay here again.
Lynne
2015-10-11T00:00:00Z
Room Type
Entire home/apt
---
Property Type
Apartment
---
Accommodates
4
---
Bedrooms
Cape Charles, VA, United States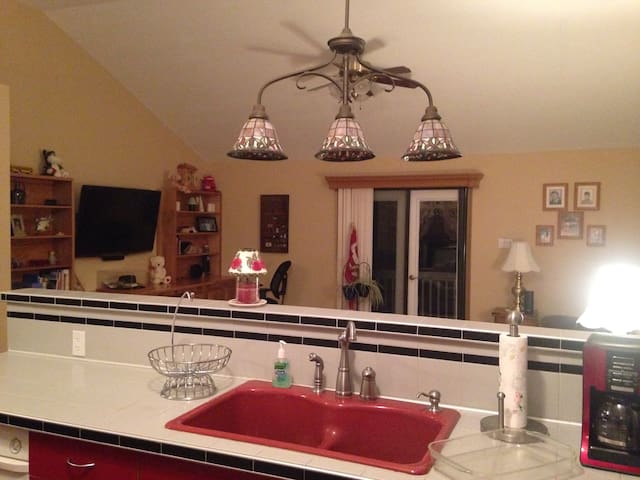 WELL MAINTAINED FURNISHED SECOND FLOOR CONDO LOCATED IN THE FAIRWAYS, BAY CREEK'S GOLF COMMUNITY . AMMENITIES INCLUDE PRIVATE BEACH, GOLF, AND TENNIS. SHORT WALK TO THE POOL AND COMMON AREA WITH CHARCOAL GRILL AND PICNIC TABLES.
Room Type
Entire home/apt
---
Property Type
Apartment
---
Accommodates
3
---
Bedrooms
Cape Charles, VA, United States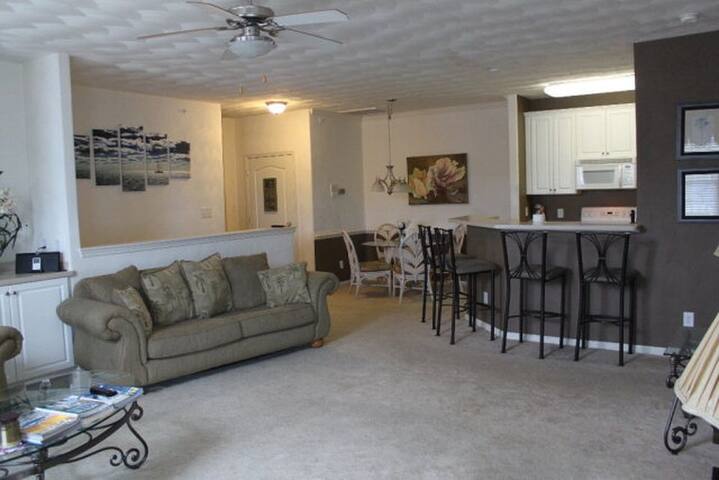 Calm, peaceful room with one queen bed. Private (not shared) bathroom across a small hallway. There is wi-fi internet in the house. There is NO TV in the house. Coffee, tea anytime Toasts with peanut butter and jam for breakfast
A private bedroom and a private bathroom (across a small hallway) in a two-bedroom apartment in a nice complex with a pool and gym. Light, optimistic and friendly space, feels calm and peaceful.
Convenient location, close to everything Within walking distance: community pool, gym, kids playground, 7 eleven, Dollar Tree Dunkin' Donats Little Caesars Pizza Food Lion, McDonalds, Taco Bell, Burger King Pizza Hut, Josh's bar & grill The beautiful Buckroe Beach and Park, as well as Buckroe Fishing Pier are only 1.5 miles away from our home, which is about 30 min walk or 5 min drive.
The place was clean, she was very welcoming, and had some good rest! The breakfast was a nice suprise. She was flexible with the check in time and i was able to check in 9am (i work night shift). Overall nice stay
Vanessa
2017-03-31T00:00:00Z
Room Type
Private room
---
Property Type
Apartment
---
Accommodates
2
---
Bedrooms
Hampton, VA, United States
Welcome to Suite 46! We offer a lovely private suite with a bedroom, bathroom, and living room two blocks from the water in downtown Hampton. It's like having your own little apartment! Your living room has a kitchenette, your bedroom has a queen bed, your full bath is all your own.
Our home sits in a quiet neighborhood, two blocks from a waterfront park, and about two miles from the quaint shops and restaurants of Downtown Hampton. We are 5 minutes from a beautiful local beach and convenient to all local shopping, dining, and military bases. Your privacy is very important to us. Your suite is private wing of our home. Though we do have a common entrance, you can shut the door to the suite and lock your bedroom door for added privacy. Your entrance has an access code; please feel free to come and go any time you'd like. Our suite is all on the first floor and all yours. Your bedroom has a queen sized bed, two windows, a large closet, dresser, and fresh linens. Your bathroom has a full sized shower and lots of extras in case you forget anything. Your living room has a futon (sleeps two comfortably, linens provided), a TV with DVD player and lots of DVDs, a dining table, and little kitchenette. The kitchenette has a fridge, microwave, hotplate, Keurig, toaster, and all your tableware. Of course, free WiFi is provided. The back yard has a large patio with a grill and fire-pit...please make yourself at home! Anything else you need, just ask; I work full time in the hospitality industry and want to make your stay perfect! Check in and out times can be flexible depending on the situation. Please feel free to ask if you'd like to arrive early or stay late! We do have a super cute 40 lb dog who will be so excited when you first arrive, but she'll calm right down and behave wonderfully after that. She is well trained and respects everyone. We do keep our home very tidy, so you don't have to worry about clouds of dog hair everywhere. Washer/dryer is available onsite upon request. Any other questions/concerns, please feel free to ask!
Quiet and historic neighborhood minutes from a local beach, Downtown, military bases, and the interstate. Private, waterfront park and marina in the neighborhood.
In a few words: Jon's place was awesome! It is exactly like the pictures - it really feels like a B&B. It is super kid friendly - there's a park down the street. About a 10 minute drive to the beach. Anything you need, just ask Jon, or text him for a quick recommendation on anything! We loved Hampton, VA, would love to go again, and would definitely stay at Jon's again. Thank you Jon! In many words: We arrived late, which was no problem for Jon. Previous to arrival I had asked Jon for a family friendly beach recommendation. We checked it out - it's on the old Army base - it was amazing. Shallow for a long stretch, minimal waves. My two toddlers walked in the water for the entire afternoon. We all went out even further and saw blue crabs, small sting rays and fish! What a treat! City BBQ ( I think ) was delicious, family friendly, and affordable. Jon and Nicole greeted us super late. They helped us unload, helped coral the kiddos, they are so hospitable, sweet, and nice. The two bedrooms/one bath were perfect. Lots of extras in the bathroom and the kitchenette. A huge DVD selection. Your own A/C & Heater control which is such a luxury! Everything was really easy to use and I love the binder full of information an recommendations. The private park down the street was amazing! On day 2, we wound up at the Ocean Paradise on the old base - it used to be the Officers' club, and we hung out all day between the pool (with a kiddie pool including its own mini water slide) and the beach. There's a restaurant there, beach service. For $10/adult it was pretty amazing! Again, Jon & Nicole are so lovely. Hampton is awesome - what a treat to go to the beach, not have to deal with the hub bub of Virginia Beach, and just hang out!!!
Miria
2016-05-29T00:00:00Z
This was me and my girlfriends first time doing Airbnb and I must say it was the best first time experience ever. Jon and Nicole were great host and made us feel very comfortable! Everything we needed they provided and was very helpful when it came to finding things to do or great places to eat! When they said they have an adorable puppy they were telling the truth, Layla is a energized bundle of joy who keeps a smile on your face! We loved it here so much we wanted to buy another night to stay with Jon and Nicole longer! We will be back, and if your planning to stay in Hampton and want to stay at a place where you feel comfortable I advise you to get in touch with Jon and Nicole they're a wonderful couple to work with!
Shai
2016-08-16T00:00:00Z
Jon and his wife were very accommodating and welcoming. Their home was everything they said it was and it was one of my best airbnb experiences that I've had. I would recommend their home to anyone as it is clean, quiet, and you feel like you are at home.
Joshua
2016-02-15T00:00:00Z
The space was perfect for my needs - comfortable, private, and close to the convention center. I highly recommend this to anyone who needs a space in Hampton!
Philip
2015-11-20T00:00:00Z
We give this place five stars. Pros: Separate sitting room is spacious, with TV, refrigerator, microwave, coffee maker, DVDs, games, and popcorn. Bed, pillows, bathroom, shower, and towels are all perfectly clean. Jon and Nicole are friendly and helpful. Parking is in driveway right close to side entrance for easy unloading. Wifi signal was strong. Cons: None. No complaints. :)
John + Hallie
2016-09-07T00:00:00Z
When we first got to Jon's and Nicole's, we felt right at home. Nicole and their playful pup Layla were there to welcome us and show us to our rooms. Not just a bed and a shower. No, we had an entire living area, a spacious bedroom and a private bathroom all to ourselves. We settled in and stumbled upon a 'guide' to Hampton and its great locations to eat, drink and sightsee. Made by our very own hosts. Straight off, we could tell Jon and Nicole were in a different league when it comes to bnb's! They've really put in the effort to make our stay enjoyable and unforgettable. And they did! The only thing we weren't too happy about, was not being able to stay an extra day.
Jeroen
2016-05-07T00:00:00Z
Jon's place was great! The house was clean and in a perfect centralized location. And their puppy was very sweet!
Skyler
2016-12-09T00:00:00Z
Jon, Nicole, and their adorable pup Layla were exceptionally welcoming hosts. They went above and beyond to give us our space while remaining totally accessible and responsive, and to make sure our stay was comfortable. The suite is cozy and well-equipped for a relaxing weekend stay.
Mo
2017-02-05T00:00:00Z
Room Type
Entire home/apt
---
Property Type
Apartment
---
Accommodates
4
---
Bedrooms
Hampton, VA, United States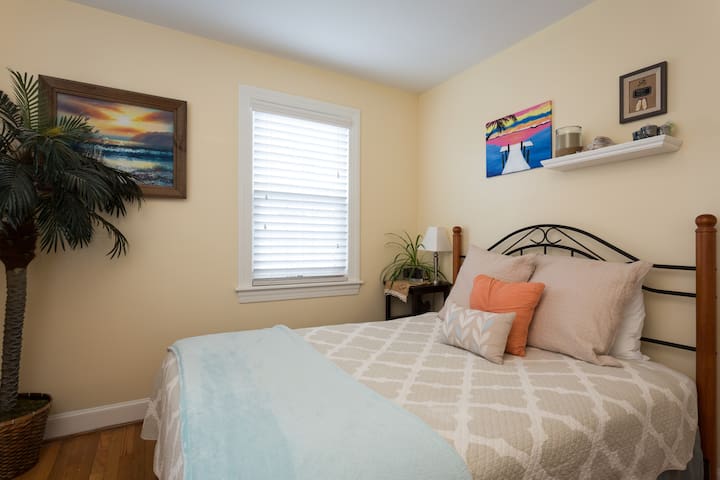 Our cool and comfortable one full size bedroom and twin size bed is near some amazing attractions, Air and Space Museum, The History Museum, and more incredible places. Also there are some good eating places, The Grey Goose, Hampton Seafood Market, The Ice Cream Factory and ext.
I have one full size bedroom and one twin bed in the living room !
Everything is so convenient !
Exactly as described. The magnificent apartment was very cozy. Leon was very courteous and asked me everyday how he could improve my stay. I stayed with my son and Leon went out of his way to get him a birthday card and gift. Leon introduced himself and contacted me immediately after booking. I felt like I was staying with family instead of Air BNB. The price is unbeatable. I would recommend Leon's place to others and would stay here again when I'm in town. Thank you Leon for your heart hospitality. #FellowSagittarius
Tieesha
2016-11-03T00:00:00Z
Leon called right away to help me find the place and asked me if I needed help w anything . He had extremely quick response time and accommodated my last min booking cheerfully. My room was lovely and clean. The space is so organized and cute. Leon is a model of hospitality! He fixed scrambled eggs and French toast for me and gave me directions to the Air and Space Museum. He even walked me out to my car! I would recommend anyone staying in his AirBnB!
Julia
2016-09-26T00:00:00Z
Lovely home and Leon was very nice!
Haeun
2016-07-24T00:00:00Z
Leon was a gracious host always checking in with me to see if I had what I needed and he cooked me a full breakfast each morning. The apartment was clean and I had everything I needed. Thank you Leon for a wonderful stay.
Glenn
2016-10-05T00:00:00Z
The place was cozy and comfortable. Leon was a sweet host and was kind enough to let my (well-behaved) cat spend a few days here since I was moving from out of state. He also offered good conversation.
Jason
2016-10-09T00:00:00Z
Leon was a great host. My wife, myself and my five year old had a wonderful time. My daughter didn't want to leave. The breakfast was great. The description of the property was exactly the same. The neighborhood seems safe and clean. Since we were driving, we were able to visit my university (ODU) and Virginia Beach and will come back in October and will stay at Leon's. Overall we are happy!
Bizuwork
2016-08-16T00:00:00Z
Leon is great! Friendly, thoughtful, and makes you feel at home. The apartment was super clean and the bed was comfortable. Would recommend to a friend!
Richard Bryan
2017-01-16T00:00:00Z
Leon's place was exactly what I expected and I was super happy with it! It was perfect for my one night stay in Hampton. Leon was very nice and welcoming and made a great breakfast!! Next time I come to Hampton I'll be looking here first!
Grace
2017-01-22T00:00:00Z
Room Type
Private room
---
Property Type
Apartment
---
Accommodates
3
---
Bedrooms
Hampton , VA, United States
Perfect little suite! Private entrance and exit. Central A/C and heat. Granite counter tops; stainless steel appliances; Hardwood floors; centrally located and convenient to shopping, schools, Interstate 64, & Langley Air force Base. 10 mins from Norfolk, Newport News. Access to Washer/Dryer/Cable/Internet. Perfect for students and tourists. Book today & get ready to fall in Love!!
Central Air and heat. Additional fan and heater inside the closet if needed. Internet access is available as well as washer/dryer. Cable TV ready on smart TV. The front door is a sliding glass door and the rear door is key accessed.
Riverdale is quiet and friendly. There is biking/walking lanes off the main street. Banks, hospital, fire department, Hampton Coliseum, Langley Air Force base are all within 5 miles.
Seconds from the AFB. Extremely clean and neat. Good wifi. Excellent value.
Derek
2017-03-24T00:00:00Z
Great communication, everything was on point.
Nicholas
2017-03-06T00:00:00Z
The stay is about a 5 minute drive from the bus, super close to the Town Center Peninsula, and exactly as pictured. The perfect little space for a nice, relaxing trip.
Amanda
2017-03-15T00:00:00Z
Very cute room with nice amenities hosted by a very nice family! The entrance is on the back side of the house and bed is only big enough for one or two very small people. Great location to Langley!
Elise and Matt
2017-04-09T00:00:00Z
Room Type
Entire home/apt
---
Property Type
Apartment
---
Accommodates
2
---
Bedrooms
Hampton, VA, United States
Tastefully furnished apartment is three blocks to Buckroe Beach and minutes away from Fort Monroe, Joint Base Langley-Eustis, and Norfolk NOB. This upstairs unit of a renovated duplex has all the amenities of home. All you need are your suitcases!
Located in the heart of Buckroe Beach, the apartment is the upstairs unit of a duplex. It is smartly furnished and only 3-1/2 blocks to the beach. All you need to bring are your clothes and swimming suits--I provide fresh linen, beach towels, pots/pans, utensils, microwave, glassware, every kitchen gadget imaginable. Buckroe is a family-type beach with free "Groovin' By the Bay" concerts every Sunday evening. (The bandstand is at my end of the beach.) Hampton is close to all historical sites (Colonial Williamsburg, Jamestown, Yorktown), as well as Richmond, Norfolk, Virginia Beach, military bases, colleges, water parks, amusement parks--there's always something going on and somewhere interesting to go. You can even drive to our Nation's capital in less than 4 hours. Within walking distance is a pizza parlor, several convenience stores, coffee shop, and a neighborhood pub. Interstate 64 is less than 3 miles from the apartment.
Very quiet, family-friendly neighborhood.
Loved my stay at Pam's upstairs apartment. I never met Pam but she helped me out before and during my stay: very responsive and helpful. It's easily the most well-stocked Air B and B I've stayed at and it's the little touches like having fresh fruit, a full kitchen and (way bonus) a laundry room. Great residential neighborhood to make me forget I travel so much and an easy walk to a sunrise beach. Overall, very happy. If I'm passing back through I'll be back!
Ben
2016-02-28T00:00:00Z
Pam was an exceptional host. She knew I would be coming in late that night from a 7+ hour flight. I came in to a beautiful, cozy and clean apartment, fully stocked with coffee, oj, eggs, bagels, cream cheese and more. I was in town for my granddaughter's high school graduation, with other family members flying in from all over. The bedrooms are nice sized and ample room for 4 adults and a baby. We even entertained 5 more family members with plenty of room. Everyone loved this apartment! This is a lovely renovated apartment, plenty of parking, fast wi-fi, and a tv in every room. The kitchen was stocked with plenty of pots and pans, dishware, etc. for feeding this crew. The neighbor hood seemed very quiet. I sat out on the porch in the morning with my coffee and observed, not a lot of traffic, mostly people walking their dogs, kids catching the school bus or joggers. I was very HAPPY with my choice to stay here and would recommend this place to everyone staying in this area. We did not make it down to the beach but did drive down there and it looked really nice, not a lot of traffic and plenty of parking. I would absolutely stay here again when visiting the area.
Karen
2015-06-11T00:00:00Z
Apartment was even better than expected. Clean, efficient and comfortable. Everything was thoughtful, comfortable and well placed. Pam was friendly and easily reachable for any questions. This will be my go-to any time I return, without question!
Jared
2016-03-10T00:00:00Z
Our stay at Pam's place was great! The location was wonderful. We were able to walk to Heaven's pizza and to the beach. We never heard or saw the people living downstairs. The ceilings are low in the upstairs apartment, but we loved it. Having two bedrooms was a real nice treat. Overall, it was a great experience and I would definitely stay at Pam's again!
Trista
2016-06-13T00:00:00Z
Pam's place was fantastic. It was located on a very quiet street and just a few blocks from the beach. The apartment was so, so clean and well organized. Pam welcomed us to use anything in the home. She was always available and super sweet. It was such a great experience.
Jessica
2016-04-25T00:00:00Z
This was a great place for our family of 4. The place was really clean and there was plenty of space for our young kids to play inside. The ceilings are kinda low, but we had no issues with that. Location is everything and the short walk to the beach is perfect. While we never met Pam in person, she was always quick to respond if we had any questions. She also stocked the place with some fresh fruit, orange juice and eggs, which helped make our stay.
Seth
2016-07-24T00:00:00Z
We didn't get to meet Pam during our stay, but she welcomed us by making sure we had everything we needed before we checked in. She was available if we needed anything, even though she has already provided us with everything necessary! The neighbors downstairs were also very nice. The apartment was neat and comfortable, making us feel right at home. I would love to stay here again the next time I come for a visit.
Kimmie
2016-03-27T00:00:00Z
Pam was a helpful host. House was well maintained with great equipment. Buckroe Beach was near by and quiet &clean. Thumbs up!
nazan
2016-07-11T00:00:00Z
Room Type
Entire home/apt
---
Property Type
Apartment
---
Accommodates
4
---
Bedrooms
Hampton, VA, United States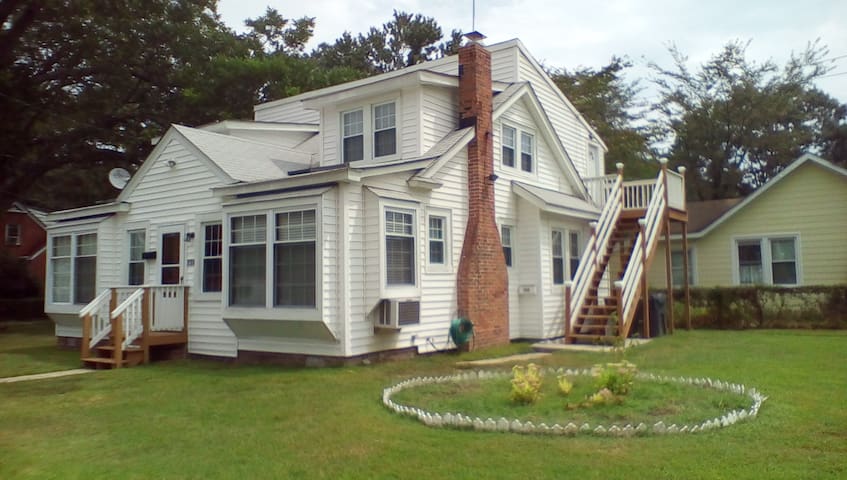 Located on the first floor of the Inn. Enjoy the Cozy comfort of this bedroom. Queen Four Poster Bed 1/2 Bath. Shower just outside of your room. Microwave and DVD player making you feel right at home $160.00 per night. (single or double occupancy)
Shirley's located in the Vicinity of Buckroe Beach Hampton Virginia. Come right in and enjoy 8 acres of sand beach. Sunbath, fishing, swimming, beach parties and live entertainment throughout the Summer. Early mornings are a blast around here biking jogging walking and coffee sipping on the porch
Shirley's is the place to be if you're looking for the home away from home and all in her midst. Pheobus, our brother town, is the home of antiques, art galleries, The American Theater continue on and take a step back in time to enjoy Fort Monroe, Hampton History Museum, IMAX and the Party Village of Downtown Hampton. You can also visit Woodlands Golf Course - City of Hampton,Virginia.
Shirley was a very welcoming and wonderful host. She helped us check in and we really appreciate all of her efforts. The only point that I was confused about was, being a bed and breakfast , why we weren't offered a full cooked breakfast. From the reviews that I read, it was stated that breakfast was included in the price of the room ?
Alex
2016-07-05T00:00:00Z
Room Type
Private room
---
Property Type
Apartment
---
Accommodates
2
---
Bedrooms
Hampton, VA, United States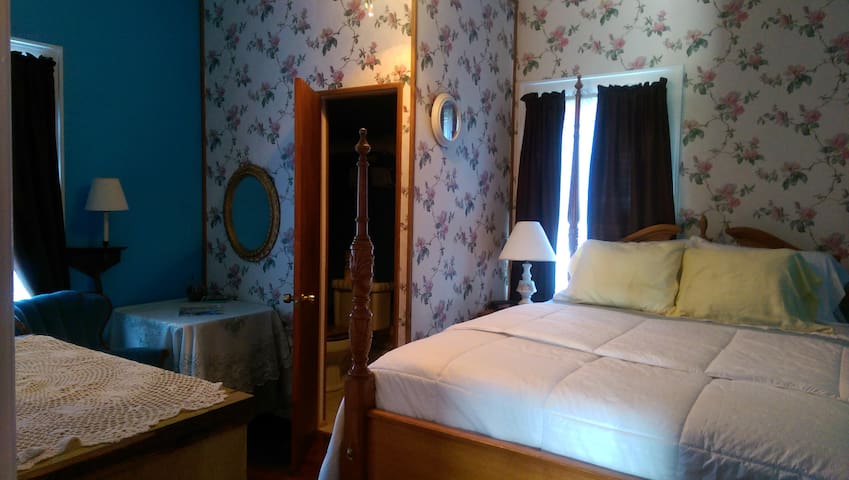 My place is close to TWO Beaches. You'll love my place because of it's cozy location is centrally located. Hospital, shopping, restaurants, everything you can imagine.. My place is good for couples, solo adventurers, business travelers, and families (with kids).
It was awesome quiet location next to a bunch of stuff to do
Will
2016-08-21T00:00:00Z
There was some misinformation on the listing - it said wifi, tv and dishwasher but there was no wifi (Sherry said she didn't have wifi but her son might be able to connect us to someone else's), there was nothing but static on the tv (no working cable) and the dishwasher had no guts to it (just a shell and door but this info was not shared so we tried to put our glasses in it). Additionally, Sherry seemed quite irritated that we weren't there by 5:30 but I had let her know the day before that it would be 6 or 7 pm due to traffic. To her credit, she stayed to give us the keys when we arrived at 7:20 but was in a huge hurry so little info was given. All in all, this was a very disappointing experience and the apartment was somewhat dirty and the bed was horribly uncomfortable. We have had nothing but good AirBnB experiences prior to this but would not recommend this place to anyone. The only positive was that it was easy to get to from the highway.
Mary Pat
2016-10-16T00:00:00Z
Sherry is very nice and stayed in communication with me throughout the stay
Robert
2016-11-17T00:00:00Z
Room Type
Entire home/apt
---
Property Type
Apartment
---
Accommodates
4
---
Bedrooms
Hampton, VA, United States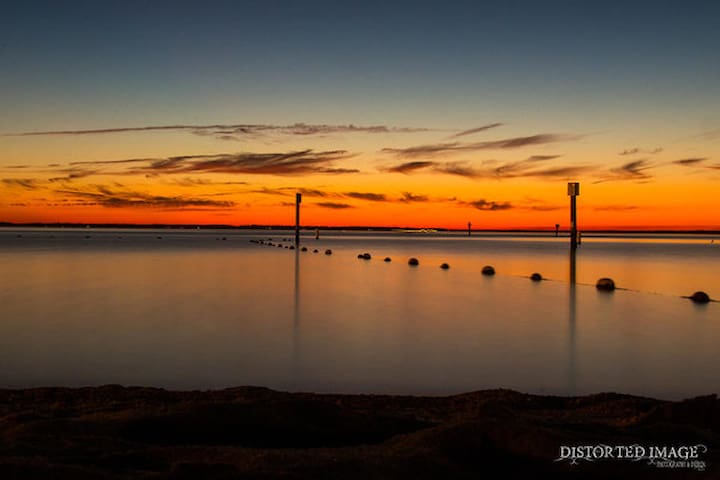 Cozy & private room in a nice new apartment. Only half a mile to Hampton Coliseum, half a mile to Hampton Roads Convention Center, 1.5 mile from shops and restaurants at Peninsula Town Center. 25 miles to Colonial Williamsburg, William and Mary University and Virginia Beach.
Room Type
Private room
---
Property Type
Apartment
---
Accommodates
2
---
Bedrooms
Hampton, VA, United States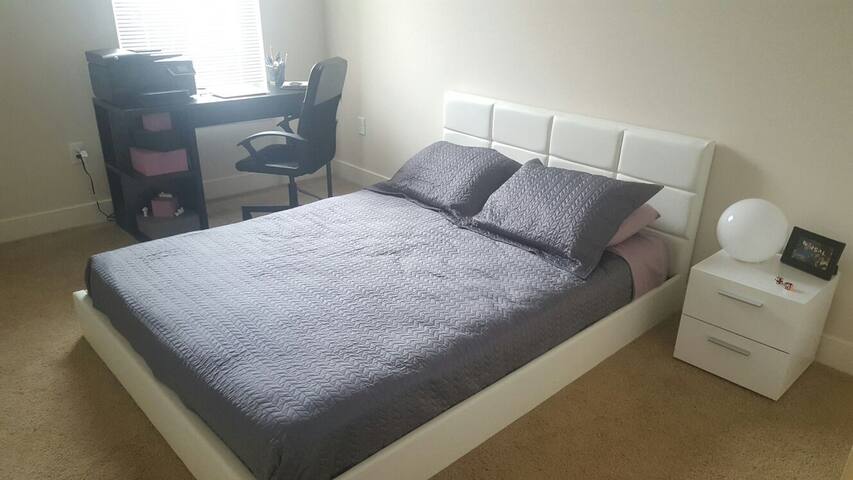 First Floor apt w/private entrance & porch, heated floors, full kitchen, oven, refrigerator/freezer, microwave, small washer/dryer combo, 1 Queen Bedroom, Dining Area for 4-6, Living Rm w/Queen Sleeper, Private Hall full Bathroom w/Jacuzzi, 2 HD TVs
Located at our private waterfront residence this first floor guest apartment has a private entrance, heated floors, oven, refrigerator/freezer, washer/dryer, jacuzzi tub and your own Spacious Private Porch to enjoy the sunrise, dolphins, moonlight and stars. The bedroom offers a comfy queen size bed with linens and pillows provided and a 24" HD TV w/6 HBO Channels. Room darkening shades are also included. The hall bath has custom tile and an oversized jacuzzi tub. The Living room has a flat screen TV with a DVR, NETFLIX on demand, HBO, TMC, Showtime, EPIX, TCM & a DVD player. Also and a upgraded Queen size Sofa Bed. High Speed Wireless Internet is available anywhere inside and on the large private furnished porch which has a Weber Gas Grill . Dining area has room to seat 4-6. We are nestled between a Pristine Dog Friendly Beach and a 475 Acre Nature Preserve with Abundant Wildlife. Both just a Short walk away.
My husband, puppy and I spent a week over the labor day holiday at this vacation home. We were welcomed with a beautiful flower arrangement and some treats and toys for our pup. The host was very friendly and kind to make recommendations on the local sights. The home faces the ocean and it was very relaxing to sit outside. The private beach is about a 5-10 min walk. Umbrellas, beach chairs and towels and a little cart was provided to carry supplies. On the beach we were one of a handful other people. The was one time when we were the only ones on the beach. There were few more people over the labor day holiday, but it was nothing compared to a what it would have been on a public beach. We really enjoyed our stay!
Shirley
2015-09-13T00:00:00Z
Room Type
Entire home/apt
---
Property Type
Apartment
---
Accommodates
4
---
Bedrooms
Hampton, VA, United States
This beautiful, FULLY FURNISHED, and accessorized corporate apartment is located in Hampton, and is ideal for extended stay business travelers, corporate relocations, or anyone in need of temporary housing. Includes cable/internet.
The apartment is located within a mile of a shopping and restaurant center. The National staff went all out to make sure we were informed about arrival procedure, including a phone call. National's Sarah Turner went above and beyond any reasonable expectation of service and we appreciated her efforts.
George
2016-11-30T00:00:00Z
Room Type
Entire home/apt
---
Property Type
Apartment
---
Accommodates
4
---
Bedrooms
Hampton, VA, United States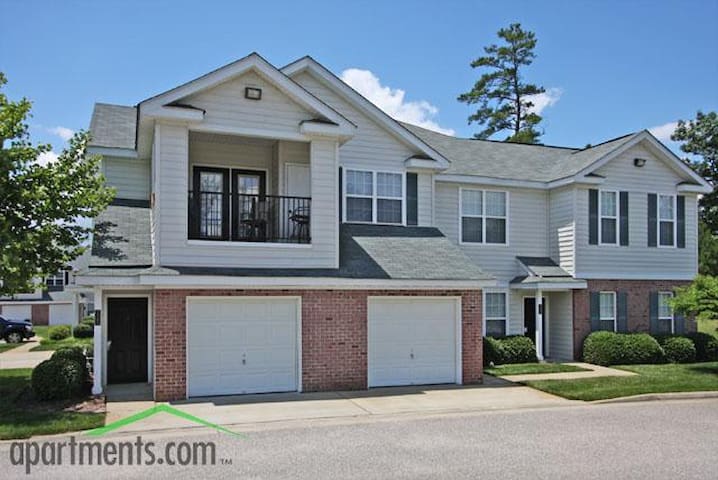 'The Apartments of Merrimac'. My place is close to the Waterfront
Room Type
Entire home/apt
---
Property Type
Apartment
---
Accommodates
6
---
Bedrooms
Hampton, VA, United States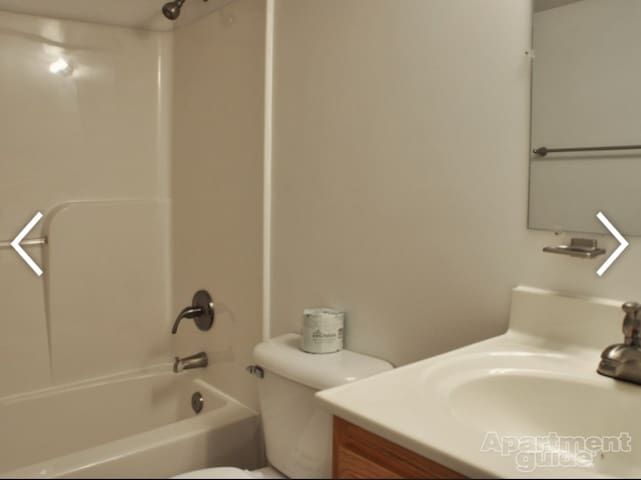 I recently completed a total renovation of this property. The available unit is the upstairs apartment that has been very smartly furnished. The property is located in a quiet, family neighborhood.
Everything is brand new and beautifully furnished. There is an apartment-sized washer/dryer in the unit, as well as a full refrigerator, stove, over-the-range microwave, dishwasher, garbage disposal, pots and pans, dishes, and linen. All of the conveniences of home are at your disposal! There is also an ottoman that opens into a small bed that will comfortably sleep one person.
The neighborhood is very quiet and family-friendly. It is close to Hampton University, Fort Monroe, Hampton University Proton Therapy Center, Joint Base Langley-Fort Eustis, and Norfolk NOB. Very centrally located with entrance to freeway less than a mile away.
Great experience with Pam and her property. The apartment was fully furnished, recently renovated, and in fantastic condition. There were even a few snacks waiting for us when we got there! Location was convenient- we could walk to a CVS, and a 7-11. We had no problems catching an Uber to the Coliseum- it was about a 10 minute ride and cost $8-$11 each time. Would definitely recommend to others! Thanks!
Rob
2015-12-22T00:00:00Z
My niece was graduation from High School and she has danced her whole life and this past weekend was going to be her last. I promised her we would go and we did. I booked with Pam and it was really very easy. We were very lucky and where able to book the whole house. My sister upstairs and us down. My sister arrived on Monday and we did not arrive till Thursday. Pam texted to check to make sure we made it safe and sound that was so nice. When we arrived the house was LOVELY! It was so nice and clean and everything was decorated so nice. She even had little snacks and some stuff for breakfast for us. She supplied almost everything we needed except for food. How can you go wrong with that? We all stayed till Monday and we had a great time. It was close to almost everything and it was nice to come home away from all the hustle and bustle of the busy cities. She made it very hard to leave at the end of our trip. I would without a dough stay here again and recommend anyone to this duplex upstairs or down. Thank you Pam for a wonderful stay!
Melaney
2016-07-05T00:00:00Z
Very relaxing, clean, homey space. We worked all day and it was so comfortable to get back to and crash. We had great nights' sleep. So thankful we found this lovely space so close to where we were working. Thank you, Pam!!
Trent
2016-06-07T00:00:00Z
Pam was an amazing host and the apartment was cute, clean, and better than what you see in the pictures. Everything looks brand new. We are family of four and were very comfortable. The location was perfect for us in Hampton and it was in a quiet neighborhood. Pam quickly answered any questions I had and the kitchen was well stocked. She also had breakfast items for us which was a sweet touch. We would definitely stay here again if we were in the area.
Tammy
2016-05-24T00:00:00Z
Pam is truly a Superhost! She was easy to communicate with (I started planning 4 months before my trip) and she was welcoming and informative from the start, responding to all communications within a few hours. This was the best Bed and Breakfast I have ever stayed in. I had friends over just so that they could see it and use it at a later date. Pam has 4 units at the same location and would be well suited for a family reunion. We stayed in the upstairs unit. It felt like being in a tree house because of the view. The unit was just as the pictures depicted. Everything was clean and ready for our arrival, at 4am. The beds were comfortable and the kitchen table was was family size. We spent lots of time at that table, the living room TV swivels and made it comfortable to view from both rooms. The rooms had nice space and their own TV's. Breakfast items were available. Just bring clothes and a toothbrush. The location was was great for the lower Peninsula and Southside, easy access from I-64. Local activities nearby are Buckroe Beach and Air and Space Museum. I would definitely stay again, and have already told many friends. If you are thinking about getting a hotel in the Hampton area (and don't need a pool) contact Pam.
Frances
2016-08-10T00:00:00Z
What a wonderful host. The apartment was more than I expected. Breakfast items for my first morning were a pleasant surprise. As a traveling nurse this was the easiest transition into a new assignment. Comfortable, close to everything and as a single woman very safe apartment. Thank you Pam for providing me a beautiful home for 8 weeks, you have been the perfect host. Hopefully I will be back your way next winter.
Katherine
2016-03-06T00:00:00Z
When we arrived the was some juice in the fridge, fruits on the table, and many other things, that was great. Proximity to to beach is nice, access to the interstate is quick and easy. Pam was very responsive to our questions. Overall a good stay, we would recommend it.
Michael
2016-08-04T00:00:00Z
This was my first Airbnb stay and Pam simply set the standard. Her place was perfect for our small family and Pam provided everything that we needed. Quick response time and on point! Would definitely stay again!
Johnny
2016-07-09T00:00:00Z
Room Type
Entire home/apt
---
Property Type
Apartment
---
Accommodates
4
---
Bedrooms
Hampton, VA, United States
My place is close to the city center and parks. You'll love my place because of the light, the kitchen, and the comfy bed. My place is good for couples, solo adventurers, business travelers, and families (with kids).
Room Type
Entire home/apt
---
Property Type
Apartment
---
Accommodates
3
---
Bedrooms
Hampton, VA, United States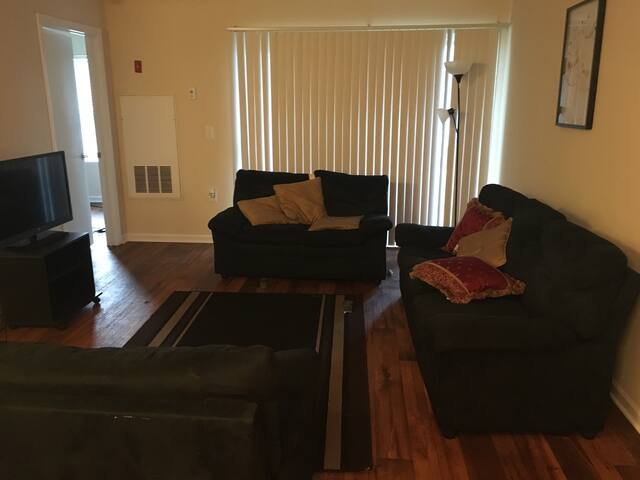 Private apartment with off street parking located within walking distance from the beach and restaurants. A 10 minute drive from airport, pharmacy, grocery store. Near military bases, Virginia Beach strip and many other great views, historical sites and beaches!
We offer a private, fully furnished one bedroom and full bath (off bedroom ) apartment. Apartment has a complete kitchen and living space that includes a full size sofa sleeper, allowing up to 4 adults to stay comfortably. Dining table accommodates 4 people or makes a spacious work space. Plenty of closet space to hang wardrobe, store suite cases, swim toys and other items our guest may be traveling with. Our entry locks have a private code that gets reset after each reservation, for the security of guest. Our apartment building is an older building, built in the 60's with updated fixtures and appliances. Our other listing BNB Coastal Stay By The Bay, is located next door.
Our apartments are located in an up and coming neighborhood. This includes new house construction and neighborhood clean up. The city of Norfolk will be working on the roads and other projects during 2017. Visit our other listing, BNB Coastal Stay By The Bay, for more available dates.
Dawn and Butch were excellent!! They communicated with us and went above and beyond to make our stay special. Highly recommend this great spot near the bay!
Ashley
2016-12-12T00:00:00Z
Great location and value! Cozy and comfortable, with everything you need! Definitely glad that I found this little place - only a block or so from the beach.
Katie
2017-03-26T00:00:00Z
This was the perfect place for us to stay she definitely went out of her way to make sure we were happy with everything! I'll definitely be staying here again if I'm around!
Chevelle
2016-12-05T00:00:00Z
Simple place, great price. Right by the beach! Going to any restaurants or anything else is a drive but not too far.
Rachel
2017-03-13T00:00:00Z
The house was perfect! Nice location! Very clean, comfortable and cozy! Close to a beach and different shopping centers where close by! Beautiful home and I would rent from them again!
LaKitta
2017-02-26T00:00:00Z
This home is as listed- no frills, basic comfort for a short stay at the beach. We spent very little time at this listing, really just sleeping and eating breakfast there. Our favorite part was being close enough to go for walks on the beach in the morning. Dawn was also wonderful about communicating and responding to any and all of our questions.
Rosario
2016-12-26T00:00:00Z
I love how close to the beach you are. Dawn and Butch made sure everything went smoothly, and it's a pretty good value considering you have an entire apartment to yourself with a kitchen close to the beach. Essentially it's like being at your own apartment by the beach with a few more perks for about the cost of a motel without the perks.
Danielle
2017-02-12T00:00:00Z
Hi Dawn and Butch, We had a wonderful stay and found the area to be cute and quaint. Thanks for hosting a us!
Lindsay
2017-02-07T00:00:00Z
Room Type
Entire home/apt
---
Property Type
Apartment
---
Accommodates
4
---
Bedrooms
Norfolk, VA, United States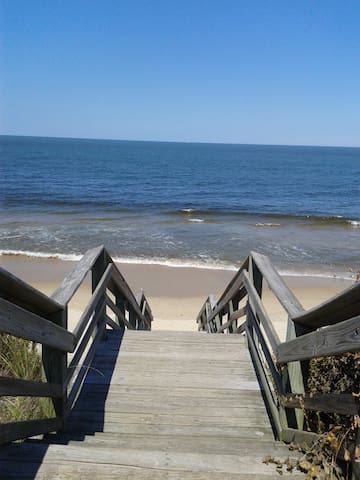 My apartments is 7 blocks from the beach. You can ride a bike or in 10 min or drive in 5 min. The convention center is right next door.
Room Type
Entire home/apt
---
Property Type
Apartment
---
Accommodates
2
---
Bedrooms
Virginia Beach, VA, United States
My place, Ocean View Escape, is a beachfront, professionally managed, full AirBnb property. This listing for the 1 bedroom, 1-bathroom split level suite with use of the backyard and private beach access. Not only is our property directly on the beach, we have everything you need for a comfortable stay, from memory foam beds to beach towels, every detail has been taken care. *Property set to open early Feb. - taking early discounted bookings before pics are ready.
This listing is for the 950 sq ft two level suite. This suite has one bedroom with a queen memory foam mattress, as well as two couches in the living room and a futon in the lower level. There is one fully equipped bathroom and a large fully stocked kitchen. We want to ensure that you have everything you need to live here - if not let us know and we will get it!
This property is central to all local Ocean View restaurants.
Quite, cute and clean this Virginia Bungalo has all the seclusion with Max availability to the Great outdoors! The communication was prompt and very accommodating, which made me feel very significant… Especially since I have traveled to four cities in as many days. I'm very grateful for the opportunity to stay somewhere close to base, that didn't break the bank or make me feelsurrounded by subpar wallpaper. Thanks again!
Brandy
2017-03-02T00:00:00Z
As always, staying at Brian and Caley's is perfect for my needs!
Kumar
2017-04-07T00:00:00Z
Amazing
mj
2017-03-08T00:00:00Z
We enjoyed our stay. It was right on the water, which was really great for walking along the beach. The space was nice and a great value, albeit basic.
Lexie
2017-04-02T00:00:00Z
The place was super cute & I would definitely stay again!
Amanda
2017-02-26T00:00:00Z
Had a great time . Loved it
Elvis
2017-03-26T00:00:00Z
Very nice house with the beach right in the backyard! It was so beautiful. I would stay here again.
Brian
2017-04-08T00:00:00Z
The place was great Brian Caley are wonderful nice people I had a wonderful weekend !
Victor
2017-02-18T00:00:00Z
Room Type
Entire home/apt
---
Property Type
Apartment
---
Accommodates
4
---
Bedrooms
Norfolk, VA, United States
Cape Charles - Airbnb
:
Average

4.8

out of

5

stars from

227

guest reviews
1

–

18

of

218 Apartment Rentals
Enter dates to see full pricing. Additional fees apply. Taxes may be added.